9 Buffalo Nicknames You Should Know
Destguides may receive commissions from purchases made through affiliate links in this article.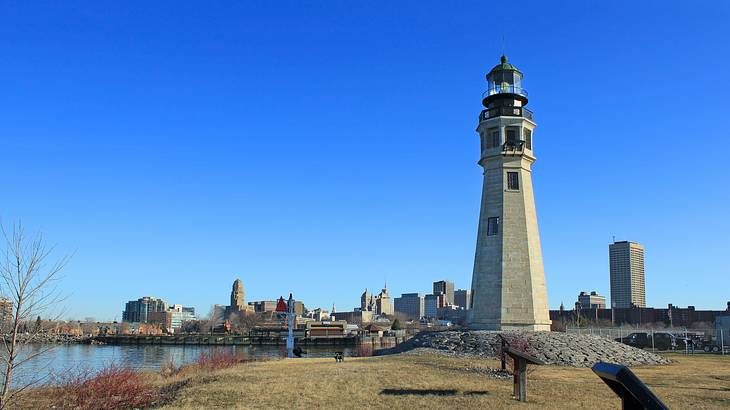 Sitting on Lake Erie, Buffalo is the second-largest city in New York State by population. Buffalo itself was actually named after a creek that previously ran through it. This was what originally attracted people to the area.
These days, Buffalo attracts visitors thanks to its fantastic craft beer scene, sports teams, and cozy winters. Interestingly, there are also plenty of monikers to describe this vibrant city.
For example, Nickel City stems back to the old five cents coin, while Queen City of the Lakes references the port city. Read on to explore all the top Buffalo nicknames you need to know.
9 Nicknames for Buffalo, NY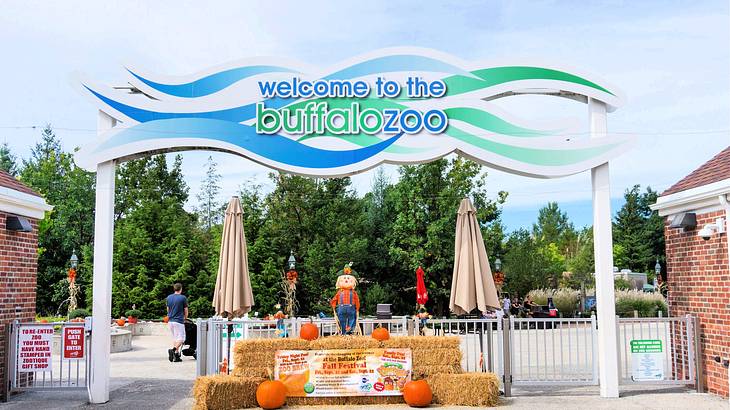 Bison City
Although a slight misnomer, Bison City is among the most common ways to refer to Buffalo. Why? Well, while buffalo and bison are slightly different animals, they are often used interchangeably in the USA. As a result, the bison was adopted by the city of Buffalo as a symbol. Notably, the city's beloved Minor League Baseball team is the Buffalo Bisons. You can even see a herd of bison at the Buffalo Zoo.
City of Good Neighbors
The City of Good Neighbors is a charming Buffalo moniker that refers to the city's welcoming history and friendly atmosphere. Buffalo is known for its hospitality and its small-town feel, which you will no doubt notice when you visit.
From Europeans to those from Latin America, many migrant communities have settled in the area. More than 14,000 refugees have moved to Buffalo since 2000. Many other kinds of immigrants have also made their way to the city, adding to that number.
In fact, between 2006 and 2013, the city's foreign population increased by a whopping 95%. This has helped to shape Buffalo into the thriving multicultural place it is today.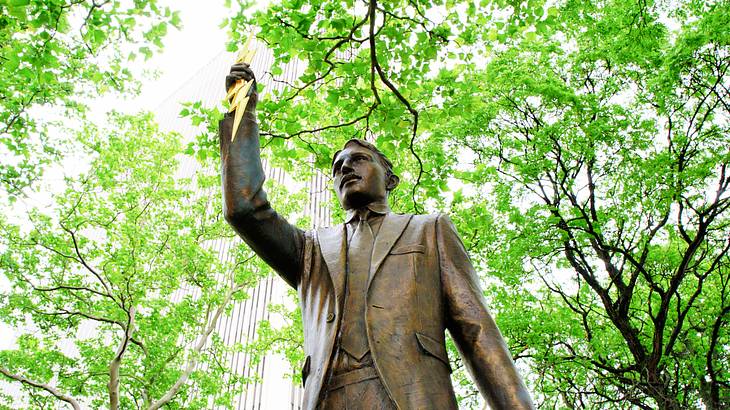 City of Lights
The City of Lights (or City of Light) tops the list of dazzling Buffalo names. This is thanks to it being the first city in the USA to have a widespread electricity system.
Buffalo was first lit up in November 1896 by none other than the Nikola Tesla. He flipped the switch that triggered power from the Niagara Falls Power Company to illuminate parts of the city. This was a huge moment for Western New York, which sat at the forefront of further development.
City of No Illusions
The City of No Illusions is one of the top slogans for Buffalo, referencing the city's no-nonsense approach and optimistic attitude. This phrase was popularized in 1977 by iconic Buffalo artist Michael Morgulis, who used this City of No Illusions nickname to create one of the most iconic t-shirts in the city.
There's a famous piece of street art by Mickey Harmon that features this moniker. You can see it on the University at Buffalo campus near the Center for the Arts.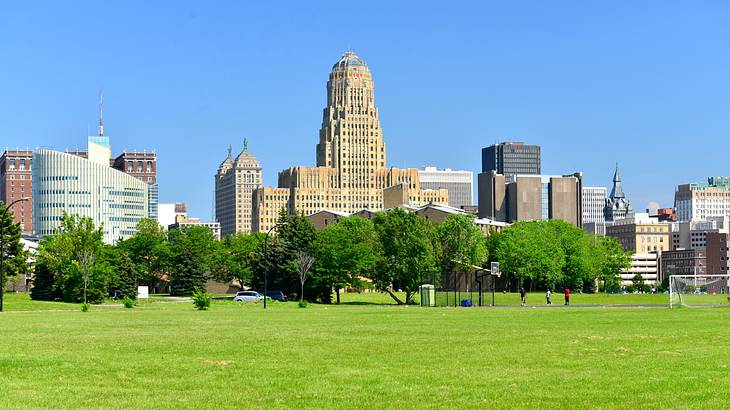 City of Trees
A number of cities across the USA are proud of their leafy nature, such as Charlotte in North Carolina and Atlanta, Georgia, but only one place can truly be called the City of Trees. And that is Buffalo, New York.
When Frederick Law Olmsted visited Buffalo in 1868, he intended it to become a tree city. He wanted a city in a park and designed Buffalo to be a series of interconnected parks and walkways surrounded by lush greenery. When in Buffalo, ensure you visit a few of the area's many parks, like Buffalo Harbor State Park, to soak up the serene nature.
Nickel City
Another name for Buffalo is Nickel City. This common nickname refers to a coin minted between 1913 and 1938. This nickel (informally called the "Buffalo nickel") featured an American bison on the back of it. As it was named a Buffalo nickel, people in Buffalo began referring to their town as the Nickel City.
Despite the coin dating to the first half of the 20th century, the Nickel City nickname became popular in the 1970s. Today, it's pretty hard to spot this rare gem of a coin, as the Jefferson Nickel began to replace it in 1936. However, the moniker related to it remains known by Buffalo locals.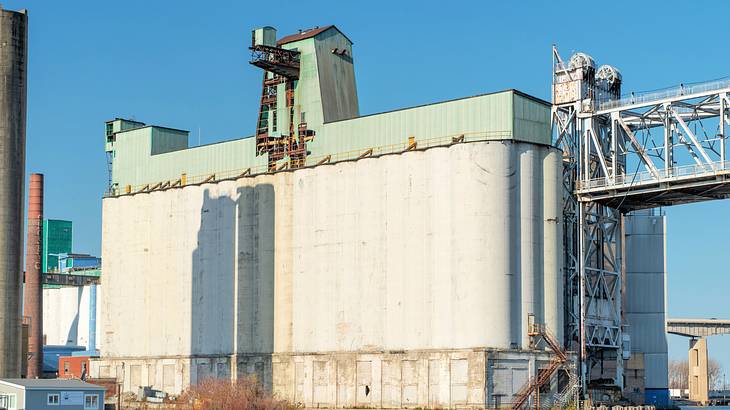 Flour City
Flour City is a more unusual name for Buffalo, thanks to its history as a flour milling hub. Its convenient location of Lake Erie made it easy to receive wheat from the Midwest. Thanks to Joseph Dart and engineer Robert Dunbar, it was also the first place to have a grain elevator.
At one point, Buffalo was home to more than 30 flour mills. It was also the leading producer of flour in the USA, outranking Minneapolis, which generally held the number one spot.
Additionally, Buffalo is home to the American Grain Complex, another very important grain elevator and flour milling workhouse. While it is no longer in use, the complex was listed on the National Register of Historic Places in 2012 and firmly cements Buffalo as a big player in the flour industry.
Queen City
Buffalo earns the very regal title of Queen City because it's the second largest city in the State of New York. It's believed that this Queen City name was first used in the 1842 edition of the Buffalo City Dictionary.
Buffalo was once the most influential city amongst the Great Lakes, and in the early 20th century, it was one of the largest trade hubs in North America. This was due to its proximity to the New York landmarks of the Niagara River and Niagara Falls.
Queen City of the Lakes
Partly in relation to the previous nickname, the Queen City of the Lakes moniker refers to Buffalo's very useful transportation links. The completion of the Erie Canal in 1825 was vital in transforming the city into a major port where grain, wheat, and other products could be transported throughout the rest of the USA.
By the mid-1800s, Buffalo became a buzzing hub of activity between the Atlantic and the Great Lakes, as well as the likes of Cleveland and Chicago.
In Summary
When it comes to New York state nicknames, Buffalo has plenty to add. From the City of Good Neighbors, which illustrates just how friendly this city is, to the Queen City of the Lakes nickname for Buffalo that delves into the city's past as a trade hub. These names chart the history of a very important US city, so make sure you use some of them next time you visit.
Give us feedback about this article
Learn more about Buffalo:
More articles about New York:
Read more articles about the United States:
More articles about nicknames:
---
---
Want to keep exploring?
Subscribe for discounts on tickets and hotels and our latest guides.
Thank you for subscribing
We will be in touch soon with discounts on tickets and hotels and our latest guides.
Want to keep exploring?
Subscribe for discounts on tickets and hotels and our latest guides.
Thank you for subscribing
We will be in touch soon with discounts on tickets and hotels and our latest guides.
Related Articles