Where to Stay in Cincinnati, Ohio - 5 Best Areas & Hotels
Destguides may receive commissions from purchases made through affiliate links in this article.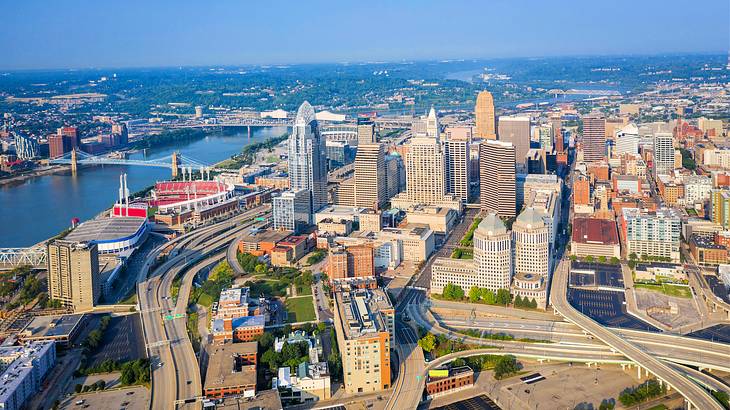 Stretching across the famous Ohio River, Cincinnati is one of Ohio's most visited cities. Its classic architecture, great food, and love for sports give everyone something to enjoy.
If you're planning a trip to the city, you may be wondering about which area to stay in. Whether you're visiting for a family trip, work reasons, or a couples getaway, there's a neighborhood to suit your needs. Keep reading to learn more about where to stay in Cincinnati, Ohio, for an excellent city break!
5 Best Places to Stay in Cincinnati, Ohio
Cincinnati Places to Stay Video
Check out our highlights video of Cincinnati places to stay.
Cincinnati Places to Stay Map
A map of Cincinnati. Use the map to explore all the places to stay.
Best Areas to Stay in Cincinnati, Ohio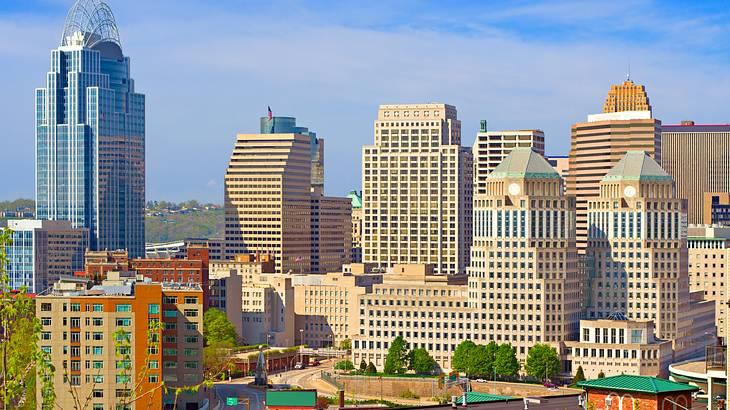 Downtown
Downtown districts are usually where you can experience the local culture and find the most popular businesses, and Downtown Cincinnati is no different. This metropolitan area is the beating heart of the city!
Art and culture lovers will adore Downtown Cincinnati for its many arts attractions. The area is home to the Aronoff Center for the Arts, where you can see Broadway shows, and you can also visit fascinating art galleries such as the Contemporary Arts Center or the Taft Museum of Art.
Sports fans will be spoiled for choice as well. Downtown features the Great American Ball Park, home to the Cincinnati Reds, and Paycor Stadium, home of the Cincinnati Bengals. The Cincinnati Reds Hall of Fame and Museum also sits beside the ballpark. Various other attractions and numerous bars and restaurants are also dotted across Downtown.
If you want to stay Downtown, you'll find many high-end hotels with lots of amenities. However, these come at quite a high price per night. A few slightly cheaper boutique hotels and short-term apartment rentals can also be found if you're on a bit of a budget.
While it may cost a little more to stay here, there are many things to do right on your doorstep. Additionally, you can easily access other parts of the city via taxi or public transport. If you have the budget, staying Downtown is recommended for first-time visitors and those that like to be in the center of the action.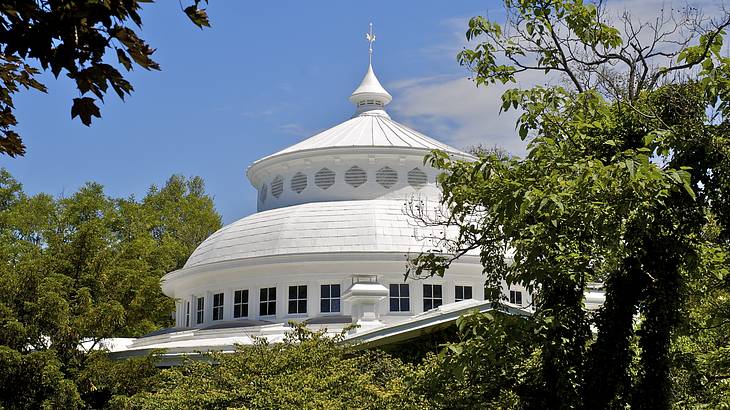 Avondale
Avondale is definitely one of the most peaceful neighborhoods to stay in Cincinnati. Visitors that want to be based in a quiet neighborhood with attractions like parks will love this area. It's especially recommended for families.
The most famous landmark located in Avondale is the Cincinnati Zoo & Botanical Garden. This zoo is the sixth oldest in the entire country and is dedicated to conserving endangered species.
You can also discover a few small urban parks, and it's only a short distance from Burnet Woods Lake and the surrounding green space. Locally-owned cafes, bars, and restaurants can be found across this neighborhood as well.
Short-term apartment rentals are the most common accommodation type located within Avondale. You can also find motel and budget hotel chains around the University of Cincinnati, which is just outside Avondale. All of these options are relatively affordable, especially compared to accommodations in surrounding areas.
If you want to explore some other areas, Downtown is about 35 minutes away on public transport or 10 minutes when driving. Other popular neighborhoods can be reached in a similar time frame.
West End
If you want to be near the bustle of Downtown but be based somewhere a little quieter, the West End is an excellent option. Located to the west of Downtown, this more residential neighborhood has many attractions of its own.
Places to visit include the Cincinnati Fire Museum, home to the oldest fire engine in the city, and TQL Stadium, where FC Cincinnati play. The Cincinnati Museum Center sits on the edge of the West End as well.
Much of the accommodation here is apartment rentals. You can find options for various budgets and group sizes. A few hotels are available, but most nearby hotels are located Downtown.
Connectivity to other areas is also good in the West End. You can walk to some nearby neighborhoods or reach them quickly on public transport. For example, Downtown is about a 30-minute walk away or 10 minutes via public transport.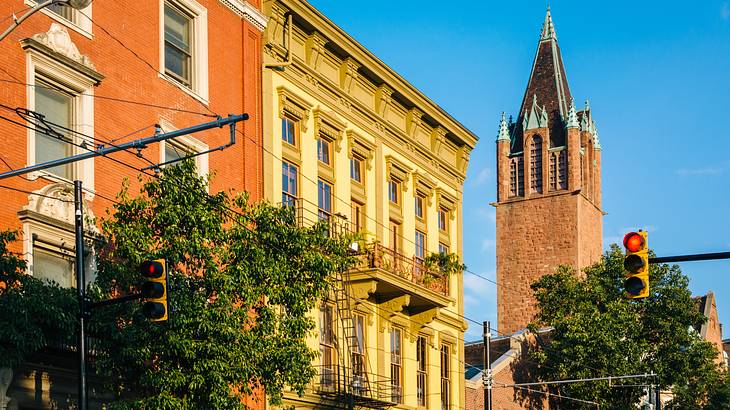 Over-the-Rhine
Cincinnati's Over-The-Rhine is not just a great place to shop; it's also a fascinating glimpse into German history and culture. This unique neighborhood to stay in Cincinnati is distinctive for its beautiful 19th-century buildings and interesting history.
It used to be a working-class district for German immigrants and now stands as one of the go-to tourist destinations in Ohio. It's also in a very convenient location, nestled between Downtown to the south and the West End to the west. Both are within walking distance or can be reached in under 20 minutes by public transport or driving.
While staying here, you can wander along the tree-lined streets, admiring the architecture. You'll also find many pubs and restaurants offering authentic German food and beer. An array of fashion boutiques and other independent stores can be explored as well. Other popular attractions include Cincinnati Music Hall, Memorial Hall OTR, and the scenic Washington Park.
You'll find a few charming hotels to book here, or there are apartment rentals. Prices are reasonable but not the most budget-friendly. To be near this area on a budget, book your accommodation in the West End. If you want something more luxurious, rent a hotel room Downtown and commute up to Over-the-Rhine to explore.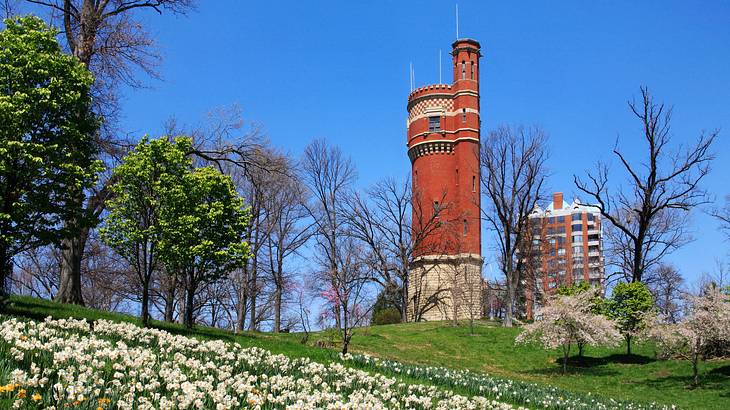 Walnut Hills
Walnut Hills is another more tranquil and residential neighborhood in Cincinnati that still has good connectivity to busier areas, like Downtown. It's a recommended place for families or couples visiting for a relaxing city break.
This beautiful location is a hilltop neighborhood that leads into Eden Park, which is home to over 180 acres of rich, green landscapes. There are also some lakes to wander around, and you can enjoy views of the Ohio River. Art and culture enthusiasts can additionally visit the Cincinnati Art Museum and Cincinnati Playhouse in the Park, both located on the edge of Eden Park.
Cozy apartment rentals and a few chain hotels can be found throughout Walnut Hills. Most are quite affordable, and you can find great deals if you book early. Best of all, you can reach nearby areas, like the West End, Downtown, and Over-the-Rhine, in about 20 minutes on public transport or 10 minutes when driving.
Where to Stay in Cincinnati, Ohio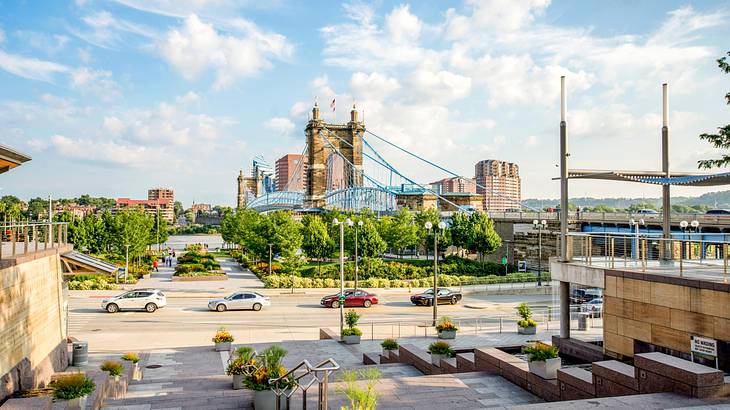 Where to stay in Cincinnati with family?
If you're visiting Cincinnati with family and want a convenient location that's filled with activities to keep everyone entertained, Downtown is a good option. You can go to a Bradway show, visit museums, enjoy sporting events, and much more. It's also easy to get to kid-friendly attractions in other neighborhoods, like the Cincinnati Zoo.
If Downtown seems a bit busy for your family, Avondale is a great area to stay in Cincinnati instead. This area has affordable accommodation options and is home to the Cincinnati Zoo & Botanical Garden. Walnut Hills, with the vast Eden Park for kids to run around in, may appeal to families as well.
Where to stay in Cincinnati for sightseeing?
Cincinnati is prime for sightseeing, with many landmarks and attractions. If you're in the city to see as many sights as possible, Downtown is the best location to stay in Cincinnati if you have the budget for it.
The downtown area is home to many of the city's best museums, plus sports stadiums and performance arts venues. Once you've seen all Downtown has to offer, you can easily reach landmarks and attractions in other areas via public transport.
Sightseers that want to stay somewhere more quiet or affordable should consider the West End or Over-the-Rhine. The West End has some great museums, while Over-the-Rhine features popular landmarks like Findlay Market. You can also get Downtown quickly from these areas to see everything there.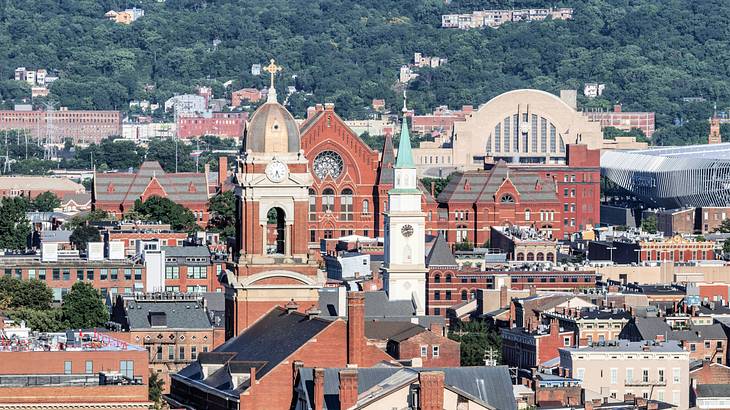 Where to stay in Cincinnati for a romantic getaway?
There are many romantic things to do in Cincinnati if you're planning a couples getaway. While everyone has a different idea of romance, there are a few prime spots you'll want to look into when deciding where to stay.
Over-The-Rhine is a good choice if you and your loved one are big fans of local eateries and art. You can browse some of the nearby art galleries, then have a delicious dinner for two at a cute restaurant. There are also independent boutiques to explore, and it has excellent connectivity to Downtown if you want a day of sightseeing or a fun night out.
The West End, with its charming eateries and boutique hotels or cozy apartment rentals, is perfect for those wanting a relaxing romantic break. Walnut Hills could also appeal. In this neighborhood, you're near Eden Park, where you could have a picnic and go for a long walk together in nature.
Where to stay in Cincinnati for a weekend trip?
Going to Cincinnati is a prime way to enjoy a quick weekend getaway before diving back into your usual routine. If you want to be in the middle of everything and see as much as possible in a short time, book your accommodation Downtown. Top landmarks and attractions are right on your doorstep, and you have easy access to other neighborhoods and excellent nightlife venues.
Additionally, if you're heading to the city for a weekend of sports, Downtown is closest to the city's sports stadiums. Remember that the best time to visit Cincinnati for a Bengals NFL game is between September and the start of January while the city's MLB and MLS teams play throughout the spring and summer.
Over-The-Rhine also offers plenty of opportunities to squeeze in as much adventure as possible. This area is also a bit quieter than Downtown and has many independent shops, cafes, and restaurants.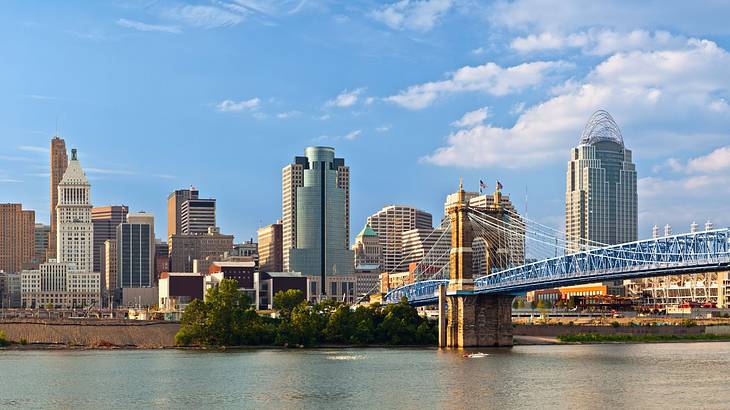 Where to stay in Cincinnati for a business trip?
Convenient locations to stay in Cincinnati are an absolute must when you're on a business trip. The downtown area is situated between many other neighborhoods, such as Over-The-Rhine and the West End, making it especially convenient when you need to travel around.
Downtown is also where a lot of business offices are located, so there's a good chance meetings will be held in this part of town. If you're visiting for a conference or trade show, it will probably be hosted at the Duke Energy Convention Center, which is also Downtown.
After your work responsibilities are done, you can access lots of landmarks, attractions, and entertainment venues Downtown. Taxi or public transport can connect you to bars and restaurants in other neighborhoods as well.
Where to stay in Cincinnati for nightlife?
Cincinnati nightlife is famous for its brilliant food and atmospheric bars and clubs. The city also looks breathtaking at night, thanks to its glittering river and illuminated buildings.
Over-The-Rhine is an excellent choice if you're looking for something a little different. This historic German neighborhood has a range of bars, from cocktail bars to breweries. You can also enjoy performances at venues like the Cincinnati Music Hall or Memorial Hall OTR. Unique and trendy restaurants are scattered throughout the area as well.
Of course, Downtown is also a top choice for nightlife. This area features all types of bars, clubs, and restaurants, with something for everyone. There's no shortage of fun things to do in Cincinnati at night, so don't be afraid to step outside the box!
In Conclusion
Cincinnati is a fun city break destination with something for everyone. Those that want to be near lots of attractions will enjoy being Downtown. While those looking for a more relaxed yet trendy neighborhood will love the West End or Over-the-Rhine.
Alternatively, opt for the scenic and residential areas of Avondale or Walnut Hills if you want a quiet and more relaxed city break. No matter what your travel needs, this article should have helped you discover the most suitable place to stay in Cincinnati. Now you just need to book your accommodation and enjoy your trip!
Give us feedback about this article
Learn more about Cincinnati:
More articles about Ohio:
Read more articles about the United States:
More articles about places to stay:
---
---
Want to keep exploring?
Subscribe for discounts on tickets and hotels and our latest guides.
Thank you for subscribing
We will be in touch soon with discounts on tickets and hotels and our latest guides.
Want to keep exploring?
Subscribe for discounts on tickets and hotels and our latest guides.
Thank you for subscribing
We will be in touch soon with discounts on tickets and hotels and our latest guides.
Related Articles