35 Best Things to Do in Rhode Island With Kids
Destguides may receive commissions from purchases made through affiliate links in this article.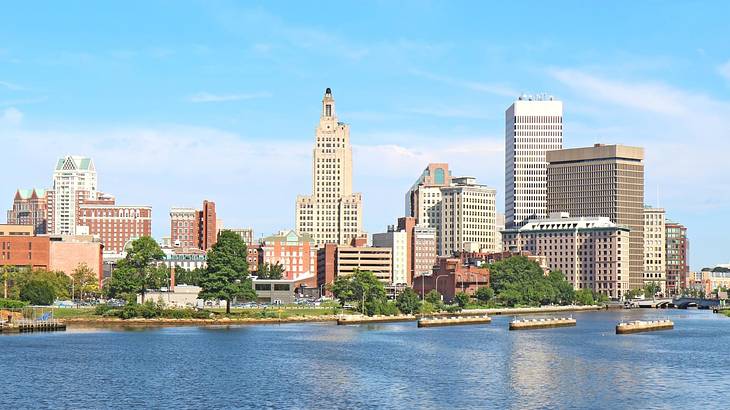 Rhode Island is a scenic state found in the New England area of the United States. Known as the Ocean State, Rhode Island is especially well-known for its stunning coastline and many charming attractions.
If you're thinking of heading to this seaside destination with your family, you'll be pleased to hear that there are lots of things to do in Rhode Island with kids. Fun family-friendly activities include visiting state parks, spending the day at the beach, and picking fruit at local farms. To discover all the exciting things to do with children in Rhode Island, read on!
35 Fun Things to Do With Kids in Rhode Island
Visit the International Tennis Hall of Fame
The International Tennis Hall of Fame is found in Newport and honors the sports' best players. At the Hall of Fame, you can find out more about the sport of Tennis and its most famous players, past and present.
In addition, you'll get to see over 2,000 pieces of memorabilia, including rackets, trophies, and uniforms. There's also a large outdoor space here for your kids to run around in.
Find out something new at the Biomes Marine Biology Center
Located in North Kingstown, the Biomes Marine Biology Center features an aquarium and exhibits relating to biology and natural science. Creatures that your children can see at the center include tortoises, pufferfish, and mini sharks.
If visiting with children under six years old, there's also a play area with books, games, and coloring to enjoy.
Have a beach day at Misquamicut State Beach
With so many beaches in the area, one of the fun things to do with children in Rhode Island is spending a day at Misquamicut State Beach. Found near the town of Westerly, the beach is a three-mile-long barrier island with soft sand and access to the Atlantic Ocean.
At the beach, your kids can build sandcastles, play beach games, and swim in the ocean if it's not too cold. There's also a children's playground here. Enjoying this scenic seaside area will help you understand why the Ocean State and the Ocean's Playground are Rhode Island nicknames!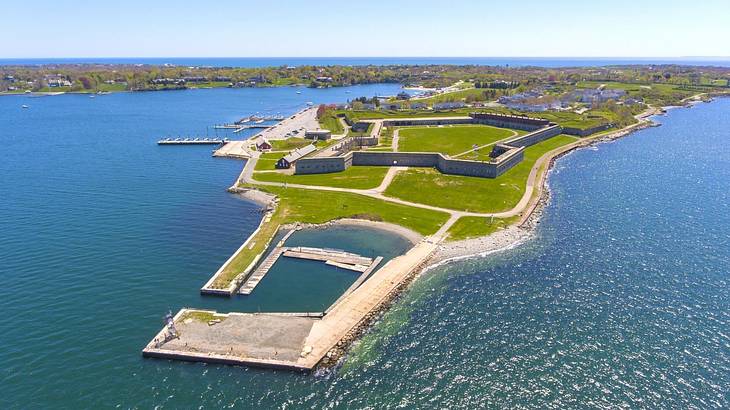 Explore Fort Adams State Park
Another attraction in Newport to visit with your family is Fort Adams State Park. This landmark is a 19th-century fort that sits on the harbor.
At Fort Adams State Park, you can explore the fort and can also take in the great views of the coastal surroundings. Your kids will have a fun time learning about the fort's history too.
See animals at Roger Williams Park Zoo
What kid doesn't love the zoo? Rhode Island's Roger Williams Park Zoo is found in Providence and houses an array of animals. Creatures to see include cheetahs, giraffes, and sloths.
You and your kids will also spot numerous bird species and reptiles, like Komodo Dragons and rattlesnakes.
Bounce around at Sky Zone Trampoline Park
If your kids have a lot of energy, taking them to Sky Zone Trampoline Park is a must. The indoor park has a range of fun trampoline-based attractions.
These attractions include a parkour park, a volleyball court, and an adventure obstacle course. There are also standard trampolines for kids to bounce and do tricks.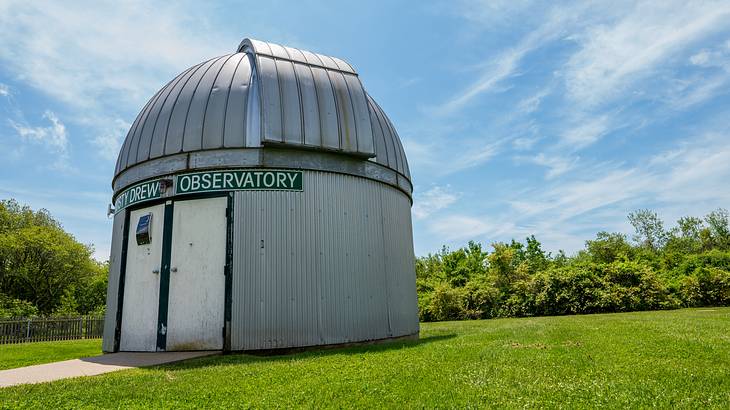 Look at the stars at Frosty Drew Observatory
One of the best Rhode Island kids' attractions is Frosty Drew Observatory. Found in Charlestown, the observatory allows children to immerse themselves in the topics of astronomy and outer space.
There is also an actual observatory with telescopes, where your kids can look up at the galaxies.
Enjoy the amusements at Adventureland
Adventureland Family Fun Park is a family friendly amusement park with an array of attractions for kids to enjoy. Things to do at the park include go-karting, riding the carousel, and playing mini-golf or arcade games.
A trip to Adventureland is a guaranteed way to keep all your kids happy and occupied!
Hang out at Roger Wheeler State Beach
One of the exciting activities for kids in RI is going to Roger W. Wheeler State Beach. This state park is a coastal area that is characterized as being the perfect New England beach.
At the beach, your kids can play while you relax on the sand. If the weather isn't great, going for a walk along the shore is still recommended.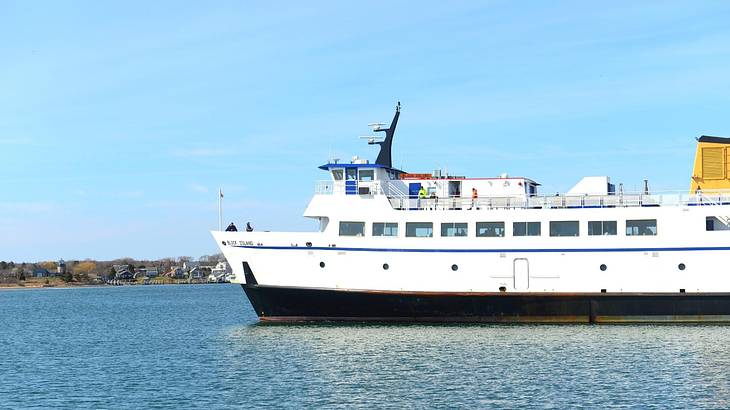 Ride the Block Island Ferry across Narragansett Bay
Hopping aboard the Block Island Ferry will please all kids! The ferry connects mainland Rhode Island to Block Island, and you can get on at Point Judith, Narragansett. On the boat, you can enjoy the views of Narragansett Bay and the island as you approach.
Play at Providence Children's Museum
One of the Rhode Island attractions for kids that's made completely with children in mind is the Providence Children's Museum.
This interactive museum offers kids a range of hands-on exhibits to try which will teach them new things as they play. Exhibits include a children's garden, a water activity, and an artistic "maker's studio."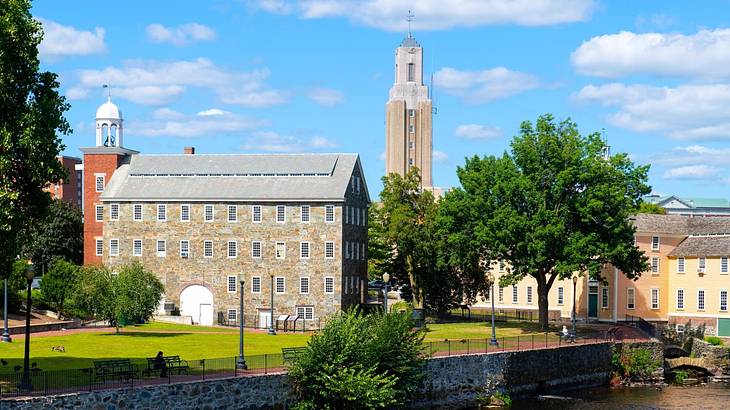 Discover landmarks at Blackstone Valley
Blackstone Valley is an iconic area in Rhode Island that played a big part in the American Industrial Revolution. One of the most significant historical landmarks found here is Slater Mill, the first cotton-spinning factory in the US.
If you and your kids like outdoor activities, you can also hike in Lincoln Woods. There are lots of pick-your-own fruit farms nearby too.
Spot tree animals at Green Animals Topiary Garden
Green Animals Topiary Garden is one of the most fun family attractions in Rhode Island. This unique attraction is a collection of gardens that feature topiary animals. Animal designs to spot include bears, lions, and horses.
The gardens also have topiary sculptures, vegetable gardens, and pretty flower gardens.
Wander around Goddard Memorial State Park
Goddard Memorial State Park is another of the best coastal parks in Rhode Island. The park features a beach, walking paths, forested areas, and a golf course.
You can visit during the summer for a beach day or go during cooler months to wander around the park. Your kids will also be able to spot wildlife and over 70 species of trees.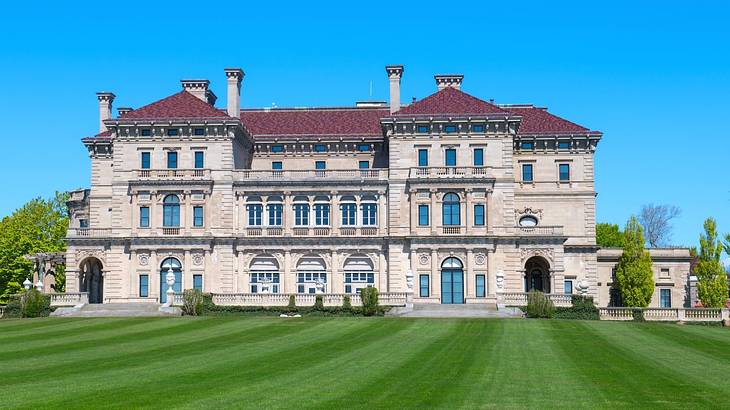 Look at luxurious homes on a Newport mansions tour
Newport is known for its many beautiful mansions. A must-do activity when in the area with your kids is going on a Newport mansions tour.
The experience will take you along Bellevue Avenue, Ocean Drive, and more to see the most spectacular homes. You also get admission to The Breakers, a Vanderbilt Mansion, and National Historic Landmark.
Ride the Watch Hill Merry-Go-Round
One of the great Rhode Island activities for kids that are younger is riding the Watch Hill Merry-Go-Round. The carousel is actually a National Historic Landmark and has been in the area since 1877.
Your children can choose a horse to ride and enjoy going around the fun merry-go-round. There is also a beach at Watch Hill to hang out on afterward.
Pick up an ice cream cone at Brickley's
Brickley's Homemade Ice Cream is one of the most popular ice cream shops in the state. One of the can't miss kids' activities in Rhode Island is going to Brickley's for a sweet treat.
Flavors to enjoy include chocolate chip, cake batter, salted caramel, and strawberry. Do note that the shop is seasonal and opens for spring and summer.
Get out on the water on a boat tour
A narrated boat tour is one of the family friendly activities that everyone will enjoy. You can get on the boat in Providence and will cruise along the water past an array of landmarks. While aboard, a guide will explain what you're seeing and the historical significance of each landmark.
Pick fruit at a local farm
Fruit picking is a classic family friendly activity. In Rhode Island, one of the most popular places to pick fruit is Sweet Berry Farm. Produce to pick includes strawberries, blueberries, peaches, and apples. In the fall, you can also visit their pumpkin patch.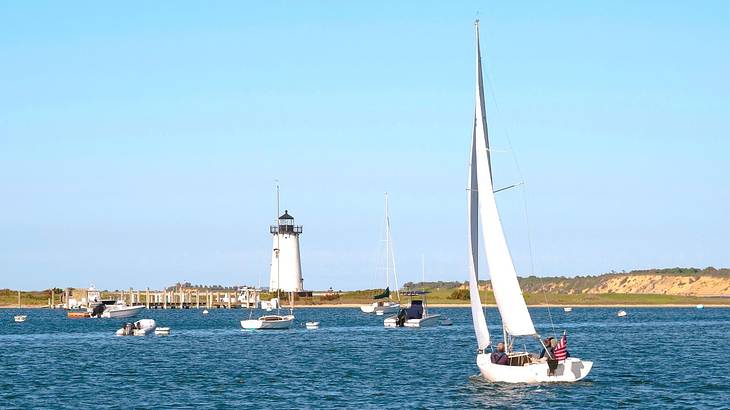 Take a road trip to Martha's Vineyard
Martha's Vineyard is one of the most well-known destinations close to Rhode Island and is a must-visit. You can reach the popular island in around two and a half to three hours when driving.
Once you arrive, you and your kids can enjoy the beaches and other local attractions. A few family friendly activities to add to your to-do list include seeing the Flying Horses Carousel and spotting wildlife at Cape Poge Wildlife Refuge.
Explore the grand Belcourt Castle
Belcourt Castle is a grand summer cottage and is another of the many places to go in Rhode Island with kids. Constructed in the 1890s, the home now acts as a house museum that you and your kids can explore.
You can also admire the stunning architecture and find out more about the home and Rhode Island in the late 1800s and early 1900s.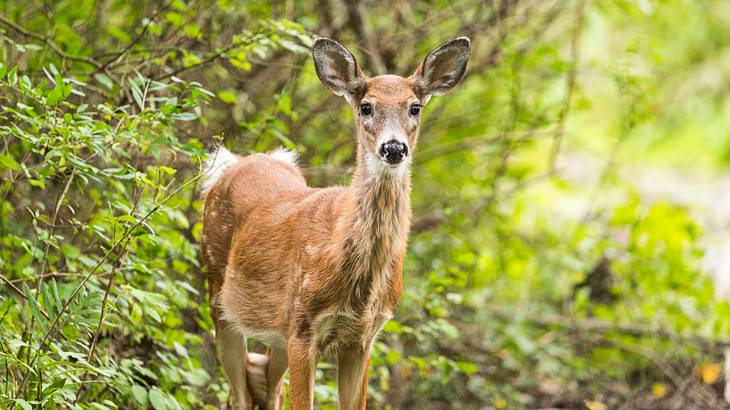 Birdwatch at the Norman Bird Sanctuary
The Norman Bird Sanctuary is a 325-acre nature preserve that's home to an array of bird species. When visiting, you and your kids can wander along various trails and are guaranteed to spot birds and other wildlife. Birds you could see include eagles, turkeys, and red-tailed hawks.
Spend the day on a farm
A fun educational activity in Rhode Island is going to the Coggeshall Farm Museum. The working farm offers kids a look at farm life in the 18th century. At the farm, you can see barnyard animals, learn about growing crops, and discover what it was like to be a farmer hundreds of years ago.
Visit the Castle Hill Lighthouse
Located in Narragansett Bay, the Castle Hill Lighthouse is another must-see attraction. The quaint lighthouse opened in 1890 and still acts as a guide for boats coming into shore today. After seeing the lighthouse, your kids can play on the beach while you enjoy the surrounding views.
Challenge your kids to a game of mini-golf
If your children enjoy some friendly competition, one of the fun things to do in Rhode Island for kids is playing mini-golf. Mulligan's Island is a popular place to do so and features two 18-hole courses. The venue also has batting cages, pitch and putt, and volleyball courts.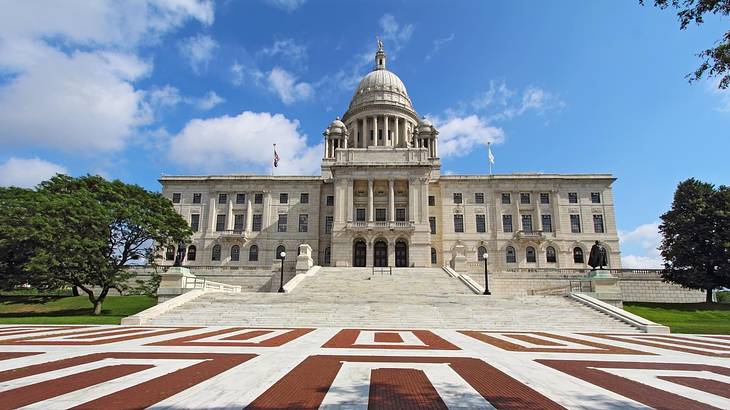 Look around the Rhode Island State House
Located in Providence, the Rhode Island State House is a fascinating and educational attraction. You and your family can book a tour of the building where you can discover more about Rhode Island's political history. You can also appreciate the building's spectacular architecture.
Have fun at the Rhode Island Museum of Science and Art
Another one of the educational family things to do in Rhode Island is going to the Rhode Island Museum of Science and Art. The Providence-based attraction houses interactive exhibits on science, technology, engineering, art, and math. This attraction allows your kids to keep busy while learning something new!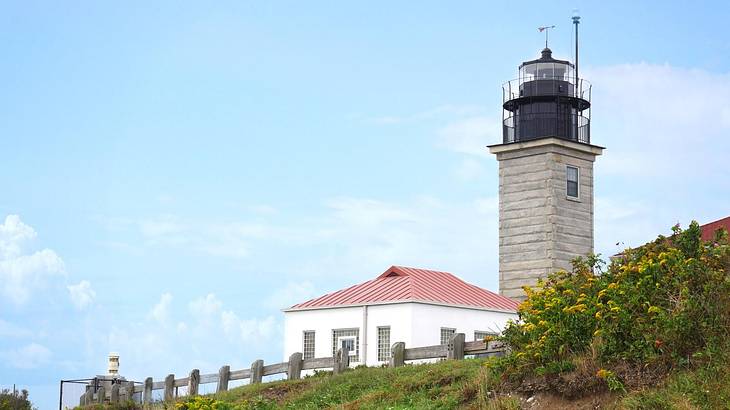 Hike at Beavertail State Park
Beavertail State Park is another of the great outdoor attractions in Rhode Island and is located in Jamestown. The 153-acre park has hiking trails and offers incredible coastal views. The park is also the site of the third lighthouse ever to be built in the US, and you can still see it today.
Taste candy apples at Jaswell's Farm
Rhode Island has many farms that are open to the public, including Jaswell's Farm. At the farm, your kids can pick apples or pumpkins. They can also try Jaswell's Farm's famous candy apples! You can also pick up some yummy baked goods and other produce at the farm store.
Learn about wildlife at the Audubon Society of Rhode Island
A must-see attraction when visiting Rhode Island with kids is the Audubon Society of Rhode Island. This natural history museum houses various exhibits that allow children to learn about wildlife and the environment.
The center also has lots of outdoor space where kids can explore, follow trails, and spot wildlife in its natural habitat.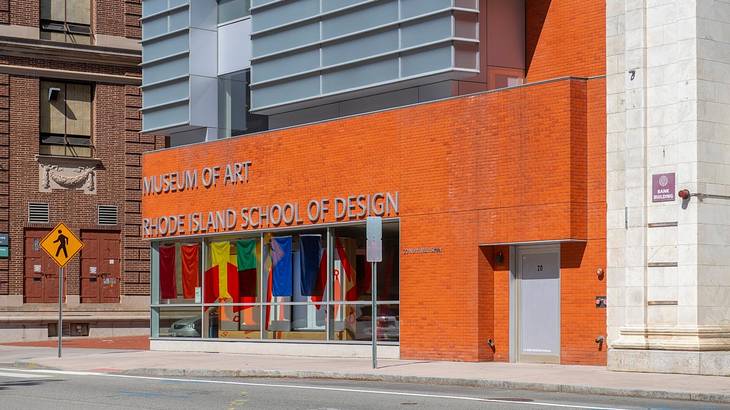 View artworks at the Rhode Island Museum of Art
The Rhode Island School of Design Museum of Art houses around 80,000 works. If you like art and cultural attractions, you and your family will have a great time visiting the museum. Interestingly, the venue is one of the largest art museums in New England and has been in Providence since 1877.
Admire art at the Newport Art Museum
Another great art gallery in Rhode Island is the Newport Art Museum. For families that like art, a trip here is a must! The museum was founded in 1912 and features a range of genres of art, from ancient works to contemporary pieces.
The building the gallery is in, the Griswold House, is also a National Historic Landmark.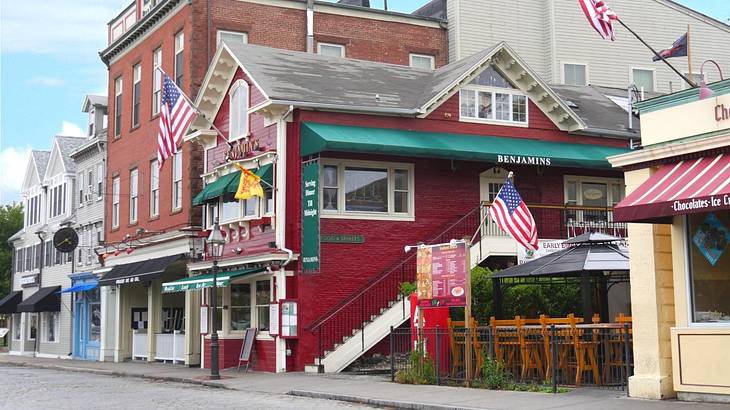 Eat your way through a Newport food tour
Newport offers visitors some delicious dishes to try. A great way for you and your family to try the best of the best is on a Newport food tour. You'll get taken to five restaurants to try their signature dishes.
As you go from place to place, your guide will tell you more about Newport's history. This activity is ideal for kids that are adventurous eaters.
Get back to nature at Snake Den State Park
Snake Den State Park is a 1000-acre park located in Johnston. At the park, you and your family can explore the woodland areas, follow various trails, and see wildlife. A working farm is also on-site, and your kids can find numerous trees to climb here!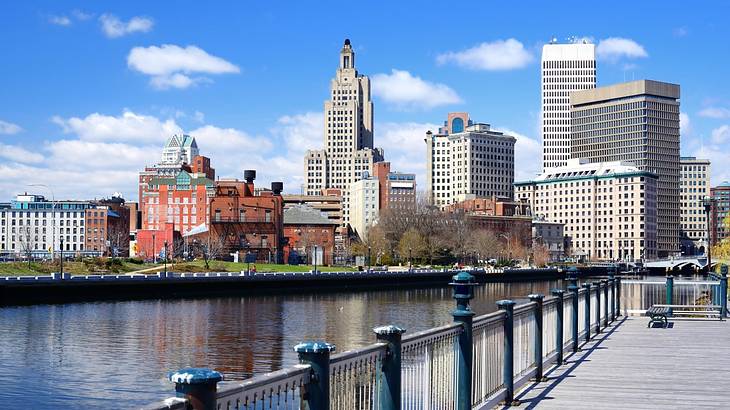 Go sightseeing in Providence
Seeing all the landmarks in Providence can be challenging when traveling with kids. A convenient way to do so is by going on a Providence sightseeing tour.
You'll get to visit Brown University, Historic Federal Hill, Roger Williams Park, and other landmarks. While on this tour, your guide will also cover many fun facts about Rhode Island .
In Summary
If you've been wondering what to do in Rhode Island with kids, this article should have given you some great ideas! No matter what your children like to do, they're sure to have an amazing vacation while visiting this New England hotspot.
Give us feedback about this article
More visual stories related to this article:
---
---
Want to keep exploring?
Subscribe for discounts on tickets and hotels and our latest guides.
Thank you for subscribing
We will be in touch soon with discounts on tickets and hotels and our latest guides.
Want to keep exploring?
Subscribe for discounts on tickets and hotels and our latest guides.
Thank you for subscribing
We will be in touch soon with discounts on tickets and hotels and our latest guides.
Related Articles