20 Famous Landmarks in Nashville, Tennessee, to Visit
Destguides may receive commissions from purchases made through affiliate links in this article.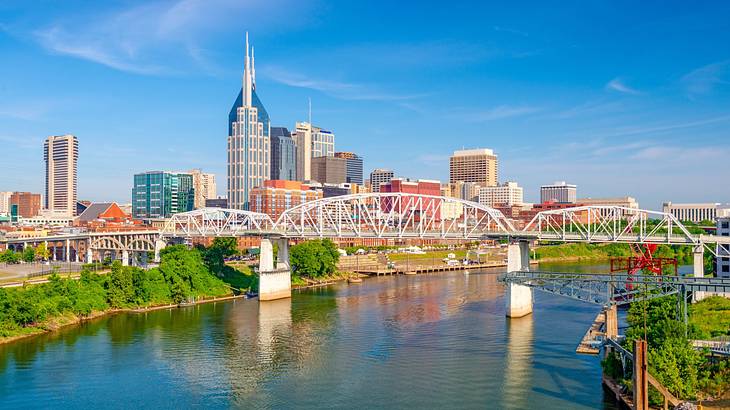 Nashville is a vibrant city in Tennessee, in the South of the United States. The area is known for its country music influence, rich history, and incredible food.
When visiting Nashville, you'll find a host of things to do. Being such a culturally and historically significant place, you'll also discover a range of famous landmarks in Nashville, Tennessee.
These Nashville landmarks range from country music-related spots, like the Country Music Hall of Fame, to sites of historical importance, such as the former home of Andrew Jackson. If you intend to visit this Tennessee city, continue reading to discover which famous places in Nashville you can't miss!
20 Famous Nashville Landmarks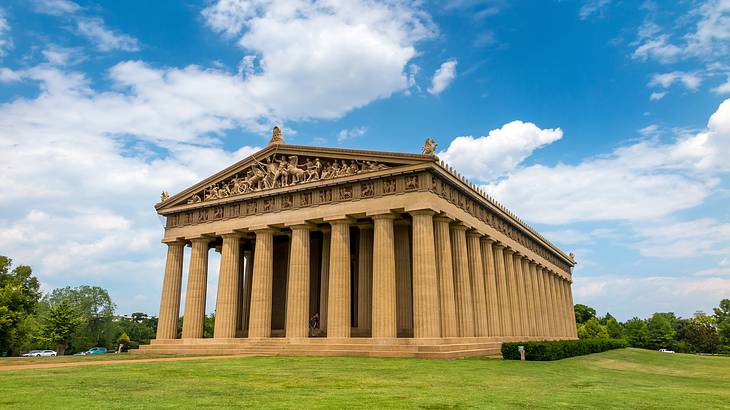 Nashville Parthenon
The Nashville Parthenon is located in Centennial Park and is a replica of the Parthenon in Athens, Greece. Inside, you'll also discover a 42-foot replica of the statue of Athena.
In addition to admiring the statue and architecture, you can view a range of artworks from the Cowan Collection inside the building. You'll find a selection of temporary exhibits on art and history as well.
John Seigenthaler Pedestrian Bridge
The John Seigenthaler Pedestrian Bridge is a 3,150-foot-long bridge across the Cumberland River. Its purpose is to connect downtown Nashville to the East Nashville suburbs. The bridge is an iconic landmark on the Nashville skyline.
When walking across the bridge, you'll get to enjoy amazing views of the river and Downtown Nashville. It's the perfect spot to get an incredible photo of the city.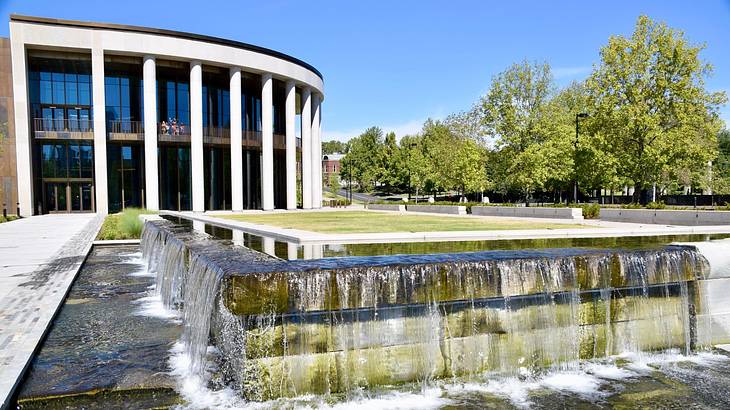 Tennessee State Museum
If you're interested in Tennessee history, you must go to the Tennessee State Museum. The museum features a permanent collection covering Tennessee state history, a section of temporary exhibits, and an art gallery.
Displays feature art, furniture, photographs, and much more. The museum's Civil War exhibit with uniforms, flags, and weapons is one of the largest Civil War displays in the country. There's also a children's gallery, making this attraction family-friendly.
Hatch Show Print
Hatch Show Print is another must-see for music lovers. The print shop opened in 1879 and has created albums and other art for Elvis Presley and stars of the Grand Ole Opry.
When visiting, you can see how the print shop works and shop a range of collectible merchandise. The landmark is close to the Country Music Hall of Fame, and tours can be arranged via the Hall of Fame.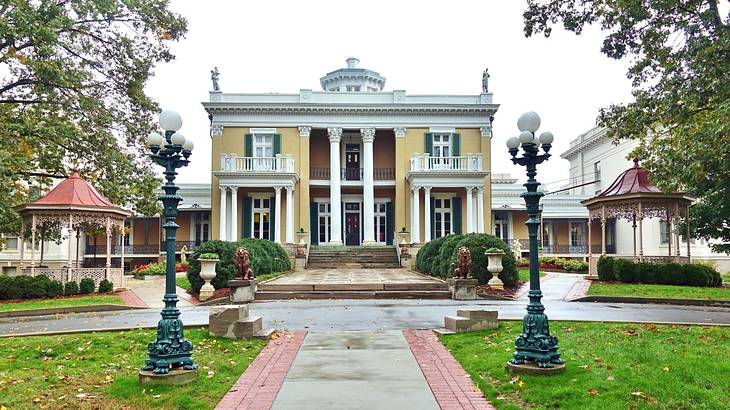 Belmont Mansion
The Belmont Mansion is another of the historical landmarks in Nashville, TN. The Mansion is the largest house museum in the state and focuses on the life of Adelicia Acklen.
The Italian Villa-style house includes 36 rooms decorated as they were when Acklen lived there. As you wander around the house, you'll learn more about its history. For example, it was one of the important Nashville Civil War sites, as Union troops spent time there during the start of the conflict.
Downtown Presbyterian Church
Downtown Presbyterian Church has been one of the primary downtown Nashville landmarks since 1846. The church has welcomed a range of famous people, including President Andrew Jackson and President James K. Polk.
The Egyptian Revival church features two towers and bright pattern details on the exterior. If visiting, the church is open to the public for you to go in and look around. Church services are also still held here.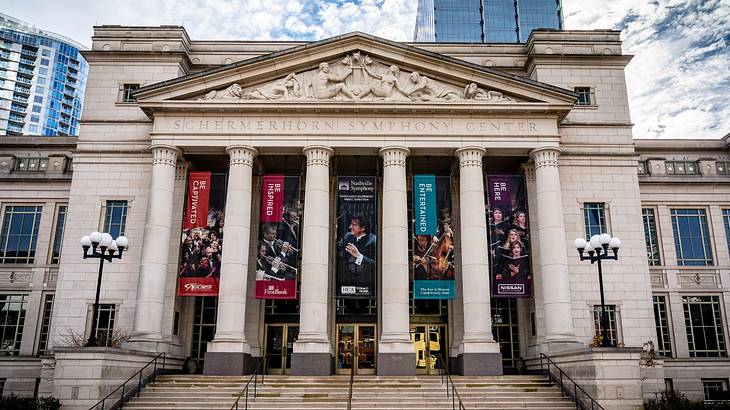 Schermerhorn Symphony Center
The Schermerhorn Symphony Center, or Nashville Symphony, is a famous concert hall located in Downtown Nashville. The symphony hall has been in operation since 2006 and hosts a range of performances.
Shows to watch include classical music performances as well as more contemporary ones. If you're in the city with your significant other, watching a performance here is one of the most romantic date ideas in Nashville! If you cannot go to an evening show, tours of the Schermerhorn Symphony Center are offered daily.
Bridgestone Arena
Bridgestone Arena is a must-visit landmark for sports fans. The arena is home to the Nashville Predators National Hockey League team, which plays there between October and April. You can also see concerts at the 20,000-capacity arena that opened in 1996.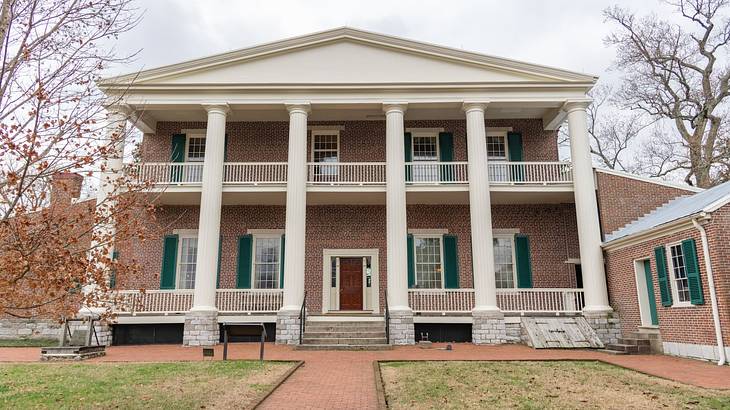 Andrew Jackson's Hermitage
The Hermitage, also known as Andrew Jackson's Hermitage, is a museum located on a site that belonged to President Andrew Jackson. The former president resided there until he died in 1845.
The entire site covers 1,120 acres and features 30 buildings. When visiting, you can explore the house and learn more about Jackson's life. You can also take tours, and there's even a winery on-site that offers tastings.
Music City Walk of Fame Park
The Music City Walk of Fame Park features a walkway with tributes to various music icons from multiple genres. The walk is found in an urban park across the street from the Country Music Hall of Fame.
Stars featured include Dolly Parton, Kenny Rogers, Kings of Leon, and many more. Viewing all the stars doesn't take long, so it's well worth stopping by if you're in the area.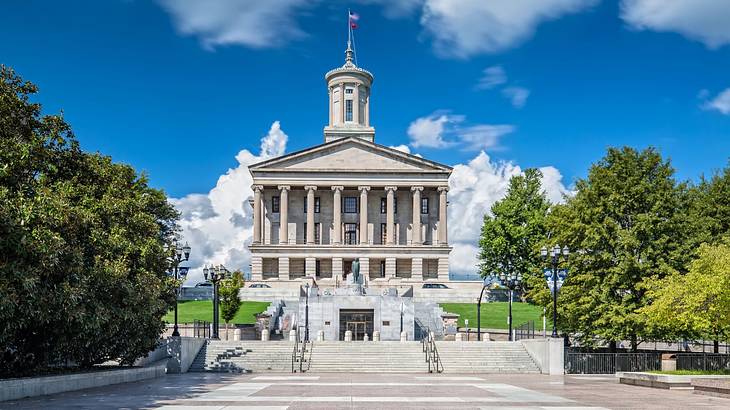 Tennessee State Capitol
The Tennessee State Capitol is one of the most important landmarks in Nashville, TN. The Capitol is the seat of government for the state and also houses the governor's office. The building itself is beautiful and was modeled after a Greek temple.
Having seen the exterior, you can go inside for guided tours to learn more about politics in Tennessee and view statues of historical figures. The graves of former President James K. Polk and his wife are also located here.
Adventure Science Center
If traveling to Nashville with kids, the Adventure Science Center is a great place to check out. The museum has an array of exhibits covering various science topics, from biology and physics to space travel and earth sciences.
The museum focuses on interactive and hands-on displays, and there are daily shows and talks. There's also a planetarium to discover.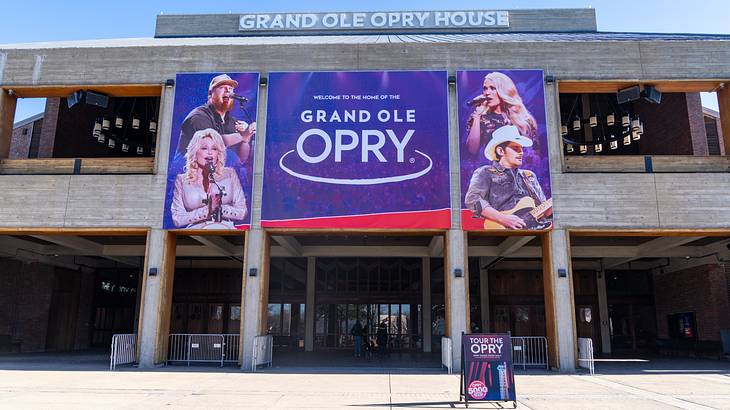 Grand Ole Opry House
Grand Ole Opry House is one of the most famous places in Nashville. The music hall was constructed to host Grand Ole Opry country music shows.
Grand Ole Opry House also hosts a range of other live music shows, mainly in the country music genre, and tours of the historic building are available. Even if you're not a major country music fan, seeing a show at this famous Tennessee landmark is a must!
Ryman Auditorium
Located in Music City, Ryman Auditorium is another incredible live music venue in Nashville. In fact, the Grand Ole Opry was staged here until 1974. Today, you can see a range of concerts over multiple music genres. In addition to catching a show, you can take tours of Ryman Auditorium and learn more about the venue's rich history.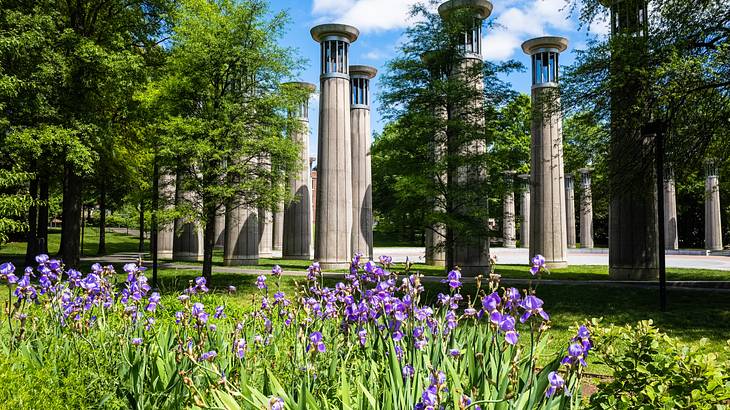 Bicentennial Capitol Mall State Park
Bicentennial Mall State Park is located close to the Tennessee State Capitol and covers 19 acres. The urban park was opened in 1996 to mark the 200th anniversary of Tennessee becoming a state.
Visiting the park is a great way to unwind after a busy day exploring Nashville. You can walk or bike around, hang out on the grass, and view a selection of monuments. There are also various plaques in the park offering more information on Tennessee's history.
Nashville Zoo
A trip to the Nashville Zoo is a fun experience for all ages. The zoo is home to many animals, including giraffes, tigers, kangaroos, and leopards. There are also many interactive habitats where you can see the animals up close and feed them.
Along with viewing the animals and related events, like feedings, there is a zip line to ride. This exciting ride will take you over many animal enclosures allowing you to see their habitat from above.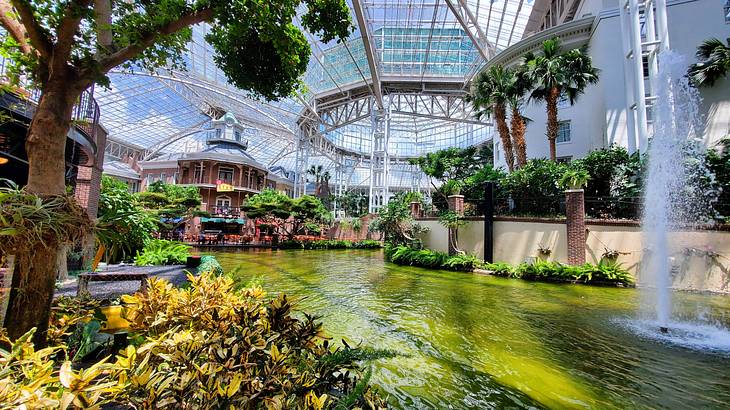 Gaylord Opryland Resort and Convention Center
The Gaylord Opryland Resort and Convention Center is a hotel, entertainment complex, and convention center owned by Marriott. A primary attraction here is the large aquatics center which features indoor and outdoor pools, water slides, and a lazy river.
Other things to do include exploring the stunningly decorated atriums and dining at one of the multiple restaurants. Of course, you can also stay at Gaylord Opryland Resort and Convention Center, with king and double rooms and suites available.
Cheekwood Botanical Garden
Nashville's Cheekwood Botanical Garden features acres of beautifully manicured lawns and gardens. Gardens to explore include a Japanese garden, perennial garden, and rose garden.
You'll also encounter charming water features and structures around the gardens. There's additionally a sculpture trail that will take you to see a range of designs, and an art exhibit is housed inside the estate's Georgian mansion.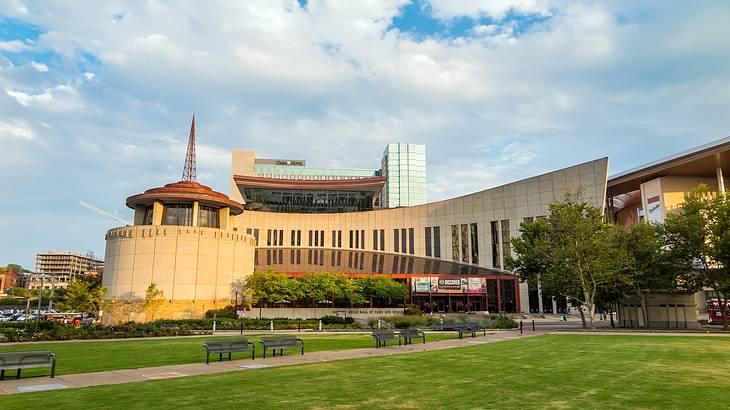 Country Music Hall of Fame and Museum
The Country Music Hall of Fame is a major Nashville landmark and an absolute must-visit for country music fans. The museum's exhibits cover the history of country music and the genre's most influential singers.
You'll also discover over 2.5 million country music artifacts on display. Additionally, you can arrange a tour of the iconic recording studio RCA Studio B, found on the famous Music Row, via the museum.
The Johnny Cash Museum
Another music-related Nashville landmark is the Johnny Cash Museum which features displays on the music icon. In fact, this museum has the world's most extensive collection of memorabilia relating to Johnny Cash.
Exhibits cover the artist's life and career as one of the most important figures in Nashville music history. Having explored the museum, you can enjoy some authentic southern dishes at the Johnny Cash Bar & BBQ.
In Conclusion
When visiting Nashville, you'll find a host of things to do. If planning a trip, be sure to keep these 20 famous places in Nashville in mind, and try to visit as many as possible for the best experience.
Give us feedback about this article
More visual stories related to this article:
---
---
Want to keep exploring?
Subscribe for discounts on tickets and hotels and our latest guides.
Thank you for subscribing
We will be in touch soon with discounts on tickets and hotels and our latest guides.
Want to keep exploring?
Subscribe for discounts on tickets and hotels and our latest guides.
Thank you for subscribing
We will be in touch soon with discounts on tickets and hotels and our latest guides.
Related Articles