35 Unique Things to Do in Austin, Texas
Destguides may receive commissions from purchases made through affiliate links in this article.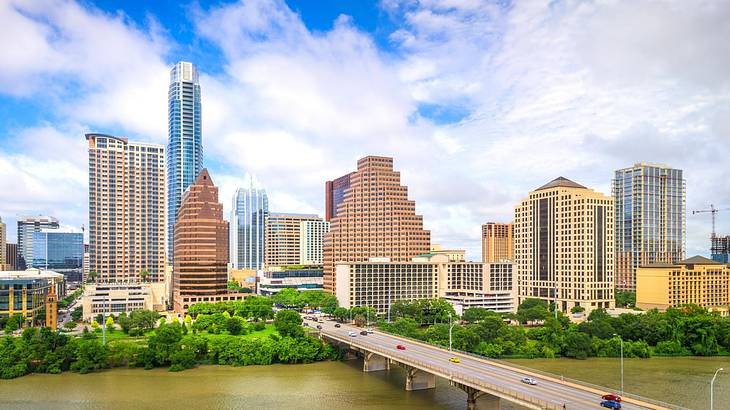 Austin is the capital of the US state of Texas and is a much-loved city break destination. This vibrant southern destination boasts an array of independent shops, outstanding bars and restaurants, and one-of-a-kind attractions.
Due to having the slogan "Keep Austin Weird," it's no surprise that there are many unique things to do in Austin, Texas. Activities to enjoy include going to the Museum of the Weird, playing bingo with a chicken, and seeing fantastic street art murals. Keep reading to discover all the unusual things to do in the Lone Star State's capital.
35 Cool Things to Do in Austin, Texas
Unique Austin, Texas, Things to Do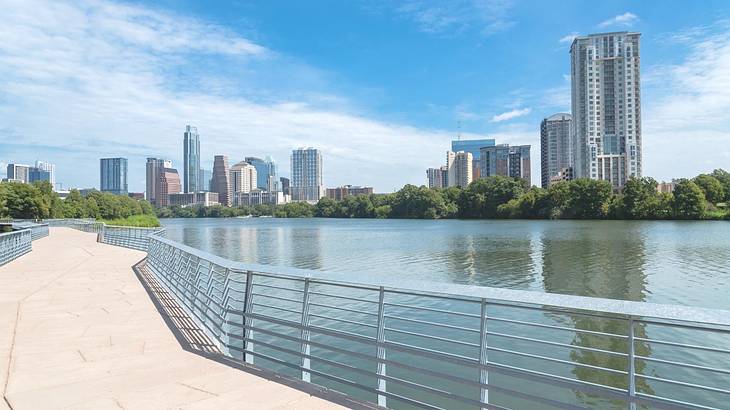 Bike around Lady Bird Lake and Downtown Austin
Austin has lots of great outdoor activities to enjoy, and one of them is cycling around Lady Bird Lake on a bike tour. The tranquil lake was created in 1960 and covers 416 acres. On your bike tour, you can cycle around the whole lake before going with your guide through Downtown Austin and past Barton Springs and Zilker Park.
Admire artworks at Hope Outdoor Gallery
Hope Outdoor Gallery is a unique and exciting attraction. This outdoor art museum features a variety of street art murals by numerous local artists.
You'll also likely see live events as you explore the 18-acre park. Note that the outdoor gallery is currently under renovation but will reopen sometime in 2022.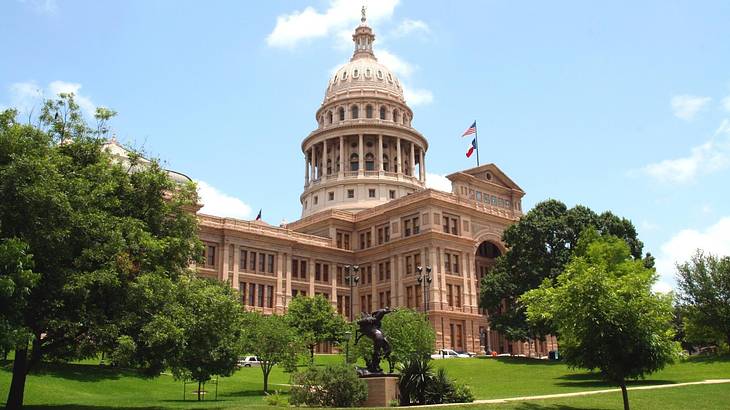 Tour the Texas State Capitol
Austin is the state capital of Texas and, therefore, houses the Texas State Capitol. It's hard to miss this grand building when exploring the city!
If you are interested in learning more about political history, taking a tour of the building is a must. You'll learn more about Texas politics from 1888, when the building was constructed, to today.
Discover the unusual at the Museum of the Weird
Museum of the Weird is one of many unusual yet cool places in Austin, TX. Self-proclaimed as "America's Strangest Attraction," this specialty museum features exhibits on a range of "weird" phenomena.
Topics covered include mummies, zombies, paranormal matter, and UFOs. If you're into slightly obscure things and events, this is the museum for you!
Spot the bats at Congress Avenue Bridge
The Ann W. Richards Congress Avenue Bridge, or Congress Avenue Bridge for short, crosses Lady Bird Lake. It spans 946 feet and offers pretty views of the lake and the city of Austin.
Interestingly, many bats also live around the bridge. At sunset, head to the bridge to watch hundreds of bats fly above you. Another great idea is to take a bat kayak tour! You can kayak in the waters around the bridge as you watch the bats fly overhead.
If you're interested in spotting these nocturnal creatures, the best time to visit Austin to see bats is during the summer. However, you can also catch sightings in late-spring and early-fall.
Spend time by the lake at Hippie Hollow Park
Not many people know this, but one of Austin's nicknames is Hippy Haven. This is partly due to the many hippies that arrived in the city in the 1960s. It also relates to the area's Hippie Hollow Park.
This somewhat lesser-known outdoor attraction in Austin is a unique place to hang out. Do note that this park is a nudist beach, so it is only open to adults. If this doesn't bother you, it's a great place to consider spending the day sunbathing and swimming. Due to being adults-only, it's a little quieter than other parks and beaches in the area.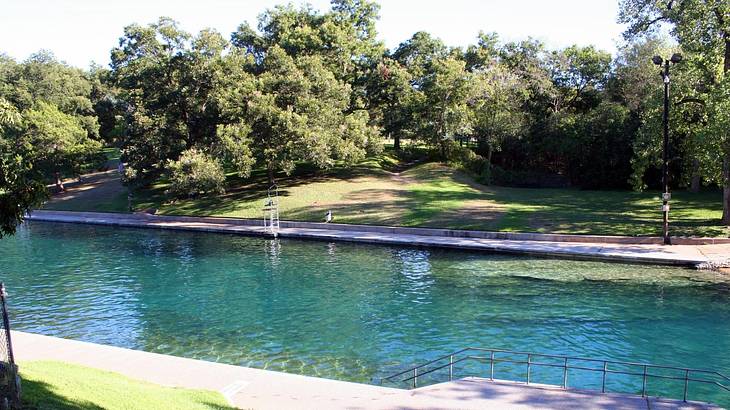 Cool off at Barton Springs Municipal Pool
If you're visiting from a colder area, you may find it gets a bit too hot in Austin. Luckily, there are many places to cool off, such as at Barton Springs Municipal Pool.
This outdoor recreational pool mimics a natural lake and is open to all. You'll also find grassy banks around the pool to relax on and may spot some endangered Barton Springs Salamanders.
Hang out on South Congress Avenue
Also known as SoCo, South Congress Avenue is one of many cool places in Austin, Texas, to find great bars and restaurants. You'll also discover unique independent shops, and many events are held in the area, such as live music shows. It's the ideal neighbor to explore and mix with locals.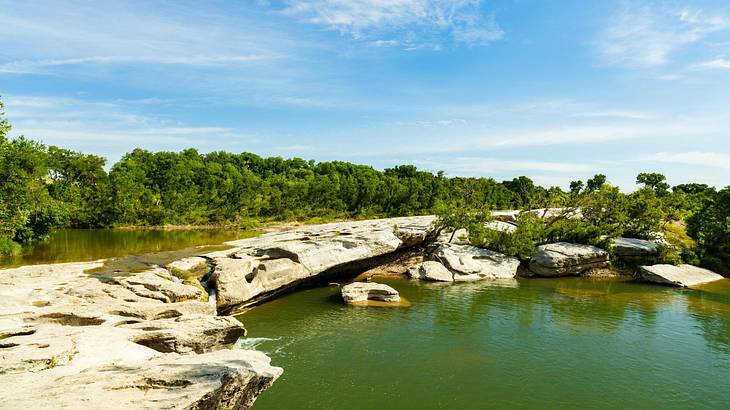 Hike in McKinney Falls State Park
Located just a 20-minute drive from central Austin is McKinney Falls State Park. This natural landmark features hiking trails and scenic waterfalls. Along with hiking or mountain biking, adventurers can go bouldering or even camp overnight.
Drink craft beer at Zilker Brewing Company and Taproom
A fun and laid-back spot to grab a beer in Austin is at Zilker Brewing Company and Taproom. At the bar, you can try various brews, from those with notes of citrus to a rich coffee stout. Currently, Spicy Boys Chicken serves food in front of the bar, which you can take inside to enjoy with your drinks.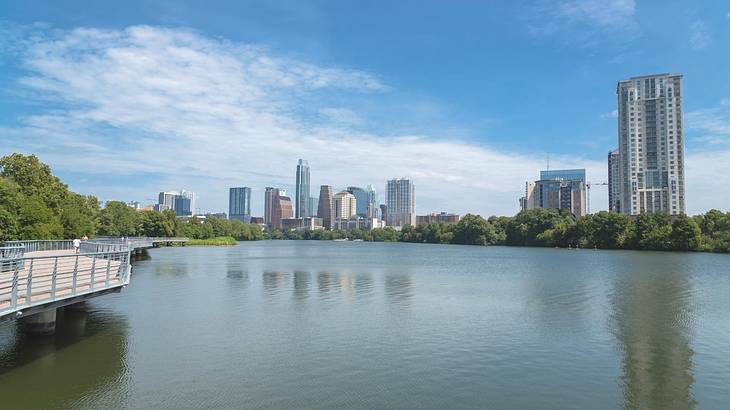 Follow the Ann and Roy Butler Hike-and-Bike Trail
Named after a former city mayor and his wife, this hiking and biking trail can't be missed if you're looking for outdoor activities in Austin. The trail is a loop trail that takes you around Lady Bird Lake.
It's an easy scenic trail that's appropriate for all activity levels. As you follow the route, you can enjoy peaceful views of the lake and the surrounding park.
Stock up on sweet treats at Big Top Candy Shop
If you have a sweet tooth, one of the cool things to do in Austin, TX, is going to Big Top Candy Shop. The giant antique circus-themed sweet shop sells over 400 types of bulk candy and 3,000 varieties of wrapped candy.
They also have a soda fountain and sell ice cream and shaved ice. No matter your age, you'll feel like a kid in the best candy shop at Big Top!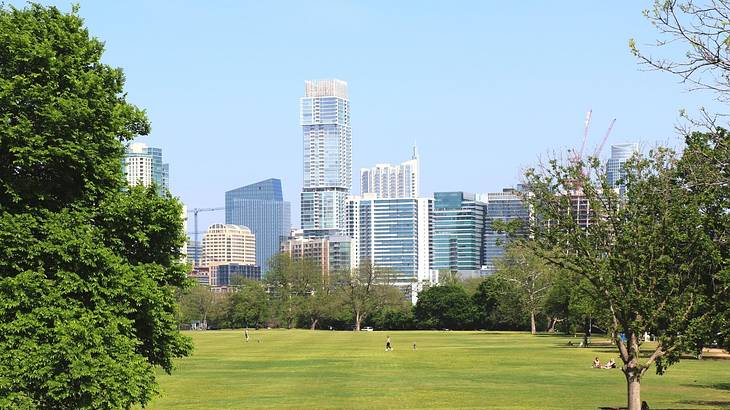 Picnic in Zilker Park
Zilker Park, also known as Zilker Metropolitan Park, is a much-loved urban park. Covering 350 acres, it's the ideal place to spend some time in the fresh air.
If it's a nice day, get some food and drinks at nearby cafes, grocery stores, or take-out restaurants and have a picnic. Relaxing on the grass with your meal surrounded by the Austin skyline is a lunch you won't forget quickly!
If you're visiting this Austin landmark in the third week of October, be sure to also check out the Austin City Limits music festival at Zilker Park.
Play bingo at The Little Longhorn Saloon
Another of the unique bars in Austin is The Little Longhorn Saloon. The bar is known for its live country music acts and cheap drinks. It's also known for its famous bingo game.
Every Sunday, locals and tourists head to the bar for bingo. The difference with this game is that a chicken picks the numbers! Playing this one-of-a-kind game has to be on your Austin bucket list.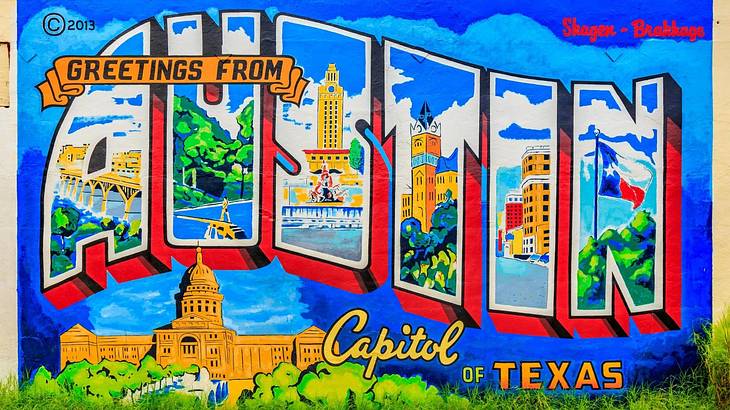 Take a street art tour
Austin features many amazing street art murals. These works include those at the Hope Outdoor Gallery and the "Greetings from Austin" mural, a Texas bucket list attraction.
For those interested in street art, taking an Austin art walking tour is recommended. This two-hour guided tour will take you to a variety of murals, and you'll learn more about the artists at each stop.
Check out Austin's best food trucks
While Austin has an array of top eateries, getting at least one meal from a food truck is a must. You'll discover food trucks throughout the city that sell a variety of cuisines, from Mexican and Italian food to BBQ and sweet treats.
Places that have a lot of food trucks include The Picnic Food Trailer Park and Thicket Food Truck Park in South Austin.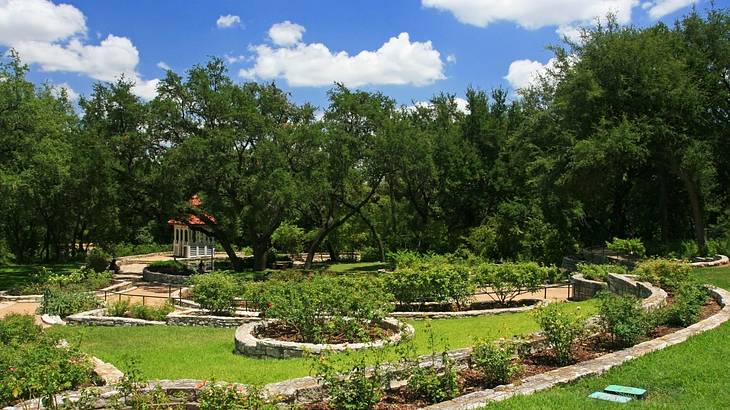 Relax in nature at the Zilker Botanical Garden
On a hot day, one of the coolest things to do in Austin, Texas, is wandering around the Zilker Botanical Garden. Located within Zilker Park, the botanical garden features a variety of beautiful plant and flower displays.
The garden is split into different themes, including a Japanese garden, a rose garden, and a prehistoric garden complete with waterfalls and dinosaur footprints!
See historic homes on Rainey Street
The Rainey Street Historic District, known locally as just Rainey Street, was added to the National Register of Historic Places in 1985. It notably features a variety of historic homes, including many bungalows.
Having strolled past these old-fashioned homes, you'll also find many bars and restaurants in this area.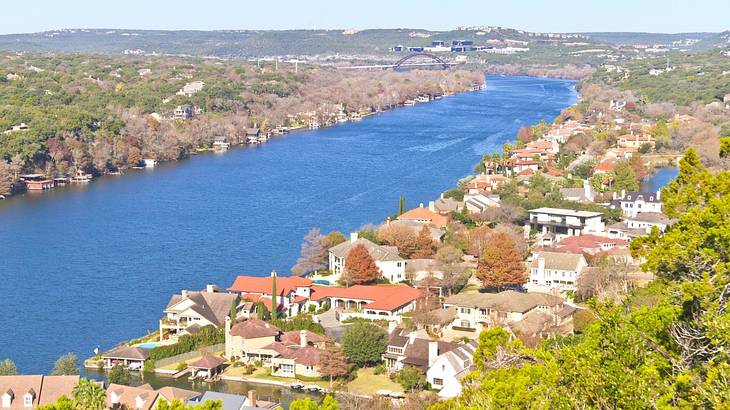 Go to the lookout at Mount Bonnell
Also known as Covert Park, Mount Bonnell features one of the best lookouts in Austin. You can reach the viewpoint that sits at 800 feet above the town below by climbing 102 steps. Once there, you can enjoy views of the Colorado River and surrounding towns and forests.
View pretty plants at Lady Bird Johnson's Wildflower Center
If you're interested in plants and horticulture, one of the Austin hidden gems you'll want to visit is Lady Bird Johnson's Wildflower Center.
Located on the University of Texas at Austin campus, the botanical garden is home to over 900 species of plants native to Texas. As you explore, you'll also discover wildlife, like butterflies and songbirds.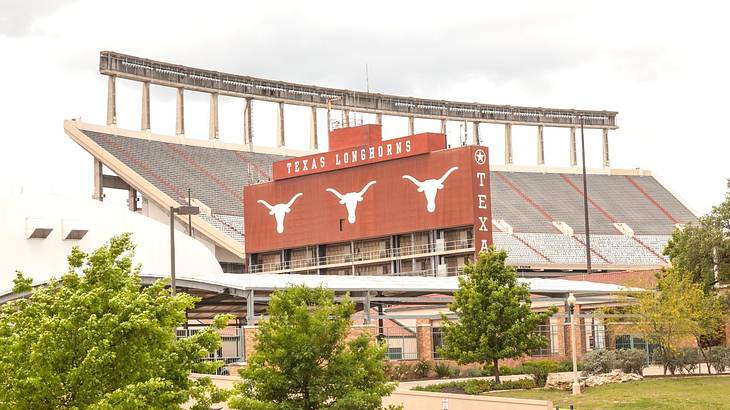 Watch the Texas Longhorns at DKR Texas Memorial Stadium
Located on the University of Texas at Austin campus, the DKR Texas Memorial Stadium hosts many events. One of the most popular things to watch here is Texas Longhorns football games.
The NCAA regular season generally runs from the end of August through December. If in the area during that time, adding a Longhorn's game to your to-do list is a fun and unique idea.
Walk the Barton Creek Greenbelt Trail
Situated just ten minutes from central Austin when driving, Barton Creek Greenbelt features a hiking trail and creek to swim in. The Barton Creek Greenbelt Trail takes you along the creek, past Twin Falls, and into the surrounding woodland. After your hike, you can cool off in the creek, which is a popular swimming spot.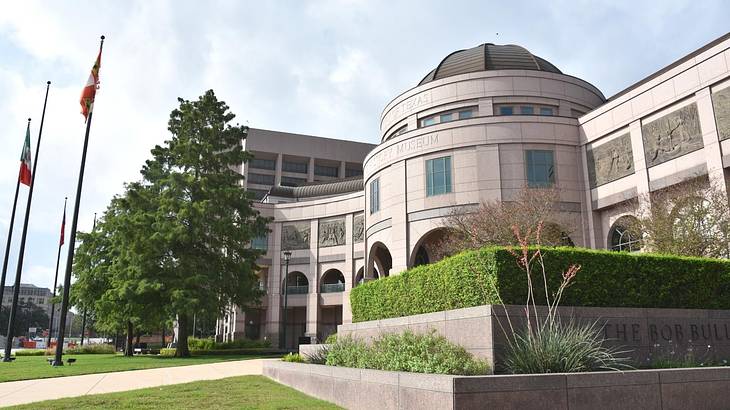 Learn about Texas at the Bullock Texas State History Museum
The best way to learn more about the state of Texas is by visiting the Bullock Texas State History Museum. Opened in 2001, the museum has exhibits on Texas history, culture, and significant events.
Along with permanent exhibits, you'll discover a variety of temporary exhibitions, allowing you to learn something new every time you visit.
Find Secret Beach
One of the coolest places in Austin, Texas, is Secret Beach. This tranquil beach is located next to Roy Guerrero Metropolitan Park Plaza and is relatively unknown to tourists.
The beach is a perfect place to relax by the water with friends. Unfortunately, you can't swim here; however, you can paddle to cool off.
Explore the Elisabet Ney Museum
The Elisabet Ney Museum is a lesser-known museum in Austin that's worth visiting. The house museum is the former home of sculptor Elisabet Ney. The Building also housed her studio. Visitors can tour the structure, see some of her works, and learn more about her life.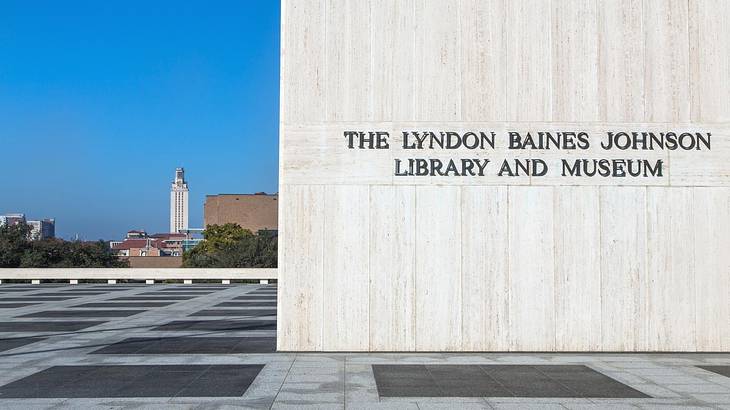 Look around the LBJ Presidential Library
The LBJ Presidential Library is dedicated to the 36th president of the United States, Lyndon B. Johnson. Founded in 1971, the library houses temporary and permanent exhibits on the president's life and career. Notably, the museum has 45 million pages of documents related to LBJ.
Enjoy events at the Umlauf Sculpture Garden & Museum
Another of the scenic hidden gems in Austin, TX, is the Umlauf Sculpture Garden & Museum. This attraction features pretty outdoor gardens and artworks, including sculptures and paintings.
There are also many unique events to attend here. Events include outdoor yoga classes, summer block parties, and story hours for kids.
Pamper yourself at Viva Day Spa
If the weather isn't great, one of the best indoor activities in Austin is going to Viva Day Spa. Treatments to indulge in include massages, facials, and manicures. If visiting with your partner, you can also book couples treatments.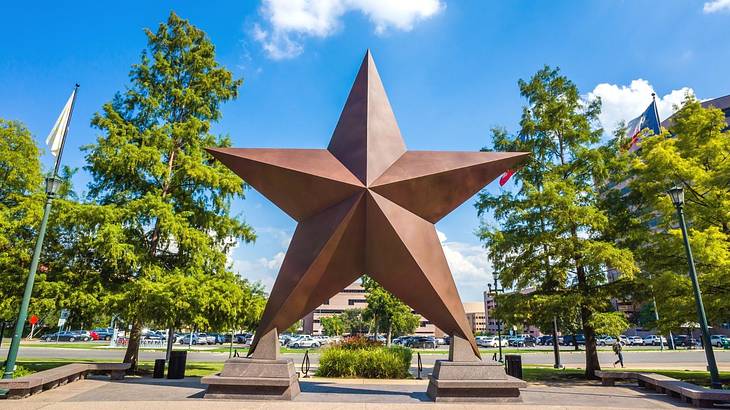 Experience a Keep Austin Weird scavenger hunt
"Keep Austin Weird" is a slogan developed by the Austin Independent Business Alliance to promote unique independent businesses in the city. Today, it is a famous tagline for all of Austin and its desire to be different and slightly weird!
A fun way to experience this slogan is by going on a Keep Austin Weird scavenger hunt. As you complete the hunt, you'll learn fun facts about Austin and see many popular places of interest.
Taste local dishes on an Austin secret food tour
Do you want to find hidden gems in the Austin dining world? Then a Austin secret food tour is for you. You'll be taken to a selection of eateries to try dishes unique to the city. Your guide will also offer some Austin history facts.
Bar hop on an Austin Brewery tour
The perfect way to check out Austin's best breweries is by going on a craft brewery tour. On the four-hour excursion, you'll visit three top breweries and can taste a variety of brews at each stop. This tour allows you to find some bars that you may not have otherwise found.
Unique Things to Do Near Austin, Texas
Kayak at Devil's Waterhole
A famous natural landmark in Texas is Devil's Waterhole. Fun activities at the waterhole include kayaking, paddle boarding, and canoeing. Other activities to enjoy include hiking nine miles of trails around the waterhole and swimming. Daredevils can cliff jump here too!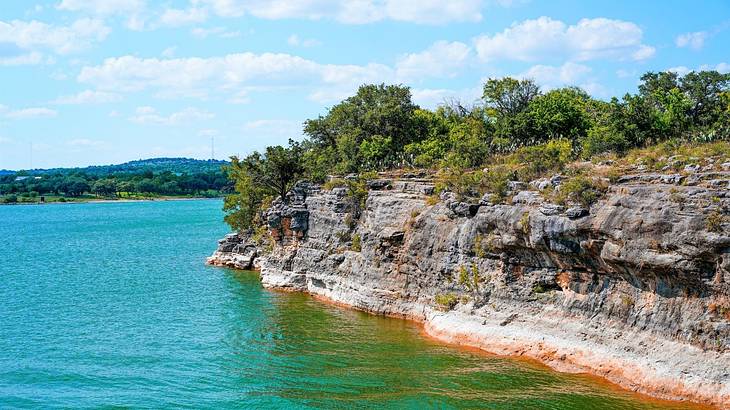 Zipline through the forest at Lake Travis Zipline Adventures
Outdoor activity lovers will want to check out Lake Travis Zipline Adventure. Lake Travis is situated 30 minutes from downtown, and Lake Travis Zipline Adventure boasts the longest and fastest zipline in Texas.
You can partake in three-hour zipline tours that will allow you to fly through the forest and admire views of Lake Travis.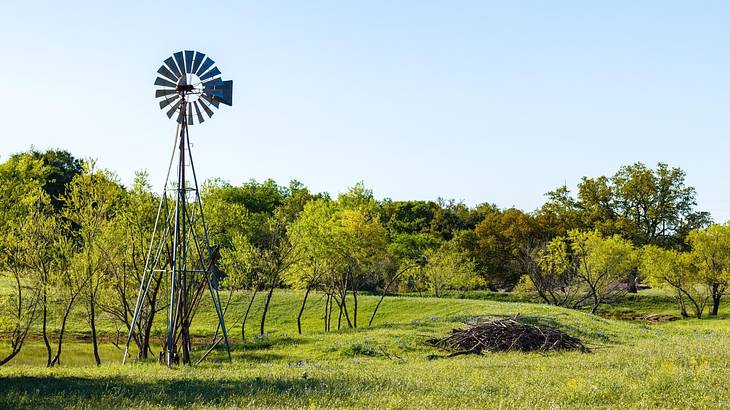 Sip wine at Austin's wineries
For those that like trying local wines, one of the cool places to go in Austin, Texas, is Hill Country. Located 40 minutes from central Austin, this area is full of excellent wineries and a stunning landscape full of vineyards.
The easiest way to get to Hill Country is by taking a winery tour. You have the opportunity to visit two wineries and sample their red, white, and rose wines. Best of all, as you have a driver, everyone in your group can participate in wine tasting!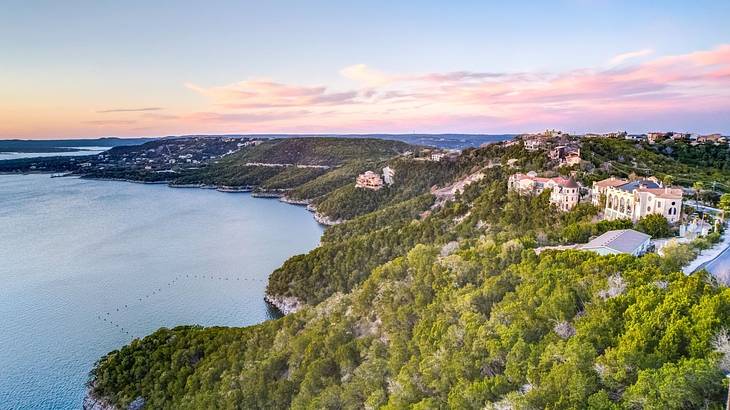 Luxuriate on a Lake Travis sunset boat cruise
A memorable evening activity near Austin is going on a sunset cruise on Lake Travis. You can admire the beautiful sunset as your captain sails along the lake. You're also welcome to bring alcoholic beverages to enjoy as you take in the vistas.
In Conclusion
This list of the coolest places in Austin, TX, should have given you lots of ideas on what to do in Austin that's unique and different. Activities to partake in include visiting natural landmarks, going to niche museums, and finding an array of Austin hidden gems.
If you're looking for additional activity suggestions, make sure you stop by the Austin Visitor Center once you arrive in the city.
Give us feedback about this article
More visual stories related to this article:
Want to keep exploring?
Subscribe for discounts on tickets and hotels and our latest guides.
Thank you for subscribing
We will be in touch soon with discounts on tickets and hotels and our latest guides.
Want to keep exploring?
Subscribe for discounts on tickets and hotels and our latest guides.
Thank you for subscribing
We will be in touch soon with discounts on tickets and hotels and our latest guides.