20 Landmarks in Austin, Texas, to Visit
Destguides may receive commissions from purchases made through affiliate links in this article.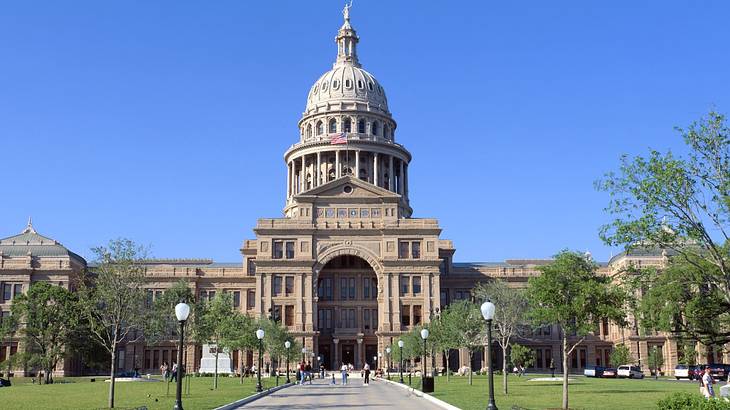 Are you interested in learning more about the most famous and interesting landmarks in Austin, Texas? If so, this article is for you! Whether you're visiting the city soon or just want to find out new things about the Texas state capital, this list is sure to feature a few interesting places you haven't heard of before.
From art museums and parks to a 19th-century bakery and a cathedral made of junk, keep reading to discover 20 top landmarks in the city of Austin!
20 Austin, Texas, Landmarks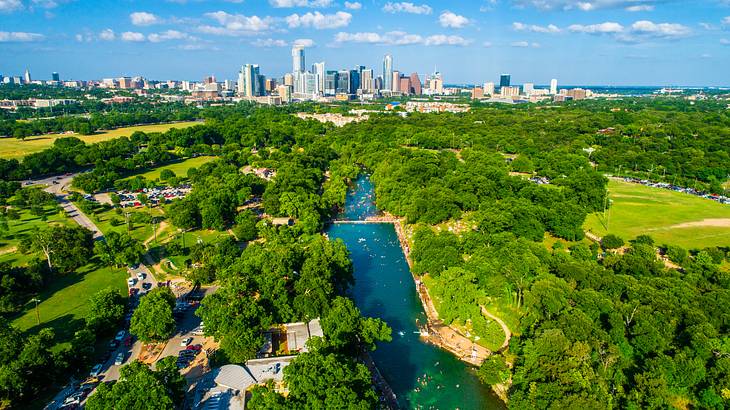 Barton Springs
During the hot Texas summer, Barton Springs is a popular landmark with locals and visitors. Barton Springs actually comprises four natural springs. This includes the Main Barton Spring, which feeds water to the Barton Springs Municipal Pool, an attraction that locals flock to for swimming on warm days. All four springs are located in Zilker Park.
Greetings From Austin Mural
Taking a photo with the Greetings From Austin Mural is a Texas bucket list activity! This mural resembles a postcard with the phrase "Greetings From Austin" and images of local landmarks painted within the letters of Austin. The street art was originally created in 1997 and was restored in 2013.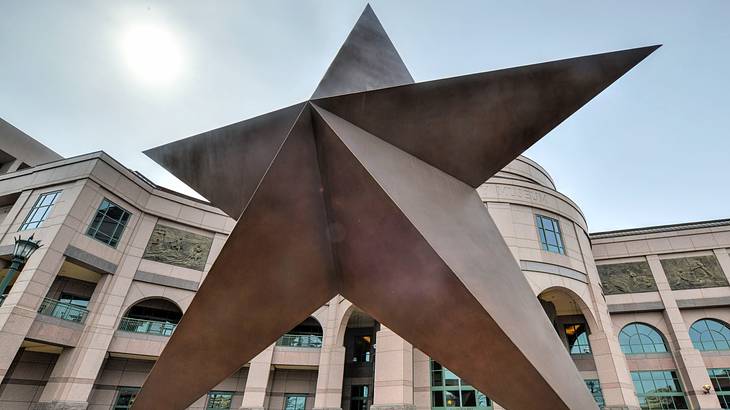 Bullock Texas State History Museum
Are you looking for an Austin landmark that will teach you more about history relating to the city and the state of Texas? Then you won't want to miss the Bullock Texas State History Museum.
At the museum, which opened in 2001, you can learn about Texas culture, history, and significant events. Topics covered ranged from the oil industry in Texas to science, space exploration, and the civil rights movements.
Congress Avenue Bridge
Officially called the Ann W. Richards Congress Avenue Bridge, this landmark sits across the Colorado River and connects Downtown Austin to the Bouldin Creek neighborhood.
The bridge spans just under 946 feet and can be crossed via car and on foot or bike. While walking across the bridge offers fantastic views, this landmark is most known for the bats which live around it and fly over the bridge as night sets in. In fact, the Congress Avenue Bridge is home to the world's largest urban bat colony!
If you want to see these bats, the best time to visit Austin is during the summer. However, you also have a good chance of seeing them in the spring and early fall.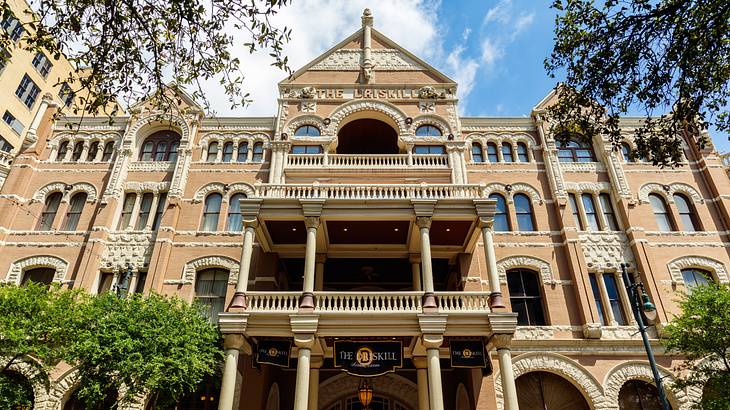 The Driskill Hotel
The Driskill Hotel has been one of the most luxurious places to stay in the city since 1886. The opulent Romanesque Revival hotel features stylish rooms and unique interior design elements throughout, like chandeliers and stained glass dome ceilings.
Many famous figures have stayed at the hotel, and Lyndon Johnson even took his future wife to the hotel restaurant for their first date. If you visit, not only could you spot famous people, but you may also see a ghost or two! This is because the hotel is said to be one of the most haunted places in Austin.
Joseph and Susanna Dickinson Hannig Museum
The Joseph and Susanna Dickinson Hannig Museum is located in a home that Joseph Hannig constructed for his wife, Susanna Dickinson. Susanna is known as one of the few people who survived the Battle of the Alamo in 1836 during the Texas Revolution.
The museum is dedicated to her and the other Battle of Alamo survivors. It has exhibits on that battle and the Texas Revolution as a whole.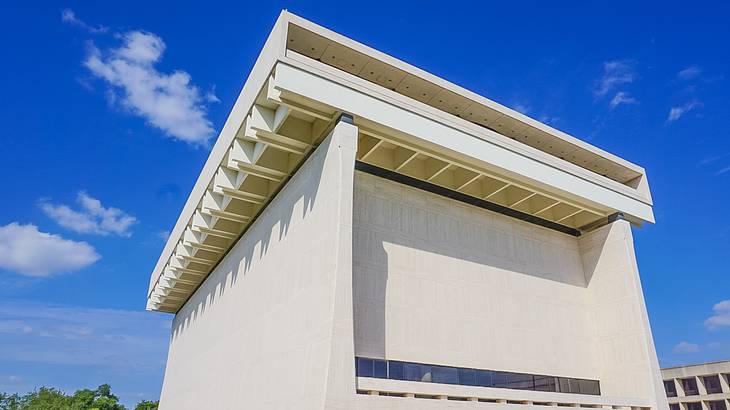 LBJ Presidential Library
A fun fact about Texas is that the state is the birthplace of two US presidents, Dwight D. Eisenhower, and Lyndon B. Johnson. Today, one of the most famous Austin landmarks is related to the latter and is well worth visiting if you're interested in United States politics and presidential history.
The LBJ Presidential Library is located on the University of Texas at Austin grounds and houses 45 million pages of documents related to the 36th president. You can also see artifacts and other notable pieces from LBJ's archives as well as exhibits on his life and career.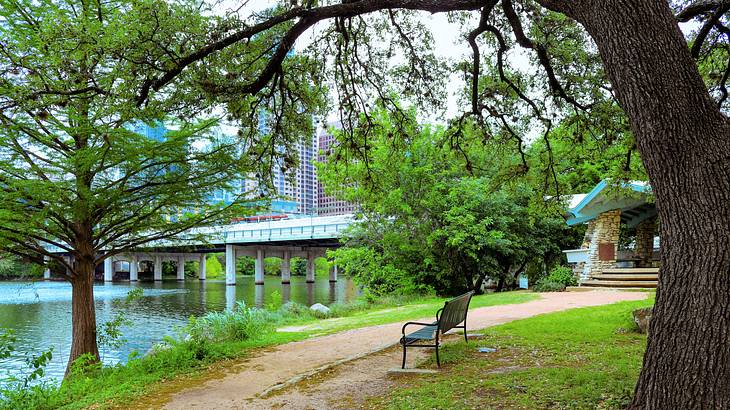 Lady Bird Lake
Lady Bird Lake is a reservoir of the Colorado River and one of the most popular outdoor Austin, Texas, landmarks amongst locals and tourists. It's named after former First Lady of the United States Claudia Alta Johnson, who was nicknamed Lady Bird.
The lake is an excellent place to go kayaking or canoeing. There are also walking trails and a bike trail around the reservoir for those that want to enjoy Lady Bird Lake from dry land.
Old Bakery and Emporium
Also known as the Lundberg Bakery, Old Bakery, and Emporium is a historic building that opened in 1876 and was added to the National Register of Historic Places in 1969. Swedish-born Charles Lundberg owned and operated the bakery from 1876 until 1895. It continued to be a bakery until 1936.
Having been used for other purposes since 1936, it was going to be demolished in 1970. However, excavations around the bakery building unearthed the remains of an old Texas State Capitol building, which led to the bakery being saved from demolition.
Today, the Old Bakery and Emporium houses a consignment store selling local art and craft items. There's also an art exhibition space and gallery.
Texas State Capitol
Austin is the state capital of Texas and, as such, is home to the Texas State Capitol building. This famous Texas landmark opened in 1888 and is designed in a Renaissance Revival style, complete with a domed roof, a common feature of US capitol buildings.
Along with being the seat of government for the state and housing governmental offices, the building is open for tours. During a tour, you can admire the architecture and learn about politics in Texas from the 1880s to the present.
Oakwood Cemetery
You may not think of a cemetery being a major point of interest; however, the Oakwood Cemetery is one of many important historical places in Austin, Texas. This cemetery officially dates to the mid-1850s, although it may have been used as a burial ground before that.
It's also the oldest city-owned cemetery in Austin. Additionally, it became a Recorded Texas Historic Landmark in 1972 and was added to the National Register of Historic Places in 1985.
Today, you can stroll through the cemetery, viewing gravestones that date back centuries. There's also a chapel, which acts as a visitor center and place of remembrance.
Texas State Cemetery
The Texas State Cemetery is another historic cemetery to see in Austin. This burial ground opened in 1851 and was added to the National Register of Historic Places in 1986.
The cemetery covers 22 acres, and there are rules for who can be buried. These criteria include having been a member of the legislature or an elected state official. Visitors can tour the manicured grounds to view the notable graves and admire the plant displays, including many rose bushes.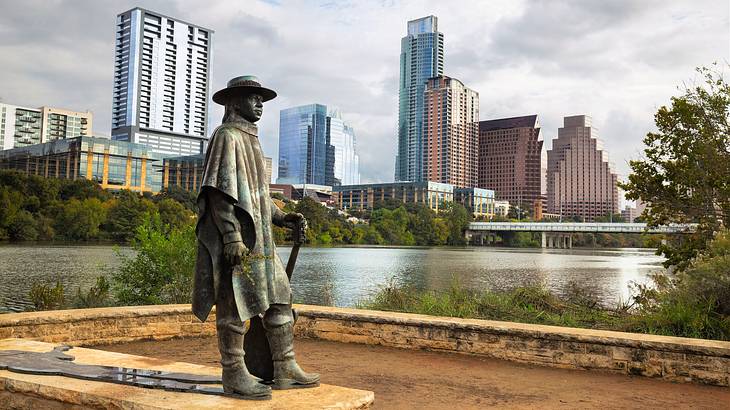 Stevie Ray Vaughan Statue
As one of the most famous monuments in Austin, seeing the Stevie Ray Vaughan Statue has to be on your to-do list. This bronze statue is a memorial to American musician Stevie Ray Vaughan. It's located along the Ann and Roy Butler Hike and Bike Trail and was created by sculptor Ralph Helmick in the 1990s.
Lady Bird Johnson's Wildflower Center
Another landmark related to Claudia Alta "Lady Bird" Johnson is Lady Bird Johnson's Wildflower Center. This landmark was founded in 1982. Visitors can wander around approximately 284 acres of grounds with over 900 plant species, most of which are native to Texas.
You'll also see wildlife, like birds and butterflies. A trip to Lady Bird Johnson's Wildflower Center is one of the most fun and unique things to do in Austin and has to be on everyone's to-do list!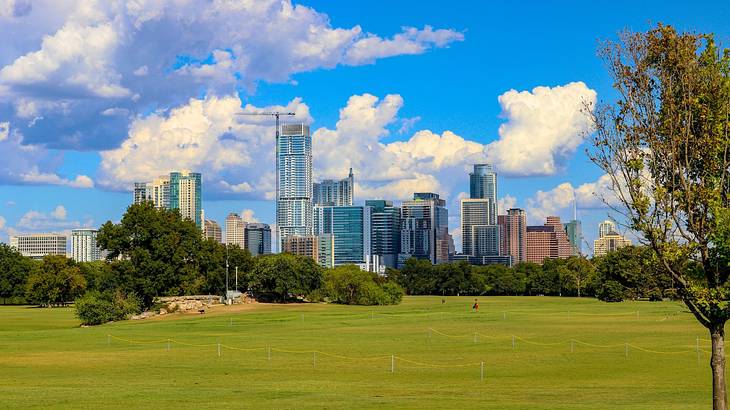 Zilker Metropolitan Park
Spread over 350 acres, Zilker Metropolitan Park is one of the most popular parks in Austin. It was established in 1917 after Andrew Jackson Zilker donated the land to the city. In 1997, the park was added to the National Register of Historic Places.
These days, locals and tourists frequent the park to follow trails and hang out on the grass. You can also enjoy events, like listening to live music at the Austin City Limits Music Festival.
George Washington Carver Museum
The George Washington Carver Museum is one of the many fascinating cultural and historical sites in Austin, Texas, that you have to visit. This museum is housed in a historic building that was formerly the George Washington Carver branch of the Austin Public Library.
At the museum, you can see exhibits on African American history, including those related to significant events and African American communities in Austin.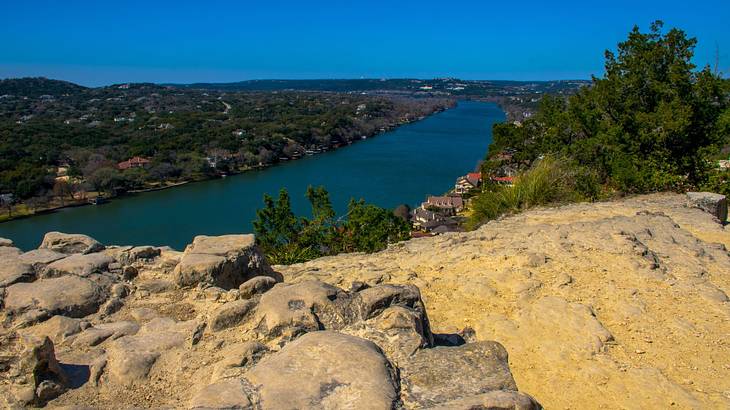 Mount Bonnell
Mount Bonnell, located in Covert Park, is a popular natural landmark in the city and offers excellent views of Austin from its peak. Hikers going to the peak will get to take in views over the Colorado River and the surrounding area. You can also see south to Downtown Austin.
Cathedral of Junk
The Cathedral of Junk is an unusual landmark in Austin's South Congress area. This "cathedral" is constructed using over 60 tons of junk, including old road signs, furniture, and bicycles. It was designed and built by Vince Hannemann and can be viewed from the street or explored in more detail by booking an appointment with Hannemann.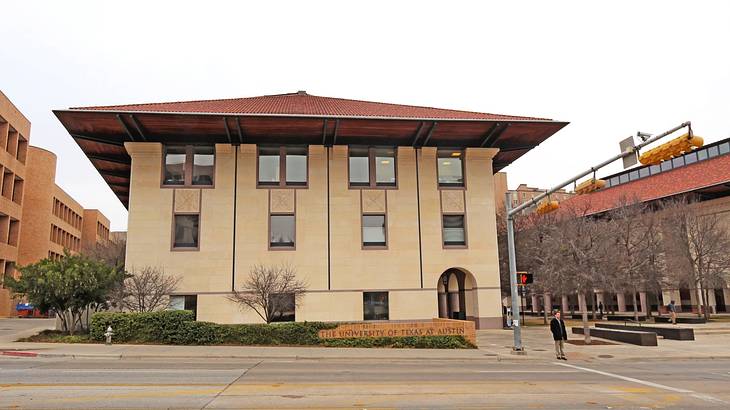 Blanton Museum of Art
One of the top landmarks in the city for art lovers is the Blanton Museum of Art. Founded in 1963, the art gallery is located at the University of Texas at Austin and is one of the largest university art museums in the country.
There are both temporary and permanent exhibits to see, most of which focus on modern and contemporary art. However, you can also see Latin American art from various periods and Old Master paintings, among other art genres.
Austin History Center, Austin Public Library
As the name suggests, Austin History Center, Austin Public Library is a combination of a history museum and library. It notably houses a local history collection created by the Austin Public Library as well as Austin's historical archives. So if you want to learn about Austin's history and significant events in the city, this is the place to visit!
In Conclusion
There are numerous natural, cultural, and historical landmarks in Austin, Texas, to see. This list of top landmarks covered the 20 most popular places; however, it's just the tip of the iceberg when it comes to all the fantastic sites to see in Texas' state capital.
Give us feedback about this article
Learn more about Austin:
More articles about Texas:
Read more articles about the United States:
More articles about landmarks:
---
---
Want to keep exploring?
Subscribe for discounts on tickets and hotels and our latest guides.
Thank you for subscribing
We will be in touch soon with discounts on tickets and hotels and our latest guides.
Want to keep exploring?
Subscribe for discounts on tickets and hotels and our latest guides.
Thank you for subscribing
We will be in touch soon with discounts on tickets and hotels and our latest guides.
Related Articles