15 El Paso Landmarks Not to Miss
Destguides may receive commissions from purchases made through affiliate links in this article.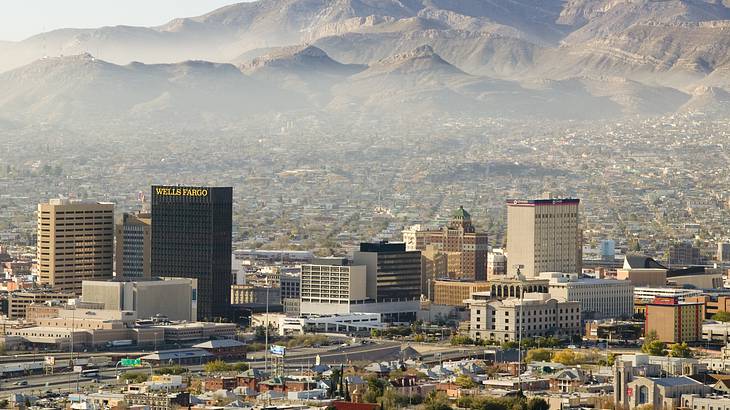 Situated on the westernmost corner of Texas, bordering Mexico, El Paso is a vibrant city known for its unique blend of Texan and Mexican cultures. Part of the Chihuahua Desert Region, El Paso is famed for its awe-inspiring scenery and unique desert flora.
El Paso averages 300 days of sunshine a year, earning it the nickname "The Sun City." Locals and visitors relish this and enjoy all the city's outdoor recreational activities. From strolling the many parks and gardens to hiking and rock climbing, there are plenty of reasons to get outdoors in El Paso.
In addition to outdoor activities, El Paso has a thriving art scene, historical sites, and cultural landmarks to explore. Whether interested in art, history, or simply soaking up the local culture, El Paso has something for everyone. Here are 15 El Paso landmarks that can't be missed.
15 Landmarks in El Paso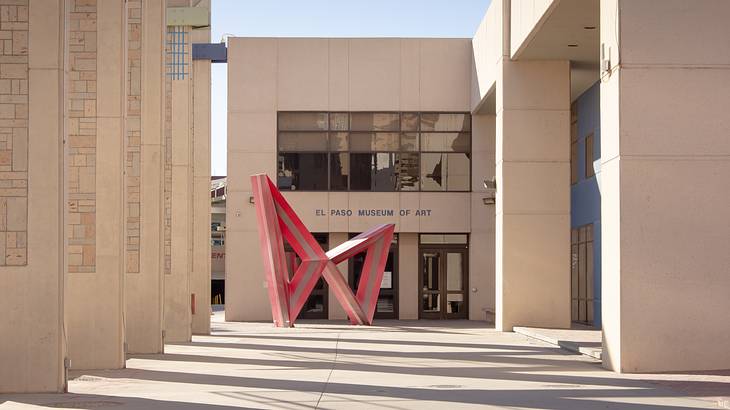 El Paso Museum of Art
Boasting a vast collection with pieces by world-renowned artists, the El Paso Museum of Art is a must-see. The museum was founded in 1959 and has grown into one of the most admired art and cultural institutions in the Southwest.
The El Paso Art Museum draws over 100,000 visitors annually, making it one of many can't-miss cultural landmarks in Texas. In addition to its fascinating collection of art, the museum hosts workshops, educational seminars, and cultural events.
Downtown El Paso
Downtown El Paso is the city's heart, a bustling hub of businesses, famous landmarks, and historical sites. There is much to explore, from museums and cultural attractions to restaurants and shops.
At night, there are plenty of restaurants and bars to choose from, as well as live music and shows for your evening's entertainment. The weekends bring even more things to do, including attending art festivals and shopping at farmers' markets.
El Paso Municipal Rose Garden
The perfect place for an afternoon stroll, the El Paso Municipal Rose Garden boasts over 500 varieties of roses. You'll also find fountains, waterfalls, statues, and a koi pond throughout the gorgeous garden. Gazebos and picnic benches offer places to rest and reflect.
The garden is an incredibly popular El Paso landmark with tourists and locals. It's a top spot for photography and a highly coveted wedding site. If you visit in the spring, one of the best times to visit El Paso, you'll be treated to a full display of beautiful blooms.
El Paso Holocaust Museum & Study Center
Founded by Holocaust survivor Henry Kellen, the El Paso Holocaust Museum and Study Center features exhibits, artifacts, and documented personal stories. Studying the exhibits will give a somber yet essential view of one of the darkest periods in history.
The museum's mission is to "teach the history of the Holocaust to combat prejudice and intolerance through education, community outreach, and cultural activities." Museum staff and local educators work tirelessly towards this by hosting lectures, workshops, and other educational events.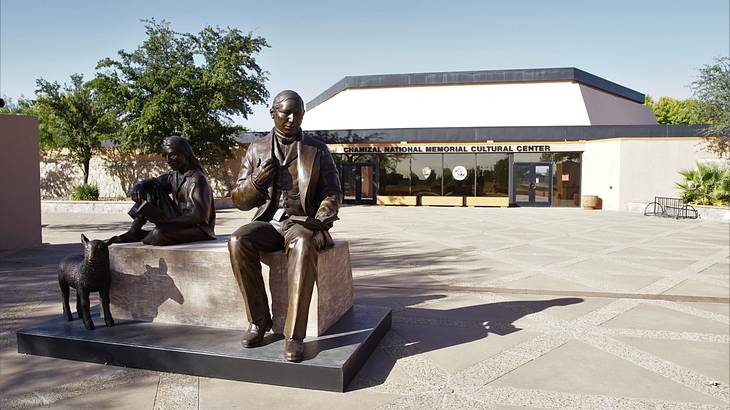 Chamizal National Memorial
One of the most famous historical sites in El Paso, Chamizal National Memorial, was once the site of a long-standing border dispute. Now dedicated to being a place of peace, the park showcases the history of the Mexican-American War and commemorates the resolution of the border dispute.
You can learn about the park's history through its museum and the many murals and monuments along the walkways. The park also features a large outdoor amphitheater where live performances and cultural events are regularly held.
El Paso Scenic Drive
One of the most popular El Paso points of interest, Scenic Drive Road winds up the city's mountainous outskirts, offering stunning panoramic views. The road is only two miles long, but the several overlooks along it entice you to stop and take advantage of the area's jaw-dropping vistas.
This scenic drive is breathtaking any time of the day, but it's especially magical at sunset. An array of colors sweep over the valley as the sun goes down while the city below lights up.
You'd be hard-pressed to find a better backdrop for photos than this stunning mix of scenery, color, and light. No wonder this scenic drive is on many a Texas bucket list!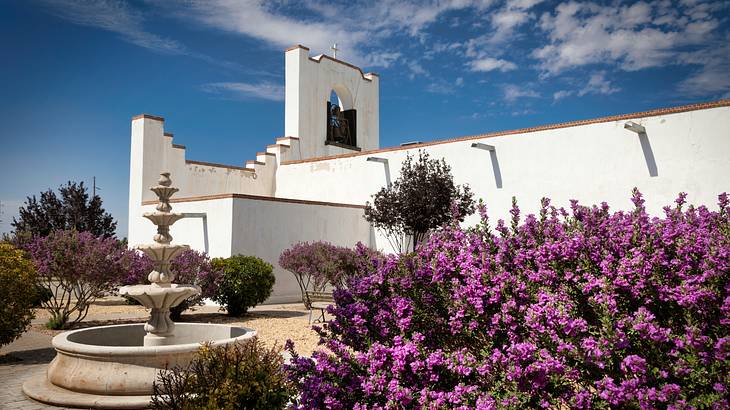 El Paso Historic Mission Trail
The El Paso Historic Mission Trail is a nine-mile, self-guided route through the region's most significant historical and cultural sites, many of which are on the National Register of Historic Places.
The most famous among these sites are three Spanish missions, Ysleta Mission, Socorro Mission, and San Elizario Chapel. The oldest of these missions dates back to the late 1600s.
In addition, there are museums and cultural centers to visit along the way. The El Paso Historic Mission Trail is an educational experience and an introduction to El Paso's history and culture.
Union Depot
Completed in the early 1900s, Union Depot has served as a transportation hub for El Paso County for over a century. Today, Union Depot is an iconic landmark widely noted for maintaining its original architecture and is a place well worth visiting while in the city.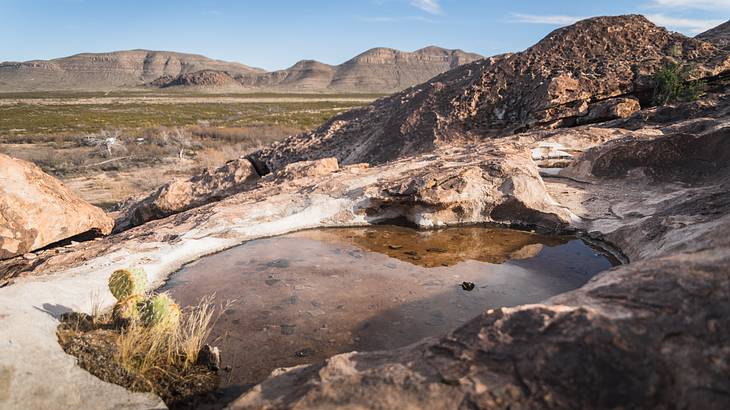 Hueco Tanks State Park & Historic Site
Hueco Tanks State Park's rich geological and archeological history dates back millennia. The park was named for the natural rock basins, or "huecos," formed millions of years ago.
Evidence of early cultures can be found throughout the park in pictographs and interpretive sites. Today, the park is a popular place for outdoor recreation. You can hike, bike, rock climb, or spend the night in the park's campsites.
The Plaza Theatre
One of the most famous El Paso historical sites, The Plaza Theatre was built in 1930 and still retains its classic charm. The interior of the beautiful building is decked out in antique furniture and tapestries that complement the building's Spanish Colonial Revival style.
The theater hosts a variety of shows, from concerts to Broadway productions. You can also take a tour of the venue to learn more about its rich history. Notably, the landmark boasts a special edition 1,071 pipe organ, one of only six in the world!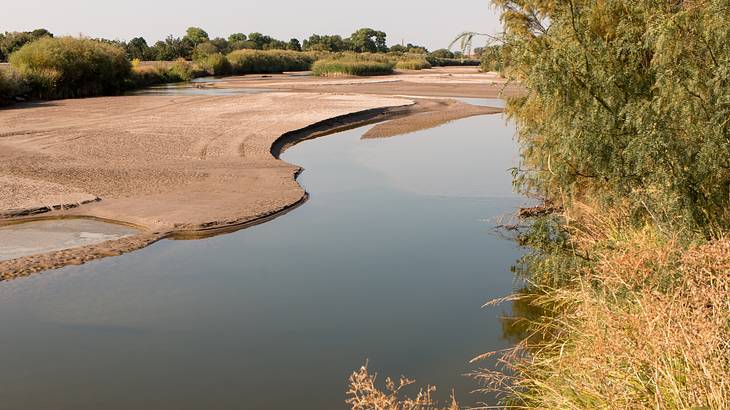 Rio Grande Riverpark Trail System
One of the longest rivers in North America, the Rio Grande stretches from the Rocky Mountains in Colorado to the Gulf of Mexico in Texas. In El Paso, the Riverpark Trail follows the path of the Rio Grande along the very western tip of the state and into New Mexico.
Along this 10.5-mile paved trail, you can take a leisurely stroll or bike ride surrounded by stunning natural scenery. The river and the Franklin Mountains in the background can be seen throughout the trail.
San Jacinto Plaza
In the heart of downtown El Paso, San Jacinto Plaza is a popular gathering place for locals and tourists. With a large fountain, numerous walking paths, and a cafe, the park serves as a peaceful retreat in the middle of the bustling area. On the weekends, you may find local artisans, musicians, and food trucks in the outdoor space as well.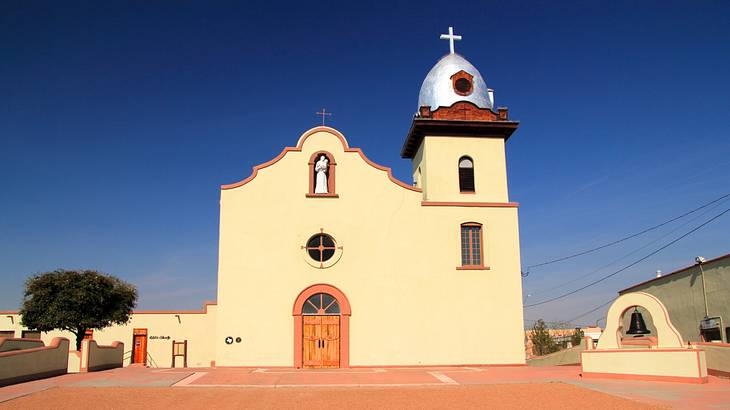 Ysleta Mission
Founded in 1682 by the Native Tribal Community of Tigua, Ysleta Mission is the oldest continuously active parish in Texas. It's also notably one of the oldest churches in the country.
A popular stop on the El Paso Historic Mission Trail, Ysleta Mission is one of the most famous cultural and historical places in El Paso. Visitors come from all over to learn its unique history, admire the historical Adobe architecture, and participate in cultural services and celebrations.
Centennial Museum and Chihuahuan Desert Gardens
Showcasing the cultural and natural history of El Paso, the Centennial Museum and Chihuahuan Desert Gardens is a must-visit. This beautiful attraction also makes a great place for a date in El Paso!
The museum holds an extensive array of approximately 73,000 items, including fossils, artifacts, and artwork. Once you've explored the museum's vast collection, you can head outside for a serene stroll through over 800 species of native desert plants. Their botanical collection includes a variety of cacti, succulents, flowers, and desert shrubs.
Fort Bliss
Nicknamed "Old Ironsides" for being home to the 1st Armored Divison, Fort Bliss is one of the largest military bases in the US. Over 17,000 soldiers train, live, and work at the base. Civilians can visit provided they have valid IDs and registration.
The base has several military parks, monuments, and museums. You can learn about the history of the 1st Armored Divison and walk amongst decommissioned tanks and other historical military equipment.
In Summary
This is just a sample of all the great places to visit in El Paso. From all the wonderful outdoor spaces to explore to the many art and cultural sites, there's so much to see and do in this special city. Don't forget to catch the stunning desert sunset and check out some local cuisine for the full experience!
Give us feedback about this article
Learn more about El Paso:
More articles about Texas:
Read more articles about the United States:
More articles about landmarks:
---
---
Want to keep exploring?
Subscribe for discounts on tickets and hotels and our latest guides.
Thank you for subscribing
We will be in touch soon with discounts on tickets and hotels and our latest guides.
Want to keep exploring?
Subscribe for discounts on tickets and hotels and our latest guides.
Thank you for subscribing
We will be in touch soon with discounts on tickets and hotels and our latest guides.
Related Articles