Best Time to Visit Fort Worth, Texas, for Weather, Prices, and Crowds
Destguides may receive commissions from purchases made through affiliate links in this article.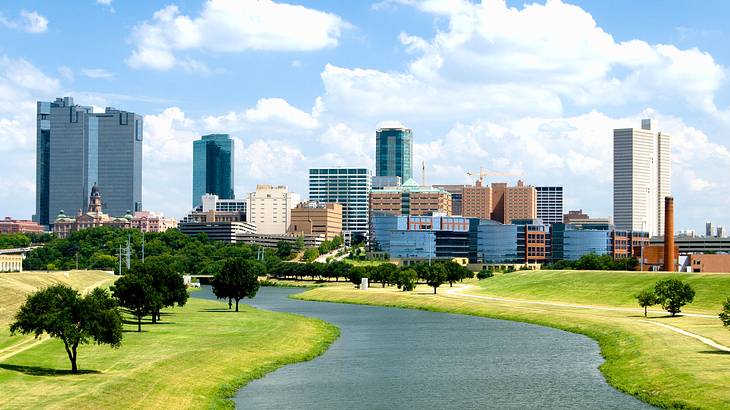 Fort Worth is a city full of diversity, from its rich Western culture to its music scene. Even though "Cowtown" is a city that's well worth seeing, there are numerous things to consider before you plan your trip.
Spring (March to June) and fall (September to December) have the best weather. Temperatures are warm but usually don't exceed 88 degrees Fahrenheit, and there isn't much rain.
However, if you're more concerned about crowds or costs, winter (December to March) is a great time to see the city "Where the West Begins." After New Year's Day, there are fewer tourists, so you won't have to wait in long lines, and you can book a budget-friendly trip on shorter notice.
If you're trying to determine the best time to visit Fort Worth, Texas, keep reading! Here's everything you need to plan your dream trip to "Panther City."
Best Time to Visit Fort Worth, TX
Fort Worth Best Time to Visit Tips Video
Check out our highlights video of Fort Worth best time to visit tips.
Fort Worth Vacation Planning Questions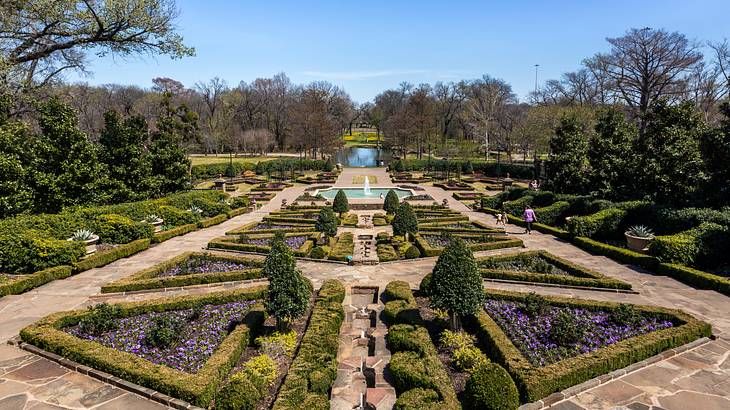 When is the best time to visit Fort Worth?
Spring (March to June) and fall (September to December) are the best times of year to visit Fort Worth. During these seasons, temperatures can vary between 48 and 88 degrees Fahrenheit, making exploring the city a comfortable experience.
These seasons also tend to be relatively calm as far as crowds are concerned. Since school is in session for much of that time, fewer out-of-state families are in the area. However, you don't have to worry about a lack of things to do.
For example, the Main Street Arts Festival is a weekend-long event in April. Hundreds of artists from around the world come to Fort Worth to show off their talents for locals and tourists to enjoy.
Since spring can be a busy time for spring-break travel, which raises prices everywhere, and fall has a few holiday weekends, make sure to book your trip early. On the other hand, if your biggest priority is to save money, visit in winter (December to March), especially after New Year's Day.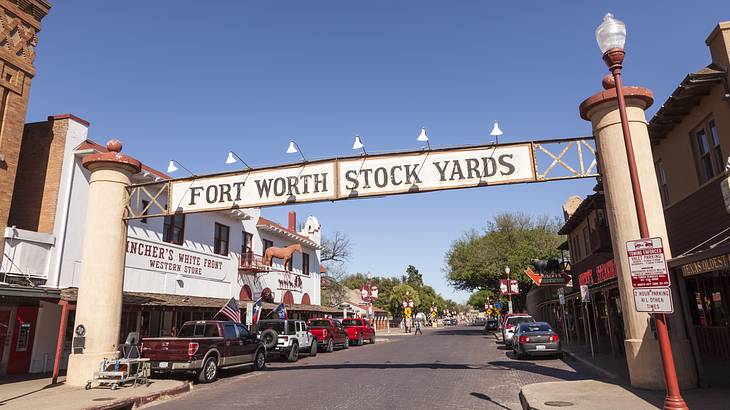 When is the best time to visit Fort Worth Stockyards?
Have you ever dreamt of being a cowboy or cowgirl? Then this corner of Texas is the place for you. Home to the only year-round rodeo, Fort Worth's stockyards are a fun attraction for all travelers, and exploring the area is also one of the best date ideas in Fort Worth.
If planning a visit, note that weekends will be busy, especially during the summer (June to September) when more people can travel. If you want to catch a rodeo while here, try to plan a visit for winter (January to March) or early spring (March to June).
You should also plan to visit in winter to see the Fort Worth Stock Show & Rodeo, the oldest continuously running rodeo event in Texas. It's held every year for about three weeks between January and February.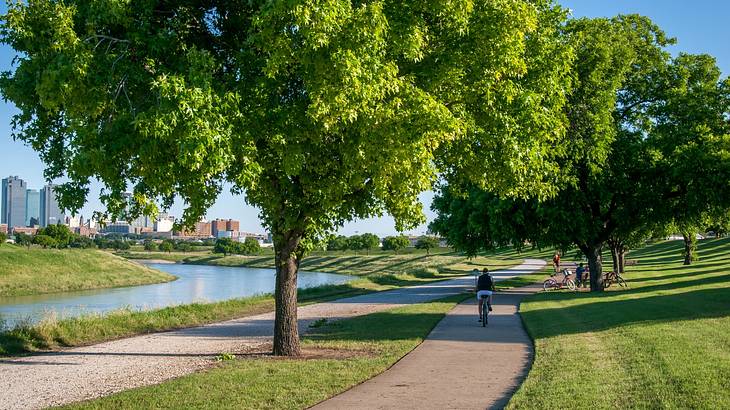 What are the best hiking trails in Fort Worth?
Fort Worth has over 100 hiking trails that, all together, give you nearly 500 miles to roam through the city's natural areas. There are trails for people of all different ability levels, so it's a great activity whether you're visiting with family or by yourself.
The Overlook Trail at Eagle Mountain Lake is one of the most popular easy routes. It's only around a quarter of a mile long from start to finish and takes most hikers less than ten minutes to complete.
If you're up for something a little more vigorous, try the Speakeasy Loop in Marion Sandom Park. At just under three miles in length, it's a relatively short trail, but its uneven terrain makes it a little more challenging than a typical walk in the park.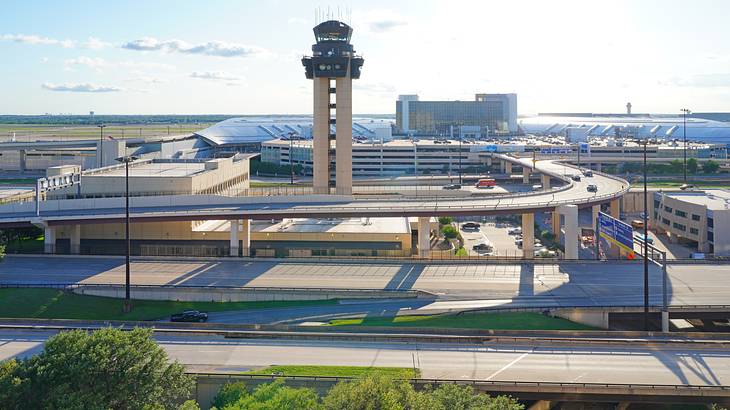 What are the ways of getting to Fort Worth, Texas?
The best time to travel to Fort Worth can depend on your preferred route. Flying is the easiest and fastest, but prices fluctuate, affecting your budget.
Dallas/Fort Worth International Airport (DFW) is the closest airport to service the area. It's connected to over 260 locations worldwide via over 20 airlines, so it's a central hub for travelers.
Alternatively, an Amtrak station also takes you to Jones Street, less than a mile from downtown. If you'd prefer to drive, take the I-35W from the north or south of the city and the I-30 from the east or west.
Weather, Prices, and Crowds in Fort Worth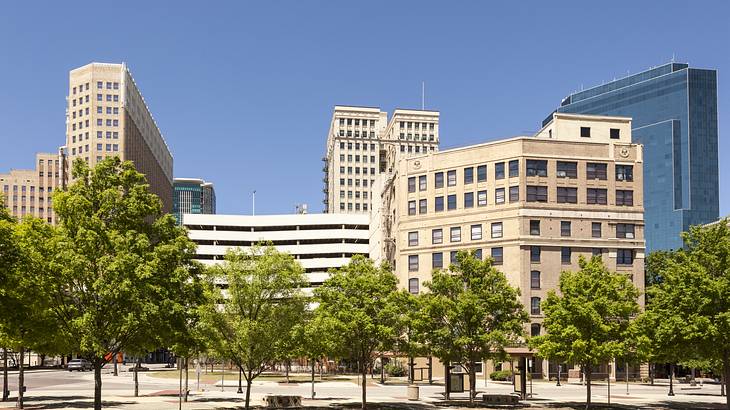 Fort Worth in January
January is Forth Worth's coldest month. Temperatures range between a low of 38 degrees Fahrenheit and a high of 58 degrees Fahrenheit. Since temperatures rarely drop below freezing, you won't have to worry about snow.
January is one of the slowest tourist months, which you can use to your advantage. Airlines notoriously drop their prices after New Year's Day, so you can find inexpensive tickets without booking months in advance and have more lodging options.
Since crowd levels are so manageable, take the opportunity to try some of Fort Worth's more unique activities without having to wait in long lines. If you're traveling with friends, trying out an escape room is a great way to spend a few hours in the city.
Fort Worth in February
If you're deciding when to visit Fort Worth, consider taking a February trip. The weather is generally beautiful, crowd levels are manageable, and costs are affordable.
Though February is one of the location's colder months, you don't have to worry about snow or frigid temperatures as the temperatures rarely fall outside the 42 to 62 degrees Fahrenheit range; it also doesn't rain much at this time of year.
February isn't a popular time to travel to the area, so you can find affordable flights to DWS airport. Hotel rooms will generally be priced at a cheaper rate, but if you plan on visiting over Valentine's Day weekend, book early to ensure you secure a reservation.
You can take advantage of the lower crowd levels and nice weather by taking a wine-tasting tour. These tours are made up of small groups, but in February, there's a chance yours might be even smaller, allowing for a more personal experience.
Fort Worth in March
With temperatures reaching 70 degrees Fahrenheit, March is a great time to visit Fort Worth. However, March has much to offer visitors besides its pleasant weather.
Crowd levels aren't typically too bad. Despite being a big month for spring break travel, most tourists who fly into Fort Worth are passing through to other parts of the state. Weekends can be a little busier, but you shouldn't have trouble finding cheap lodging or getting restaurant reservations, especially if you book at least a month in advance.
Do note that Easter weekend can bring many out-of-towners depending on when the holiday falls. If you want to ensure you see all of Fort Worth's most noteworthy sights no matter how bad crowds are, book a private Fort Worth highlights tour.
Fort Worth in April
According to locals, April is the best month to visit Fort Worth because the city's event calendar has started picking up. For example, visitors can try world-class food while enjoying the festive atmosphere at the Fort Worth Food And Wine Festival. All the proceeds from the event go toward culinary programs and scholarships.
If you're more of a music lover, you might want to attend Fortress Festival at the end of the month. It's a weekend-long event that hosts concerts from various genres. However, the city will be crowded since locals and out-of-towners will come to see the performances. You'll also notice hotel and airline costs rise if you don't book your plans early.
April can be hit-or-miss when it comes to the weather. It usually marks the start of the area's rainy season, with rain once or twice a week, and showers can pop up spontaneously, so be prepared with an umbrella. On the bright side, it's usually warm, with average temperatures around 66 degrees Fahrenheit but sometimes reaching upwards of 77 degrees.
Fort Worth in May
May is Fort Worth's rainiest month, with an average of 11 days of measurable precipitation. However, while you might encounter some showers, you likely won't have a shortage of pleasant weather. On average, expect it to get as cold as 65 degrees Fahrenheit or as warm as 84 degrees Fahrenheit.
Crowd levels will also vary depending on when you visit; the first half of May is usually pretty calm, except on the first weekend of the month when Mayfest Fort Worth takes place. If you encounter large groups, they're generally locals enjoying the warmer weather.
The second half of the month is a different story as schools nationwide start letting out for the summer (June to September), and more families can travel. So not only will you have to be prepared for higher crowd levels, but you'll also have to make sure you book your plans a month or two early to find budget-friendly options.
Fort Worth in June
June is a busy time for tourism in the Fort Worth area. Summer (June to September) is in full swing, so people from around the US take the opportunity to visit the city. If you don't mind crowds or if June is your preferred travel month, reserve your flight and hotel room a few months before prices spike.
June can be rainy, too, with at least a 25% chance of rain on any given day and sporadic showers. However, they pass quickly, so your outdoor plans shouldn't be affected. Also, ensure you stay hydrated since the temperatures can rise into the low-90s Fahrenheit.
Fort Worth in July
July is one of the most vibrant times to visit Fort Worth. Crowds are consistent throughout the month, but they reach their peak on the weekends. In particular, Fort Worth's Fourth celebration on Independence Day is consistently one of the busiest days of the summer since gaining fame from its big firework show and live music.
The influx of visitors doesn't just affect crowd levels; it also results in a rise in the costs of hotel rooms and flights due to higher demand. Booking accommodation and transportation around two to three months earlier will help you stay within your budget and give you the most options.
If you like hot weather, coming in July might be ideal since temperatures rarely fall below 76 degrees Fahrenheit and are more often in the 85 to 95 degrees Fahrenheit range; being cold will not be one of your problems!
Fort Worth in August
August is a great time to visit Fort Worth if you want to participate in the summer (June to September) festivities, but with lower crowd levels. Since schools typically start classes toward the end of the month, the number of tourists drops after the 15th. That's when you'll notice travel and lodging prices begin to go down, too.
August is also a great time to catch some of the city's events. For example, the Rockin' The River concerts often start at the beginning of July but will continue through the first week of August.
August is still hot, so stay hydrated and wear sun protection! Daily averages are usually around 85 degrees Fahrenheit, but anything between 76 and 95 degrees Fahrenheit is possible.
Fort Worth in September
September is often cited as one of the best times to plan a Fort Worth trip. After Labor Day weekend, tourists decrease for a few months, so you can explore the city without playing people dodgem.
However, don't assume the lower crowd levels mean there's less to do. Notably, one of the most popular September events is the Fort Worth Oktoberfest, held at the end of the month. The three-day-long event celebrates German culture and features traditional food and entertainment.
You'll be able to plan an affordable vacation by visiting in September as well. The lower demand for plane tickets and accommodation means that airlines and hotels are more likely to offer deals. Since the city's temperatures are still comfortably between 69 and 88 degrees Fahrenheit, you'll also enjoy nice weather.
Fort Worth in October
October marks the end of Fort Worth's rainy season, with precipitation expected one to two times per week. There's also a noticeable change in temperatures, with daily highs rarely exceeding 78 degrees Fahrenheit and lows reaching 58 degrees Fahrenheit.
Even though rain is likely, October is still the best time of year to visit Fort Worth, according to some locals. Events like the Bell Fort Worth Alliance Air Show are hosted and if you come at the end of the month, you can even get in the Halloween spirit by joining a haunted ghost tour.
Columbus Day weekend sees a small influx of out-of-towners in the city, but otherwise, crowds are manageable. As a result, you shouldn't have any difficulty finding plenty of travel and lodging options within your budget.
Fort Worth in November
November is another excellent time to plan a trip to Fort Worth. Except for Thanksgiving weekend, which can be a busy time for tourists, it's usually pretty calm throughout the month. You can visit all of Fort Worth's top sights like the Water Gardens or the Fort Worth Zoo without waiting in long lines.
Although November is one of the city's cooler months, temperatures usually stay between 48 and 68 degrees Fahrenheit, allowing you to walk around comfortably. It's also unlikely you'll encounter rain, so you can look forward to sunny skies.
Prices for amenities and travel fluctuate throughout the month, though. At the start of November, they'll be at their cheapest, but costs will creep up as Thanksgiving approaches. Plan a month or two in advance to ensure you get your trip booked at an affordable price.
Fort Worth in December
December is a popular month for travel nationwide, and flights into the Dallas/Fort Worth airport will be at their priciest, especially if you wait until the last minute to book your ticket. The same applies to the city's hotels.
To avoid overpaying for your trip, book early and avoid traveling the week of Christmas through the end of the month. Those aren't just the most expensive weeks to travel, they're also when Fort Worth is the most crowded, so there will likely be long lines to see popular Fort Worth landmarks and get into restaurants.
December can also be chilly, with temperatures dropping as low as 40 degrees Fahrenheit. However, with highs that usually hover between 47 and 59 degrees Fahrenheit, it's still warmer compared to many other parts of the country.
In Summary
There's no shortage of things to do in a city like Fort Worth, no matter when you visit. That being said, a few things can make all the difference when choosing the best time for your trip.
People looking to save a little without forgoing what the city offers tend to plan winter (December to March) trips. That's also a favorite season for people with a low tolerance for crowds. If you like warm weather, spring (March to June) and fall (September to December) are the ideal times to visit.
This article aimed to guide you through your travel options so you can have an ideal trip to "Cowtown." All that's left to do now is plan it!
Want to keep exploring?
Subscribe for discounts on tickets and hotels and our latest guides.
Thank you for subscribing
We will be in touch soon with discounts on tickets and hotels and our latest guides.
Want to keep exploring?
Subscribe for discounts on tickets and hotels and our latest guides.
Thank you for subscribing
We will be in touch soon with discounts on tickets and hotels and our latest guides.