35 Fun Date Ideas in Lubbock, TX
Destguides may receive commissions from purchases made through affiliate links in this article.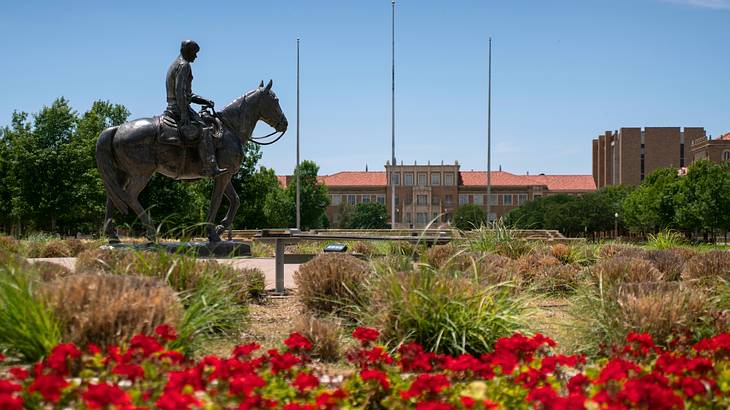 Although Lubbock is a lesser-known city in Texas, it has many attractions and something for all types of people, including couples looking for things to do together. If you live in the city or are visiting, this list of fun date ideas in Lubbock, TX, will help you plan a memorable daytime or evening outing together.
Couples activities to enjoy range from getting ice cream at Holly Hop Ice Cream Shoppe or wine tasting at a local winery to catching a Texas Tech college football or basketball game. To discover all of the things to do on a date in Lubbock, keep reading!
35 Fun Date Ideas in Lubbock, Texas
Lubbock Date Night Ideas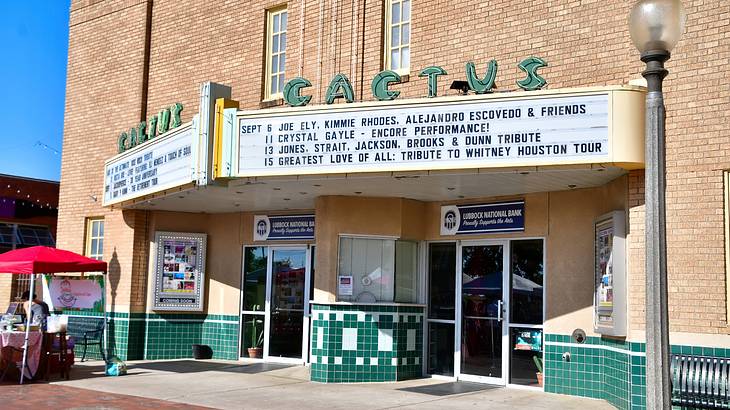 Enjoy a performance at the Cactus Theater
The Cactus Theater is a popular and much-loved performing arts venue in the city that's a great place to go for a date night. The theater opened in 1938 and hosts a range of performances, from plays to musicals and concerts.
Grab drinks at The Library Bar
Lubbock has lots of bars to choose from if you're planning a drinks date. One Great option is The Library Bar. The bar has drinks specials every day and an extensive menu with craft beer, mixed drinks, and wine.
Live music acts perform at the bar frequently as well, and you can watch major league sports on one of multiple big-screen TVs.
Plan a movie date
If you want to plan a fun but laid-back date night in Lubbock, TX, going to the movies is the perfect thing to do. There are a couple of theaters in the city, with Cinemark Tinseltown Lubbock being one of the best cinemas to check out.
The movie theater shows most new releases and sells movie snack favorites like popcorn and candy, with alcoholic drinks also available.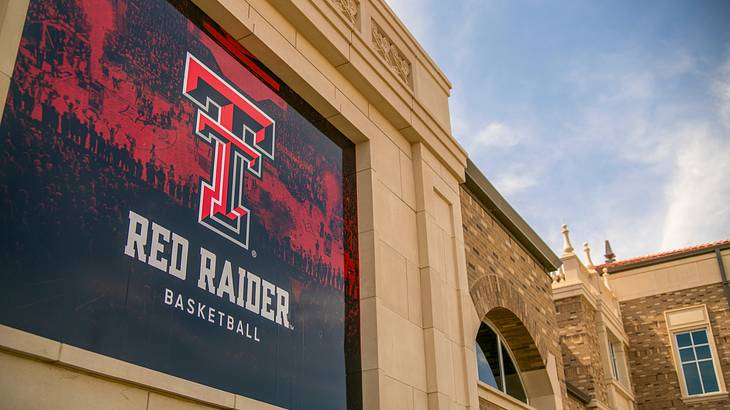 Watch a basketball game at United Supermarkets Arena
Another Texas Tech sports team to watch is the Texas Tech Red Raiders, who play at United Supermarkets Arena. You can catch a game in the evening and sometimes in the afternoons. This arena is also home to the Texas Tech Lady Raiders basketball team and the Texas Tech Red Raiders women's volleyball team.
Experience a performance at the Buddy Holly Hall of Performing Arts and Sciences
Opened in 2021, the Buddy Holly Hall of Performing Arts and Sciences is one of the newer attractions to visit in the city. But checking it out with your date is well worth it! At the venue, you can watch Broadway shows and concerts, including those by the Lubbock Symphony Orchestra.
Dine at The West Table
The West Table is one of the most romantic restaurants in Lubbock, Texas, and is the perfect place for a date night dinner with your partner.
The contemporary eatery serves dishes like roasted beet salad with champagne vinaigrette and roast chicken with lemon and caper potato salad. You can finish your meal with delicious desserts, and there's an extensive wine list to choose a bottle or two from.
Get drinks and a meal at Double Nickel Steakhouse
Double Nickel Steakhouse is another place to go on a dinner date. Along with steak, you can order salads and seafood dishes. With your meal, you can opt for a bottle of wine or order delicious cocktails, with classics and housemade specialties available.
Challenge your date to a bowling game at Main Event
You can have a super fun and laid-back night out together by planning a date at Main Event! The entertainment complex has a bowling alley as well as billiards, laser tag, and arcade games. After enjoying the amusements, you can grab food and drinks at the on-site bar and eatery.
Fun Things to Do in Lubbock for Couples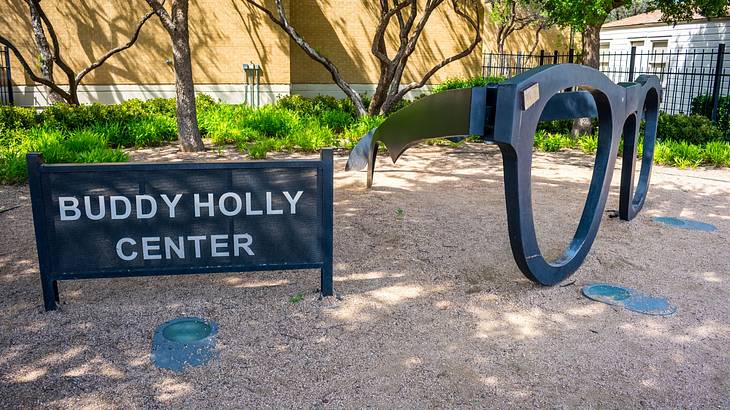 Go to the Buddy Holly Center
There are many unique and interesting attractions to visit in Lubbock, such as the Buddy Holly Center. This museum and arts center has exhibits and artifacts relating to Buddy Holly as well as rotating art exhibits. You can also see displays on other musicians from Lubbock and West Texas.
Treat your date to ice cream at Holly Hop Ice Cream Shoppe
If your other half has a sweet tooth, going to Holly Hop Ice Cream Shoppe is a must. This retro ice creamery serves treats like ice cream in cones as well as ice cream sundaes and sandwiches. As for flavors, you can get everything from classics to more unique options, like cotton candy flavor ice cream.
Chat over coffee at Monomyth Coffee
There's no shortage of coffee shops in Lubbock, with Monomyth Coffee being an excellent one to head to for a daytime date. At the trendy cafe, you can order traditional hot and cold coffee drinks and more unique beverages, such as cold brew cola or affogato. Snacks like topped toast and baked goods are also available.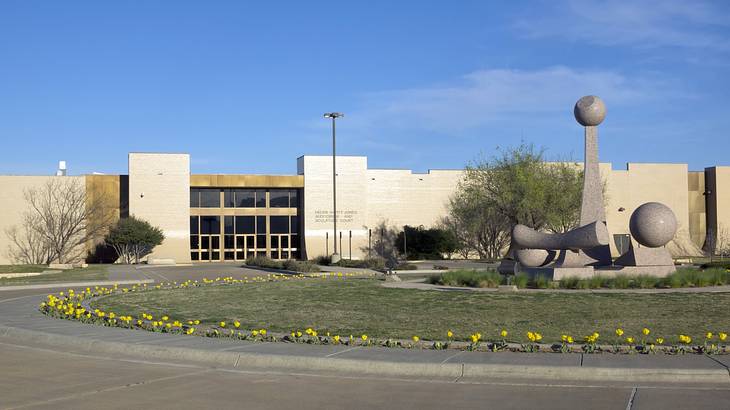 Learn new things at the Museum of Texas Tech University
The Museum of Texas Tech University is a fascinating Texas landmark to visit together. The attraction is split into multiple parts: the main museum building, various research facilities, and a planetarium.
At the main museum, you can see exhibits on topics like ecology, planetology, and art and design. You can then go to the planetarium to learn about the galaxies and outer space.
Share brunch at Café J
Café J is a trendy place to visit for brunch with your other half. Menu options range from French toast or avocado on toast to salads, burgers or sandwiches. To drink, you can have coffee, tea, or juice, or opt for a brunch cocktail or two, like a mimosa or Bloody Mary.
Explore Mackenzie Main City Park
On a nice day, hanging out with your date at Mackenzie Main City Park is a perfect thing to do. At the outdoor attraction, you can walk or bike along trails, see the animals at Prairie Dog Park, and sit and chat next to the scenic lake. There's also a golf course and a sculpture garden.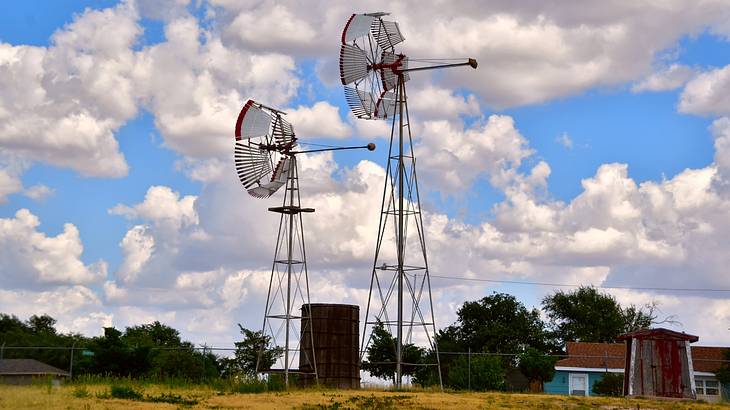 See more than 160 windmills at the American Windmill Museum
Also known as the American Wind Power Center, the American Windmill Museum is a fascinating and unique place to check out. It features over 160 American windmills and exhibits about their uses and history.
You can also see some model train exhibits. This museum is the largest dedicated to windmills in the world, so visiting when in the area can't be missed!
Try axe throwing
Going axe throwing is a more unique date idea, but one that should definitely be on your couples activity list! There are two axe-throwing venues to choose from in Lubbock, Grab Axxes and Raider's Axe Gallery.
At both locations, you'll be taught how to throw safely before giving it a go yourselves to see who can best hit the target.
Travel back in time at the Lubbock Lake National Historic Landmark
Couples interested in history and archeology won't want to miss going to Lubbock Lake National Historic Landmark. The site covers 336 acres and is a protected state and federal landmark due to evidence of ancient civilizations, some of which date back 12,000 years.
There have also been discoveries of fossils and the like relating to ancient animals, including extinct species. During a visit, you can learn about these archaeological finds and explore the grounds.
Paint pottery at Clay Cafe
Painting pottery is the perfect date idea for couples that like craft activities. At Clay Cafe, you can choose from various pottery pieces to paint with your own artwork. Once your pottery is glazed and ready to collect, you'll have a great memento of your date!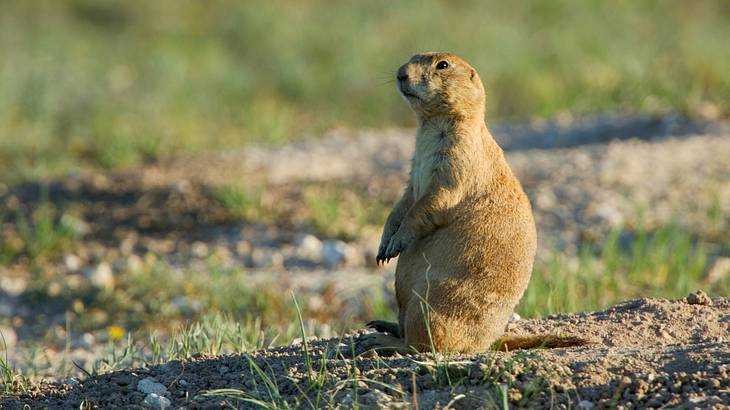 Say "hi" to cute prairie dogs at Prairie Dog Town
Located in Mackenzie Park, Prairie Dog Town is a habitat for prairie dogs as well as other wildlife. The protected area in the park was established in the 1930s as a way to conserve the animals and help them thrive. Exploring the area and spotting wildlife is one of the most laid-back and cute date ideas in Lubbock, TX!
Attend a crafting workshop at the Rustic Brush
Are you looking for more crafty date ideas? If so, you'll want to check out the Rustic Brush. This DIY studio hosts various workshops that will teach you and your partner how to create unique items. Things to make include wooden signs, planters, and doormats. Rustic Brush also has a BYOB policy.
Attend the First Friday Art Trail of Lubbock event
Held in the Lubbock Cultural District, the First Friday Art Trail of Lubbock is a free event that's a must-attend for couples that love the arts. Visitors can stop at various places on the trail, including art galleries, museums, and other arts and culture businesses. There's also live music, and workshops and classes are sometimes hosted.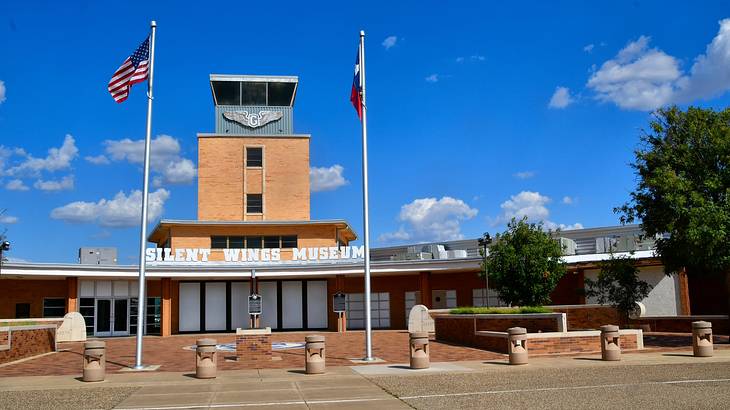 View airplanes at the Silent Wings Museum
If you're looking for more specialty museums to visit with your partner, add the Silent Wings Museum to your list. This museum focuses on World War II airplanes and has exhibits on the uses of the planes in the war.
You can also learn about some of the pilots who fought in the war and can see many real aircraft, including WWII glider planes.
Visit the Caviel Museum of African-American History
The Caviel Museum of African-American History is another of the many museums in Lubbock to visit together. This attraction covers African-American history and culture, with many exhibits focused on the African-American community in Lubbock and the surrounding area.
Even the museum building relates to the history of the area as it's housed in the first pharmacy in the US to be owned by an African American couple.
Break free from an escape room
Tackling an escape game at Lubbock Escapes is a fun thing to do that will appeal to most couples. It's also a great double-date idea. At the escape room venue, you can choose from a few different games and will have an hour to solve puzzles and use clues to help you break free.
Go to the Louise Hopkins Underwood Center for the Arts
The Louise Hopkins Underwood Art Center is an arts complex that hosts workshops, art exhibitions, performances, and much more. If you and your partner are unsure of what to do in Lubbock, seeing what's going on at the Louise Hopkins Underwood Center for the Arts is an excellent idea.
Just a few of the things you may be able to do include attending a dance or art class or admiring pieces by local artists at the on-site gallery.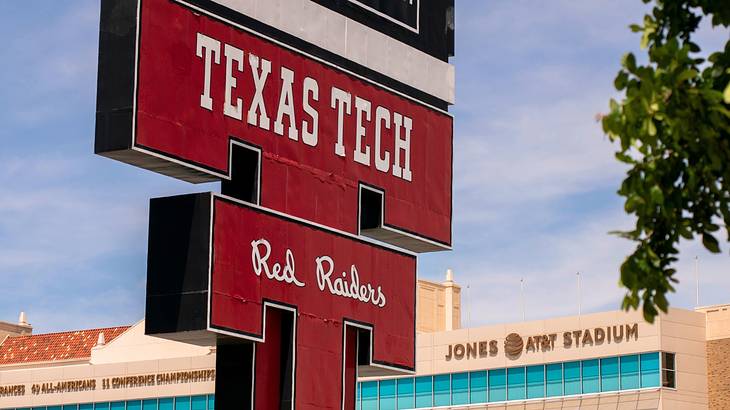 Cheer for the Texas Tech Red Raiders at Jones AT&T Stadium
Sports fans can spend the afternoon together in Lubbock at a Texas Tech Red Raiders game at Jones AT&T Stadium. The college football team plays between September and November, and the atmosphere at the games will be fun and exciting no matter when in the season you attend.
Have a fun day at Adventure Park
You and your other half can feel like kids again by spending a day at Adventure Park. The amusement park has mini-golf, a ropes course, ziplining, and much more. You can also enjoy water activities, like pedal boating or riding bumper boats.
Play golf at 4ore! Golf
Another of many fun attractions to check out in Lubbock is 4ore! Golf. The venue features golf games, including virtual golf games, that are suitable for all abilities. You can also get food and drinks, and there's an outdoor patio with garden games to hang out on.
Romantic Things to Do in Lubbock, TX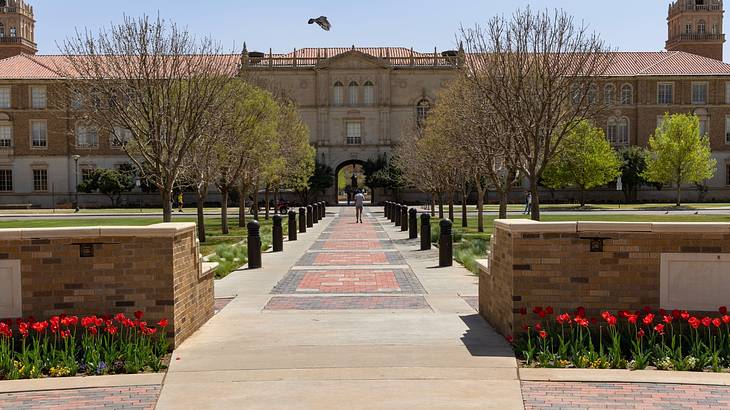 Taste local wine at McPherson Cellars Winery
Lubbock has a few local wineries to visit together, like McPherson Cellars Winery. The chic winery has a tasting room where you can try a variety of reds, whites, and roses. When the weather is nice, you can also enjoy wine on the outdoor patio.
Stroll around the Lubbock Memorial Arboretum
Visiting the Lubbock Memorial Arboretum is a Texas bucket list activity and a great romantic date idea. The 93-acre nature sanctuary and garden has beautiful walking paths through flowers and plants, and you can also see a chapel from 1913. In addition, you'll see lots of wildlife as you explore, including many bird species.
Relax at Woodhouse Spa
If you and your partner have had a busy week, one of the most romantic things to do in Lubbock for couples is relaxing with some treatments at Woodhouse Spa. Treatments available include massages, facials, and body wraps and scrubs. Packages are also offered if you want to combine treatments.
Wine taste at Llano Estacado Winery
Llano Estacado Winery is another excellent winery to visit with your date in Lubbock. During a visit, you can do a "guided tasting" in the tasting room, which includes six samples. Alternatively (or after a guided tasting), you can get a flight of four samples to enjoy on the outdoor patio. You can also order a glass of your favorite wine or a bottle to share.
Take your date to see the ballet
Fans of the arts will be interested to learn that there is a ballet company based in the city. Seeing a performance by Ballet Lubbock is one of the most romantic and fun things to do in Lubbock and is sure to be a memorable experience.
Various performances are held throughout the year, and if you're in the city around the holidays, seeing the company's rendition of The Nutcracker can't be missed.
Things to Do Near Lubbock, TX, for Couples
Plan a weekend trip to Dallas
Couples looking for romantic getaways near Lubbock, TX, will definitely want to add a trip to Dallas to their travel bucket list. The famous Texan city is located about five hours from Lubbock.
You'll find many things for couples to do in Dallas, from wandering through the beautiful Dallas Arboretum and Botanical Gardens to attending a Dallas Stars NHL or Dallas Mavericks NBA game. You could also join an exciting Dallas tour and check out nearby Fort Worth or Arlington if you have time.
Boat at Buffalo Springs Lake
Situated about 20 minutes outside central Lubbock is Buffalo Springs Lake. On a warm and sunny day, it's the perfect place to spend time together. Activities to enjoy include boating on the lake or going kayaking. You can also relax on the shore and hike some trails around the lake.
In Conclusion
Whether you're planning a daytime get-together or a date night in Lubbock, Texas, this list should have given you an array of activity ideas. Now, all you have to do is choose a suggestion or two and have a fun time with your other half!
---
---
Want to keep exploring?
Subscribe for discounts on tickets and hotels and our latest guides.
Thank you for subscribing
We will be in touch soon with discounts on tickets and hotels and our latest guides.
Want to keep exploring?
Subscribe for discounts on tickets and hotels and our latest guides.
Thank you for subscribing
We will be in touch soon with discounts on tickets and hotels and our latest guides.
Related Articles