35 Fun Date Ideas in Dallas, Texas
Destguides may receive commissions from purchases made through affiliate links in this article.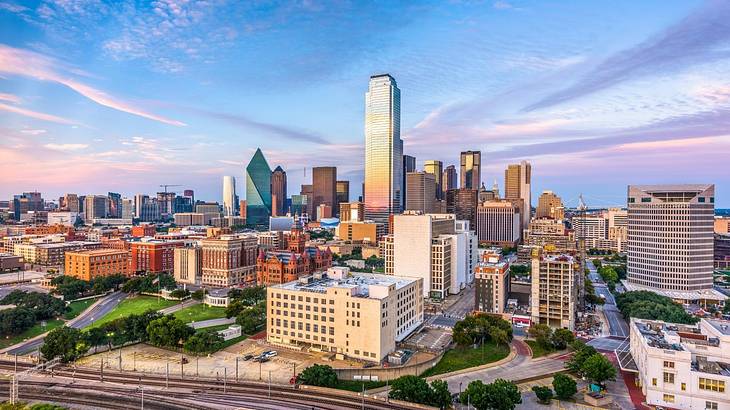 Dallas is one of the best city break destinations in the United States. This vibrant and friendly southern city offers something for every type of traveler. If you're planning a romantic getaway to the area, you'll be pleased to learn that there are many fun date ideas in Dallas, Texas, to try.
Activities to enjoy with your partner include going on sightseeing tours, checking out local cocktail bars, and visiting art galleries. To discover all the great things to do as a couple in Dallas, read on!
35 Best Dallas Date Ideas
Fun Things to Do on a Date in Dallas, TX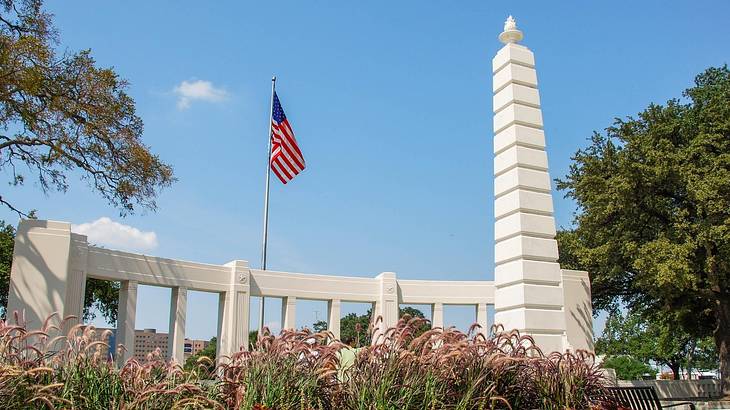 Go on a Dallas Fort-Worth area sightseeing tour
If you and your partner are visiting, taking a Dallas sightseeing tour together is highly recommended. You'll be taken to 14 Texas landmarks within the Dallas-Fort Worth area, including the Dallas Arts District and John F. Kennedy Memorial Plaza.
Your guide will tell you interesting facts about each site that you visit as well. You may even learn some fun trivia, like discovering popular Dallas nicknames!
Wander around Klyde Warren Park
Klyde Warren Park is a tranquil urban park in downtown Dallas. The 5.2-acre park features lots of open green space, trails, and seating areas. Wandering through the park with your date on a sunny day is an ideal way to bond and escape the bustle of the city.
Hike in the Oak Cliff Nature Preserve
One of the outdoor activities for couples in Dallas to try is hiking or biking in the Oak Cliff Nature Preserve. The attraction has over 120 acres of woodlands and wildflower meadows.
There are also eight miles of hiking and biking paths to follow. As you explore the park, you can take in the beauty of the area and spot a variety of wildlife.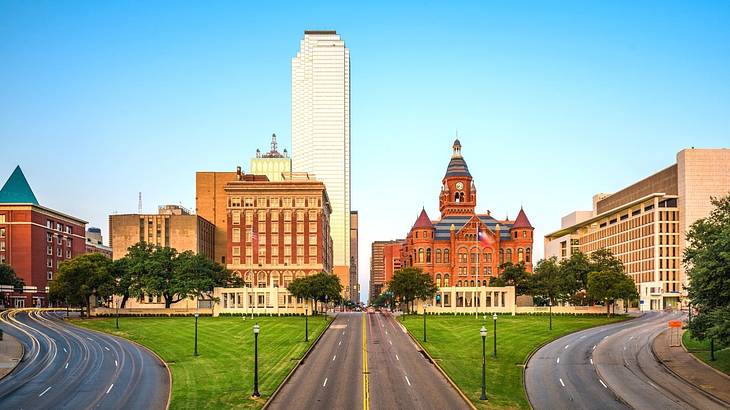 Eat your way around the city on a Dallas food tour
Experiencing a Dallas food tour is a must for foodies! During the tour, you'll visit five top eateries to taste dishes and try wine and cocktails. As you go from stop to stop, your guide will also point out landmarks and offer some historical facts about the places you see.
Go back in time at Medieval Times Dinner & Tournament
A highly memorable date idea is attending a dinner and tournament event hosted by Medieval Times. During the evening, you can feast on medieval-inspired dishes while watching performances and knight battles.
You can also accompany your meal with drinks from the bar. Going to Medieval Times is something you and your date are sure to remember forever!
Tackle tree-top courses at Trinity Forest Adventure Park
Heading to Trinity Forest Adventure Park is one of the most fun couple activities in Dallas. Located just 25 minutes from downtown Dallas, the adventure center has a selection of tree-top obstacle courses to tackle. The courses feature a range of obstacles, including nets, climbing features, bridges, and ziplines.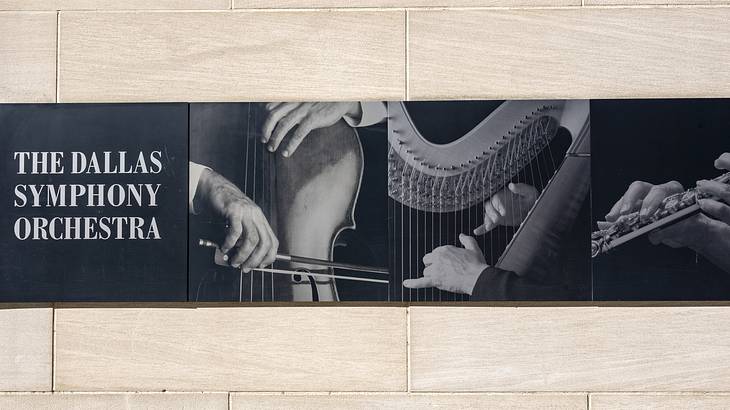 Watch a performance by the Dallas Symphony Orchestra
A fun cultural activity to enjoy together is going to the Dallas Symphony Orchestra to watch a show. You can choose from a selection of performances and music genres, including classical music or jazz. No matter which show you decide to see, you're sure to be amazed!
View artworks at the Nasher Sculpture Center
Dallas' Nasher Sculpture Center opened in 2003 and features a collection of approximately 300 contemporary sculptures. The sculptures are housed both in an indoor gallery-type space and outdoors on the surrounding grounds. Wandering through the venue and admiring the artwork is a fun and laid-back date idea.
Try some cooking classes
Enjoying dinner together at a restaurant is always a good time. However, one of the best date ideas in Dallas, Texas, is learning to cook some delicious dishes at a cooking class.
There are various kinds of classes to choose from, including pasta-making workshops and sessions that teach you classic French recipes. You can even book cooking experiences designed for date nights.
Walk around the Dallas Arboretum and Botanical Gardens
The Dallas Arboretum and Botanical Gardens are one of the best date spots in Dallas. The beautiful gardens cover 66 acres and feature flower gardens, plant displays, water features, and sculptures. Going to the Arboretum and Botanical Gardens is a perfect activity for couples after a relaxed date idea.
If you're looking to find the best time to plan a trip to Dallas to go to the Arboretum and Botanical Gardens, you can't go wrong any time of year! In the spring and summer, the weather is excellent, and lots of colorful flowers are in bloom.
During the fall, the trees turn pretty autumn colors, and the roses are in full bloom. Come wintertime, you can enjoy holiday displays and decorations throughout the grounds.
Explore the Deep Ellum neighborhood
Deep Ellum is a neighborhood downtown known for its many bars, restaurants, and entertainment venues. When in the area, you and your other half can check out independent shops, drink craft beer and cocktails at quirky bars, visit art galleries, and much more!
Hang out at White Rock Lake
White Rock Lake is found about 20 minutes from Downtown Dallas. The lake covers 1,254 acres and is surrounded by woodlands. When visiting, you can hike or bike around the lake, and it's also a great bird-watching location. If you're looking for an evening date idea, head to White Rock Lake just before sunset to watch the sun go down over the water.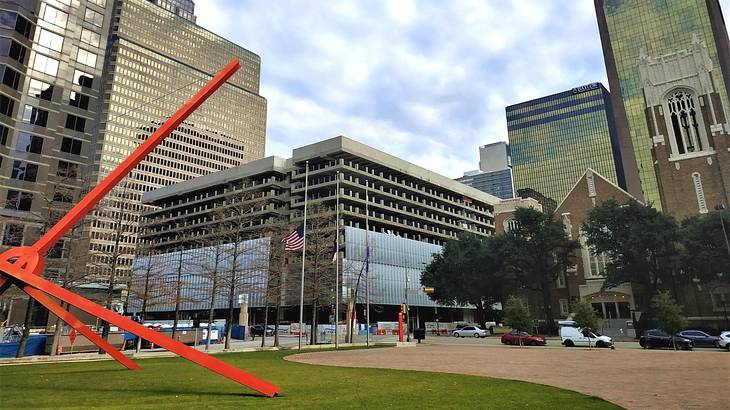 Admire art at the Dallas Museum of Art
Are you and your other half are art enthusiasts? Then going to the Dallas Art Museum has to be on your Texas bucket list! Founded in 1903, the museum houses a vast collection of art. Pieces on display come from a range of mediums and cover periods from ancient art to modern works.
Experience a bike pub crawl!
One of the cool things to do in the Deep Ellum area is joining a party bike pub crawl. You'll join other party-goers to pedal to a selection of top bars. You can also sip on drinks between stops and will likely find a new favorite Dallas bar along the way!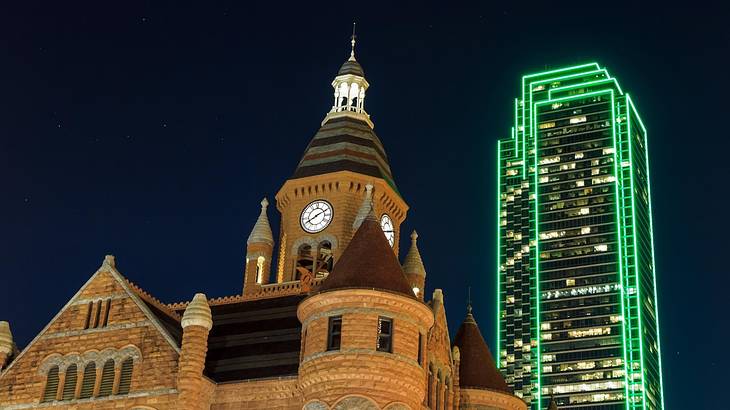 Dare to go on a ghost tour
Couples interested in the paranormal and spooky stories are sure to love trying a Dallas ghost tour. You and your date will be taken to various locations that are said to be haunted. At each stop, you can hear stories relating to ghost sightings and the like. You can even go on a ghost experience that's combined with a pub crawl!
Look around the Dallas Arts District
The Dallas Arts District houses a range of arts and cultural attractions. Famous Dallas landmarks to see here include the Winspear Opera House and Meyerson Symphony Center, which is home to the Dallas Symphony Orchestra. Walking through the area and spotting iconic buildings is recommended if you or your date are lovers of great architecture.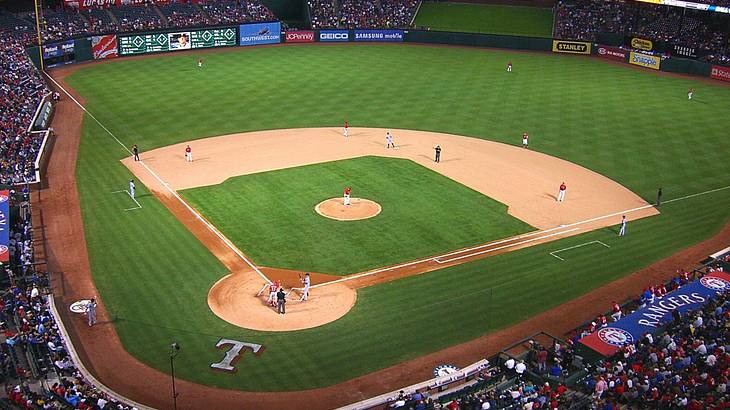 Watch Dallas' sports teams play
Dallas is home to five professional sports teams from the most popular US leagues. Watching one, or more of these teams play is an exciting thing to do for both sports enthusiasts and those that don't watch sport as much.
Teams to see are the Dallas Cowboys NFL team, the Dallas Stars NHL team, the Dallas Mavericks NBA team, the Texas Rangers MLB team, and FC Dallas in MLS.
Laugh the night away at an improv show
Attending an improv comedy show is another of the fun things to do in Dallas, Texas, for couples. At Addison Improv, you can watch comedy and improv shows by both local and well-known comedians. As you laugh at the show, you can also order food and drinks.
Restaurant hop on a Dallas happy hour crawl
Couples that like visiting new bars and restaurants will definitely want to join a Dallas happy hour tour. This fun tour takes you around the West Village and allows you to find the best happy hour food and drink deals in the city.
Just a few of the dishes to order include pizza, vegan snacks, and Mexican popsicles. You can also try some unique snacks, like cactus fries. Drinks deals, on both soft and alcoholic drinks, can be enjoyed as well.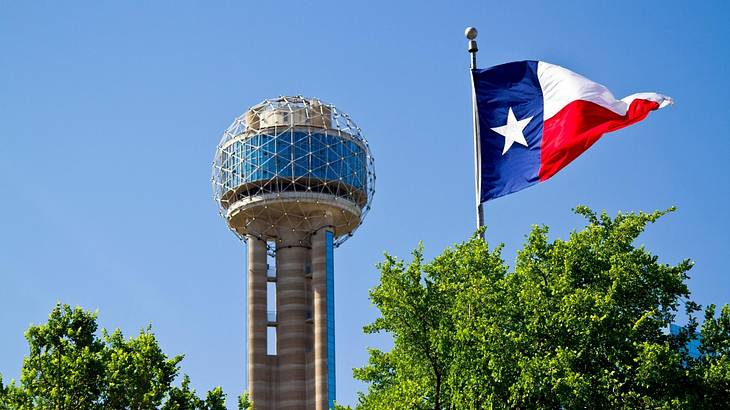 Take in the views from the Reunion Tower observation deck
One of the Texas landmarks found in Dallas is the Reunion Tower. The tower stands at 561-feet tall and features an observation deck at the 470-feet above ground.
You and your date can go up to the deck during the day or just before sunset to admire panoramic views of Dallas. Reunion Tower also has date packages that include a glass of sparkling wine to sip while you take in the views.
Treat yourself on a chocolate tour
Does your date have a sweet tooth? Then one of the cute date ideas in Dallas, Texas, that you have to try is taking them on a chocolate tour. This experience allows you to visit five chocolate and sweet shops and cafes. You and your date can taste top-selling candies at each stop and treat yourself to a box of your favorites.
Catch a live performance at House of Blues
House of Blues is a popular live music venue that hosts concerts from a range of genres. As you and your partner watch the show, you can order food and drinks. Dishes on offer include southern classics like fried chicken, shrimp and grits, and jambalaya. You can also attend a daily happy hour, held from 4 PM to 6 PM.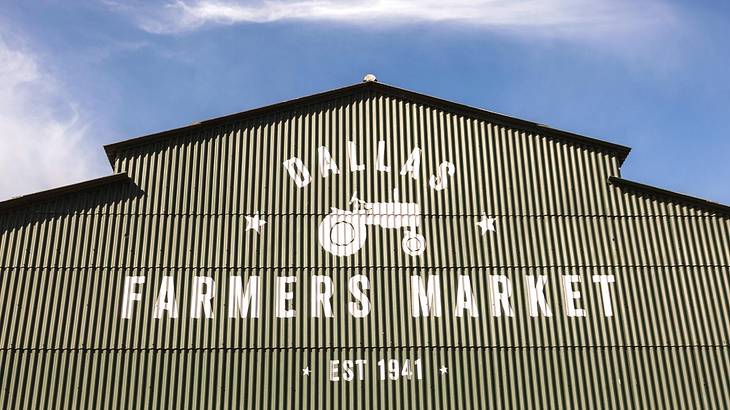 Shop at the Dallas Farmers Market
The Dallas Farmers Market was founded in 1941 and operates seven days a week. Visiting the market and purchasing some local produce is another of the fun things for couples to do in Dallas.
As you walk through the market, you'll find a range of food goods and seasonal produce. Shops and stalls selling arts and crafts products, clothes, and similar products are also on-site.
Sip on craft cocktails
Dallas has lots of cocktail bars serving unique drinks in a laid-back atmosphere. You and your other half can visit a few of these spots on a cocktail crawl, or go before or after dinner. Popular bars include Parliament Dallas, Apothecary Bar, and The People's Last Stand.
Share brunch together
Who doesn't love brunch? On the weekend, one of the laid-back yet romantic date ideas in Dallas, Texas, is enjoying this breakfast-lunch combo at one of many top eateries. Recommended brunch spots in Dallas include Public School and Meddlesome Moth, both of which serve classic brunch dishes and drinks, like mimosas.
Fun Things to Do Near Dallas on a Date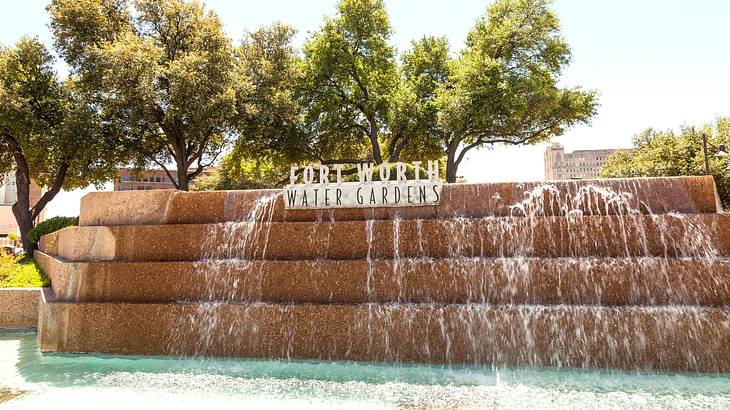 Check out the Fort Worth Water Gardens
The Fort Worth Water Gardens are a unique attraction located 40 minutes from downtown Dallas. The tranquil space has a range of water features and pools. There are also areas of grass to relax on together and appreciate the waterfalls and other displays.
Work together to get out of an escape room
Trying to get out of an escape room is always a fun thing to do and will allow you and your date to bond as you work together. Escape Game offers a selection of themed games to try at the Grapevine location, 25 minutes from Dallas. These include prison break, gold rush, and art heist-themed rooms.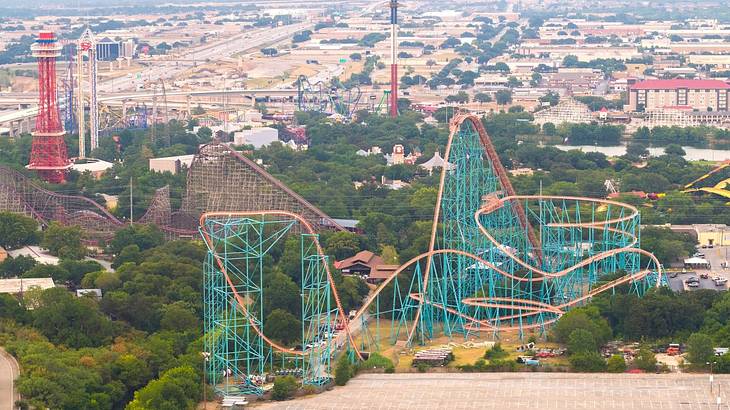 Spend the day at Six Flags Over Texas
Although Six Flags Over Texas is located in Arlington, it's just a 40-minute drive from downtown Dallas. Spending the day at the iconic theme park is a great idea for couples that like roller coasters and rides. At the park, you can go on over 35 thrilling rides, watch shows, and shop and eat at various outlets.
Spend the day at Legoland!
You and your date can be kids again by visiting Legoland Discovery Center! At the attraction, you can explore various Lego exhibits, which include impressive Lego block models. You can also learn more about the brand and watch Lego movies in a 4D movie theater.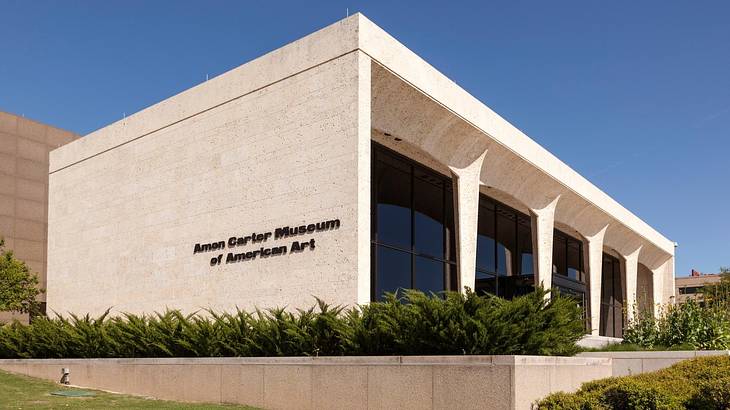 View the collections at the Amon Carter Museum of American Art
Another great art and cultural attraction for you and your other half to visit is the Amon Carter Museum of American Art. Founded in 1961 and located in Fort Worth, the gallery houses a vast collection of works by American artists. Pieces to see include paintings, photographs, and sculptures.
Experience indoor skydiving
One of the best couples activities near Dallas for thrill-seekers is going indoor skydiving. At iFly indoor skydiving, a guide will teach you skydiving techniques before you both get the chance to skydive in an indoor wind tunnel. Whether you've done skydiving before or not, this is an exciting and memorable experience!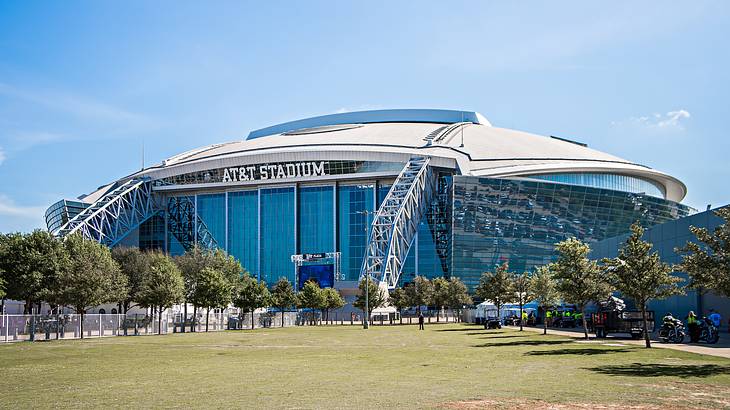 Go on a Dallas Cowboys stadium tour
One of the best date ideas in Arlington near Dallas for sports-loving couples is touring AT&T Stadium, home of the Dallas Cowboys. On a Dallas Cowboys stadium tour, you get the chance to explore the stadium, including areas often off-limits to the public. You'll also learn more about the franchise and its players, past and present.
Get back to nature at Arbor Hills Nature Preserve
Located just 30 minutes from Dallas, the Arbor Hills Nature Preserve is a 200-acre park. It offers visitors three miles of paved hiking trails to follow, plus off-road biking paths. As you and your date make your way around the park, you can appreciate the natural surroundings and are guaranteed to spot wild animals.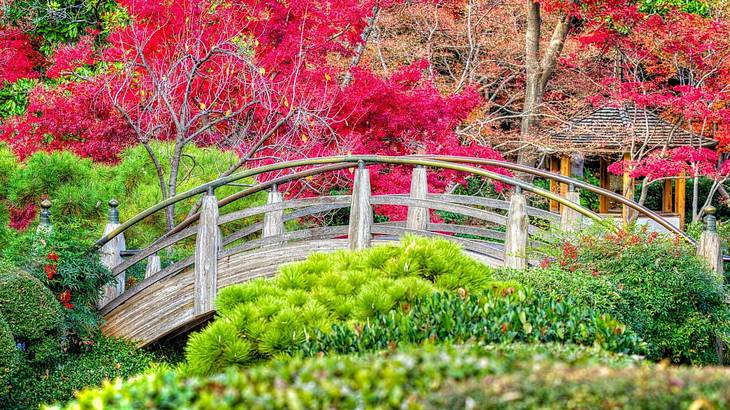 Take a look around the Japanese Garden
The Fort Worth Japanese Garden is one of the most romantic places to go near Dallas. The gardens house a collection of Japanese plant and water feature displays. As you explore the gardens, you'll see plants like bonsai and cherry blossom trees. There are also ponds complete with colorful koi.
Cruise along Mandalay Canal with Gondola Adventures
A gondola ride is incredibly romantic, and you don't need to take your date to Venice to take part in this activity! With Gondola Adventures, you and your loved one can cruise along Mandalay Canal and Lake Carolyn in a traditional Venetian gondola, taking in the views and enjoying each other's company.
In Summary
If you've been looking for some new Dallas attractions for couples, hopefully, this list has given you a dose of inspiration. Whether you and your partner like outdoor activities, going to bars, visiting cultural attractions, or anything in between, you'll find something to do together in Dallas!
Give us feedback about this article
More visual stories related to this article:
---
---
Want to keep exploring?
Subscribe for discounts on tickets and hotels and our latest guides.
Thank you for subscribing
We will be in touch soon with discounts on tickets and hotels and our latest guides.
Want to keep exploring?
Subscribe for discounts on tickets and hotels and our latest guides.
Thank you for subscribing
We will be in touch soon with discounts on tickets and hotels and our latest guides.
Related Articles