25 Fun Things to Do in McKinney, TX
Destguides may receive commissions from purchases made through affiliate links in this article.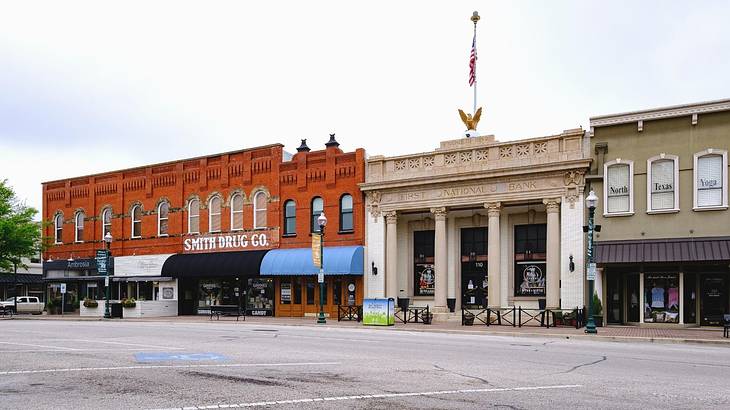 McKinney is located in the Dallas–Fort Worth metroplex in Texas, United States, and has many attractions. Fun things to do in McKinney, TX, include visiting local wineries and breweries, shopping at the bustling Third Monday Trade Days, and exploring Chestnut Square Historic Village.
You can also check out nearby destinations, like Dallas, Arlington, and Plano, all of which have unique landmarks and attractions to visit. Whether you live in the area or are planning a visit, read on for 25 fun activity suggestions in and around McKinney!
25 Fun Things to Do in McKinney, Texas
McKinney, TX, Things to Do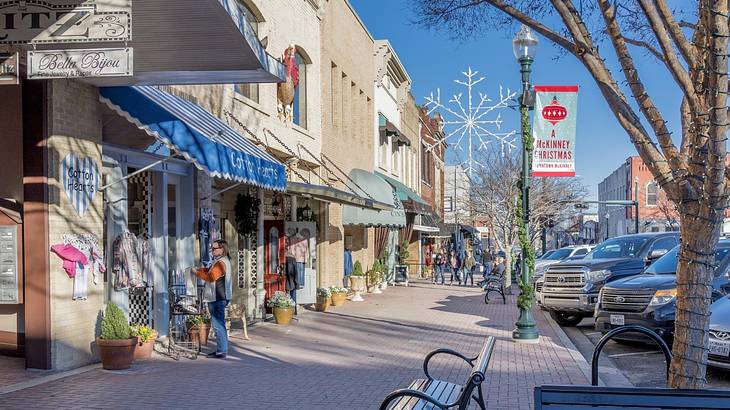 Explore Historic Downtown McKinney
Historic Downtown McKinney is the central area of the city and features old buildings that house shops, bars, and restaurants. This area has been a vibrant part of the city since 1848 and remains an exciting place to explore.
Activities to partake in downtown include shopping at independent stores, getting drinks at local bars, and dining at outstanding eateries. In addition, many events are held in the area. Live music acts are frequently hosted, and festivals, like Arts in Bloom in April and McKinney Oktoberfest in September, are also held downtown.
Visit the Heard Natural Science Museum & Wildlife Sanctuary
If you enjoy learning about nature and exploring the outdoors, visiting the Heard Natural Science Museum & Wildlife Sanctuary must be on your Texas bucket list! Visitors can walk along different nature trails and see an array of exhibits.
Things to see include a native plant garden, a beautiful butterfly house, and the 'Animal Encounters' trail on which you can see creatures like raccoons, lemurs, and gray foxes. A fun outdoor dinosaur exhibit is also on-site with life-sized replicas of many dino species.
Sip local wines at Lone Star Wine Cellars
Wine tasting at Lone Star Wine Cellars is one of the best things to do in downtown McKinney, Texas, for wine lovers! The regional winery produces a variety of whites and reds, plus bubbles, rose, and dessert wines.
At the winery, you can order a wine flight, which will allow you to taste four wines. Alternatively, you can discuss preferences with staff, and they'll recommend a wine that's perfect for your tastes that you can order by the glass or the bottle.
Food is also available to accompany your drinks, like flatbread pizzas, charcuterie boards, and sweet treats. Live music acts are often hosted in the evening too, and if you enjoy the wines and live in the area, you can join the Lone Star Wine Cellars wine club.
Wander around the lake at Towne Lake Park
Towne Lake Park, also known as Towne Lake Recreation Area, is a great outdoor attraction in McKinney. At the park, you can follow scenic trails and hang out next to the lake. There are also sports facilities, like a disc golf course, volleyball courts, and baseball fields. If you're visiting with children, they can enjoy a fun playground with slides and climbing structures.
Admire local artworks at LAST Art Gallery
LAST Art Gallery features artworks and crafts by North Texas artists, including paintings, sculptures, jewelry, and more. Browsing the gallery will allow you to discover some fantastic pieces.
As most items are for sale, you may even find a unique artwork or craft item to take home. The gallery also hosts art classes where you can learn to create stunning artworks in a range of mediums.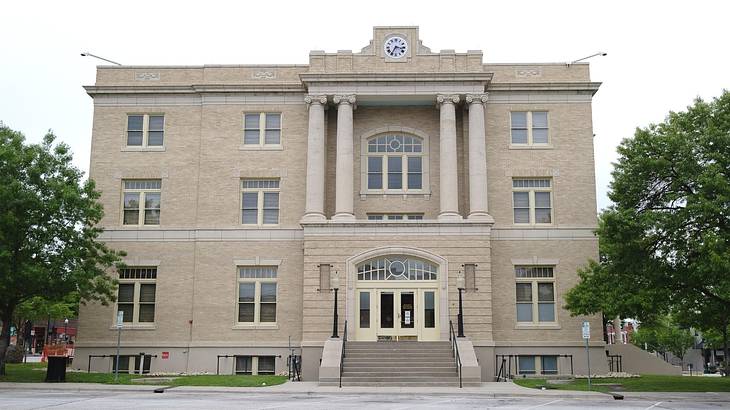 Watch a show at the McKinney Performing Arts Center
If you're wondering what to do in Mckinney, TX, at night, why not see a show at the McKinney Performing Arts Center? You can watch a variety of performances here, from plays to music concerts and even circus performances. Seasonal events are also held here, like a performance of A Christmas Carol in November and December.
Enjoy beer and a brewery tour at Franconia Brewing Company
Franconia Brewing Company is a famous local brewery that brews Barvarian-style beers. The brewery adheres to traditional German Puritan brewing rules to create its delicious beers.
Visitors have the opportunity to tour the brewery on weekends and learn more about the unique and interesting brewing process. You can also sample the beers and purchase some of your favorites to take home.
Tee-off at Oak Hollow Golf Course
Oak Hollow Golf Course is an 18-hole course ideal for all golfers, from beginners to more experienced players. The par 70 championship-style course is surrounded by over 150 trees, making it a scenic course to play on.
A driving range and 9,500 sq ft of putting and chipping greens are also on-site. After a game, you can relax in the clubhouse, which has a bar and grill.
Discover unique pieces at the Antique Company Mall
You're guaranteed to find some highly unique items when exploring Antique Company Mall! The vast antique mall features multiple antique dealers selling curated collections of furniture, decor items, clothing, and much more. Just a few of the things to discover include vintage cabinets, beautiful pottery, and even old-fashioned baseball gloves.
Learn about local history at the Collin County History Museum
For those visiting the area for the first time, going to the Collin County History Museum is one of the McKinney, Texas, things to do that you can't miss. At the museum, you'll learn all about McKinney's history and will be able to see numerous artifacts, old photographs, notable newspaper articles, and much more.
Interestingly, the museum has recently launched a virtual reality element. Using an iPad with a VR app, you can scan old images, and they'll show you what the buildings would look like today. The app may even show you a real picture of the street or building as it is today if it still exists.
Travel back in time at the Chestnut Square Historic Village
Chestnut Square Historic Village is a unique and interesting place to visit in McKinney. The living history museum-style attraction features houses and a chapel preserved from the 1850s. Visitors can tour the area with a guide or walk around alone.
In addition, you can visit a bustling farmers market on Saturdays. At the market, you can purchase local produce, other food goods, and handmade arts and crafts items.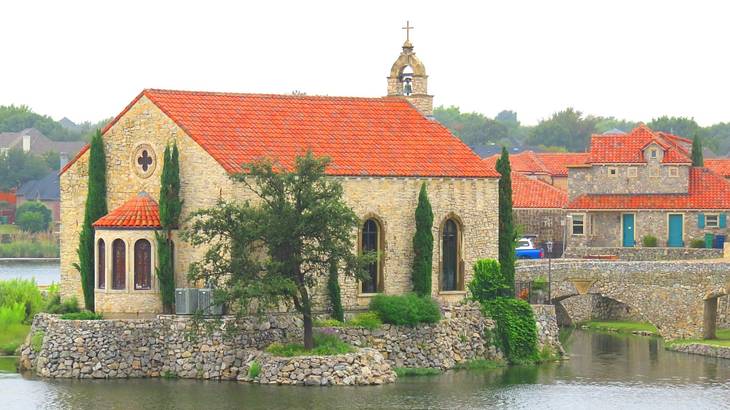 Stroll around Adriatica Village
Adriatica Village is one of the most beautiful places to go shopping and get dinner in McKinney. This entertainment complex features pretty European-style stone buildings that house boutique shops, eateries, and even a spa.
A few shops to visit include independent clothing brands and a music store. Restaurants range from a wine bistro with local wines and sharing plates to a Harborfront eatery with a pretty patio.
Camp at Erwin Park
Another excellent outdoor attraction in McKinney is Erwin Park. The 212-acre park has hiking and biking trails, including ten miles of mountain biking trails, that take you through beautiful scenery.
Erwin Park is also a great place to camp. Visitors must obtain a permit to camp, but these permits are very affordable. You can then enjoy the park into the evening and admire the starry night sky.
Hang out at Bonnie Wenk Park
Those looking for laid-back attractions in McKinney, TX, will want to check out Bonnie Wenk Park. The lush local park features many trees, plants, and green lawns to relax on. There's also a scenic pond and even an amphitheater.
Hikers and bikers can discover some trails too, which take them through forests and around the pond. In addition, there's a fun playground for kids, fitness areas, and a dog park complete with a dog splash pad for pups!
Shop, eat, and more at Third Monday Trade Days
Third Monday Trade Days is a fun event that lets you mix with McKinney Residents and meet local vendors. The market is hosted on the Friday, Saturday, and Sunday before the third Monday of the month.
Vendors sell an array of goods, from antiques and home decor pieces to clothing, accessories, and pet items. Many goods on offer are handcrafted by the local vendors too. As you shop, you can enjoy live entertainment and grab food at food trucks.
Grab a drink at TUPPS Brewery
TUPPS Brewery is another top brewery to visit in McKinney. The brewery is located in an Old Cotton Mill, and you can taste a variety of beers at the trendy taproom or on the patio.
Along with beer, you can get hard seltzer, local wines, and soda. A food truck is also on-site, and your dog is welcome to join you if you are drinking on the patio. You can even take a brewery tour on certain days each month.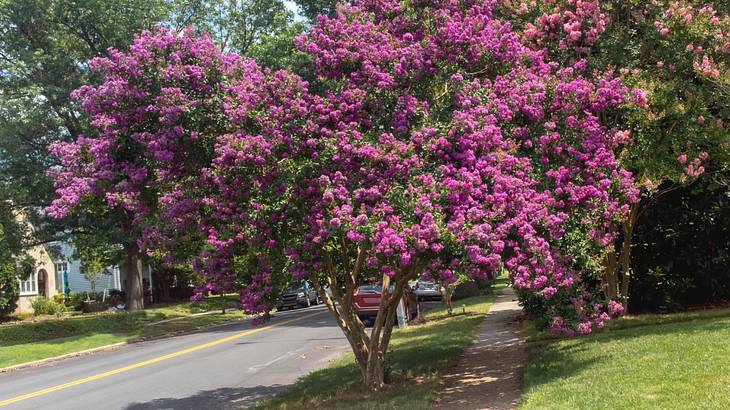 Stroll through the Crape Myrtle Trails of McKinney
Crape myrtle, or crepe myrtle, is a tree species that features beautiful colorful flowers when in bloom. In Mckinney, you can see various crape myrtle varieties by exploring McKinney's Crape Myrtle Trails.
The attraction covers 7.2 acres, and you'll find benches and picnic tables along the pathways where you can sit and admire the pretty trees.
Read at the Roy & Helen Hall Memorial Library
The Roy & Helen Hall Memorial Library is a great place to visit to find a new book to enjoy. The library has a range of genres for adults, teens, and young kids. The library also hosts weekly events for all ages, including holiday celebrations and workshops.
Dine at Harvest Seasonal Kitchen
Harvest Seasonal Kitchen is one of the best places to go in McKinney, TX, for lunch or dinner. Harvest focuses on creating dishes that use locally-sourced and seasonal ingredients.
Due to the use of in-season produce, the menu changes frequently, but the types of dishes available include blackened striped bass with yellow pepper avocado sauce, beet and arugula salad, and sweet potato and carrot soup.
For dessert, you can enjoy treats like no-bake chocolate cake or bourbon white chocolate date cookies. An extensive wine list is also available to order drinks from, with beer, whiskey, and unique cocktails on offer too.
Listen to live music at Hank's Texas Grill
If you're wondering what to do in Mckinney, Texas, at night, going to Hank's Texas Grill is a fun idea. The bar and restaurant hosts live music acts on multiple nights during the week, with a focus on country music artists. As you enjoy the show, you can order dishes like burgers, salads, and BBQ platters.
Treat yourself to dessert at Emporium Pies
Those with a sweet tooth will definitely want to check out Emporium Pies. The bakery sells various types of pie, from deep dish apple pie and pumpkin pie with a gingerbread crust to a decadent French silk chocolate with pretzel crust pie. You can order a whole pie or a slice to take away or enjoy your dessert with a cup of coffee in Emporium Pies' cafe.
Fun Things to Do Near McKinney, TX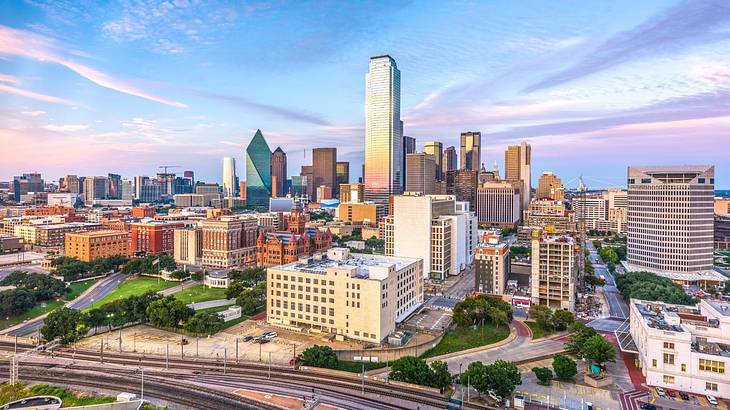 Plan a trip to Dallas
Dallas is a well-known Texas city that's conveniently located only 30 minutes to an hour from McKinney depending on traffic. So if you're looking to plan a day or overnight trip, Dallas has to be on your must-visit list!
Things to do in Dallas range from seeing famous Texas landmarks to taking in city views from Reunion Tower. For those planning a couples getaway, you'll be pleased to hear that there are also many fun things to do on a date in Dallas, like wandering around the beautiful Dallas Arboretum and Botanical Gardens or listening to live music at House of Blues.
While in the area, consider visiting Arlington too, which is about 30 minutes from Dallas. Some of the best activities in Arlington include seeing a Dallas Cowboys or Texas Rangers game and viewing artworks at the Arlington Museum of Art.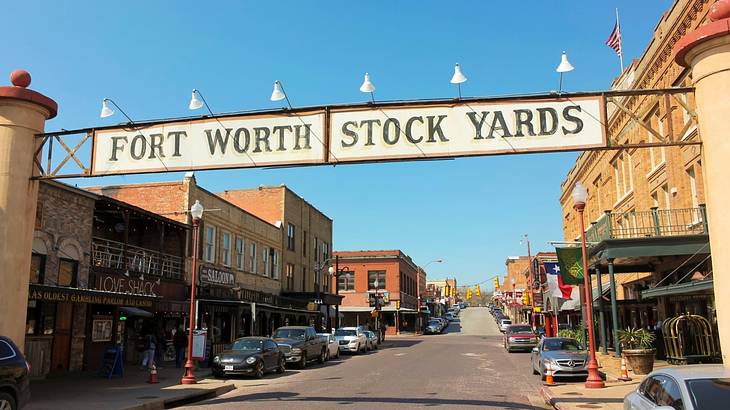 Check out Fort Worth
Fort Worth is another destination to spend the day exploring. It's located 50 minutes from Mckinney or about 45 minutes from Dallas if you want to check it out on the return trip from there.
You'll discover numerous fun things to do in Fort Worth like looking around the Fort Worth Stock Yards, getting drinks at quirky local bars and pubs, and even going on a Fort Worth ghost tour!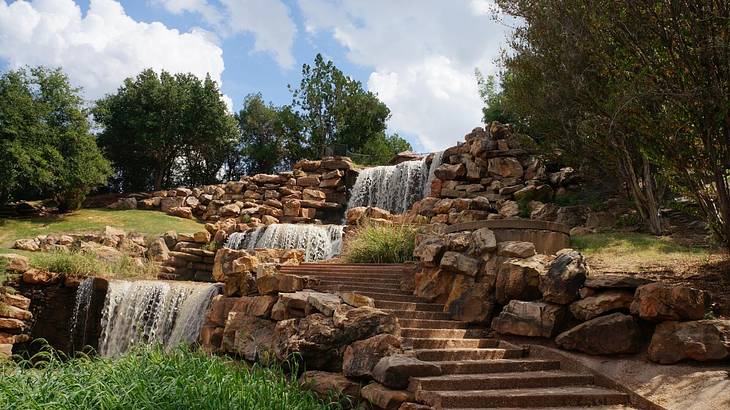 Drive to Wichita Falls
Wichita Falls is a quaint town in Northern Texas located slightly over two hours from McKinney. Visitors will find many fun things to do in Wichita Falls like going to the Museum of North Texas History, enjoy local craft beer at Wichita Falls Brewing, and seeing the waterfalls at Lucy Park. You can also spot some landmarks, like the Newby-McMahon Building, also known as the World's Littlest Skyscraper.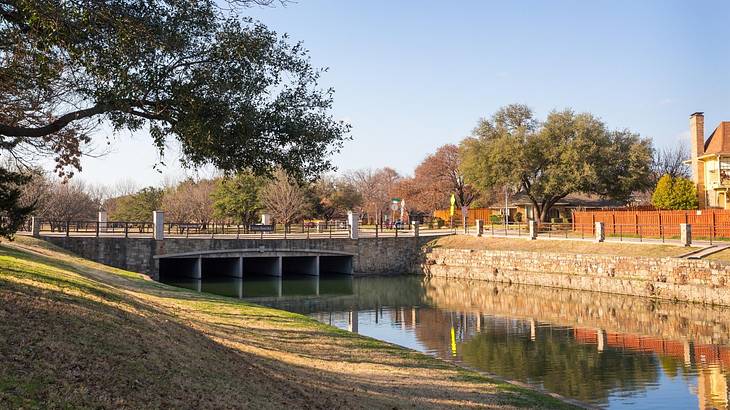 Spend some time in Plano
Plano is another Texas city that's only a 15-minute drive from McKinney. Spending a few hours, or a whole day, in the city is highly recommended! In Plano, you'll discover many fun things to do, like seeing a movie at the Angelika Film Center, getting food at Legacy Food Hall, or hiking at Oak Point Park and Nature Preserve.
Plano is highly family-friendly too. Those visiting with kids can get crafty at the Crayola Experience or see farm animals at the Heritage Farmstead Museum. If visiting in the spring or summer, be sure to visit the Texas Pool, a swimming pool in the shape of the state of Texas!
In Conclusion
As you can see from this article, there are numerous McKinney, TX, attractions to check out. From wildlife sanctuaries, parks, and various museums to local breweries, markets, and shops, there's something for everyone in this Texas city. If you have some extra time, you can also check out some nearby destinations, like Dallas or Fort Worth.
---
---
Want to keep exploring?
Subscribe for discounts on tickets and hotels and our latest guides.
Thank you for subscribing
We will be in touch soon with discounts on tickets and hotels and our latest guides.
Want to keep exploring?
Subscribe for discounts on tickets and hotels and our latest guides.
Thank you for subscribing
We will be in touch soon with discounts on tickets and hotels and our latest guides.
Related Articles