50 Interesting & Fun Facts About Texas State
Destguides may receive commissions from purchases made through affiliate links in this article.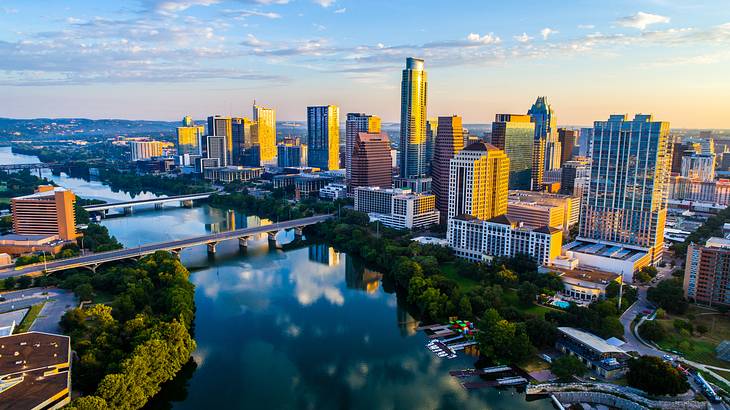 Texas' history and size make it one of the most unique states in the country. A common misconception about Texas is that it's mostly open spaces and cowboy country, but its cultural and natural diversity proves there is so much more to this enormous region.
While it's true that Texas produces the most cattle of any state, it's also known for its wine production and beautiful beaches. Texas has played a critical role in the history of the United States as well.
Though Texas didn't gain statehood until midway through the 19th century, interactions between Native Americans, Spanish colonists, US settlers, Tejanos, and enslaved Africans go back centuries. More recently, Texas was the birthplace of two 20th-century US presidents.
If your interest in this fascinating state is piqued, keep reading to learn about the scary, weird, historical, interesting, and fun facts about Texas state that have made it famous!
50 Texas State Facts
Texas Facts Video
Check out our highlights video of Texas facts.
Texas Fun Facts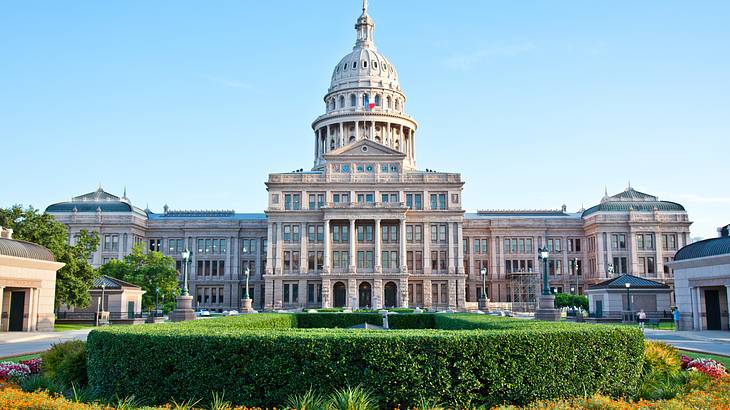 Texas is the second-largest state in the US
Texas is the second-largest state in the US behind Alaska and is the largest in the contiguous United States. This fact is even represented in the Texas nickname, the Jumbo State!
Its large size means it borders many other states, including New Mexico, Louisiana, Arkansas, and Oklahoma. To the south, it shares a 1,254-mile international border with Mexico.
It has three cities with over a million people
According to the 2020 census, there were ten US cities with populations of over a million people. Three were in Texas, with Houston at over 2.3 million, San Antonio at nearly 1.5 million, and Dallas at about 1.3 million.
Texas was an independent country from 1836-1845
Before Texas became a US state, it was a sovereign country from 1836-1845. Most US states were annexed territories or land ceded by another government. One of the fun facts on Texas is that it remains the only independent country that voted to join the United States.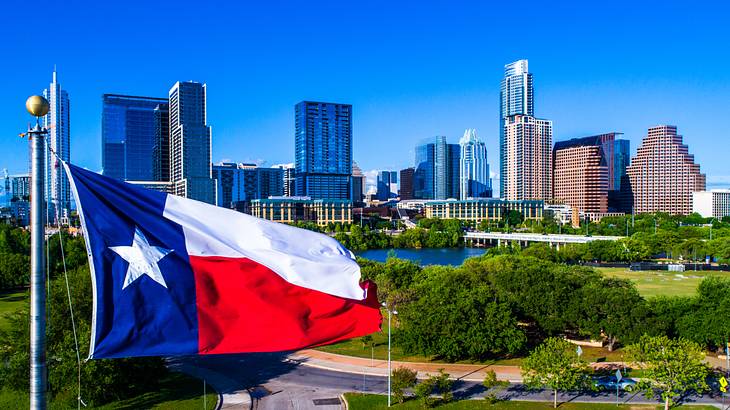 The Texas state nickname is the Lone Star State
The nickname "Lone Star State" is a tribute to the Texas state flag. It contains a single white star on a field of blue on the left and horizontal white and red stripes on the right. It was adopted after declaring independence from Mexico and kept after gaining statehood in the US.
The state flower of Texas is the bluebonnet
The lovely bluebonnet was named Texas' state flower in 1901, beating other iconic blooms like the cotton boll and the prickly pear cactus.
This is partly because it's native to the region but also the result of a highway beautification initiative by Lady Bird Johnson. Its deep blue petals can be seen popping up along Texas roads beginning in early March.
The state's official song is Texas, Our Texas
The song "Texas, Our Texas" became the official state anthem in 1929. Initially, the piece included lyrics referring to Texas as the "largest and grandest" state in the country.
However, one of the interesting facts on Texas is they had to change this to "boldest and grandest" in 1959 when the much larger Alaska joined the union.
Texas is the state with the second-highest population
Texas is not only large in size but also high in population. It is the second-most populous state in the country, behind only California. The US Census Bureau estimates its population at over 30 million as of July 2022.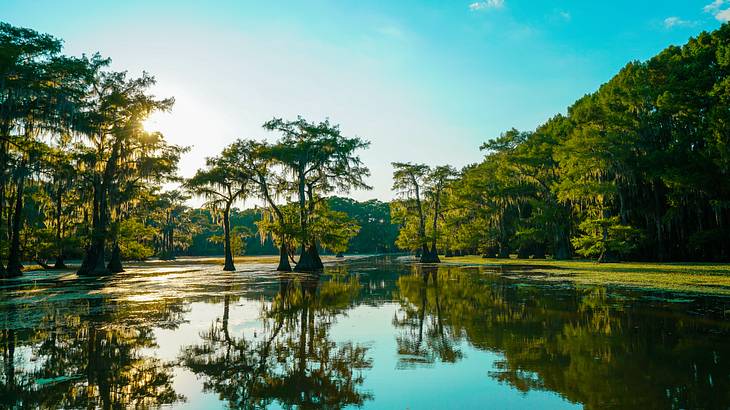 Caddo Lake is the state's only natural lake
Caddo Lake is found on the border of Texas and Louisiana and is the only natural lake in Texas. It sprawls over 25,000 acres, and its name is derived from the Caddo Native American groups that originally inhabited the area before being forcibly relocated.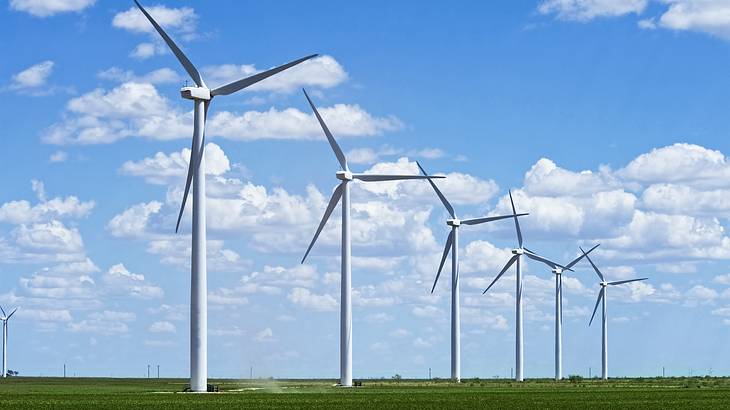 Texas has its own energy grid
Texas has vast natural resources within its borders and is famous for its ubiquitous oil rigs. It also boasts large amounts of natural gas and wind turbines, allowing it to operate on its own energy grid called ERCOT: Electric Reliability Council of Texas.
Juneteenth began in Texas
On June 19th, 1865, two months after the end of the Civil War, a proclamation was read to the people of Galveston that officially ended slavery. African-American Texans continued to celebrate this day as Juneteenth until it became an official state holiday in 1980 and a federal holiday in 2021.
Texas has many official animals
Yet another of the fun facts for Texas is it has eight different state animals. Its different categories of mammals include the nine-banded armadillo, longhorn cattle, the Mexican free-tailed bat, and the blue lacy dog breed. It also claims the northern mockingbird, Texas horned lizard, monarch butterfly, and Guadalupe bass.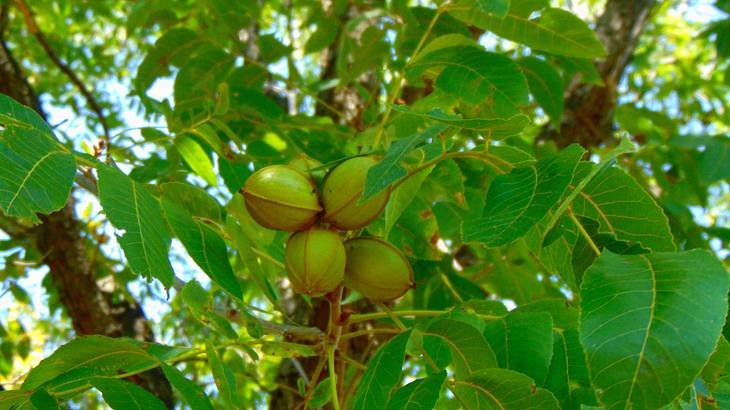 The pecan is the state tree of Texas
The pecan tree was declared the Texas state tree in 1919, thirteen years after a former governor requested that this native tree mark his grave. In addition to making great shade trees, pecan trees produce nuts that are popularly used for candy and pies.
Texas is the birthplace of two US presidents
Two influential 20th-century presidents were born in Texas. Dwight D. Eisenhower was born in Denison, Texas, before serving as the 34th US president from 1953-1961. Not long afterward, Lyndon B. Johnson of Stonewall, Texas, became the 36th US president, serving from 1963-1968.
It has 12 over million cattle
Though nationwide cattle numbers have been dropping over the years, Texas still rings in at about 12.7 million cattle in 2022. This puts it at nearly twice the next highest states, with Nebraska at 6.8 million and Kansas at 6.5 million.
The Texas State Capitol building is the country's largest such building
For more fun Texas facts, take a look at its state capitol building. Its 360,000 square feet is home to the state legislature and the governor and makes it bigger than any capitol building in the U.S. other than the National Capitol in Washington, D.C.
Interesting Facts About Texas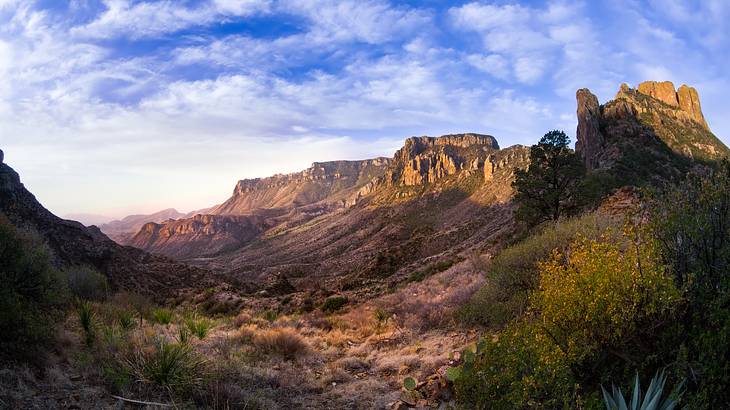 Texas is home to the highest speed limit in the country
Though relatively populous overall, vast expanses of Texas are sparsely inhabited deserts and ranchlands. Resultingly, the state has deemed it safe to take your Texas road trip through many of these areas at 85 mph (137 kph), the highest speed limit in the United States.
Big Bend National Park protects a unique desert ecosystem
Big Bend National Park is found in the desolate Chihuahuan Desert shared by Mexico and the United States. Despite this harsh environment, thousands of protected plants and animals flourish here, including cougars, golden eagles, and Mexican black bears.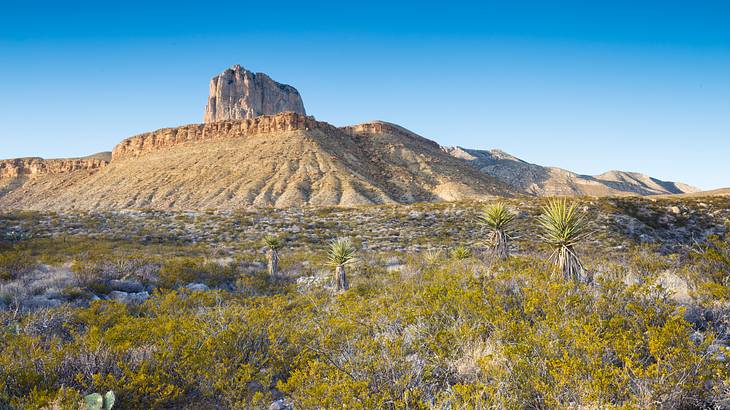 Guadalupe Mountains National Park contain Texas' highest peak
The Guadalupe Mountains in western Texas make for more interesting Texas facts. They mark the northernmost reach of the rugged Sierra Madre Oriental range, are a protected national park, and contain Guadalupe Peak. This mountain summit soars to 8,751 feet and is the highest point in Texas.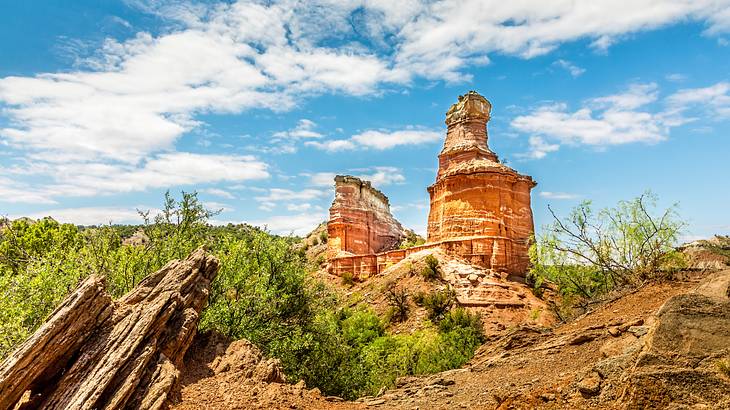 Palo Duro Canyon State Park contains the "Grand Canyon of Texas"
The centerpiece of Palo Duro Canyon State Park in northern Texas, the Palo Duro Canyon is 120 miles long and up to 1,000 feet deep. Its size and steep, multi-colored walls have earned it the nickname, "The Grand Canyon of Texas.".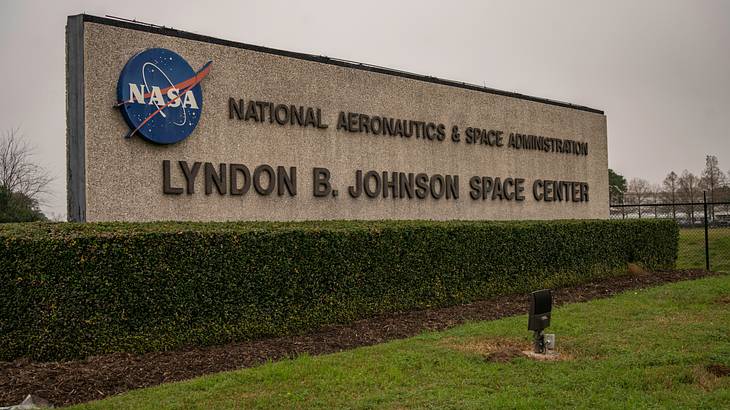 NASA Johnson Space Center was originally called the Manned Spacecraft Center
The NASA Johnson Space Center near Houston was still called the Manned Spacecraft Center when it was the mission control for the first moon landing in 1969. It wasn't until 1973 that it was renamed after the 36th US president and Texas native Lyndon B. Johnson.
Texas has the sixth-longest coastline in the US
The Gulf Coast of Texas is the region where the Lone Star State meets the Gulf of Mexico. Its 367 miles of coastline contain some of the country's best beaches and make it the state with the 6th longest coastline in the US.
Alvar Nuñez Cabeza de Vaca accidentally became an anthropologist
Alvar Nuñez Cabeza de Vaca was a 16th-century Spanish explorer who led one of the most interesting lives in history. In 1542, he wrote about his survival odyssey through Cuba, Florida, Texas, and Mexico in La Relacion (The Story). It was the first written account of the indigenous people, flora, and fauna in these parts of North America.
Dr Pepper comes from Texas
The origins of the famous soft drink Dr Pepper provide some intersting facts on Texas. It was created in Waco in 1885 by a pharmacist and soft drink enthusiast named Charles Alderton. He wanted to make a syrup that smelled like his drugstore, and Dr Pepper was the result.
Texas' name comes from the word "friend"
Though there is some debate as to the origin of the name "Texas," most agree that it comes from the Caddoan word for "friend" or "ally." Though now applied to Texas as a geographic region, it likely originally referred to the regional allies of the Caddoan Indians against the Apache tribes to the west.
The world's first rodeo was held in Texas
Rodeos have very practical origins, deriving from the skills needed to encircle, herd, or isolate cattle for organization or branding.
These were incorporated into Buffalo Bill's Wild West shows and evolved into the first modern rodeo by 1883 in Pecos, Texas. Today, some of the biggest rodeos can be seen at the annual Texas State Fair in Dallas.
Facts About Texas History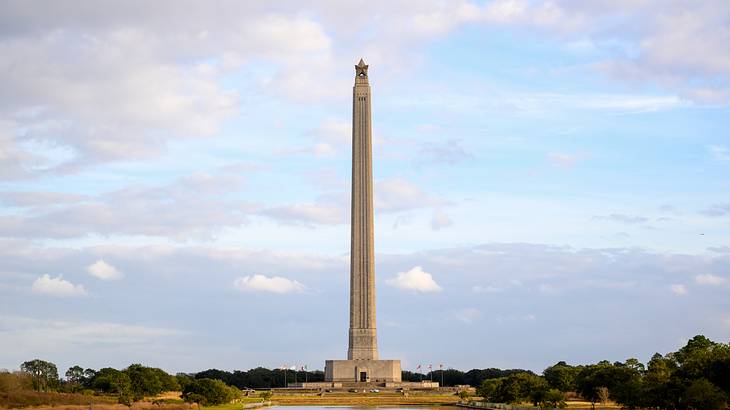 Many Native American groups inhabited Texas
The territory now recognized as the state of Texas was once home to dozens of independent Native American tribes. However, due to wars and forced relocations by the US, most now live on reservations in neighboring Oklahoma.
Texas has been part of six different nations
Texas has had a complicated history since European colonization. It has been claimed as part of five countries: Spain, France, Mexico, The United States, and the failed Confederate States of America. When you include its period as an independent country from 1836-1845, there have been a total of six flags flown over Texas.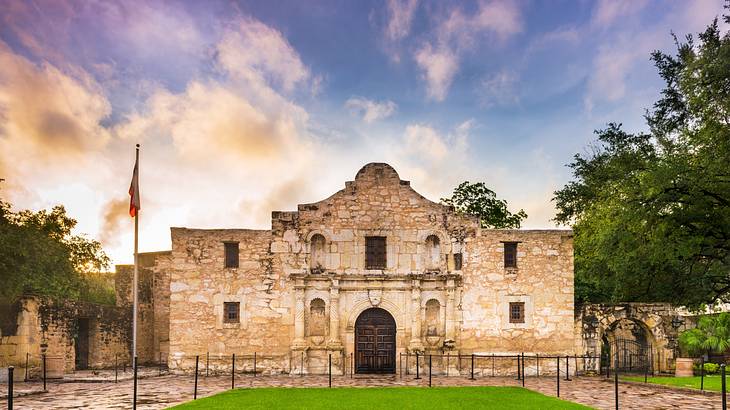 The Battle of the Alamo was fought during the Texas Revolution
From 1835-1836, US colonists and Hispanic Texans called Tejanos fought the government of Mexico for independence. Famously, about 100 Texian soldiers stood off against over 1,000 Mexican soldiers at the Battle of the Alamo near the end of the war.
The Texian soldiers all died defending the fort, making this one of the most famous historical facts about Texas and explaining why it's now a UNESCO World Heritage Site.
Sam Houston served as governor, senator, and president of Texas
Before moving to Texas, Sam Houston was a US representative and governor of Tennessee. However, these impressive accomplishments became footnotes after leading the Texan army to victory at the Battle of San Jacinto. He served two terms as the president of Texas, was a US senator from 1846-1859, and ended his career as the governor of Texas.
Texas joined the United States in 1845 and seceded in 1861
After ten years of lobbying for annexation by the United States, Texas officially became the country's 28th state on December 29, 1845. As a state with legalized slavery, it soon seceded to join the Confederate States of America in 1861.
Weird Facts About Texas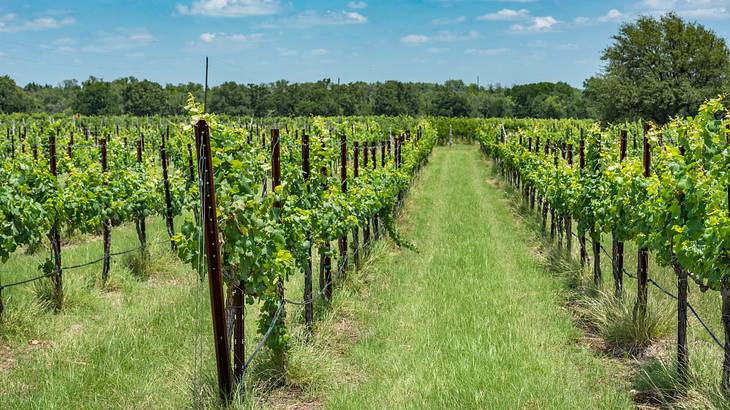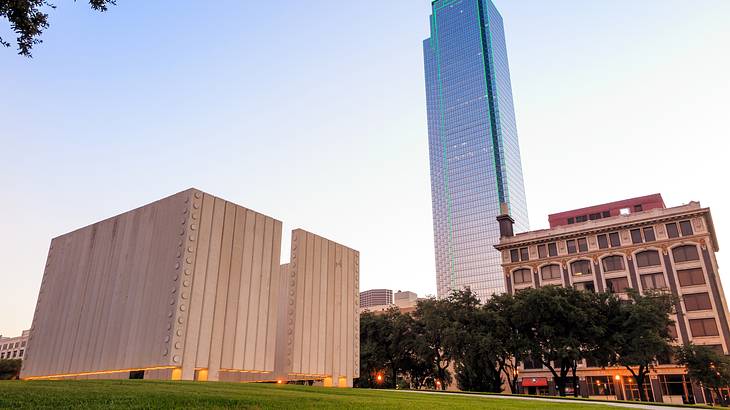 JFK's assassination in Dallas remains mysterious
President John F. Kennedy was assassinated during a motorcade through Dealey Plaza in Dallas, Texas, on November 22, 1963. Though his assassin Lee Harvey Oswald was captured, the circumstances of his death are still debated by historians and conspiracy theorists alike.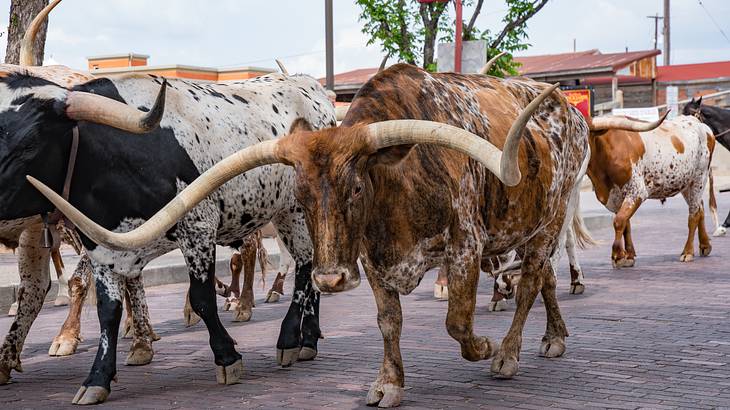 The streets of downtown Fort Worth are still filled with cattle
Every day at 11:30 a.m. and 4:00 p.m., seventeen Texas Longhorns are herded through the streets of downtown Fort Worth. Each represents a decade from the city's past, and the event can be witnessed for free from the sidewalks of East Exchange Avenue.
The motto of Texas' capital city is "Keep Austin Weird"
Far from a dull administrative center, Austin, Texas, is one of the country's most vibrant and unique cities. Since 2000, the Austin Independent Business Alliance has embraced this reputation and promoted the motto, "Keep Austin Weird." Portland, Louisville, and Indianapolis have since adopted variations of this motto.
Texas is a leading producer of wine
An unexpected fact about Texas is that it's a leading producer of wine in the United States. Texas wine traces its roots back to 17th-century Spanish missionaries, and its two million gallons in 2021 made it the country's fourth-largest producer.
Texas has some very strange laws
Every place has some strange legal holdovers from forgotten times, but Texas has some of the strangest. Don't take more than three sips of beer while standing in the town of LeFors, don't use a feather duster on any Texas public building, and be sure to provide 24-hour written notice if you intend to commit a crime.
Cool Facts About Texas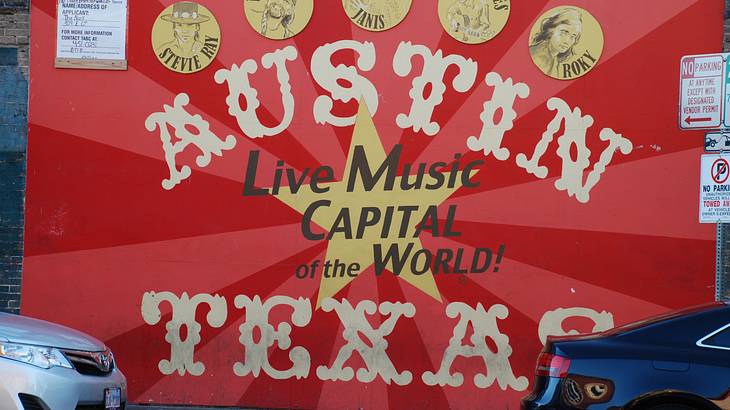 Tex-Mex cuisine originated here
Tex-Mex cuisine was developed by Texans of Mexican or Spanish heritage called Tejanos. It has many similarities to Mexican dishes but with more emphasis on grilled meats and cheeses due to the region's ranching lifestyle and the influence of ingredients from the United States.
The state capital Austin is also the world's live music capital
In addition to the motto "Keep Austin Weird," the Texan capital also markets itself as the live music capital of the world. It's home to the South by Southwest and Austin City Limits festivals and can have over 100 live-music venues on any given night.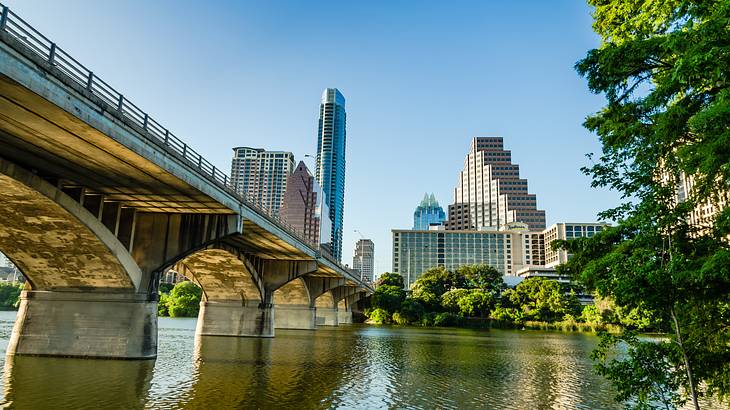 There is a massive bat colony under Congress Avenue Bridge in Austin
Bats have adjusted well to Austin's urban environment. One of the coolest facts about the state of Texas is that as many as 1.5 million Mexican free-tailed bats reside in Austin's Ann W. Richards Congress Avenue Bridge.
Each night at sundown, they emerge to the delight of tourists and locals alike. These bats are so loved by locals that the Austin nickname, Bat City, was created to honor them!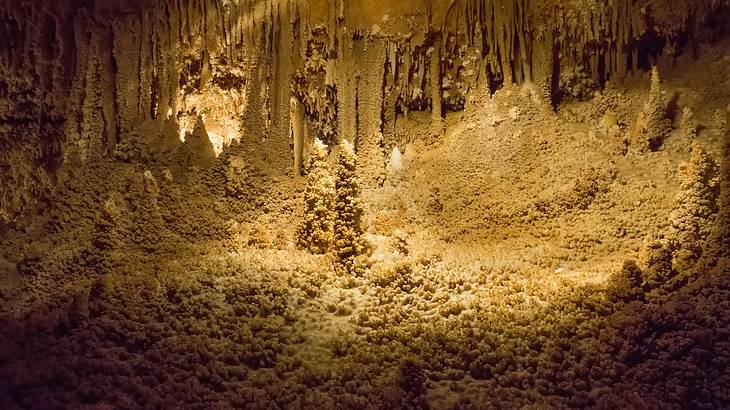 The Caverns of Sonora operators delight in their creative naming
The Caverns of Sonora are a National Natural Landmark found in a 100-million-year-old limestone formation. Its seven miles are packed with impressive structures with names like "cave bacon" to describe layered flowstone and "snake pit" for a densely packed formation of helictites, making it a Texas landmark you shouldn't miss.
Frozen margarita machines got their start in Texas
In 1971, Mariano Martinez invented a concoction that has kept Americans hungover for decades. He used an old soft-serve ice cream machine to dispense frozen lime margaritas, making it the country's new most popular cocktail.
Funny Facts About Texas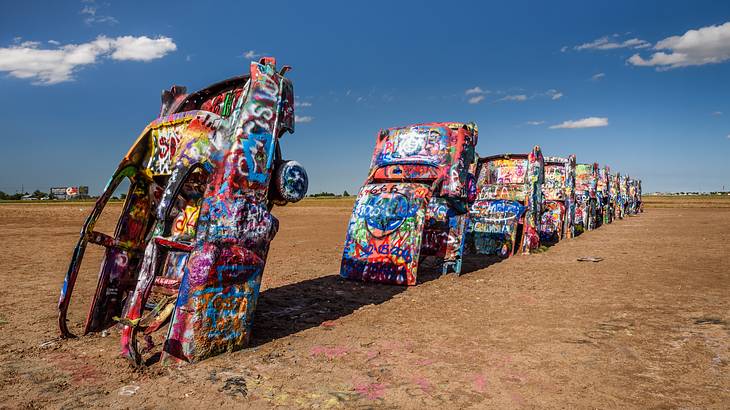 There's a ranch in Texas bigger than Rhode Island
King Ranch is the largest ranch in the United States, covering 1,289 square miles. Its found near Corpus Christi in South Texas and spans an area larger than the entire state of Rhode Island
Cars, not crops, sprout at Cadillac Ranch
While most Texas farmland is for livestock or crops, there is one ranch near Amarillo that sprouts vintage Cadillacs. At Cadillac Ranch, ten vehicles are planted nose down in the soil with their trademark fins sticking out to collect sun and intrigued looks from passersby since 1974.
The catchphrase "What's up, Doc?" comes from Texas
Many people think that the catchphrase, "What's up, Doc?" was unique to Bugs Bunny, but it actually comes from everyday North Texas slang. Bugs Bunny's creator, Tex Avery, went to high school in Dallas, where the term "doc" was used in the same way one might use "dude" today.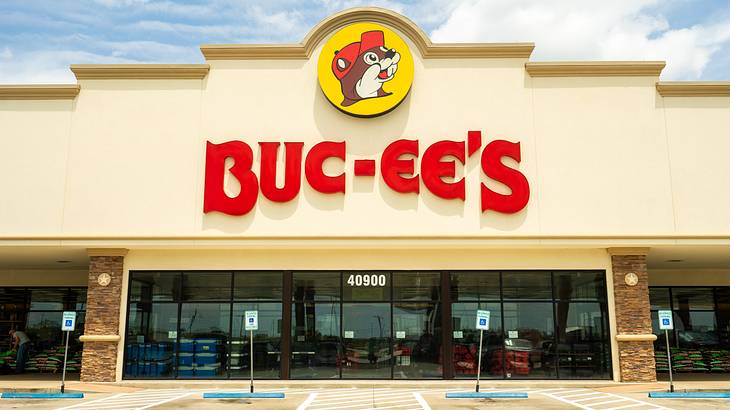 The world's largest convenience store is in Texas
A store in New Braunfels, Texas, called Buc-ee's, is the record holder for the world's largest convenience store at 66,335 feet. It's found off Interstate 35 between Austin and San Antonio and also boasts the world's longest car wash with a 255-foot conveyer.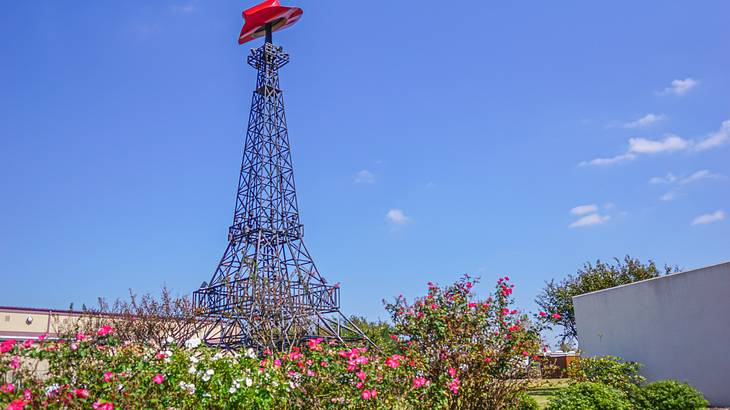 Texas has an Eiffel Tower replica wearing a giant cowboy hat
This is one of the strangest state facts about Texas, so you're excused for initially thinking it's a joke. An Eiffel Tower replica is found in Paris, Texas (of course) and is about one-tenth the height of the original in France. What it lacks in size, it makes up for in spirit, with a giant, red cowboy hat adorning its summit.
Scary Facts About Texas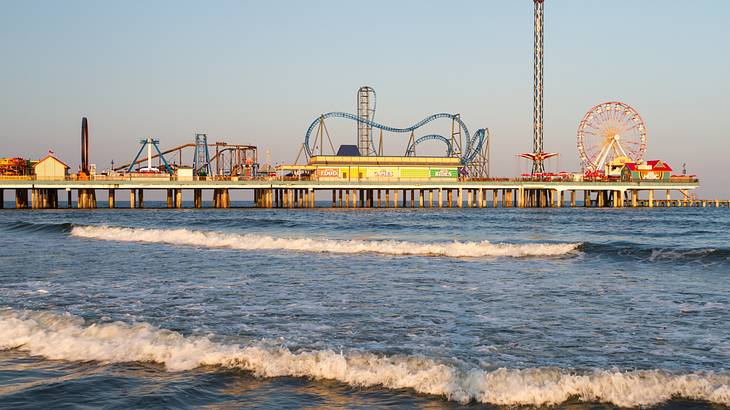 The deadliest natural disaster was in Galveston, Texas
In 1900, the Great Galveston Hurricane struck the Texas gulf coast, killing between 6,000 and 12,000 people. It's the deadliest natural disaster in United States history and the third-deadliest hurricane ever from the Atlantic Ocean.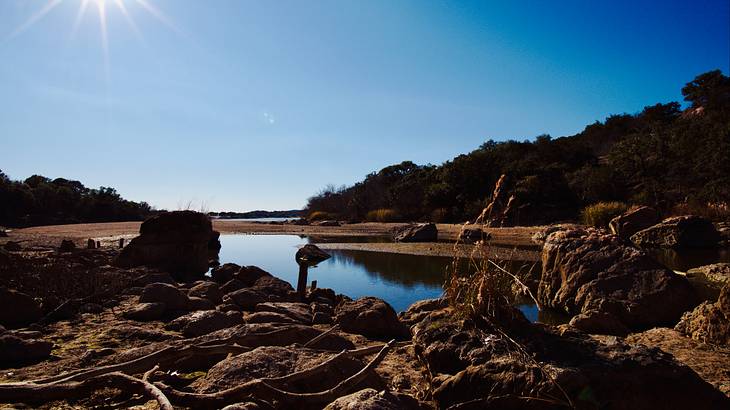 The Devil's Waterhole only sounds scary
The Devil's Waterhole in Inks Lake State Park sounds much scarier than it is. It's actually a great swimming place, with a relatively safe cliff-jumping area. Apparently, the name comes from a previous landowner who liked to curse often and loudly.
The Alamo ghost stories attract enthusiasts and skeptics
Stories of paranormal activity at the Alamo are as old as the historically failed defense of the San Antonio fort. Frequent reports of ghostly screams, explosions, and apparitions around town have both pulled in tourists and driven them away.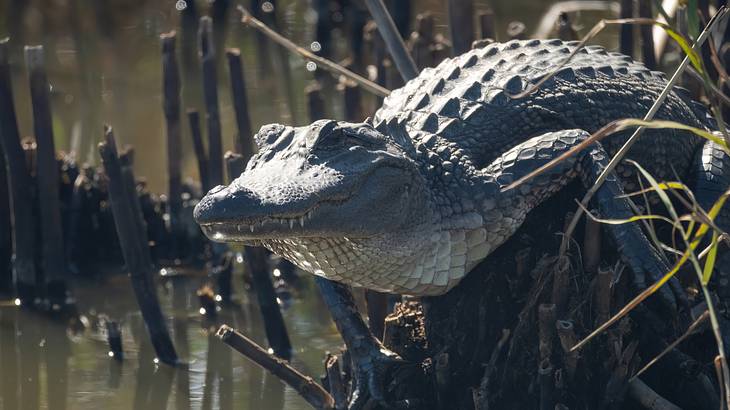 Texas is home to many deadly creatures
The wildlife in Texas cannot be taken lightly, with highly venomous western diamondback rattlesnakes, lurking alligators, and offshore sharks all in the mix. Perhaps the most terrifying, though, is the brain-eating amoeba waiting in warm water swimming holes for new human hosts to consume.
The Texas Chainsaw Massacre was real, sort of
The Texas Chainsaw Massacre was presented as real but was only loosely based on the killer Ed Gein. Gein murdered two women in Plainfield, Wisconsin, and exhumed many other bodies to collect a ghastly stockpile of human skin. Like the movie's antagonist Leatherface, he used these skins to create masks.
Conclusion
These 50 Texas facts show just how much there is to learn about the country's second-largest state. From its agricultural roots to its Tex-Mex fusion, live music, and natural wonders, it's got something interesting for everybody.
There's nowhere else in the country where you can find everything Texas offers. You may have to drive across vast distances to see them all, but at least you have the country's fastest roads to drive on and, very likely, some frozen margaritas waiting for you at the end!
Give us feedback about this article
More articles about Texas:
Read more articles about the United States:
More articles about facts:
---
---
Want to keep exploring?
Subscribe for discounts on tickets and hotels and our latest guides.
Thank you for subscribing
We will be in touch soon with discounts on tickets and hotels and our latest guides.
Want to keep exploring?
Subscribe for discounts on tickets and hotels and our latest guides.
Thank you for subscribing
We will be in touch soon with discounts on tickets and hotels and our latest guides.
Related Articles