35 Fun Free Things to Do in San Antonio, Texas
Destguides may receive commissions from purchases made through affiliate links in this article.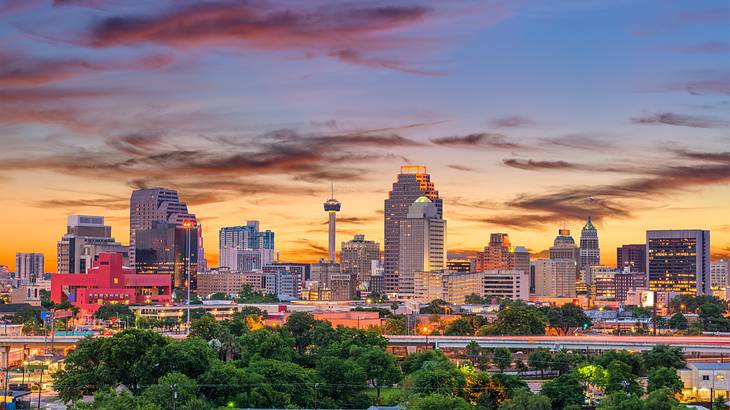 San Antonio is a stunning city located in Texas, in the southern United States. Home to Spanish colonial heritage and the famous Alamo, San Antonio offers a lot to do. In addition to a rich history, there are many ​​fun free things to do in San Antonio, Texas.
Whether you are looking to go for a hike, discover contemporary art, or learn more about the colonial heritage in San Antonio, there is so much one can add to their Texas bucket list!
If you are planning a trip to San Antonio, Texas, make sure to check out this list of 35 fun, free things to do.
35 Things to Do in San Antonio for Free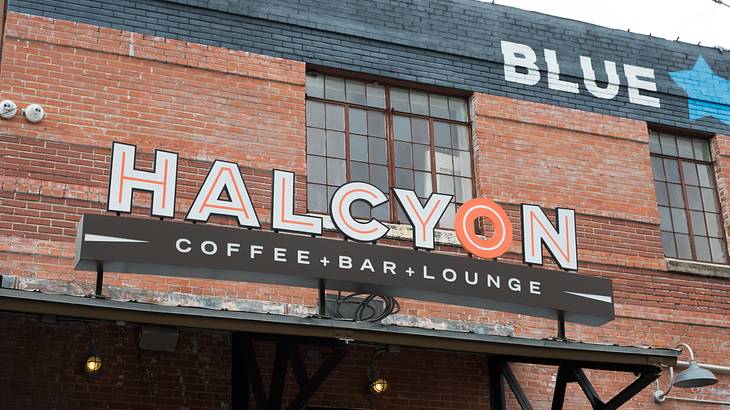 Visit the Blue Star Arts Complex
The Blue Star Arts Complex is San Antonio's longest-running art space focused on contemporary art.
One of the best free things to do in San Antonio, TX, this Southtown destination also offers restaurants and bars on site. After appreciating the art, take a stroll along the riverwalk and admire the scenery.
Explore Brackenridge Park
You can't go wrong with San Antonio's largest park. Brackenridge Park covers 343 acres slightly north of Downtown San Antonio and is full of exciting activities!
Whether you want to spend your afternoon having a picnic, birdwatching, hiking, or at the zoo, Brackenridge Park has it all!
Appreciate nature at Cibolo Nature Center
Are you a nature lover? You'll enjoy walking through this 100-acre park focused on conserving grasslands, riverbeds, and marshlands. If you're traveling with kids, there are outdoor workshops and camps available.
The Cibolo Nature Center is the perfect spot for a picnic, so pack a lunch and make a whole day out of this great spot!
Learn at the Fort Sam Houston Quadrangle and Museum
You can see deer, peacocks, and study history at this unique location. The Fort Sam Houston Quadrangle and Museum is a free activity in San Antonio that tells the story of this fort through the years, beginning in 1845. The museum has six rooms and contains over 8,000 artifacts.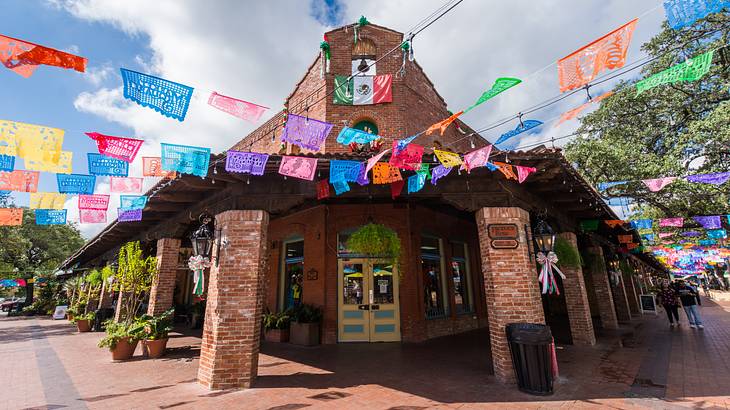 Experience the Historic Market Square
Come alive at the Historic Market Square in San Antonio! Originally a gift to the original settlers by the King of Spain in 1730, it now serves as a cultural hub in the city.
Now over 100 locally-owned businesses and restaurants thrive in this marketplace experience. It's commonly described as the largest Mexican market outside of Mexico.
Remember history at the Holocaust Memorial Museum of San Antonio
The Holocaust Memorial Museum of San Antonio is located within the Jewish Community Center in San Antonio. The exhibits cover the Nazi's rise to power and examples of propaganda.
There's an excellent overview of Holocaust survivors who settled in San Antonio after liberation and American soldiers who liberated the concentration camps.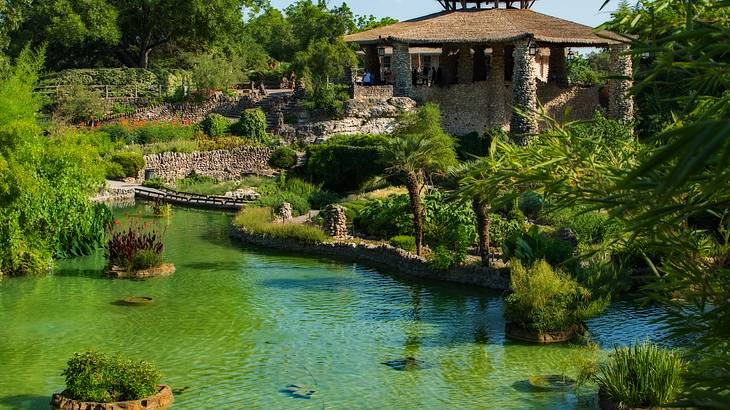 Escape the busy city at the Japanese Tea Garden
Experience a lush garden oasis in the middle of the city at the Japanese Tea Garden. Located within Brackenridge Park, this free year-round garden is peaceful and is a must-do on your trip. The grounds of this San Antonio landmark feature a series of bridges and walkways near ponds filled with koi fish.
Drive around King William Historic District
First settled by German immigrants, King William Historic District now consists of dozens of blocks of historic homes for visitors to enjoy.
Enjoy a drive or walk around this famous district or stop at a few famous houses that are open to the public. In addition, Villa Finale's gardens are free to the public.
Wander at the McNay Art Museum
Imagine an art museum that covers 25-acres and features paintings, sculptures, and more. That's what you'll find at one of the best free places to go in San Antonio - the McNay Art Museum.
Here you can see works of art ranging from Georgia O'Keeffe and other modernist works to a temporary exhibit, "The Art of SA Eats."
Escape the heat at Phil Hardberger Park
Outdoor enthusiasts will enjoy the 7.5 miles of trails that connect to the 20 miles of the Howard Peak Greenway at Phil Hardberger Park.
This 330-acre natural park also operates as a wildlife habitat and features a nature center and outdoor classroom. Locals enjoy the shade in this park during the summer to escape San Antonio's intense heat.
Have fun at the San Antonio Fire Museum
Only a block away from the Alamo, add the San Antonio Fire Museum to your list of free fun things to do in San Antonio. The museum focuses on the history of the city's firefighters.
If you have kids, they will enjoy dressing up in the vintage firefighter gear and looking at the vintage trucks in the museum.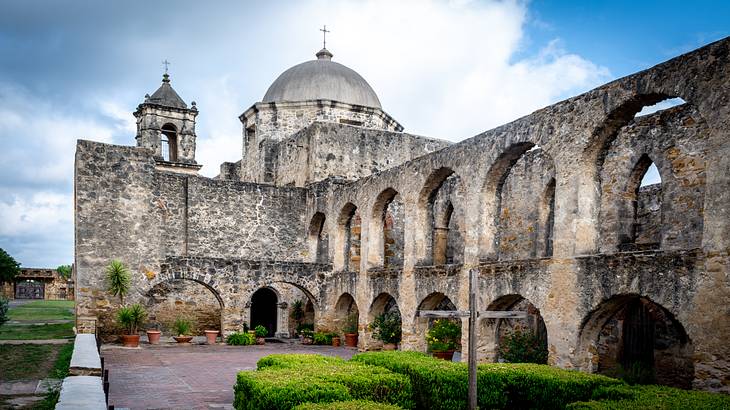 See San Antonio Missions National Historical Park
Experience the early beginnings of San Antonio at San Antonio Missions National Historical Park when in 1718, colonial representatives established the first mission here.
This National Historical Park reaches over nine miles and contains four Spanish frontier missions. It has free admission for all visitors and includes Missions San José, San Juan, Espada, and Concepción. This landmark is so important to the city that the San Antonio nickname, Mission City, was created.
Learn at the San Antonio Museum of Art
Immerse yourself in cultures from around the world at the San Antonio Museum of Art, one of the most popular San Antonio free attractions.
Art here spans over five millenniums from all over the world. While you are here, spend extra time exploring the ancient Greek, Egyptian, Roman, and southern U.S. exhibits.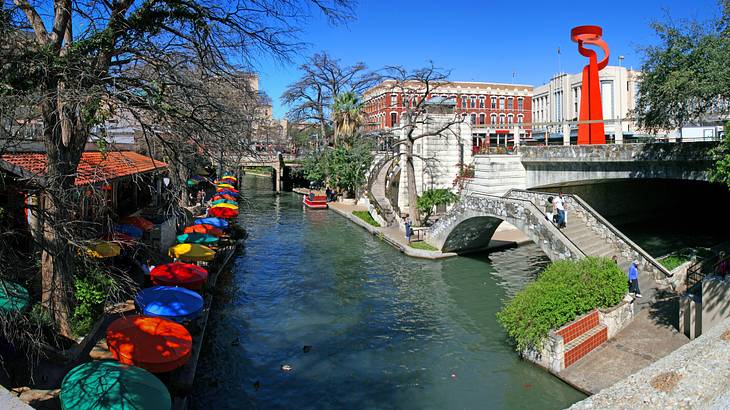 Visit the San Antonio River Walk
A highlight of San Antonio is the San Antonio River Walk, also known as the Paseo del Río. This 15-mile network of streets and walkways runs along the banks of the San Antonio River.
Five miles of the walkway run through Downtown San Antonio, and you can find dining, shopping, museums, and more along the way. If you're looking for the best time to visit San Antonio to wander along the River Walk, opt for a winter or spring trip when crowds are low, and the weather isn't too hot.
See the Hot Wells of San Antonio
In the late 1800s, locals famously used this site to enjoy the healing powers of the hot sulfuric waters. Later used as a hotel, it has burned down on several occasions. It now stands in ruins, and the well is capped off.
Located near the San Antonio Missions, the Hot Wells is the perfect thing to do for free in San Antonio.
Survey the city with the San Antonio Street Art Initiative
Encounter this unique artist-run nonprofit in San Antonio called the San Antonio Street Art Initiative (SASAI). Their team advocates for education and mural art programming and creates street art and murals in San Antonio.
SASAI is known for creating the most extensive outdoor gallery in Texas. With maps available on the website, drive or walk around and have fun!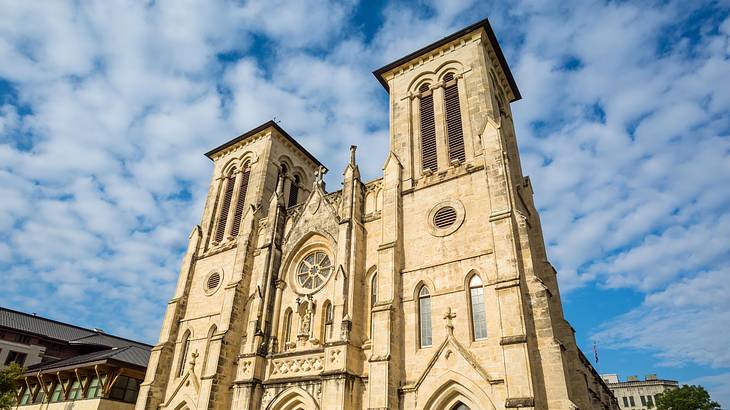 Remember the fallen at San Fernando Cathedral
Did you know that one of the oldest cathedrals in the United States is in San Antonio? Built by the original catholic families in the area, this Gothic Revival cathedral has marked the city's center for almost 300 years.
The heroes of the Alamo are buried in a tomb inside of the church. Visitors are welcome during the day at no charge.
Stop by the San Pedro Creek Culture Park
Previously a concrete stormwater runoff in San Antonio, the city began a three-phased redesign to open the channel to include recreation activities.
San Pedro Creek Culture Park is in the process of reopening with limestone walls, walkways, tiled benches, murals, and trees. The first segment is free and open to the public, offering a tranquil escape from the busy city. ​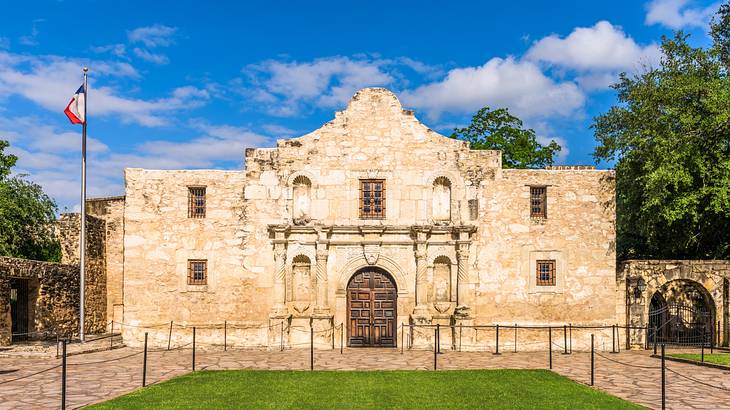 Experience history at The Alamo
Spanish missionaries founded the Alamo mission and fortress in the 18th century, now famously known for the Battle of the Alamo in 1836. It is one of the most famous landmarks in Texas.
You can reserve a free ticket at the church and learn more about the church walls and roof. The Long Barrack, Alamo Cannons, 16 Pounder Cannon, and Alamo Exhibit are also free admission.
Go back in time at the Witte Museum
Learn more about the stories of Texans from early history to present times at the Witte Museum. Free for all visitors on Tuesdays and always free for those under 3, this museum features an extensive natural history collection.
You can see beautiful Texan art, cave drawings, and dinosaur bones all in one place by stopping here.
Enjoy the San Antonio Art League Gallery and Museum
A pleasant museum in the King Williams District, the San Antonio Art League, is the oldest arts organization in San Antonio. Currently housed in a historic house, the museum and gallery showcase more than 600 works focusing on Texas artists.
Make sure to stop by the San Antonio Art League Gallery and Museum when you are in the neighborhood. It is free for visitors.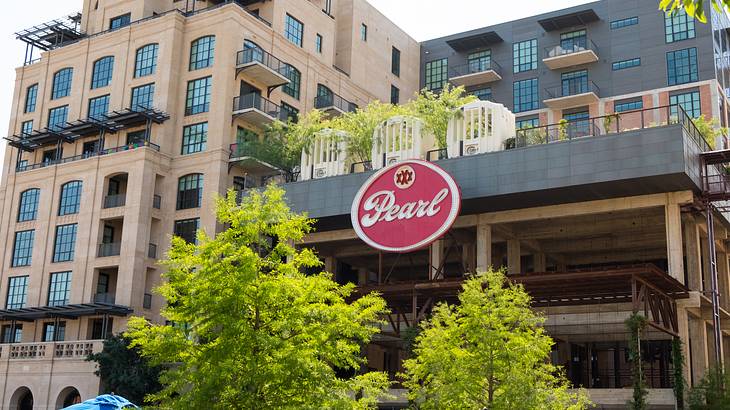 See the old Pearl Brewery
The Pearl is a hub of the city located in the center of San Antonio, a place where people gather, work and live. Previously, Pearl Brewery operated here from the early 1880s to 1999.
Hotel Emma is open to the public and occupies the old Pearl brewhouse. Other shops and restaurants line the streets to create a welcoming environment.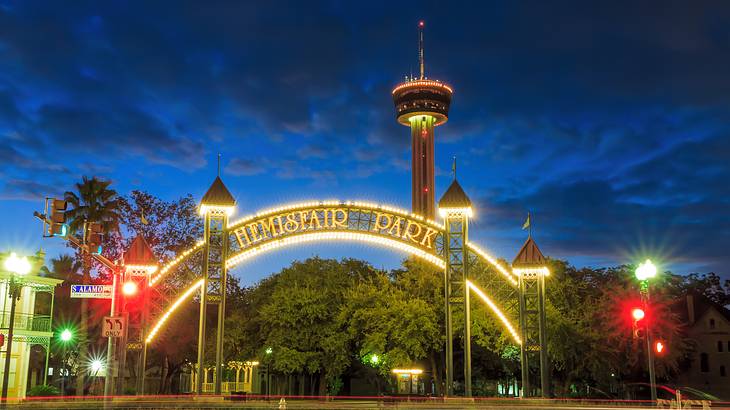 Take a stroll at Hemisfair Park
Hemisfair Park is located in Downtown Saint Antonio. Initially built for the 1968 HemisFair, locals use this park as a city retreat for young kids.
Hemisfair Park includes water gardens, a castle and space tunnel playground, and the 750-foot-tall Tower of the Americas that you can pay to go inside.
Play a game at Yanaguana Garden
When looking for free places in San Antonio, look no further than Texas's second most frequented park per acre. That's right, Yanaguana Garden is famous!
This park provides a play environment for all ability levels and ages and includes splash pads, a game plaza, public arts, and over 500 events each year.
View original art at Artpace
Artpace is a nonprofit art gallery that welcomes three Artists-in-Residence to create original works of art. Through this process, the youth of San Antonio are also exposed to the work and asked to think critically about art.
Add this to your list of San Antonio free things to do, as Artpace is always free and open to the public from 10 am-5 pm.
Go birdwatching at Headwaters Sanctuary
This is the best place to visit if you are a nature enthusiast, as Headwaters Sanctuary preserves 53 acres of San Antonio River Headwaters.
Home to many bird and plant species, visitors could spend days looking for new flowers and animals. The grounds also feature several trails, a baseball field, a softball field, a stadium, and tennis courts for the active visitor.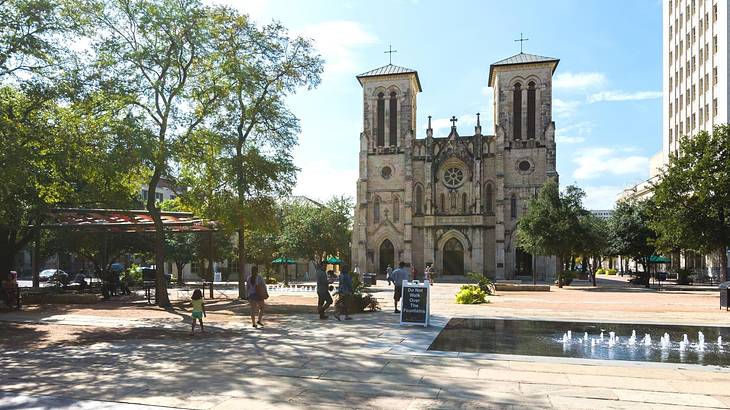 Wander around the Main Plaza of San Antonio
Located outside San Fernando Cathedral, the Main Plaza of San Antonio is the only surviving Spanish colonial plaza in the nation. Other notable landmarks nearby include the 18th-century Spanish Governor's Palace and the Courthouse Bexar County.
The plaza frequently hosts markets with local vendors and live music, so make sure to check their calendar for the latest events.
Get out of downtown at McAllister Park
The largest park by far on this list, McAllister Park, is an 865-acre park complete with hiking trails, camping sites, and even a lake you can fish on. So if you're looking for an outdoor getaway, McAllister Park is exactly what you are looking for!
Not only is it located near the airport, but you can get outside of Downtown San Antonio into a large park without having to go too far.
Watch a film at Slab Cinema
Spend your evening at Travis Park in Downtown San Antonio watching a movie on a giant TV screen. Slab Cinema hosts regular outdoor movies at parks around San Antonio that are free for people to come and watch. Pack a blanket, a drink, some snacks, and get ready for a fun evening!
Learn the history of the town at San Antonio, The Saga
Once you're seated in front of San Fernando Cathedral, you will find yourself immersed in a visual history of San Antonio projected onto the face of the building.
San Antonio, The Saga walks viewers through the historical discovery of San Antonio to its current state. The 24-minute projection art installation is free for viewers and shows every Tuesday, Friday, Saturday, and Sunday.
Experience contemporary art at Ruby City
Focused entirely on contemporary art, Ruby City provides a space for San Antonio's creative community to enjoy artwork by both local and international artists.
This space was envisioned by Linda Pace and presents works from the Linda Pace Foundation Collection and features more than 900 pieces.
Immerse yourself at the Mexican Cultural Institute
This unique museum in San Antonio focuses on art and Mexican culture and historical artifacts. Exhibits rotate, so each time you visit, you might see something new here! It's also located in Hemisfair Park, so make sure to stop by if you're in the area!
Hike the hill at Comanche Lookout Park
This park has been a fundamental part of San Antonio's history for centuries. Originally used as a vantage point for the Native Americans, the hill was also a landmark for travelers throughout the years.
Hike to the top of the hill for a beautiful view of the city, and check out the tower in Comanche Lookout Park while you're there.
Swim a lap at San Pedro Springs Park
Jump in the cool water at the second oldest park in the United States. Initially a meeting place for Native Americans, the space is now one of the free activities in San Antonio to do.
Today, the park features 46 acres of space, a free swimming pool, a tennis center, and a live theater.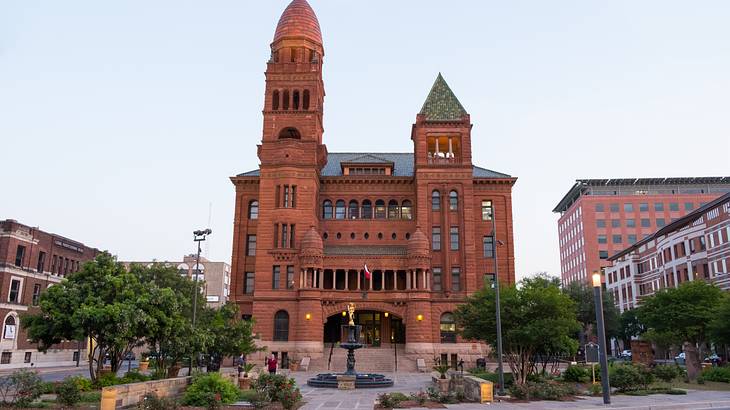 Appreciate the architecture at Bexar County Courthouse
The Bexar County Courthouse was designed in a Romanesque Revival style by a famous architect and was built in 1892. One of the largest historic courthouses in Texas, it is listed in the National Register of Historic Places.
It still operates as a Courthouse today but is open to visitors. Stop by and appreciate the stunning architecture!
Conclusion
If you're headed to San Antonio and are looking for free activities, hopefully this list has given you a good idea of everything the town has to offer. No matter what you are interested in, San Antonio has something for you!
History buffs are sure to love all of the colonial histories in town, while nature lovers will appreciate the sheer number of parks and natural areas around San Antonio.
You really can't go wrong with picking San Antonio for your next vacation spot!
Give us feedback about this article
More visual stories related to this article:
Want to keep exploring?
Subscribe for discounts on tickets and hotels and our latest guides.
Thank you for subscribing
We will be in touch soon with discounts on tickets and hotels and our latest guides.
Want to keep exploring?
Subscribe for discounts on tickets and hotels and our latest guides.
Thank you for subscribing
We will be in touch soon with discounts on tickets and hotels and our latest guides.