9 San Antonio Nicknames That Will Surprise You
Destguides may receive commissions from purchases made through affiliate links in this article.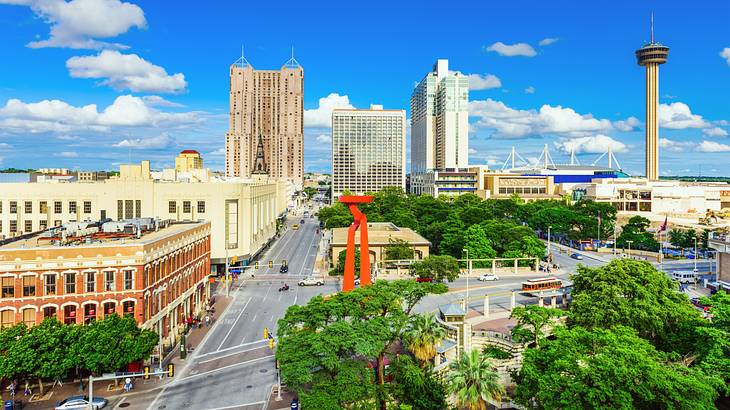 San Antonio, located in South Texas, stands out as one of the state's most popular destinations. It's home to world-famous landmarks like the Alamo, excellent Latin-influenced eateries, and welcoming locals. The area has a fascinating history, too, notably with links to the Texas Revolution.
All of these diverse elements come together to create a city that's very unique compared to other large US cities. The culture of the area has also inspired many San Antonio nicknames.
These include monikers referencing historical sites, like Alamo City and Mission City, names connected to local sports teams, like Spurs Nation, and much more. To learn more about alternate names for San Antonio, keep reading for nine of the most well-known nicknames.
9 Nicknames for San Antonio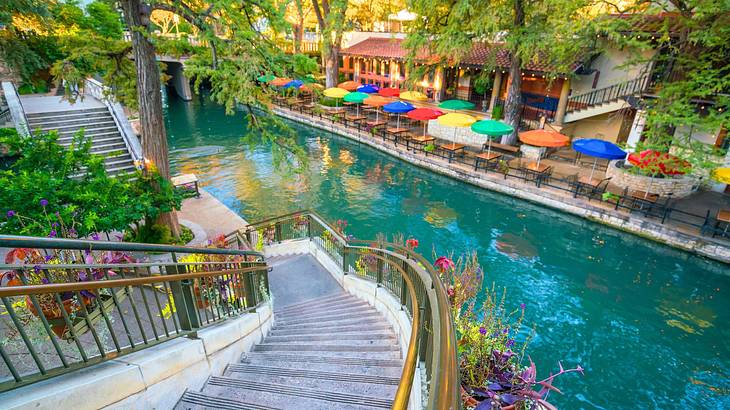 Fiesta City
Fiesta City is a fun nickname for San Antonio that relates to its colorful and party-like atmosphere. The city features lots of excellent bars and nightclubs where you can party all night.
It's also much more colorful than other North American cities. For example, the area features vibrant umbrellas lining the San Antonio River Walk (a must-visit Texas landmark) and bright and eclectic storefronts, all of which add to the fiesta atmosphere.
The name is additionally connected to Fiesta San Antonio, an annual event that takes place over 11 days. It features music, dancing, excellent food, and much more, and is largely influenced by the area's Latin American heritage.
Countdown City
The nickname Countdown City has a few origins. One reason for this name is that the area code for the city is 210, which mimics a countdown from two to zero.
San Antonio also has connections to the aerospace industry, and countdowns are associated with this industry in the form of counting down the launch of rockets and spaceships. While interesting, this nickname isn't used that frequently and isn't known by many people outside of the city.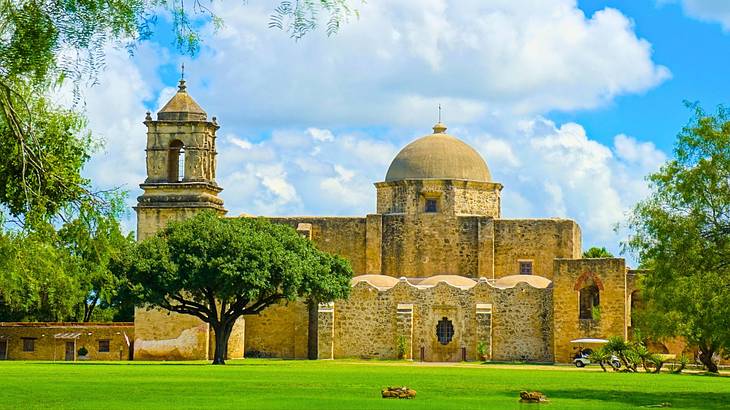 Mission City
The Mission City nickname relates to the historic Spanish missions in San Antonio. These missions (Mission San Jose, Mission Concepción, Mission Espada, and Mission San Juan) are San Antonio landmarks and some of the city's top tourist attractions.
The famous Alamo is also considered a mission and is one of the landmarks most associated with the city. While it isn't clear exactly when the name began being used, it's well-known among locals and even many non-residents.
Military City, USA
Military City, USA is connected to the presence of military bases around San Antonio. These include Lackland Air Force Base, Fort Sam Houston, and Randolph Air Force Base. This name is so popular that it became a registered trademark of San Antonio in 2017.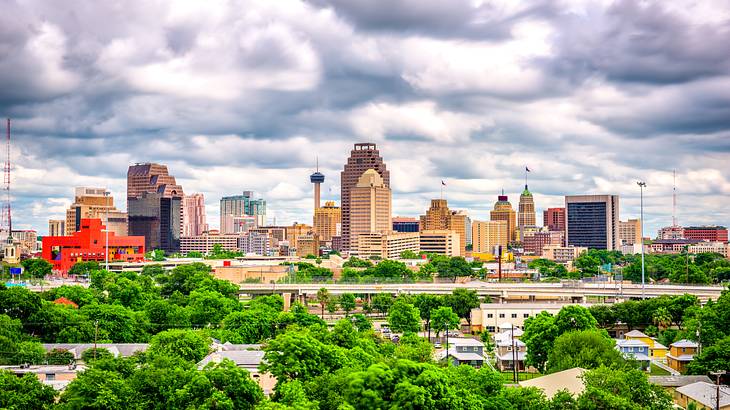 SA Town
SA Town (sometimes just S.A.) is simply a shortened version of San Antonio. Many US towns have a nickname comprised of the first letter of the city and "town." As San Antonio's name features two first letters, they were combined and added to "town" to hop on this nickname trend. You'll hear many people in the city use this name along with the shortened S.A. moniker.
River City
Another San Antonio name relating to landmarks and features of the city is River City. A river, the San Antonio River, runs directly through the city and can be admired from the iconic River Walk.
Along with the Alamo, the River Walk is one of the most visited attractions in the city and the entire state. So, many will automatically think of the San Antonio River and the River Walk when talking about San Antonio as a whole.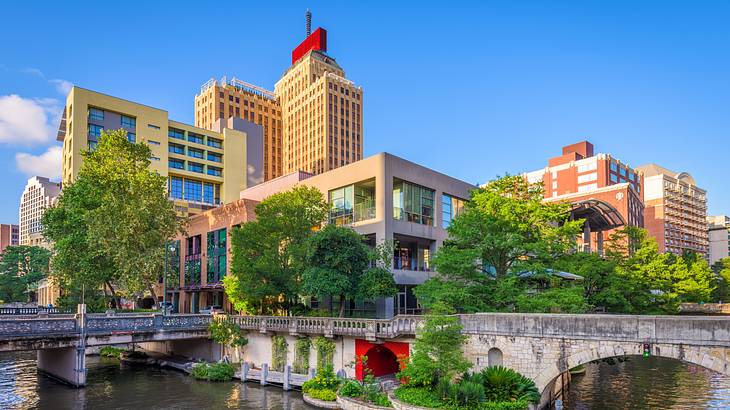 San Antone
Another of the colloquial ways to say San Antonio is by calling it San Antone. Interestingly, this way of referring to San Antonio dates back quite far. For example, the city was called San Antone in a letter from 1835.
Today, this moniker is disliked by many locals. While not the most popular of nicknames, there's a good chance you'll hear it used when in the city. However, the person using it probably won't be a local.
Spurs Nation
Many cities have nicknames relating to local sports teams, and San Antonio is no different. The San Antonio nickname Spurs Nation is connected to the city's NBA team, the San Antonio Spurs, who have played in the city since the 1970s.
This moniker is used frequently by fans of the team. The San Antonio Express-News has even used it as the handle for the publication's social media accounts relating to Spurs news and updates.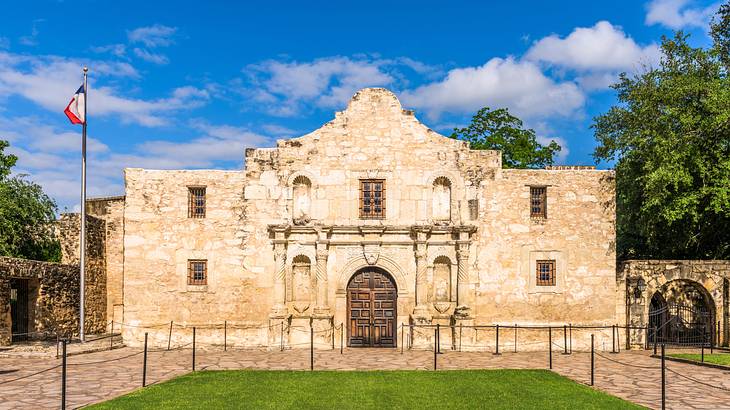 The Alamo City
San Antonio's most famous landmark is the inspiration for the Alamo City nickname. This is the site of the Battle of the Alamo, which occurred in 1836 during the Texas Revolution. Today, the Alamo is located in San Antonio Missions National Historical Park, which is a UNESCO World Heritage Site.
Many interesting Texas facts are connected to the Alamo as well. For example, it's one of the state's most visited landmarks, and many think that it's haunted! All of this local history and culture surrounding the landmark has made Alamo City one of the most well-known alternate names for San Antonio.
In Conclusion
San Antonio is one of the most unique cities in Texas and the country as a whole. Its fascinating history and culture have resulted in the creation of many alternate names.
Having read this article, you should have a good understanding of some of the most popular nicknames for the area and the reasons behind them. From the fun Fiesta City to the historic Alamo City, using a few of these monikers during a visit is sure to impress the locals!
Give us feedback about this article
Learn more about San Antonio:
More articles about Texas:
Read more articles about the United States:
More articles about nicknames:
---
---
Want to keep exploring?
Subscribe for discounts on tickets and hotels and our latest guides.
Thank you for subscribing
We will be in touch soon with discounts on tickets and hotels and our latest guides.
Want to keep exploring?
Subscribe for discounts on tickets and hotels and our latest guides.
Thank you for subscribing
We will be in touch soon with discounts on tickets and hotels and our latest guides.
Related Articles