24 Fun Things to Do in Wimberley, Texas
Destguides may receive commissions from purchases made through affiliate links in this article.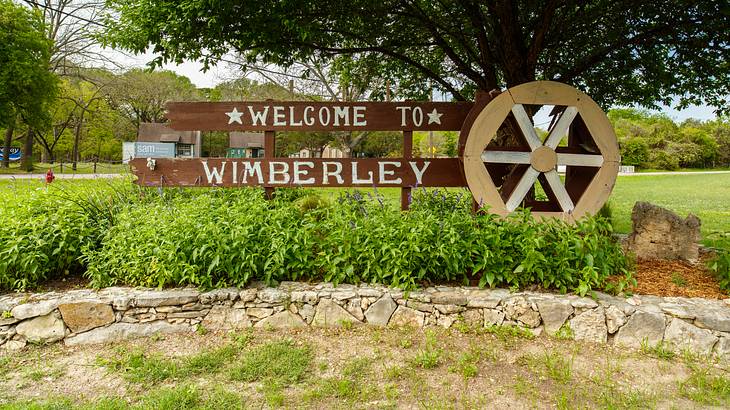 If you are craving the old small-town American vibes, then Wimberley, Texas, is your next trip to book. Not only does this town pride itself on southern hospitality, but there are also many fun things to do in Wimberley, Texas.
As you keep scrolling, imagine you are in a small town, like Gilmore Girls small. Coffee shop owners know regulars by their first name, and treating strangers with kindness is a welcomed habit.
So, what are you waiting for? Continue reading to learn more about the charming town of Wimberley.
24 Fun Things to Do in Wimberley, TX
Grab some ice-cream at The Wooden Spoon
The Wooden Spoon is a local yogurt and deli shop. It's family-owned and has amazing flavors like horchata and cake batter. This is better than ice cream, and there are so many toppings to choose from. It is a staple in the heart of Texas!
If you are struggling to find what to do in Wimberley, TX, consider stopping by this shop! It is such a trendy scene; you could say there are hints of LA influence here.
The Wooden Spoon isn't your regular frozen yogurt shop because attached is also a deli. Great place to stop for a snack or after dinner!
Get a home-cooked meal from Wimberley Cafe
If you know anything about small towns in Texas, you know that there is always that one cafe that reminds you of somebody's grandma.
Well, Wimberley Cafe is just that! The staff is super friendly, and they consider homey southern charm to be the norm.
Highly recommended for breakfast, make sure to get there early if you're here for a weekend or holiday because there will be a wait.
Wimberley Cafe is located right in the center of the charming town of Wimberley, so it's conveniently located close to the other shops in the Square.
Plan on spending a couple of hours after breakfast visiting some of the local shops.
Experience live glass blowing demonstrations at Wimberley Glassworks
Wimberley Glassworks continues to prove they can create unusual stunning works that play with color and light. Some of their lighting designs are featured in luxury and commercial properties nationally.
Definitely one of the many unique Wimberley attractions, Wimberley Glassworks started in 1992 and is located in the beautiful Texas hill country between Austin and San Antonio. You can tour Wimberley Glassworks' art installations or enjoy their patio outside under the oak trees.
If you've never had the pleasure of experiencing live glass blowing demonstrations, this is your chance! You will forever have an appreciation for this difficult art.
Shop at Wimberley Market Days
Wimberley prides itself on hosting the second-largest flea market in Texas. Market Day is the first Saturday of the month and is sponsored by the local Lions Club of Wimberley, Texas.
There are various food vendors, country western decor vendors, and live music. You won't leave empty-handed; there are tons of treasures to find!
Pets are not allowed at this flea market and are asked to be left at kennel services in the area instead of the car. There are about 450 vendors to check out, each unique!
This is a major fundraising project by the Wimberley Lions Club and is primarily served by volunteers.
Discover the new Wimberley Valley Museum
The Wimberley Valley Museum is a relatively new museum in Wimberley. It is hosted by the Wimberley Institute of Cultures.
The Museum promotes cultural traditions through preservation education and public events. It is a welcomed addition to the Wimberley, Texas attractions.
The pride and joy of this Museum is its grinding stones on display from William Winters. Most of the archives here were previously only made available once a year to the fourth-grade classes on the school history tour.
Grab a bottle of wine at the Wimberley Valley Winery
Wimberley Valley Winery has specialized educators that will guide you through five glasses of wine. A true wino's dream come true!
If that seems excessive, you can grab one quick glass and enjoy the vintage double-decker bus outside on the patio. There are lots of different seating areas. The winery also has beers on tap.
If you're lucky when you visit, you might see llamas! That's right; you can enjoy a brisket sandwich from one of the two food truck options and have the opportunity to see local llamas.
You can't go wrong with one hand full of BBQ, the other with a glass full of wine, and the guest appearance of the Valley's spectacular llamas!
Fly through Wimberley Zipline Adventures
Whether you are an expert at zip lining or this will be your first ride, Wimberley Valley Adventures has highly trained guides that will fit you with state-of-the-art equipment for your zipline ride.
This ranch has been occupied since 1883 and is located in the Hills Country between San Antonio and Austin. This zipline course, in particular, made it on this list of Wimberley things to do because of how much land it covers!
Your zipline ride will start with a trained guide leading you on an educational walking tour. On this tour, you will learn about the local ecosystem, wildlife, and history, as well as other interesting facts about the area.
The zipline can take one and a half to two hours and covers a breathtaking 10-mile area featuring fantastic views. There are ten zip lines ranging from 150 to 900 feet long.
And for adventurers out there, this zip line can get speeds over 30 mph. You're sure to have a blast on the ziplines!
Get the true cowboy experience at Jack Glover's Cowboy Museum
Jack Glover was known for telling anyone who would listen about the cowboy life. He was a lawman out west, and his cousin was the infamous Will Rogers.
Jack acquired each piece in this museum. He shows the history of how each item comes into his possession through this museum.
Not only is it a fascinating way to learn about the cowboy lifestyle of Texas, but it is also located between the three beautiful rivers that surround Wimberley.
The gift shop is known for having a massive Jackalope which you can ride for a small price. There are so many things to see here from the past, and you should plan on spending at least two hours at this attraction.
Do a mini photoshoot at Pioneer Town
7A Ranch is a secluded sleepy village that has been a family vacation wonderland for the past seven decades. The original seven acres and five cabins have now turned into 142 acres and 19 cabins, as well as other lodges.
Located at this ranch is the iconic Pioneer Town, which hosts an incredible scavenger hunt with yummy prizes. It is a reconstructed western town setting, circa the 1870s to 1880s.
Pioneer Town includes an opera house, a game room, a bottle house, a print shop, and an ice cream parlor. It is a great space for epic IG photo ops.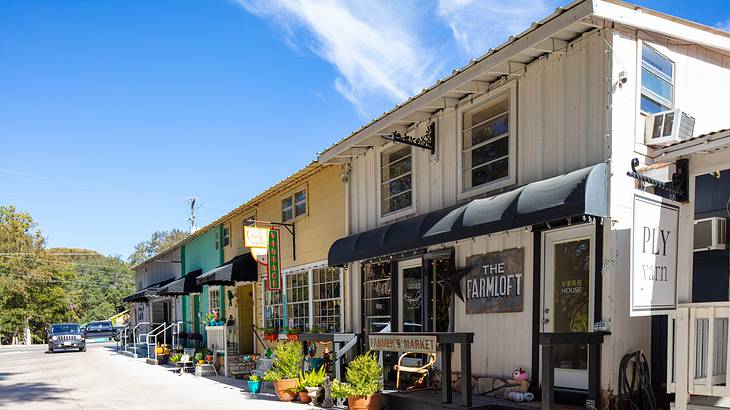 Have fun shopping in Downtown Wimberley
If you were looking for small-town hospitality, that is the only thing spoken here.
Wimberley Square is in the center of town, full of shopping and dining choices. Some shops include Mexican folk art, life-size bronze sculptures, fresh-cut Texas flowers, and ranch decor.
This is a western aesthetic you cannot miss out on! Downtown Wimberley has a ton of fun stores, like Kiss the Cook, which has a ton of high-quality cookware.
There's also the Cedar Chest of Wimberley, which is a western boutique that has been in downtown Wimberley since 1996. Also, enjoy the many art galleries the town has to offer.
Grab some dinner at Creekside Cookers BBQ & Bar
Kelly Evers is one of Wimberley's pride and joy. He has been in competitive barbecue cook-offs since 2010 and has won 25 grands in reserve championships. Wimberley is proud he chose this town to debut in the food truck scene!
You can usually find this gem downtown for lunch. Make sure to ask for the pork belly and delicious brisket. The truck is usually parked where there is plenty of outdoor seating.
You can also find this vendor when the flea market is in Wimberley on the first Saturday of every month.
Enjoy complete privacy at Yurtopia Wimberley
If you are lucky enough to book a private yurt at Yurtopia, expect fantastic views and 300 feet of woods surrounding you. This earthy lifestyle hut is full of amenities, like a small outdoor kitchen, a grill, a hot tub, a plunge pool, and a private bathroom.
This facility prides itself on having maximum privacy; none of the amenities are shared. The yurt is even climate-controlled, so don't be shy to visit in the summer or winter. You will even enjoy the scenic drive up to the top of the hillside!
Get your morning started with Cactus Coffee
This funky shop opened up in 2016. The goal of Cactus Coffee continues to be providing quality service with local products.
All coffee is sourced from Wimberley, and the owner makes her own iconic prickly pear syrup. This is what creates one of her most iconic summer drinks - prickly pear lemonade with a neon pink top.
Taste rum at Cypress Creek Reserve Rum Distillery
In a land full of wineries and hills, the Cypress Creek Reserve Rum Distillery shines as the best place in Wimberley to get smooth vanilla rum.
The owner, practically a pirate himself, got the idea to bring the Caribbean tradition to the heart of Texas after traveling there.
Be ready for knowledgeable staff, and enjoy sitting with a cocktail in the hills of San Marcos. San Marcos is between San Antonio and Austin, right next to Wimberley.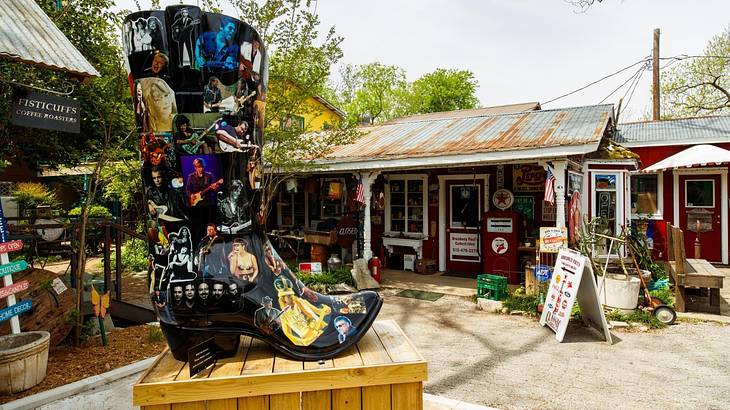 Take your next profile pic with the Wimberley Boots
Wimberley is full of cultural treasures, but the Wimberley Boots continue to be a tourist favorite, and thus a must on your Texas bucket list!
These boots are made by local artists and can be found all around the town. Some are 6 feet tall, while others reach up to 8 feet tall.
The design can correlate with the shop it is in front of, but some have the Texas landscape portrayed on them. See if you can find all 50 as you explore the town!
This trend started in 2014, after the Fourth of July parade, and has stuck with the town ever since.
Climb to the top of Old Baldy
Old Baldy is a moderate-to-easy hike that is 0.2 miles long. What it lacks in distance, it gains in elevation of about 101 feet. The route is a simple out and back, but the views make Old Baldy special.
After climbing up 218 rock steps, you will be rewarded with a 360-degree view of the area - a spectacular panoramic background for your next IG post. Enjoy going back down the steps; it will be much easier than the trek up there!
Walk through the Rough Creek Lavender Fields
This is a working roping horse ranch with lavender fields throughout the entire acreage. Rough Creek is proud to be the oldest and largest lavender farm in Wimberley Valley.
In Wimberley Valley today, there are more than 1000 lavender plants every year that bloom mainly around June.
This ranch has something for everyone but especially for those looking for some quiet backcountry experiences for a simpler and more peaceful life.
Come walking through the fields, pick your lavender and enjoy everything this ranch has to offer!
Enjoy fresh olive oil at the Bella Vista Ranch
This hill country ranch reflects a traditional Italian family farm. With over 1200 producing olive trees, this family prides itself on having the freshest olive oil in Texas.
The family even has their own olive press, a tasting room, and a gift shop. Come during the fall for the freshest olive oil you will ever taste in Texas!
Devour lunch at the Leaning Pear
The Leaning Pear is owned by native Texans, who were inspired by Italian cuisine. Their mission is centered around fresh seasonal and local food. There is a screened-in porch which makes for a great ambiance.
Enjoy a long lunch and a glass of wine here to get the full Leaning Pear experience. If you are seeking refuge from the hot Texas sun, this is a great option!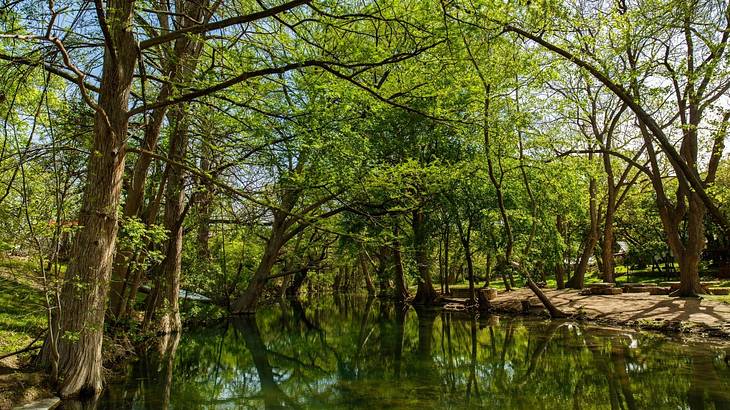 Go for a hike at Cypress Creek Nature Preserve
The trails of Cypress Creek Nature Preserve will take you through shaded bottomland. This riparian landscape will be lush with Sea Oats, Texas Red buckeye, and other native plants.
The best part of this park is the natural habitat. Trees are left where they fall as a way to prevent massive flooding in the surrounding area. That also means that you are more likely to see wildlife during your hike.
This preserve has over 7.24 acres of land along Cypress Creek. This is just down the street from Wimberley Square, so you could enjoy it before or after some lunch.
Be aware, the Creek is not designed for people to play in. But Cypress Falls Swimming Hole is!
Cool off at Cypress Falls Swimming Hole
This swimming hole was created from a dam, that also made a small waterfall.
As a result, Cypress Falls Swimming Hole is fed refreshingly cold water from Jacob's Well. The water is clear and blue and surrounded by stunning limestone rock formations.
It's advised to visit on a weekday or early on a weekend. This is the only local watering hole with a cafe and an 18-hole golf course.
Spend an afternoon at Jacob's Well Natural Area
Jacob's Well is open for swimming from May 1 - September 30 by reservation only. The reason swimming is not allowed in the fall and winter is to restore the natural area.
The influx of people can ruin the habitat, and limiting the swimming times can help keep the area in pristine condition.
The park is completely free to visit and is open all year round. If you can't swim, check out their trails. They have trails for hiking, birding, geocaching, photography, and more.
You can also ask for a tour of Jacob's Well Natural Area - a must-see Texas landmark!
Get creative at Art on 12
Voted the Best of Wimberley in 2021, Art on 12 is in the heart of Central Texas.
Wimberley has been designated a Texas Cultural District by the Texas Commission on the Arts. With its six galleries and iconic Second Saturday events, this is one of the best places to places to go in Wimberley, TX.
Second Saturdays continue the southern hospitality with wine, beer, and appetizers. This allows you to meet the extremely talented artists that host this art gallery - it's like meeting a local celebrity!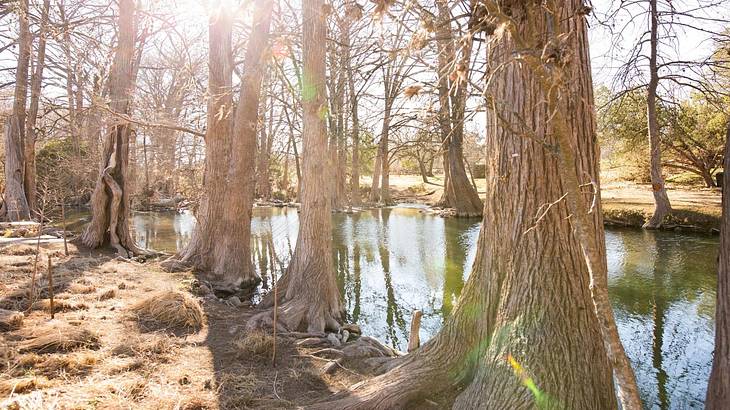 Take a dip in Blue Hole Regional Park
Blue Hole Regional Park is known for its community education on the natural environment of Wimberley. A relatively new development, this park was established in 2005 and includes 126 acres to explore.
This true gem of a park doubles as an education center for preserving the dark sky, birds, wildlife, and the entire riparian ecosystem here.
What is a riparian ecosystem, you ask? It is the low area along the edge of a river, creek, stream, or lake. And this town is primarily made up of this ecosystem.
In Summary
If you find yourself driving from Austin to San Antonio, make sure to take a day to explore what Wimberley has to offer. What is there to do in Wimberley, Texas, you ask?
This town may seem sleepy to city-goers, but it is a peaceful country town that embodies everything the United States stands for.
Each store or event has mother nature front and center. There is a focus on education through preservation and representation.
Plus, there is no better way to spend a hot summer day than at one of the many watering holes in Wimberley!
Give us feedback about this article
More articles about Texas:
Read more articles about the United States:
More articles about things to do:
More visual stories related to this article:
---
---
Want to keep exploring?
Subscribe for discounts on tickets and hotels and our latest guides.
Thank you for subscribing
We will be in touch soon with discounts on tickets and hotels and our latest guides.
Want to keep exploring?
Subscribe for discounts on tickets and hotels and our latest guides.
Thank you for subscribing
We will be in touch soon with discounts on tickets and hotels and our latest guides.
Related Articles