Local's Guide to the Best Things to Do in Burlington, Vermont
Destguides may receive commissions from purchases made through affiliate links in this article.
Vermont is more than just a pretty view; its whole essence is captivating. People come from all over the world to see this beautiful New England state, and many across the Northeast come to escape the city and enjoy the fresh air and more laid-back lifestyle here.
Maybe you've seen some of the quintessential Vermont scenery - the white steeple church in front of the green rolling hills, the winding dirt roads lined with trees showing off their colorful displays of oranges, yellows, and reds, and the sailboat gliding through the waters of Lake Champlain. Vermont is picturesque indeed and well worth a spot on your bucket list as there are many things to do here, especially in Burlington.
One of my favorite things about Vermont is the culture. Compared with most other places I've visited in the United States, the people here are more friendly and down-to-earth. The state as a whole is very liberal, especially in the more urban area of Burlington, but of course, we have our conservatives too!
Understatement in both appearance and attitude is the fashion here. People are not flashy or flaunting their wealth. You will find a population of very active people who generally love to get out and enjoy the outdoors in any type of weather.
Some popular activities are camping, road and mountain biking, and hiking. In the winter, you can also go skiing, snowboarding, snowmobiling, and more! If you are a foodie, you'll be sure to love dining in Burlington as well.
Although I have lived here most of my life, I still pause regularly to appreciate all of Vermont's famous landmarks and wonders. While there is so much to see and do here, no visit is complete without spending at least a couple of days in Burlington - Vermont's largest city at 43,000 people. You should also go exploring outside of Burlington.
Best things to do in Burlington: For such a small city, Burlington is brimming with culture, sophistication, and vibrancy. Several colleges are located here, including the University of Vermont. While Vermont is one of the whitest states in the U.S., Burlington is quite diverse in comparison, as it has been a refugee resettlement area for decades and attracts students and professionals from all over.
It's also easy to get around in Burlington. You can ride public transit or take a bike, depending on where you are staying. The whole city is very accessible by bike if you can contend with the hills. Nonetheless, if you want to enjoy Burlington to its fullest, here are my recommendations.
9 Activities to Do in Burlington, VT
Burlington Things to Do Map
A map of Burlington. Use the map to explore all the things to do.
Visit Church Street
Church Street is a pedestrian brick walkway lined with boutique shops, cafes, restaurants, and bars. You must take a stroll on Church Street to take in the sites and sounds. Often there are street performers and interesting people of all walks of life to observe in the marketplace as well.
Explore the Burlington Waterfront
The Burlington Waterfront is the perfect spot to watch the sunset. Walk along the boardwalk, look out at the lake, or bring a frisbee to toss around. Make a stop at the Boathouse where you can watch the boats come in and out. It's located right along the bike path.
You can walk here from Church Street, take the free trolley or pay to park. Festivals are a common activity. If you want a splurge, take a cruise around the lake on the Spirit of Ethan Allen.
Sit at an Outdoor Cafe to People-watch
I recommend people-watching from a local shop like Speeder and Earl's right on Church Street. Of course, there is a Starbucks, but if you want to do Vermont right, you must go local!
Muddy Waters does not have outdoor seating but is a cornerstone of Burlington's local scene. Located right on Main Street near Church Street, it is perfect for enjoying a beverage or baked goodie on a rainy day.
The best cup of coffee in my personal opinion is from Radio Bean, which is located on Pearl Street; a short walk away from the top of Church. If you want the ultimate hippie and hipster vibe, great coffee, and occasional live music, be sure to stop here.
Ride Along the Bike Path
Burlington has one of the most picturesque bike paths, quite possibly in the world. It is an eight-mile path that hugs Lake Champlain and takes you the length of the city.
The best resource for cycling the city and beyond is Local Motion. They have very detailed maps with information about places to stop. They, along with many other outfits, rent bikes as well. Spinlister bike rental is another place to check out if. you want to rent a bike.
Anywhere you hop on the bike path within the 8 miles will guarantee you a beautiful ride. If you can't do the whole thing, that's okay, but I highly recommend it! Start at Oakledge Park, a beautiful park to visit in its own right, and continue north to the huge bridge spanning over the mouth of the Winooski River.
If you are ambitious, you can continue to the Colchester Causeway. You would just keep going past the bridge, through a lakeside neighborhood that reconnects you back up with the bike path when you hit Airport Park in Colchester. The trail turns to dirt and takes you a mile or two through the woods until you emerge at the Causeway.
The Causeway is an old railroad bed converted to a bike path. Lake surrounds you, and the views are just spectacular. It goes on for a few miles until you get to a split. You can turn around, or at certain times in a year, you can take a bike ferry to South Hero - an island in Lake Champlain.
There is no path when you get to South Hero, but the roads are just fine for biking. The bike ferry is run by Local Motion, so you must visit their website for updates on times. If you are up for the trek, it's truly a unique experience!
You can explore the island, or if it's the end of the summer season, you can pick apples and pet the animals at Allenholm Farm. You can also wine taste at Snow Farm Vineyard.
Experience the Nightlife
There are so many places to check out that are right on Church Street or within walking distance. Here are some of my favorite spots.
The Spot on the Dock: You can start your night right on the water at this restaurant at Perkin's Pier. Or for a quieter scene, also on the water, head over to Splash at the Boathouse - a restaurant that is literally floating on a boat. It is located at the Boathouse.
Either of these places is perfect for grabbing a drink or dinner while the sun is setting. If you're a foodie, just grab your drinks here. There's more interesting food to be had elsewhere. When the sun sets, you can head up to Church Street.
If you're ambitious and looking for the ultimate Pub Crawl, there are many places to visit, like Red Square, JP's Pub, and Deli 126. Really, you can walk up and down Church Street and Main Street and find plenty of bars. Most do not charge a cover to get in.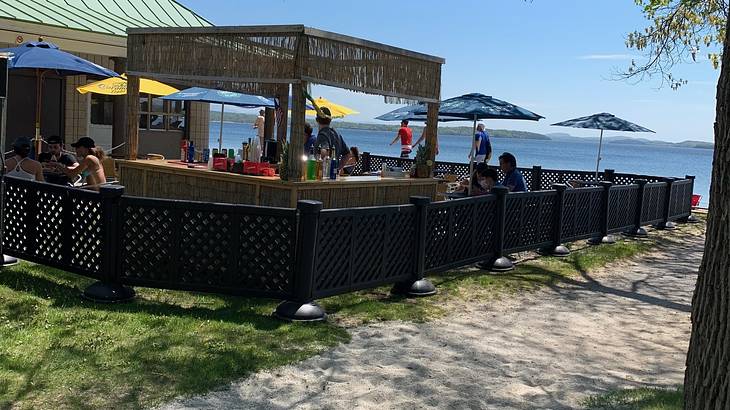 Relax on a Beach
Since days can be hot in the summer, you will need a place to cool off. Burlington has two beaches that I recommend, both in the North End of town right on the bike path. Depending on the day, the water can be very clear or murky with algae. Most of the time, however, the swimming is good, and it is so lovely to relax on a sandy beach.
North Beach is where you go if you want a beach with amenities. The beach has BBQ areas and a place to rent paddleboards and kayaks. You can also find a restaurant and bar and playgrounds for kids. I highly recommend you rent one and explore along the cliffs. It costs $8.00 per car for non-residents to enter the park, but it is free if you are walking or biking.
Leddy Beach is free to enter but has no amenities. Leddy is in a separate cove and can sometimes be a little cleaner. It's more relaxed, and you can bring a raft and float around. It's equally as beautiful if you want a more relaxed vibe. I prefer this beach, although my kids prefer the other with the playground and ice cream!
Check out a Restaurant or Brewery
I am not a foodie, but Burlington has some fantastic restaurants. I would recommend Skinny Pancake down at the Waterfront. Their sweet and savory crepes are amazing, and the vibe can't be beaten.
Breweries: Some of Vermont's most prominent attractions and claims to fame are the breweries, so I can't post about Vermont without at least mentioning a couple of my favorites. There are many more, so do your research and do some brewery hopping if you wish. My favorites are Citizen Cider and Queen City Brewery, both located on Pine Street and very close to downtown.
Stop by Ethan Allen Tower
Another stop you shouldn't miss is the Ethan Allen Tower. It's located right on North Avenue in between North and Leddy beaches. You park at Ethan Allen Park, and from there, it's a quick, easy hike through the woods with signs that point you there. When you climb to the top, you get a fantastic panoramic view of Burlington, the lake, the Green Mountains, and the Adirondack Mountains.
The tower is open seasonally, and you should check the hours on the website beforehand. If it's not open when you visit, you can walk further through the woods to the Pinnacle. It's an overlook with a gazebo, equally as beautiful but without the cool tower. These are free.
Grab an Ice Cream
No trip to Vermont is complete without enjoying a delicious cone from the famous Ben and Jerry's. They have a shop right on Church St. If you want to eat ice cream like a local, you must eat a Vermont maple creemee (our word for soft-serve ice cream).
As you drive throughout Vermont, you'll probably see lots of creemee stands. If you are downtown, you can easily walk down College Street to Burlington Bay where they always have creemees ready for your indulgence!
Additional Thoughts
In my opinion, the best times to visit Vermont are in the summer and fall. Vermont has four distinct seasons, each one offering something unique and different.
Winters here can be long and brutally cold, and you are not guaranteed a white blanket of fluffy snow. That being said, if winter sports are your thing, you will probably love it. Just dress for warmth, not for fashion!
In spring, while the weather can be really nice; it is our mud season. Snow is melting off the mountains and trees are budding. This tends to be our rainiest time of the year and the most unpredictable.
It can be hot and sunny one day and cold and snowy the next. As the saying goes any time of year in Vermont: "If you don't like the weather, wait a minute. It will change." This especially applies in spring. So if you like rolling the dice, then maybe spring is for you!
Why do I love summer and fall in Vermont? Summertime is just gorgeous in Vermont, and it's made that much sweeter by the fact that we've been cooped up all winter and are just so excited to get out and do all the things the weather now allows us to do.
So many festivals and concerts are packed into the summer. Friends and family get together for outdoor BBQs. We have so many fresh streams and lakes; it's easy to find ways to cool off from the heat. Everyone comes out of the woodwork to sun themselves and enjoy.
Although we never know when it will rain in Vermont, it tends to be a little less rainy in summer than in the spring. Summer runs June-August, and the weather can range from the 50s-70s at night to 70s-90s during the day.
Comfortable shoes, an umbrella, a bathing suit, shorts and t-shirts, a sweatshirt and pants for chillier evenings, and some bug spray, is really all you need for summer in VT. Mosquitos really can be terrible in the summer, so I'm not kidding about the bug spray.
When Vermonters debate about which season is best, we can all agree that fall is pretty spectacular. The weather is not too hot. It can be pretty warm or pretty chilly, so you need to dress in layers. There is a crispness in the air that feels so fresh after the hot and stifling summer. The sun seems to shine a little more in this cloudy state during fall, and it rains a little less.
Of course, there is also the foliage. People come from all over the world to see our fall foliage, and it truly is a sight to behold. The best time to see the foliage is generally in between mid-September to mid-October.
Peak foliage time ranges from year to year and depends on your elevation as well. If you come during that window, you are sure to see some foliage and get our most beautiful fall weather though.
In fall, it might not be warm enough to swim, although you could find the lake water to be warmer than the air at this time of year. So I would still pack a swimsuit because you might find a nice day, or just feel like getting crazy. When I speak about the beaches, I have summer in mind, but they are also lovely to visit in the fall, even if just for a walk.
I hope you enjoy your stay in Burlington. Summer and fall are full of events and festivals, so always check Seven Days VT for the most up-to-date information. Find and Go Seek has events and calendars if you are looking for the perfect family-friendly activities. I always check their schedule when I'm looking for things to do with my kiddos.
Give us feedback about this article
More articles about Vermont:
Read more articles about the United States:
More articles about things to do:
---
---
Want to keep exploring?
Subscribe for discounts on tickets and hotels and our latest guides.
Thank you for subscribing
We will be in touch soon with discounts on tickets and hotels and our latest guides.
Want to keep exploring?
Subscribe for discounts on tickets and hotels and our latest guides.
Thank you for subscribing
We will be in touch soon with discounts on tickets and hotels and our latest guides.
Related Articles