20 Fun DC Date Ideas to Impress Your Significant Other
Destguides may receive commissions from purchases made through affiliate links in this article.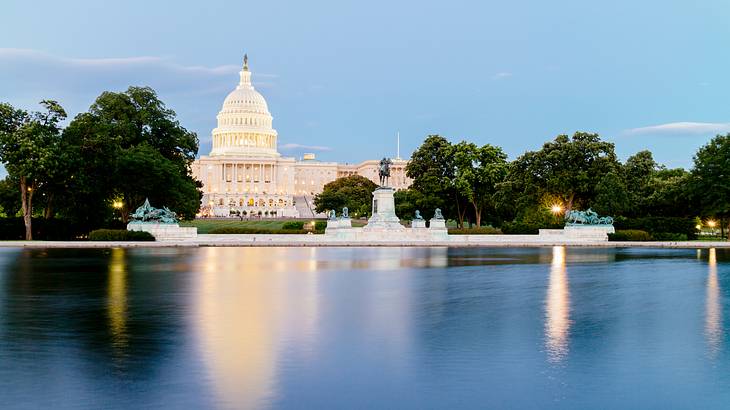 Washington, DC, is a city full of iconic landmarks, exciting attractions, and beautiful outdoor spaces. The capital city of the US is also a great destination for couples to explore.
Whether you live in the area or are visiting with your significant other, you can discover an array of fun DC date ideas to try. From visiting tourist hotspots to playing a game of ping pong, or just grabbing coffee, DC has something for all couples.
If you want to make lifelong memories with your partner in Washington, DC, be sure to read these 20 unique date ideas.
20 Fun Date Ideas in DC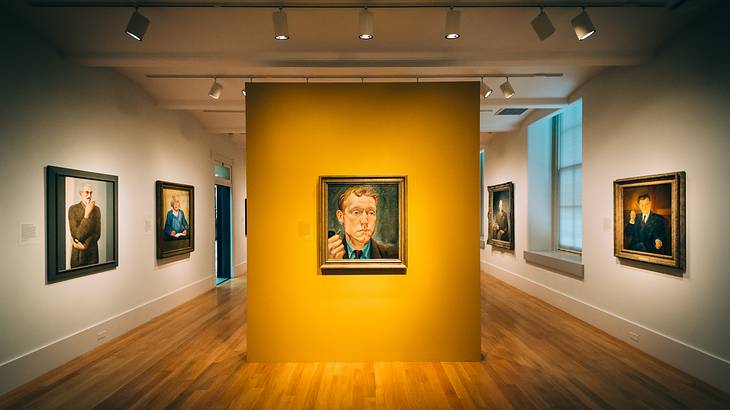 View famous portraits at the National Portrait Gallery
The National Portrait Gallery is a Washington, DC, landmark and an ideal date spot for couples that enjoy cultural activities. The renowned gallery houses a portrait of every President of the United States, plus portraits of significant figures in American history.
Wandering around the gallery and appreciating the stunning portraits is a fun way to bond with your date. The National Portrait Gallery is open until 7 PM too, making it an ideal spot for an evening date.
Look at the stars at Rock Creek Park Planetarium
The Rock Creek Park Planetarium is part of Washington, DC's Rock Creek Park Nature Center. The planetarium offers a range of exhibits and activities relating to astronomy. Taking your date here to learn something new and view the stars is a great idea!
Having visited the planetarium, you can also explore the nature center. This educational center houses informative exhibits on a range of wildlife creatures.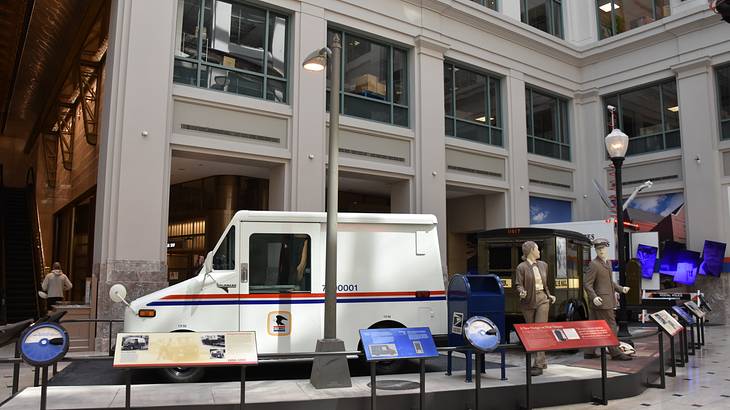 Learn something new at the National Postal Museum
The National Postal Museum is an informative DC museum. The attraction was developed as a collaboration between the United States Postal Service and the Smithsonian Institution.
Taking your partner to this museum is one of the most unique date ideas in DC. It's an ideal spot to visit if your other half likes learning about new and interesting topics. At the museum, you can discover exhibits on the history of USPS and the investigation arm of the postal service, among other things.
Want to make a day of your date? Then go on a DC sightseeing tour that takes you to the National Postal Museum and many other attractions.
Visit the National Museum of Women in the Arts
The National Museum of Women in the Arts is dedicated to the artistic achievements of women. Exhibits cover a range of impressive females that have produced works in visual, performing, and literary arts.
As you explore the museum, you'll come across a range of amazing artworks and will learn more about the women that created them. This date idea is perfect if your partner loves art and cultural attractions, especially those that highlight great female talent.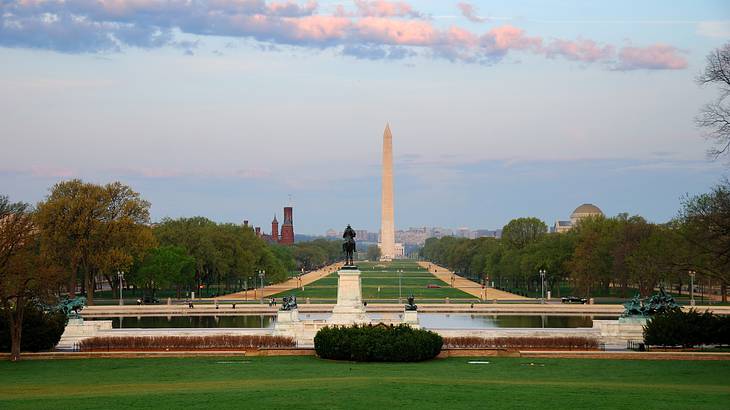 Stroll along the National Mall
If you're looking for the perfect date idea that's also super laid-back, walking on the National Mall is a great option. You and your date can spot some of the most famous landmarks in North America, like the Washington Monument, and enjoy each other's company.
For those planning an evening date, consider taking a DC Monuments by Moonlight tour. This tour will allow you and your date to see the National Mall, Washington Monument, and many other landmarks lit up after dark. It's an extremely romantic way to sightsee in DC!
Ice skate at the National Gallery of Art Sculpture Garden
Between November and March, the National Gallery of Art has an ice rink in its Sculpture Garden. Taking your partner here to skate is an incredibly romantic idea. No matter how good you are at ice skating, you're both guaranteed to have an enjoyable and memorable time.
If you're planning a date when the rink is closed, visiting the National Gallery of Art Sculpture Garden is still one of the cute date ideas in DC. You and your partner can explore the garden together and discover a range of interesting statues, sculptures, and water features.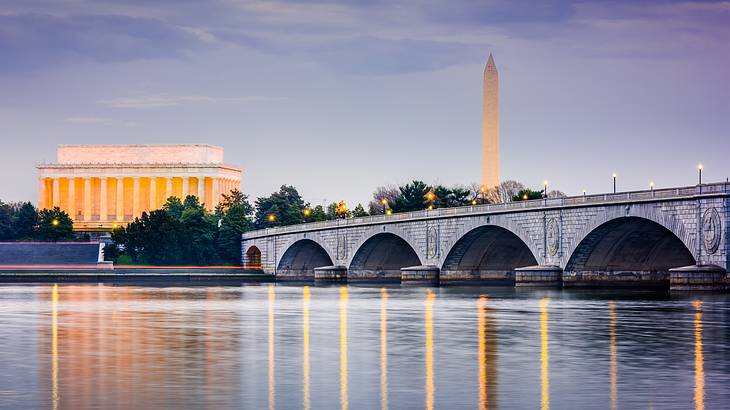 Treat your partner to a Potomac River dinner cruise
The perfect way to spoil your date is by taking them on a scenic Potomac River dinner cruise. On the cruise, you'll be treated to a three-course meal, complete with entrees and dessert. Dishes served included steak and lobster, roasted vegetables, and mussel gratin.
You'll also be able to enjoy the stunning views as the sunsets over DC and spot some landmarks. Additionally, live music is included to add a relaxed and romantic atmosphere.
Shop and eat at the bustling Union Market
A great way to spend some time with your partner in DC is by visiting Union Market. At the market, you can check out a range of shops, eateries, and market stalls together.
If you don't know what dishes to try, why not grab a few things and have an impromptu picnic! Union Market has a cute rooftop space where you can share snacks and grab a cocktail too. After eating, be sure to go to some of the interesting independent fashion, decor, and gift shops also housed at the market.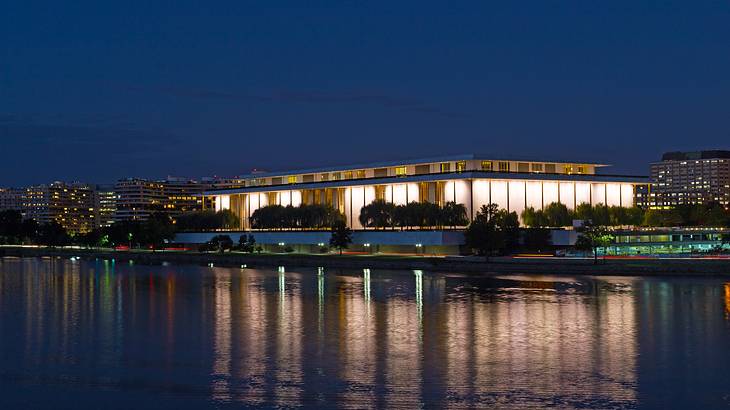 Watch a performance at the John F. Kennedy Center for the Performing Arts
One of the super fun date night ideas in DC is catching a show at the John F. Kennedy Center for Performing Arts. This venue hosts an array of shows, so you're sure to find something that both of you want to see.
Performances to watch include theatre productions, classical music concerts, and dance shows. You can even watch a range of comedy shows here. A night out at the John F. Kennedy Center for Performing Arts is a failsafe date idea!
Challenge your partner to a game of ping pong at SPIN
Challenging your date to a fun game of ping pong is an exciting and laid-back idea. Washington, DC, has a few ping pong locations, with SPIN being a local favorite. Conveniently, it's located in downtown DC.
At the ping pong bar, you can play at one of many tables and grab food and drinks. Dishes to enjoy together include burgers, tacos, and sweet treats. A date at SPIN is always a good suggestion, whether hanging out in the afternoon or at night.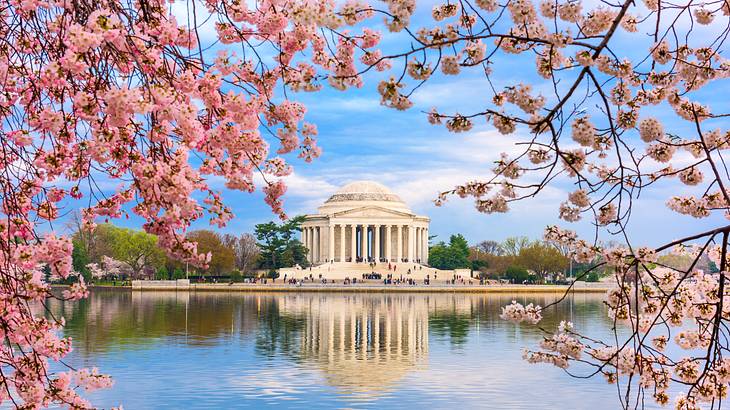 Take a romantic walk around the Tidal Basin
No matter what time of day you plan your date for, a walk around the Tidal Basin is always a good idea. The tree-lined path will take you around the tranquil water until you reach the Thomas Jefferson Memorial.
As you wander around the Tidal Basin, be sure to take lots of pictures of the scenic surroundings. During the spring months, the path is lined with beautiful pink cherry blossoms, making your stroll even more picturesque.
A fun fact about Washington, DC, relating to these trees is that they were gifted to the city by the mayor of Tokyo in 1912, so they're also somewhat of a historical landmark!
Go on a classic dinner date
One of the best DC date ideas is going on a classic dinner date. Washington, DC, is home to an array of world-class restaurants and unique independent eateries. No matter what kind of cuisine you want, you and your partner will find a restaurant for you.
Dupont Circle is a hub for outstanding eateries. Recommended spots include Italian Obelisk.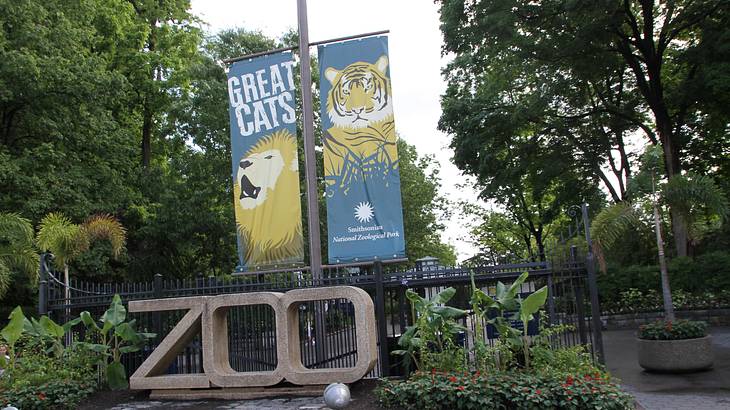 See a range of animals at the Smithsonian National Zoo
The zoo isn't just for kids! Taking your partner on a daytime date to the Smithsonian National Zoo is a guaranteed good time. Animals to spot here range from flamingos to giraffes and elephants.
The zoo also hosts Zoo Lights, where the zoo is lit up with colorful lights in the evening. Going to the illuminated event is one of the best things to do a night in DC.
Laugh together at a comedy show a DC Improv
Watching an entertaining comedy show is the perfect date idea for all types of couples, from first dates to long-term partners. A great place to catch a show in Washington is DC Improv Comedy Club.
This comedy club hosts a range of shows, including improv performances. Other types of shows include open mic nights and performances by professional comedians.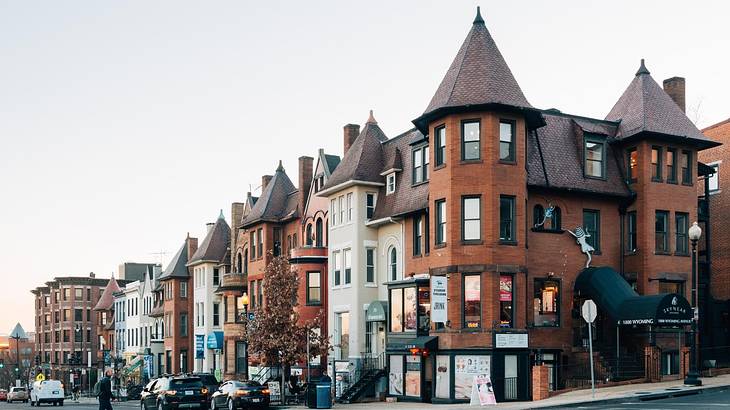 Hang out in the Adams Morgan District
The Adams Morgan District is a trendy neighborhood, and exploring the area is one of the many cool date ideas in DC. Things to do include shopping at quirky independent stores, sipping coffee at unique cafes, and walking in the nearby Meridian Hill Park.
If you can't decide where to go in the area, consider going on an Adams Morgan District walking tour. This exciting tour takes you past ten renowned attractions that you can stop at if interested.
Play a game of mini golf
You can find numerous mini golf courses in DC. A popular new addition to Washington, DC, is Swingers Crazy Golf. Not only can you play a fun crazy golf course here, but you can also grab bar snacks and drinks.
At the course, you and your date can try two amusing courses, a clock tower course, and a waterwheel course. Food to share includes tacos, pizza, and burgers. You can also add delicious cocktails as well as beer, wine, or liquor.
Relax on a laid-back coffee date
A coffee date is another classic idea that can't be missed. Luckily, DC has a vast selection of great coffee shops to head to. Cameo is a super cute spot located on Pennsylvania Avenue. This specialty coffee shop has a range of brews, plus yummy pastries, pies, and cakes.
A few of the other must-try coffee shops in DC include Dua Coffee, The Royal DC, and The Coffee Bar.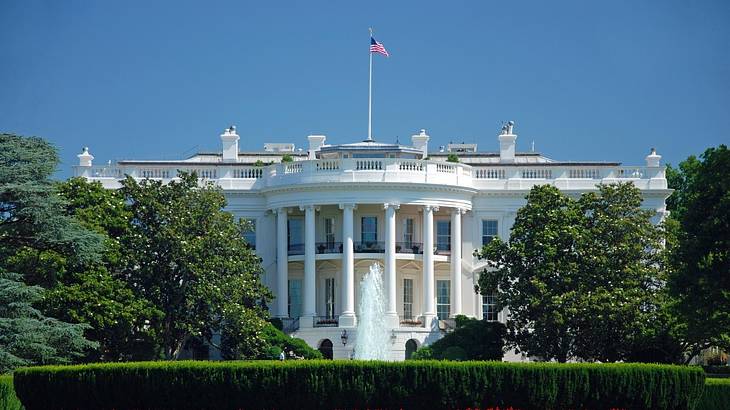 Explore Washington, DC, on a sightseeing tour
Washington, DC, is home to a vast number of famous world landmarks. Whether you and your partner live in DC or are visiting, going on a sightseeing tour is an exciting way to see the city together.
Being such a popular tourist destination, you can find an array of DC sightseeing tours to try. These tours run from early in the morning to late at night, depending on when you want to go out. Iconic places to see include the White House, the Lincoln Memorial, and the Capitol Building.
Share a delicious brunch
DC has a vast array of amazing brunch locations. If you're planning a daytime date, going to brunch is one of the fun couple activities in DC to try.
A highly recommended brunch spot is The Imperial. This contemporary restaurant hosts an incredible brunch with egg dishes, veggie options, sweet treats, and more. Other outstanding brunch locations include Jaleo, dLeña, and Imperfecto.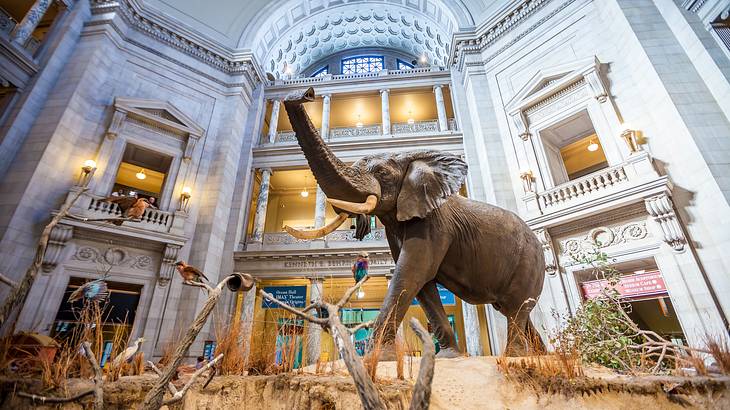 Spend the afternoon at the Smithsonian National Museum of Natural History
The National Museum of Natural History is a renowned natural history museum. This attraction houses multiple exhibits covering topics from fossils and wildlife to ancient Egypt and genome sequencing.
Admission is free, so visiting is an ideal date idea, no matter what your budget. If you want to visit in the evening, the museum often hosts after-hours events too.
In Summary
Washington, DC, is the perfect city for couples to explore. If you're looking for the best date ideas in DC, this list should have given you some inspiration. No matter what you and your other half like to do together, DC has an activity for you.
Give us feedback about this article
More visual stories related to this article:
---
---
Want to keep exploring?
Subscribe for discounts on tickets and hotels and our latest guides.
Thank you for subscribing
We will be in touch soon with discounts on tickets and hotels and our latest guides.
Want to keep exploring?
Subscribe for discounts on tickets and hotels and our latest guides.
Thank you for subscribing
We will be in touch soon with discounts on tickets and hotels and our latest guides.
Related Articles