The Perfect 3 Days in Buenos Aires Itinerary
Destguides may receive commissions from purchases made through affiliate links in this article.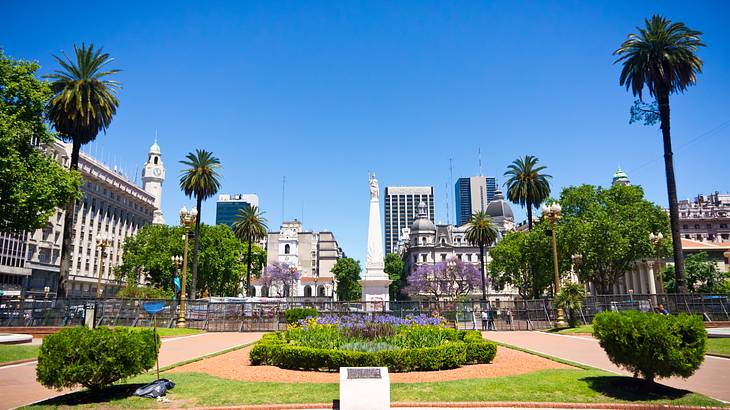 Buenos Aires, Argentina's capital city, is beloved by tourists for its hospitality, variety of attractions, and vibrant culture. The city is full of life and history, from brightly colored street art to tango shows and notable buildings.
It's, therefore, no surprise that tourists flock to this renowned South American city. If you're planning a visit, be sure to use this 3 days in Buenos Aires itinerary to experience as much of the city as possible.
Attractions include historical sites like Plaza de Mayo and more unusual spots like Recoleta Cemetery. Buenos Aires is, of course, brimming with visual stimulation too. This includes the vibrant hues of El Caminito (and other street art you'll come across) and the unique design of Floralis Generica.
The city also has many restaurants to try. No matter where you stop, you'll be able to taste Argentine classics like parrilla, empanadas, and alfajores, delicious dulce de leche-filled cookies. Buenos Aires isn't short of exceptional bars, either. If you're planning a trip, keep reading for an exciting Buenos Aires itinerary, plus travel tips!
3 Day Buenos Aires Itinerary
Buenos Aires' Unique Attractions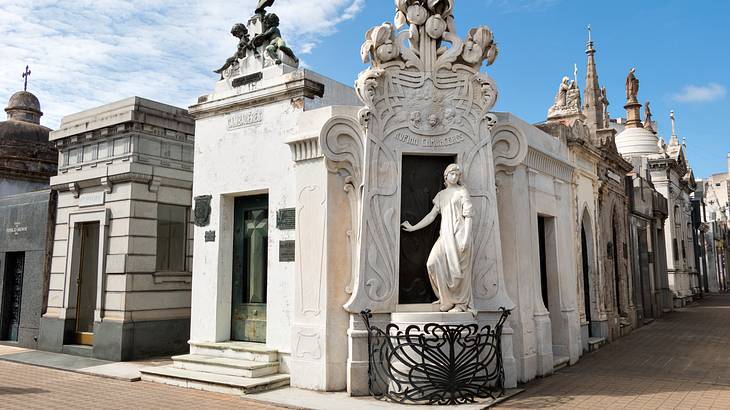 Begin your 72 hours in Buenos Aires at a museum filled with South American art, the Museo de Arte Latinoamericano de Buenos Aires. Having enjoyed all the exhibits, quickly stop for some empanadas or other snacks at Na Serapia. If you have time, you could stop back for lunch too!
Next, head to a unique attraction, El Cementerio de la Recoleta. This vast urban cemetery features elaborate tombs and mausoleums and is the final resting place of Argentina's most notable figures.
After you explore the city of the dead, you'll be going to the Museo Nacional de Bellas Artes. On the way, stop to admire Floralis Generica, a moving flower sculpture located close to the museum. Once at the museum, you can view works by famous international and Argentine artists.
End your first day in Buenos Aires with delicious food and drinks at one of the world's best bars, Floreria Atlantico.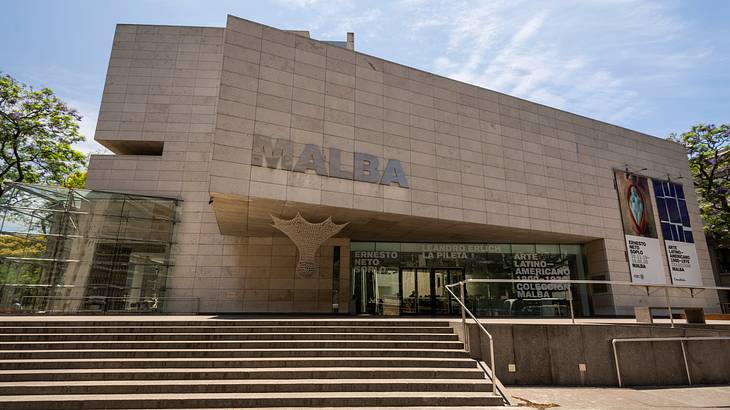 Museo de Arte Latinoamericano de Buenos Aires
The Museum of Latin American Art (Museo de Arte Latinoamericano de Buenos Aires or MALBA) is the perfect place for art and Latin culture lovers. Founded in 2001, the museum features both permanent and temporary exhibits.
The permanent exhibition comprises 200 works from museum founder Eduardo Costantini's private collection. These artworks include paintings, drawings, photography, sculpture, and more from the 1930s to the present day.
All artworks on display are by South American artists. This includes works by Frida Kahlo, Antonio Berni, and Diego Rivera. The pieces cover a range of styles, from surrealism and pop art to social and political art.
While the permanent collection is not the largest, it's a must-see, and this smaller collection allows for numerous temporary exhibits. No matter what exhibits are on display during your visit, you're sure to enjoy the selection of curated Latin American art.
Pulpería Ña Serapia
This cozy hole-in-the-wall restaurant is the perfect place to stop for a quick snack or a delicious lunch. Na Serapia is known for having some of the best empanadas in Buenos Aires. They're baked here fresh all day, and a selection of fillings are on offer, including meat, vegetable, and chicken.
They also sell other quick eats such as pizza, sandwiches, and tamales. If you're sitting down to eat, try the locro, one of Argentina's national dishes. This squash-based stew is also made fresh at Na Serapia and includes meat, beans, and other vegetables. If you want to try local dishes, going to Pulpería Ña Serapia is one of the best things to do in Buenos Aires, Argentina!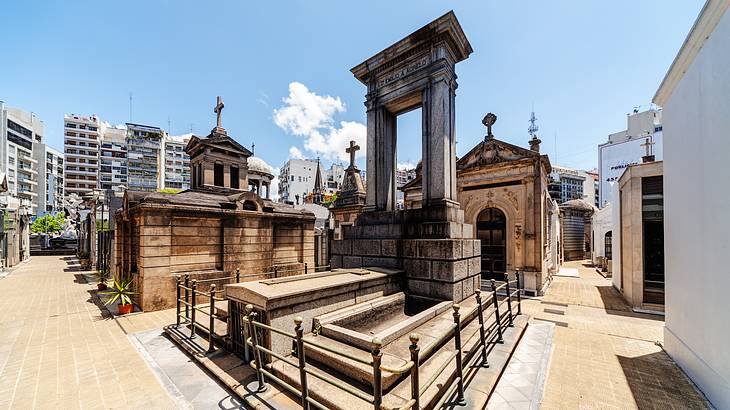 Cementerio de la Recoleta
Not many cities can boast that a cemetery is one of their most-visited attractions, but Buenos Aires can! The fascinating Cementerio de la Recoleta is often referred to as a small city of the dead within the Recoleta neighborhood. It's definitely one of the top things to see in Buenos Aires, Argentina!
Cementerio de la Recoleta became the city's first public cemetery in 1822. Designed by French engineer Prospero Catelin, it has been named one of the world's most beautiful cemeteries. Upon entry, you'll be amazed by the "streets" lined with elaborate mausoleums, statues, and crypts.
This iconic cemetery is the resting place of the country's most notable personalities. This includes Eva Peron, the controversial former first lady buried in a heavily fortified crypt to avoid her body being stolen again. Other famous "residents" include Argentinian presidents, Nobel prize winners, and the granddaughter of Napoleon Bonaparte.
While not famous personalities, other well-known and eerie graves include those of Rufina Cambaceres and David Alleno. The former is said to have been buried alive, while it's believed the latter, a former Recoleta gravedigger, now haunts the cemetery at night.
You can explore the cemetery yourself (be sure to pick up a map at the entrance), or guided tours are available for a more in-depth understanding of those buried here.
Floralis Genérica
At the heart of the Plaza de las Naciones Unidas is a steel and aluminum flower sculpture that stuns those who see it. The 105-foot-wide flower sits on top of a pool, which the sculpture mightily reflects for a truly eye-catching finish.
What sets this bloom apart is that it's mechanically designed to open during the day and fold at night, just like a real flower. This is achieved by hydraulics and photoelectric sensors. The flower opens each day at 8 AM and closes at midnight or when there is high wind.
This impressive sculpture was gifted to the city of Buenos Aires by Argentine architect Eduardo Catalano and pays homage to all flowers. Viewing the flower alone is quite a sight, and it will, of course, make for amazing photos and videos! It's a must-visit landmark during your 72 hours in Buenos Aires.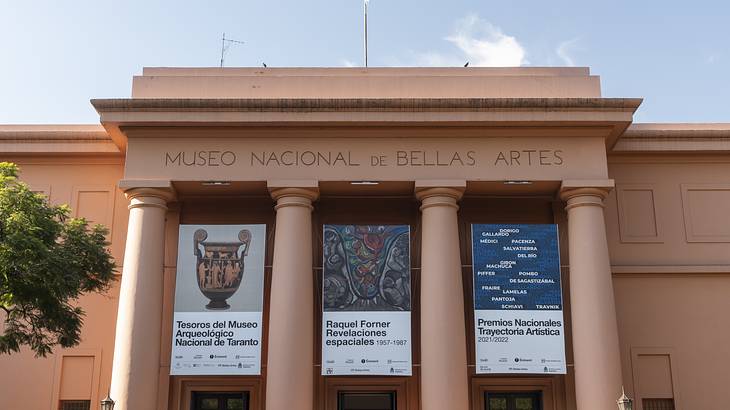 Museo Nacional de Bellas Artes
Located in the city's Recoleta area, the National Museum of Fine Arts (Museo Nacional de Bellas Artes) is Argentina's most renowned fine arts museum. A visit to the museum is considered one of the best things to do in Buenos Aires.
The museum houses over 700 works that you can view across 24 galleries. These include a range of paintings, drawings, and sculptures. Artworks by Van Gogh and Picasso, among other well-known artists, are on show.
There are also works by Argentinian artists. This includes an entire room of works by Antonio Berni. The building's architecture is quite impressive, too, with the museum being housed in a former pump house for the city's waterworks. What's best is that entry is free, so there's no excuse not to visit this acclaimed museum.
Floreria Atlantico
If you're looking to take a break from a busy day of sightseeing and relax with a good drink, Floreria Atlantico is the place to be. It's so popular that it was voted the best bar in South America in 2019 and features on the 50 best bars in the world list.
From the outside, Floreria Atlantico appears to be a typical shop selling flowers and wine. However, when you enter, you'll discover a large refrigerator door, the entrance to this underground bar and restaurant. Once down in the speakeasy-style bar, you'll be welcomed with a warm and cozy atmosphere.
The star of the show here is the drinks. This includes cocktails, wines, and gins. The cocktails are particularly appealing. The majority are internationally inspired, representing the diverse nationalities of immigrants that shaped Buenos Aires.
They also serve food that consists of tapas-style dishes such as sauteed octopus or grilled shrimp. If you can get a table, it's a great spot to get a few drinks or have a relaxing evening.
Bird watching, Coffee, and a Cathedral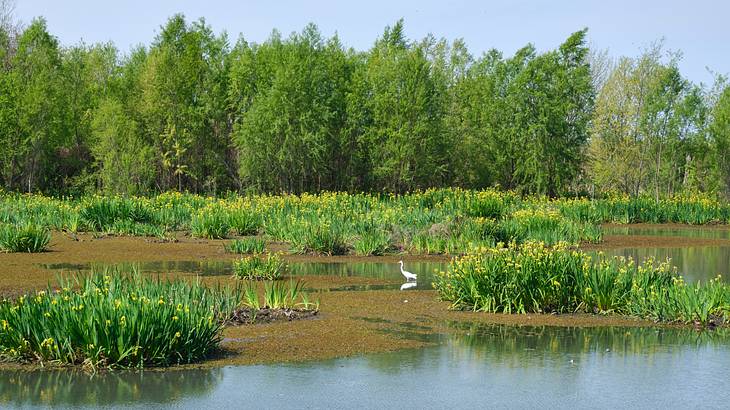 Day two of your three days in Buenos Aires will start at the peaceful Reserva Ecologica Costanera Sur. This urban park is filled with tranquil lagoons and abundant flora and fauna. You're also likely to see a host of wildlife, including lizards, turtles, and many species of birds.
Next, head back into the city via Puente de la Mujer. This footbridge is acclaimed for its striking design. After that, visit Plaza de Mayo. This square has been home to historical events and is the site of the Casa Rosada, the presidential mansion.
You're next stop, Catedral Metropolitana de Buenos Aires, is another famous building within Plaza de Mayo. This is where the pope held mass for 20 years, and the cathedral features a stunning interior and exterior design.
It's then time for a coffee break at world-renowned Cafe Tortoni. This is the oldest cafe in Argentina and features decor that takes you back to the 1800s. It's a great place to get coffee and dessert; you may even catch a tango show.
Lastly, pay a visit to Palacio Barolo. Inspired by Dante's Divine Comedy, this building offers spectacular city views and houses a cool cocktail bar too.
Reserva Ecologica Costanera Sur
Take a break from Buenos Aires' bustling city life and noise with a visit to the Reserva Ecologica Costanera Sur.
The park is situated on wetlands between Rio de la Plata and the Puerto Madero district and was formerly a landfill site that nature took over. It now acts as a beautiful urban park complete with lagoons and a multitude of greenery.
You'll also be sure to spot a vast selection of wildlife here. There are over 300 species of birds to be seen and 23 species of reptiles, and nine species of amphibians to spot. You can also come across butterflies and mammals while exploring the park. You may see the Argentine national bird, the rufous hornero, if you're lucky.
The reserve is perfect for a stroll, as well as for cycling and jogging. Other popular activities here include yoga and birdwatching. It's also an excellent spot for a picnic. You'll additionally find a few observation decks from which you can take in your surroundings.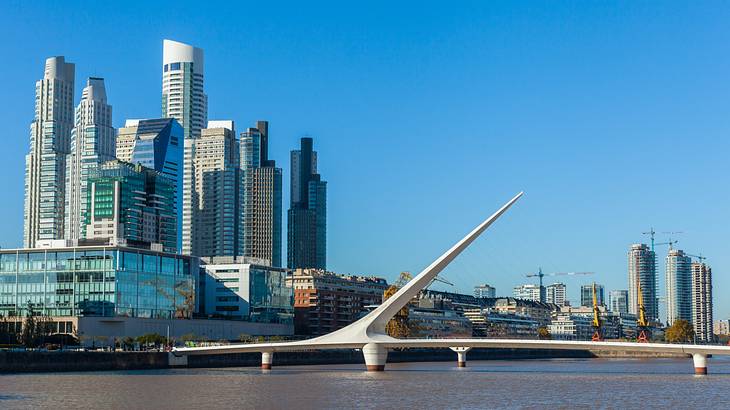 Puente de la Mujer
Puerto Madero features multiple streets with female names, so it shouldn't come as a surprise the area's iconic bridge is named "Puente de la Mujer" (Woman's Bridge). The iconic 160-meter-long pedestrian footbridge is known for its eye-catching and highly polished finish.
This bridge catches your attention and is one of the city's most famous landmarks. Designed in 2001 by Spanish architect Santiago Calatrava, the bridge has a distinctive asymmetric design. The design represents a couple who are tango dancing, making it an ode to one of Argentina's most famous activities.
Plaza de Mayo
Plaza de Mayo is a large public square that was initially formed in 1884. It's the site of important events, including Buenos Aires' founding and the Revolution of Independence.
Several notable buildings also surround the square. One of these is the Metropolitan Cathedral, in which the current Pope held mass before taking the papacy. Another is the Casa Rosada, a beautiful pink building that functions as the executive mansion and office of the President of Argentina.
Additionally, Plaza de Mayo is known as a place of protest and celebration. Markedly, this was where crowds came to see Eva Peron speak from the Casa Rosada balcony in the 40s. Even today, Argentinians still celebrate and protest here.
A type of peaceful protest that you may witness here is the Madres de la Plaza de Mayo. Every Thursday at 3.30 pm, mothers gather with photos of their children who went missing (or were abducted) during the military dictatorship between 1973 and 1983. Plaza de Mayo is filled with history and is an absolute must-visit location during your Buenos Aires trip.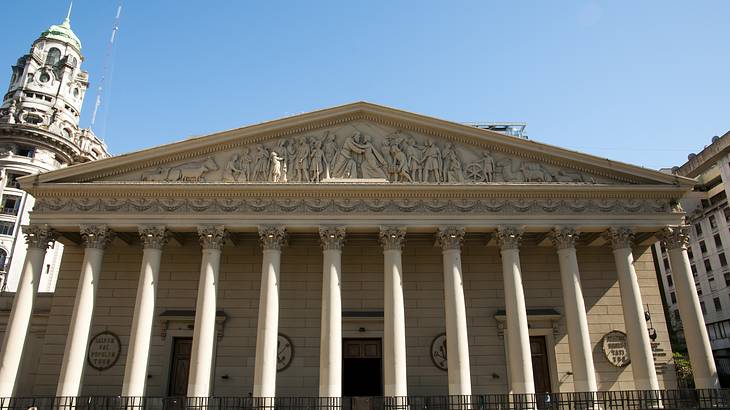 Catedral Metropolitana de Buenos Aires
The Metropolitan Cathedral (Catedral Metropolitana de Buenos Aires or Catedral Primada) is the catholic church's primary site in Argentina. It overlooks the famous Plaza de Mayo and where Pope Francis led mass for over 20 years.
The church has been in this spot since the late 1500s. However, the design standing today was built during the 1800s. It's designed in a neoclassical style and inspired by Paris' Palais Bourbon, which it greatly resembles.
The front of the church features 12 columns that represent the 12 apostles. The exterior design also includes other religious imagery and symbols.
The interior is equally stunning, with ceilings painted with religious murals as well as paintings and carvings adorning the walls. You'll also be able to view statues such as one of the Virgin Mary and the sculpture of The Christ of Buenos Aires.
Café Tortoni
Café Tortoni is a world-famous French-style coffeehouse that has been in Buenos Aires since 1858. Not only is it Argentina's oldest cafe, but it was also voted one of the ten most beautiful cafes in the world.
The interior design provides a late 1800s feel, complete with marble tables and dark oak wood. It's the ideal place to take a break and treat yourself.
You'll be able to choose from a range of coffees as well as try sweet treats like churros and chocolate milk. You can also buy coffee to take home, which makes a great gift or souvenir.
Aside from gastronomic treats, you can also catch live shows and concerts like Jazz and Tango performances. There are various shows throughout the day, but the most popular is the Tango show, which happens from 8 PM Monday to Friday.
The cafe additionally has a library and an area to play dice, dominoes, and billiards. This coffee isn't just for dining! It's the perfect place to experience the Argentine culture and step back in time a little.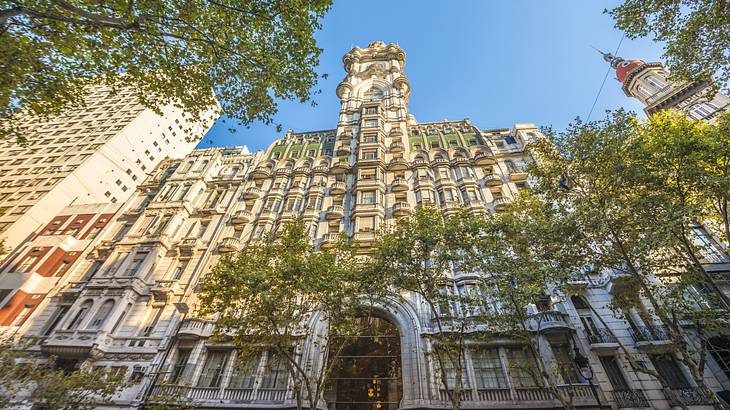 Palacio Barolo
Palacio Barolo is a 22-story building with a unique and exciting design. Those who have read Dante's Divine Comedy will especially appreciate this building inspired by the comedy with floors split into hell, purgatory, and heaven.
The building was designed by Italian architect Mario Palanti in 1923. It was the tallest building in South America at construction, but today it serves as an office building and a popular tourist attraction.
You can enjoy the building's exterior and visit the lobby for free. However, a guided tour is highly recommended. During the tour, you can take a ride in the building's vintage elevator. You'll also be able to take in the view from the rooftop lighthouse.
Alternatively, you can enjoy the views from the 16th floor without taking a tour by visiting Salon 1923. This is Palacio Barolo's cocktail bar and cafe. You can enjoy a coffee, cocktail, or wine here while appreciating the stunning Buenos Aires city views.
A Cultural and Colorful Day in Buenos Aires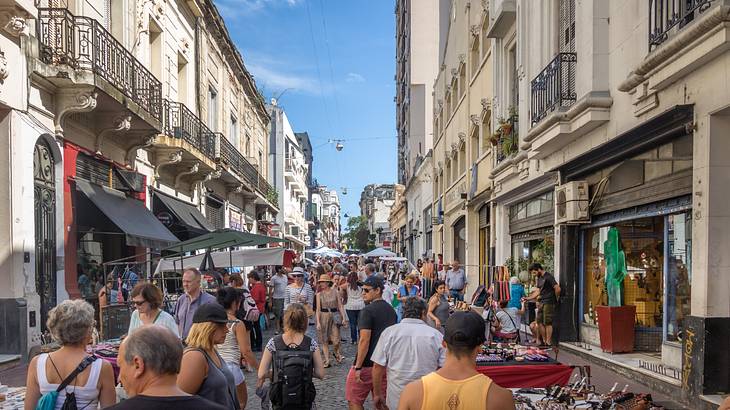 The last day of this three perfect days in Buenos Aires itinerary will begin underground, exploring the tunnel network of El Zanjón de Granados. Once you've thoroughly traversed this underground maze, you'll visit San Telmo.
San Telmo is the oldest neighborhood in the city and features multiple markets and antique shops. It's also a recommended spot to catch a tango show.
Your next stop is a football fans' paradise! Estadio Alberto J. Armando, or La Bombonera, is one of the best-known football stadiums globally and is home to Argentina's Boca Juniors. Here you can take a stadium tour, visit the museum, and catch a game if you're lucky enough to get tickets.
Your day will end in some of the trendiest parts of town: Palermo Soho and Palermo Hollywood. However, on the way, you'll stop at El Caminito, a fun street art museum complete with stunning murals and brightly colored houses.
Once in Palermo, you can pick from one or more great bars and restaurants. You'll enjoy your last evening in the city surrounded by the neighborhood's cool and chill atmosphere.
El Zanjón de Granados
El Zanjon de Granados is a fascinating stop on your Buenos Aires itinerary. This 200-year-old mansion structure sits atop a mind-boggling series of underground tunnels and creeks.
The tunnel network was discovered by Jorge Eckstein when he purchased the land in 1986. However, it's thought that the underground world was built around four centuries before that.
Eckstein then spent 17 years renovating the maze. He found many artifacts and interesting features in the process, including a slave cell and colonial houses.
The museum today offers a one-hour tour of the underground city, which is well worth taking part in. As the tunnels and other features date back to the earliest settlements in Buenos Aires, exploring them is a very unique historical experience.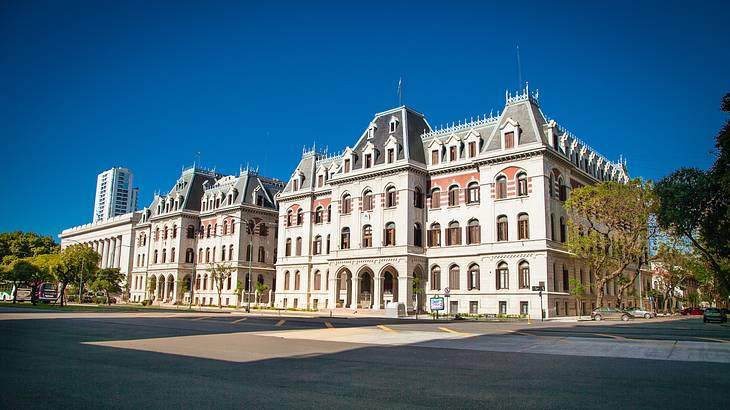 San Telmo
San Telmo is Buenos Aires' oldest neighborhood. It's known for its antique shops, storied architecture, and cobblestone streets that have been perfectly preserved for present-day visitors.
A popular attraction here is the city's markets. Feria de San Telmo is one of these and is held every Sunday. This is one of the most well-known attractions in the area, with stalls selling crafts, souvenirs, and antiques.
Another renowned market is Mercado de San Telmo, an indoor market selling produce and crafts. Mercado de San Telmo is a national monument designed by Prospero Catelin, who also designed the Recoleta Cemetery.
Along with markets, you'll find several antique shops in the area. A stroll down Calle Defensa will offer you a range of specialist antique shops to check out.
Another feature of San Telmo is its abundance of restaurants. A popular choice is a Parrilla (traditional Argentinian barbecue) restaurant, which serves various steak cuts and other meats and vegetables.
A visit to the Plaza Dorrego is another must-do when in San Telmo. It's one of the best places in the city to watch couples tango dance. Teams perform in the square and on stages at surrounding bars. Visit to watch the spectacle alone or enjoy a meal at a restaurant around the square at the same time.
La Bombonera
A visit to Estadio Alberto J. Armando, also known as La Bombonera (the chocolate box), is a must during any football fans' Buenos Aires trip.
The stadium is home to Boca Juniors, one of Argentina's top football clubs. It's also where Diego Maradona played with Boca Juniors at the beginning and end of his career.
If you can get tickets, watching a game here is highly recommended. However, scoring tickets can be difficult because the team is so popular. If you can't get to see a game or want to look around the stadium more, guided tours are offered. There's also a museum within the stadium with exhibits on the club's over 100-year history.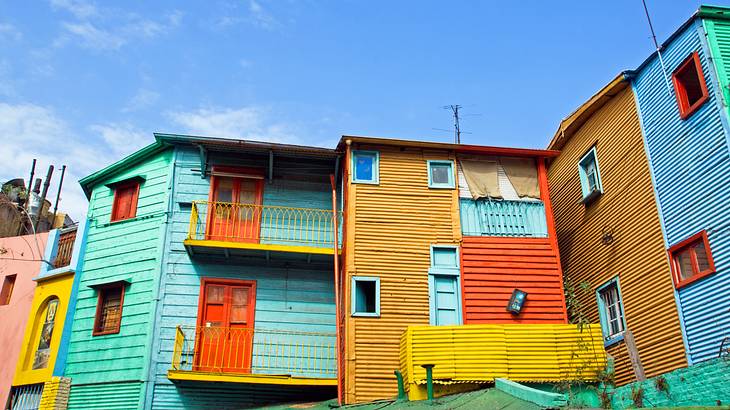 El Caminito
El Caminito is one of Buenos Aires' most popular attractions thanks to its lively atmosphere. Located in La Boca, this vibrant open-air street art museum is filled with brightly painted houses and large, detailed murals.
The houses themselves are designed to resemble those that would have housed immigrants in the late 19th and early 20th centuries.
After the immigrants moved out, the area was left abandoned until the 1950s. This was when a group of artists from the region teamed up to regenerate the formerly abandoned streets. The project was named Caminito after a tango song, and means "little path" in Spanish.
Along with the murals and houses, visitors to Caminito line up to get pictures with the large figurines of famous Argentines. These include Juan and Eva Peron, Che Guevara, and Maradona.
A visit to this quirky and lively street will be a treat to anyone visiting the city. Having spent time admiring the artworks, be sure to check out the restaurants and shops that line the streets. You may even catch a live tango show taking place!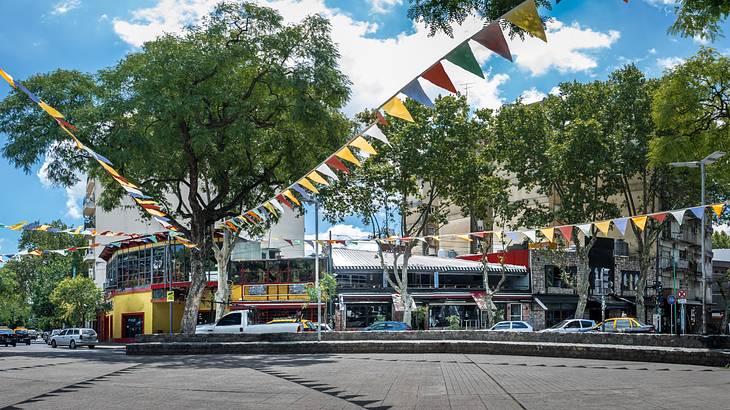 Palermo Soho
Palermo Soho, along with Palermo Hollywood, is a trendy part of Palermo. This area features Spanish-style buildings plus quirky converted warehouses. As you wander the tree-lined cobblestone streets, you'll discover chic cafes, boutiques, and market stalls.
One popular market is found at Plaza Serrano, with stalls selling fashion and handicrafts. Another recommended market is held at Plaza Armenia. This market mainly features stalls selling unique arts and crafts products. It's a great place to pick up some souvenirs!
You'll additionally find multiple excellent bars and restaurants here. One interesting place to check out is Rey de Copas. This artsy and eclectic bar features a standout interior design and has a courtyard with a craft beer bar.
They offer a long list of specialty cocktails and serve dishes like pad thai, sake-marinated chicken, and vegan chop suey. It's a relaxed place to hang out with delicious food and cool people. Palermo Soho also has some incredible street art murals, so be sure to wander the streets to see as many as possible.
Palermo Hollywood
Palermo Hollywood is a sub-district of Palermo-Viejo known for its many dining and drinking options and its trendy atmosphere. It's often considered one of the best places to stay in Buenos Aires.
The area is referred to as Hollywood due to the neighborhood's TV studios and movie production companies. As mentioned, there are also numerous bars, restaurants, and cafes to try in the area. An excellent place to try is Bar du Marche.
This French-style wine bar has an extensive menu featuring pasta, meat, fish dishes, and snacks. They, of course, also have a comprehensive wine list and serve a delicious brunch. Along with the trendy dining and nightlife, the area also features beautiful Spanish-style buildings and walls clad with stunning street art like in Palermo Soho.
In Conclusion
Buenos Aires is a vibrant and colorful city full of history, culture, and amazing people. If you get the chance to visit, you should take it. Even if you have just two or three days here, it's not too difficult to see all the best-known attractions and fully experience the country's culture and customs.
This what to do in Buenos Aires in 3 days itinerary will come in useful to ensure you see all the top landmarks and attractions. However, feel free to customize it and move stops around as needed. If you want to learn more about everything you see, you could also opt to go on a sightseeing walking tour.
---
---
Want to keep exploring?
Subscribe for discounts on tickets and hotels and our latest guides.
Thank you for subscribing
We will be in touch soon with discounts on tickets and hotels and our latest guides.
Want to keep exploring?
Subscribe for discounts on tickets and hotels and our latest guides.
Thank you for subscribing
We will be in touch soon with discounts on tickets and hotels and our latest guides.
Related Articles