Where to Stay in Buenos Aires, Argentina - 9 Best Areas & Hotels
Destguides may receive commissions from purchases made through affiliate links in this article.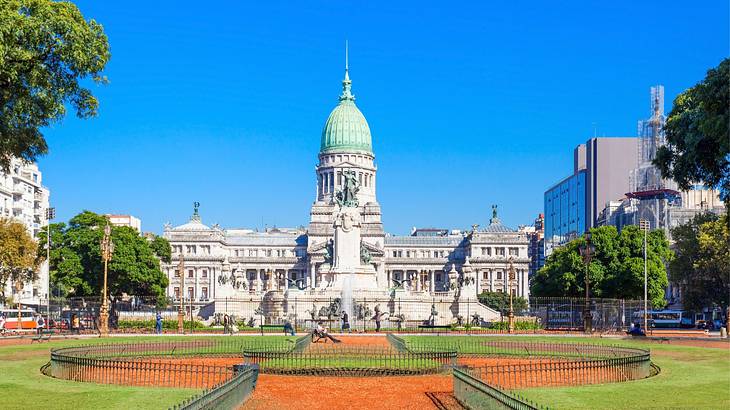 Buenos Aires is the capital of Argentina and its largest city. There's plenty to do and many accommodations offering an option that fits every traveler's needs.
Buenos Aires is made up of multiple neighborhoods, with each one offering something unique. Some areas are known for their architecture, historical landmarks, and vibrant nightlife. Others are popular because they offer fine dining restaurants, museums, or artisan markets.
In this article, you'll take a look at some of the most popular neighborhoods to ultimately decide where to stay in Buenos Aires!
Best 9 Places to Stay in Buenos Aires, Argentina
Best Areas to Stay in Buenos Aires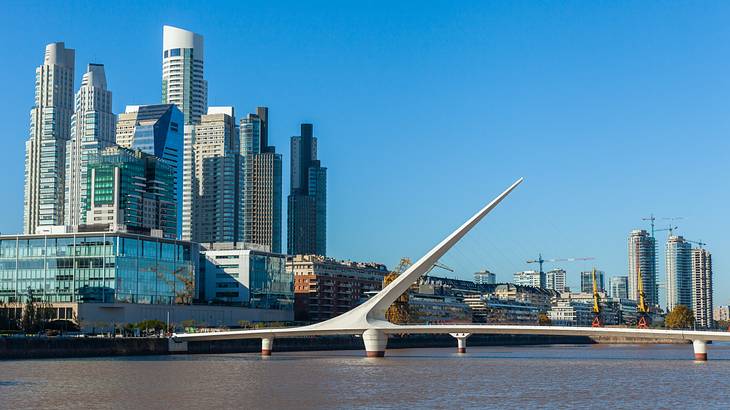 Puerto Madero
Puerto Madero is a quiet and sophisticated neighborhood that is ideal for visitors looking for somewhere peaceful and relaxing. Fine dining restaurants and luxury rentals are situated between the high rises, and it's perfect for those traveling for business.
It's a very safe neighborhood to stay in Buenos Aires. Puerto Madero was once a port and has a large dock space with an assortment of attractions, including two ships that are now floating museums; Sarmiento and Uruguay. You can also see the famous Puente de la Mujer (Woman's Bridge) and an 864-acre ecological reserve, the Costanera Sur Ecological Reserve, among several other landmarks.
Remember that as this is an upscale area, budget-friendly places to stay, shops, and bistros are scarce. What it lacks is affordability. It makes up for with safety and lavishness!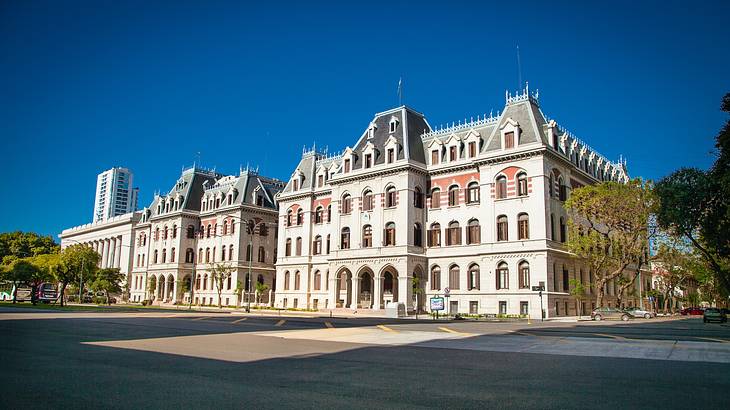 San Telmo
San Telmo has an old and authentic vibe that romantics and historians alike will enjoy. The cobblestone streets are filled with charming cafes, eateries, and small shops.
On the weekends, there are street markets featuring antiques, artworks, and handcrafted items. It's a quiet and unique location for lodging. In the evening, El Viejo Almacén offers Tango shows, and there are countless other excellent nightlife venues.
This place to stay in Buenos Aires is budget-friendly, and public transportation is available. While it is known for being very safe during the day, it's best to avoid certain regions at night.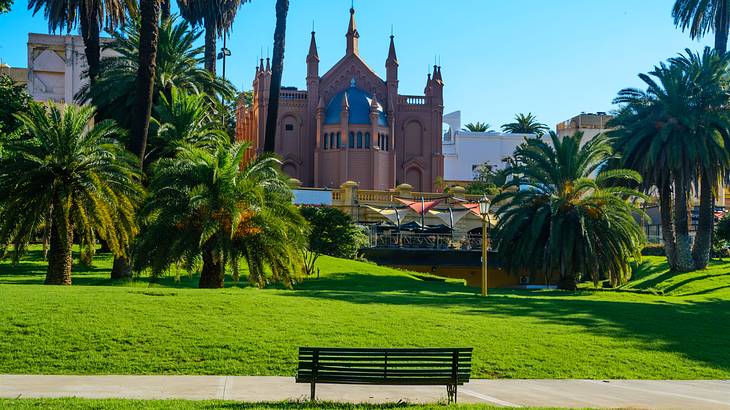 Recoleta
Recoleta is an upscale neighborhood known for its French and Italian facades and lovely architecture. It offers plenty of public transportation, but the establishments in this area are somewhat expensive and may not be ideal for those on a tight budget.
Notably, Recoleta is home to numerous impressive entertainment options, including The Museum of Fine Art and Recoleta Cemetery, which is the final resting place of many of the country's most notable citizens. You can also explore Avenida Alvear, a street with beautiful mansions and short-term rentals.
This area is a prime location to stay in Buenos Aires for visitors, and the affluent vibe makes it perfect for anyone who wants to see the more opulent side of Buenos Aires. You also have good access to transportation, so you can venture to any other part of the city.
Centro Buenos Aires (San Nicolás, Montserrat, & Microcentro)
Centro is the business area of Buenos Aires and is crowded and bustling during the day. Here you will find small and mid-sized places to stay. There are a lot of pedestrian-only streets, which helps make it safe for walking. Public transportation is also plentiful here.
In Centro, you can find Casa Rosada, which is the presidential palace, as well as Calle Florida and Galerias Pacífic, which are great shopping locations. Additionally, it's one of the top locations to stay in Buenos Aires if you love nightlife.
Bars, clubs, and restaurants are often busy until late hours of the night, and there are options to fit almost any budget here.
Palermo Soho
Palermo Soho is an excellent neighborhood for artists or anyone interested in music and the arts. It has a laid-back but modern vibe and art shops, bistros, trendy boutiques, and bars.
Wine tasting, trying delicious food, and taking brewery tours are just a few of the things you can do in this neighborhood. Rooms and suites are moderately priced, as are the eateries. Best of all, Palermo Soho is just a few miles from other things to do, and it's easy to catch a bus or a cab any time of day or night.
Palermo Hollywood
Palermo Hollywood is in an excellent location and has plenty of eateries and accommodations to choose from. You won't find a lot of shops here, but there are numerous TV and film production studios. You might even catch a glimpse of a celebrity on their way to a set!
During the day, the community is calm and relaxing, and the streets only seem busy during lunch and dinner. Even then, the crowds are usually restricted to just a few streets. In the evening, it springs to life with vibrant nightlife at clubs such as Fiesta Piso Compartido.
Clubs and bars play music late into the night, and street performers come out to entertain tourists and locals alike. Plenty of dance clubs and live music venues are sprinkled throughout the small neighborhood. Best of all, it's a safe and affordable neighborhood.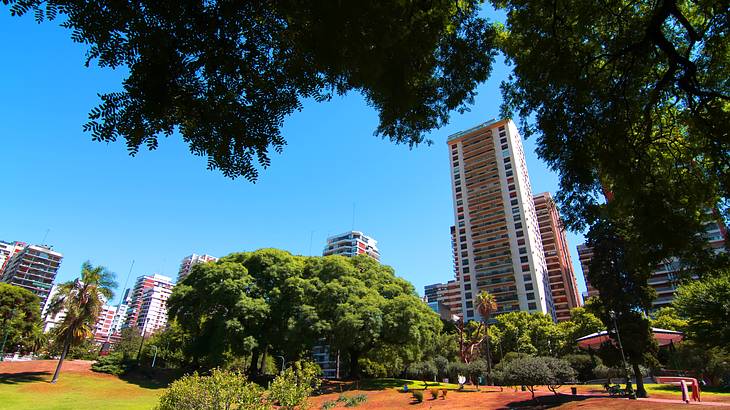 Belgrano
Belgrano is known for its beautiful landmarks, including Iglesia de Inmaculada Concepción de Belgrano, also known as La Redonda, Museo de Arte Espanol Enrique Larreta, and the Museo Sarmiento.
It's a top area to stay in Buenos Aires for lodging due to its location. It's also ideal for walking and exploring. There aren't as many tourist activities as in some other locations, but the area does offer local charm and is home to Parque Barrancas de Belgrano, a lush park where locals walk their dogs, have picnics, and tango dance.
Additionally, this affluent community has boutiques, bistros, and accommodations spread throughout. There are also a few small clubs and bars that come alive at night. Not everything is expensive, though; it has a mix of budget-friendly and lavish options for every budget.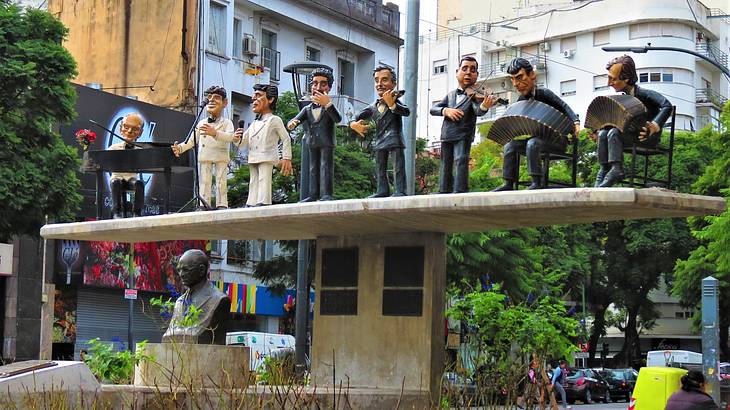 Villa Crespo
Villa Crespo is a quiet neighborhood that doesn't get too busy or have a lot of tourist attractions to offer. There are a few shops that sell souvenirs and personal items, including leather bags and accessories, but shopping is not the highlight of this location.
It is home to a large Jewish community, and there are bistros and cafes that feature authentic Jewish foods. In addition, some people visit Villa Crespo for the street art and murals. There's also a beautiful park called Parque Centenario that is actually the geographic center of Buenos Aires and has shade trees, walking paths, and an amphitheater.
It's a safe and relaxing neighborhood, but it's not the most budget-friendly. Restaurants offer reasonable pricing, but shops and accommodations can be more expensive.
Colegiales
Colegiales is a popular neighborhood for families and anyone looking for a quiet and safe place to spend the day. Seeing street art, walking through the Chacarita Cemetery, and going to the concert venue Teatro Vorterix are some of the most popular things to do in Colegiales.
Visitors can shop at the Mercado de las Pulgas flea market or try craft beer from one of the numerous local breweries. You can also walk the streets, enjoying the modern scenery and affordable places to dine. It's one of the top neighborhoods to stay in Buenos Aires if you want to avoid large crowds and prefer to experience Buenos Aires like the locals.
Where to Stay in Buenos Aires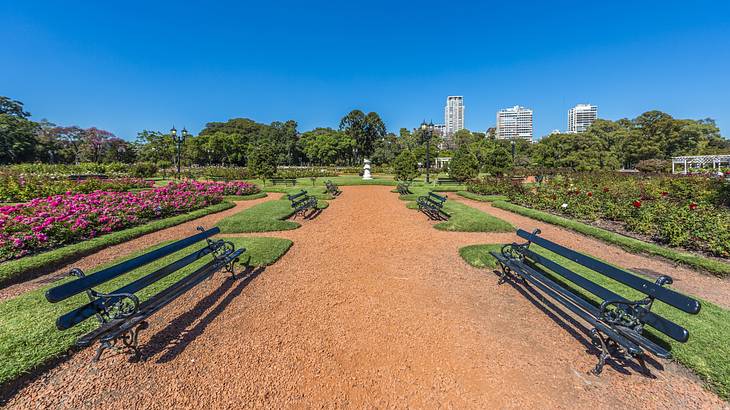 Where to stay in Buenos Aires with family?
Buenos Aires is an excellent place for families with kids of all ages. Palermo, Puerta Madero, San Telmo, and Belgrano are some of the best neighborhoods for families. Not only are they easy to access with public transportation, but they are safe and have plenty of entertainment.
There are numerous parks, museums, zoos, and fun shops and restaurants for kids and families to enjoy. Hotels are also affordable in these locations, so if you have a big family and need a suite or a large room, you can find something close to these attractions that will also fit your budget.
Where to stay in Buenos Aires for sightseeing?
Buenos Aires is full of sightseeing opportunities, and no matter where you stay in the city, you are close to something beautiful. Many neighborhoods, including Belgrano, Centro, and Recoleta, have public transportation to get you almost anywhere in the city.
If you don't want to hop around and prefer to spend your time in just one place and do all your sightseeing there, consider staying in San Telmo for its beautiful historical buildings and streets or Recoleta for its stunning architecture and attractive French and Italian facades.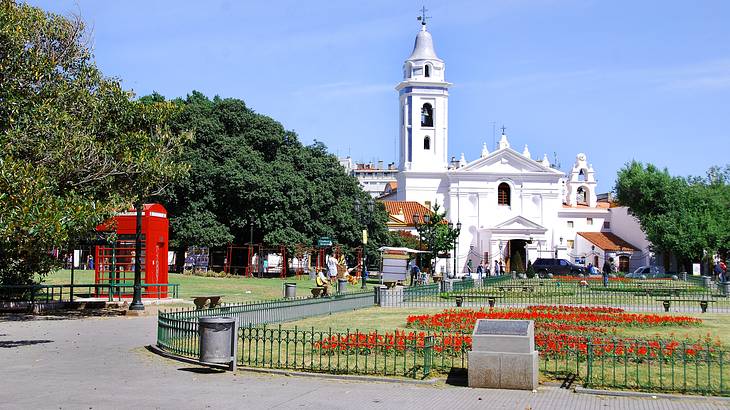 Where to stay in Buenos Aires for a romantic getaway?
If you need a romantic getaway and a great place to spend time, many establishments offer the perfect setting for you to spend time with your partner. In Recoleta, plenty of rooms offer casual and comfortable rooms with plenty of privacy.
They are also close to the National Museum of Fine Arts and other things to do. In Puerto Malerdo, there are hotels with beautiful views of Buenos Aires, creating a romantic backlight at night.
Some even offer elegant features such as marble bathrooms, gold-tone furniture, and plush bedding. So whether you plan to explore the city together or want to spend the day and night in your hotel, San Telmo has something special to fit your needs.
Where to stay in Buenos Aires for a weekend trip?
While Buenos Aires has more to do than you could fit into a weekend trip, if your time is limited, it's best to book a room in Centro, San Telmo, or Recoleta. Not only do these neighborhoods offer budget-friendly hotels, eateries, and shops, but they are centrally located.
You can easily drive or walk to other neighborhoods to enjoy entertainment there as well. Some things that have to be on your Buenos Aires weekend itinerary include going to Recoleta Cemetery and shopping at Feria San Telmo for artisanal souvenirs.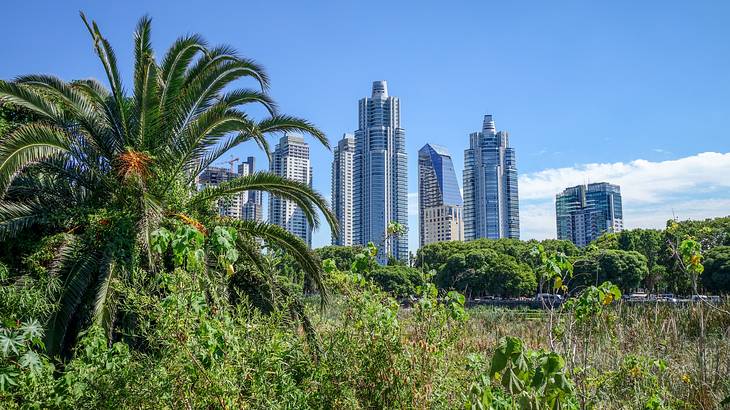 Where to stay in Buenos Aires for a business trip?
If you are traveling to Bueno Aires for business and want to make the most of your trip, consider staying in Puerta Madero or Centro. Both places have beautiful hotels, cafes, and shops within walking distance of each other and public transportation to get you around the neighborhood quickly.
Puerta Madero has a big city feel with highrises, luxury establishments, and tourist attractions. Centro is located in the center of the locale, which makes it close to everything and a great option if you need to be in Centro for meetings but prefer to be in a neighborhood that is a little less bustling.
Where to stay in Buenos Aires for nightlife?
Buenos Aires is known for its exciting and vibrant nightlife. Palermo offers wine bars, craft beer breweries, clubs, and speakeasies. If you want something a little more authentic, there are plenty of local bars with affordable drinks too.
Belgrano also offers bars and clubs with a nightlife that is still comparable to that in Palermo. Additionally, live music and street performers are plentiful in Belgrano as opposed to the large clubs and bars in Palermo.
In Conclusion
Whether you are traveling with friends, family, for work, or alone, Buenos Aires has something special to offer. With beautiful historical landmarks, gorgeous architecture, and plenty of attractions, there is a lot to love about this city. There are also plenty of comfortable hotels to fit every need and budget.
If you are lucky enough to spend some time in Buenos Aires, be sure to take your time and experience everything it has to offer. Stroll down a cobblestone street, eat some authentic Argentinian foods, learn to Tango, or just enjoy the sounds of the local street performers. You are sure to make plenty of memories and take home some fantastic stories and souvenirs.
Give us feedback about this article
Learn more about Buenos Aires:
More articles about places to stay:
---
---
Want to keep exploring?
Subscribe for discounts on tickets and hotels and our latest guides.
Thank you for subscribing
We will be in touch soon with discounts on tickets and hotels and our latest guides.
Want to keep exploring?
Subscribe for discounts on tickets and hotels and our latest guides.
Thank you for subscribing
We will be in touch soon with discounts on tickets and hotels and our latest guides.
Related Articles