Where to Stay in Sydney, Australia - 10 Best Areas & Hotels
Destguides may receive commissions from purchases made through affiliate links in this article.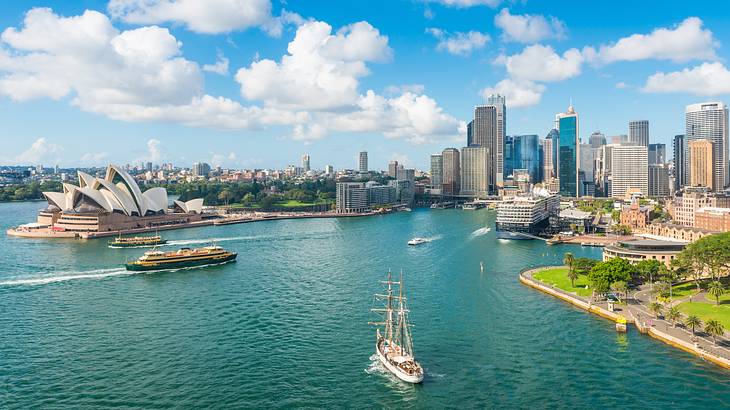 Sydney, in New South Wales, Australia, is a beautiful city. It's split up into various neighborhoods, and each one has its own personality and vibe. If you are lucky enough to visit Sydney, you will want to get the most out of the city.
Understanding what each neighborhood has to offer and staying in a location that is central to all of them will make it easier for you to get around and do everything on your itinerary. Keep reading to find out where to stay in Sydney for all of your vacation needs.
10 Best Places to Stay in Sydney, Australia
Best Areas to Stay in Sydney, Australia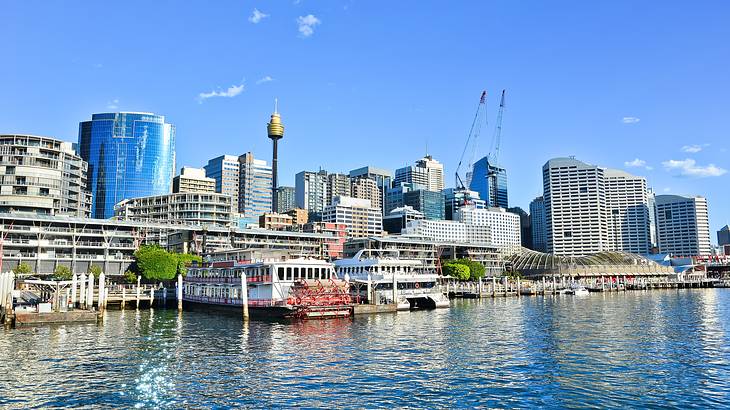 Darling Harbour
Darling Harbour has a beautiful harbor promenade with small snack bars and shops along it, making it ideal for those who love scenic areas with lots of businesses nearby. It's also a huge entertainment area with attractions that include the Australian National Maritime Museum, the Chinese Garden of Friendship, and the LG IMAX Theatre.
Additionally, waterfront dining draws in a large crowd of tourists and locals alike. It also has an exciting nightlife. When the sun goes down, Darling Harbour comes alive. Lights hang above the walkway, and live music plays in bars, clubs, and pubs.
There's a good variety of businesses in the area, and it's perfect for those on a tight budget who love free and cheap things to do. However, accommodation in this popular central area runs relatively high.
Budget travelers will want to look elsewhere for accommodation and then return to Darling Harbour to explore during the day or at night. If you have more to spend on accommodation and like high-end hotels with exceptional views, Darling Harbour is an excellent choice.
This area also has great connectivity to other parts of the city and has its own ferry terminal. You can catch a ferry from here to many other places, including Manly.
You can walk to a lot of other attractions as well. For example, it's only a 30-minute walk from Darling Harbour to the Sydney Opera House. If you don't feel like walking, buses can connect you to many areas and places of interest.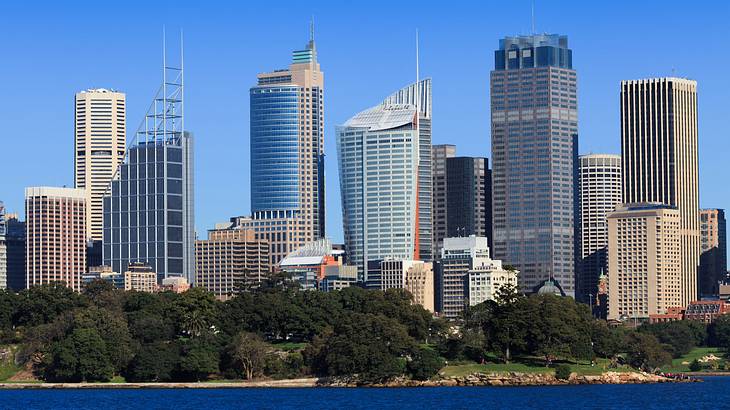 Sydney CBD
The Sydney Central Business District is the best location to stay in Sydney for anyone who wants excitement both day and night. It's a 24-hour area with a little of everything. Commuters, tourists, and locals all congregate here to work, play, and socialize.
It's packed with bars and restaurants that stay open late or all night. There are also numerous shops at the Strand Arcade, Queen Victoria Building, and Westfield Sydney. Many shops and eateries, such as those at the Pitt Street Mall, are affordable, but others are upscale and more costly.
If sightseeing is more your speed, you won't want to miss one of the most well-known Australian landmarks, the Sydney Opera House. While in the CBD, you can also visit Hyde Park and view the impressive Sydney Harbour Bridge, among other landmarks.
Accommodation here does run at a high cost as the area is a popular tourist destination, and it's near the city's top landmarks and attractions. Those with a good budget for hotels will be able to find many excellent options, including rooms with views of the Sydney Harbour Bridge and Opera House!
The CBD is additionally surrounded by some of the city's other most popular neighborhoods, and you can catch a train, bus, or cab to the likes of The Rocks and Darling Harbour. Walking to some areas is also an option, and there is a ferry terminal in the Central Business District that can connect you to places like Manly.
If you love to be in the center of the action and near an array of things to do, you'll love staying in the Sydney Central Business District!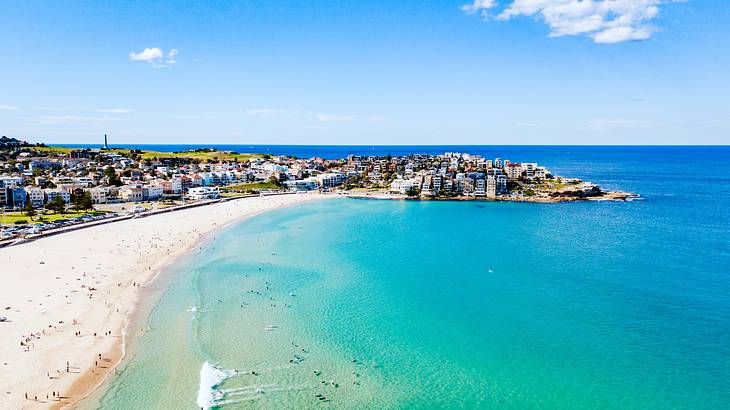 Bondi Beach
Australia is known for its natural beauty, and Bondi Beach gives you a glimpse of that beauty. The crystal clear waters make it easy to see why it's one of the most popular beaches in the world.
While it's the perfect place for beach lovers, it offers much more. Tourists and locals alike spend time here, and it's ideal for anyone who loves a beachy atmosphere with a fun and carefree vibe.
Bodybuilders, roller skaters, and joggers use the beach in the early mornings, and by mid-afternoon, there are towels, chairs, and umbrellas spread across the sand. In addition, every Sunday, the Bondi Market opens with vendors offering a variety of goods. Just off the beach, you will find an assortment of beachy cafes and shops.
Prices are fairly moderate at these shops, but prices tend to be higher at the shops right off the beach. As for accommodation costs, prices vary, but hotels are priced in the mid to high region.
If you're on a budget, you can find rentals here that are a little more affordable than hotels and guesthouses. However, if you want to stay right on the beach, it's well worth splurging a little!
You can get a cab or use the bus to explore other parts of Sydney. However, walking to other popular and central neighborhoods isn't really possible from Bondi Beach.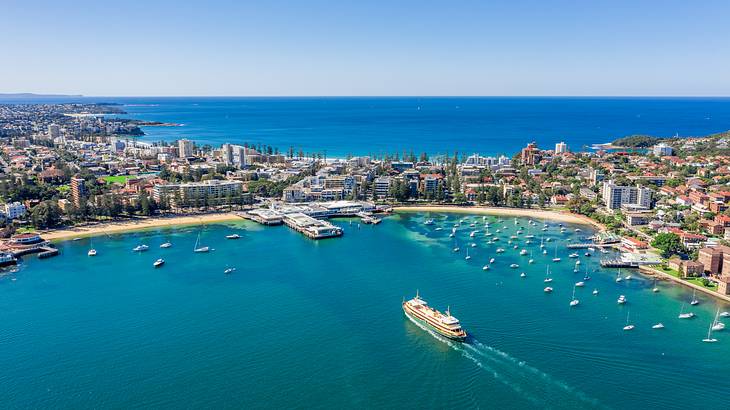 Manly
Manly is a beautiful beach neighborhood accessible by ferry from the CBD. It features sandy beaches, crystal clear waters, and a laid-back, surfer feel. It's notably the best neighborhood to stay in Sydney for families and also an excellent option for those planning a relaxed beach vacation.
Aside from the pristine waters, there are plenty of local shops and places to grab a bite right off the beach. At night, it transforms into a hotspot for clubs and bars. Restaurants and pubs stay open late, and the streets are full of music, laughter, and neon lights.
Accommodation prices can vary a lot; however, travelers of most budgets will find something here. There are high-end hotels as well as rentals and a few hostels. It's a scenic place to stay with easy access to the CBD if staying in that area is out of your budget.
To reach other popular neighborhoods, catch the ferry to the CBD and then explore on foot or via public transport.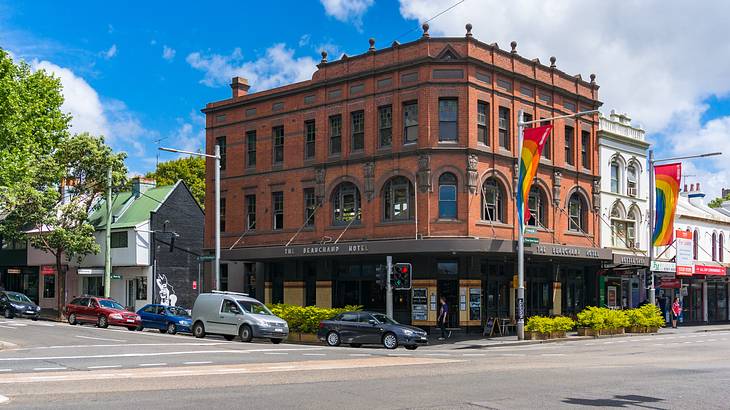 Paddington
Art and fashion lovers will be thrilled with the vibe of Paddington. It's also a safe and quiet neighborhood, making it ideal for families.
The Maunsell Wickes Art Gallery is a top attraction in this neighborhood. It's also home to many restaurants, cute cafes, and independent boutiques. Wine bars and bistros line the historic streets with beautiful terraces and impressive architecture. If you want to grab souvenirs or unique craft items, you will want to hit up the bustling Paddington Markets.
Additionally, the Paddington Reservoir Gardens are the perfect place for a nature hike or picnic and a nice change of pace from the busy city areas. Paddington is not known for its nightlife, but there are multiple bars and pubs if you need to relax and enjoy a drink.
Paddington is known for being sophisticated and upscale, with a price tag to match. While not a budget-friendly district, it will give you a taste of the finer things Sydney has to offer.
Also, note that there aren't many hotels here; you'll be looking at house and apartment rentals. However, most of these are beautifully furnished in charming buildings and have added amenities, like access to kitchens and gardens.
You can walk to explore the attractions in Surry Hills, which is located right next to Paddington. While not within walking distance of other popular places, Paddington is connected to spots like Bondi Beach and the CBD via bus service, which is quick and efficient.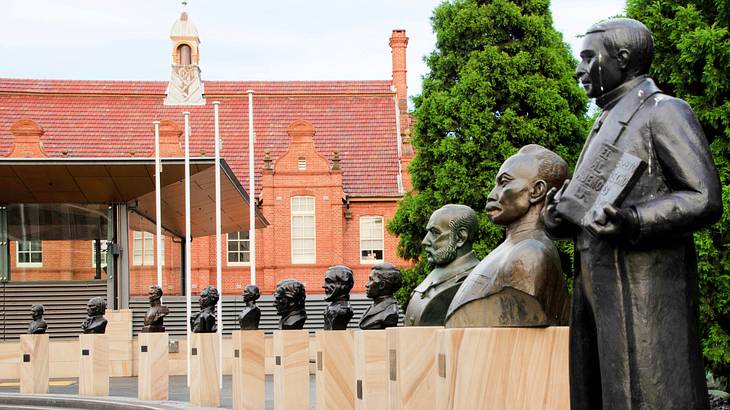 Surry Hills
Surry Hills is known as Sydney's hipster neighborhood. The streets are full of small boutiques and cafes with local charm. Residents are welcoming, and the area is known for being very safe and having a laid-back vibe.
The Prince Alfred Park Public Pool is a great place to swim and cool off on a hot day and is a popular hangout spot for locals. Additionally, Crown Street offers beautiful architecture and a multitude of budget-friendly eateries. Breweries, art galleries, and pubs are also plentiful.
You can even catch a ride at the nearby Sydney Central Railway Station to reach other parts of the city. It's the best place to stay in Sydney if you love the hipster vibe and want to be based in a residential neighborhood with good connectivity to more central areas.
While Surry Hills is relatively budget-friendly, you can find some more high-end accommodations, and booking as far in advance is recommended to get the best rates.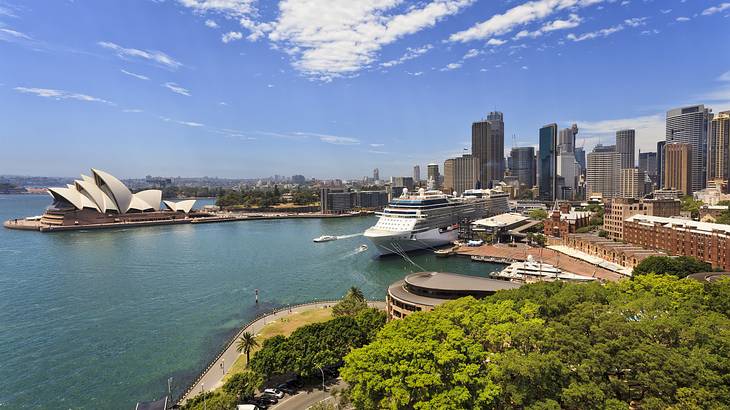 The Rocks and Circular Quay
The Rocks and Circular Quay are tourist hotspots. The recent urban revival is obvious here, and there are many historic pubs and bistros that have been revamped to appeal to a younger crowd.
You will find the Museum of Contemporary Art Australia in this area, which features a variety of exhibits that change regularly. First Fleet Park, Cadman's Cottage, and Dawes Point Battery are other popular attractions in this neighborhood.
If traveling in this area with children, you'll also be interested in checking out the Rocks Discovery Museum. Lastly, the beautiful Royal Botanic Garden Sydney is located here, between the CBD and Circular Quay.
Additionally, there are a lot of restaurants and cafes for any budget. At night the numerous colonial-era pubs on the cobblestone streets light up and fill with live music. The community is safe, vibrant, and a treat for tourists who want to experience Sydney like the locals.
Accommodations are slightly more pricey here but are clean and comfortable. Most places to stay are more affordable than those in the nearby CBD yet offer similar amenities, good connectivity to other parts of the city, and fantastic views!
You can walk to the CBD and Darling Harbour from these areas. You can also catch a bus or a cab to other neighborhoods.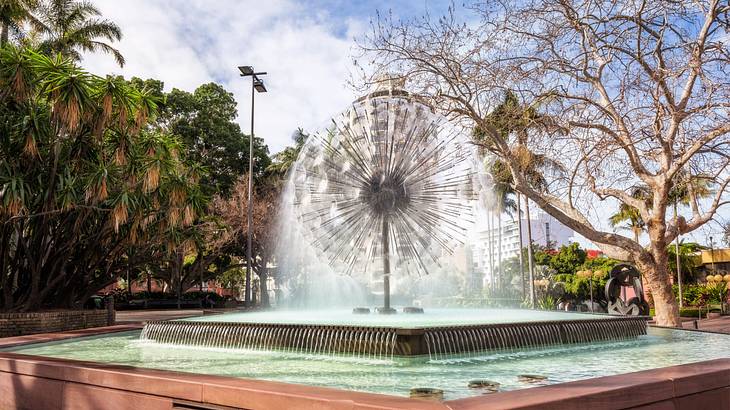 Kings Cross
Kings Cross is known for its vibrant nightlife. However, there are many attractions and landmarks to enjoy during the day, including the El Alamein Fountain at the Fitzroy Gardens. The fountain was created as a memorial to the Australian Imperial Forces 9th Division soldiers who died during World War II in battles in El Alamein, Egypt.
Another unique attraction in the neighborhood is Les Girls Building. It was home to Les Girls' drag queen show and later operated as a cabaret. Even though it no longer hosts such shows, the architecture is beautiful, and the interesting history makes this a popular stop for history buffs and those passionate about architecture.
Kings Cross is one of the many good places to stay in Sydney for those who love to keep busy and want fun things to do at night. Pubs, clubs, and bars are spread throughout the neighborhood, and at night guests spill out onto the streets to sing, dance, and enjoy food and drinks.
Hotels are affordable, and there's plenty to see and do for free. It's only a short cab ride from CBD and Darling Harbour, allowing easy access to those areas without needing to pay high hotel rates.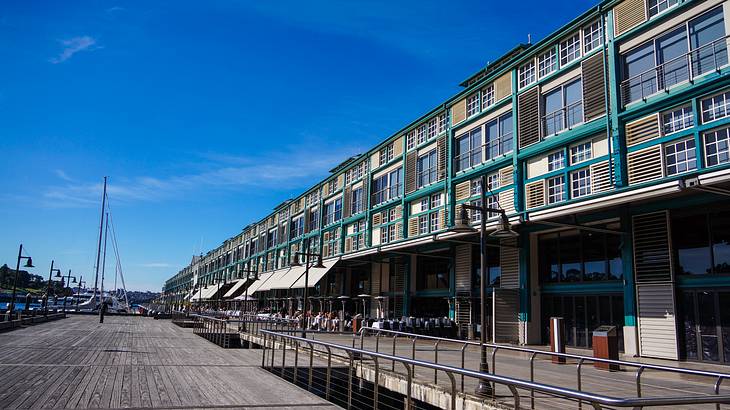 Potts Point
Potts Point is full of charm and character. This was once the home of a wealthy landowner named Joseph Potts. It is still a popular place for some of the area's most wealthy.
However, there is an abundance of budget-friendly eateries and cafes to enjoy, as well as shops. You can visit some of the area's first mansions, including the Elizabeth Bay House or the historic Metro-Minerva Theatre, which staged the musical Hair in the 70s.
Don't skip Woolloomooloo Finger Wharf, either. It's one of the longest timber wharves in the world and offers spectacular views, and fun nightlife spots are dotted along it.
Potts Point has excellent connectivity to other areas. You can walk or take a short bus trip to Darling Harbour, the CBD, The Rocks, and Circular Quay. You can also get the bus to areas like Paddington or walk to the CBD ferry terminals to go to Manly.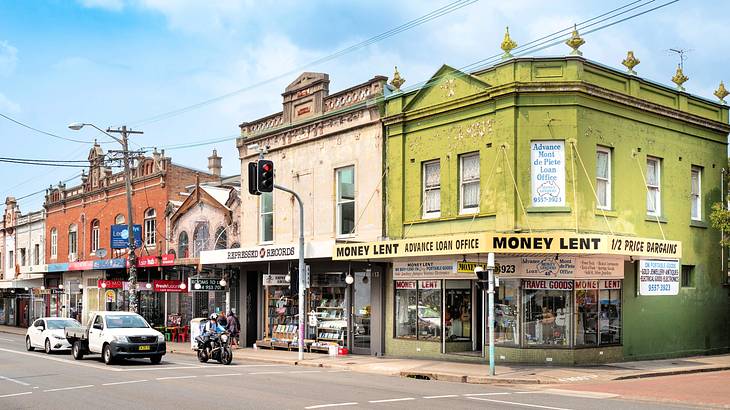 Newtown
Newtown is known as the University District because it's close to the University of Sydney. As such, it caters to a younger and more alternative crowd. Bars and dive restaurants are prominent in the area.
You may also enjoy the Camperdown Memorial Rest Park and numerous used bookstores and trendy coffee shops that line the streets. Newtown is great for those who want a laidback but modern location to do some shopping or grab a meal.
Newtown's affordable accommodation options make it an ideal choice for those on a budget. Younger travelers will also enjoy the area due to the unique independent businesses and student community.
Its location is a little far removed from other popular neighborhoods and attractions. However, buses are efficient and can connect you to other areas, like the CBD, which you can reach in about 30 minutes.
Where to Stay in Sydney, Australia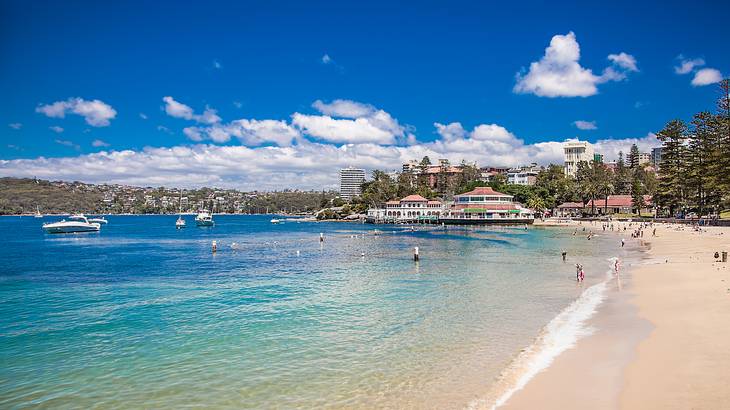 Where to stay in Sydney with family?
If you are looking for the best area to stay in Sydney with your family, you are likely after a safe neighborhood with plenty to see and do.
Many families enjoy the Manly and Bondi areas because of their safety, laid-back vibe, and beach access. Hotels here are relatively affordable and provide a calm and relaxing aesthetic complete with beautiful views of the blue waters.
Darling Harbour also offers a great experience for families. There are multiple hotels with affordable family suites and amenities designed for children. Its fun and cheerful atmosphere is perfect for people of all ages, and there are plenty of kid-friendly attractions, like the SEA LIFE Sydney Aquarium.
Where to stay in Sydney for a weekend trip?
There's so much to see and do in Sydney that a weekend trip isn't enough to experience it all. However, if you want to do as much as possible, it's smart to stay in a neighborhood with the most attractions or near other neighborhoods.
The Central Business District is right in the middle of it all. Although it can be a little pricey, splurging for the weekend is worth it! Being close to all the most famous attractions means while you may have to spend a little more, you'll save a lot of time by not needing to commute much.
The CBD has easy connectivity to other areas, too. For example, just hop on the ferry to reach Manly Beach or Watsons Bay. The Rocks is another great option for a Sydney weekend getaway because it has many attractions and good connectivity to the rest of the city. It's almost as convenient as the CBD and a little more affordable.
Bondi Beach is another great choice for a weekend trip if you want a beach getaway instead of a city break or sightseeing trip.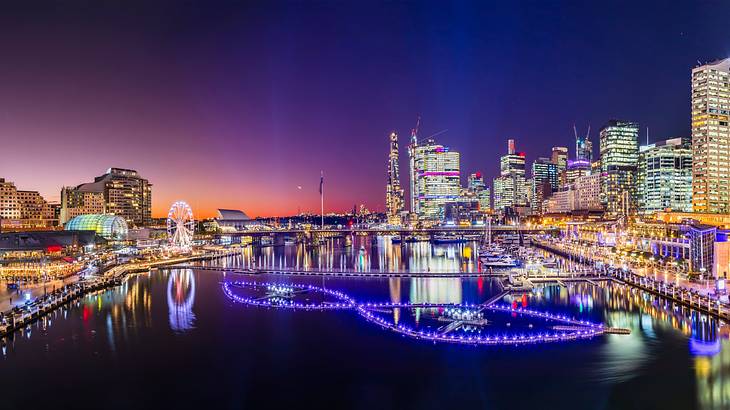 Where to stay in Sydney for nightlife?
Sydney has a vibrant nightlife, but certain neighborhoods have more to offer than others. Kings Cross, Manly, and Darling Harbour all have popular pubs, clubs, and bars.
These top places to stay in Sydney are busy during the day, but at night they go to a whole new level. They are also known for being safe at night; however, it is best to stay in the main parts of the neighborhoods and avoid side streets.
Many pubs also serve food late into the evening. You can grab a bite with your favorite drink before you hop from bar to bar or neighborhood to neighborhood.
Where to stay in Sydney for tourists?
Sydney is full of tourists year-round, and everyone is looking for a different experience. The good news is that the city has plenty to offer everyone. Manly and Bondi are the perfect neighborhoods if you want to spend time at the beach.
Consider Paddington, Potts Point, or the Rocks if you love museums and independent local businesses. Of course, the Central Business District is a top choice for sightseeing. It's near landmarks like the Sydney Opera House and has excellent connectivity to other areas. However, accommodations here can be expensive.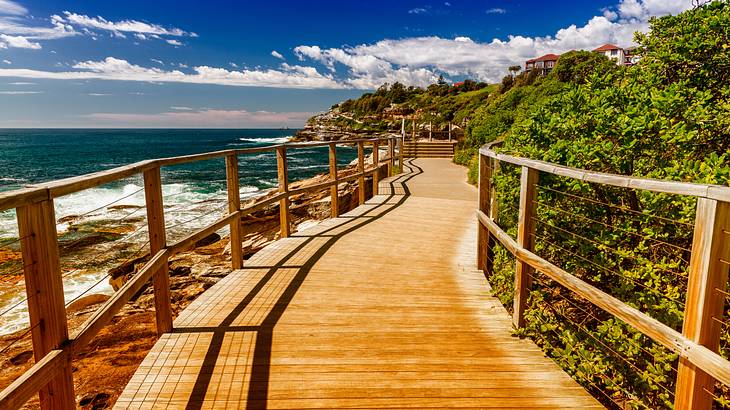 Where to stay in Sydney near the beach?
Bondi and Manly are both located near the beach. You can easily find hotels within walking distance of the beach or directly overlooking the ocean. A stay at the beach isn't just about your accommodations.
To get the full experience, you need to check out the beachside shops and waterfront dining. Both Bondi and Manly offer plenty of each. Grab some fish and chips, or enjoy drinks and appetizers while the waves crash nearby.
Where to stay in Sydney for cheap?
If you're on a budget, finding the cheapest area to stay is important. Luckily, many places in Sydney offer affordable lodging and attractions.
Newtown is very budget-friendly, but the accommodations are not very luxurious. You can easily find hostels and more affordable hotels. Additionally, many small cafes and bistros offer light snacks and cheap meals.
Surrey Hills is another affordable option. Hotels and motels are moderately priced, and there's a good selection of shops and places to eat to meet any budget.
Bondi Beach is a good option if you are hoping for a beach trip. It's not as cheap as the other mentioned neighborhoods, but the hotels and eateries are affordable compared to other beaches in the area. It's also close to budget-friendly areas that you can access with public transportation.
In Conclusion
Sydney is full of fun and culture. It's a busy city with a little bit of something for everyone. There are many exciting attractions to check out, ranging from beaches to museums. You will also find restaurants serving authentic dishes and unique shops that you won't find anywhere else.
If you're planning a trip, you may have been wondering what area to stay in Sydney. Hopefully, this article has given you a good idea of all the different neighborhoods, allowing you to choose one that offers the experience you want.
Give us feedback about this article
Learn more about Sydney:
Read more articles about Australia:
More articles about places to stay:
---
---
Want to keep exploring?
Subscribe for discounts on tickets and hotels and our latest guides.
Thank you for subscribing
We will be in touch soon with discounts on tickets and hotels and our latest guides.
Want to keep exploring?
Subscribe for discounts on tickets and hotels and our latest guides.
Thank you for subscribing
We will be in touch soon with discounts on tickets and hotels and our latest guides.
Related Articles