Where to Stay in Salzburg? 9 Best Places to Stay in Salzburg
Destguides may receive commissions from purchases made through affiliate links in this article.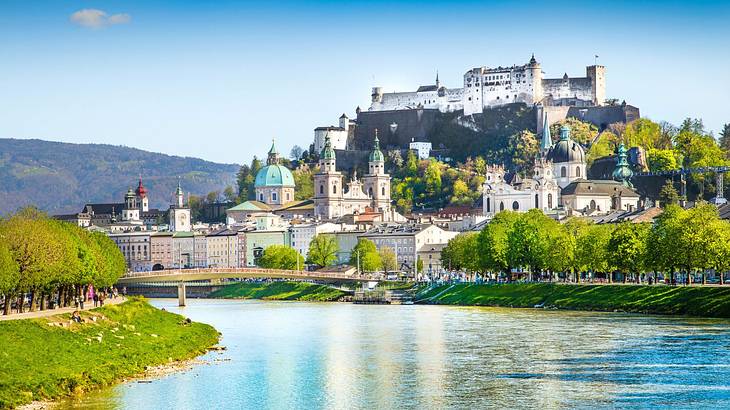 The enchanting city of Salzburg sits in the heart of Austria, where the Eastern Alps meet the Salzach River. This destination has charmed visitors for centuries with its connections to music; it's most famous for being the birthplace of legendary composer Wolfgang Amadeus Mozart and a filming location for the 1965 film, The Sound of Music.
But Salzberg isn't all about music. It's also home to buzzing squares and ornate palaces that illustrate its long and fascinating history. The city's storied past dates back to the Roman era, when it served as a hub of trade. Years later, Salzburg was soon dotted with an abundance of cathedrals, monasteries, and castles, many of which still stand today.
Wondering where to stay in Salzburg? This article will cover the top areas in the city and what makes each one perfect for your next vacation. From the bustling historic center, a UNESCO World Heritage Site, to the idyllic outskirts that showcase Salzburg's natural beauty, get ready to discover the top neighborhoods in this Austrian town.
9 Best Places to Stay in Salzburg, Austria
Best Areas to Stay in Salzburg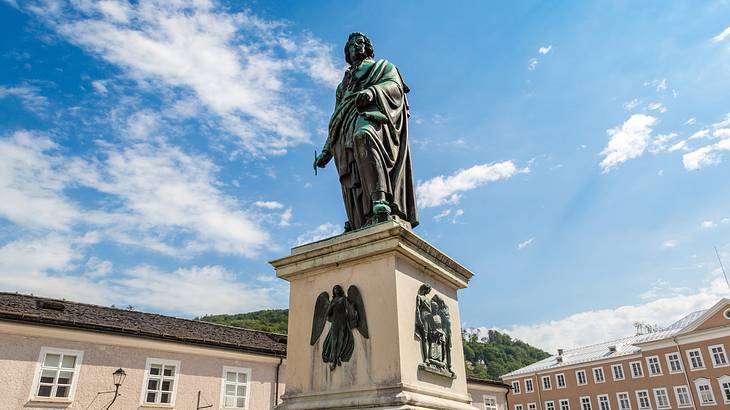 Altstadt (Old Town)
Altstadt, or to give it its full name, The Historic Centre of the City of Salzburg, is perfect for first-time visitors as it's the oldest part of the city. Due to its history, it's also one of the most fascinating areas in Salzburg.
Music is intrinsic to this district. Much of The Sound of Music was filmed here, and there are many places of interest relating to Mozart, including Mozart's Birthplace and Mozartplatz. Additionally, many of the major Austrian landmarks that are found in Salzburg are situated in Altstadt.
Other fabulous things to do in this area include visiting Kollegienkirche, a Baroque church built in 1707, and exploring Getreidegasse, a charming quarter for shopping filled with gorgeous courtyards.
Altstadt is one of the more expensive areas in Salzburg, so the hotels and accommodations here are more luxurious. The upside of this, though, is that you'll save plenty of money on public transportation because you're so central.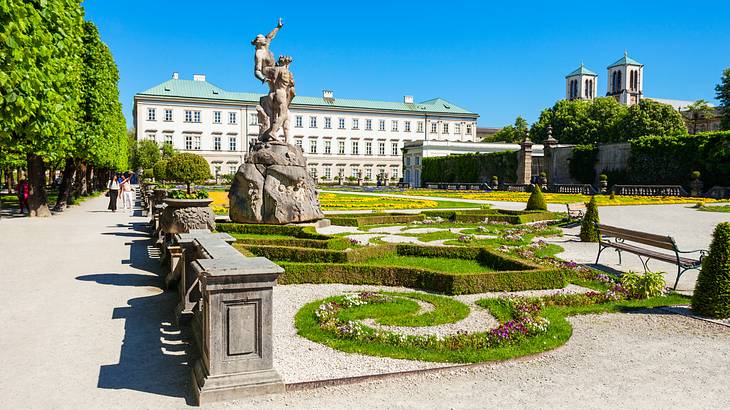 Neustadt (New Town)
Another brilliant place to base yourself in Salzburg is Neustadt. It sits opposite Altstadt, on the other side of the Salzach River. Although it's called Neustadt, don't expect this part of the city to be filled with shiny skyscrapers and new buildings. It's actually a fairly historic district with lots of charm.
Mirabell Palace is one of the most famous landmarks in Neustadt. This is a stunning fortress with leafy gardens. Many of the apartment rentals and hotels in this area even overlook the palace and its grounds!
Regarding accommodations, you'll find many hotels for all price points to choose from in this neighborhood. Neustadt contains cute guesthouses, buzzing hostels, and ultra-romantic hotels with dreamy views of the city.
Elisabeth-Vorstadt
Elisabeth-Vorstadt is a somewhat underrated area, but if you're wondering, "Where is the best place to stay in Salzburg?" this could be the place for you! It's less expensive to stay here than in other neighborhoods, and it has excellent transport links to the rest of the city.
Although, it's close enough to Altstadt that you can walk to the vast majority of tourist attractions. The accommodation options in this area primarily consist of budget hotels, though there are a few hostels and vacation rentals nearby, too. This is partly because Elisabeth-Vorstadt has a vibrant nightlife scene and is popular with students and backpackers.
While this neighborhood is lively in the evening, it's fairly quiet during the day. This area is also situated near Salzburg Main Station (Salzburg Hauptbahnhof), where you can catch a train to much of the rest of Europe with ease.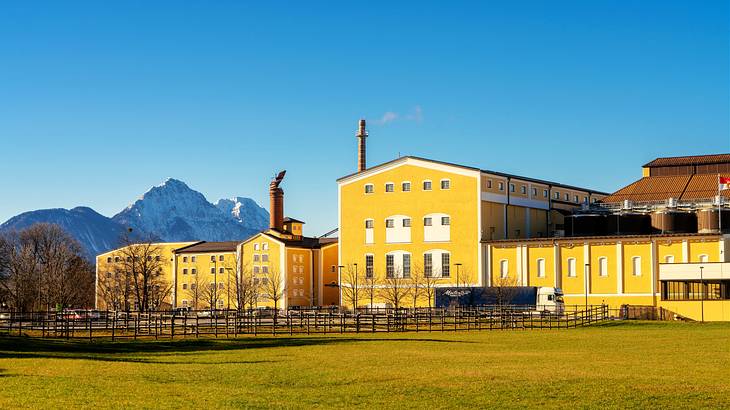 Maxglan
Maxglan is an under-the-radar neighborhood in Salzburg that sits to the west of Altstadt. This is where Salzburg Airport is located, so it's an ideal location for those with early morning flights.
It's also one of the best places to stay if you're on a budget, with a variety of popular chain hotels offering simple rooms for reasonable prices. However, Maxglan is not very popular with tourists as there aren't many things to see and do in this area.
Hangar-7, though, is a popular spot for motorsport and aviation fans. It is housed in Salzburg airport and is home to the Flying Bulls aircraft fleet and a small selection of previous Formula 1 race cars. You can also reach central areas like Altstadt in under 20 minutes via car or public transport.
Schallmoos
To the northeast of Salzburg is Schallmoos, a cozy residential area with colorful houses and a relaxed vibe. You will find budget-friendly hotels and hostels in abundance here, which is excellent if you want to save some cash and don't mind a slight compromise on location.
Schallmoos has a youthful feel and lots of cool bars, clubs, and restaurants. Though, you're also within walking distance from Neustadt if you want to head further into the center to check out some of the city's top eateries.
Another brilliant reason to stay in this area is its proximity to Salzburg Sam, a large train station that services much of Europe. You're well connected to the rest of Salzburg and beyond from Schallmoos.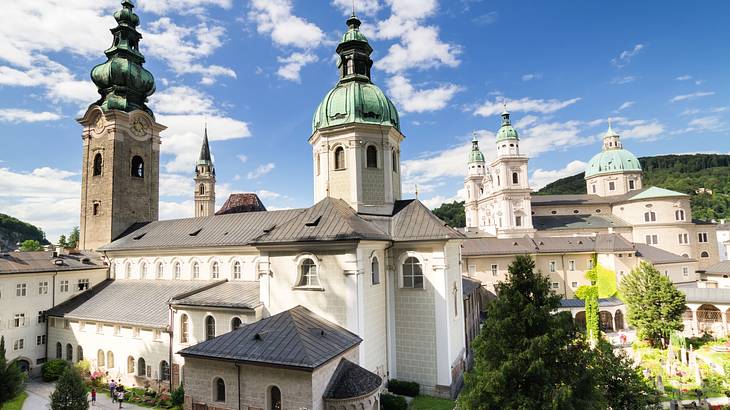 Lehen
Are you looking for the cheapest place to stay in Salzburg? Then Lehen is an excellent option. This neighborhood is situated to the North West of Altstadt, between Elisabeth-Vorstadt and Maxglan. There isn't a whole host of accommodation options in this area, but the hotels and hostels nearby are budget-friendly.
You can head east of Lehen to find the Red Bull Arena, which is excellent if you have sports fans in your group who want to catch a soccer game. On the other hand, the nearby Lehner Park is a beautiful place for a picnic in the sunnier months. Additionally, the shopping center Europark is nearby if you want to splash some cash while on vacation.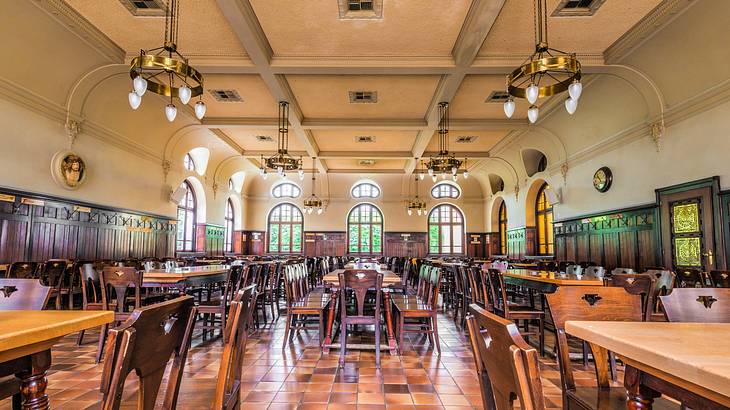 Mülln
Located to the west of Salzburg near Lehen, Mülln is a very cool district. It has moderately priced accommodation, with an abundance of home rentals, hostels, and budget hotel options.
This is the best area to stay in Salzburg if you want to explore the city's vibrant nightlife scene or indulge in a beer or two. Müllner Bräu (also known as Augustiner Braü Kloster) is the most famous brewery in Salzburg. And it's also one of the oldest in Austria.
If you want to do something a little more wholesome, head to Mönchsberg. This mountain looms high above the city and has epic hikes. Take the route from Müllner Haupstrasser to enjoy a challenging and immensely rewarding trail.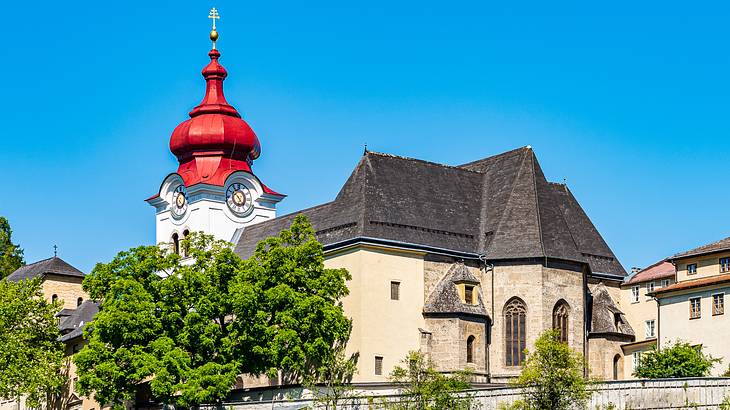 Nonntal
Nonntal is another great place to stay in Salzburg. And interestingly, the central region of Nonntal is also part of the Altstadt.
This is a very safe neighborhood that is slightly cheaper than Altstadt but comes with all the benefits. This includes being close in proximity to the top attractions in the city, including the magnificent Hohensalzburg Fortress. There are lots of medieval homes in this area that you can rent, while most of the hotels in town are high-end.
Salzburg Fortress is the main attraction in this area. Though, fans of The Sound of Music will want to pay a visit to Nonnberg. This Benedictine convent plays a huge role in the film as the convent where the main character, Maria, was sent to live.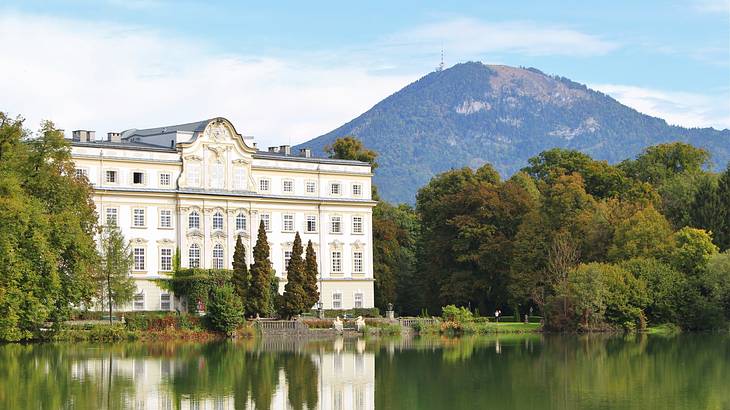 Leopoldskron-Moos
To enjoy the beauty and nature of Salzburg, stay in Leopoldskron-Moos. This area is famous, thanks to the Schloss Leopoldskron. The historic castle sits on Leopoldskroner Weiher Lake, flanked by a gigantic leafy park.
This landmark was used for many exterior shots in The Sound of Music, though the Rococo interior is well worth paying a visit to. If you're looking to splurge on accommodation, there's a very fancy and historic hotel of the same name in the park. Otherwise, most of the accommodation is situated nearer to Nonntal.
There is less to do in this area, and it's not typically budget-friendly. However, it does boast very beautiful scenery and is not too far from Altstadt.
Where to Stay in Salzburg, Austria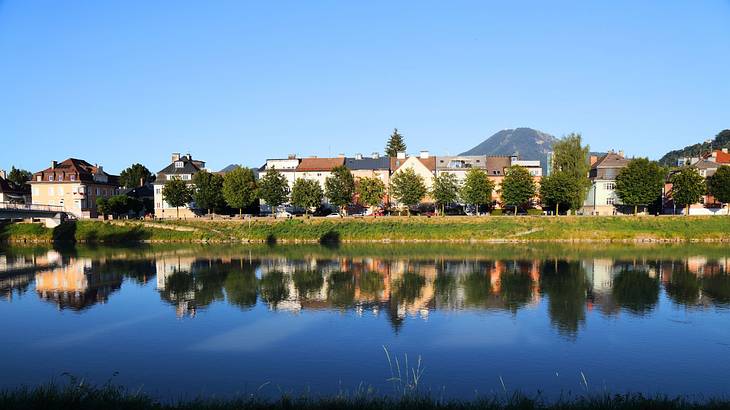 Where to stay in Salzburg with family?
If you're traveling with your family, the best location to stay in Salzburg is Elizabeth-Vorstadt. The main reason is that it's one of the cheaper areas in Salzburg, which is ideal for those traveling with larger groups.
But that's not all. This neighborhood boasts great transport links to the rest of the city. For those with younger children, Lehner Park Spielplatz is a wonderful park just across the river. Here you can let the little ones roam free and make use of the playground equipment.
Where to stay in Salzburg for couples?
While you might think that the cozy Altstadt is perfect for couples, and you wouldn't be wrong, Neustadt has all the charm of the historic center with more luxurious hotels. This is perfect if you're looking to spend a romantic weekend in Salzburg.
This area is also home to Mirabell Palace and is the perfect setting for a loved-up stroll with your partner. When hunger strikes, you can head to some of the fanciest hotels in the city and enjoy dinner and drinks by candlelight.
As a bonus, if you're part of the LGBTQ+ community, this area of Salzburg has plenty of gay-friendly bars and clubs.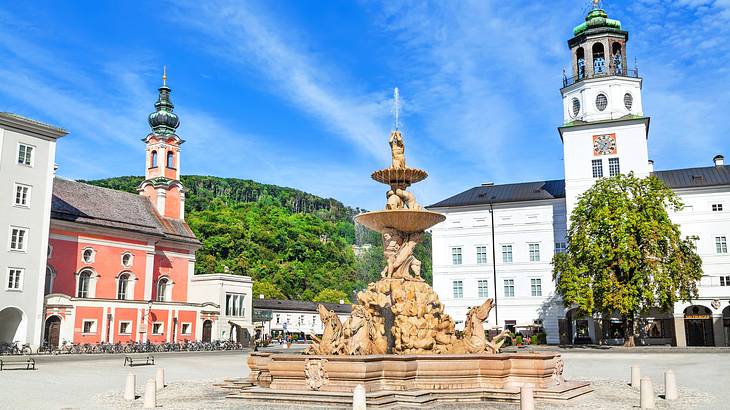 Where to stay in Salzburg for first-timers?
If it's your first time in Salzburg, there's nowhere better to stay than in Altstadt. After all, staying in the very center of the city is perfect if you want to see the top sights.
There are plenty of hotels, hostels, and apartment rentals to choose from. All of these offer a different price point, ranging from super cheap hostels to uber-luxurious hotels where no expense is spared.
If you stay in Altstadt, you will be mere footsteps from Mozartplatz, Mozart's Birthplace, Salzburg Cathedral, and Salzburg Museum of Modern Art, among many other landmarks.
Where to stay in Salzburg for Christmas?
Salzburg at Christmas is an unmissable time; the entire city center is transformed into a magical winter wonderland. But Altstadt is the best neighborhood to stay in Salzburg at Christmas time.
The top markets in the city are situated around Salzburg Cathedral. In fact, the Christmas markets have been running here since the late 15th century, when they were called "Tandlmarkt."
This is a far more expensive time to visit, and the prices in Altstadt will be very high. But, for the most incredible experience, it's worth splurging. Alternatively, you can save a little bit of money by staying further out of the city and getting public transport into the center.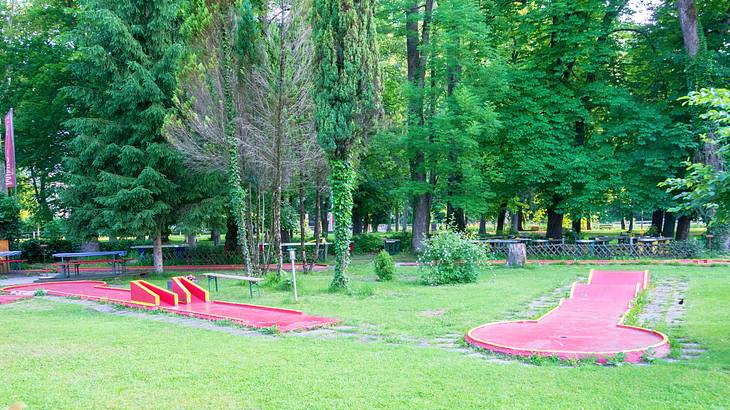 Where to stay in Salzburg on a budget?
Although you can stay almost anywhere in Salzburg on a budget, Lehen is the best neighborhood for those who want to save some cash. There are lots of trendy hostels and apartment rentals in the area.
As Lehen is a little bit further out of the center, you will also find many local restaurants serving tasty eats at great prices. Or, if you want to save even further, you can head to the huge BILLA supermarket, an extremely cheap place to buy groceries and opt to cook in your apartment.
Where to stay in Salzburg for nightlife?
If you're wondering which area to stay in Salzburg to party, you're in luck. There are brilliant bars and clubs all over the city. That said, Mülln is a very cool part of town where you can party hard or keep it more chill at one of the fabulous restaurants in the area.
The best part? There are lots of budget-friendly accommodations nearby. The majority of which are hostels, which is great if you're in town to party and meet new people. Start out your evening at Müllner Bräu and head along the stretch of river to the east to find more places to let loose.
In Summary
Salzburg is a wonderful city filled with diverse neighborhoods and friendly people. And, whether you're in town to explore the birthplace of Mozart, indulge in a beer at traditional taverns, or stroll through picturesque gardens with your other half, there's a district for every kind of traveler.
For many, Altstadt is the ideal place to stay, and this is especially true at Christmas. Or, for couples, Neustadt is an equally charming part of the city. However, for those on a tighter budget, Lehen offers the most varied accommodation.
Salzburg is a place where the old blends with the new and where music flows through every part of the city. Discovering the best place to stay is just the start of your Austrian adventure.
Give us feedback about this article
Read more articles about Austria:
More articles about places to stay:
---
---
Want to keep exploring?
Subscribe for discounts on tickets and hotels and our latest guides.
Thank you for subscribing
We will be in touch soon with discounts on tickets and hotels and our latest guides.
Want to keep exploring?
Subscribe for discounts on tickets and hotels and our latest guides.
Thank you for subscribing
We will be in touch soon with discounts on tickets and hotels and our latest guides.
Related Articles