The Best 2 Days in Brussels Itinerary
Destguides may receive commissions from purchases made through affiliate links in this article.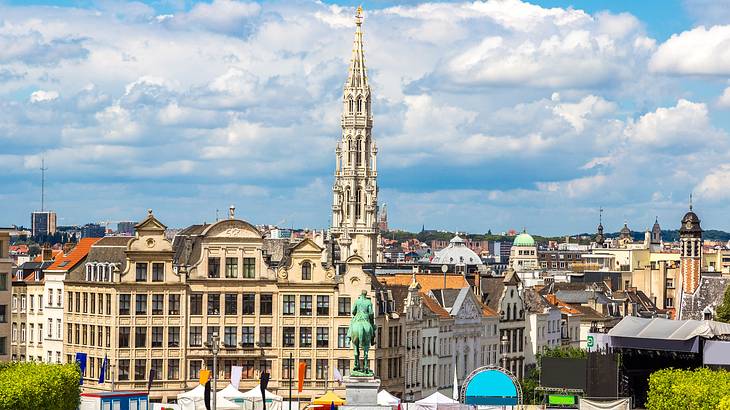 Brussels, the capital of Belgium, is one of the premier cities in Europe. It is an ideal destination for travellers interested in history, arts, and stunning architecture. Brussels also has some quirky and iconic attractions, such as the Manneken Pis statue!
Due to the city being just a 20-minute drive from Brussels Airport, it is easy to reach and makes for the perfect weekend getaway location. If you plan to spend a couple of days in the city, this 2 days in Brussels itinerary covers everything you must see and do during your short visit.
As you explore, you will get to see an array of well-known landmarks, visit some indulgent Belgian chocolate shops, and try the best (according to locals) beer on the continent. For those planning a trip in November or December, you can also experience some of the most renowned Christmas markets in Europe here.
Does Brussels sound like the ideal place for a city break? If so, read on and learn how to plan a memorable few days in the Belgian capital!
Brussels 2 Day Itinerary
Lower Town and the Atomium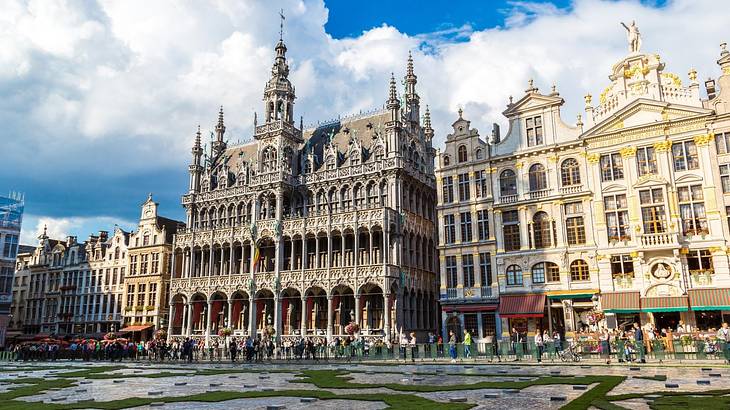 The first day of your "things to do in Brussels, Belgium" itinerary will begin in Lower Town, the oldest part of Brussels. This part of the city has narrow cobbled alleys and streets, shabby-chic townhouses, several museums, and well-known statues.
Things to do on your first day include wandering along "The Comic Strip" and seeing the Jeanneke Pis, Zinneke Pis, and Manneken Pis statues. You also get the chance to visit several museums and taste delicious Belgian food.
Having explored the central part of the city, you will get on the tram and head toward Esplanade to see one of the most well-known Brussels landmarks, the Atomium. After a visit to the Atomium, you can take an evening stroll through Laeken Park before you head back to the city centre.
Comic Strip Wall
Comic Strip Wall, or the Comic Book Route, consists of 50 murals representing Belgium's famous comic characters. Cartoons to see include Tin Tin and the Smurfs. The route starts at Fabrieksstraat Street and continues to Lower Town.
The project began in 1991 as a collaboration between the Comic Strip Center and Brussels City Council. It was commissioned to bring the plain walls of the buildings in Brussels to life and showcase Belgium's love for comics.
An interesting fact about the murals is that the illustrators of the comics didn't paint them. Instead, they are all created by street artists, who put a lot of effort into the paintings to make them look like the originals. Comic Strip Route is one of the quirky off-the-beaten-path spots you must check out when in Brussels!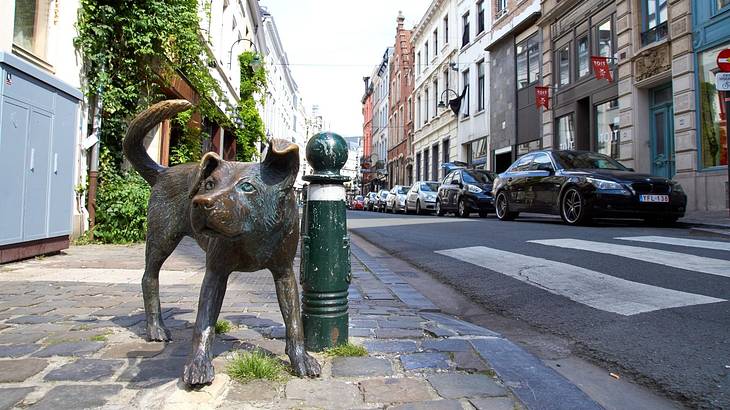 Zinneke Pis
Everyone has heard about the Manneken Pis statue (the urinating boy statue), an iconic and unique Brussels city symbol. However, did you know that many other similar statues are scattered around the city? One of which is Zinneke Pis.
Constructed in 1998, Zinneke Pis (or Het Zinneke) is a bronze statue of a urinating dog created by Tom Frantzen. On the way to your next stop, Saint Catherine Church, you'll pass the Zinneke Pis sculpture.
While you won't spend long at this attraction, seeing all the "urinating" statues can be an amusing thing to do while in Brussels! Taking some pictures of them is also a must and will make an interesting addition to your vacation posts on social media!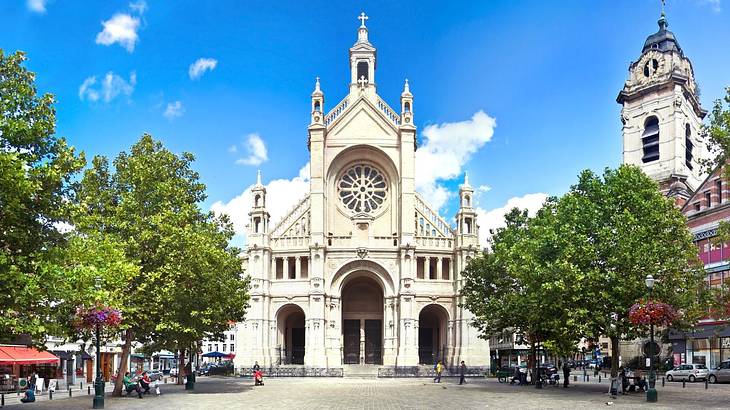 Church of Saint Catherine
The Church of Saint Catherine, or Eglise Sainte-Catherine de Bruxelles, is one of the most beautiful churches in Brussels. It attracts thousands of visitors that are fascinated by its breathtaking architectural style.
The church was built in the 15th century but redesigned in the 19th century by well-known artist Joseph Poelaert. While the church's facade has a Gothic style, the interior features Baroque details. You can also see the church's beautiful Italian Baroque bell tower, which was added in the 17th century.
In addition, there is a daily market in front of the church's main entrance, where you can get local products such as cheese, vegetables, and seafood. Grabbing a light snack and a drink at the market is a good idea before continuing to the next destination.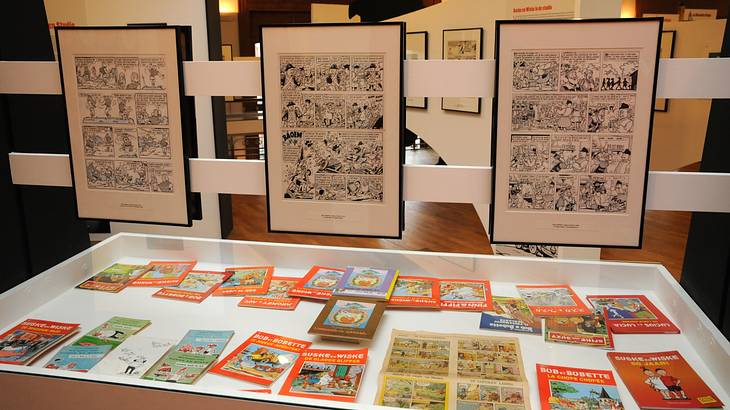 Comics Art Museum
Located inside a beautiful Art Nouveau building, the Belgian Comic Strip Center, also known as the Comics Art Museum, is a museum dedicated to comics. Since opening in 1989, it has become one of the must-see cultural attractions in Brussels.
Comics Art Museum houses permanent and temporary exhibitions. The permanent collections are dedicated to the history of comics and famous comic artists. While temporary exhibitions usually focus on a specific comic or comic book hero.
Guided tours are available if you want to learn more about the comics and artists featured at the museum. Whether you take a tour or explore on your own, be prepared to spend about an hour to two hours in the museum. On your way out, stop by the museum's bookshop, where you can purchase vintage and newer comics.
Jeanneke Pis
Jeanneke Pis is another of Brussels' urinating statues. Denis-Adrien Debouvrie created it in 1985. This modern sculpture is under a meter tall and depicts a young girl urinating in the fountain.
Tourists often do not know about the statue, so finding it can be tricky. However, if you do want to see it, it is located next to the Delirium Cafe near the Royal Gallery of Saint Hubert. After visiting the statue, going into Le Marmiton to have a high-end lunch is an excellent idea if you want to treat yourself!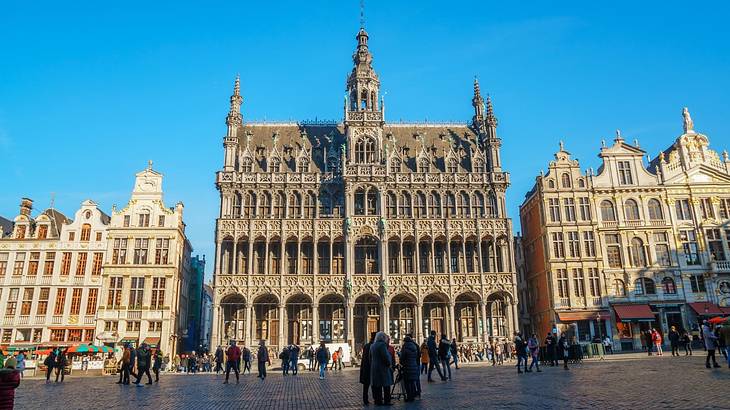 Brussels City Museum
Brussels City Museum, also known as Musee de la Ville de Bruxelles, is one of the best museums in the city and a famous Belgian landmark. It is located inside the beautiful Maison du Roi (King's House), which was previously the residence of the Belgian royal family and is now a UNESCO World Heritage Site.
The museum's exhibits cover everything from Belgian politics to social and cultural topics. Things on display range from medieval tapestries to paintings, sculptures, and clothing items. The museum also houses the original Manneken Pis statue and nearly 800 quirky Manneken Pis costumes!
Since there are many things to see, you will want to plan at least a few hours at this attraction. The museum sits in Grand Place, a renowned square in Brussels, and is open daily, except Mondays. In addition, guided tours are available every first week of the month.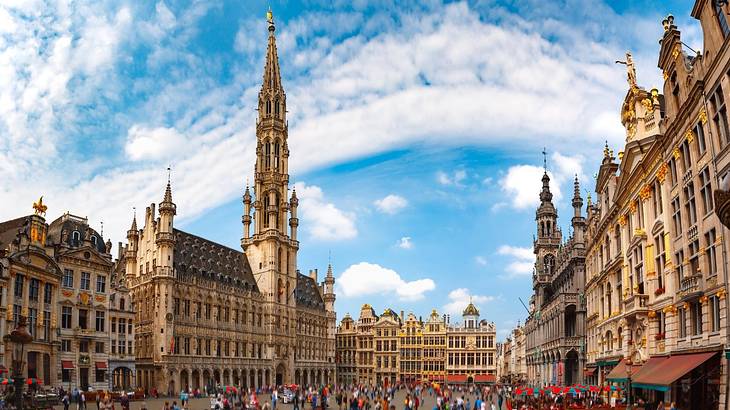 Brussels Town Hall
Dating back to medieval times, Brussels Town Hall, or Hotel de Ville de Bruxelles in French, is the oldest town hall in Belgium. The town hall is another famous landmark found within Grand Place.
This iconic building is designed to impress with its stunning interior and exterior architecture. Inside the town hall, you can also see medieval tapestries and famous pieces of Belgian art.
In addition, it is especially well-known for its 92-meter-high tower, which has a statue of the Archangel Saint-Michael (the patron of the city) atop it. If you wish to enter this part of the building, you must arrange a guided tour in advance.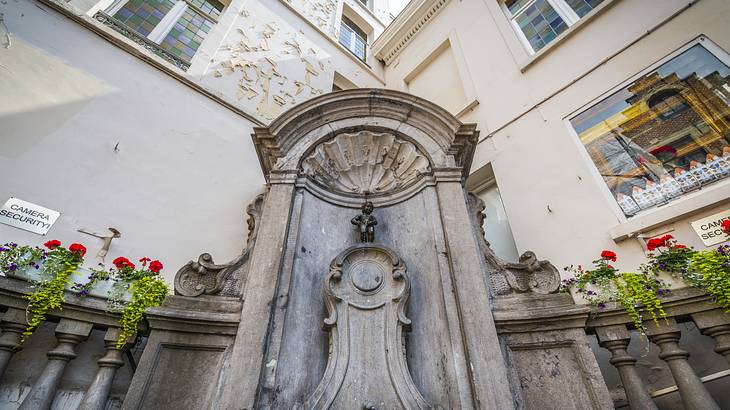 Manneken Pis
Manneken Pis or Peeing Boy is a bronze fountain statue that was created in the 15th century. Locals say that Manneken Pis is a symbol of the city, making it one of the things to see in Brussels in 2 days that you can't miss.
The sculpture you see today is not original and was made in 1965 after the original Manneken Pis disappeared. Luckily, locals found the original statue, and you can view it in the Brussels City Museum.
A unique thing about Manneken Pis is that this little urinating boy has more than 800 costumes, including an expensive outfit gifted by Louis XV of France. It is a tradition to dress the statue on special occasions. So if you are lucky, you might see him dressed up!
Atomium
Located about 30 minutes from Brussels city centre by tram, Atomium is a famous building in Brussels. It was constructed for the World's Fair in 1958. The interestingly designed structure resembles an atom and features nine sphere structures.
After snapping a few pictures of Atomium, you can go inside to a viewing deck that offers 360-degree views of the city. As this is one of the most popular attractions in the city, buying an Atomium entry ticket in advance is a good idea.
Along with the observation deck, you can dine at the Atomium Restaurant, where you can eat and drink while taking in the panoramic views.
It is worth mentioning that prices at this eatery are higher than at many other restaurants in the city. However, the views are so stunning that it is worth it! Making a reservation is also recommended.
Atomium additionally houses art exhibitions and a kids' area and is surrounded by a park filled with monuments.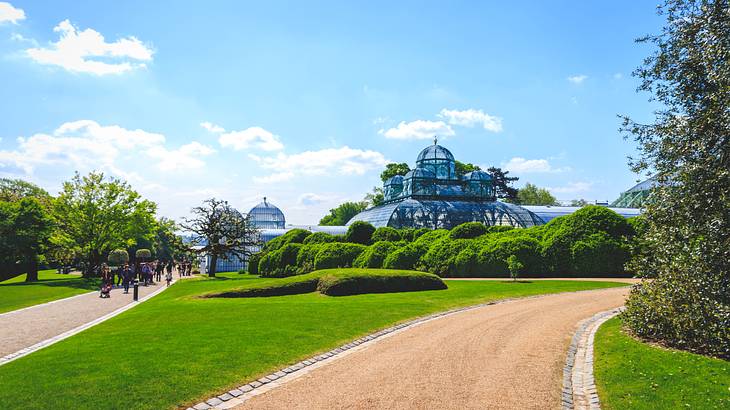 Laeken Park
Laeken Park is a large park near Atomium. It is a peaceful park with greenery, monuments, cafes, and bars. The park's most iconic attractions are its Japanese pagoda and the Royal Greenhouses of Laeken.
If you aren't too tired, visiting Guinguette Andre Bar within the park for an evening drink is a great idea. The stylish bar serves a variety of wines, spirits, beers, and cocktails. There's also outdoor seating for warm summer nights.
After a drink and a stroll in the park, you can walk towards the Lower Town and then get a tram back to where you started your day.
Brussels' Upper Town
The second day of your "things to do in Brussels in 2 days" guide will have you exploring Upper Town. Brussels' Upper Town is a modern part of the city filled with high-end shops, upscale neighbourhoods, and classy bars.
It is also home to important government offices, including the headquarters of the European Parliament and various embassies. In addition, you can find many unique places to stay in this area, so keep it in mind when looking for accommodation.
Upper Town notably has countless museums. On your second day in the city, you will visit two museums, the Musical Instruments Museum and Coudenberg Palace Museum. However, feel free to add some other museums or replace those mentioned in the itinerary for ones that appeal to you more.
Along with the museums, you will have a chance to explore several grand parks, visit the Royal Palace of Brussels, wander around a chic shopping district, and more! After a busy day of exploring, your trip to Brussels will end at Le Grand Central, where you can enjoy cocktails and stunning views.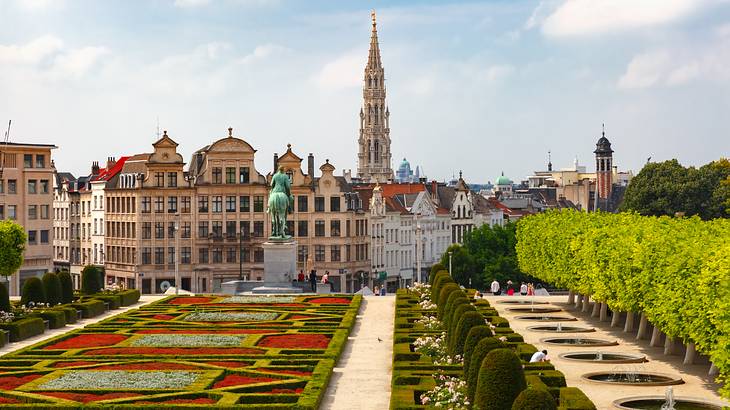 Mont Des Arts
Mont Des Arts is one of the most beautiful places to visit in Brussels in 2 days. It is conveniently situated between Grand Place and Place Royale, connecting Lower Town and Upper Town.
Mont Des Arts is a cultural space with a public garden and museums. Construction of the area started in the 19th century and was completed in 1910 when the Brussels International Exposition took place.
Today, Mont Des Arts is one of the most visited places in the city. Attractions in Mont Des Arts include the Royal Library of Belgium and the National Archives of Belgium.
Mont Des Arts also offers breathtaking views over Brussels city. If you walk through the gardens and up the staircase at the end, you will find a viewing point with the most amazing vistas.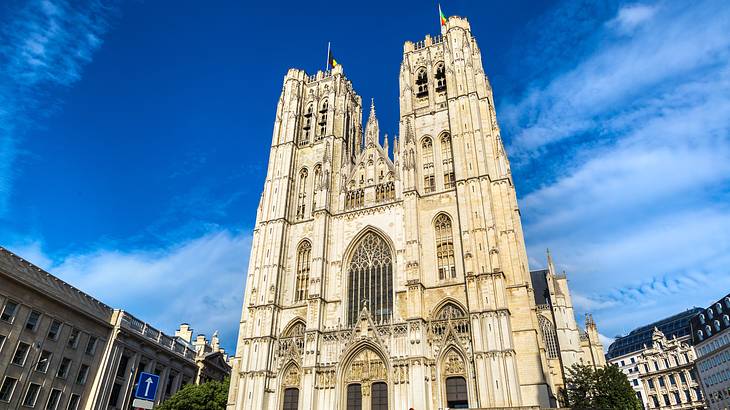 St Michael and St Gudula Cathedral
St Michael and St Gudula Cathedral, commonly known as Brussels Cathedral, is a building you can't miss while exploring Brussels in 2 days. Interestingly, the cathedral is dedicated to two saints, while other churches usually represent just one.
It was built in a Gothic architectural style at the beginning of the 13th century. The cathedral was finally completed 300 years later. While the cathedral is gorgeous from the outside, its interior is even more stunning. Design elements include beautiful stained glass windows, wooden carvings, and grand tombs.
Tickets to the crypt, archaeological site, and treasury are available at the church's entrance. In addition, guided tours of the cathedral and its tower are available but must be arranged at least two weeks in advance.
Brussels Park
Brussels Park, also known as Parc de Bruxelles and Warandepark, is the largest park in central Brussels. It is the perfect place to enjoy good weather and spend some time in nature.
The park has several fountains, ponds, monuments, many trees, and pleasant paths leading toward the Royal Palace and museums. It has excellent palace views, so get your camera ready while walking!
Brussels Park is usually quiet as guides don't take tourist groups there. In addition, if you are heading towards the Royal Palace from Brussels Cathedral, you can use the park as a shortcut. Doing so lets you avoid the tourist groups moving between the two stops and appreciate this beautiful park.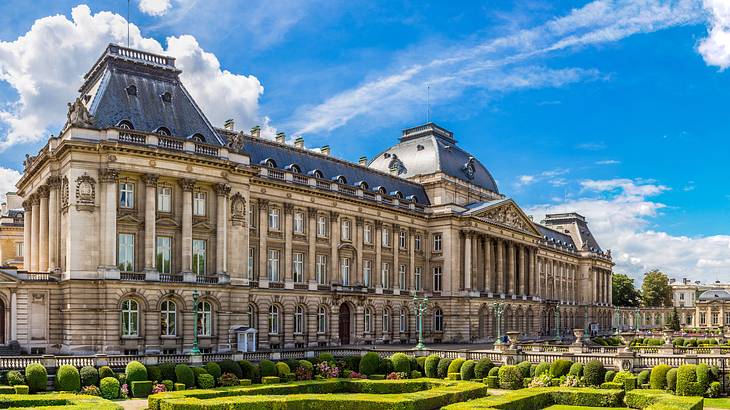 Royal Palace of Brussels
The Royal Palace of Brussels is one of the most famous European landmarks to be found in Belgium. It represents the country's constitutional monarchy and is used to hold important state events.
Established at the beginning of the 19th century and built in a neoclassical architectural style, the palace was formerly the principal royal residence. However, in 1831, the royal family decided to move to the Laeken Palace and use the Royal Palace of Brussels for events.
In 1965, the Royal Palace opened its door to the public for the first time. However, it is only open from late July until the beginning of September. So if you are travelling during these months, don't miss an opportunity to visit this beautiful building!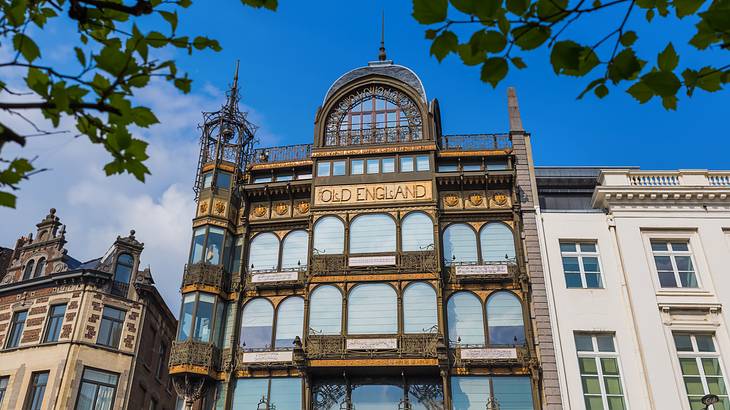 Musical Instruments Museum
Housed in one of the city's most stunning Art Nouveau buildings, the Musical Instruments Museum, or MIM, has to be included on your list of things to do in Brussels, Belgium. The museum features about 7,000 musical instruments from the Middle Ages to the present.
The museum also features hands-on activities that are suitable for all ages. In addition, you will be given headphones when you enter the museum that plays music when you get closer to the instruments on display.
Coudenberg Palace Museum
Coudenberg Palace Museum is a hidden gem in the city that doesn't receive much attention from tourists. Established in the 12th century, Coudenberg Palace was the main palace in the city before it burned down.
Today, the palace ruins are an archaeological site near Place Royale and the Musical Instruments Museum. The museum consists of an underground maze of passages and chambers. As you explore, you will learn about Brussels' history and the uses of the palace before the fire.
Admission to the museum is free for those under 18. It is also free if you have a Brussels Card. Do note that the museum is closed on Mondays.
Au Vieux Saint Martin
Au Vieux Saint Martin is one of the best eateries in the city. Opened in 1968, the restaurant serves Belgian dishes with a modern twist. Located in an upscale area near Place du Grand Sablon and Sablon Square, Au Vieux Saint Martin is open daily for breakfast, lunch, and dinner services.
Dishes on offer include steak prepared in various ways, beef tartare, and. chicken salad. Au Vieux Saint Martin also serves indulgent desserts, like Belgian chocolate mousse or orange creme brulee.
The restaurant doesn't take reservations except for large groups, so there is a high likelihood that you will need to wait to get a table. However, if you don't want to wait, the restaurant is less busy after lunch service at around 3 PM.
Place du Grand Sablon
After exploring the many cultural attractions of Brussels, a visit to Place du Grand Sablon allows you to unwind and do some shopping. Place du Grand Sablon is a prominent part of the Sablon district. It is famous for its Belgian chocolate stores, antique dealers, cosy cafes, and classy restaurants.
On the weekend, Place du Grand Sablon becomes a vast antique market that usually has more than 50 stalls. So if you want a unique souvenir and are spending a weekend in Brussels, this market is the best place to visit!
Even if you miss the market, you can look around antique shops and pick up some great souvenirs and Belgian Chocolates.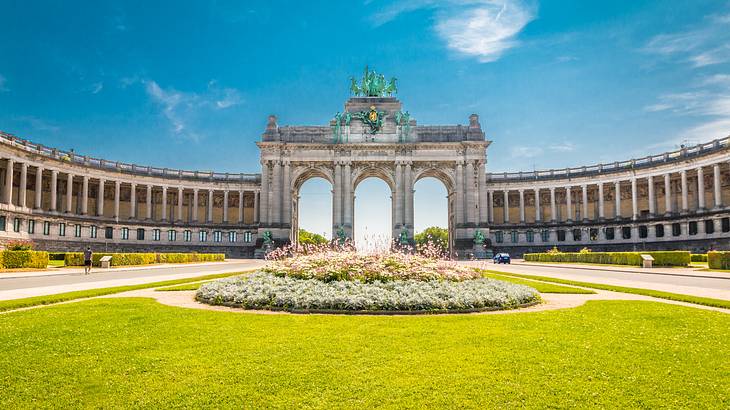 Cinquantenaire Park
Parc du Cinquantenaire, also known as Jubelpark or Cinquantenaire Park, is a vast park and national landmark just outside Brussels' city centre. You can walk down the famous Rue de la Loi to reach the park from your last stop.
The attraction's name means "Park of the Fiftieth Anniversary" because it was built to commemorate fifty years of the country's independence. The park has various monuments, fascinating museums, and lots of greenery and walking paths.
Cinquantenaire Park also features a famous arch. A popular activity is climbing to the top of the arch, which you can do for free. After taking in the views from the top of the arch, take a relaxing stroll through the park.
Le Grand Central
Getting drinks at Le Grand Central is the last activity on your "what to do in Brussels" list. Le Grand Central is a sophisticated spot that serves good food and unique cocktails.
If you aren't a fan of cocktails, there is a wide selection of Belgian beer on the menu. You could even do a mini Belgian beer tasting and try a few different varieties!
Best of all, Le Grand Central has a lovely setting with great views of the European Quarter and Leopold Park, which you can appreciate the most by sitting on the terrace. This trendy bar is one of the best in the Belgian capital and can't be missed while in Brussels!
In Summary
There are lots of things to see and experience in Belgium's capital! Whether you have just 24 hours in the city or longer, it can be overwhelming if you aren't prepared. With this in mind, this 2 day Brussels itinerary should help you manage your time when visiting for around 48 hours.
This itinerary is easy to follow and gives you enough time to enjoy Brussels and its many attractions and landmarks. But, of course, feel free to adjust the schedule depending on your needs and the weather conditions.
If you are travelling in winter, visiting more museums and skipping some of the parks is a great idea, especially if it is raining. Galeries Royales Saint-Hubert (Royal Gallery of Saint Hubert) is the perfect place to look around during long winter evenings.
Other attractions to visit if you have some additional time include the Brussels Stock Exchange and the Royal Museums of Fine Arts of Belgium. You could also take a Brussels walking tour with a guide to learn more about the city's attractions.
If you want to head out further from Brussels, you could also take a day trip to Durbuy, which is about an hour and a half drive away from the city. Whichever attractions you decide to see, you are guaranteed to have a fun and memorable trip to Brussels!
Give us feedback about this article
Learn more about Brussels:
Read more articles about Belgium:
More visual stories related to this article:
---
---
Want to keep exploring?
Subscribe for discounts on tickets and hotels and our latest guides.
Thank you for subscribing
We will be in touch soon with discounts on tickets and hotels and our latest guides.
Want to keep exploring?
Subscribe for discounts on tickets and hotels and our latest guides.
Thank you for subscribing
We will be in touch soon with discounts on tickets and hotels and our latest guides.
Related Articles