30 Famous Landmarks in Belgium You Must See
Destguides may receive commissions from purchases made through affiliate links in this article.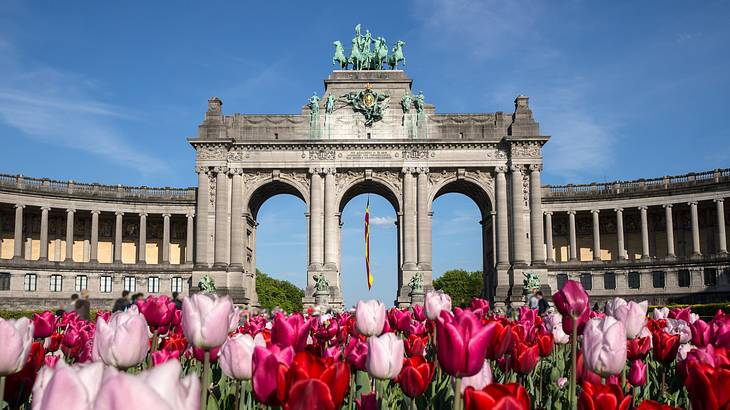 Belgium might be a small European country, but it has a rich history and culture making it well worth visiting. From Gravensteen Castle in Ghent to Hallerbos in Halle, there are near-endless places to see while on your Belgian vacation.
Whether planning day trips or an extended getaway, deciding what sites need to be added to your must-see list can be overwhelming. So if you're looking for a place to start planning, keep reading! Here's a list of the top 30 famous landmarks in Belgium.
30 Belgium Landmarks
Famous Belgian Landmarks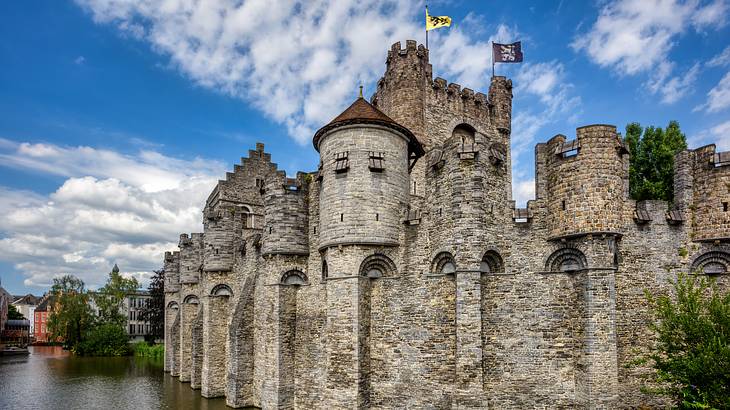 Gravensteen Castle
You can't plan a day trip to Ghent while you're in Belgium without visiting Gravensteen Castle. This Belgium landmark isn't just visually striking, but it also has an intriguing history that makes it a popular destination for tourists and locals.
The castle dates back to medieval times and is characterized by its tall and imposing walls meant to intimidate anyone who wished to challenge the court. When it was no longer used as a noble residence for the Counts of Flanders, its security led to it being used as a prison and then a factory.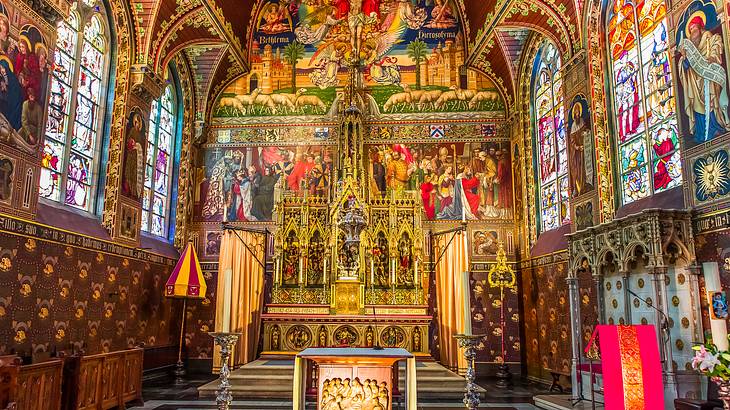 Basilica of the Holy Blood
At a glance, the Basilica of the Holy Blood might seem like a run-of-the-mill European church. However, its architecture is a highly unusual combination of both Romanesque and Gothic styles, making it a must-visit landmark for architecture enthusiasts.
This chapel is world-famous, especially among people interested in religious history. The church gets its name from the relic housed within its walls. Since 1150 AD, the church has been the home to a bit of cloth that, according to the Count of Flanders at the time, has Christ's Holy Blood on it.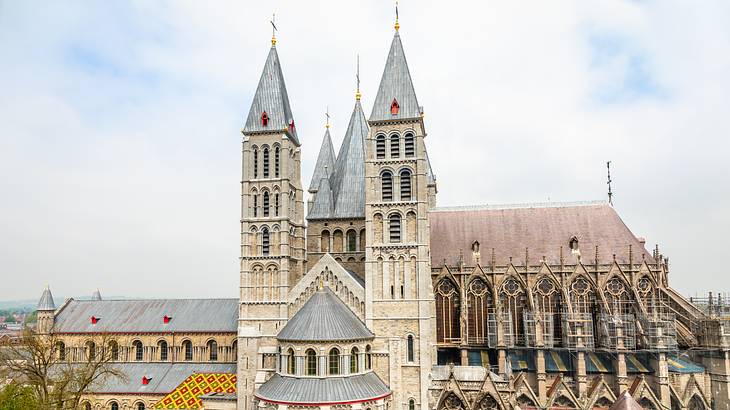 Notre-Dame Cathedral in Tournai
Belgium's Cathédrale Notre-Dame de Tournai often flies under the radar of visitors who are more familiar with the Parisian church of the same name. However, this monument is an architectural marvel that has even been recognized as both a UNESCO and a Wallonia heritage site.
Standing at 272 feet tall with an impressive five spires, the church took over 500 years to complete. During that time, architectural styles changed, so you'll see Romanesque, Gothic, and French Baroque influences in its construction.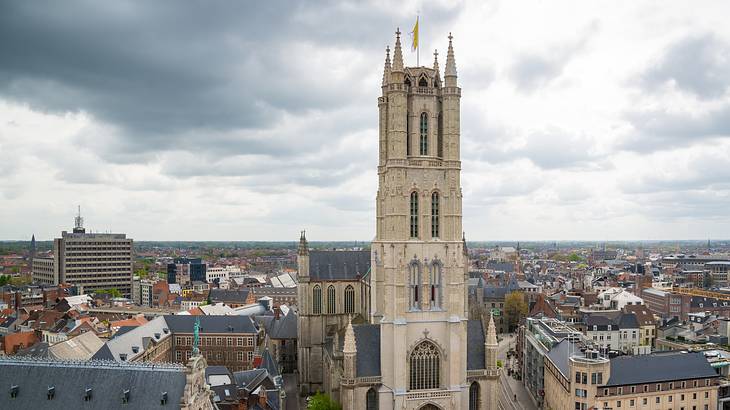 St Bavo's Cathedral
Belgium monuments have elements that attract different types of tourists, and St Bavo's Cathedral is a perfect example. As a church that dates back to 942 AD, it attracts travelers interested in religion and history; however, it's also home to an artistic masterpiece that tops the must-see lists of culture-lovers.
St Bavo's is the home of the famed Ghend Altarpiece, the first oil painting to be comprised of multiple panels. This complex piece of art was the epitome of artistry when it was completed; it combined a traditional, Christian subject matter with an intricate and realistic design that set a new and challenging bar for future artists.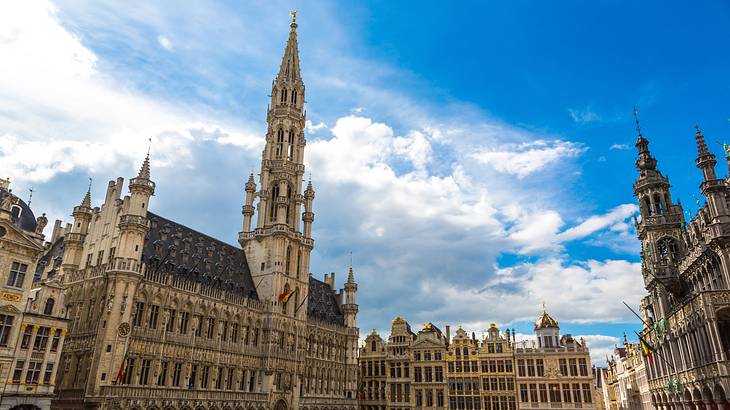 Brussels Town Hall and Grand Place
In Brussels, Belgium's capital, you'll find one of Europe's most important landmarks. Grand Place is the city's central square and is the location of some of its most unique and historic buildings, one of which is Brussels Town Hall.
This building is the oldest in the square, built when ornate and instantly recognizable Gothic architecture was popular. The building has served as Brussels' civic center since the 1450s, and it's considered a classic example of medieval construction.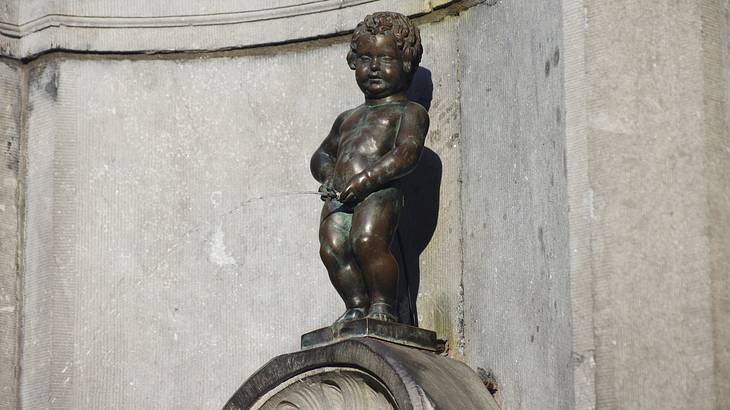 Manneken Pis
Manneken Pis is one of Belgium's most amusing landmarks and is just a few minutes from Brussel's Grand Place. Dating back to the 1600s, Manneken Pis is a bronze fountain depicting a child relieving himself. Repeatedly stolen or damaged, the latest version was placed in 1965.
If you're wondering about the statue's origin, you're not alone; multiple legends surround its creation. The most popular is that the little boy is supposed to be Godfrey III of Leuven, a child noble whose statue was built to honor a battle victory in his name.
Atomium
The Atomium is one of the most famous monuments of Belgium, thanks to its one-of-a-kind shape. The form is considered an example of the modernist design movement and, to the average onlooker, seems to be in the shape of a cube balancing on one of its corners.
However, the construction's design is much more scientific as each of the eight spheres making up the Atomium is shaped after an iron crystal that's been magnified 165 billion times.
It was constructed for the 1958 World's Fair held in Brussels. That year's theme was "A World View: A New Humanism," with each exhibition showcasing technical and scientific progress.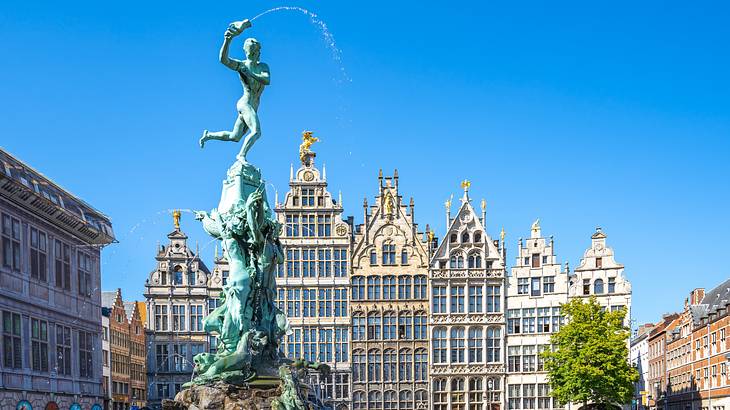 Grote Markt
In Dutch, "grote markt' means "large market," so you'll find multiple squares and marketplaces with this name around northern Belgium. However, Grote Markt Square in Antwerp is worth noting.
In the heart of Antwerp's old town, Grote Markt is the location of some of the city's most historic buildings, like its town hall, which has Renaissance roots. Many of the structures overlooking the square, some dating back 500 years, were ornately painted by Flemish artists.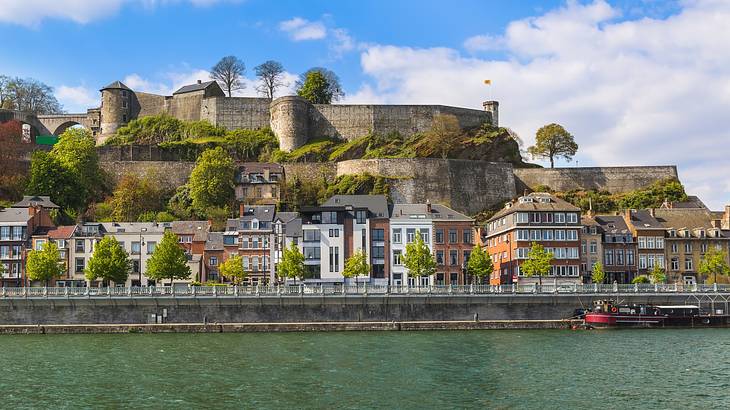 Citadel of Namur
Namur's citadel is the city's primary symbol and most prominent landmark. Set atop a hill overlooking the Sambre and Meuse rivers, it was strategically located to facilitate communication throughout Europe.
Though the citadel's earliest ruins can be traced to Roman times, most of the structure is medieval and has been fortified and reconstructed multiple times. Today, it hosts theater productions and music events. Guided tours are available for visitors interested in the citadel's role in the city's history.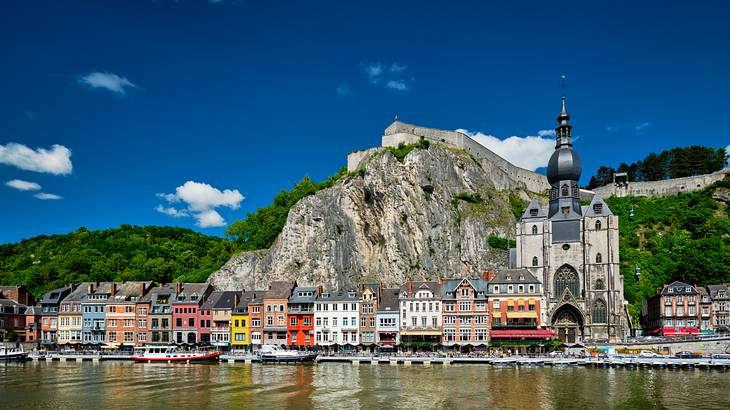 Meuse Valley
The Meuse is a famous European river starting in France and flowing through Belgium and the Netherlands. This channel was an essential part of Europe's communication line in previous centuries and is one of the most historical places in Belgium.
The Meuse Valley saw numerous battles, including the Battle of the Bulge at the end of World War II. However, Belgium's section of the valley is much more tranquil today. Located in the rural part of the country, the river valley is surrounded by natural greenery and historic castles that date back hundreds of years.
Famous Buildings in Belgium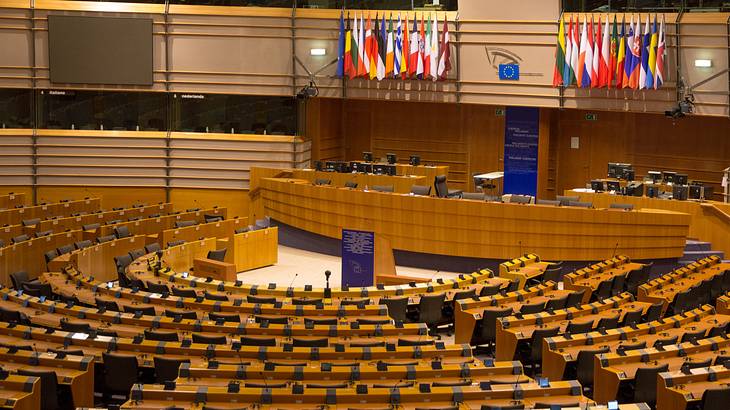 European Parliament
Since the 1960s, Brussels has been one of the most important cities in Europe, so it's not surprising that it was named the official capital of the European Union in 1992. As such, you can visit the seat of Europe's Parliament while you're in the city.
The visitor section is open to visitors daily, even while parliament is in session. Furthermore, all the signs, guide information, and educational material are available in 24 languages to represent the languages of all 27 countries in the EU.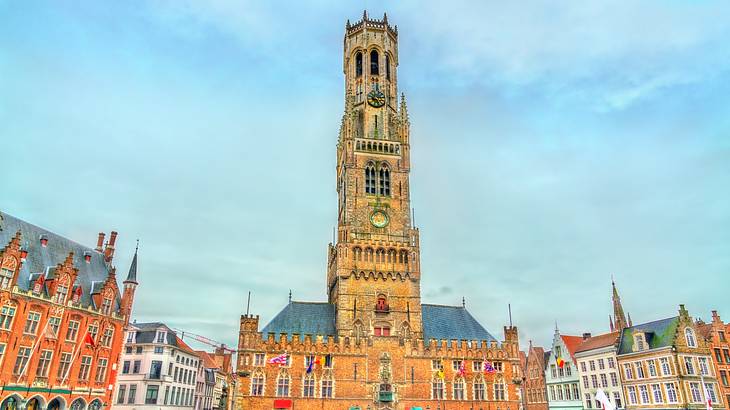 Belfry of Bruges
No trip to Bruges would be complete without visiting the city's most famous landmark. Standing at 272 feet, the Belfry of Bruges towers over the rest of the city. Since it holds significant cultural importance as a medieval symbol, it was named a UNESCO World Heritage Site in 1999.
Throughout its history, the Belfry of Bruges has been used as an observation point to spot dangers approaching the city and as the location of the city's archives. Today, however, visitors can climb the tower's 366 steps to enjoy a sweeping view of Bruges.
Museum of Industry Ghent
Historically, Ghent was an important center for the textile market that made the Flanders region of Belgium famous; it's widely regarded as one of the major cities to start the industrial revolution, and these roots are preserved by the Museum of Industry Ghent.
Housed in an old cotton factory, the museum displays multiple examples of early textile processing machinery. For example, you can see a genuine "Spinning Jenny," which could spin cotton faster than by hand.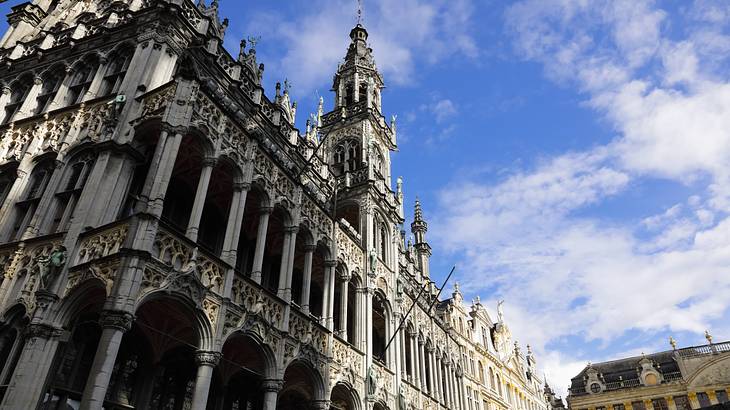 Brussels City Museum
One of the most historic landmarks in Belgium aims to preserve the culture and folklore of the country's capital, Brussels. Since 1887, the Brussels City Museum has housed tapestries, paintings, and even a to-scale model of the city during the medieval age.
The museum is conveniently situated in Brussels' main square, directly across from another of the city's famous landmarks, the Brussels Town Hall. To match the medieval artifacts on display, the building was constructed in the Gothic Revival style, emulating architecture from the 12th to the 16th centuries.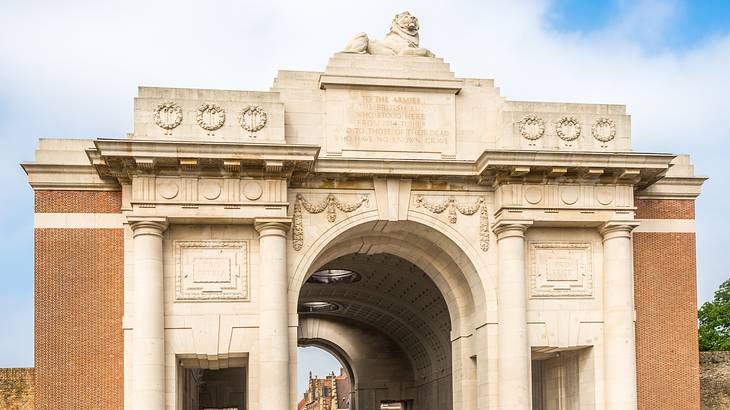 Menin Gate
In 1927 in Ypres, Belgium, the Menin Gate was unveiled as a memorial to the unknown soldiers who lost their lives during World War I. The monument is accessible by car and on foot and is one of the entry points into the city.
If you're interested in World War I history or wish to attend a memorial service for the fallen soldiers, plan your visit for 8 PM. At that time, traffic through the gate is stopped, and the bugle tribute of the Last Post Ceremony is conducted. However, the entrance is undergoing renovations and won't be fully open to the public until 2027.
Famous Monuments in Belgium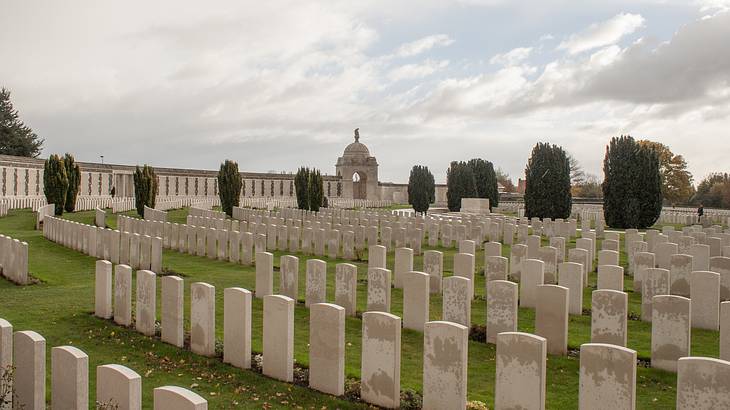 Tyne Cot Cemetery
Tyne Cot Cemetery is one of the most historical sites in Belgium, and though it may be somber, it's still well worth visiting. The cemetery is home to the graves of the World War I soldiers who lost their lives at the Ypres Salient battles. It also memorializes the missing soldiers who never returned home during or after the war.
Initially, there were 343 graves at Tyne Cot. However, that number rose to nearly 12,000 after soldiers from other battlefields were laid to rest on its grounds, many of whom remain unnamed. Today, it's the largest Commonwealth forces cemetery in the world.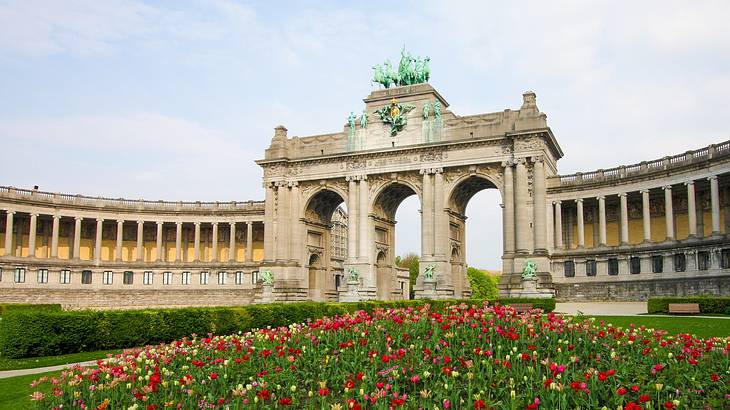 Parc du Cinquantenaire
Parc du Cinquantenaire, also called Jubelpark, is one of the most famous landmarks in Brussels. Spanning 74 acres, this public park used to be a military training ground before being converted into a public park in 1880.
The park isn't just a large stretch of greenery and walking paths, it's also home to multiple structures, such as the Temple of Human Passions. This Greek-inspired pavilion saw its artist, Victor Horta, begin delving into the art nouveau style he would become famous for.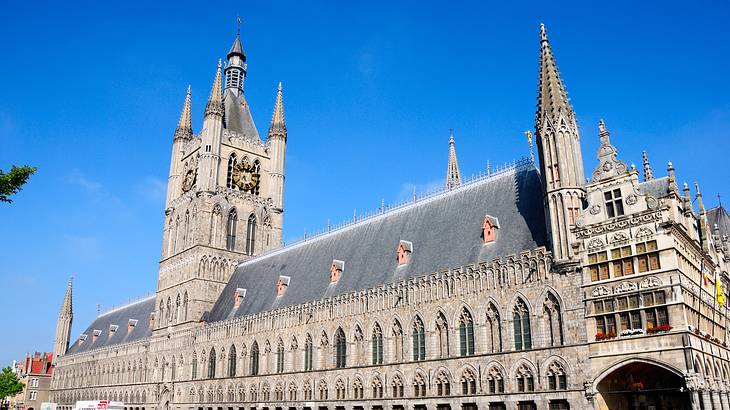 In Flanders Fields Museum
Ypres, Belgium, was the site of multiple battles during World War I. To keep the memory alive of the soldiers who fought for their country, the In Flanders Fields Museum was opened in 1998. The museum is located in the city's Cloth Hall, a building heavily damaged during the war but reconstructed in its aftermath.
Not only does the museum display artifacts from the war, but it has also undertaken an ongoing research project. This research aims to find and attribute names to the unidentified citizens who lost their lives on the Western Front during the war.
Comic Book Route
One of Belgium's newest points of interest is the Brussels Comic Book Route. Throughout the heart of the city, murals in comic book style can be found painted on the sides of various buildings. These whimsical murals depict scenes from the country's most beloved comics, like Gaston, which stars a trouble-making office worker.
Forty-four murals in Brussels' center were painted between the 1990s and 2013. However, there are also three in Auderghem and eight in Laeken, suburban towns within the Brussels-Capital Region.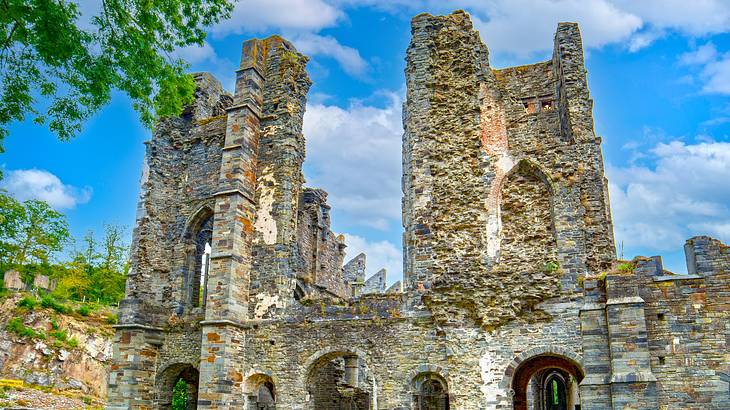 Abbaye de Villers
Starting in 1146 and ending over 600 years later in the late-1700s, Abbaye de Villers was an operating abbey for the monks of Villers-la-Ville. Unfortunately, after the abbey was nationalized and abandoned, much of the ancient structure fell into ruin until 1893.
Once Belgium's government recognized the historical significance of the abbey, they ordered its rebuilding to its former glory. Now, it's open to the public, with visitors free to take a self-guided walking tour of the grounds. It also hosts the city's choir festival concerts each summer.
Belgium Natural Landmarks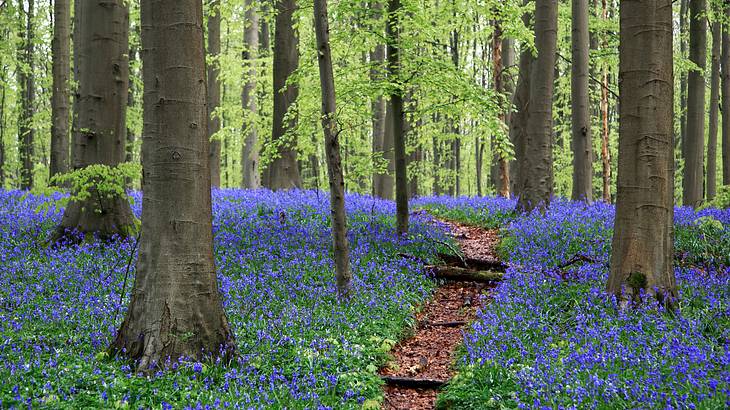 Hallerbos
Hallerbos is a nearly 1,400-acre forest in Halle, part of Belgium's Dutch region. While this forest is worth visiting all year, locals recommend planning a spring visit to view the area's wildflowers. A breathtaking carpet of bluebells covers the forest floor for a few weeks each year.
The forest also has some historical roots. During the first World War, occupying German forces chopped down most of the trees in the woods, and it took 20 years of reforestation efforts to get the area back to its lush, green state.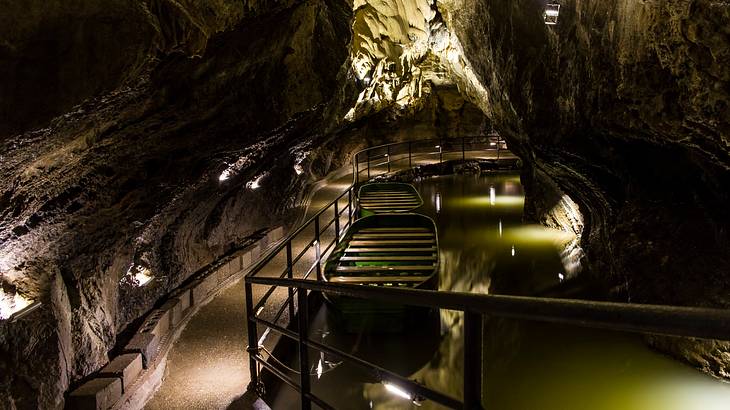 Caves of Remouchamps
The Caves of Remouchamps might not be one of the most famous places in Belgium, but this cave system is unique. Located in Aywaille, these prehistoric caves are underground and often fly under the radar of visitors, despite tours being available.
Half a mile into the caves, you'll board a small boat to travel down one of the world's longest uninterrupted underground rivers. While on your journey, you'll see the millennia-old rock formations and even a few bats enjoying the cool underground temperatures.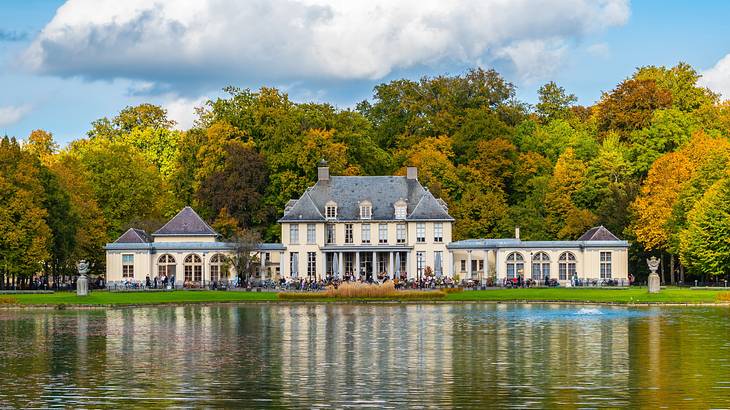 Provincial Domain Rivierenhof
If you're looking for beautiful verdant surroundings in Antwerp, there's no better place to go than the Provincial Domain Rivierenhof. This 50-square-mile park has multiple trails, ponds, and large stretches of greenery.
It's also frequently used as an outdoor venue for concerts during the warmer months. While the park is usually free to visit, sometimes special ticketed events are held here, which can add a special touch to a trip.
For example, the "De Grote Schijn" light show is held in October and November and consists of a walk through the park with music and lights to create a magical ambiance.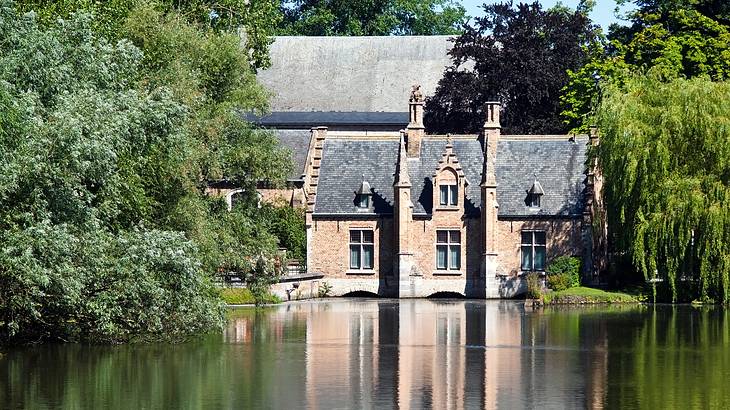 Minnewater
In the South of Bruges, you'll find a small rectangular lake named Minnewater. While this body of water might seem unassuming, it's garnered the reputation as the "Lake of Love." Local legend says water nymphs, or minnen, used to live in the lake, and anyone who visited would fall in love.
Unfortunately, running into any mythical creatures on your visit is unlikely. However, the lake has a small bridge, multiple benches, and even a castle, giving the area a fairy-tale quality.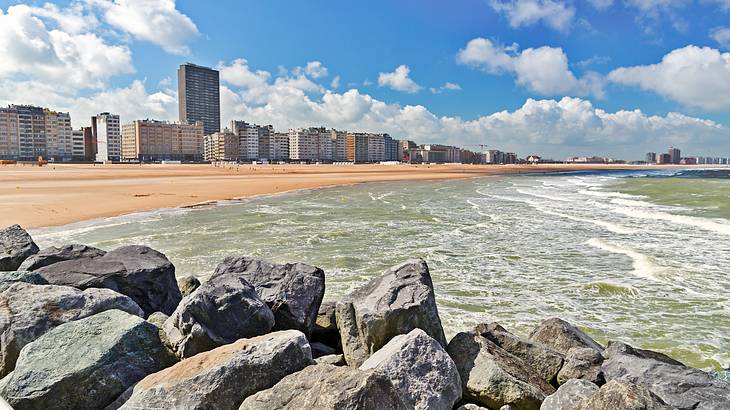 Strand Oostende
Strand Oostende, also called Plage d'Ostende, is one of the most popular landmarks in Belgium among locals, especially during the summer. This city beach is known around the country for its lively promenade, making it a favorite getaway spot in the warmer months.
Visitors often overlook Belgium's beautiful coastline as they focus on Belgium's cities or inland landscapes. Strand Oostende shows how diverse the geography of this small country is.
Historic Landmarks in Belgium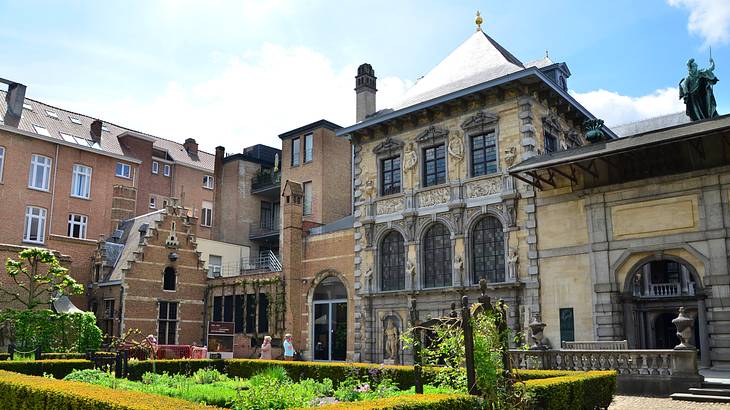 The Rubens House
Though he was born in Germany, the artist Peter Paul Rubens eventually fell in love with Antwerp and moved to Belgium in 1589. He bought the home that became part of his legacy in 1610.
Until his death in 1640, the Rubens House was his residence in Belgium. In the 1930s, the city acquired the property and turned it into a museum in honor of the artist.
Much of his work is displayed throughout the home for people to admire. Due to its age, the museum is closed for renovations, but it's set to reopen in 2027 with added exhibits.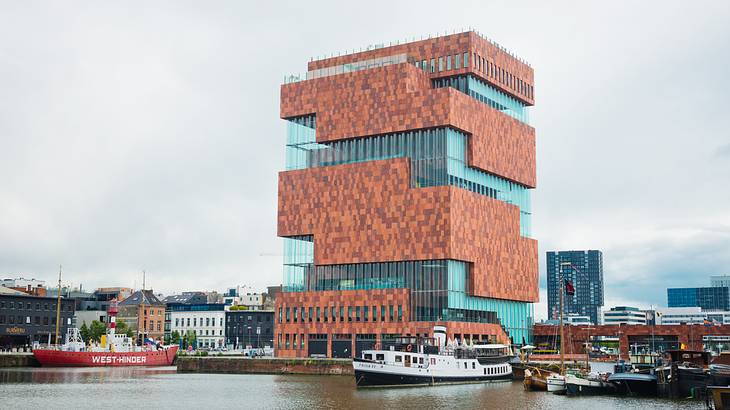 Museum aan de Stroom
Though the Museum aan de Stroom opened in 2011, its vast collection of artifacts makes it one of Antwerp's most important sites. The museum has ten floors for visitors to explore, all of which house objects and documents that preserve the city's history and connection to the rest of the world.
The museum focuses on Antwerp's history as an important European port. However, it also has curated collections from other parts of the continent as well as Africa, America, Asia, and Oceania.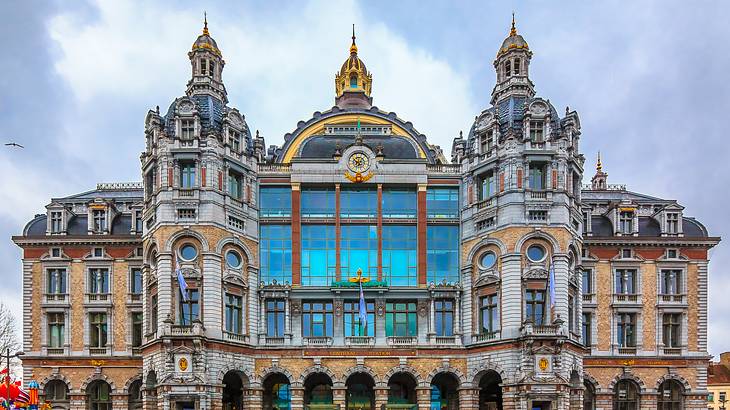 Antwerpen-Centraal
Antwerpen-Centraal is an operational railway station and a famous landmark in Belgium. As the central station in Antwerp, it's the one you'll most likely visit if you're taking a train into or out of the city. However, you should visit it even if you're not planning to ride the rails.
With its combination of art-nouveau and Baroque-medieval eclecticism styles, it's an intricately designed, ornate building inside and out, and it's even been named by Newsweek as one of the best train stations in the world.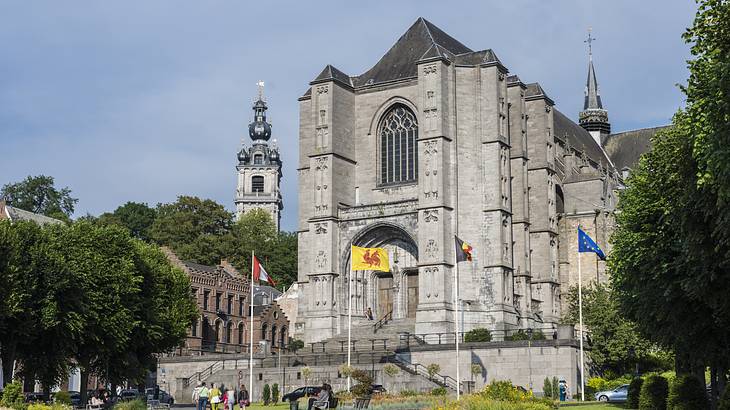 Saint Waltrude Collegiate Church
At a glance, Saint Waltrude Collegiate Church in Mons seems like any other Gothic-style cathedral; however, its stained glass windows make it a unique landmark drawing visitors from around the world.
The church's detailed windows form the largest and one of the oldest stained glass collections in Belgium. It's also home to paintings from notable artists like Peter Paul Rubens and Frans Floris, and its combination of architecture and art has earned it a place on the heritage register of Wallonia.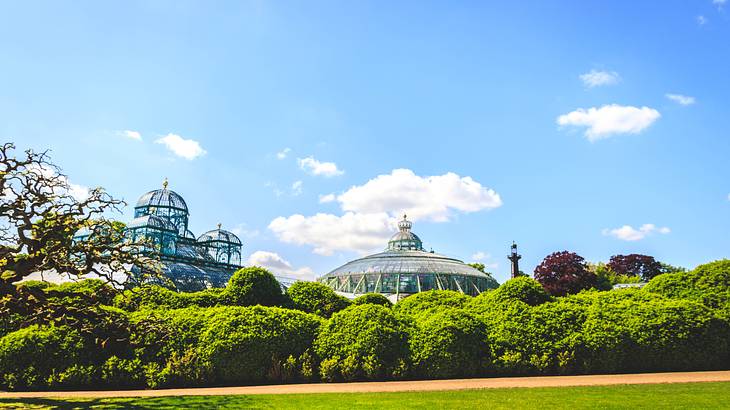 Royal Greenhouses of Laeken
Designed in 1873, the Royal Greenhouses of Laeken exemplify classic 19th-century architecture. The complex comprises 30 temperature-controlled pavilions and houses numerous local and exotic plants.
The greenhouses belong to the Belgian Royal Family and are still considered private property. However, the houses are open to the public for three weeks each spring. Make sure you book a time to visit since crowds are controlled to protect the plants and the grounds.
In Summary
From natural landmarks like the Caves of Remouchamps to world-class art and culture exhibits like the Rubens House, there's clearly no shortage of things to see and do in Belgium.
Hopefully, this list has helped you determine what sites to add to your travel bucket list. All you need to do now is plan your dream trip to Belgium!
---
---
Want to keep exploring?
Subscribe for discounts on tickets and hotels and our latest guides.
Thank you for subscribing
We will be in touch soon with discounts on tickets and hotels and our latest guides.
Want to keep exploring?
Subscribe for discounts on tickets and hotels and our latest guides.
Thank you for subscribing
We will be in touch soon with discounts on tickets and hotels and our latest guides.
Related Articles