The Best One Day in Ghent Itinerary
Destguides may receive commissions from purchases made through affiliate links in this article.
Often overshadowed by its neighbour Bruges, Ghent is a stunning medieval city with marvellous castles and charming canals. This vibrant university town can be found in the East Flanders province.
Ghent has kept its historic character and look, making it a not-to-be-missed place for any traveller. It is one of the most beautiful places to visit in Belgium!
If you are staying in Brussels or Belgium for longer, you should definitely consider making a day trip to Ghent! Located just over 50 km from the capital city, Brussels, Ghent is easy to include on a Belgium bucket list.
Unlike Bruges, Ghent isn't overrun with tourists, despite its unique architecture and medieval history. The highlights of Ghent are its cobblestone streets, numerous chocolate shops, and quirky bars - all of which makes the town so special. Ghent is the perfect choice for travellers who don't like touristy destinations!
Regarding time, one day is enough in Ghent, even though there are plenty of things to see and do here. This one day in Ghent itinerary covers the top things to do in Ghent in 1 day, from cathedrals and castles to waffles and cafes and more!
Continue reading for Ghent travel tips to make sure you have a day to remember!
Ghent One Day Itinerary
A Day in Ghent, Belgium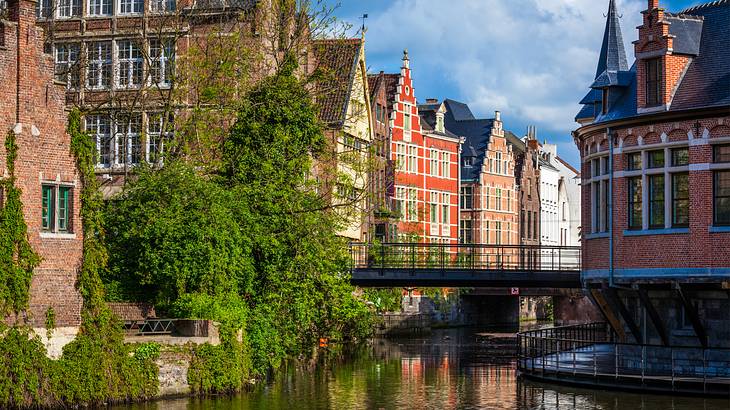 Said to be one of Europe's best-kept secrets, Ghent must not be missed, especially if in Bruges already! The best option is to take a train here, with several trains running every hour.
The city is easily walkable, and most of the attractions are located close to each other, so it is easy to get around, even if it's your first time here.
All the attractions listed below can easily be visited in just a single day, but if you feel overwhelmed after looking at the stop recommendations, feel free to skip some.
You should wear comfortable shoes for walking as it's best to explore the city on foot. However, consider public transport if it's rainy or you want to give your feet a break. There are buses and trams that can take you anywhere. Plus, they run till late into the night!
Start the day with breakfast at 'Simon Says'
Wake up early for a lovely breakfast at one of the best brunch restaurants in Ghent. It is the perfect way to start the day because they have the most amazing and friendly staff. Plus, the food is delicious - it is very well presented and freshly cooked!
You can order a big breakfast or just a tiny toast. There is also some pastry (such as croissants), muesli, boiled eggs, and mini yoghurt. You can sit outside and watch the world go by while eating the Silver breakfast package. Their coffee is fantastic, too!
This place is a bit off the tourist track, but the friendly staff can give you recommendations on where to go and what to do in Ghent. You will feel welcomed here and will surely start your day with a smile!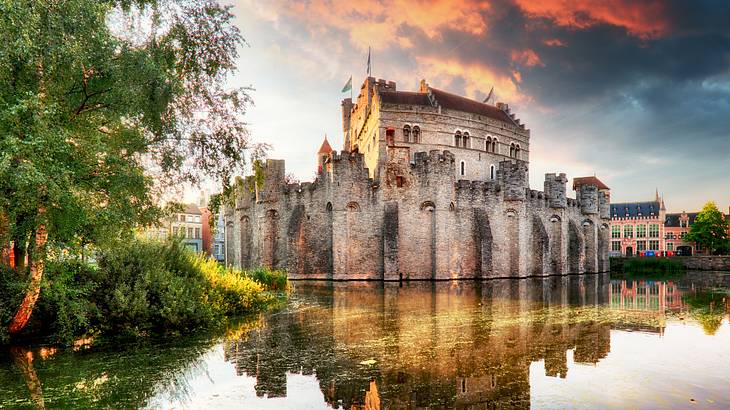 Visit Gravensteen Castle
Gravensteen Castle, or the Castle of the Counts, is a well-preserved, medieval castle dating back to the 9th century. Walk around medieval history and travel back to medieval times with a visit to this fairytale castle.
Gravensteen Castle was a symbol of the Count's power and wealth and was used by the Counts of Flanders as a courthouse and a prison. Later, it was abandoned in the 14th century, and other houses were built nearby.
Because it is the only remaining castle with a moat and entire defence system, Gravensteen is a must-visit on your trip. Therefore, you should highly consider an audio guide while touring the castle.
The guide takes you back to the time when the Count lived in Gravensteen Castle. The story is accompanied by humour, so you will not get bored with historical facts. The views of the city from here are also amazing!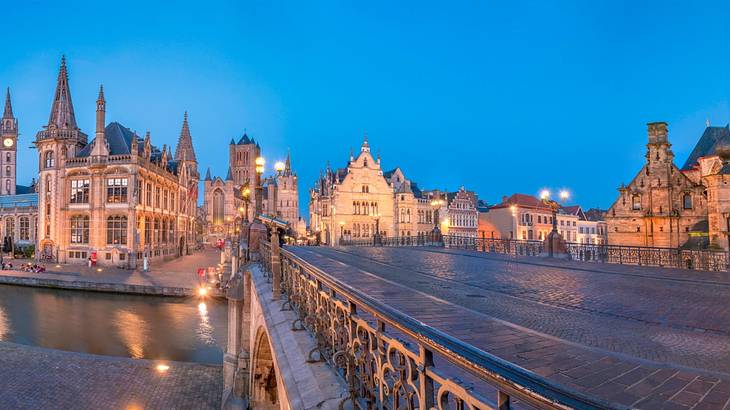 Take a photo at St. Michael's Bridge
Being one of the most popular points for taking photos, St. Michael's Bridge (Sint-Michielsbrug) is another must-visit place in the city centre. The bridge offers 360 degrees of amazing architecture - everywhere you look, you get an overview of Ghent's historic city centre!
From this point, you can see the three most popular towers: St. Nicholas Church, The Belfry and St. Bavo's Cathedral. It's the only place where you can take a photo of the three towers. The bridge is usually crowded with tourists posing for a perfect snap, so it might take a while till you get your selfie.
In the meantime, take a few minutes to admire the beautiful scenery with boats of tourists passing right beneath the bridge through the canals. It's the perfect spot to soak up the sun while watching the people sitting on the canal banks.
Compared to what you can see from the bridge, the looming Gothic architecture, the bridge is relatively 'new'. It's just the right place to appreciate the city.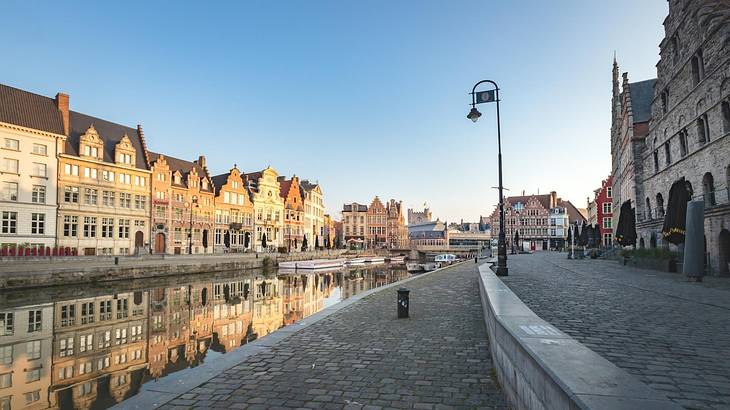 Walk along Graslei and Korenlei
With St. Michael's Bridge now behind you, continue your walking tour of the city by heading to Graslei and Korenlei. These parallel pedestrian streets are also a must-visit during your 24 hours in Ghent, Belgium. They run alongside the Leie River and are surrounded by medieval buildings with beautiful facades. Reflecting on the river, these buildings are hidden symbols.
Get your camera ready for the most picturesque area in Ghent. If you take a moment to relax, you can admire the swans as they swim around in the canals. You can also enjoy a cappuccino or a snack - there are various cafes at the waterfront.
The street is often crowded with tourists, especially on warm days. But if you have a chance to visit it in winter, you'll experience the streets when they are much quieter.
If you are not interested in coffee, you can sit at the waterfront or catch a boat for a canal tour. It's a great place to spend some time relaxing with a sandwich before you move on to your next stop.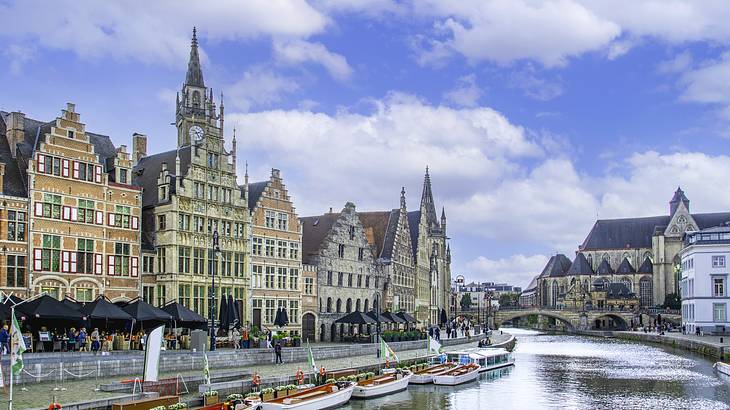 Go on a canal boat tour
Why not add a 50-minute boat tour through the canals on your Ghent day trip itinerary?
Explore the city's scenic waterways and rest your feet for a while. It's a great way to see the adorable buildings of Ghent and learn more about medieval history. You will pass by medieval churches and towers, as well as the well-known Gravensteen Castle.
One pick up point is Grasbrug Bridge, which is near Graslei Street. The boat tour offers impressive views of the city. If the weather permits, you should get an uncovered boat because you'll get a much clearer view of the scenery. But if it's winter, then a covered boat might be a better idea.
There are various companies offering canal boat tours, so you can buy a ticket in advance or right on the spot. The tour is very informative, and the guides speak multiple languages.
Have a burger at Manhattn's Burgers Graslei
When in Ghent, you'll probably want to indulge in delicious food. You're in luck because you are spoiled for choice here!
Eating at Manhattan's Burgers Graslei is a highlight on many people's day trip to Ghent. Even though Belgium has many great local food options, it's hard to resist Manhattan's Burgers Graslei.
The food is fantastic - the beef burgers with pickled onions and fries are freshly cooked. In fact, there is nothing not to like about this place! If you get the chance to find a seat by the window, you can enjoy the lovely canal views and tourists passing by as you chow down your food.
The staff are friendly, and the location is convenient for a quick bite. It is definitely up there to potentially be one of the best burgers you've ever eaten!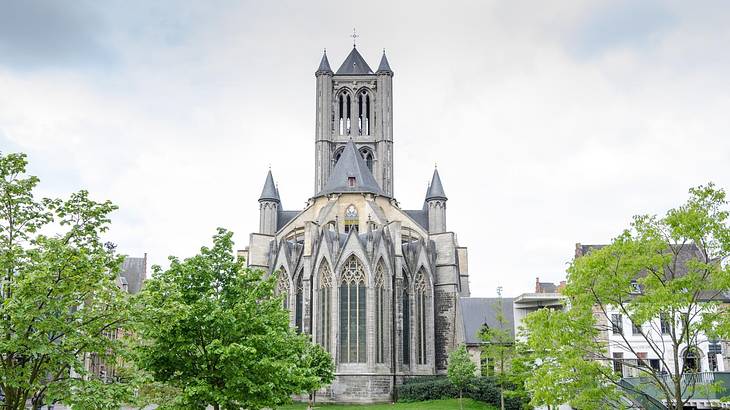 Admire the stunning St. Nicholas Church
Now that your stomach is full, continue your journey by heading over to Saint Nicholas Church. Take some time to go inside to admire its unique architecture. It's one of the oldest churches in Ghent, yet beautifully kept.
There is a big pipe organ built by Aristide Cavaillé-Coll. If you're lucky enough, you might even be able to attend the organ recital!
The sculptures and paintings are lovely and are complemented by a massive ornately carved wooden pulpit. The church looks very interesting from the outside as well, especially at night when it's illuminated.
You can take numerous photos here - the Gothic atmosphere will surely make for a great shot. Saint Nicholas Church might be one of the most majestic buildings you'll ever see! If you enjoy art and architecture, this is one of the top things to do in Ghent, Belgium.
Next up is the Belfry Tower, where you can get a much better view of the church.
Climb the Ghent Belfry and Cloth Hall
One of the top things to see in Ghent in one day is the Ghent Belfry (Belfort) tower. Standing 91 meters high, it's the tallest building in Belgium. Built in the 14th century, it was used as a watchtower, city archive, and bell tower at the same time.
Although you need to pay a fee, it is recommended to climb to the top and once again admire the spectacular city views. Go around the top to see different parts of the city.
You can get to the top either by taking the elevator or the stairs. If you don't like narrow steps, then take the elevator up. Inside, you can also find interesting exhibits representing the original bells and clockwork.
The Belfort Tower is a Unesco World Heritage site, showcasing the city's success and independence. It is in the middle of the three medieval towers.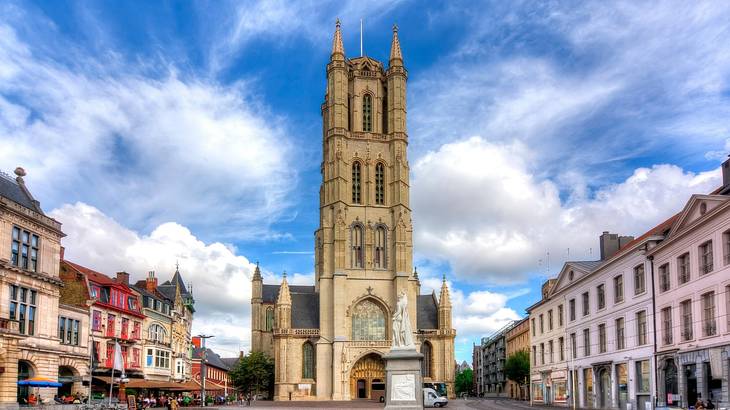 Visit St. Bavo's Cathedral
Take the time to admire one of the oldest parish churches in the city of Ghent. It's named after Saint Bavo of Ghent, the patron of the city.
This Gothic architectural gem dates back to the 16th century and is as beautiful inside as it is on the outside. The interior is magnificent, with religious sculptures, paintings and glass windows.
Impressed by its architecture, spend some time admiring the Baroque high altar, the black and red marble, and the Gothic chandelier. Most notably, though, is the famous Ghent Altarpiece - The Adoration of the Mystic Lamb.
Known as Jan Eyck's most notorious masterpiece, it represents the early Northern Renaissance. The viewing space is limited, so you might need to wait for a bit.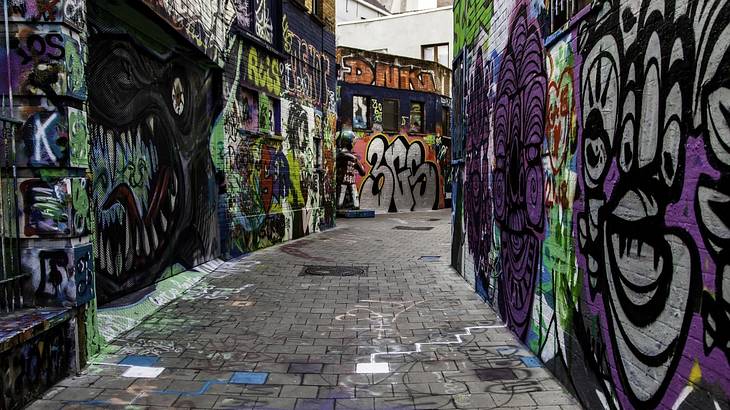 Explore Werregarenstraat - Graffiti Street
To see street art during your 1 day in Ghent, Werregarenstraat is the destination to head to for some fun artwork. This two-block area of the city is dedicated solely to an eclectic collection of graffiti.
Werregarenstraat is constantly changing, so when you visit it or revisit it later, you might see something new each time. Periodically, the walls are repainted back to a black canvas so that artists can create something unique and different.
Werregarenstraat is an excellent place to visit if you want a change from the castles, churches, and tourists in the city centre. It also makes for a perfect Instagram photo.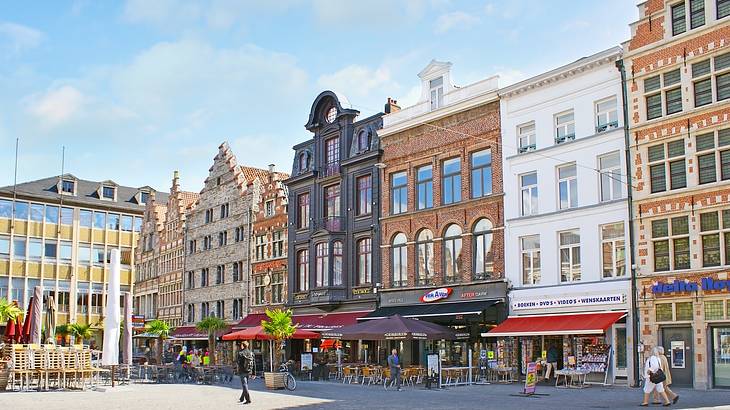 Experience Korenmarkt and Vrijdagmarkt
Korenmarkt has been the centre of activities in Ghent for many years. The square is surrounded by popular European landmarks, such as St. Nicholas Church and the Leie River. Also, there are numerous bars, restaurants, and shops full of tourists around.
Korenmarkt hosts several events during the year, such as the Festival of Ghent and the Christmas Market. It's a great way to explore the local culture, especially if you happen to be here during the winter. There are many things to keep you entertained even if you arrive during the warmer months.
On the other hand, Vrijdagmarkt is one of the oldest squares in Ghent. There is a tradition (dating back to the 12th century) of holding a market here every Friday. That's why it got its name the 'Friday Market'. Locals and visitors tend to visit the market every Friday morning.
Discover the Patershol neighbourhood
The Patershol neighbourhood is right next to Vrijdagmarkt, across the little bridge. It's a picturesque area boasting medieval charm, narrow cobblestone streets, local shops, and corner cafes.
The neighbourhood is lovely to wander around. Stroll around its quiet streets, stop for a coffee somewhere to enjoy the cosy atmosphere or take a break for dinner at one of its many restaurants. From Belgian and Italian to Indian or Turkish, you can find it all here!
It's the perfect alley to get lost for a while, marvelling at beautiful views around every corner. Once you step in, you can start feeling the ancient Ghent city with a medieval vibe that is much different from the rest of the city.
Have dinner at "Roots"
Patershol neighbourhood is a real pleasure for food lovers, so it must be at the top of your list if you're a big foodie! Eateries can be found everywhere on these cobblestone streets; you won't be leaving with an empty stomach!
Enjoy a leisurely meal at 'Roots,' right in the centre of Patershol. It's the best hidden gem in Ghent! The food is well presented, and the staff are friendly and welcoming. Even though the food choice is limited, you will not find better food in Patershol!
Don't miss out on trying their desserts - they are simply fantastic! Accompanied by a cup of coffee, it makes for a delightful experience! It comes recommended because it's located outside the busy centre, so you can rest in a relaxed atmosphere.
Visit The House of Alijn
In the Patershol neighbourhood, you will also come across the House of Alijn. This is a museum that represents the 18th to 21st-century culture.
It is about the daily life and culture of Belgium manifested through various objects. These objects are toys, electronic devices, books, photos, videos, and audio. Here, you will learn how people once lived and get more insight into the local culture.
The museum is located in an old Alm's house, on the banks of the river, in a cosy courtyard. You can get a Belgian beer in its cafe and relax in the intimate garden.
The ticket doesn't cost much, so if you are out exploring Patershol, it may be worth paying a visit.
Stop at the Design Museum Ghent
After visiting the House of Alijn, it's time for another museum. Feel free to leave this stop out or visit this museum instead of the House of Align - both have been included for your reference!
The Design Museum is the only museum where you can discover a variety of international modernist furniture and objects by designers. It's a great way to understand how design has an impact on our daily lives.
The museum has pieces from the Art Noveau of Henry van de Velde to contemporary avant-garde design. There are temporary exhibitions and permanent displays as well.
It's much more than a museum; designers and people who love design gather here to discuss their ideas. If you are a designer, you will find this museum very exciting and will probably want to spend some more time here.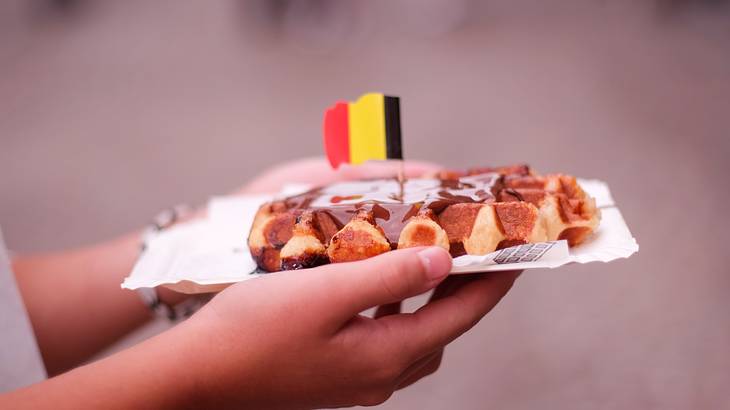 Indulge in a street waffle and chocolate
A day in Ghent wouldn't be complete without a street waffle, so you'll want to save some room for it. It is highly recommended to buy one from the street carts scattered around the city.
Another popular option is to get one from Bakery Himschoot, one of Ghent's oldest bakeries. The waffles from Bakery Himschoot are much better as they are served warm and freshly cooked in front of you.
Belgian waffles are much lighter, thicker and crispier. Plus, you can choose plenty of toppings, such as whipped cream, soft fruit, hot cherries, ice cream, confectioner's sugar or chocolate spread. It's no wonder that Belgian waffles are famous around the world!
Like waffles, chocolate is also well-known in Belgium, mainly because it's exceptionally delicious! It contains a high amount of cocoa, making it more unique than other chocolate. You can find chocolate shops almost everywhere in the city.
Gentse Neuzen is a good option, which is right next to the bakery. These sweet candies are soft and filled with jelly and fruit inside. You can take a small box home with you, and you can be sure it won't last!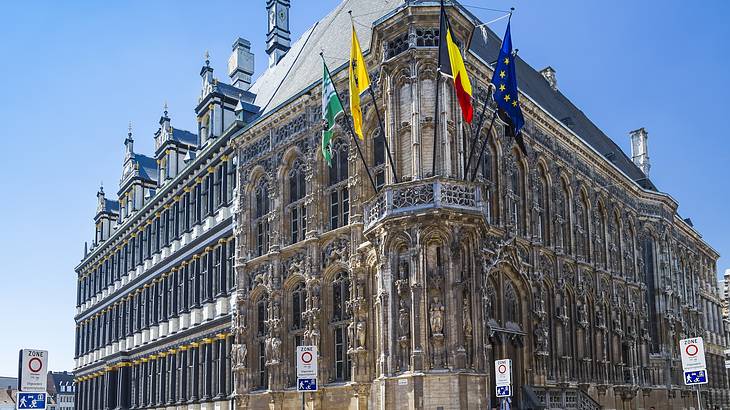 Stop by Ghent Town Hall
Walking down the streets with a waffle in your hands, be prepared to come across an outstanding building with impressive architecture! It's hard to miss Ghent Town Hall, or Stadhuis as it's also known. Its ornate Gothic style mixed with lines of Renaissance style will immediately catch your eye.
This town hall is probably the strangest but also the most beautiful in its own unique way. It's equally interesting inside and outside. You can marvel at the walls with stunning statues and detailed carvings on the outside. On the inside, its interior is adorned with wooden vaulted ceilings, stained glass windows, a wedding chapel, and a labyrinth.
If you have the chance to take photos of the inside and outside, it's worth adding it to your one day in Ghent itinerary. While you are visiting, you might run into couples getting married here, too!
In Summary
Limited on time and would rather have someone else handle your Ghent travel guide? Then this 1 day Ghent itinerary will provide you with wonderful ways to get to know the city better.
If you are planning to spend only one day in Ghent, Belgium, you should consider using the fastest way of transport to get here. Depending on where you are staying, there are a few different ways to get to Ghent.
From Brussels, you can either take the train or find a guided tour. Ghent is a great city to explore independently, though. There are frequent trains running, so you can hop on the first one available. If you happen to be in Bruges, the best way to get to Ghent is also by train.
Hopefully, you enjoyed the above list of the top things to do in Ghent in one day. Apart from the main attractions and famous landmarks, you'll be able to enjoy local foodie favourites, like waffles or Belgian beer.
Have a great time in this quaint and historic city!
---
---
Want to keep exploring?
Subscribe for discounts on tickets and hotels and our latest guides.
Thank you for subscribing
We will be in touch soon with discounts on tickets and hotels and our latest guides.
Want to keep exploring?
Subscribe for discounts on tickets and hotels and our latest guides.
Thank you for subscribing
We will be in touch soon with discounts on tickets and hotels and our latest guides.
Related Articles