Brazilian Landmarks - 30 Famous Landmarks in Brazil
Destguides may receive commissions from purchases made through affiliate links in this article.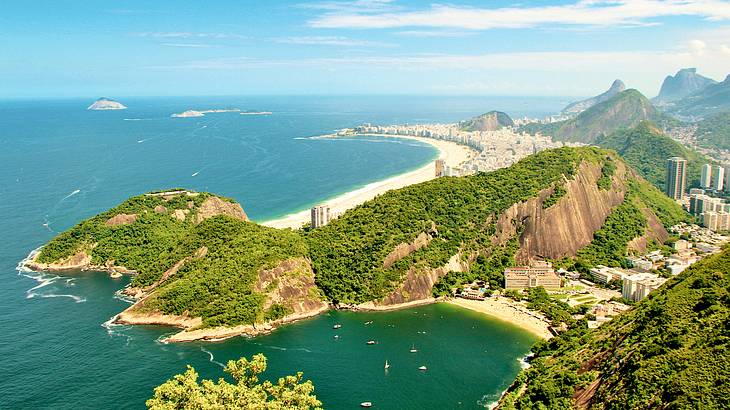 Brazil is an amazing country full of culture, nature, delicious food, and some of the friendliest people you'll ever meet. Being such a large and diverse country, there are various famous landmarks in Brazil to check out.
This list of Brazilian landmarks covers all types of sites. From Brazil's world-famous landmarks, like the Christ the Redeemer statue, to lesser-known sites and areas, such as Brazil's own Napa Valley, a beautiful pink theatre, and uncountable natural landmarks, choosing what to see when in Brazil is quite the task!
This extensive list of Brazil's most famous landmarks features attractions across the country. So, whichever Brazilian state or city you're in, you'll be able to find incredible attractions to visit, many of which you'll never forget!
Brazil Landmarks: Famous Landmarks of Brazil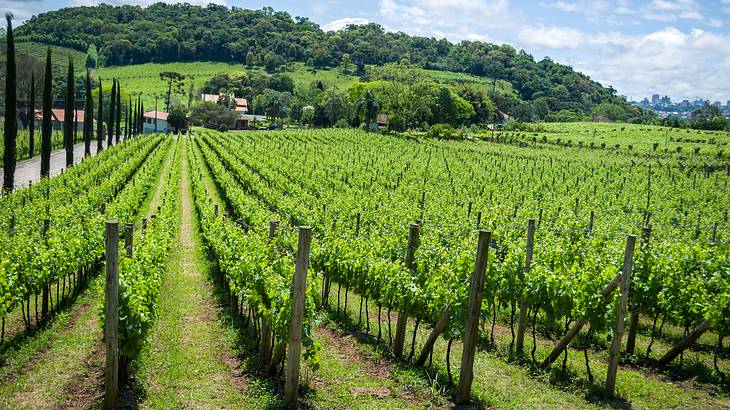 Vale dos Vinhedos, Bento Gonçalves, Rio Grande do Sul
This Brazilian landmark area is known for its wine production, an activity not traditionally associated with Brazil. Found in Bento Gonçalves in the state of Rio Grande do Sul, Vale dos Vinhedos (the valley of the vineyards) features multiple vineyards producing a range of wines, with sparkling wines being a specialty.
The area features many Italian influences, including wine production. These influences date back to the late 1800s when Italian immigrants settled in the area.
Visitors to Vale dos Vinhedos can partake in many tours. These will take you to vineyards in the area, allowing you to learn more about them and, of course, do some wine tasting.
You'll also get to take in the beautiful landscape, which resembles the Italian countryside and eat at many incredible local restaurants.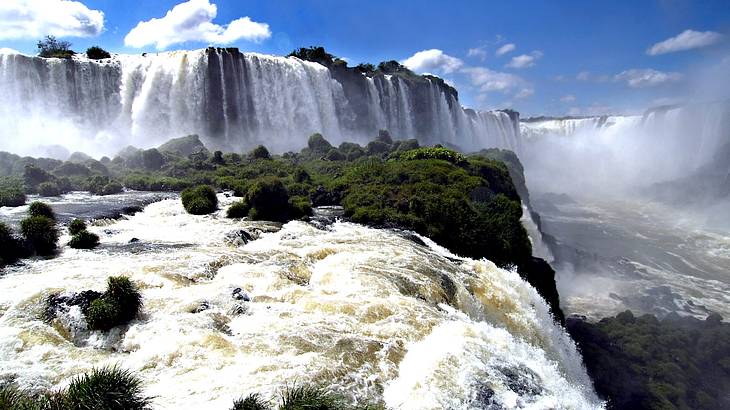 Iguazu Falls, Foz do Iguaçu, Paraná
Iguazu Falls are one of the major landmarks in Brazil. The falls are a series of 272 waterfalls and are found on the Iguazu River. The river and waterfalls are located in the Brazilian city of Foz do Iguaçu on the border between Brazil and Argentina.
The falls are some of the world's largest and most extensive, featuring more individual waterfalls than any other series of falls. They were officially named a UNESCO World Heritage Site in 1984 and were declared a site of Exceptional Universal Value in 2013.
Having taken in the beauty of the falls, visitors can take a look around the scenic Iguazu National Park as well.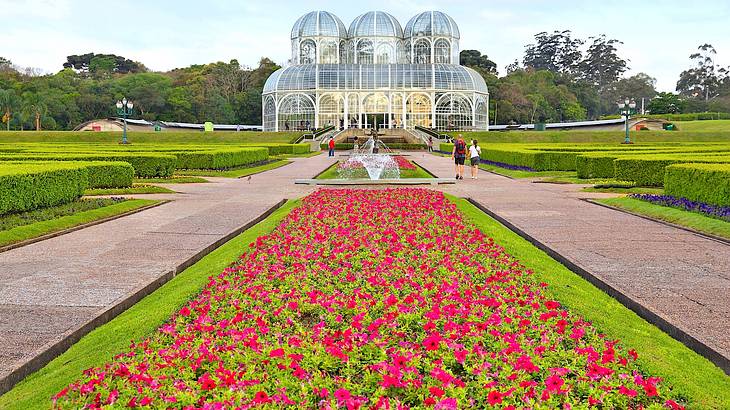 Botanical Garden of Curitiba, Curitiba, Paraná
The Botanical Garden of Curitiba (Jardim Botânico de Curitiba) is a stunningly manicured park and garden found in Curitiba in the state of Paraná. Entry is free, so everyone in Curitiba can enjoy the beautiful gardens.
The garden was opened in 1991 and covers an area of 178,000 square meters (18 hectares). Visitors will get to enjoy a range of styles of gardens filled with colorful flowers, plants, and trees. Lakes and water features are found throughout the gardens too.
A domed greenhouse is additionally a popular attraction to view in the gardens. If you stay in the evening (the gardens are open until 8 pm), you'll get to see this quaint greenhouse lit up with different colored lights too. There is also a small botanical museum and a bistro to enjoy a snack at.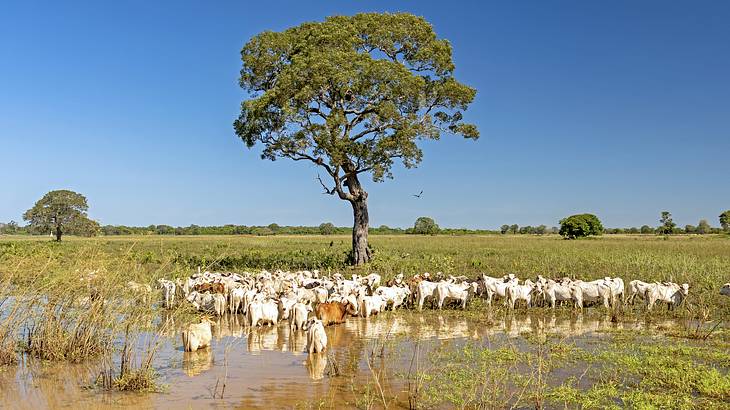 The Pantanal, Miranda, Mato Grosso do Sul
The Pantanal is one of the most incredible natural landmarks in Brazil. This vast area of wetlands is notably the largest tropical wetland in the world. It is located in the state of Mato Grosso Do Sul, with it stretching slightly into Mato Grosso state as well as Paraguay and Bolivia.
The wetlands cover a total area of 187,818 square kilometers. This natural Brazil landmark has even been a UNESCO World Heritage Site since 2000.
They are an iconic wildlife refuge, well-known for being home to various animals and plants. This includes over 1,000 bird species, 400 reptile species, and 400 fish species.
Creatures you may spot include caimans (10 million live here), hyacinth macaws, capybaras, maned wolves, and jaguars. If you love nature and seeing amazing animals in their natural habitat, then visiting the Pantanal is a must while in Brazil.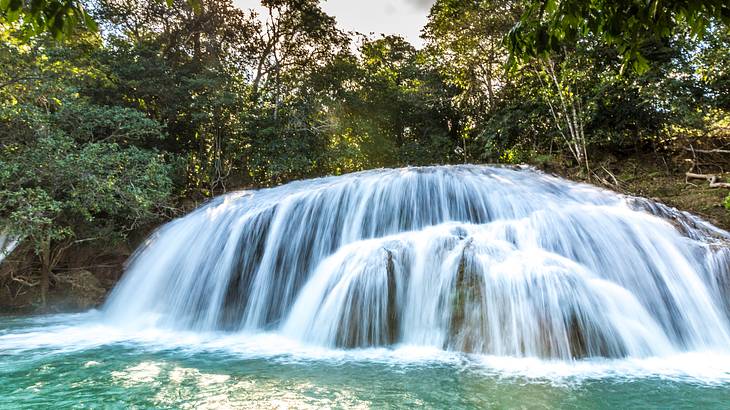 Bonito, Mato Grosso do Sul
Bonito is a city in Mato Grosso do Sul known for its many caves, stunning emerald lakes, and other beautiful natural landmarks. It has become a popular ecotourism destination, appealing to those looking to connect with nature sustainably.
Attractions to check out include Gruta do Lago Azul, Rio Sucuri, and Parque Ecologico Rio Formoso. Bonito has many great snorkeling locations too, with many species of fish and other marine life to spot.
It's recommended to explore Bonito with a tour guide who knows the area to avoid running into dangerous animals!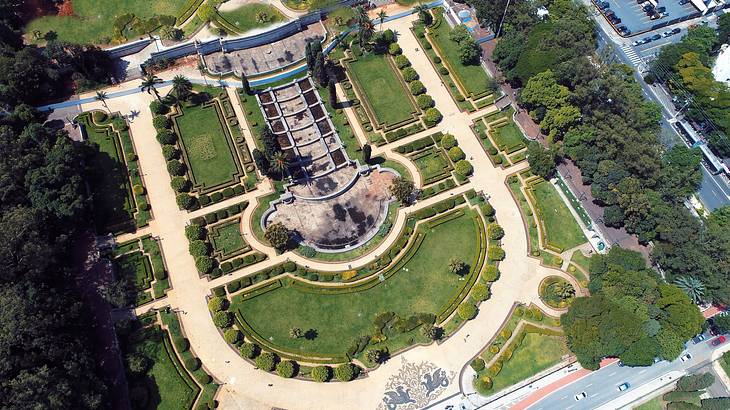 Independence Park, Ipiranga, Sao Paulo
Independence Park (Parque da Independência) is a large public park found in the area of Ipiranga in the city of São Paulo in São Paulo state.
Notably, the park features a monument dedicated to Brazil's independence (Monumento à Independência), hence the park's name. This regal monument is found in the park in Praça do Monumento.
The park itself is full of beautiful French-style gardens and many ponds and water fountains. On Sundays, there is a street fair in the park, at which locals sell unique handicrafts and delicious food. You will also find Museu Paulista within the park.
If visiting São Paulo, a stroll in Independence Park is a great way to relax and take a break from the bustle of the city.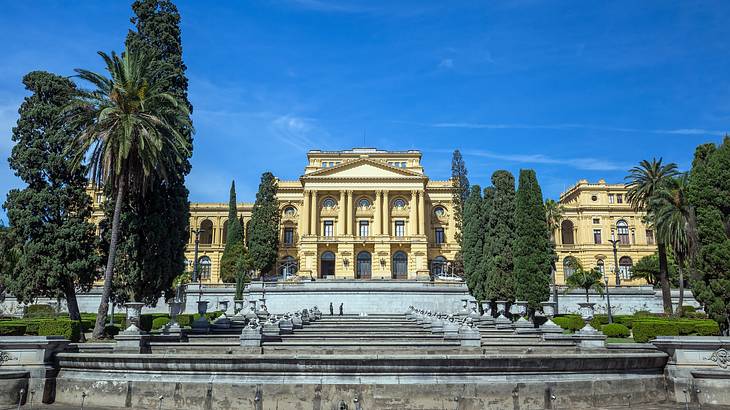 Paulista Museum, Ipiranga, São Paulo
Paulista Museum (Museu Paulista), also known as Ipiranga Museum (Museu do Ipiranga), is a history museum found in Parque da Independência.
The museum's location is of historical significance itself, being located close to where Emperor Dom Pedro I declared Brazilian independence.
The museum building and grounds were constructed in 1890 and were modeled after the Palace of Versailles. It showcases exhibits on São Paulo and Brazil's history.
Having explored the museum, you can wander around the beautifully manicured gardens and visit the Museu de Zoologia, which you receive entrance to with entry to Museu Paulista.
Note: The museum is currently closed for renovations and will re-open in 2022.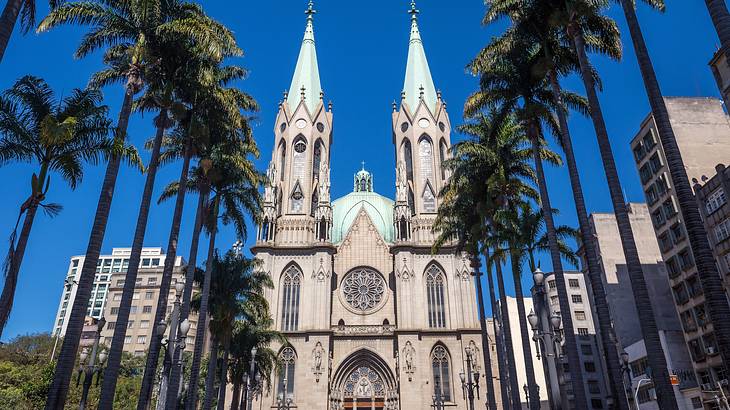 Metropolitan Cathedral of São Paulo, Sé, São Paulo
The Metropolitan Cathedral of São Paulo (Catedral da Sé de São Paulo) is a famous Brazilian building found in central São Paulo. This Gothic Revival building is the main cathedral of the Roman Catholic Archdiocese of São Paulo.
The church is a truly breathtaking piece of architecture. Along with its beautiful design, the cathedral is home to Latin America's largest pipe organ!
This church features stunning stained glass windows too, which show a range of biblical events. There is additionally a crypt in the church where some famous former residents of São Paulo are buried.
Whether religious or not, a visit to this beautiful cathedral is well worth it while in São Paulo.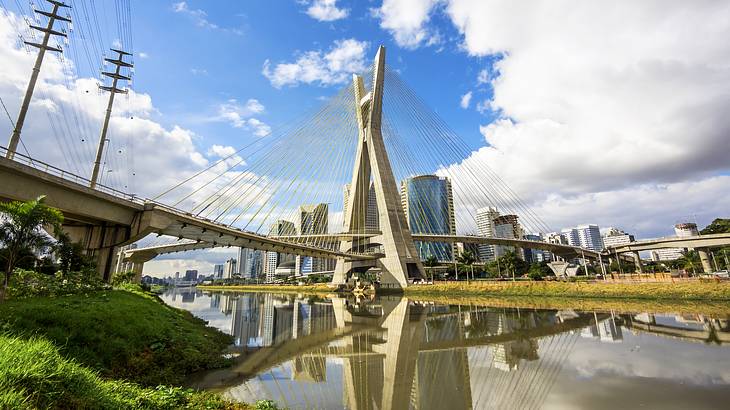 Octávio Frias de Oliveira Bridge, São Paulo, São Paulo
The Octávio Frias de Oliveira Bridge, or Ponte Estaiada, is a 453 feet long cable-style bridge which stretches across River Pinheiros. The bridge has become an iconic landmark in the city.
The view of the modernly designed bridge surrounded by water and tall skyscrapers on both sides is urbanely picturesque. It makes for a great photo-op!
While it's not a pedestrian bridge, you can view the bridge from the streets on the river banks. You'll also get amazing views of the bridge and surrounding city if staying in a nearby high-rise hotel or apartment.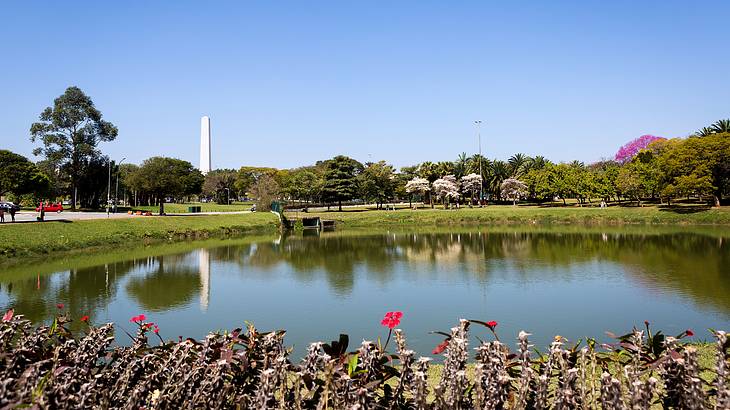 Ibirapuera Park, Vila Mariana, São Paulo
As one of the largest urban parks in Brazil, Ibirapuera Park (Parque Ibirapuera) is a tranquil oasis in the middle of busy São Paulo.
Designed in 1954 to celebrate São Paulo's 400th birthday, the park features an array of flora and fauna, plus museums and more. Famous Brazilian architect Oscar Niemeyer even designed some park elements, such as the Ibirapuera Auditorium.
Filled with trees, plants, and wildlife, it's the perfect place to relax with friends and connect with nature. Many visitors also run, bike, and skateboard here, with activities such as yoga and capoeira being practiced too.
You'll find a few museums here as well, including the Museum of Contemporary Art and the Afro-Brazil Museum. The park is also where São Paulo Fashion Week is held, with collections being shown in January and July.
São Paulo Museum of Art Assis Chateaubriand, Bela Vista, São Paulo
The São Paulo Art Museum (Museu de Arte de São Paulo), or MASP, has exhibits showcasing artworks from European, Brazilian, and other globally recognized artists. Located on Avenida Paulista, the museum has the most extensive collection of western art in Latin America.
Like many of Brazil's well-known museums, the museum itself is a work of art! The modernist box design with floor-to-ceiling windows and red columns sits on a platform so that it appears to be floating from afar.
Having appreciated the museum's design, head inside to see works by Francisco Goya, Henri Matisse, Pierre-Auguste Renoir, and many more. Notable Brazilian artists featured include José Ferraz and Vincente do Rego Monteiro.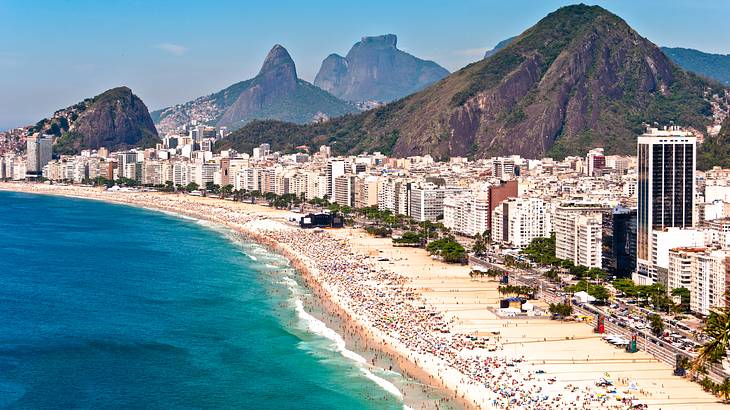 Copacabana Beach, Copacabana, Rio de Janeiro
Copacabana Beach is one of the most famous places of Brazil. Found in Rio de Janeiro, this beach is one of the places most synonymous with Brazil.
The iconic beach is a favorite among both locals and tourists. It's the perfect place to sunbathe and relax. You can even pick up a caipirinha to enjoy as you chill on the beach!
You can take in stunning views of Sugarloaf Mountain and the surrounding ocean and beaches from the beach. It's also a great place to people-watch, and you'll find many people playing soccer and volleyball throughout the day.
If you enjoyed Copacabana beach, be sure to also walk down the equally iconic black and white promenades to Ipanema beach.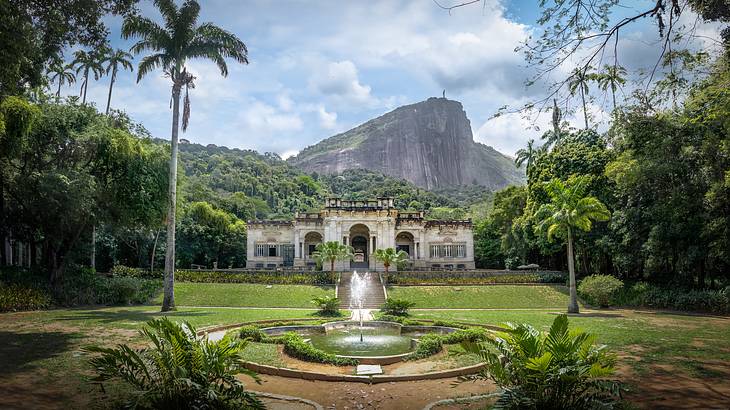 Parque Lage, Jardim Botânico, Rio de Janeiro
Parque Lage is found in Rio's Jardim Botânico area, named after the botanical garden found here. This park features a grand building with arched walkways. The image of this building and its central pond is an iconic Rio photo-op.
The park also has some forested areas and a large green lawn to relax on and take some more pictures. While exploring the site, you'll likely spot a range of Brazilian birds and marmosets. You'll also get an incredible view of Christ the Redeemer from here.
The park's full name is Escola de Artes Visuais do Parque Lage. That's because the famous Brazilian buildings found here are used to teach visual arts courses.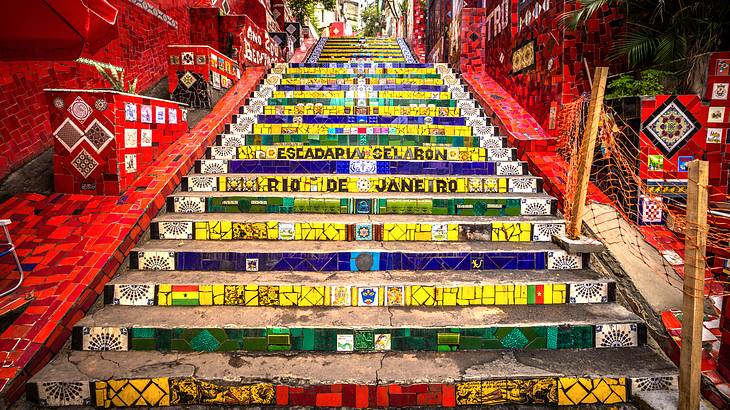 Escadaria Selarón, Santa Teresa, Rio de Janeiro
Named by many as the most beautiful staircase in the world, Escadaria Selarón is another iconic Brazilian landmark found in Rio. The 213 steps feature colorful tiles in blue, green, and yellow to represent the Brazilian flag.
Along with colored tiles, you'll find tiles with images relating to soccer teams, religion, other countries, and more. The surrounding walls are decorated, too, predominantly with bright red tiles.
The staircase was designed in 1990 by Jorge Selarón. It was finished in 2013 when Selaron was eerily found dead on the steps. Escadaria Selarón now acts as a homage to the Chilean and his love of Brazil. This iconic location is must visit when spending a fun three days in Rio.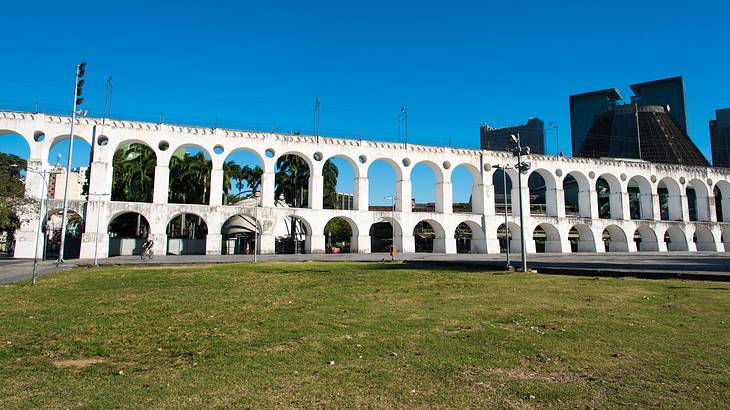 Lapa Arches, Lapa, Rio de Janeiro
The Lapa Arches (Arcos da Lapa), or Carioca Aqueduct, stand proudly in the Rio neighborhood of Lapa. The colonial-style arches were built in the 18th century as part of an aqueduct that brought fresh water to the city.
Today, the arches are a landmark feature and also act as a bridge for trams connecting Rio's downtown area to the Santa Teresa neighborhood.
The arches make for an interesting photo-op and are often lit up at night. On Friday and Saturday nights, you'll also find lots of food and drink stalls, live music, and a fun atmosphere around the arches as locals and tourists celebrate the weekend.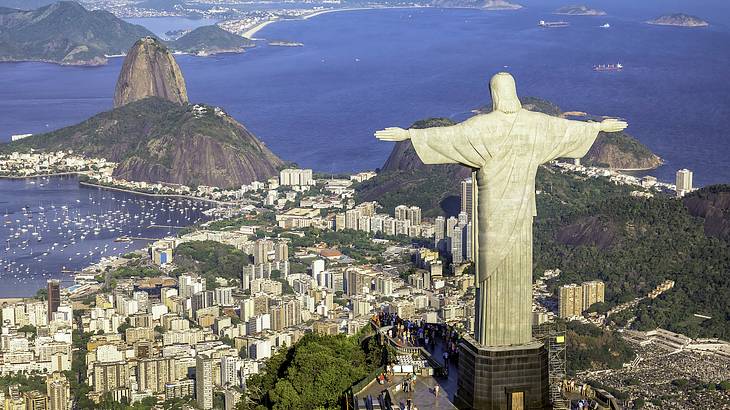 Christ the Redeemer, Tijuca, Rio de Janeiro
The Christ the Redeemer statue (Cristo Redentor) is probably the most famous Brazilian monument. The 38 meters tall statue of Jesus stands at the summit of Mount Corcovado overlooking the city of Rio de Janeiro. The statue can be seen from around the city, watching down on the residents of Rio.
The Art Deco-style statue was built between 1922 and 1931, with renovations taking place in the 1990s. In 2007, Christ the Redeemer was added as one of the New Seven Wonders of the World, making it a globally recognized landmark.
The statue is found in Tijuca National Park and is very easily accessible to tourists. Once at the summit, you can view the statue up close and get stunning views of Rio and surrounding landmarks, such as Sugarloaf Mountain.
Tijuca National Park itself is beautiful too and features some walking trails; if you have time, be sure to check it out!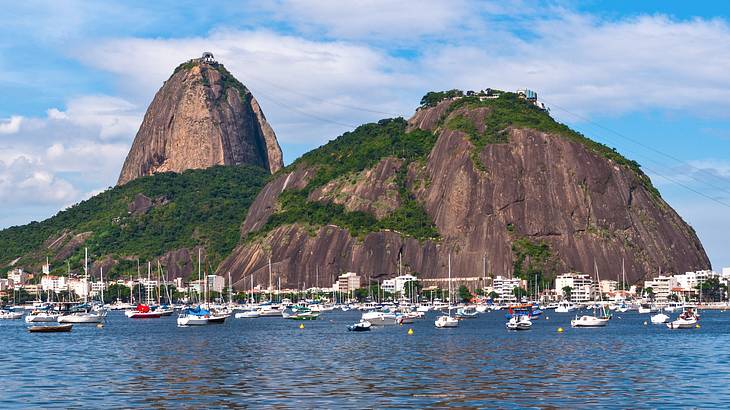 Sugarloaf Mountain, Urca, Rio de Janeiro
Sugarloaf Mountain (Pão de Açúcar), is a mountain peak that sits on Guanabara Bay in Rio de Janeiro. The mountain stands at 396 meters tall and is an iconic feature on Rio's landscape.
Visitors can get a cable car to the top of the mountain. Both during the ride and once on Sugarloaf, you'll get breathtaking views of Rio. Landmarks to spot include Christ the Redeemer and Rio's famous beaches. If you prefer, you can also hike up Sugarloaf Mountain.
If you enjoyed the views from Sugarloaf, check out the Morro Dois Irmãos hike too. At the top of this Rio mountain, you'll get equally stunning views, including of Sugarloaf and Cristo.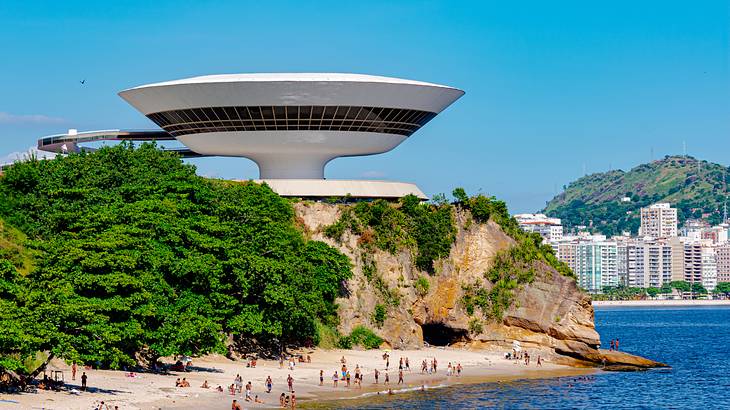 Niterói Contemporary Art Museum, Niterói, Rio de Janeiro
Niterói, found across Guanabara Bay from Rio, is much lesser known than Rio but is still a great city to visit. A popular attraction in the city is the Niterói Contemporary Art Museum (Museu de Arte Contemporânea de Niterói).
Oscar Niemeyer designed the spaceship-style building that houses the museum in 1996. The museum is notably home to one of the largest contemporary art collections in Brazil.
Visitors can view a range of paintings, sculptures, and installations from Brazilian and international contemporary artists. If you love contemporary art and want to check out a less well-known area of Rio, a visit to this museum is a must!
Carnaval, Rio de Janeiro, Rio de Janeiro
While not a physical landmark, Carnaval is undoubtedly a landmark event in Brazil! Carnaval is held each year in the week before Ash Wednesday and the start of lent (usually in February.)
Rio hosts the most globally recognized Carnaval, featuring awe-inspiring floats and performances from the famous Rio samba schools. However, there are many other amazing carnivals held across the country.
No matter which city you're visiting, there's sure to be an excellent performance to watch and a great party to join in!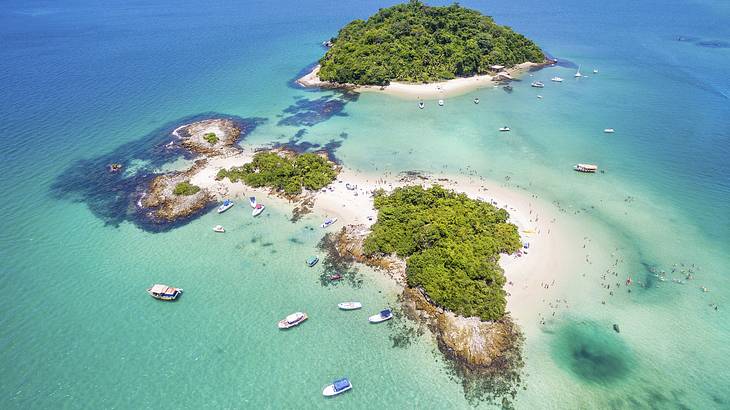 Ilha Grande, Angra dos Reis, Rio de Janeiro
While many visit only the city of Rio de Janeiro, a trip to a nearby island will make your trip even more memorable. Ilha Grande is a trendy weekend getaway location for locals and tourists alike.
Visitors will be able to enjoy the stunning emerald waters and sandy beaches. Popular activities include snorkeling and surfing at Lopes Mendes Beach.
Having enjoyed the beaches, you can explore quaint shops selling unique souvenirs and dine at restaurants serving delicious dishes in a relaxed atmosphere - don't forget to try the local Cachaça rum.
If looking to explore some more, Paraty is another popular island to visit, offering a slightly more party-focused vibe than Ilha Grande.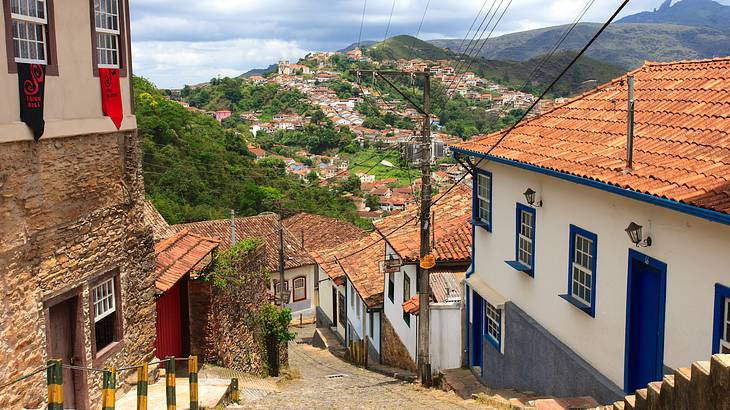 Ouro Preto, Minas Gerais
Ouro Preto is a colonial mining town found in the state of Minas Gerais. This charming Baroque town was the first Brazilian city to be named a UNESCO world heritage site.
The area was originally a mining town and became a well-known gold mining town in the 18th century. Today, the city is a popular tourist spot with visitors coming to enjoy the area's history and old-world architecture.
Attractions to visit in Ouro Preto include the regal Basílica Nossa Senhora do Pilar, Centro Histórico de Ouro Preto, and Museu da Inconfidência.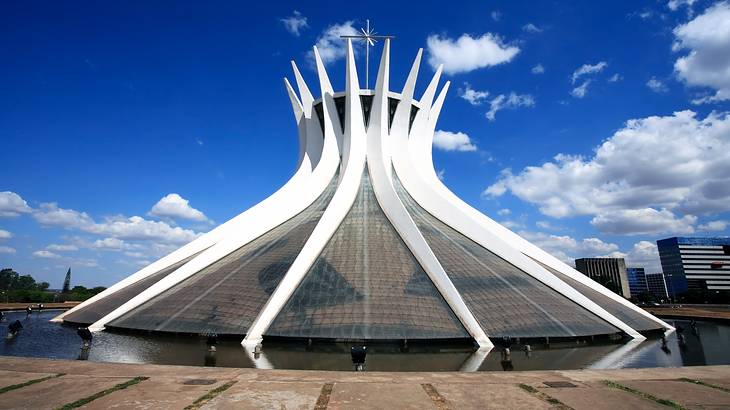 Metropolitan Cathedral of Brasília, Brasília, Distrito Federal
The Metropolitan Cathedral of Brasilia (Catedral Metropolitana de Brasília) is found in Brazil's capital city of Brasilia. The unique cathedral was designed by Oscar Niemeyer and is an iconic landmark in the city.
The design features 16 arched pillars, which are arranged into a thorn crown shape. In between each pillar is a beautiful stained glass window, designed by Marianne Peretti.
The church's interior is relatively modern, with the exterior design elements visible and three bronze angel statues floating above the pews. If in the nation's capital, then be sure to visit this famous Brazilian building.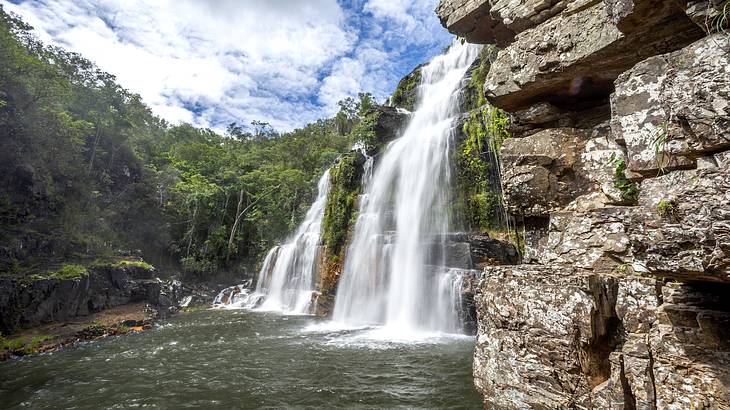 Chapada dos Veadeiros National Park, Alto Paraíso de Goiás, Goiás
Chapada dos Veadeiros National Park (Parque Nacional da Chapada dos Veadeiros) is one of the many beautiful national parks in Brazil. This park is found in Alto Paraíso de Goiás, Goiás state.
The park is known for its stunning natural scenery and billion-year-old geological formations, including canyons and crystal rock formations. The park additionally features multiple tropical waterfalls and rock pools, adding to the feeling of being in a magical rainforest.
Of course, animal life is plentiful in Chapada dos Veadeiros. Creatures to spot include jaguars, pampas deer, anteater, toucans, and giant armadillo.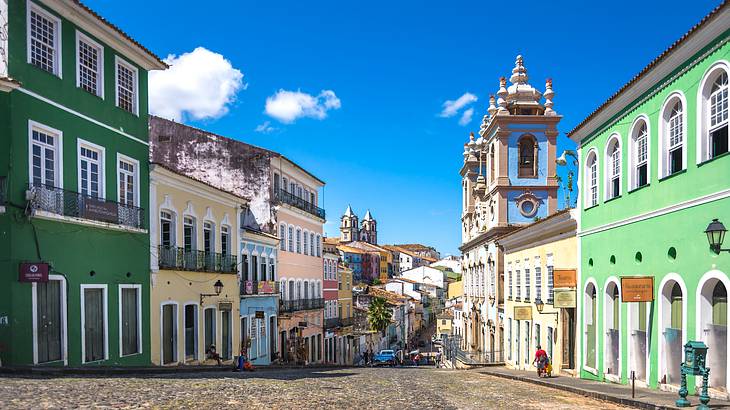 Pelourinho, Salvador, Bahia
Pelourinho in Salvador, Bahia, is one of the most historical landmarks in Brazil. It's also one of the most colorful places in Brazil and offers visitors a friendly and lively atmosphere.
This old town has not always had such a positive history. It's the location for one of the earliest known slave markets (which ran from 1558), with many of the buildings you see today built by slave labor.
Despite its past, the city today is a welcoming and friendly area and has become something of a cultural melting pot. Visitors can appreciate the brightly colored Baroque houses and visit various shops, bars, and restaurants.
There are always excellent artistic performances to enjoy as well. While it's an area of Brazil less known by tourists, a visit to Pelourinho is highly recommended!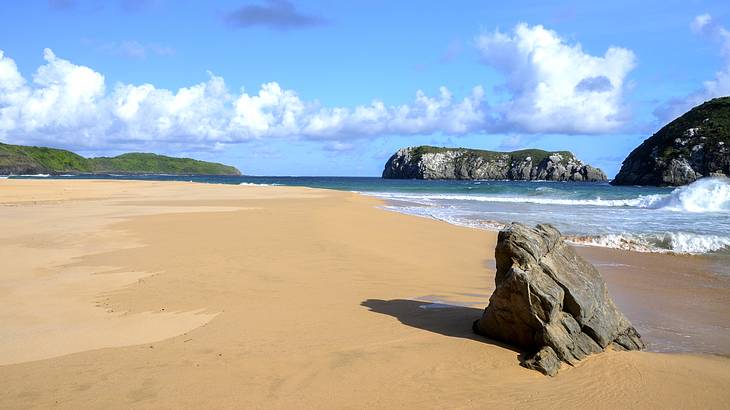 Fernando de Noronha, Pernambuco
This natural landmark in Brazil is a volcanic archipelago that includes 21 islands and islets. The archipelago is named after the largest island, Fernando de Noronha, and is found off the coast of Pernambuco.
Fernando de Noronha is home to incredible beaches, lush forests, and a variety of species. The area is so ecologically important that it's classed as a protected marine park and ecological sanctuary.
Despite its protected status, respectful ecotourism visitors are welcome. This area is loved for its remote, quiet beaches. It's a dream location for snorkeling and scuba diving too.
Marine animal enthusiasts can also spot a range of marine life, including dolphins, sea turtles, and sharks. Fernando de Noronha truly is a Brazilian paradise!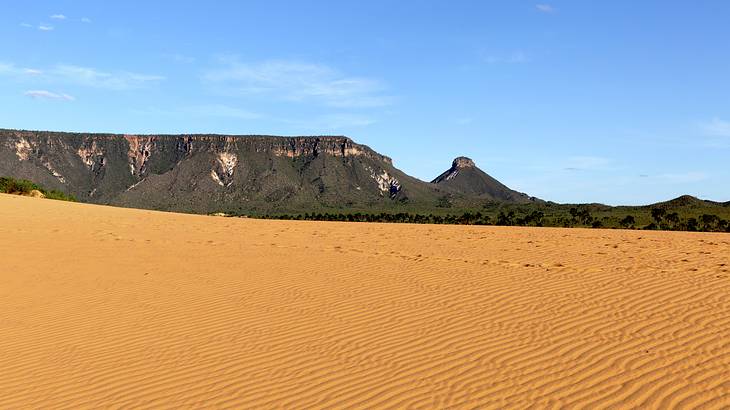 Dunes of Jalapão, Mateiros, Tocantins
The Dunes of Jalãpao (Duna do Jalapão) are found in Jalapão State Park in Mateiros, Tocantins state. These sandhills are an interesting feature in Brazil, with rainforest environments being more common than deserts.
Visitors can take in the views of the sandy landscape and enjoy the sunrise or sunset over the red-orange hills. Having visited the dunes, be sure to explore the rest of Jalapão State Park.
You'll discover waterfalls, natural hot springs, rock formations, and a vast range of flora and fauna. This is another place in Brazil that's home to animals like Jaguars, macaws, and maned wolves.
Lençóis Maranhenses National Park, Barreirinhas, Maranhão
Lençóis Maranhenses National Park (Parque Nacional dos Lençóis Maranhenses) is a protected national park found on the east coast in Barreirinhas, Maranhão state.
This is a famous landmark in Brazil known for its miles of white dunes and its many turquoise lagoons. Interestingly, it's the only desert in the world that features ponds alongside dunes.
The white sandy landscape dotted with crystal blue ponds as far as the eye can see is a truly remarkable view to see!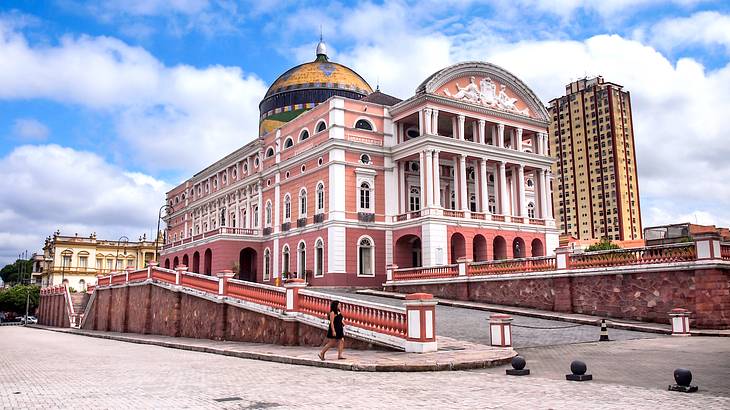 The Amazon Theatre, Manaus, Amazonas
The Amazon Theatre (Teatro Amazonas) is a beautiful opera house found in Manaus, in the state of Amazonas. The theatre is known for its soft pink exterior and the bright tiled mosaic dome that resembles the design of the Brazilian flag.
Completed in 1896, the theatre is considered the state's primary cultural and architectural symbol. Seating 701, visitors can enjoy a range of shows from opera to dance and other artistic performances.
There is also a popular opera festival held here throughout April and May. Teatro Amazonas is Manaus' most famous landmark, and a visit should be on every traveler's to-do list when in the city.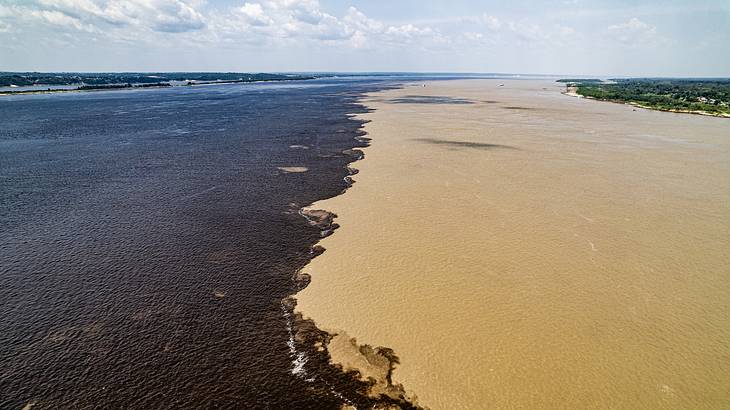 Meeting of the Waters, Manaus, Amazonas
A popular natural landmark in the city of Manaus is the Meeting of the Waters. At this location, the waters of the dark Rio Negro mix with the sandy-colored Rio Solimões.
This fascinating natural event of the two different colored rivers running alongside each other carries on for 6 km. The waters then convene in the Amazon River. The difference in each river's temperature allows the two to run beside each other instead of mixing.
Taking a boat tour is the easiest way to see this natural wonder. Along with viewing the Meeting of the Waters, visitors may spot dolphins and other wildlife.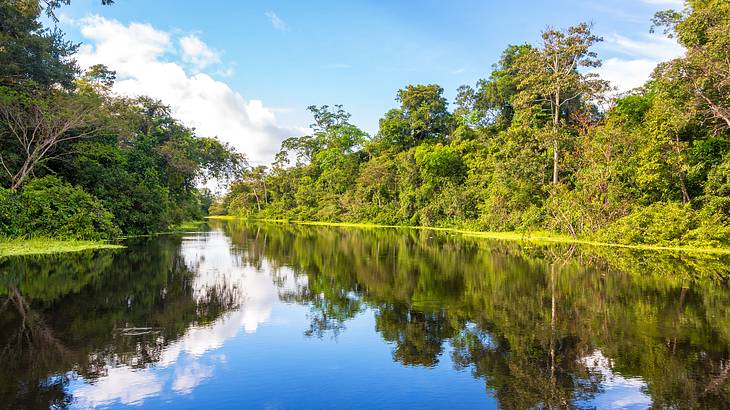 The Amazon Rainforest, Amazonas
The Amazon Rainforest is one of the most popular landmarks in Brazil. This vast rainforest is known globally for its size, incredible range of flora and fauna, and environmental importance.
The rainforest covers 40% of South America (with 60% of the forest located in Brazil) and is home to 10 million different species of plants, animals, and insects.
Despite being such a well-known Brazilian landmark, trips to the Amazon are not that popular, with most Brazilians having never seen the rainforest. However, if you love nature, then a visit to the Amazon is highly recommended!
The Amazon is most easily accessed from Manaus in Amazonas state. Many eco-friendly excursions are available that will allow you to explore the lush rainforest and spot some of its millions of animal inhabitants.
In Summary
Brazil is an incredible country that should be on every traveler's bucket list. This vast country is a melting pot of culture and is home to some of the world's best landmarks.
What's great is that there are so many types of landmarks in Brazil, every traveler will find something they love. From multiple national parks and beaches to museums and human-made structures, exploring Brazil will likely be one of the best travel experiences you have.
Give us feedback about this article
Read more articles about Brazil:
More articles about landmarks:
More visual stories related to this article:
---
---
Want to keep exploring?
Subscribe for discounts on tickets and hotels and our latest guides.
Thank you for subscribing
We will be in touch soon with discounts on tickets and hotels and our latest guides.
Want to keep exploring?
Subscribe for discounts on tickets and hotels and our latest guides.
Thank you for subscribing
We will be in touch soon with discounts on tickets and hotels and our latest guides.
Related articles