35 Best Things to Do in São Paulo, Brazil
Destguides may receive commissions from purchases made through affiliate links in this article.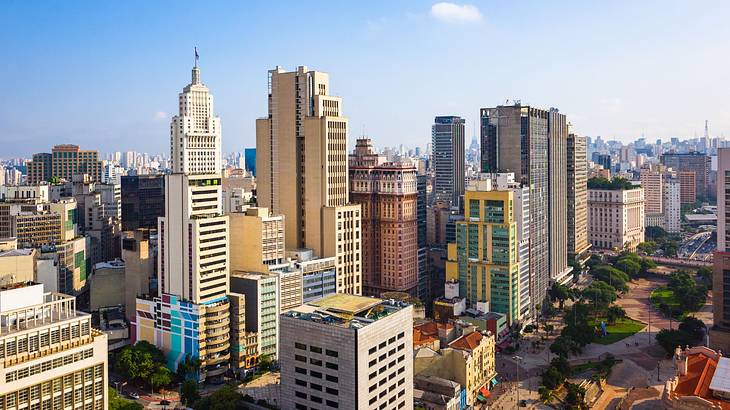 As one of the most popular destinations in Brazil and the largest city in the country, São Paulo has to be on your travel bucket list! This bustling metropolis has attractions for everyone. Activities to enjoy include strolling through Parque Ibirapuera, getting Japanese food in Liberdade, and enjoying views from Farol Santander.
You can also plan fun day trips from the city to see more of São Paulo state. If you're visiting São Paulo soon, keep reading for 35 of the best things to do in São Paulo, Brazil!
35 Top Things to Do in São Paulo, Brazil
Activities in São Paulo, Brazil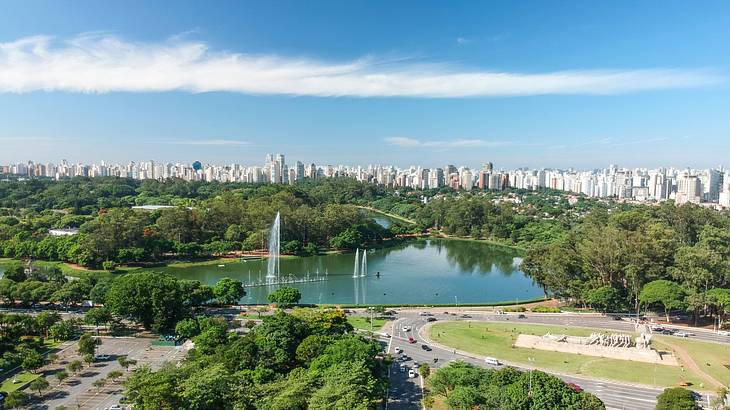 Wander through Parque Ibirapuera
Covering 390 acres, Ibirapuera Park is a natural oasis in the centre of São Paulo. Along with beautiful scenery, you can see a range of landmarks and monuments when strolling through the park.
These include Oca, by Brazilian architect Oscar Niemeyer, the tranquil Pavilhão Japonês, and the interesting Museu Afro Brasil. You can also walk around the Ibirapuera Park lagoon and see lots of wildlife, including numerous bird species.
Admire the art at Museu de Arte de São Paulo
The Museum of Art of São Paulo Assis Chateaubriand is a much-loved cultural attraction that's named one of the most important art galleries in Latin America. The art gallery opened in 1947.
Artworks come from both Brazilian and international artists, with many pieces by creators from other South American countries. Taking your time to explore the museum and its amazing collection is a must when in São Paulo.
Shop at Mercado Municipal de São Paulo
The Municipal Market of São Paulo is one of the most bustling places in the city. The market opened in 1933 and is known for its unique design elements, like beautiful stained glass windows.
As you shop, you'll get to view products from a range of vendors, including vibrant tropical fruit. While the fruit here looks picture-perfect, it's recommended to avoid purchasing any as the fruit vendors often rip consumers off, especially tourists.
Most people simply wander around the stalls here and opt to purchase a to-go dish before leaving, like Brazilian meat sandwiches. You can get a fresh fruit drink as well; just make sure to confirm the price before purchasing one.
If you also want to see some other landmarks and like staying active, you could join a São Paulo bike tour. Your guide will take you to numerous places of interest, including Mercado Municipal de São Paulo where they can show you the best market stalls.
Relax on a nature walk in Parque Estadual das Fontes do Ipiranga
If you're looking for more scenic spots for a peaceful walk, the Springs of the Ipiranga State Park is another of the outdoor spaces to visit. This park houses a biological reserve and features an array of plant and animal life.
As you stroll around, you'll see ponds and water features, lush greenery, and wildlife, including colourful tropical birds. The São Paulo Botanical Garden is also located in the park if you want to see more plants and flowers.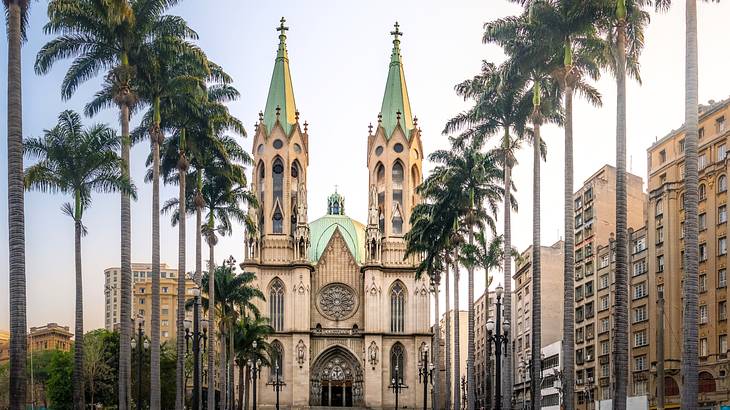 Marvel at Catedral da Sé de São Paulo
São Paulo Metropolitan Cathedral, also known as Catedral Metropolitana de São Paulo, is one of the most stunning buildings in the city. The history of the building goes back to the 1580s, but the current Neo-Gothic building was constructed beginning in the early 1900s. It opened in 1954 but wasn't fully completed until 1967.
Today, you can tour this Brazilian landmark, admiring its breathtaking stained glass windows and other fantastic interior and exterior design elements.
Discover the best street art
São Paulo has an array of fantastic street art. You can spot these murals as you explore the city; however, if you want to see the best designs, joining a São Paulo street art tour is recommended.
This unique five-hour tour will take you to Vila Madalena, Paulista Avenue, and many other neighbourhoods. You'll get the chance to learn more about the artists whose works you see and can also snap lots of photos.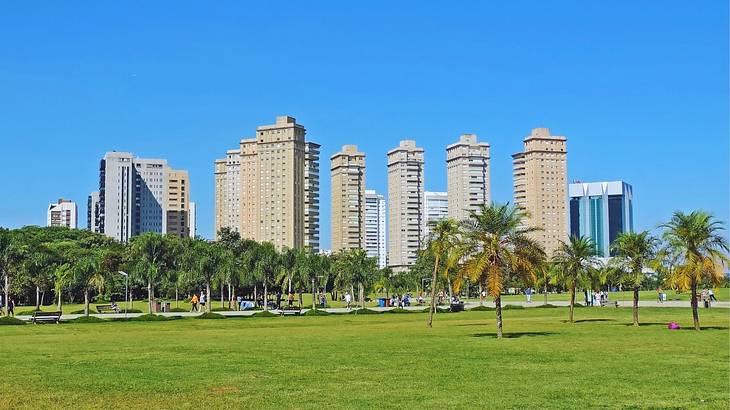 Enjoy the fresh air at Parque Villa-Lobos
Wandering through the scenic Villa-Lobos State Park is the ideal way to unwind after a busy day exploring. The park was created to revitalize an area previously a rubbish tip and today features about 37,000 trees, a tropical bird nursery, playgrounds for kids, and much more.
Treat yourself to a helicopter tour over São Paulo
One of the best ways to see the city is from above, and you can do just that by booking a luxurious São Paulo helicopter tour. On the flight, you'll get to spot various landmarks like Paulista Avenue and the Sambadrome.
Flights can be booked throughout the day, from early morning until late at night. Therefore, you can enjoy the views on a sunny day, at sunset, or once the night sets in.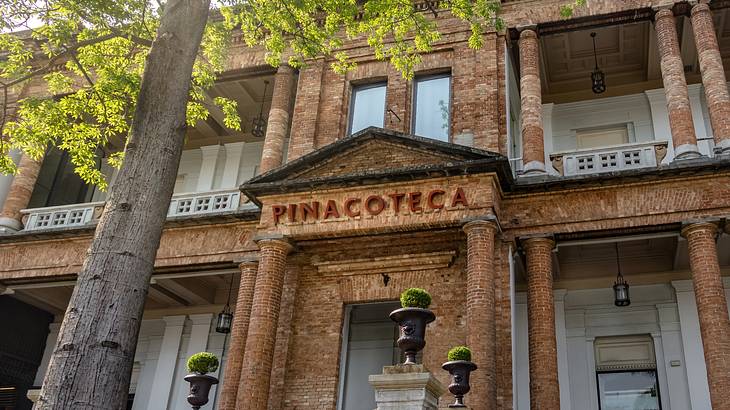 View Brazilian artworks at Pinacoteca de São Paulo
As one of the most important art museums in Brazil, Pinacoteca de São Paulo is one of the São Paulo attractions that you can't miss visiting. Founded in 1905, the museum is also the oldest in the city. During a visit, you can see a vast collection of Brazilian art in various mediums, with most works from the 19th or 20th century.
Stroll down Avenida Paulista
When wondering what to do in São Paulo, Brazil, walking along Paulista Avenue has to be on your to-do list. The famous street was constructed in the 1890s and covers about 2.8 kilometres.
As you wander along, you'll see unique shops, cafes, restaurants, and important business buildings. This is also where the São Paulo Museum of Art is located.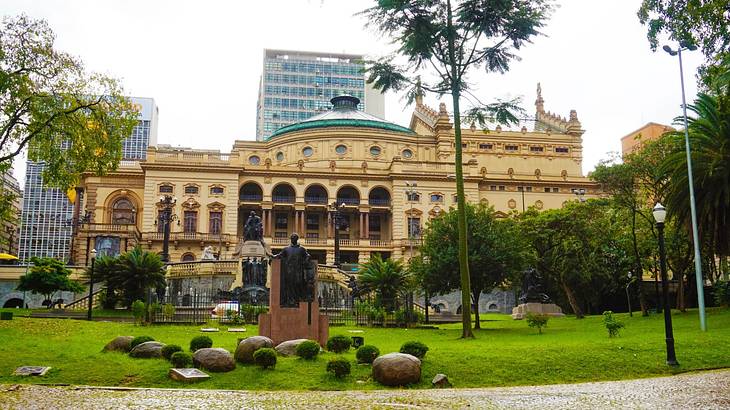 Watch a show at Theatro Municipal de São Paulo
The Municipal Theater of São Paulo is a must-visit venue that opened in 1911. It can seat about 1,520 spectators and hosts performances like operas, classical music concerts, and dance shows.
Along with seeing a show, you can also take tours of the beautiful theatre, which incorporates Renaissance, Baroque, and Art Nouveau architecture.
Snap photos at Beco do Batman
Batman's Alley is one of the best photo-op locations in São Paulo. Located in Vila Madalena around Rua Gonçalo Afonso and Rua Medeiros de Albuquerque, Beco do Batman features vibrant and unique street art murals. You can find a range of designs, including the area's namesake Batman mural.
You could visit Batman's Alley alone or check it out with a guide on a São Paulo guided tour. This excursion also takes you to several other attractions, including Parque Ibirapuera.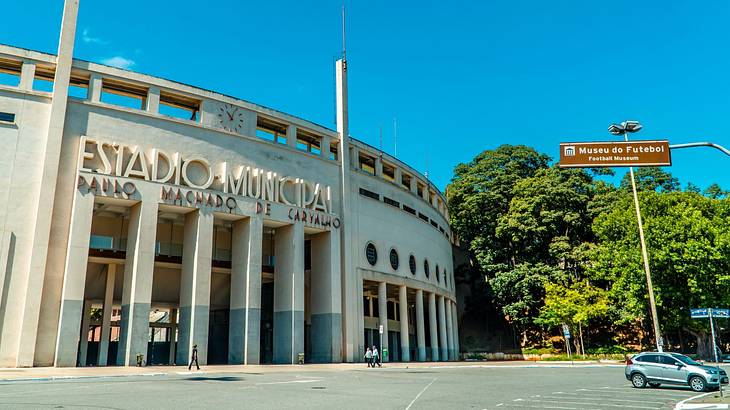 Learn new things at Museu do Futebol
São Paulo's Football Museum is dedicated to Brazil's favourite sport. It is a must-visit for football fans and those that like unique specialty museums.
While looking around, you'll see exhibits on the sport's history in the country. You'll also learn about Brazil's participation in events like the World Cup and the Olympics and the country's top players, past and present. Lots of interesting memorabilia is on display as well.
Try delicious dishes on a food tour
There are so many great food options in São Paulo that it can be challenging to decide what to try. An excellent way to solve this problem is by going on a food tour.
Your guide will take you to various places in Vila Madalena, where you can try an array of dishes. Brazilian classics to try include pastel, pão de queijo, and coxinha. You can also get sweets like brigadeiro and açai.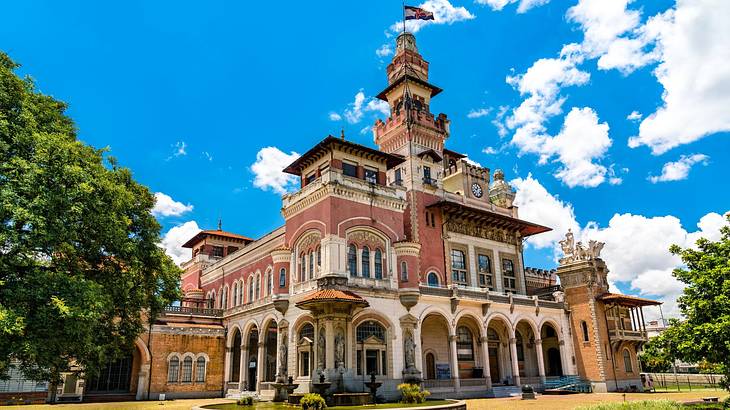 Go to Museu Catavento
Museu Catavento is another interesting museum that will appeal to visitors of all ages. This attraction has exhibits on various science topics, from ecosystems to astronomy. There's also a small greenhouse to stroll through with tropical plants, an airplane model, and much more!
Have brunch at Botanikafé Jardins
Getting brunch at Botanikafé Jardins is one of the laid-back and fun things to do in São Paulo, Brazil. At the stylish cafe, you can dine indoors or opt for outdoor seating on the cute patio.
Brunch options range from avocado toast to brunch sandwiches and griddled banana bread. There are also salad and smoothie bowls, among many other delicious and healthy choices. If you can't go to the location in Jardins, there are three other locations across São Paulo.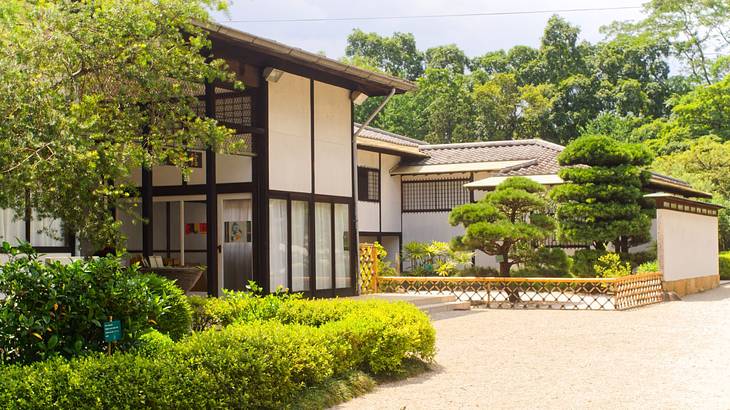 Unwind at Pavilhão Japonês
You might be interested to learn that São Paulo is home to the largest Japanese population outside of Japan! Due to this, you can find an array of Japanese influences and attractions across the city, like Pavilhão Japonês.
Located in Ibirapuera Park, the site features a pavilion, a beautiful garden, and a tea room. There's also a pond filled with carp and a small gallery showcasing Japanese art. If you're looking to unwind a little, Pavilhão Japonês is one of the most tranquil places to go in São Paulo, Brazil!
Walk around Jardins
Jardins, or the Jardins District, is a stylish neighbourhood featuring unique architecture. You can also find high-end shops here and many renowned eateries, including trendy sushi bars and upscale French restaurants. It's the perfect place to go for a walk before stopping for a drink and a meal.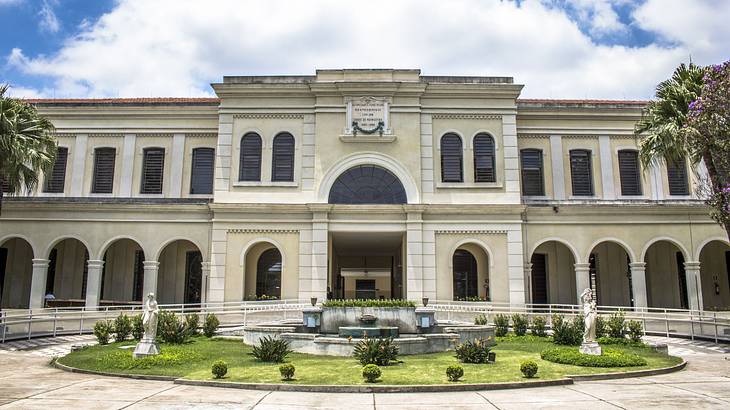 Check out the Museu da Imigração do Estado de São Paulo
There's no shortage of fascinating museums in the city, with the Immigration Museum of the State of São Paulo being one of the most interesting. Founded in 1993, the attraction has exhibits on the history of immigration to the country. You can learn the stories of different groups and individuals who immigrated to Brazil and see some unique artifacts.
Take in the views from Farol Santander
Standing at 528 feet tall, Farol Santander, also known as the Altino Arantes Building, is the fifth tallest building in São Paulo. It covers 35 floors and features a viewing deck, which offers fantastic views over the city.
Going to the observation deck is a can't-miss activity; however, ensure you book your ticket online in advance, as it can get busy. Farol Santander also has an exhibition space with cultural exhibits.
Find out about Brazilian history at Museu do Ipiranga
Museu do Ipiranga is a history museum that covers Brazil's past. The attraction opened in 1895 and was designed by Italian architect Tommaso Gaudenzio Bezzi to resemble the Palace of Versailles in France.
Today, it houses interesting artifacts, including documents, antique furniture, and artworks. It's the perfect place to go to learn about Brazilian history, especially relating to Brazilian Independence.
Look around Museu Histórico da Imigração Japonesa no Brasil
The History Museum of Japanese Immigration in Brazil is another Japanese attraction to visit. It's also another interesting immigration-related museum in São Paulo.
This site focuses on the history of Japanese immigration into the country and how Japanese culture is viewed in Brazil, including São Paulo, today. While looking around, you can see photographs, artifacts, and multimedia exhibits.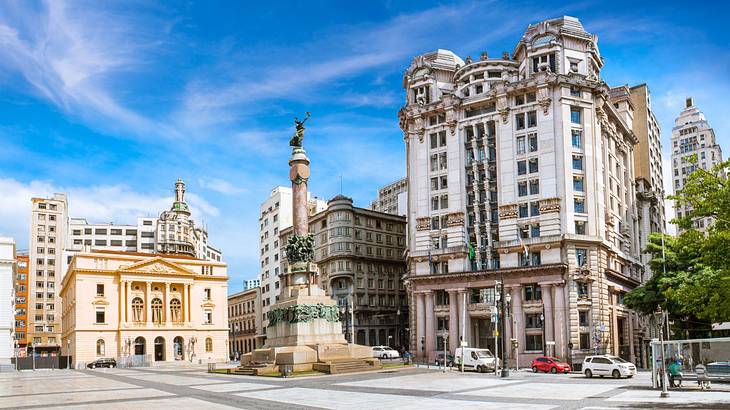 Explore the city on a free walking tour
If you're looking for budget-friendly activities in São Paulo, Brazil, taking a free walking tour has to be on your to-do list. The tour allows you to explore Old Downtown São Paulo with a guide who will offer information on everything you see. Places to see on the three-and-a-half-hour tour include São Paulo Cathedral, the São Bento Monastery, and the Municipal Theater.
Stop for lunch at Le ChuChu Bistro
Le ChuChu Bistro is a popular eatery, serving hearty vegetarian and vegan dishes at reasonable prices. It's a great place to enjoy brunch or lunch and is open until the late afternoon if you're planning a later lunch.
Menu items include plant-based versions of classic Brazilian dishes like vegan feijoada and plantain moqueca. Delicious desserts are also on offer to finish your meal.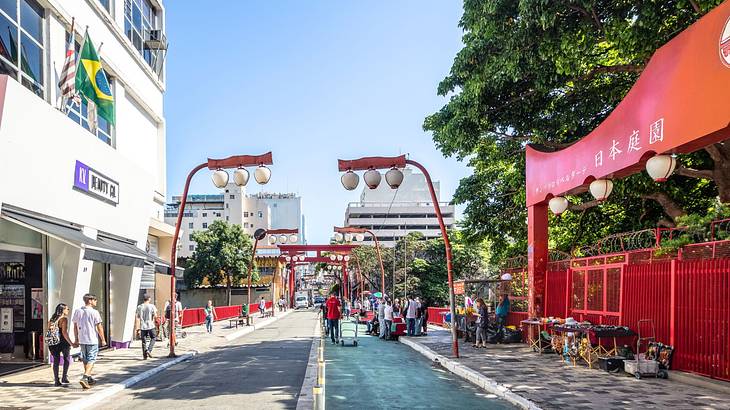 Taste Japanese food in Liberdade
Liberdade is São Paulo's Japanese district and is home to an array of excellent Japanese eateries. Places to visit include sushi bars and ramen shops. There are also some street food stalls, and you can find a few restaurants serving other Asian cuisines like Korean and Chinese food.
Before or after you eat, you can also check out the shops here that sell souvenirs, gifts, and Japanese products. A market, Feira da Liberdade, is also hosted on weekends in the area.
Get coffee at The Coffee
As the name suggests, The Coffee is a coffee shop; and one of the most popular in the city! The chain, with multiple locations across São Paulo, combines Brazilian and Japanese influences for a fun experience.
Drinks to try include classics like Americano or mocha latte to unique beverages, such as iced espresso with ginger. Plant milk is available for most drinks, and you can also get sweet treats like cookies and pastries, such as croissants.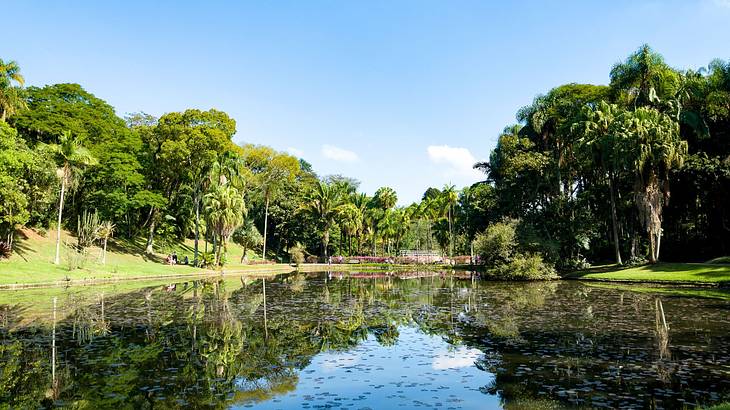 Appreciate the floral displays at Jardim Botânico de São Paulo
Jardim Botânico de São Paulo is another beautiful outdoor space to enjoy on a sunny day. It was founded in 1928 and features a diverse array of plants. As you stroll around the gardens, you can also see water fountains, a lake, and an indoor conservatory.
See the exhibits at Museu Afro Brasil
If you're looking for more São Paulo, Brazil, tourist attractions to check out, add Museu Afro Brasil to your São Paulo itinerary. Opened in 2004, the museum focuses on the history and culture of black residents of Brazil. You can see historical and cultural exhibits covering various topics, an art gallery with over 5,000 pieces, and many artifacts.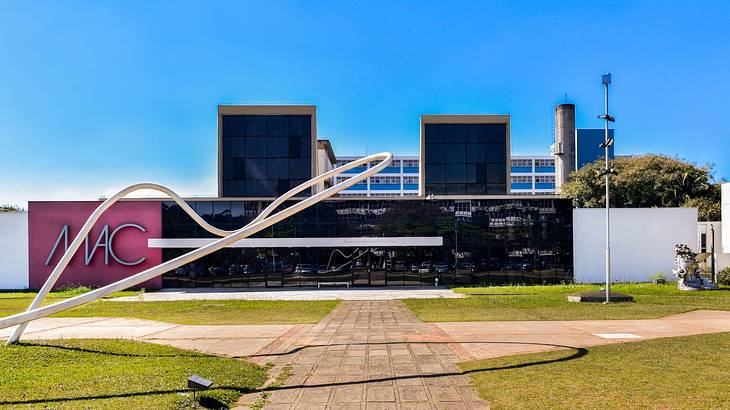 Visit Museo de Arte Contemporáneo de la Universidad de São Paulo
Another excellent art and cultural attraction is the Museum of Contemporary Art at the University of São Paulo. As you wander around the gallery, you'll get to appreciate a vast collection of contemporary art.
The collection here is so vast that the Museum of Contemporary Art is considered to hold one of Latin America's most comprehensive collections of Western 20th-century art.
Things to Do Near São Paulo, Brazil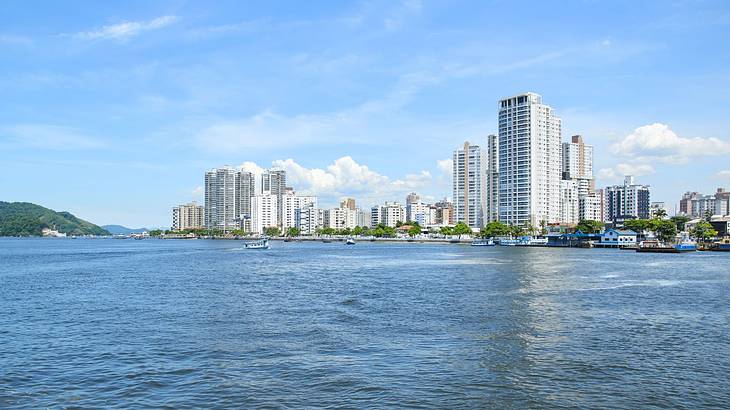 Plan a trip to Santos
While you can find lots to do in the city, there are also many São Paulo day trips to enjoy. One of the top nearby destinations to visit is Santos.
The coastal city is located approximately an hour and a half from São Paulo when driving. Visitors can hang out at the beach, visit unique local businesses, and even catch a Santos FC football game.
If you want to guarantee you see all the best spots, you can also book a Santos guided tour, which includes stops at Museo de Café, Museu Pelé, and Porchat island. If you have extra time in the area, you can visit ​​the town of Guarujá as well.
Drive to São Roque
Another fun destination to visit near São Paulo is São Roque. This town can be reached in about an hour and fifteen minutes when driving, and there are many places to rent a car in São Paulo if you want to do that. Public transport is available; however, this can take a few hours one way, so it would probably only be an option if you want to stay overnight.
Once you arrive, you can explore a range of parks and take walks in the tranquil countryside. There are also wineries to visit, so you could join a São Roque winery tour, which includes transport from São Paulo city.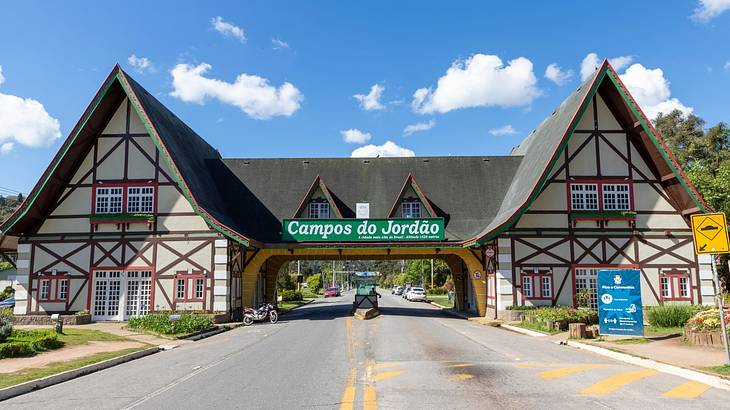 Be amazed by the Swiss architecture in Campos do Jordão
Are you looking for more day trips from São Paulo? If so, you'll be interested in checking out Campos do Jordão. Nicknamed the "Brazilian Switzerland," this destination features Swiss-style architecture and many unique independent businesses and other attractions.
The city is located two and a half hours from São Paulo, and best of all, you can go on a Campos do Jordão tour that includes transport from São Paulo. On the excursion, you'll visit various landmarks, from the tranquil Amantikir Park to the interesting Museu Felícia Leirner.
Experience skydiving
Are you a thrill-seeker? If so, one of the top things to do around São Paulo, Brazil, is going skydiving! During this once-in-a-lifetime experience, you'll get to do a double parachute jump from a plane, which includes up to 50 seconds of free fall. You can also take in the stunning views from the air while flying to the aerial jump location.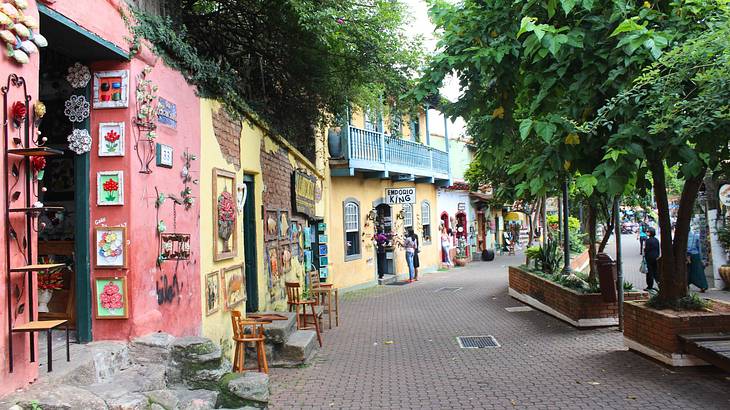 Escape the bustle of São Paulo in Embu das Artes
One of the most scenic locations near São Paulo is Embu das Artes. Featuring brightly coloured buildings, art galleries, and craft shops and markets, it's an art lover's dream and the ideal place to escape the hustle and bustle of São Paulo. You can reach the town yourself quite easily or opt for a guided tour of Embu das Artes.
Spend time exploring Pedra Bela
Situated about two to two-and-a-half-hours from São Paulo, Pedra Bela is a relaxed place to go for a day or overnight trip. It's notably a great destination for outdoor explorers, as there are many excellent places to hike. You can also try adventure activities here, like ziplining and driving ATVs.
In Conclusion
Having read this best things to do in São Paulo, Brazil travel guide, you should have an idea of all the fantastic things there are to do in and around the city. Now, all you have to do is plan a trip to this amazing Brazilian destination!
Give us feedback about this article
Read more articles about Brazil:
More articles about things to do:
---
---
Want to keep exploring?
Subscribe for discounts on tickets and hotels and our latest guides.
Thank you for subscribing
We will be in touch soon with discounts on tickets and hotels and our latest guides.
Want to keep exploring?
Subscribe for discounts on tickets and hotels and our latest guides.
Thank you for subscribing
We will be in touch soon with discounts on tickets and hotels and our latest guides.
Related Articles