The Most Perfect Weekend in Toronto Itinerary
Destguides may receive commissions from purchases made through affiliate links in this article.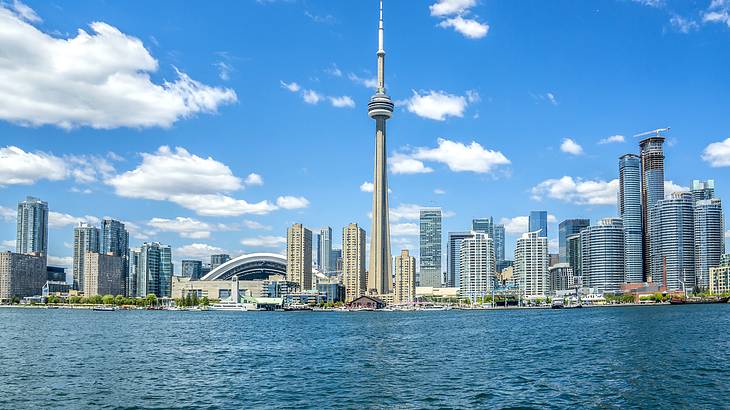 Toronto, Ontario, is one of Canada's most well-known and well-loved cities. A fun fact about Canada is that Toronto is its largest city. Toronto is also the financial hub of Canada as well as being a beautiful and diverse urban city.
Toronto has something to offer everyone, from families to solo travelers and groups of friends looking for a great time. The city has a variety of activities ranging from typical attractions, like museums and markets, to more exciting stops. These include walking on the edge of an observation tower, boating into Niagara Falls, and walking the creepiest roads of Downtown Toronto.
This weekend in Toronto itinerary will allow you to experience all of this and more! Whether you love quirky shops, fun bars and restaurants, urban parks, or cultural and historical sites, you'll find lots of places to enjoy in this eclectic city.
The spring and summer months in Toronto are beautiful, so if you have the chance, a trip during these months is recommended. And despite getting quite cold at certain times throughout the year (temperatures can drop to minus 20 celsius in winter months), Toronto in the winter and fall is spectacular as well. Just make sure you pack some extra layers!
If Toronto is starting to sound like the perfect location for your next weekend getaway, then continue reading for the best Toronto weekend guide.
3 Day Toronto Weekend Itinerary
Shopping, Sky-High Views, and a Fun-Filled Evening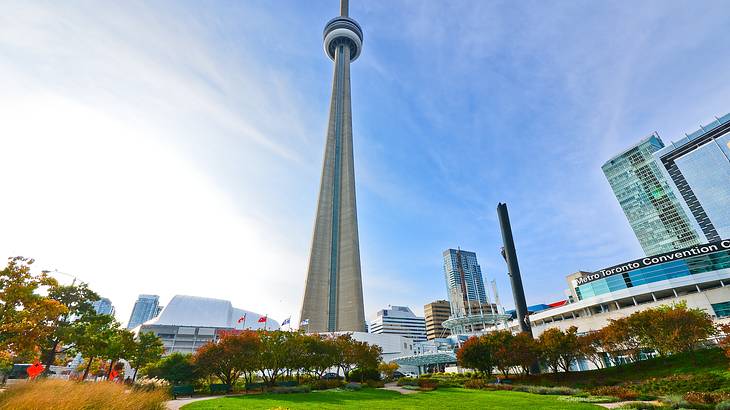 The first day of your Toronto travel itinerary will be a busy one, with you exploring many shops and a large public market. You'll also be able to see Toronto from up high before heading to the city's exciting Entertainment District.
Your day will begin with you choosing your breakfast from over 200 food stalls at the St. Lawrence public market. Having sufficiently ventured around the market, you'll then have the chance to look around Toronto's city hall. Here, you can also take a picture or two with the Toronto sign in Nathan Phillips Square.
Next, head to the Eaton Centre. This massive mall is Toronto's shopping hot spot with hundreds of shops and luxury department stores. Toronto's answer to Times Square, Yonge-Dundas Square, is the next stop before visiting the shopping street of Queen Street West.
Now you're all shopped out; it's time to rise over 300 m above Toronto for panoramic views from the CN Tower. The day will end in the Entertainment District. True to its name, here you can catch live shows, hop into bars for a few rounds of drinks, or see Toronto's sports teams in action. A fun and fitting finish to your first day in the city.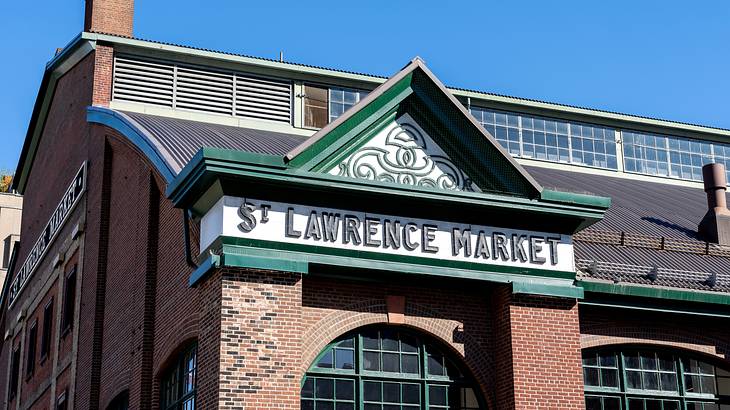 St. Lawrence Market
The St. Lawrence Market is a vast public market featuring over 200 vendors. Housed in the Old City Hall, the market embodies timeless charm and has an excellent variety of gastronomic finds.
Stalls include those selling organic foods, high-quality meat, artisanal pastries, and more. You'll also find stalls and shops with fashion items and a selection of florists. This over 200-year-old market was even awarded the title of Best Food Market in the World by National Geographic in 2012. You can explore the market alone or try a market tour.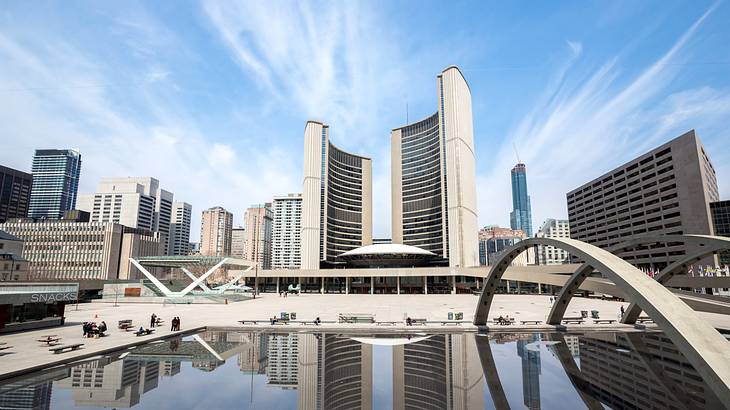 New City Hall and Nathan Phillips Square
Located in the iconic Nathan Phillips Square, New City Hall is a landmark in Toronto. The building acts as the current seat of the municipal government of Toronto and is a popular tourist destination due to its stunning design.
Built in the 1960s by a Finnish architect, it's known for its modern and almost futuristic design. If interested in exploring the building, tours are offered daily.
While here, be sure to also take some pictures with the Toronto sign and fountains located outside of the city hall in the square. You can't end your weekend trip to Toronto without a shot of this well-known backdrop.
If visiting December through February, there's also a skating rink set up in the square. A fun and festive activity for beginner to experienced skaters.
The Eaton Centre
The Eaton Centre is a large shopping mall in the center of downtown and is one of the most popular shopping locations in Toronto.
The mall is home to a range of stores including popular chains like H&M and Aldo, and well-known luxury department stores. These include Nordstrom, Saks Fifth Avenue, and Hudson's Bay.
It's a worthwhile place to explore whether you want to window shop or splurge a little. You're guaranteed to find a host of stores you'll want to shop at!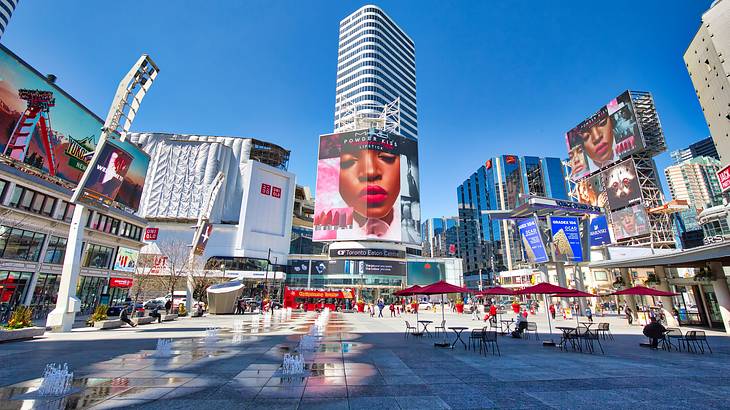 Yonge-Dundas Square
Yonge-Dundas Square is like Toronto's Times Square, making it a great photo-op! This bustling area has a vast range of shops (including the Eaton Centre), bars, and restaurants as well as street performers. There are also events here frequently, such as City Cinema, an open-air movie event.
If you're looking for some quick eats, the World Food Market is the place to go. This outdoor food truck market has 18 vendors selling cheap but high-quality international dishes, including Indian, Tibetan, and Greek cuisine, plus a selection of desserts.
If you prefer to sit down and eat, there are many restaurants, from chains like Joey at the Eaton Centre to independent restaurants such as Sansotei Ramen.
Lastly, be sure to check out some of the shops here. This includes the Air Jordan Store, which is just one of two in North America. Along with being able to browse and buy a range of merch, including snapbacks, t-shirts, and of course, sneakers, there's a barber's shop, training area, and more all within the store.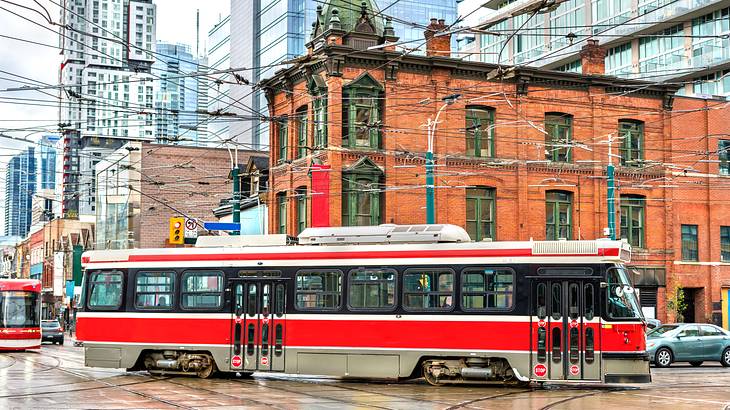 Queen Street West
Queen Street West is a thoroughfare extending through Downtown Toronto. This area of Toronto was actually voted as one of the coolest neighborhoods in the world by Vogue!
Along with stops mentioned in this itinerary, like the Eaton Centre and Graffiti Alley, you'll find a range of trendy shops plus dining and nightlife spots on Queen Street West (Toronto is one of the top party cities in Canada after all!). You'll also find art galleries, vintage stores, antique stores, and quirky bookstores.
Just a few of the stores you need to stop by include Zane for contemporary accessories and DECIEM for affordable and high-quality beauty products.
If you want some yummy drinks and/or bar-style snacks (or just some fun Instagram pics), don't miss Convenience Bar. You'll enter through a cute (but fake) convenience store to get to this cool bar. Once inside, you can order from a long list of innovative cocktails and bombs. If hungry, they have snacks, including fried chicken with mac and cheese, nachos, and their unique peanut butter and bacon sliders.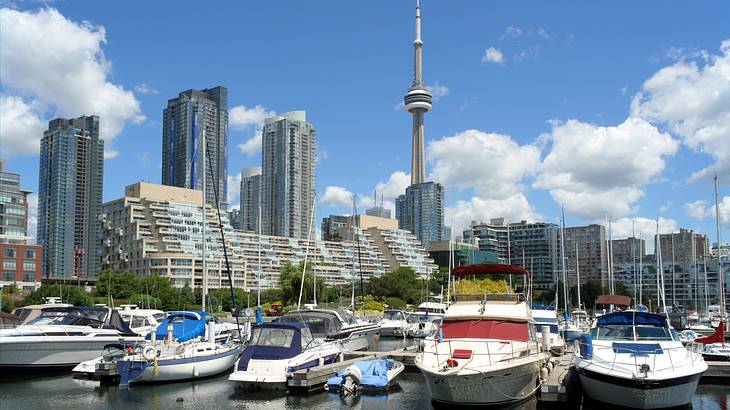 The CN Tower
A memorable trip to Toronto has to include a visit to the city's iconic Canada landmark, the CN Tower. This 553 m tall skyscraper features an observation deck that allows for incredible views across the city.
To access the observation deck, take the glass elevator to the Lookout deck, located 346 metres above the ground complete with glass floor. Or, you can go to the SkyPod observation area, located at 447 metres above the ground.
No matter which you choose, you'll be able to enjoy panoramic views of metro Toronto. If looking for a more thrilling experience, you can take a breathtaking CN Tower EdgeWalk. There's also 360 The Restaurant located high up in the tower if you'd rather enjoy the views with a meal and drinks.
The tower can be visited at any time of day, depending on the view you're after. Visit in the day for clear views or at night to view the city lit up. Alternatively, head up the tower just before sunset to experience incredible day and night views!
The Entertainment District
End the first day of your Toronto travel itinerary in the fun and vibrant Entertainment District. This area has a selection of bars and restaurants and is home to Toronto's major sports teams, among other things.
A highly recommended resto-bar to check out is The Porch, a rooftop bar with CN Tower views. If hungry, you can order bar classics like wings, sandwiches, and salads, or pre-order a picnic basket.
These include their classic picnic hamper, a southern hamper including fried chicken and macaroni salad, and a brunch hamper including Spanish tortilla and bagels and lox. They also have a host of drinks including multiple flavors of bulldogs and their famous tower cocktails.
This is additionally the area in which you'll find the Rogers Centre, home to the Toronto Blue Jays MLB team. The Scotiabank Arena is also located nearby. This is where both the Toronto Raptors NBA team and the Toronto Maple Leafs NHL team play.
If you're more of a soccer fan, Toronto FC plays about a ten-minute drive away at BMO Field. Depending on when you visit, you may be able to catch a game in the evening or afternoon, which is highly recommended if possible!
If you prefer the arts, the Entertainment District is known for its many theatres and performing arts centers including the Four Seasons Centre.
Here you'll also find Ripley's Aquarium of Canada, a fun family attraction, and the previously mentioned CN Tower.
From Niagara Falls to the Toronto Islands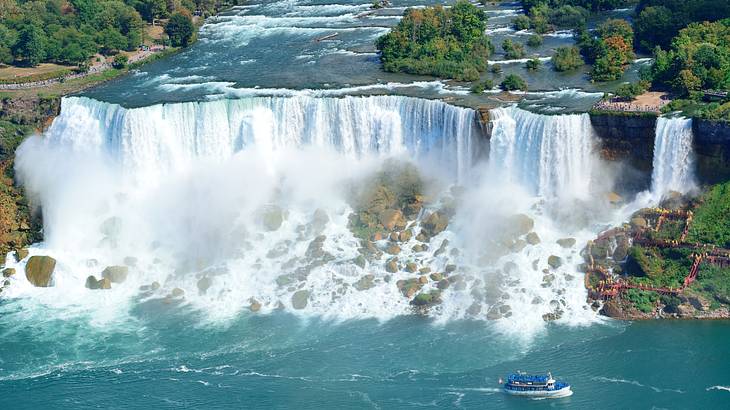 Day two of your Toronto three day itinerary will begin at one of the most spectacular natural landmarks in the world, Niagara Falls. The iconic waterfalls are located under two hours from Downtown Toronto, making it an unmissable trip to make.
Having viewed the stunning falls and snapped lots of pictures, you can go up the viewing tower or enjoy a meal with incredible fall views. Once you're ready to leave this famous North American landmark, you'll head back to Toronto city to visit Toronto's Islands. This area offers one of the best views of the Toronto skyline and has a beautiful park to enjoy.
You'll even be able to hang out on beaches on the shore of Lake Ontario and visit a free petting zoo with adorable farm animals. Additionally, you can enjoy a family-friendly park called Centreville Amusement Park, complete with exciting rides.
Lastly, head to the hip Distillery District to wind down after another busy day. This industrial area has a host of exciting and unique shops, plus bars, restaurants, and clubs to spend a chill and exciting night.
On a side note, while this day is doable, you must head to Niagara Falls as early as possible, leaving Toronto by car at 7.00 or 8.00 AM. If you take the GO train, it can take more than 2 hours there and back.
If you have additional time, you may want to extend the time you spend at Niagara Falls by staying overnight, especially in the Niagara region. There are various charming Airbnbs and hotels dotted around Niagara, and you can visit some of the casinos or even wineries in the surrounding area.
Spending a whole day at the beach on Toronto Islands in the summer is a great idea, too. You can also visit Toronto Islands in the early autumn when there are no big crowds. That way, you can enjoy more of the ferry ride for yourself!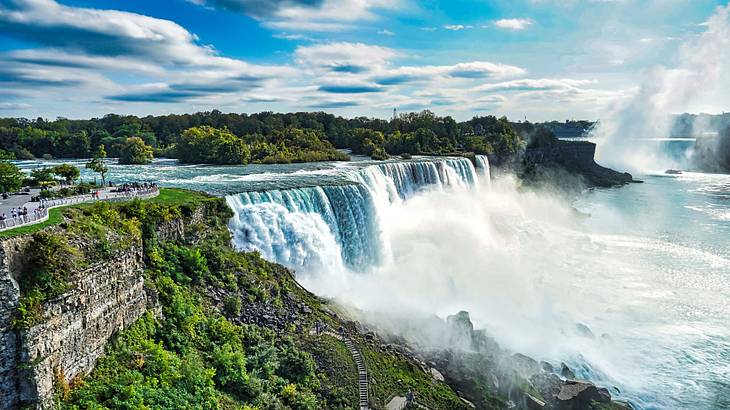 Niagara Falls
Niagara Falls is not only a must-visit attraction in Ontario and Canada but in the world. The stunning and world-renowned falls are just an hour and a half from Toronto, so there's no excuse not to visit, even if you're only in Toronto for three days. You can reach the falls by car or take the train from Union Station.
As soon as you arrive, you'll be met with a phenomenal view of the falls. Having taken in the view and snapped lots of pictures, there are plenty more attractions here to enjoy.
A popular activity is to go on a Niagara boat cruise, which takes you right through Horseshoe Falls, one of the three falls that makes up Niagara Falls. It's recommended to book in advance and although you're provided with a poncho, beware that you will get wet so possibly bring a change of clothes!
You can additionally enjoy the view from up high in the Skylon Viewing Tower. You can even zip-line across the falls if you're feeling adventurous. The viewing tower also has a revolving restaurant, and you can find many other restaurants with amazing views.
While you can spend half a day here, if you have some extra time on your Toronto trip, consider staying into the evening or even overnight. There are many hotels as well as bars, clubs, and two casinos, Fallsview Casino and Casino Niagara. The falls are additionally lit up at night during the spectacular Falls Illumination, which is well worth seeing.
If you're wondering about the best time to visit Niagara Falls, you really can't go wrong at any time of year. However, spring is generally thought to be the most optimal time to visit. The weather is nice, but the crowds of summer vacationers haven't arrived yet. An early fall visit is another excellent option.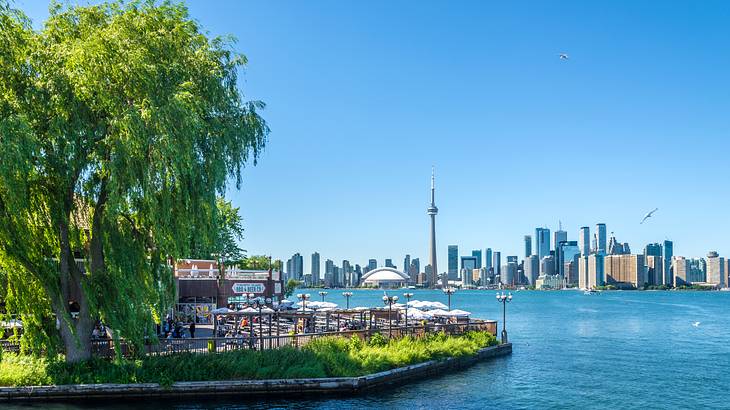 Toronto Islands
After a beautiful morning at Niagara Falls, head back to Toronto and to Queens Quay to set sail for Toronto Islands, also known as Toronto Island Park. Visiting these islands is a must for your Toronto bucket list!
Simply hop on the ferry at Jack Layton Ferry Terminal to get to the Islands. On the ride, you'll get amazing views of the Toronto skyline, and once at the park, you'll get one of the best views of the Skyline in the city. Perfect for photos! You may also see the unique sight of planes flying low across the city skyline on the way to land at the airport.
Various activities can be enjoyed in this beautiful park, such as kayaking and biking. Alternatively, you can just wander around the park where you'll find lots of greenery and tranquil ponds. There's even a free petting zoo with goats, ponies, and llamas among other farm animals. You're sure to spot the farm cats around the park too.
You can then walk through to the beaches on the shore of Lake Ontario and can also visit the Gibraltar Point Lighthouse for some more keepsake snapshots.
Toronto Island additionally houses the Centreville Theme Park that is good for visitors of all ages. It has 30 rides that kids and adults can enjoy.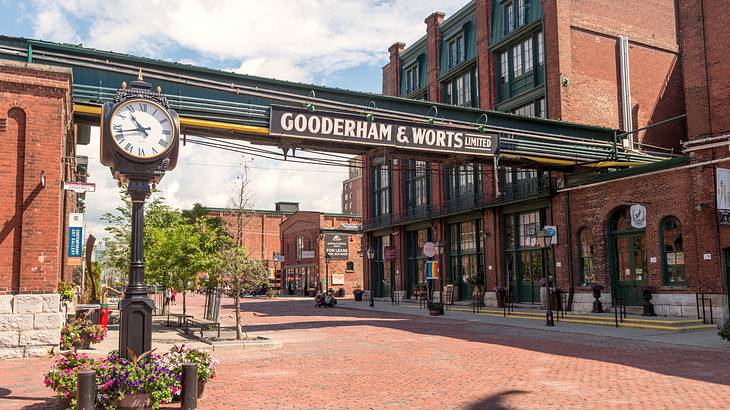 The Distillery District
Known for its well-preserved 1800s architecture, the Distillery District is a great place to spend an evening in Toronto. During the 19th and 20th centuries, the area was home to what used to be the world's largest whiskey producer, Gooderham and Worts Distillery. Today, it's a shopping, bar, and restaurant location with a relaxed industrial vibe.
With over 40 boutiques and independent shops, it's recommended that you browse these before stopping for a snack and drink. The fun shops include those selling clothes, accessories, and decor items, plus niche shops such as a sock-only store or a beer boutique.
Additionally, a Sunday market is held each weekend, and you can enjoy the Christmas Market in December. There are also multiple art galleries here and are numerous performing arts companies that perform live shows most nights too.
Once you're ready to eat and drink, there are a lot of dining choices! Archeo Restaurant is a good choice for lovers of modern Italian cuisine. You can enjoy classics like chicken piccata, eggplant parmesan, or pasta carbonara, along with Italian-inspired cocktails, wine, or beer.
Another recommended spot is the colorful El Catrin Destileria. The head chef of this Mexican cantina was formally one of Mexico City's top chefs, making the food highly authentic. You can enjoy classic dishes, including tacos and ceviche.
They also have meat/fish and vegetarian tasting menus, plus Canada's most extensive tequila and mezcal bar. Enjoy your meal in front of an eye-catching mural painted over 100 days by a Mexican artist.
End the night at the Stirling Room, an upscale vintage lounge that's hosted events for Fashion Week and the Toronto Film Festival. This cozy space is furnished with leather lounge chairs, rugs, exposed brick, and fireplaces. On weekends, it becomes a cool club with a dance floor and DJs.
History, Culture, and a Spooky Finish
The last day of your weekend trip to Toronto will let you explore Toronto's best cultural and historical sites by day before stepping into its dark side at night.
Your day will begin at Casa Loma, a stately European-inspired mansion in midtown Toronto. Having immersed yourself in this luxurious property, you'll head over to Canada's biggest museum, the Royal Ontario Museum. Here you can discover exhibits on natural history, art, culture, and history.
Continue your last day in the city by visiting Graffiti Alley. This long stretch of pure street art is the perfect backdrop for pictures and is a beautifully creative and slightly less known attraction. Continue your cultural experience by visiting Kensington Market - the bohemian heart of Toronto.
Your next stop pays homage to Canada's national sport, ice hockey. The Hockey Hall of Fame is essentially a shrine to one of North America's favorite sports leagues, the National Hockey League. You can enjoy exhibits on teams and players and view a range of memorabilia along with the illustrious Stanley Cup.
Your day will finish in a slightly spooky way by taking a ghost tour. You can check out Toronto's most haunted buildings, tour the U of T campus learning of its dark past, or head back to the Distillery District to attempt to spot some ghostly spirits.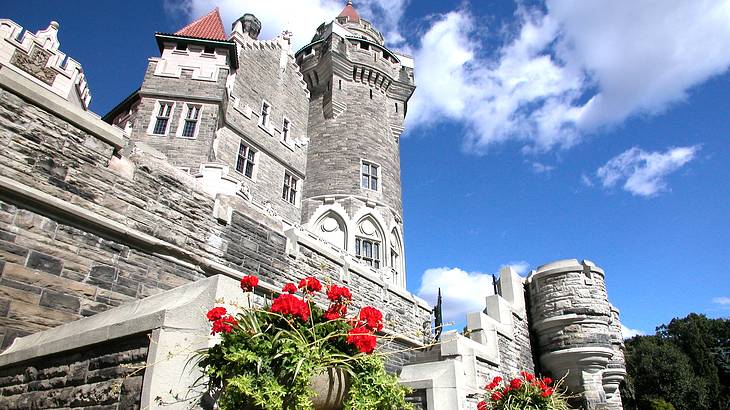 Casa Loma
Experience some of Toronto's gothic architecture with a visit to the Casa Loma Mansion. Located in the heart of midtown, you'll get to explore this remnant of European elegance that has been in Toronto since the early 1900s.
Having taken some pictures of this beautiful period building, head inside to explore the interior, decorated as it was in the early to the mid-20th century. There are over 24 rooms in total and even a tunnel that connects the house to the property's stables.
Rooms to discover include the Oak Room, which was used for formal occasions, a library, a billiards room, a wine cellar, and multiple bedrooms.
You'll also find some museum-style exhibits and five acres of gardens to make your way around.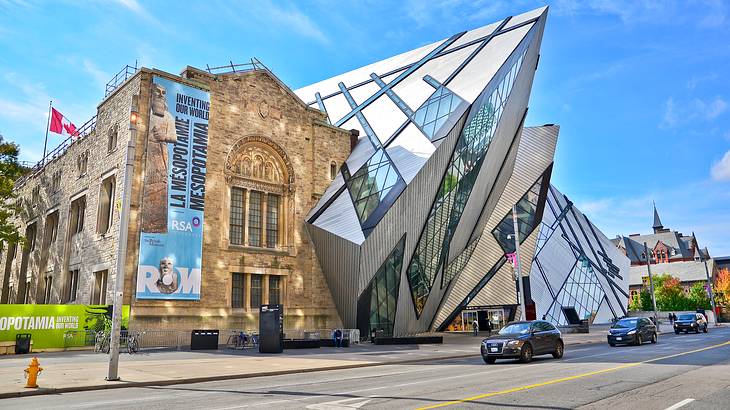 The Royal Ontario Museum
Toronto has many museums and art galleries and is also home to Canada's largest museum, the Royal Ontario Museum. Exhibits include those on art, culture, and natural history, all of which are highly interesting and informative.
The museum houses a total of more than six million objects, specimens, and artifacts in multiple tastefully curated galleries. The range of galleries covers topics from dinosaurs to the Ancient Egyptians, the Bronze Age, and much more.
You'll also discover many temporary exhibits, including those set up by London's British Museum and the Victoria & Albert Museum.
Graffiti Alley
Graffiti Alley, also known as Rush Lane, is a vibrant and colorful street off of Spadina Avenue. It's known for its walls being covered in graffiti by local street artists.
It's a super interesting Toronto site to see and is the perfect place to take some great Instagram pics.
Created by passionate artists and frequented by locals and tourists alike, this is one of Toronto's surprising must-see destinations. This alley stretches for almost half a mile, so you won't run out of walls to admire or Instagram backdrops to use!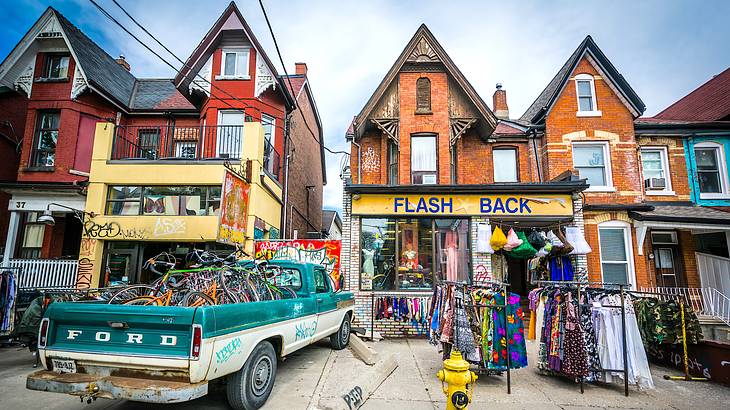 Kensington Market
Kensington Market is a bustling bohemian neighborhood in Downtown Toronto and is a fun place to explore during your three days in Toronto. It's known for its many shops, but Kensington Market is more than just a shopping district - it is a multicultural hub offering a wide assortment of finds and scenes.
From vintage stores, boutiques, and independent labels to hole-in-the-wall spots, this neighborhood is the place to be. You'll find everything here, including fashion, home decor items, records, and books.
Along with a variety of shops, there are many trendy bars and restaurants to try. You'll find a host of vegetarian and vegan restaurants in this area. Bunner's Bakeshop is a popular spot selling vegan and gluten-free baked goods. Saigon Lotus is also a great spot, specializing in vegan and vegetarian Vietnamese cuisine.
Alternatively, enjoy Californian vibes and delicious fish and seafood tacos at Seven Lives. In fact, some say they have the best fish tacos in the city! They also serve veggie tacos, meat tacos, ceviche, and chips and salsa for snacking. Enjoy inside or on their patio with a cold beer or soft drink like their watermelon and mint juice for a super laid back meal.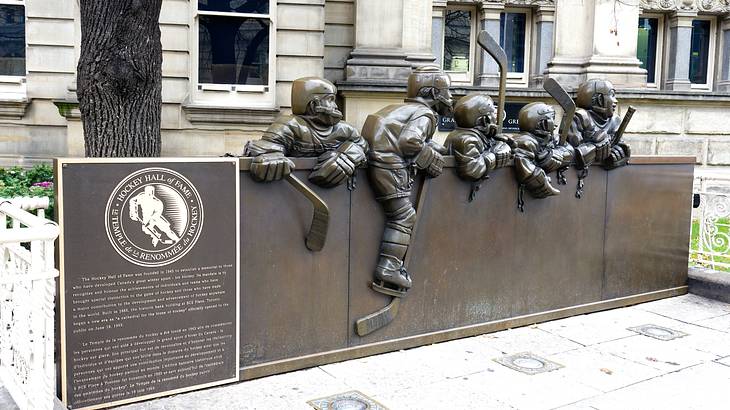 The Hockey Hall of Fame
Whether you're a major hockey fan or not, a visit to the Hockey Hall of Fame is highly recommended.
This 65,000 square foot homage to Canada's national sport houses exhibitions on National Hockey League players, teams, and memorabilia. There are also exhibits on ice hockey competitions outside of North America.
Most notably, for the majority of the year, the Hockey Hall of Fame is home to the iconic, and coveted, Stanley Cup. If the cup is in the museum, be sure to get your picture taken with it while visiting.
You'll also be able to see memorabilia such as a range of championship rings and exhibits on hockey's most famous players including Wayne Gretzky, Mario Lemieux, and Gordie Howe. They even have simulation games such as goalkeeping and broadcasting that you can test your skills at.
The Haunted Walk of Toronto
If you aren't easily spooked then going on a nighttime ghost walk is a super fun idea. The Haunted Walk of Toronto offers three types of tours around downtown every day, allowing you to discover Toronto's darker history.
For those interested in seeing Toronto's spookiest spots, opt for the Original Haunted Walk of Toronto. This tour will take you around the most haunted places in the city. This includes visits to Mackenzie House, one of the country's creepiest mansions, and a haunted theatre. You'll additionally be told of many spooky unsolved mysteries.
Another option is the Spirits of the Distillery District tour which leads you around the cobblestone streets by lantern light. You'll discover tales of gruesome whiskey-making accidents and of ghosts of the War of 1812.
Alternatively, learn the ghostly history of the University of Toronto on the Campus Secrets & Spectres tour. You'll be taken around the campus to hear of trapped spirits and college love stories gone sour.
In Summary
Toronto is a fantastic city to explore and is a great weekend getaway for those living in other Canadian or nearby US cities. Even if you're traveling in Canada for the first time, Toronto is the perfect city to visit to get a taste of Canada's fun and friendly culture.
If you're planning a trip and have been wondering what to do for a weekend in Toronto, this article should have given you lots of ideas! For those wanting to travel across Canada, other incredible spots to visit include Canada's beautiful national parks, like Jasper and Banff on the west coast, well-known cities such as Vancouver in British Columbia, and less touristy areas such as Halifax in Nova Scotia.
Give us feedback about this article
More articles about Ontario:
Read more articles about Canada:
---
---
Want to keep exploring?
Subscribe for discounts on tickets and hotels and our latest guides.
Thank you for subscribing
We will be in touch soon with discounts on tickets and hotels and our latest guides.
Want to keep exploring?
Subscribe for discounts on tickets and hotels and our latest guides.
Thank you for subscribing
We will be in touch soon with discounts on tickets and hotels and our latest guides.
Related Articles