China Landmarks - 38 Most Famous Landmarks in China
Destguides may receive commissions from purchases made through affiliate links in this article.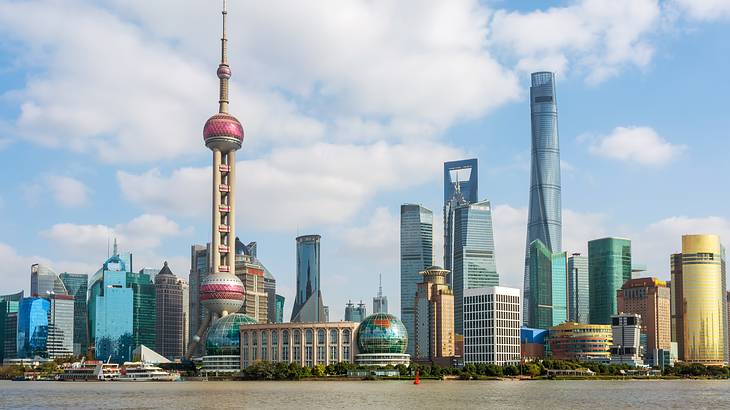 Did you know that China is one of the world's most-visited countries? With beautiful and fascinating cities spread across the country, it has a lot to offer to its visitors! From Shanghai to Beijing, there are countless famous landmarks in China that you will enjoy exploring and learning a lot from.
Because China has a rich and old history that dates back over 3,000 years - as early as 1250 BC - it is filled with many ancient China landmarks. Visiting China and experiencing its old unique landmarks, culture, and food will for sure make for a memorable experience!
If you are not into historical Asian landmarks, China is recognized today for its modern landmarks, too. One of China's largest cities, Shanghai, is well-known for its contemporary buildings and thriving technology industry. The Oriental Pearl TV Tower, for example, is a popular modern attraction in Shanghai.
But it isn't just about the famous historical or modern landmarks - China also has beautiful natural landmarks, such as West Lake. Continue reading to learn more about these and the above landmarks below!
38 Famous Chinese Landmarks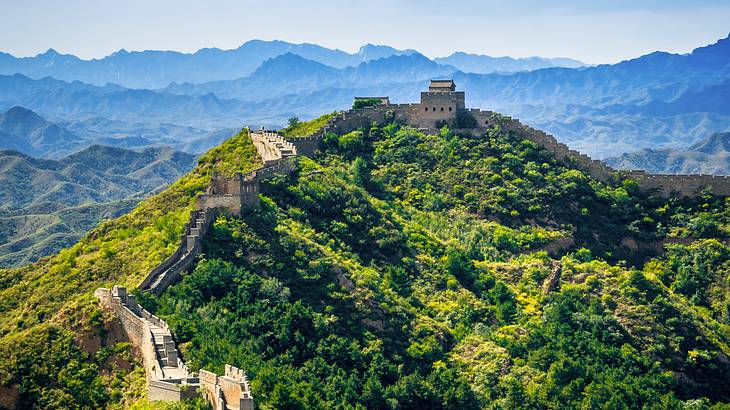 Great Wall of China, Northern China
The Great Wall of China is a 13,170-mile-long wall and is one of the world's seven wonders. It is also one of the most visited landmarks in China.
More than 2,300 years have passed since it was built, making the Great Wall of China a fascinating sight to see for both families and couples.
To enjoy the view of the mountains, I recommend visiting a section of the wall that is still walkable, so you can stroll along and enjoy the scenery.
An exciting event held each year on the Great Wall of China is the Huangyaguan Great Wall Marathon. Snacks and refreshments are handed out, and children from the villages even come to high-five participants!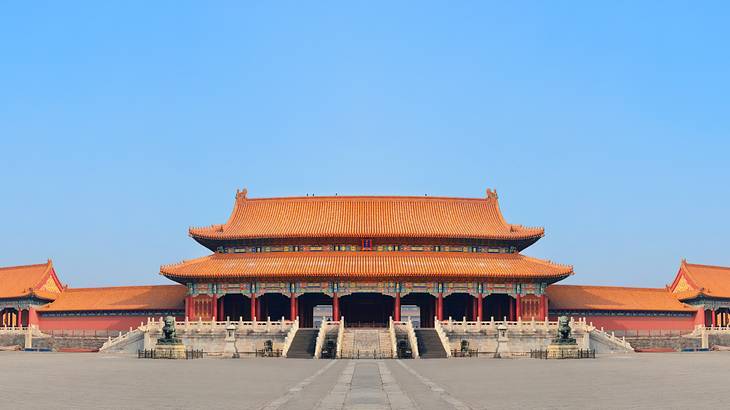 Forbidden City - The Palace Museum, Beijing
The Forbidden City, now called the Palace Museum, has always been an important part of Beijing. Built in 1420 during the Ming Dynasty, it is the world's largest imperial palace.
Before you explore any other famous monuments of China, take the time to appreciate the beautiful artwork and historic gardens that this city offers.
The Forbidden City is family-friendly and attracts over a million visitors each year. There are audio guides available in multiple languages and gift shops, bookstores, and snacks for you to purchase.
Tiananmen Square, Beijing
Tiananmen Square, located in the heart of Beijing, is a beautiful city square that separates itself from the Forbidden City. Although the Forbidden City is one of China's most famous places, I also recommend visiting Tiananmen Square when in Beijing.
As you venture through Tiananmen Square and the surrounding streets, you will notice several different vendors, from three-dollar t-shirt stalls to old tea shops, so take a moment to enjoy this mixture of old and new Chinese culture.
The square changes throughout the day, so you should be thoughtful about when you visit. For example, many prefer to visit at sunrise or sunset since this is when the guards raise and lower the national flag.
Flower beds are also decorated during holidays like National Day and May Day, which could be an excellent opportunity to take photos.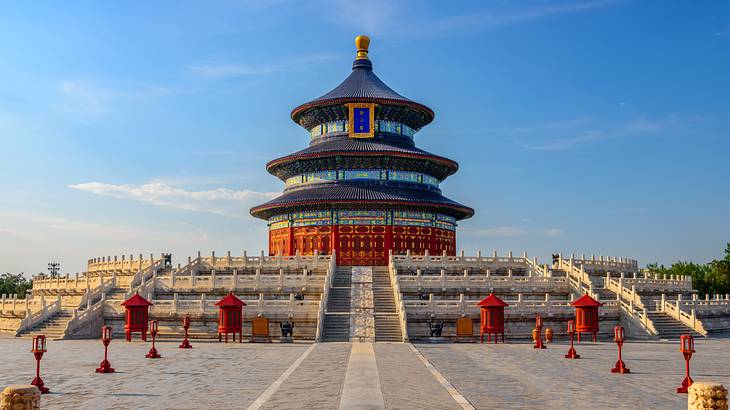 Temple of Heaven, Beijing
This place of worship in Beijing is where the Ming Dynasty's emperors held the Heaven Worship Ceremony, and it was officially opened as a park in 1988.
Many recommend coming to the Temple of Heaven, also known as Tiantan in Chinese, since it exhibits ancient philosophy, culture, and history.
Larger than the Forbidden City, the Temple is divided into inner and outer parts. The buildings that visitors tend to find the most fascinating are the Imperial Vault of Heaven, the Circular Mound Altar, and the Hall of Prayer for Good Harvest.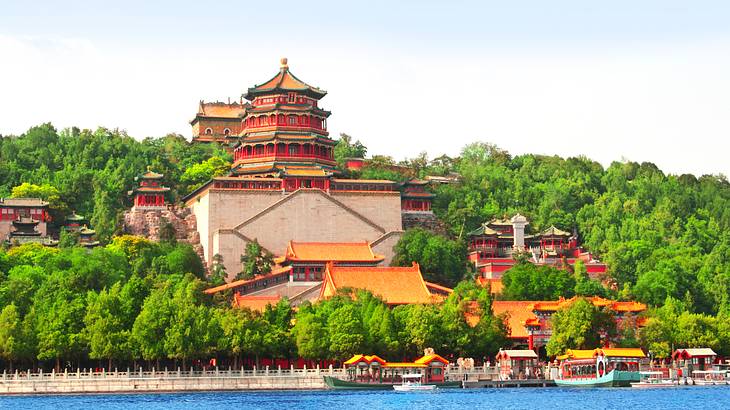 Summer Palace, Beijing
Located in northwest Beijing, the Summer Palace (Yiheyuan in Chinese) is the most well-preserved garden in the world. Although it's just a garden, several tourists and visitors feel the need to spend almost half of their day exploring it!
There are many popular activities that you can spend your time on here, including boating on Kunming Lake, walking along the Long Corridor, and enjoying a live traditional Chinese performance in an ancient theatre. It is also the perfect landmark in China for families, as most like to venture through the gardens and pavilions.
When visiting the Summer Palace, you will find that the serenity and beauty of it are outstanding. The Palace balances water and land, as well as plants and paths, meaning you will love walking through this elegant place.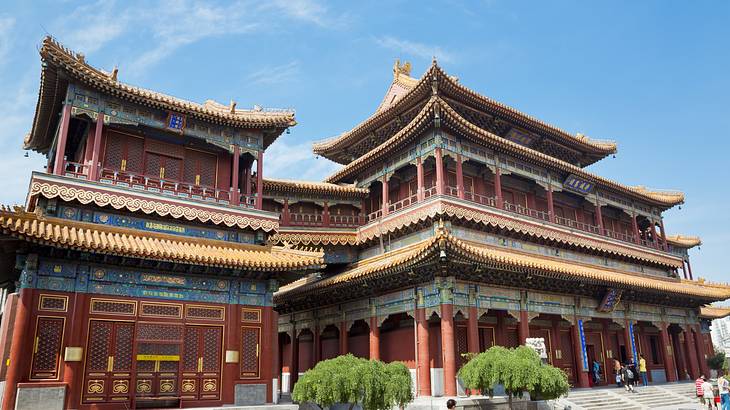 Lama Temple, Beijing
If you enjoy visiting ancient Chinese temples, then you shouldn't miss the Lama Temple when visiting the best landmarks in China.
Found in Dongcheng District in Beijing, the Lama Temple (Yonghegong) was constructed to face north to south. The temple consists of six important areas; Yonghe Gate Hall, Yonghegong Hall, Yongyou Hall, Falun Hall, Wanfuge Pavilion, and Suicheng Hall. These six halls are connected by seven grand courtyards as well.
The Memorial Archway is also an interesting part of the Lama Temple. You should visit all sections and admire the historical Chinese culture displayed throughout this monument.
Beijing Zoo, Beijing
Located in the Xicheng District in Beijing, this zoological park was China's first zoo. The Beijing Zoo has about 450 different species and 5,000 animals in total and many exhibition halls.
Massive crowds that come to the zoo always love seeing animals like the northeast tigers, giant pandas, milu deer, golden monkeys, and more. There are 16 exhibition areas and halls, and it is a great place to take your children too.
One specific hall that visitors enjoy is the Gorilla Hall. The Gorilla Hall includes artificial hillocks and wooden apparatus, as well as gorilla murals in each habitat. There are also pools and rockeries as decor.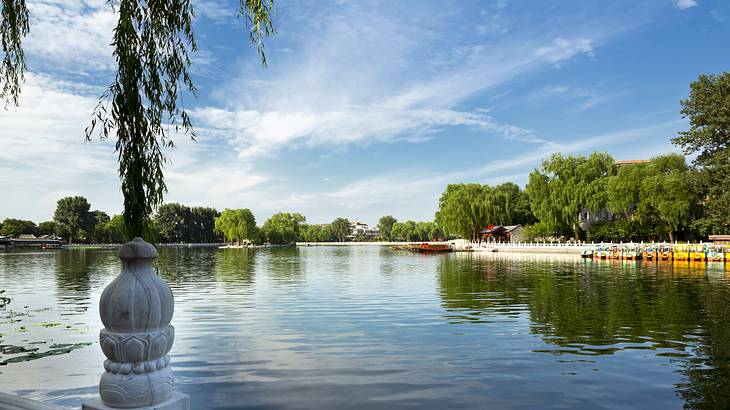 Houhai, Beijing
Houhai, which means "Back Lakes," is a big artificial lake in Beijing. It used to belong to the royal family in the Yuan Dynasty, but today, it is open to the public so that everyone can feel like royalty.
Houhai contains traditional buildings and courtyards as well, where you can explore the old hutongs (narrow alleys) and even visit the former homes of celebrities.
There is also a famous bar street in Hou Hai, where people go to enjoy China's nightlife. While the bars aren't huge, many people seem to be attracted to them. Two well-known bars are Zoom Club and Houhai No. 5.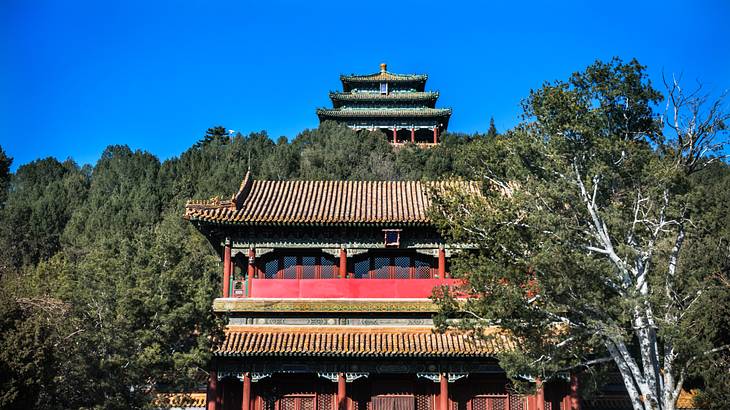 Jingshan Park, Beijing
Just north of the Forbidden City in Beijing is another famous landmark in China, Jingshan Park. Jingshan Park (Jingshan Gongyuan) was built in 1179 during the Jin Dynasty and covers 23 hectares. The park focuses on "Prospect Hill," an artificial hill created at the park's center and houses a temple.
From the temple at the top of the hill, visitors can gaze over the nearby Forbidden City. The park has more to offer than just great views, though; it is well maintained and features several well-manicured Chinese gardens with various local fauna.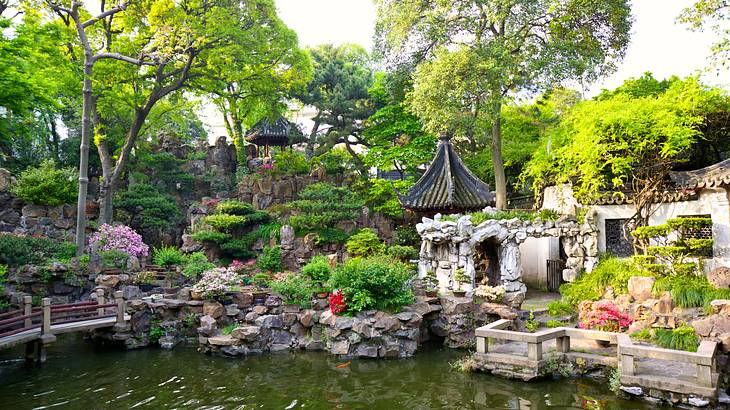 Yu Garden, Shanghai
Yu Garden is considered a must-see attraction in China. Located in Shanghai, it dates back to the Ming Dynasty and is over 400 years in age.
Well-known for its classical art and carvings, this garden is a stunning area to take pictures. There is also a market called Yuyuan Bazaar, with lots of stores and Chinese architecture as well as snack shops.
The Wanhua Chamber, Sansui Hall, Cuixiu Hall, Great Rockery, and Exquisite Jade Rock are places in the Yu Garden you should check out too.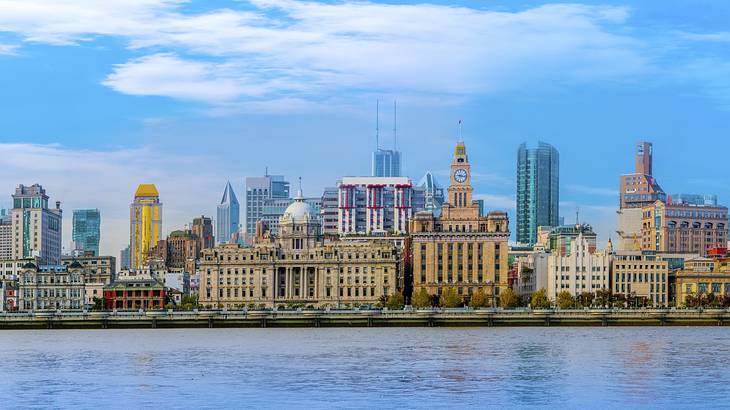 The Bund (Waitan), Shanghai
The Bund (or Waitan), located in Shanghai, is a delightful waterfront area with buildings and amazing views of skyscrapers. If you are a history or photography lover, then this place is a must-visit when exploring China's landmarks.
Popular entertainment options when visiting The Bund include walking and seeing the nighttime view, taking a cruise, and snapping tons of pictures. You'll need to spend at least an hour touring the area to appreciate the incredible scenery.
Huangpu Park is also the perfect destination when wanting to take a relaxing break. It is located between The Bund and the shopping areas, and the greenery that the park offers stands out from the rest of Shanghai!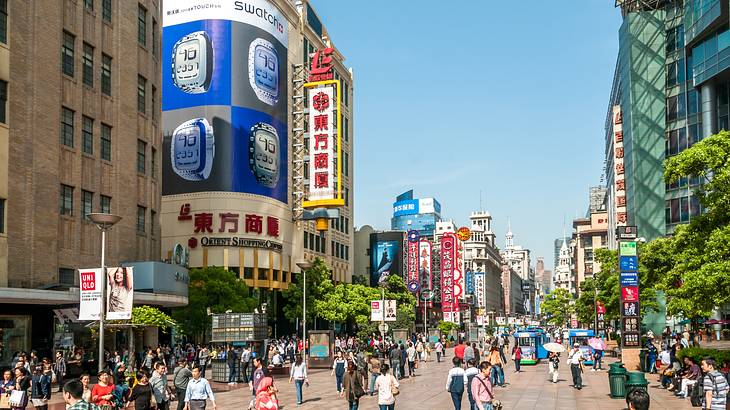 Nanjing Road, Shanghai
Shanghai is famous for its energy, modern architecture, and bustling energy, and is easily one of the best places to visit in China. The heart of it can be felt on Nanjing Road (Nanjing Lu).
The eastern part of the road is the busiest. Nanjing Road is actually one of the world's busiest - often, it is compared to Fifth Avenue and Times Square in New York.
The shopping precinct of Nanjing Road is about 6 kilometers long, and it attracts close to a million visitors each day. Along the road, you can find many small local Chinese shops selling various trinkets and souvenirs, and also major international brands, such as Louis Vuitton and Gucci.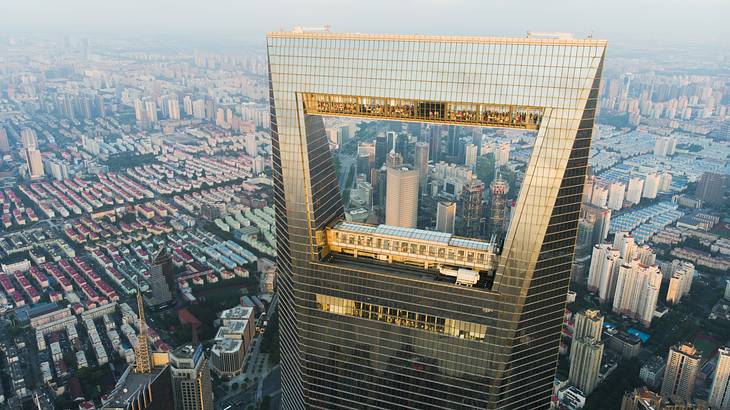 Shanghai World Financial Center, Shanghai
At 492 meters and 101 stories tall, the Shanghai World Financial Center is the world's 12th tallest building. The tower is one of China's and Shanghai's most prominent landmarks.
Tourists can visit the tower and travel up to the 100th floor. The viewpoint at the top of the building allows tourists to enjoy an undisturbed 360-degree panoramic view of Shanghai.
While the view does not leave anyone disappointed, choose your day carefully. Like most cities in China, smog can sometimes take over, so pick a relatively clear day to make the most of the view. This is just one of the many important things to keep in mind before visiting China.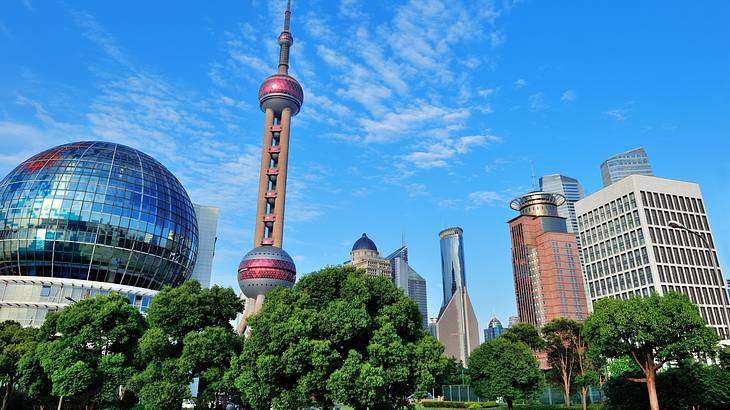 Oriental Pearl TV Tower, Shanghai
Established in 1991, this tower in Shanghai creates a visual of twin dragons playing with pearls. The view is truly unique, and you should definitely visit when touring Shanghai.
Although the Great Wall is a must-see when visiting China, it would be unfortunate if you missed out on the fun the Oriental Pearl Tower (Dongfang Mingzhu) has to offer!
There are plenty of activities and attractions within the tower to keep you entertained, such as The Shanghai History Museum, a Revolving Restaurant, the Dynamic Ring Multimedia Show, and much more.
One benefit of visiting the Oriental Pearl is that you can go here any time, during any weather, since everything is indoors! Any season is the best season for this tower!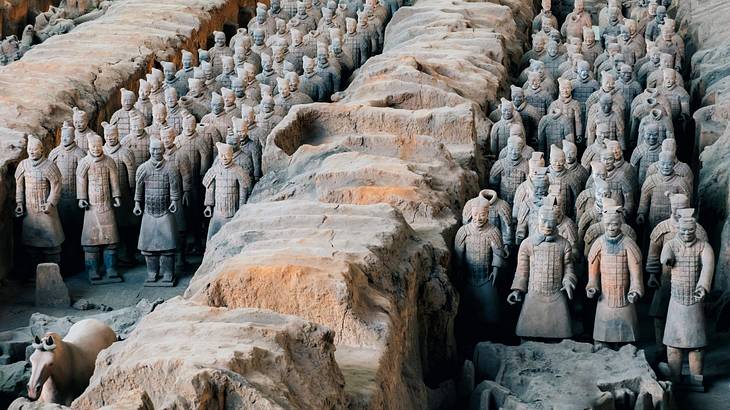 Emperor Qinshihuang's Mausoleum Site Museum, Xi'an
Considered the 8th wonder of the world by many, this museum, also known as the Terracotta Warriors Museum, is a famous landmark of China.
The terracotta army is made of warriors and horses, and they are a must-see when visiting the country, which you can only do so by coming to this museum.
Many tourists and regular visitors suggest that you spend your time exploring the interesting monument and taking at least 2 to 3 hours to see all of it.
To reach the museum, you should take a taxi or bus. The museum offers free entry for children under 1.4 m (4.6 ft) tall and half-price tickets for individuals under 16 years of age, so feel free to bring the little ones as well.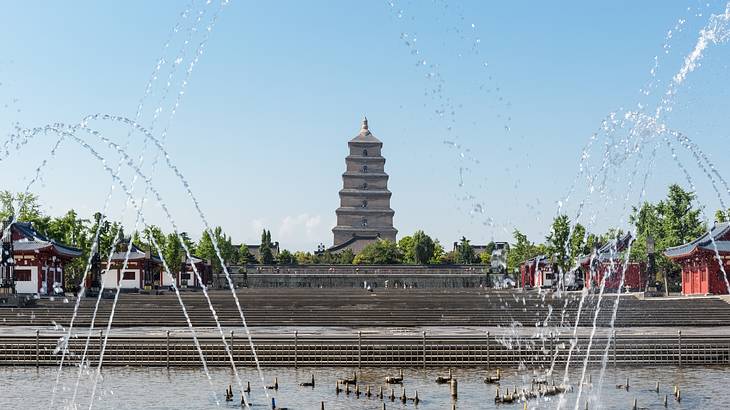 The Giant Wild Goose Pagoda, Xi'an
The Giant Wild Goose Pagoda, also frequently called the Big Wild Goose Pagoda (Dayanta), is an ancient holy place for Buddhists. The pagoda attracts thousands of tourists and is one of the most famous monuments in China.
Built by Emperor Gaozong during the Tang Dynasty, this pagoda is well-liked for the lush gardens and squares surrounding it. The most popular square is North Square, which has the largest musical fountain in all of China.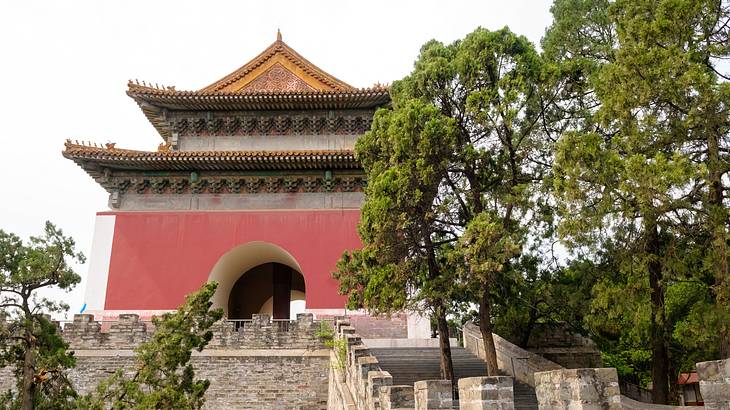 Ming Dynasty Tombs, Changping District
Built during the Ming Dynasty, the Ming Dynasty Tombs are a collection of famous mausoleums. The tombs are quite serene and well maintained, making it an excellent place to visit outside of Beijing.
If you are looking to explore the tombs, it is strongly recommended to take a guide; without a guide, you will be wandering through the area and will only be able to admire the buildings without any knowledge of the site itself.
Various artifacts are on display within each tomb, with insights and a brief history of the emperor buried in the tomb provided.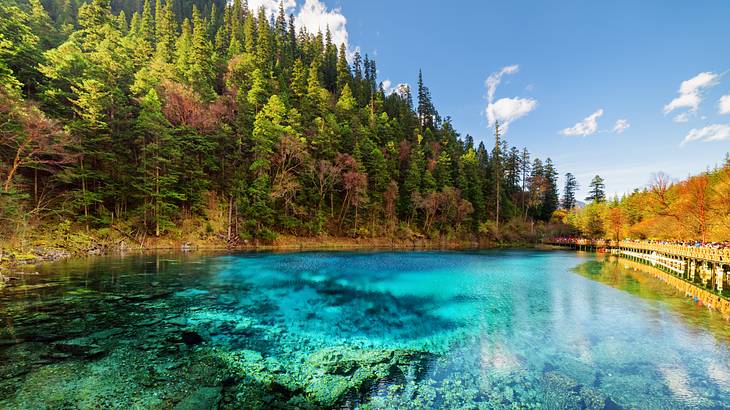 Jiuzhai Valley National Park, Sichuan
Jiuzhai Valley National Park, or Jiuzhaigou Natural Reserve, is a famous tourist attraction in China with a gorgeous natural landscape and magnificent waterfalls. Many photographers love to take photos of this park, and they enjoy the beautiful scenery.
With a total of 114 lakes and five impressive waterfalls, this park may take you up to three whole days to explore it fully! Shuzheng Valley is a popular part of Jiuzhai, as well as Nuorilang Waterfall, Panda Lake, Long Lake, and much more.
Autumn is the best time to make a trip to Jiuzhai Valley, as the leaves in the park start to become golden. However, it may be too crowded during this time since tourists (local and foreign) love to visit during the fall, so be sure to arrange your hotel, flight, and English-speaking tour guide one to two months before you go.
Chimelong Paradise, Guangzhou
Chimelong Paradise, also called Guangzhou Chimelong Holiday Resort, is a park with thrilling roller coasters and rides. It is China's 3rd most popular theme park, and the quality of its attractions is why tourists love coming here.
This unique resort has many entertainment sources, including a waterpark, safari park, circus, and other exciting activities. They have low-intensity activities as well, such as playing golf, going to the zoo, and walking through their beautiful gardens.
Being one of China's most famous landmarks, Chimelong Paradise offers the perfect balance of excitement and relaxation. You should definitely visit this fun amusement park when in China because it is truly one of a kind.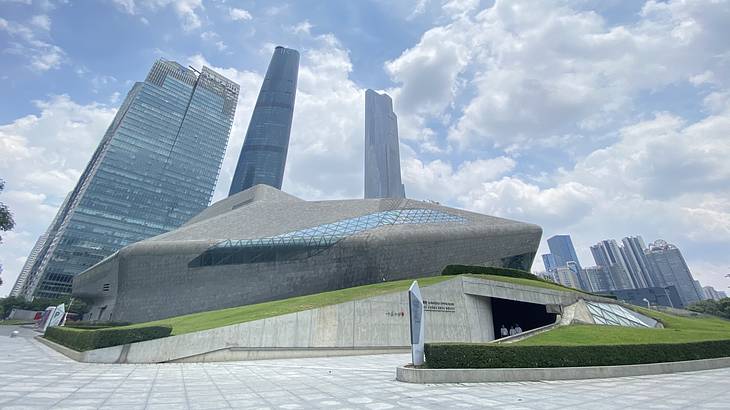 Guangzhou Opera House, Guangzhou
The Guangzhou Opera House is one of many important landmarks in China. The opera house was designed by Zaha Hadid, the first woman to win the Pritzker Architecture Prize. It opened in 2010.
Guangzhou Opera House is one of the biggest performance centres in the country and hosts an array of incredible shows. Performances to watch include ballets, classical music concerts, operas, and more.
Along with visiting to watch a show, tourists flock here to appreciate the opera house's stunning modern design.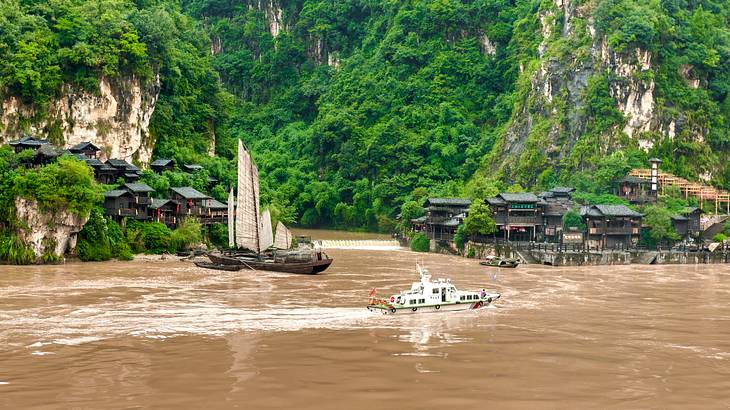 Yangtze River, China
The Yangtze River is a well-known natural landmark in China. It is over 6,300 kilometers long, which makes it the third-longest river in the world. Being so large, Yangtze is China's most important waterway, providing water to farmland that gives food to one-third of the population.
The river's name was derived during Yang's ancient fiefdom and is the river's western name. Within China, the river is often referred to as Chang Jiang - "Long River," Da Jiang - "Great River," or Jiang - "The River."
If you are looking to visit as a tourist, there are three major sections of the river worth visiting. The north part of the river includes Lijiang's Gorges and mountain areas. The Tiger Leaping Gorge is one of the most popular locations and has excellent hiking trails that allow you to explore the ridgeline near the river.
The middle portion of the river, between Chongqing and Yichang, is famous for cruise boats, taking you up and down the Three Gorges Dam. The lower portion of the river is known for the towns and cities built along the river. The towns and cities include Wuhan, Nanjing, Hangzhou, Suzhou, and Shanghai.
One of the most beautiful to visit is the ancient town of Zhujiajiao. Zhujiajiao has several traditional canals that have stunning local boats transporting tourists and goods throughout the city.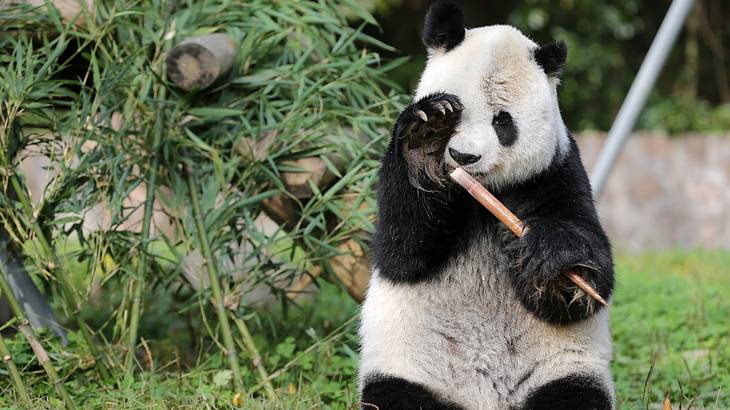 Dujiangyan Panda Base, Dujiangyan
Located near Chengdu in the Sichuan province, the Dujiangyan Panda Base is home to Giant pandas and is a must-visit site in China. The base is over 51 hectares and includes a panda hospital, medical labs, monitoring enclosures for Pandas, staff housing, and an educational center.
The center was created to support the research of diseases that affect Giant pandas. As most know, Giant pandas have, for a long time, been on the endangered species list.
It was only through a concerted effort by non-profits, environmental agencies, and people worldwide that the wild population of Giant pandas could recover and get back to a "non-endangered" level.
If you are looking to visit Pandas but don't like the idea of viewing them in a zoo, the Dujiangyan Panda Base is a great way to view them in a well-cared for and appropriate environment.
The Dujiangyan Panda Base runs several tours throughout the day. The popularity of Pandas, and the fact that the Dujiangyan Panda Base has so many maintained in a humane and caring way, makes Dujiangyan Panda Base one of the most famous and popular landmarks in China.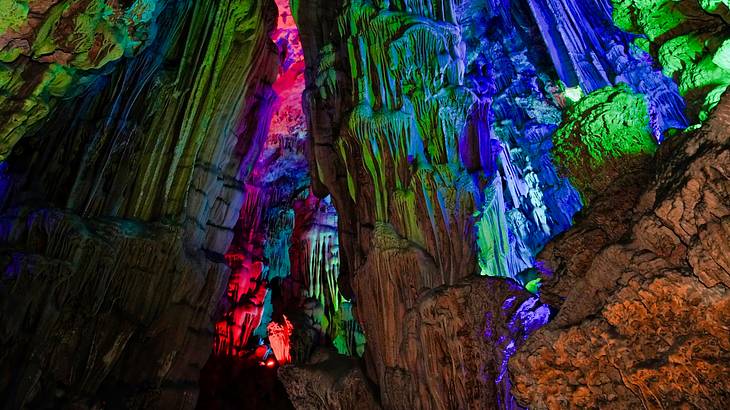 Reed Flute Cave, Guilin
Known also as "the Palace of Natural Arts," the Reed Flute Cave (Ludi Yan) is a popular landmark in Guilin, Guangxi, China.
The caves were named after the natural reeds that grew outside the cave and were historically cultivated and turned into flutes. Today, the caves have been lit up by modern lighting and turned into a beautiful, multicolored light display.
The caves are underground and can be explored comfortably on foot. The whole thing is well organized, and completing the walk takes about 1.5 hours.
Bring your camera as the combination of the striking limestone rocks and colored lighting makes it an excellent opportunity to do artistic photography.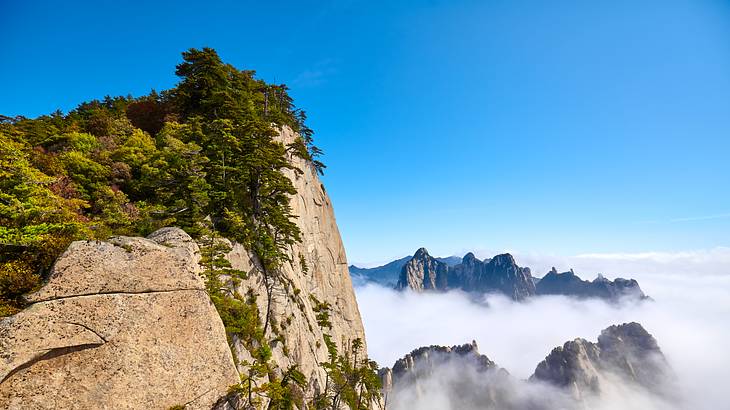 Mount Hua, Huayin
Mount Hua is located approximately 120 kilometers from Xi'an and is the westernmost mountain of the Five Great Mountains of China.
Standing at 2,154 meters high, the mountain is famous for having one of the world's most dangerous hikes due to containing several narrow pathways with sheer drops.
The government has taken several steps to improve the situation, such as widening paths and adding railways. The most significant action being taken is introducing new routes on the mountain that avoid the old dangerous trails.
If you are looking to hike Mount Hua, the most popular trail on the mountain is the Huashan Plank Trail. The plank trail is what earns the mountain its reputation. It is accessible by tourists traveling with organized groups.
Navigating the mountain requires a rope harness that attaches you to the mountain wall and allows you to walk sideways along the narrow plank path near the mountain's edge.
Jinsha Site Museum, Chengdu
Built to protect, study, and showcase prehistorical items, the Jinsha Site Museum in Chengdu is a landmark that many tourists visit in China. From unearthed ivories to elephant skulls and molars, this museum is full of rare items from Jinsha.
As you look around the museum, you will notice it is divided into four major parts; the Relics Hall, the Exhibition Hall, the Cultural Heritage Protection Center, and the Ecological Garden.
All of these parts are equally beautiful, but the garden is exceptional. Surrounded by metasequoias and other ancient trees, it is a stunning part of the museum to see.
Jinsha Site Museum is also a great place to visit with your family, and the best part is that children under 1.3 m (4.3 ft) tall or six years old and seniors over 70 years old can enter for free.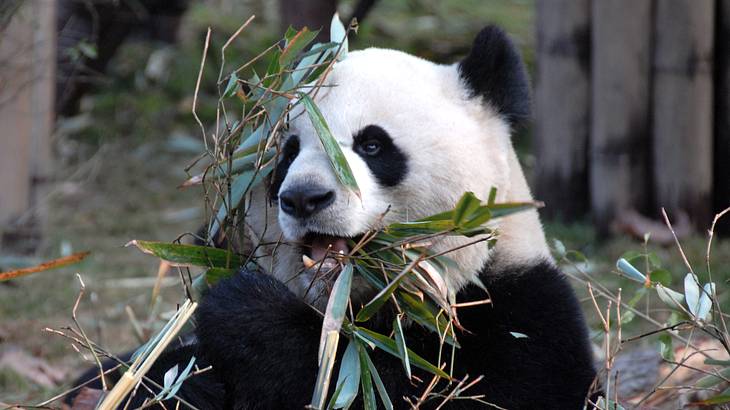 Chengdu Research Base of Giant Panda Breeding, Chengdu
The Chengdu Research Base of Giant Panda Breeding is very different from other zoos in China, which do not have the best reputation. This centre has successfully pulled giant pandas from the edge of extinction and continues to make efforts to protect these amazing creatures.
If you want to see giant pandas up close in China, visiting Chengdu Research Base is the best and most sustainable way to do so. Guests can explore the park and see the pandas in open-air enclosures. You can also learn more about the centre's research efforts through educational exhibits.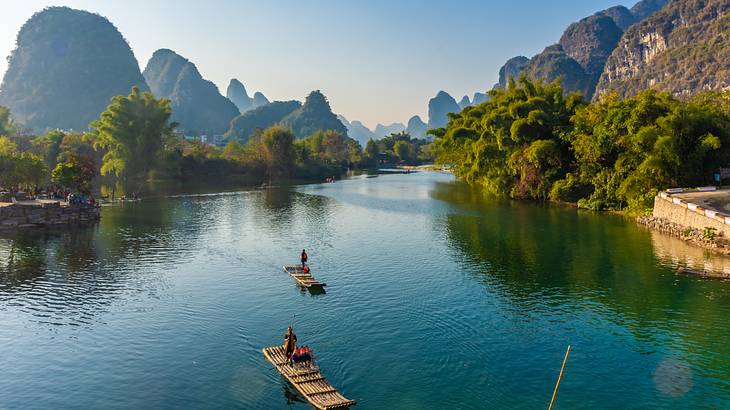 Li River, Southern China
If you want to take a nice boat trip, why not visit the Li River? Located in Southern China, the Li River is a popular place to take a riverboat cruise. The river is 273 miles long and is surrounded by beautiful lush green scenery.
To appreciate the magnificent scenery around the river, you should consider taking a cruise, going hiking, bamboo rafting, or just sitting along the edge of the river and watching the wildlife.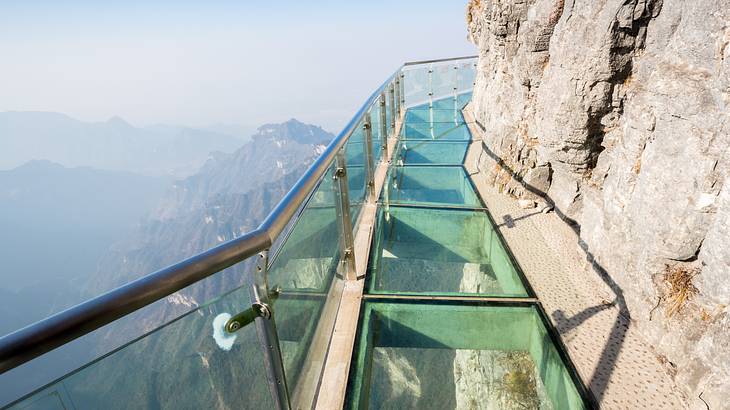 Tianmen Mountain National Forest Park, Zhangjiajie
Heaven's Gate Mountain, or in Chinese Tianmen Mountain, is a famous landmark in China. The most iconic photo from Tianmen Mountain is the cliff-hanging walkway, which is a part of the Cliffside Loop walk.
This walk is 1.6-kilometers in length and takes visitors around the mountain's summit, providing magnificent views of the nearby mountains and valleys.
Another favorite section of the mountain is the "Walk of Faith." It opened in 2011 and is a glass-plated walkway attached to the edge of the mountain. It certainly is not for the faint-hearted or those that fear heights.
Walking on the pathway, visitors are literally stepping on glass plates on a 1.6-meter wide footpath that reveals the cliff drop below the path.
Traveling to the summit is done via road and chairlift. The roads leading up to the summit are also popular; the winding bends snake up the mountain and are aptly named the "99 bends".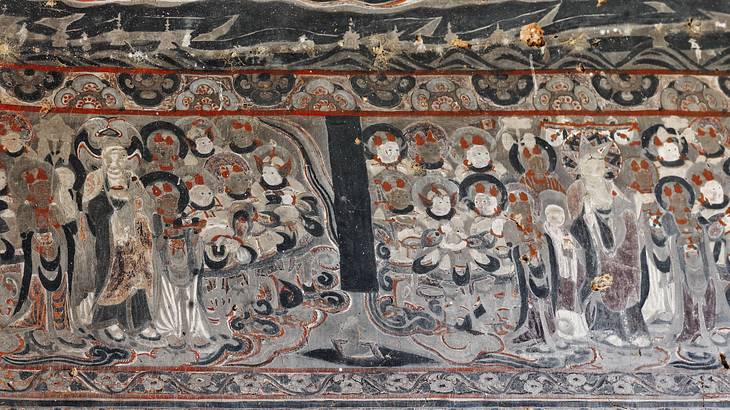 Mogao Caves, Dunhuang
There are 56 World Heritage sites in China, and the Mogao Caves, or Buddha Grottos, are one of them. The site incorporates 492 cell and cave sanctuaries.
Each of these areas is covered in Buddhist art like statues and paintings. The artworks here date back to the 4th century and make up one of the world's largest collections of Buddhist art.
Visitors to Mogao Caves will get to enjoy two films outlining the attractions' history before being able to explore some of the caves first hand.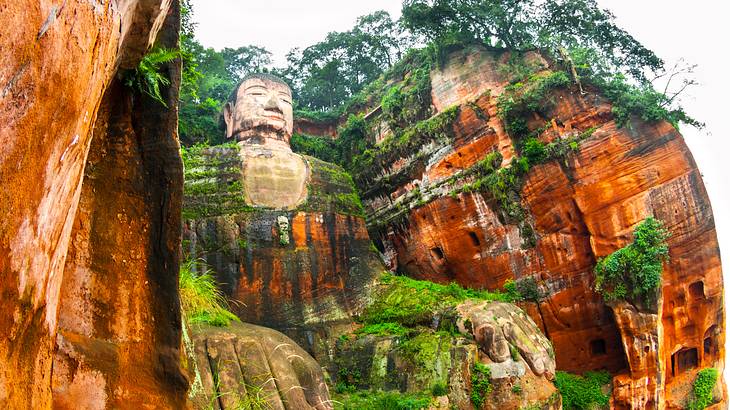 Leshan Giant Buddha, Leshan
Standing at 71 meters tall and carved from stone, the Leshan Giant Buddha (Da Fo) is an impressive landmark in China's Sichuan province. The statue was carved over 90 years.
Construction began in the 8th century by a monk named Hai Tong. The Buddha was constructed to bring safety and peace to the area. The monk, Hai Tong, believed the Giant Buddha would keep the nearby river's turbulent waters calm.
The Buddha is easy to visit from Chengdu; you can take a train that takes about an hour. On arrival, you will have to pay a small fee to enter the area. You can access the site on foot or by boat.
Visiting by a boat provides a unique vantage point of the Buddha and is often cited as a highlight of the visit. The best time to visit the Buddha is first thing in the morning, as it can get crowded in the afternoon.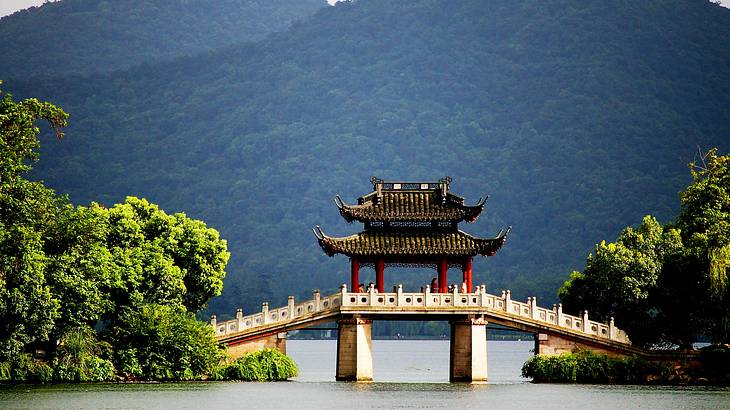 West Lake, Hangzhou
Located in Hangzhou, China, West Lake (Xi Hu) is a popular tourist destination in China surrounded by beautiful natural scenery. An interesting fact about Hangzhou is that it is one of the most populated cities in China.
The Lake has been a UNESCO World Heritage Site since 2011 and was recognised for being an influencer of gardens all over China, Japan, and Korea for several centuries. Visitors to West Lake can walk along well-maintained paths to explore numerous temples, pagodas, gardens, and artificial islands.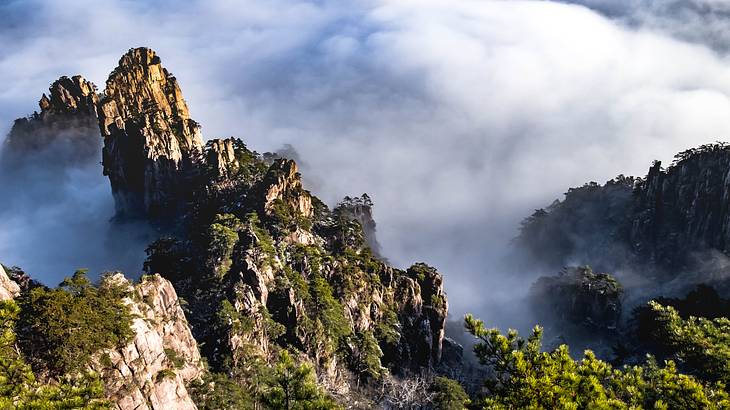 Mount Huangshan, Huangshan
Mount Huangshan, or Yellow Mountain, is one of China's most important mountains, with many calling it "the loveliest mountain of China." Westerners may be aware of the mountain as it was the inspiration for the movie Avatar.
Along with being the inspiration for Avatar, other artists, poets, and writers visit the mountain to gain inspiration for their works. With its greenery-covered granite peaks that rise out of the clouds, it's no wonder Mount Huangshan is such a popular source of inspiration!
Visitors to Mount Huangshan can hike the mountain or take a cable car into the clouds and up to the peak.
Mount Tai, Tai'an
Mount Tai is one of five sacred mountains in China and is located in the east of the country. This mountain has been a place of spiritual significance since 1,000 BC, when emperors would visit to meditate and give sacrifices.
The mountain includes various attractions, including multiple temples, the South Heavenly Gate, and Jade Emperor Peak. It's a popular hiking destination, too, especially with those wanting to hike up the mountain to watch the sunrise and set. There are also stunning blossom tree valleys all across the area to explore.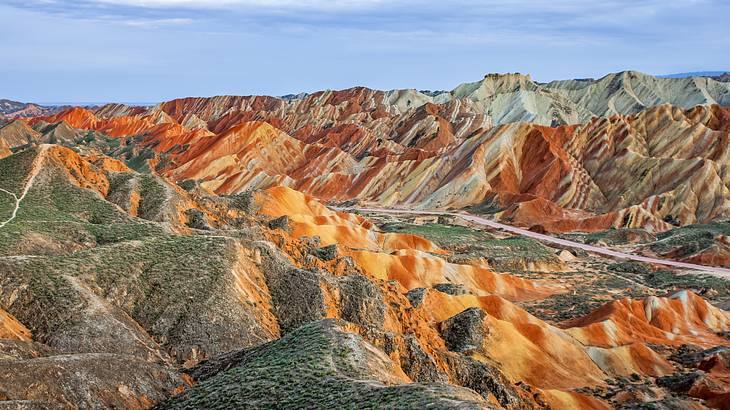 Rainbow Mountains, Gansu
The Rainbow Mountains are found in Zhangye National Geopark in Gansu. What's unique about this mountain range is that it's multi-coloured. The vibrant mountains include red, orange, blue, and yellow rocks, hence the name Rainbow Mountains.
The Zhangye National Geopark is an ideal hiking location too. If visiting, there are many viewing platforms around the park, allowing you to get an unspoiled look at the mountains. While they look stunning in the day, the Rainbow Mountains are truly magical when seen at sunset or sunrise.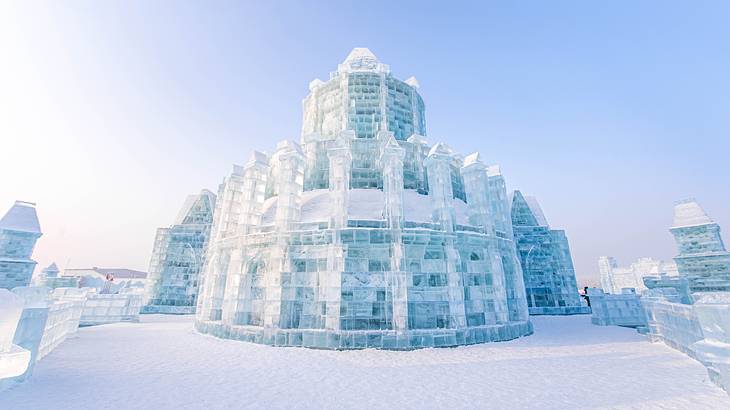 Harbin Ice & Snow World, Harbin
Harbin Ice & Snow World is a more modern China landmark but is well worth checking out if in the city during the winter. The festival runs from December or January until March and is the world's largest ice and snow festival.
At the festival, you'll get to view a range of incredible ice sculptures, several of which are illuminated in bright colours at night. There are also winter activities and fireworks to enjoy.
Many call Harbin Ice & Snow World an Icy Disneyland, and a visit to this truly unique and memorable event is sure to please!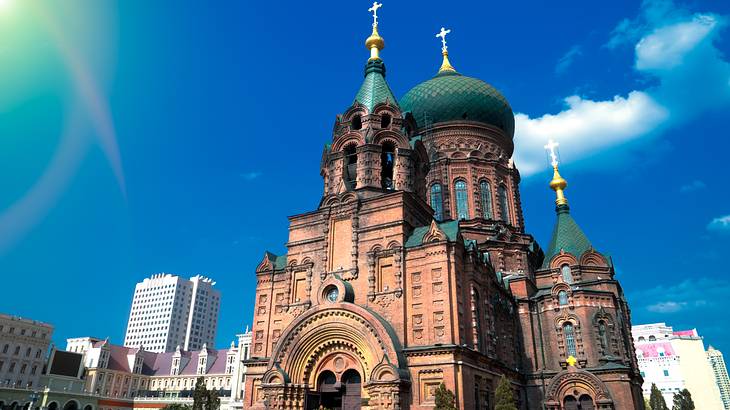 Saint Sophia Cathedral, Harbin
Saint Sophia Cathedral, or Cathedral of the Holy Wisdom of God, is a Russian Orthodox church built in 1907. It's notable as it's the largest Orthodox church in the far east.
The cathedral features dome roofs with gold crosses, stained glass windows, and ornately carved details. Visitors to the cathedral can appreciate the impeccable architecture and enjoy a little bit of Eastern Europe while in China.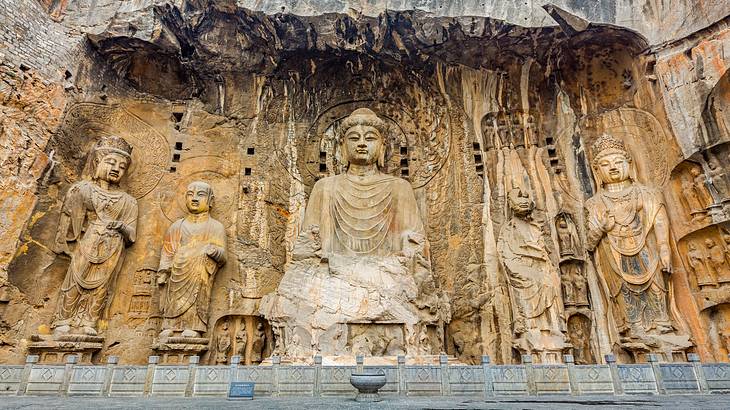 Longmen Grottoes, Luoyang
The Longmen Grottoes are another of the famous Chinese landmarks that feature Buddhist art. These caves feature thousands of Buddhist statues that are carved straight into the rock. The statues mainly represent Buddha and his disciples.
Longmen Grottoes are also an ancient piece of China's history. Estimates suggest that work began on the caves between 386 AD and 500 AD.
Despite being a lesser-known Chinese landmark, many tourists head to this site each year to appreciate the stunning carvings and learn more about the history of the caves and Buddhism.
White Horse Temple, Luoyang
There are many incredible temples to see in China, but White Horse Temple is particularly significant. This temple is the oldest Buddhist temple in the country, dating back to 68 AD.
It's said that the temple was built once a group sent to learn about Buddhism in India returned. They carried scriptures and lessons about Buddhism on a white horse, hence the temple's name.
White Horse Temple is split into various halls, including the Hall of Heavenly Kings and Great Buddha Hall. There are also shrines throughout the temple and burning incense.
Conclusion
Overall, China is an excellent option for an eventful vacation. From historical monuments to amusement parks and more, the country really does have it all.
You do not want to miss the memories and knowledge you will gain from a trip to China, as well as the fun-filled adventures you are sure to have by coming here.
---
---
Want to keep exploring?
Subscribe for discounts on tickets and hotels and our latest guides.
Thank you for subscribing
We will be in touch soon with discounts on tickets and hotels and our latest guides.
Want to keep exploring?
Subscribe for discounts on tickets and hotels and our latest guides.
Thank you for subscribing
We will be in touch soon with discounts on tickets and hotels and our latest guides.
Related Articles