Asia Landmarks - 25 Famous Landmarks in Asia
Destguides may receive commissions from purchases made through affiliate links in this article.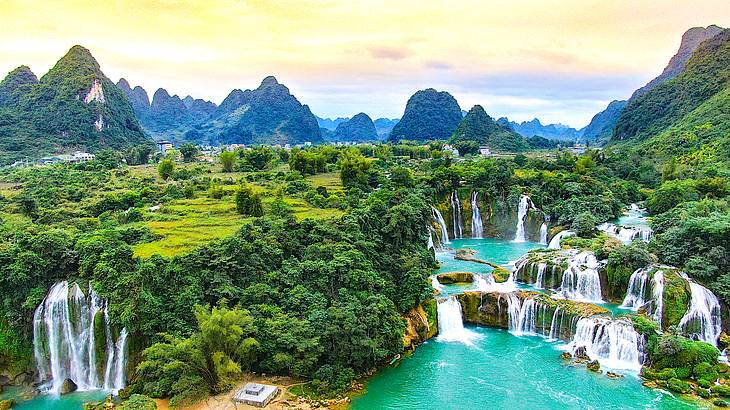 Asia is an incredible continent full of culture, history, and the best food. Travelers also flock to the continent due to the vast array of famous landmarks in Asia.
These sites include everything from natural landmarks to ancient structures and more modern skyscrapers. These attractions are also located across the continent, from China and India to more Western spots like Jordan and Kuwait.
No matter what kinds of places and attractions you want to visit, this list of Asia landmarks will have something to interest you! Keep reading to discover 25 of Asia's top places of interest.
25 Famous Asian Landmarks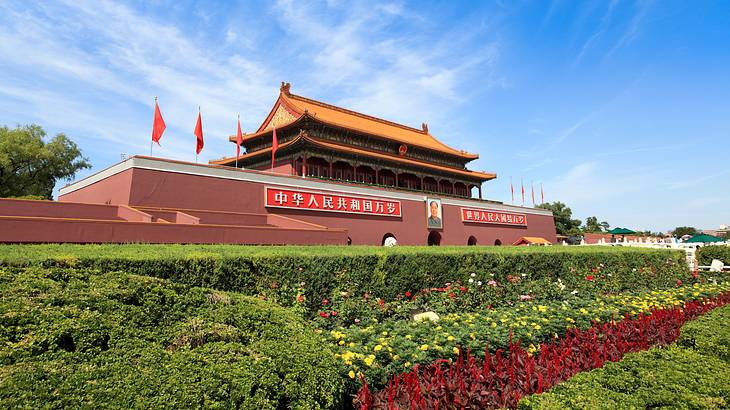 The Forbidden City, China
The Forbidden City complex is an impressive monument found in the center of Beijing. The complex was built in the early 1400s during the early Ming Dynasty and contains palaces and other administrative buildings. This landmark is notably the largest imperial palace in the world and one of the most famous landmarks in China.
The 980 buildings that make up the complex served as the imperial palace of China from 1420 to 1912. Twenty-four emperors from the Ming and Quin dynasties used the Forbidden City as their home during their reign.
Today, tourists can explore many of these buildings, including the Hall of the Supreme Principle and the Palace of Eternal Harmony. There is also a Palace Museum to visit, which features thousands of artifacts, art pieces, and ceramics.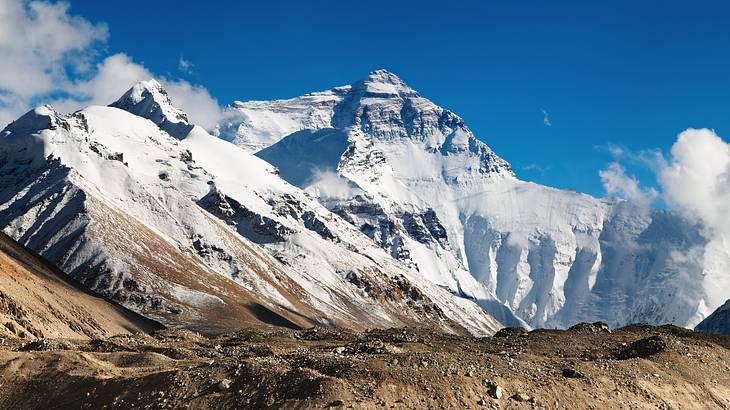 Mount Everest, China
Mount Everest is the highest mountain on Earth and one of the most famous landmarks around the world. It stands at 8,848 m (29,029 feet) above sea level and is located on the border of Nepal and China.
The mountain has been a popular tourist attraction for years, with many attempting the climb to the top. However, getting to the top is quite difficult and is only accomplished by a few. You will need to be in great shape and get an approved guide to climb with you.
The cost of safely climbing the mountain can range from 20,000 to over 100,000 USD as well, so this is not necessarily an activity for the average tourist!
If you don't want to attempt the climb, just viewing the mountain while in Asia is a memorable experience. For the most amazing views, tourists can take a helicopter tour that flies over and around the mountain.
Additionally, a visit to Chandragiri Hills in Nepal offers excellent views of Mount Everest. There are also cable cars here which offer another incredible view of the mountain.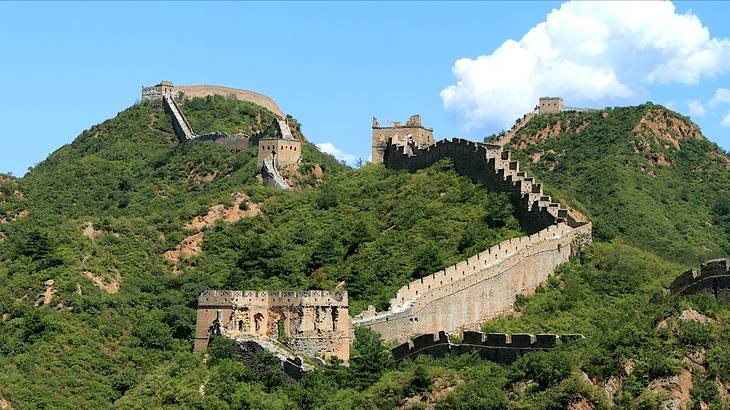 Great Wall of China, China
The Great Wall of China is one of the most famous landmarks in Asia. The 21,196 km wall took 2,300 years to build, and some say it can even be seen from space!
The Great Wall was initially constructed to protect China's territory. Today, it has become the most visited attraction in China, receiving over 10 million visitors every year.
The "Great Wall" is actually made up of many walls and fortifications. The ancient wall goes through vast areas of Northern China and covers more than 15 regions. The most popular part of the wall to be visited is The Great Wall at Badaling which is found just outside of Beijing.
There are also 23 watchtowers placed along the wall, allowing tourists to get a great view of the surrounding area. When in China, a trip to the Great Wall of China should be at the top of everyone's to-do list.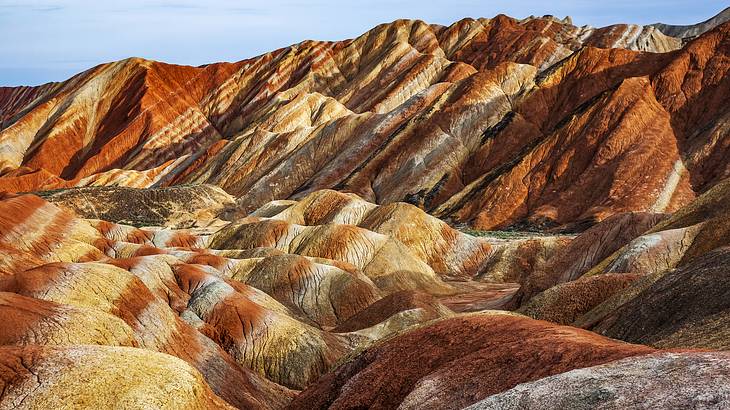 Zhangye Danxia National Geological Park, China
The Zhangye Danxia National Geological Park, also known as Zhangye National Geopark, is a national park in China home to the Zhangye Danxia landforms.
These interesting rock formations feature many colors, including a range of reds, oranges, and yellows. The beautiful color palette of these mountains has led to them being referred to as the Rainbow Ridges.
The geological park is found near Zhangye in Northwestern, China. The park has multiple viewing platforms where visitors can get the most incredible views of the landforms.
The platforms are found at various locations as you hike through the park. Some platforms do have a decent number of steps to climb to get to the top, but it's worth it!
It's said that the fourth viewing platform, called the Colorful Clouds Platform, boasts the best views. However, you are sure to get amazing views from most locations in the park.
Of course, be sure to take lots of photos here. If possible, stay until sunset to enjoy the red-pink sky surrounding the colorful mountains.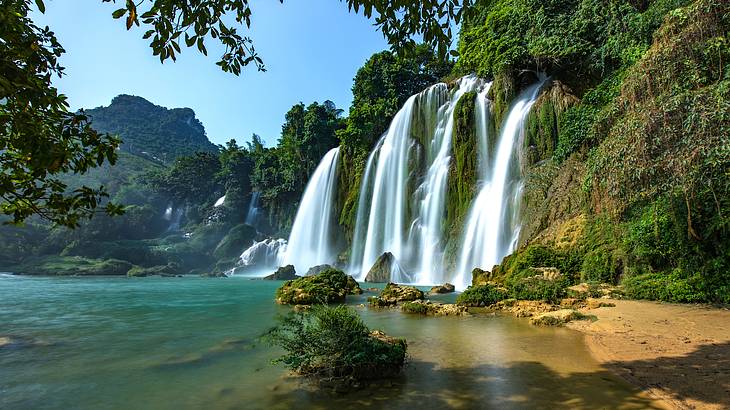 Ban Gioc Falls, Vietnam
Ban Gioc Falls is located in Cao Bang. This natural landmark in Asia is one of the biggest waterfalls in Vietnam with a height of 30 meters high and a width of 300 meters.
The vast falls somewhat resemble a large staircase, with multiple falls and pools over different levels. The waterfalls are surrounded by lush green forest creating a stunning tropical environment.
To get up close to Ban Gioc Waterfall, you can hire a raft which will be taken as close to the waterfalls as you can get. Even from the surrounding viewing areas, you'll get to take in the breathtaking vistas and get some great pictures.
Many visitors will bring a picnic along, allowing you to relax on the grass with your lunch while enjoying the memorable views.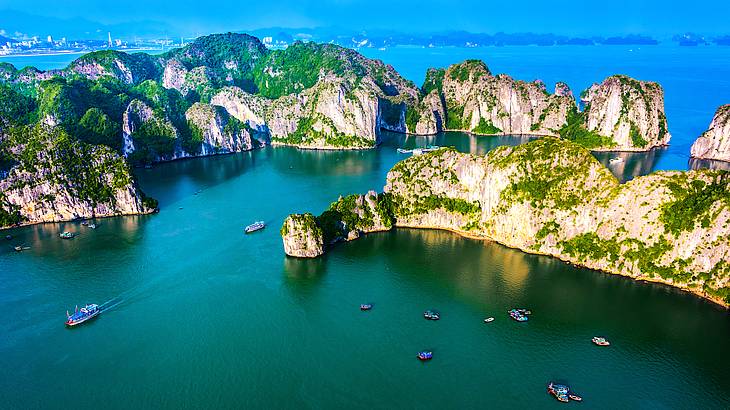 Ha Long Bay, Vietnam
Located on the North coast of Vietnam, Ha Long Bay is one of the most beautiful natural landmarks in Asia. The site is additionally a UNESCO World Heritage Site which welcomes six million visitors a year.
Ha Long Bay is made up of 1,600 Limestone Islands and inlets covering an area of almost 1,500 Square Kilometers. Those who visit the bay will have the opportunity to see the beautiful limestone islands covered in rainforest and surrounded by emerald-green water.
Along with enjoying the stunning scenery, there are many activities to try. These include scuba diving, rock climbing, and hiking. Hikers will particularly enjoy Cat Ba National Park which offers scenic hiking trails through mountainous terrain.
You can also hop on a local "junk-boat" to tour the island or be a little more adventurous by trying a cave expedition or kayaking trip. Additionally, visitors can take a memorable overnight cruise. These cruises travel across the bay and allow guests to watch the sunset over the relaxing waters.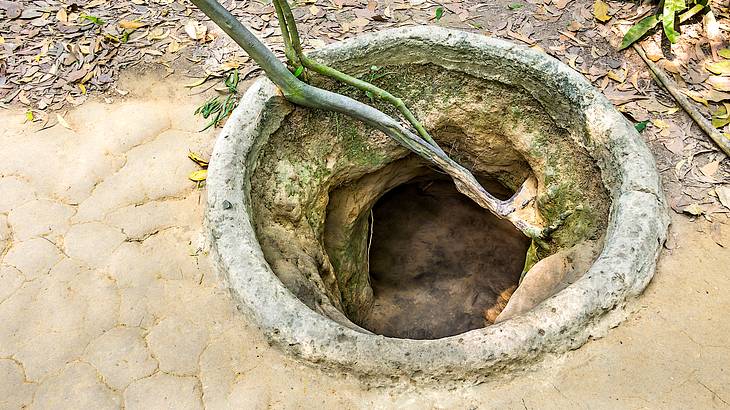 Cu Chi Tunnels, Vietnam
The Cu Chi Tunnels are a famous Asian landmark found outside of Ho Chi Minh City in Vietnam, so do consider adding them to your 3 day Ho Chi Minh itinerary. The tunnels were initially built for use by the Viet Cong during the North Vietnam war. Today, they are a fascinating, historic, and memorable tourist attraction.
Over 120 kilometers of the underground tunnels are accessible to visitors. Once in the tunnels, you'll be able to see the soldiers' underground living quarters, hospitals, and armories. You'll also be given more history on the tunnels and their importance during the war.
Although you can get to the tunnels on your own, using a tour company is recommended. There are many choices for half-day trips to the Cu Chi Tunnels, or you can plan a day trip with an added stop at the Mekong Delta.
While the tunnels have been expanded to accommodate tourists, this might be an attraction to miss if you don't like enclosed spaces!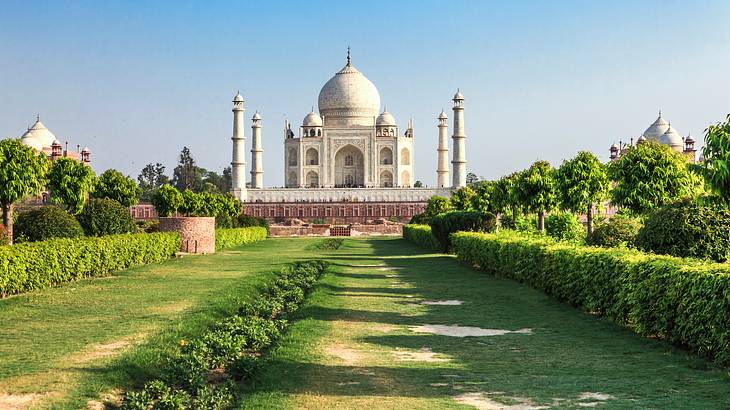 Taj Mahal, India
The Taj Mahal is located in the city of Agra in Northern India. It is not only one of the most iconic monuments in India, but the Taj Mahal is also one of the most famous landmarks of Asia. It's additionally one of the Seven Wonders of the World, making this ancient palace a must-visit!
The marble monument was commissioned in 1632 by the Mughal Emperor Shah Jahan for his wife Mumtaz Mahal, who sadly died in childbirth. Completion of the building to over 20 years with 22,000 workers and 1,000 elephants working on it across that time.
While marble is the primary building material, the stunning monument also features red sandstone and precious stones. The Taj Mahal is a prime example of Mughal architecture and is not to be missed if traveling in India.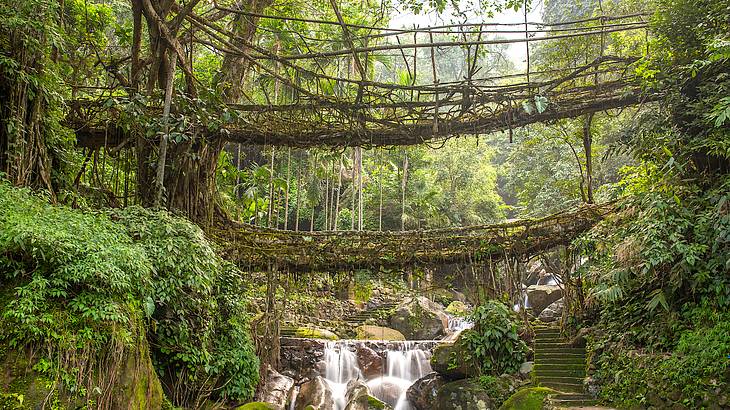 Jingmaham Living Root Bridge, India
Most people are used to seeing bridges made with materials like steel, but in Mawlynnong, you can see bridges made from tree roots! These unique bridges are made out of the roots of rubber trees, which are bound together to create strong bridge-like structures.
The Jingmaham bridge stands across a stream and is strong enough to hold up to 50 people at one time. This is a truly unique sight to see when in India and is a fantastic place to take some vacation pictures.
If you enjoy visiting the Jingmaham Living Root Bridge, there are some other root bridges nearby to check out. This includes the Double Decker Living Root Bridge in Sohra.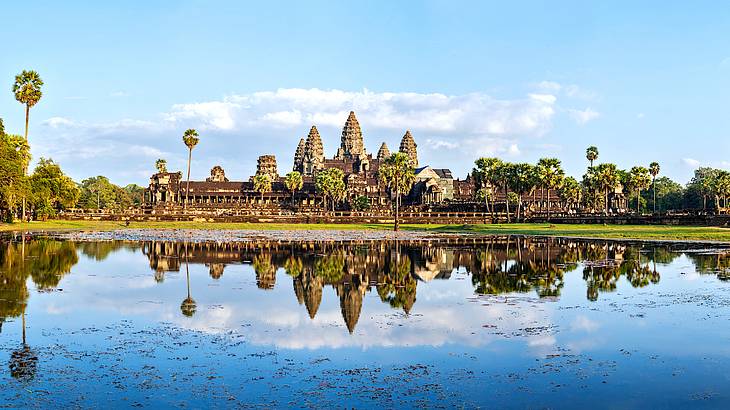 Angkor Wat, Cambodia
Angkor Wat in Cambodia is the former capital city of the Khmer Empire and today is one of Asia's most-visited locations. It is situated in the historical town of Siem Reap, and it is a must on any 3 day Siem Reap itinerary.
The main attraction here is the Angkor Archaeological Park, which covers over 160 hectares. This park features the Angkor Wat temple complex, which is made up of many temples dedicated to various gods.
It's recommended that visitors arrive early to enjoy the sunrise over the temple complex's left pond. Having taken in the sunrise, you can explore the temples and gardens.
These include the Angkor Thom temple complex, which consists of the stunning Bayon Temple, and the Ta Prohm Temple. Each temple has something unique to offer and is surrounded by lush jungle making for a memorable scene.
After exploring Angkor Wat, be sure to end your visit by watching the sunset over Phnom Bakheng temple. Do note that you'll need to purchase an Angkor pass to be able to enter the park. While it's recommended that you buy this in advance, passes can be purchased on-site.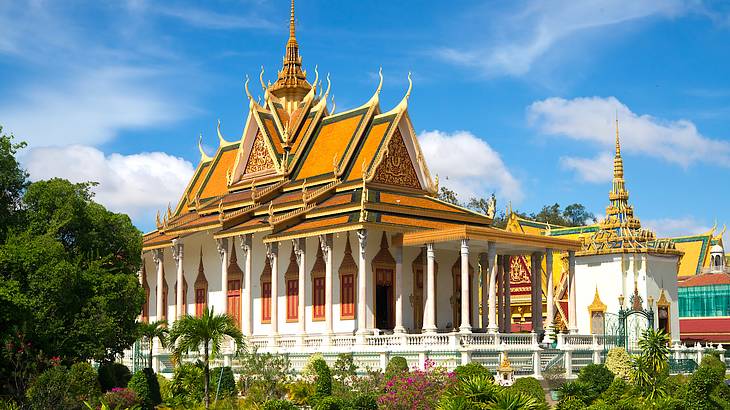 The Silver Pagoda, Cambodia
Located in the Royal Palace in Cambodia, the Silver Pagoda is a striking structure with a beautiful ornamental design. The building gets its name from its stunning silver floor that features five tonnes of silver.
Along with its unique flooring, the exterior structure is complete with ornate details and a bright gold roof resulting in a truly breathtaking design.
Having taken in the beauty of the pagoda's exterior, you can go inside to view many Buddha statues, including the Golden Buddha. This particular statue is covered in 9,584 diamonds which weigh up to 25 carats.
If you're visiting Phnom Penh for a few days, a trip to the Royal Palace and the Silver Pagoda is highly recommended!
Komodo National Park, Indonesia
To make the most of Indonesia's natural beauty, a visit to Komodo National Park is a must. This national park spans 1,733 square kilometers and covers the islands of Komodo, Padar, and Rinca.
As the name suggests, the park is the natural habitat of the Komodo dragon. Komodo National Park is one of the only areas in the world that these giant lizards inhabit. If you manage to spot one on your trip, it will be a once-in-a-lifetime viewing!
While Komodo dragons will not usually attack humans, they have caused fatalities in the past so be careful not to disturb them or get too close.
The main goal of the national park is to protect the endangered Komodo dragon and other wildlife. Therefore, you're likely to spot many other creatures, including crab-eating macaque, Timor deer, twelve species of snakes, and over 70 species of birds.
The park additionally has stunning beaches and clear, turquoise water. The Komodo dragons tend to hang out on the beaches, making them the perfect spot to see the dragons as you take in the beautiful beach views.
You may even see dolphins or whales in the surrounding waters. This is a great natural landmark in Asia to visit if you love animals and coastal jungle scenery.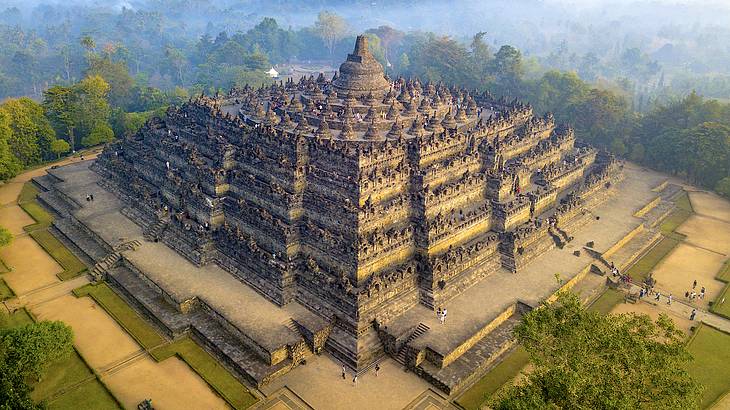 Borobudur Temple, Indonesia
Borobudur Temple is a Mahayana Buddhist temple found in Borobudur, Magelang Regency in Central Java. The temple was constructed in the 9th century and is the world's largest Buddhist temple.
The interesting design of this temple features three tiers that are constructed in a pyramidal style. The temple's exterior is covered with over 500 different-sized Buddha statues and other stone carvings. The roof also features a range of bell-shaped structures.
Visitors to the temple are recommended to explore on foot. Once you have climbed to the top of the hill that the temple sits on, you can wander around the 123 by 123-meter structure. Tour guides are available as well to offer extra information on the history and importance of the temple.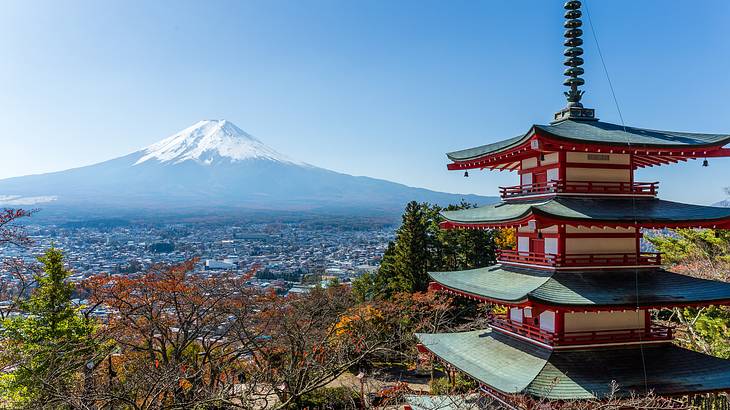 Mount Fuji, Japan
Mount Fuji is the highest mountain in Japan, standing at 3,776 meters tall. This world-renowned natural landmark in Asia is one of three sacred mountains in Japan and should be on every travelers' list of must-see Japanese landmarks. The mountain is actually an active volcano although it has not erupted since the early 1700s.
Mount Fuji attracts more than 200,000 climbers a year, with many others admiring it from afar. If interested in climbing the mountain, you can do so in July and August, with various routes available to follow. If you want a more leisurely experience, you can visit Fuji Five Lakes at the base of the mountain.
As mentioned, Mount Fuji can also be seen from afar. This includes from various points around Tokyo or on the train between Tokyo and Osaka. Therefore, even if you don't make it to the famous mountain, you'll be able to take in its beauty while in Japan.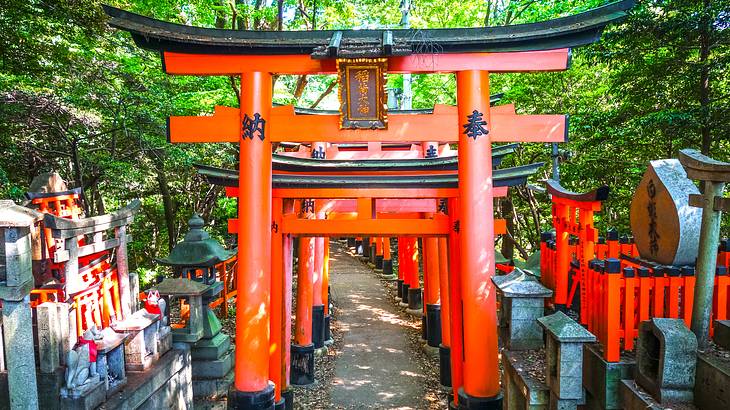 Fushimi Inari-Taisha, Japan
When looking for a place to stay in Japan, Kyoto is an excellent destination to check out. In the city, you'll come across a famous landmark in Asia, Fushimi Inari-Taisha. This is an important shrine that is dedicated to Inari, the Shinto god of rice.
The shrine boasts a beautiful traditional design and is known for its bright red exterior. The Vermilion Tori Gates, which represents the division between the physical and spiritual worlds, is also a popular feature. Visitors will be able to spot thousands of these gates around the shrine's grounds.
Visitors may additionally notice fox statues around the shrine. This is because foxes are said to be the messengers of Inari. While in the area, tourists can also hike Inari Mountain, which stands majestically behind Fushimi Inari-Taisha.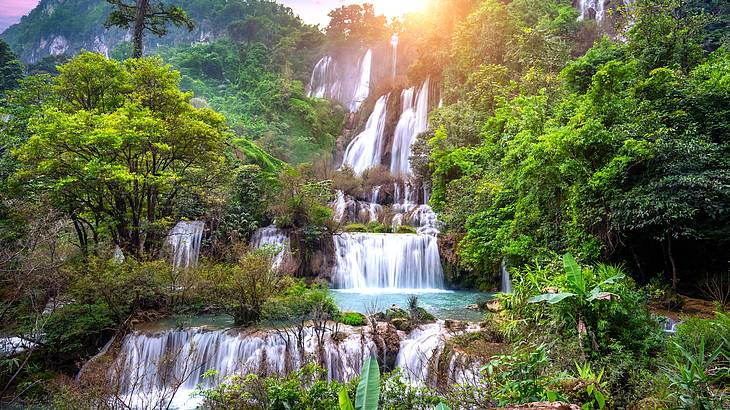 Thi Lo Su Waterfall, Thailand
At 800 feet tall and 1,500 feet wide, Thi Lo Su Waterfall is the largest and highest waterfall in Thailand. This vast waterfall is a stunning sight to see, making it a top Thailand bucket list item.
The main waterfall is comprised of three individual falls with pools at the bottom of each. Visitors can swim and cool off in these pools as they enjoy the view of the cascading waterfalls.
To get to the falls, you'll need to trek from the car park through a jungle area. This trek is relatively easy and will take about 30 to 40-minutes.
The falls cover quite a large area, meaning you could easily spend a whole day at Thi Lo Su. Visitors here can also try rafting or longer jungle treks. There are lots of campsites in the area too if you want to stay overnight.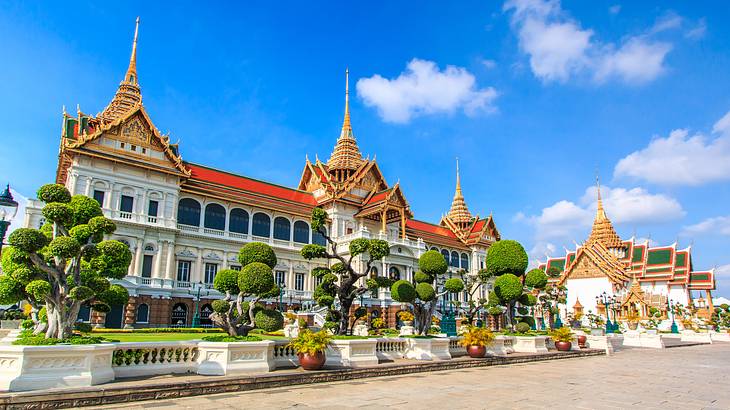 The Grand Palace, Thailand
The Grand Palace in Bangkok is one of the most popular tourist attractions in Thailand and a top landmark in Asia to visit. It is a must-visit when in Bangkok for three days.
Constructed in 1782, the palace has grown in size over the last 200 plus years to include many royal buildings. Today, the palace complex is split into three main zones and covers over 200,000 square meters.
The palace complex boasts a unique design that combines European and Thai styles. The beautiful colors, ornately tiled walls, and elegant gold details make the palace a breathtaking building to see and a great photo subject.
A top-rated attraction at the palace is the Temple of the Emerald Buddha. As the name suggests, this Buddhist temple houses an emerald Buddha that dates back to the 14th century. When visiting Bangkok, a trip to this renowned Thai landmark is an absolute must.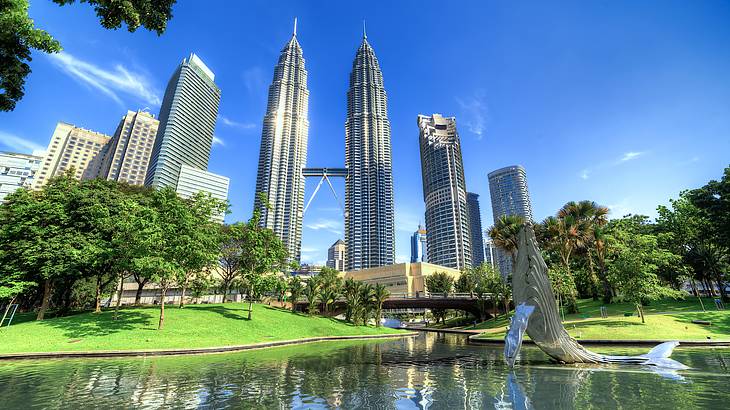 Petronas Twin Towers, Malaysia
The Petronas Twin Towers are among the tallest buildings in the world and stand in Kuala Lumpur, Malaysia. Although this is a more modern landmark, having been constructed in the late 1990s, the Twin Towers are one of the most famous buildings in Asia and a must for any Kuala Lumpur itinerary.
The towers stand at 451.8 meters tall and are connected by a sky-bridge at the 41st and 42nd floors. Each tower has 88 floors, and there is a five-story shopping mall at the base of the buildings.
The popular observation deck on the 86th floor offers impressive views of the Kuala Lumpur skyline. If you don't want to go up that high, you can also get great views from the sky-bridge.
A beautifully landscaped park surrounds the towers as well, where you can take a relaxing stroll and enjoy the urban oasis. To get out of the city and explore even more nature, consider a short weekend getaway from KL.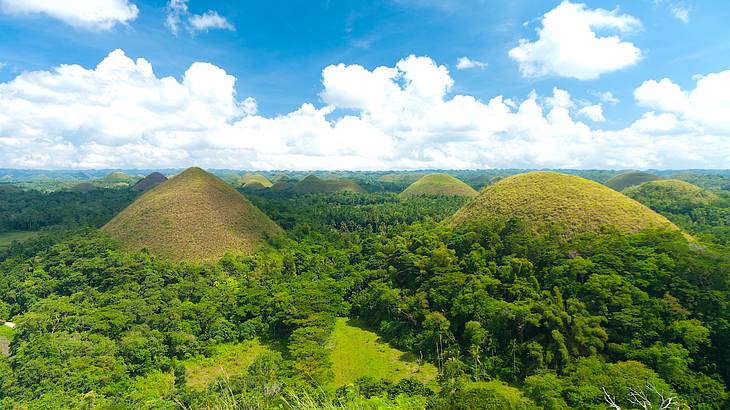 The Chocolate Hills, Philippines
The Chocolate Hills is another amazing natural landmark in Asia. Found in the Bohol province of the Philippines, this landmark is made up of over 1,000 hills. These hills vary in size from 30 to 120 meters tall and cover more than 50 square kilometers.
The hills gained their name because they turn a chocolatey color in the dry months of November to May. If visiting during the wetter months, you're more likely to find the hills' covered in lush greenery.
Whenever you visit, the view of hundreds of hills spread across the landscape makes for a unique experience (and a great photo op!). To get the best view of the hills, visit the observation deck in Carmen. The views from Sagbayan Peak are equally impressive if you have time to visit there too.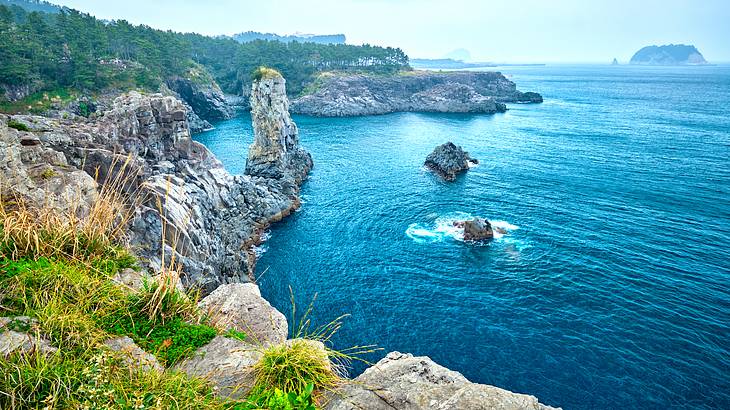 Jeju Volcanic Island, South Korea
Jeju Volcanic Island is a popular triple crown UNESCO World Heritage Site in South Korea. This peaceful coastal island is a tourist favorite due to its beautiful scenery and exciting lava tubes cave system.
The lava tubes were created over 100,000 years by magma gushing from the active volcano toward the seashore. This volcanic activity resulted in 20 caves that have unique drip-like features from the ceilings and walls. Visitors can explore these interesting caves, with popular stops being the Yongcheon Caves and Manjanggul Cave.
Another popular attraction on the island is Mount Hallasan and Hallasan National Park. Mount Hallasan is the tallest mountain in South Korea, reaching 1,950 meters above sea level. The surrounding nature reserve and national park are home to a vast array of flora and fauna, including over 4,000 animal species and 1,800 plant varieties.
Along with spotting a variety of creatures, flowers, and trees, visitors to the park can hike a range of trails that offer the most incredible views of Jeju Island. The combination of sandy beaches, clear blue sea, and lush green forests makes Jeju Volcanic Island a perfect place to relax and explore.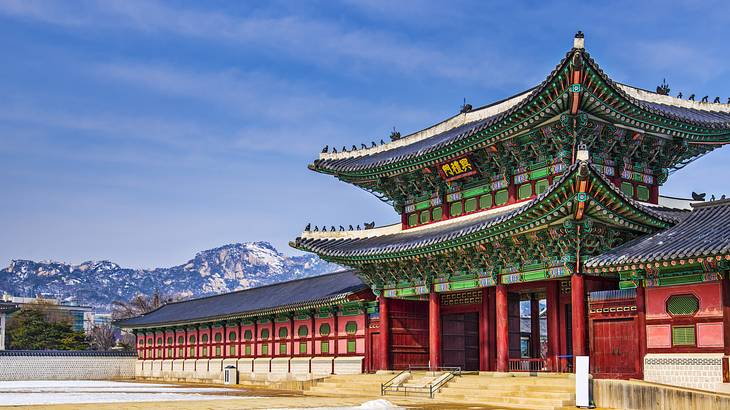 Gyeongbokgung Palace, South Korea
Located in Seoul, Gyeongbokgung Palace is one of South Korea's most beautiful landmarks. The palace was constructed in 1395 as the primary residence for kings of the Joseon Dynasty.
Notably, it's the largest of the five palaces built by this dynasty. Today, visitors can tour the palace and learn more about the Joseon Dynasty at the on-site National Palace Museum of Korea.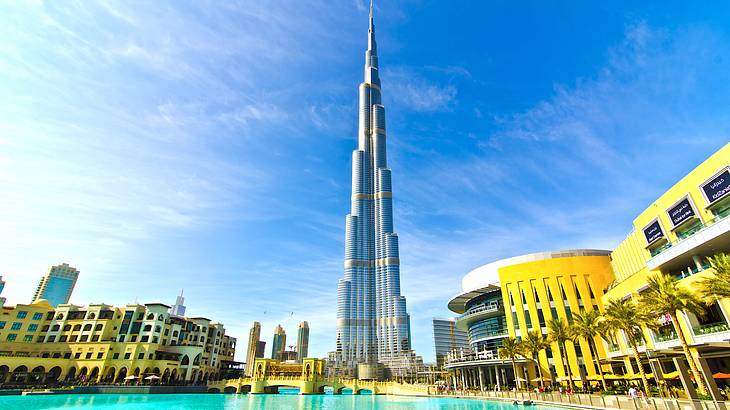 Burj Khalifa, United Arab Emirates
Burj Khalifa is a skyscraper in Dubai, United Arab Emirates. This Dubai landmark is notable as it currently holds the record of being the tallest building in the world.
Standing at 829 meters tall, the Burj Khalifa is a major part of the central Dubai skyline. It's also one of the most modern and major landmarks in Asia and a must for any Dubai itinerary.
The structure was completed in 2009 and has 163 floors consisting of residential units, corporate suites, and hotels. There is also an observation deck on the 148th floor, which is a top-rated tourist attraction. Interestingly, this is the highest observation deck in the world.
Having enjoyed the stunning views from the observation deck, head to the 122nd floor for fine dining and more amazing views at Atmosphere Burj Khalifa. If in the mood for something more casual, visit The Lounge for a glass of champagne or afternoon tea.
The views and atmosphere at Burj Khalifa are equally memorable in the day and at night. No matter when you visit, you'll get to enjoy the most stunning views in Dubai!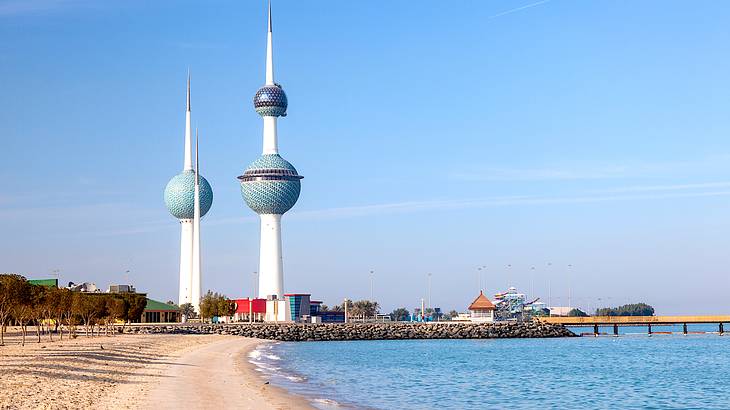 Kuwait Towers, Kuwait
The Kuwait Towers are among the most famous Asian buildings globally, making them a top tourist attraction for those visiting Kuwait. The unique towers with spherical pods have become a stable of the Kuwait skyline.
The towers consist of three towers, with the tallest building being 180 meters tall. The towers serve a somewhat practical function, housing water towers. However, visitors will get to enjoy restaurants with panoramic views and an observation platform.
The observation deck, called The Viewing Sphere, is located 123 meters above sea level. Here visitors can get unobstructed 360-degree views of the city.
Once you've enjoyed the views, head to Horizon, Kuwait Towers' rotating restaurants. Horizon is a high-end buffet-style restaurant that serves breakfast, lunch, and dinner. If you want the most amazing views of Kuwait, then Kuwait Towers has to be on your must-visit Asia landmarks list.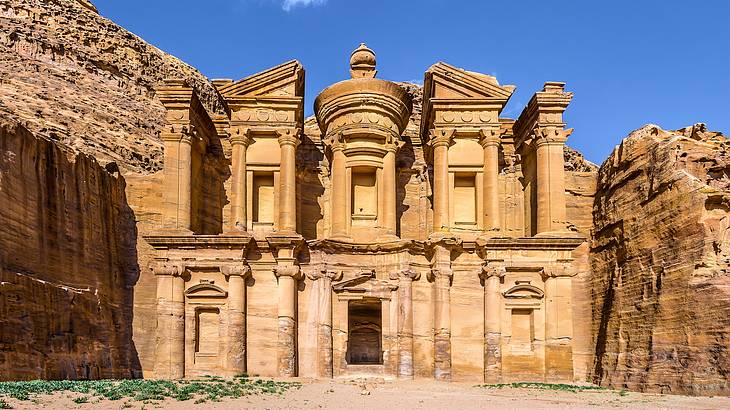 Petra, Jordan
Petra is a famous historical landmark in Asia located in Wadi Musa, Jordan. The ancient city is renowned for its historical and archaeological heritage. It has even been named one of the new Seven Wonders of the World.
Petra is known for its rock-cut architecture, which dates back to 312 BC. Buildings here were carved directly into sandstone cliffs, many with highly intricate designs. These buildings are incredibly well-preserved, allowing visitors to feel like they've gone back in time as they explore each structure.
A trendy building here is the Treasury, locally known as Al-Khazneh. This building features a Hellenistic facade and was built to be the tomb of King Aretas III. However, it ended up being used as a hiding place for an Egyptian Pharaoh's treasure.
Other attractions include a Monastery, The Royal Tombs, and the eerie High Place of Sacrifice. Along with many other ancient buildings to see, visitors can head to the Petra Museum to learn more about the area's history.
Those who stay into the evening will enjoy Petra By Night, which sees the ancient buildings lit up by thousands of candles.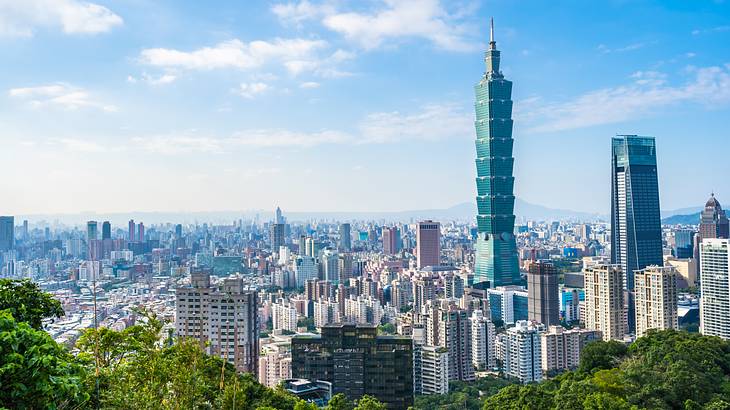 Taipei 101, Taiwan
Taipei 101 is a renowned skyscraper in Taiwan, which houses shops and eateries as well as an observation deck on the 89th floor.
Construction of the tower was completed in 2004, and it was the world's building until 2009. The tower stands at 508.2 meters and, as the name suggests, features 101 floors.
In Conclusion
Being the world's largest continent, Asia is home to a vast array of famous landmarks. Whether natural or human-made, there are numerous Asian landmarks that must be added to your travel bucket list.
No matter which countries you visit, hopefully, this list helped you identify some places to check out during your next trip to Asia. Whichever landmarks you choose to see, you're sure to be amazed and create lifelong memories. Best of all, there are many cheap countries in Asia, so travelers of all budgets can explore this amazing continent!
Give us feedback about this article
More articles about landmarks:
---
---
Want to keep exploring?
Subscribe for discounts on tickets and hotels and our latest guides.
Thank you for subscribing
We will be in touch soon with discounts on tickets and hotels and our latest guides.
Want to keep exploring?
Subscribe for discounts on tickets and hotels and our latest guides.
Thank you for subscribing
We will be in touch soon with discounts on tickets and hotels and our latest guides.
Related Articles