13 Best Things to Do in Zagreb
Destguides may receive commissions from purchases made through affiliate links in this article.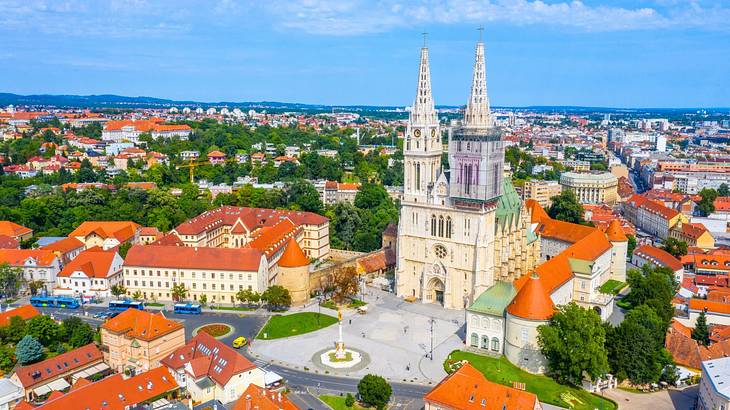 Zagreb is a city that is often overlooked by eager beachgoers making a beeline for the Adriatic Sea. While Croatia's capital might not be home to sparkling beaches and dazzling blue waters, Zagreb is a city bursting with youthful energy just waiting to be explored.
Abundant in museums and lush green parks, bubbling with a vibrant cafe culture, and chock-full of lively markets, Zagreb offers much more than meets the eye. Its old-world charm and relaxed pace make it a wonderful choice for a city-break destination or a great starting point for an epic Croatia road trip.
After six years of living in Zagreb, I've come to know the city like the back of my hand. In this Zagreb guide, I'll be sharing the best things to do in Zagreb, Croatia, so that you can experience the city like a local.
13 Top Things to Do in Zagreb, Croatia
Zagreb - Centar Things to Do Video
Check out our highlights video of Zagreb - Centar things to do.
Zagreb - Centar Things to Do Map
A map of Zagreb - Centar. Use the map to explore all the things to do.
Stroll Around the Lenuci Horseshoe
Zagreb's emerald area is a U-shaped system of parks and green spaces located in the Lower Town. Starting from the main square, make your way south toward the train station. You'll pass by one of the most beautiful sections of the city, Zrinjevac Park.
A green haven in the middle of Zagreb, Zrinjevac is filled with fountains and is surrounded by Renaissance and neo-Romanesque style buildings.
Follow Lenuci's Horseshoe across King Tomislav Square, through the Botanical Gardens, past the Croatian State Archives building, and all the way to the Croatian National Theater for a lovely afternoon walk.
Browse the Local Farmer's Market
Open every single day of the week, under a canopy of bright red umbrellas, lies Dolac Market - a must-see during any visit to Zagreb.
This farmer's market is a great place to get a taste of life in the city, as it is the main market where many locals come to get their groceries for the day.
On the upper, outdoor level, visitors can sample fresh and seasonal produce as well as homemade cheeses, dried fruit, and nuts. You'll find fresh meat, fish, homemade doughs, bread, and pasta on the ground floor.
Try some local delicacies on the spot or bring some ingredients back to your Airbnb and cook up your next meal!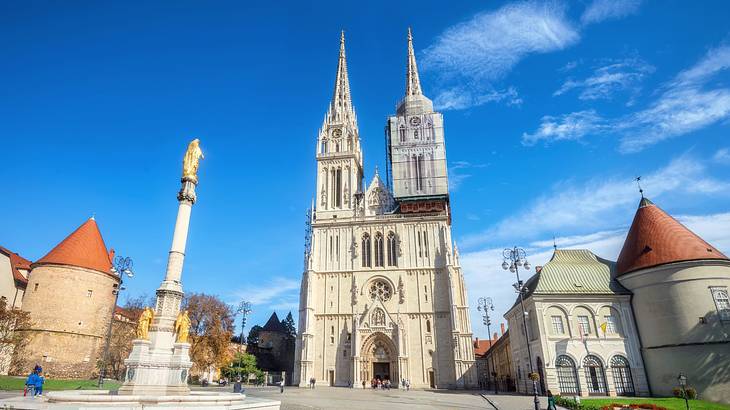 Pay a Visit to the Cathedral
Dominating the city skyline is the stunning, Gothic-style Cathedral of Zagreb, which also happens to be the tallest building in all of Croatia. Constructed in the 11th century, this magnificent cathedral can be viewed from almost every point in the city and is definitely worth seeing up close.
Hunt for Unique Souvenirs at Britanac Square
If you're visiting Zagreb on a Sunday, you cannot miss the antique market at Britanac (British) Square. Vendors gather each Sunday from around 8:00 or 9:00 in the morning to display their treasures under Zagreb's traditional red umbrellas.
You'll find everything from old records and cameras to paintings and fine china, and even antique furniture at the market.
Wander the stalls and hunt for a unique souvenir, or grab a seat at one of the cafes surrounding the square and watch the locals and sellers barter.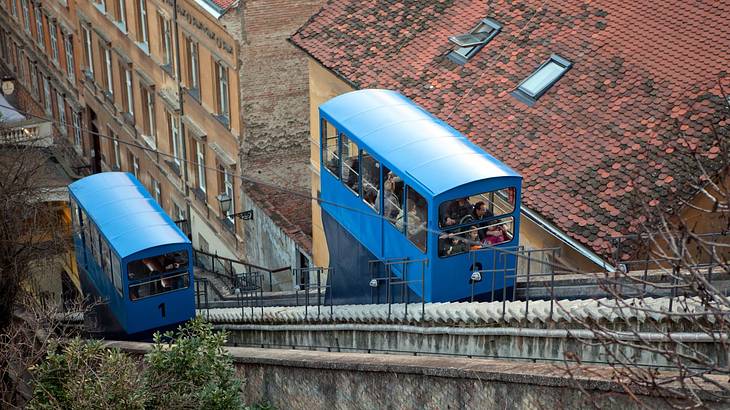 Take a Ride on the World's Shortest Funicular
With a track of only 66 meters long, Zagreb's funicular is considered one of the world's shortest. This is the oldest and first means of public transportation in the city, dating back to the late 1800s.
It's worth taking the quick ride between the Upper and Lower Towns to take a break from walking and enjoy the beautiful city views along the way.
Check Out Some Museums
Zagreb has the largest number of museums per capita than any other city in the world! This city is jam-packed with museums, ranging from classical and traditional ones to modern and interactive museums.
Some quirky ones worth checking out are the Museum of Chocolate, the Museum of Broken Relationships, and the Museum of Illusions. A few traditional ones worth a visit include Mimara Museum, Zagreb City Museum, Atelier Mestrovic Zagreb, and the Archeological Museum.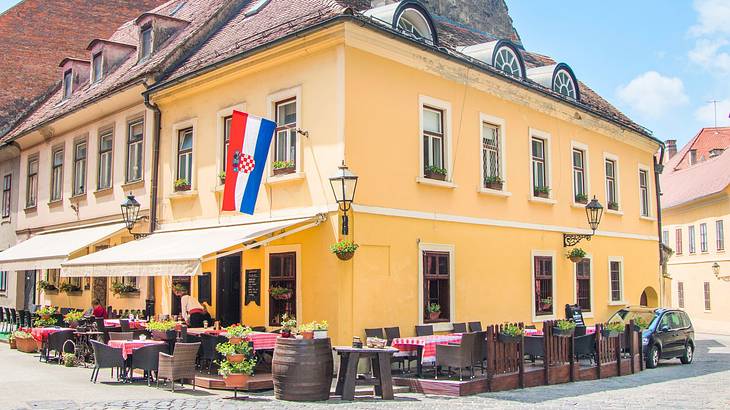 Take Part in Croatian Cafe Culture
Coffee drinking is a way of life in Croatia. This is not your typical grab-and-go type of activity where you gulp down your coffee while on the move.
Coffee drinking in Croatia is an event in itself, focusing more on socializing than the actual drinking of coffee. To truly experience Croatian cafe culture, head to Cvjetni Trg (Flower Square), preferably on a Saturday morning.
Every Saturday morning, from around 10:00 AM to 1:00 PM, the locals put on their best outfits and head into town to sip coffee in Flower Square. Some cool cafes to check out while visiting Zagreb include Botanicar, Tesla New Generation, Cogito Coffee, Velvet Cafe, and Cafe Gymnasium.
Discover the "Secrets of Gric"
The "Secrets of Gric" is an amazingly interactive theater performance and tour taking place on Saturday evenings in Zagreb. Held entirely outdoors, each participant gets a lantern, and the group is led by a guide on an enchanting walk through Zagreb's Upper Town.
On the walk, visitors will learn about Zagreb's myths and legends and meet different characters along the way. This is such a fun and unique way to experience the city.
Get Lost in the Upper Town
There is something just so enchanting about Zagreb's Upper Town - a place where the gas street lamps are still lit by hand each evening, and the courtyards are filled with magic and mystery.
The best way to explore the Upper Town is by getting lost in the winding cobblestone streets. This part of Zagreb covers a small area and can be walked in a short period, but some notable sites are worth stopping to admire.
One of them is the iconic St. Mark's Church, easily recognized by its intricate tiled rooftop. This church, originally built in the 13th century, houses many works created by Croatia's most famous sculptor, Ivan Mestrovic.
Another must-see location when exploring Zagreb's Upper Town is Kamenita Vrata (Stone Gate). Also constructed in the 13th century, this famous landmark in Croatia functioned as the gateway between the Upper and Lower Towns of Zagreb.
In addition to historical sites, the Upper Town offers spectacular views of the city and the Zagreb Cathedral. During the summertime, the Strossmayer Walkway is transformed into an outdoor oasis of good music and good vibes.
This is the town area that many locals flock to late in the evening, seeking respite from the scorching summer heat. In July, the summer festival "Courtyards" takes place in the Upper Town as well, during which privately -wned courtyards are opened up to the public.
Each courtyard is transformed into a destination in its own right, featuring themed decor, live music, and even food and drinks.
Roam Around One of the Coolest Neighborhoods
Once an area known for car dealerships and shops selling auto parts, Marticeva has since transformed into one of Zagreb's most desirable areas.
Once the shops and dealerships closed down for good, a wave of artists and creatives breathed new life into the neighborhood.
Architecture and design studios were opened while concept stores, art galleries, and unique bars began popping up throughout the area as well. Some cafes worth checking out in Marticeva are Mr. Fogg, Program Bar, and Noel Bar.
In June, Marticeva comes to life during Design District, a furniture and interior design festival that takes place in the neighborhood each year.
This creative event brings together the entire city over three days filled with music, art, and all-around good vibes. If you're in Zagreb at this time, be sure to stop by.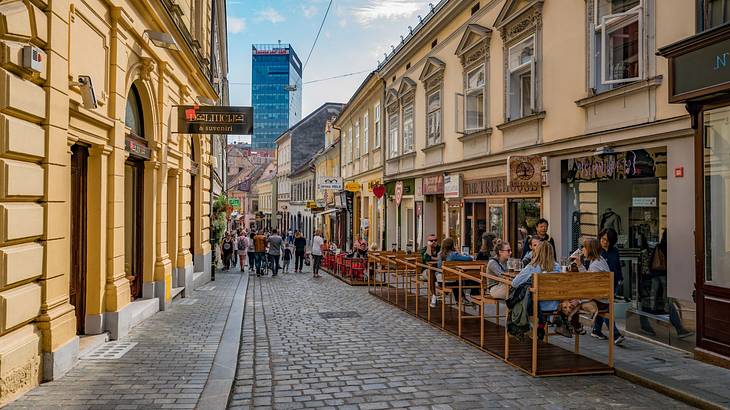 Eat on Tkalciceva Street
Tkalciceva is a street that is always buzzing. It's a place where locals and tourists alike come to mingle, drink delicious coffee, eat tasty food, and have a good time.
This pedestrian-only area is flanked by bars, cafes, and restaurants from all over the world, representing the heart of Zagreb's international food scene. Here, you'll find everything, including traditional Croatian barbeque, Turkish dishes, and even Sri Lankan curry.
Walk Through the Gric Tunnel
The mysterious underground tunnel of Gric was used as a bomb shelter during WWII. Some explorers even believe that it is not the only tunnel hiding beneath Zagreb city, yet it is the only one that has been uncovered.
Now a pedestrian tunnel used as a shortcut to get from one section of the city to another, the Gric Tunnel is extra special during the holiday season as it is completely decked out in Christmas decor.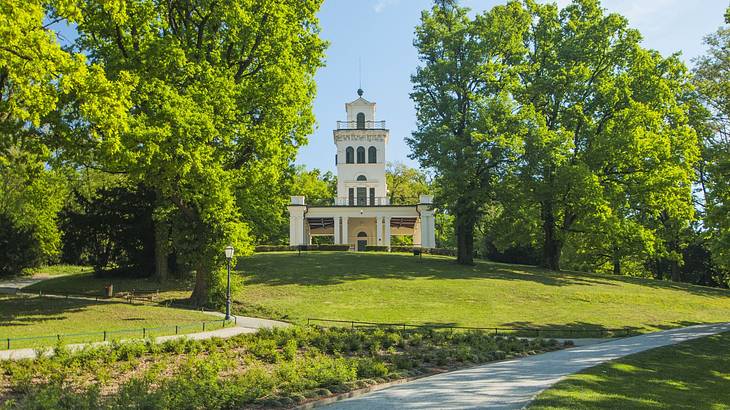 Explore Zagreb's Green Spaces
For those that enjoy spending time in the great outdoors, Zagreb has some excellent options. Just a short tram ride east of the downtown area, Maksimir Park is the largest and most extensive area for recreation in the city.
Home to five lakes, English-style gardens, a zoo, and a belvedere, Maksimir is a wonderful place to spend a few hours relaxing or exercising.
Another great option that public transportation can easily reach is Medvednica Mountain or "Sljeme," as the locals refer to it. Criss-crossed by 70 hiking trails, Sljeme is a true hiker's paradise.
The mountain's many trails offer peace and tranquility, while the hiking lodges buzz with locals each weekend, stopping by for a delicious local meal.
In Summary
If you were debating on whether or not to add Zagreb to your Croatia itinerary, I hope this guide on the best things to do in Zagreb has helped you realize that this town is more than just a stopover city.
This mini-metropolis is a booming city worth visiting for its excellent food scene, unparalleled cafe culture, and unique blend of ancient and modern.
While traveling through Croatia, you might also want to check out the top ten hidden gems in Croatia or add a few must-visit fairytale towns in Istria to your itinerary.
Give us feedback about this article
Read more articles about Croatia:
More articles about things to do:
---
---
Want to keep exploring?
Subscribe for discounts on tickets and hotels and our latest guides.
Thank you for subscribing
We will be in touch soon with discounts on tickets and hotels and our latest guides.
Want to keep exploring?
Subscribe for discounts on tickets and hotels and our latest guides.
Thank you for subscribing
We will be in touch soon with discounts on tickets and hotels and our latest guides.
Related Articles