30 Famous Landmarks in Croatia to Visit
Destguides may receive commissions from purchases made through affiliate links in this article.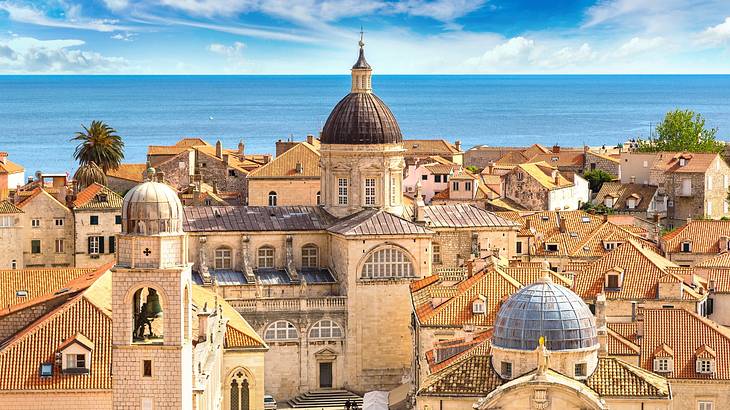 Located on the Adriatic Sea, Croatia is a beautiful destination that needs to be on your travel bucket list! Along with many unique things to do, you can find an array of historical and natural landmarks in Croatia, as well as notable buildings and renowned monuments.
If you're wondering where to visit, a few places of interest that you can't miss include Diocletian's Palace, Zlatni Rat Beach, and the Dubrovnik Bell Tower. Want to discover more famous landmarks in Croatia? Keep reading to learn more!
30 Famous Croatian Landmarks
Croatia Famous Landmarks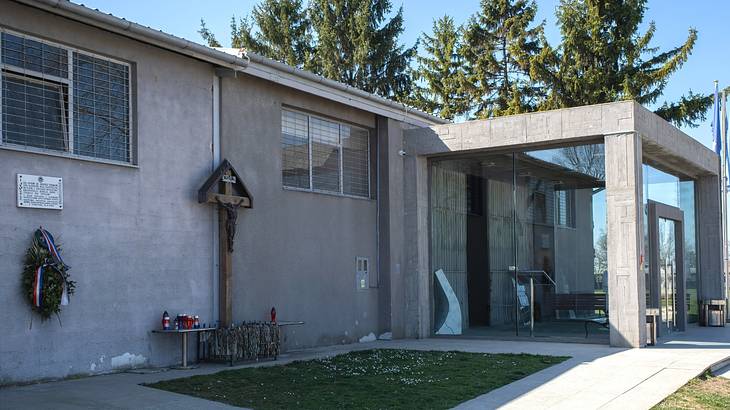 Ovcara Memorial Center
The Ovcara Memorial Center in Vukovar honours and tells the stories of victims of the Ovčara massacre. Nearby, you will find the Memorial Centre of Homeland War Vukovar, which has exhibits on the Homeland War and the Battle of Vukovar.
The centre also tells the stories of some of the victims of those wars. Both of these places are important historical attractions that are well worth visiting.
Dubrovnik Synagogue
The Old Synagogue in Dubrovnik, or Dubrovnik Synagogue, is the world's oldest Sefardic synagogue that is still used today. It is also the second oldest synagogue in Europe. It is thought to have been established in the 1350s and gained legal status just over 50 years later in 1408.
The synagogue is open for services, but due to the small number of Jews currently in the area, a travelling rabbi holds services instead of the synagogue having its own rabbi.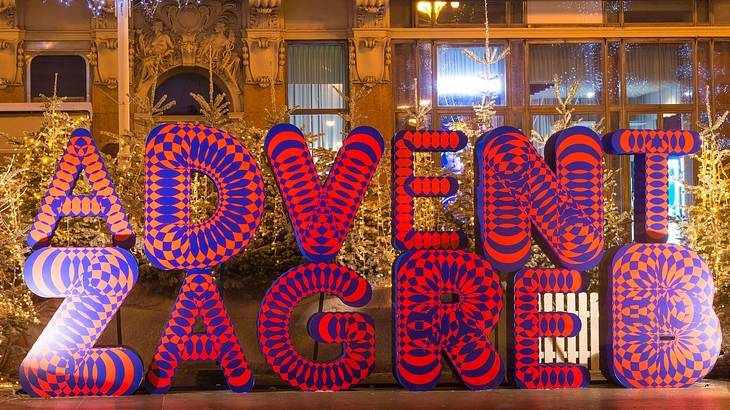 Advent in Zagreb
While not a year-long landmark, Advent in Zagreb is still a famous landmark worth mentioning! This annual Christmas Market has been named one of the best holiday markets in Europe for many years and generally runs from the last week of November through the first week of January.
At the market in Ban Jelacic Square, you'll find all kinds of vendors selling goods like holiday ornaments and festive food items. There's also live music, activities for kids, and much more.
Croatian Museum of Naïve Art
Located in Zagreb, the Croatian Museum of Naïve Art is a fine art museum that focuses on 20th-century Naïve Art. The gallery opened in 1952 and features around 1,900 works, many of which are by Croatian artists. Pieces to see include paintings, photographs, and sculptures, among other mediums.
Mimara Museum
Mimara Museum is housed within a beautiful 18th-century building in Zagreb and was established in 1987. Its exhibits feature European art and decorative objects dating back centuries. Many works by famous artists can be seen, and pieces come from countries including Germany, the Netherlands, and Spain.
Historical Landmarks in Croatia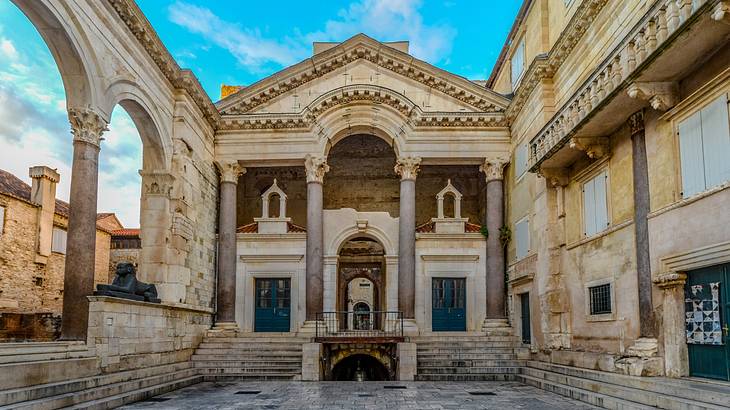 Diocletian's Palace
Diocletian's Palace was constructed for the Roman emperor Diocletian. While the start date of construction is unknown, many date it to 292 AD, with the palace being completed sometime in the 4th century.
The palace in Split is now a popular tourist attraction due to being one of the world's best-preserved Roman structures. It was also designated a UNESCO World Heritage Site in 1979.
A few notable features to see at the palace include 3500-year-old granite sphinxes, ancient cellars, and the Emperor's apartment.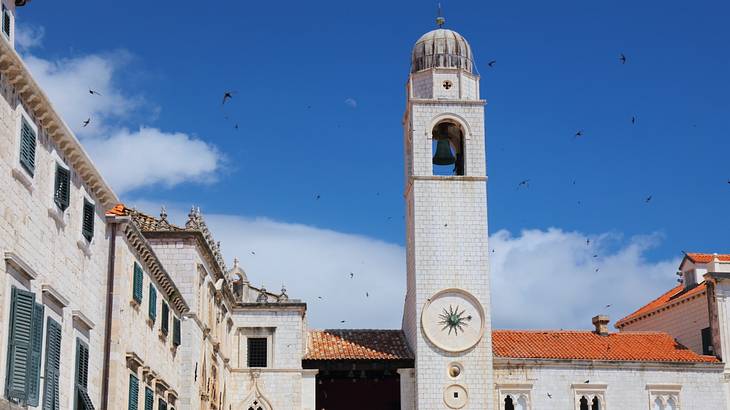 Dubrovnik Bell Tower
As the name suggests, Dubrovnik Bell Tower is located in the city of Dubrovnik. This bell tower, also known as Clocktower, was first built in 1444 but was damaged by an earthquake in 1667.
Due to ongoing structural issues from this damage, it was destroyed in 1928 and rebuilt in 1929, with further renovations being completed in the 1980s after another earthquake.
Despite the reconstruction, the bell tower today greatly resembles the original from the 15th century. Seeing the tower in Luža Square can't be missed!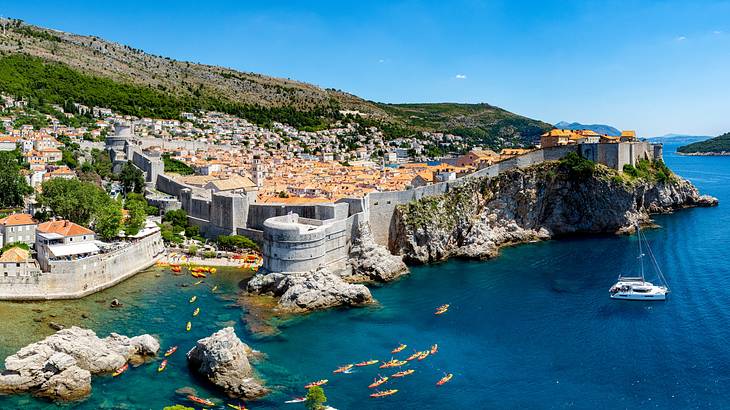 Dubrovnik City Walls
One of the most well-known Croatia historical sites is the Dubrovnik City Walls. This world-famous landmark was constructed as a city defence and has been renovated over many centuries.
The modern walls first date to the 12th century, with updates in the 1400s, 1500s, and 1600s. However, it is thought that other walls, forts, and defence systems have been in the area since the Early Middle Ages.
Today, visitors can view the old city walls and the forts, including Minčeta Tower and Fort Bokar. As you explore the area, you can also enjoy views of the surrounding harbour and the Adriatic Sea.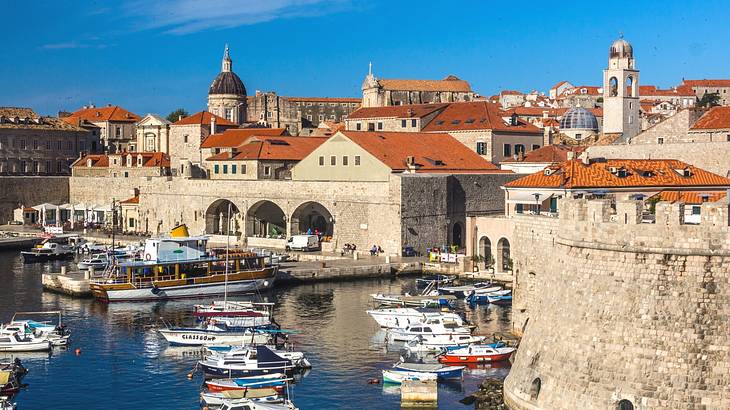 Dubrovnik Old Town
Dubrovnik Old Town is the location of the Dubrovnik City Walls and Dubrovnik Bell Tower but is also a landmark in itself. The city dates to the 11th century and is thought to be one of the best-preserved medieval cities in the world.
Visitors can explore the ancient city, viewing its many landmarks and learning more about its history. There are also fantastic views of the surrounding limestone mountains and the Adriatic Sea.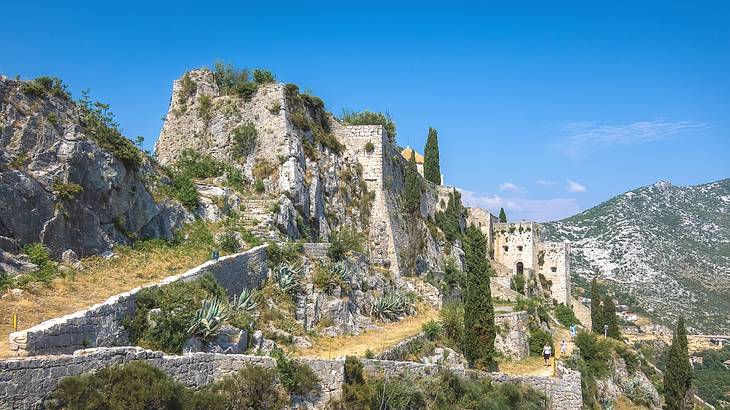 Klis Fortress
Klis Fortress is located in Klis, close to Split. This medieval fortress is one of many historical landmarks in Croatia that you must plan to visit! While the exact date of construction is not known, it is thought that the structure was built around the 3rd century BC.
The castle was added to over the following centuries, eventually becoming a vast fortress that was important during the Ottoman wars in Europe. This stunning piece of architecture is now a popular tourist destination.
Visitors can explore the hilltop building and take in views of the surrounding mountains. On clear days, you can see out to the Adriatic Sea as well.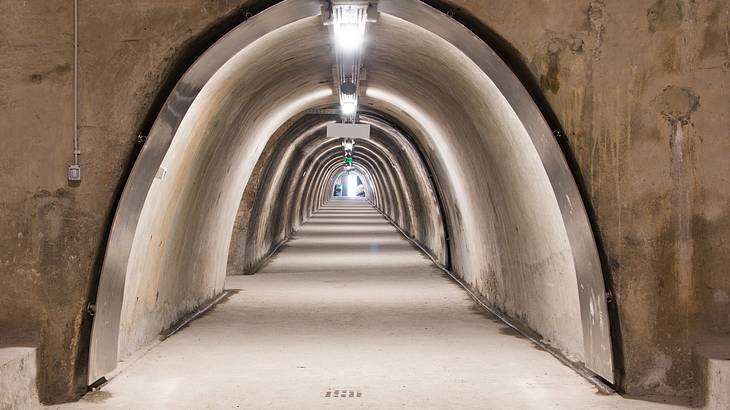 Gric Tunnel
One of the best things to do in Zagreb, Croatia is exploring the Grič Tunnel. This pedestrian tunnel is located in the city centre and was built during World War II as a bomb shelter.
It fell into disrepair at the end of the war but was renovated and reopened in 2016. It was also used in the 90s for raves and underground parties and as a shelter during the Croatian War of Independence. Today, it is used by pedestrians to get around the city and is even decorated during the Christmas holiday.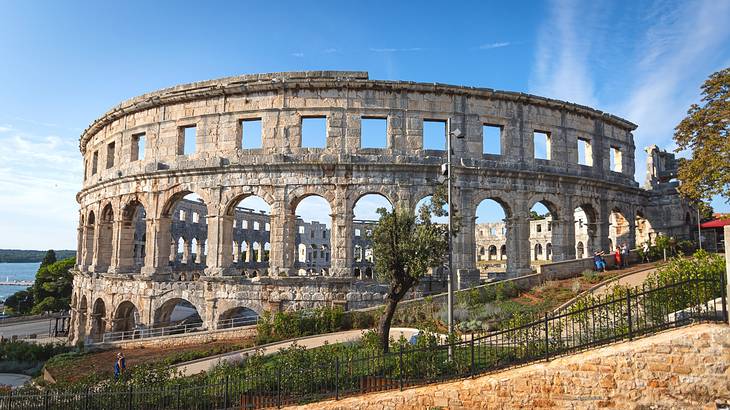 Pula Arena
Pula Arena is one of the most famous landmarks of Croatia. The structure is one of the world's largest surviving Roman arenas and was built between 27 BC and 68 AD. It is also the only remaining Roman amphitheatre in the world to have all four side towers preserved.
The design of the arena is very similar to that of the Colosseum in Rome, Italy, and was primarily used for gladiator fights and, later, knight battles. Today, you can tour the structure and events are hosted frequently, like concerts and film festivals.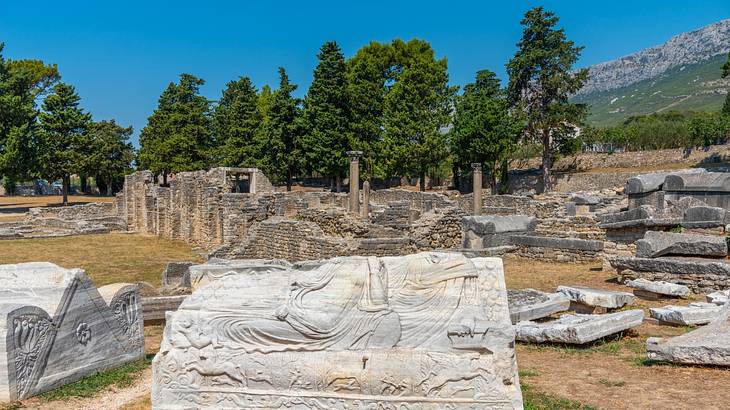 Salona Roman Ruins
Salona was the capital city of the Roman province of Dalmatia. Today, Salona is named Solin and is located near Split. Luckily, much of the ancient town was preserved, and you can see the Salona Roman Ruins during a trip to the city. Things to see include the remains of a basilica, an aqueduct, and the city walls.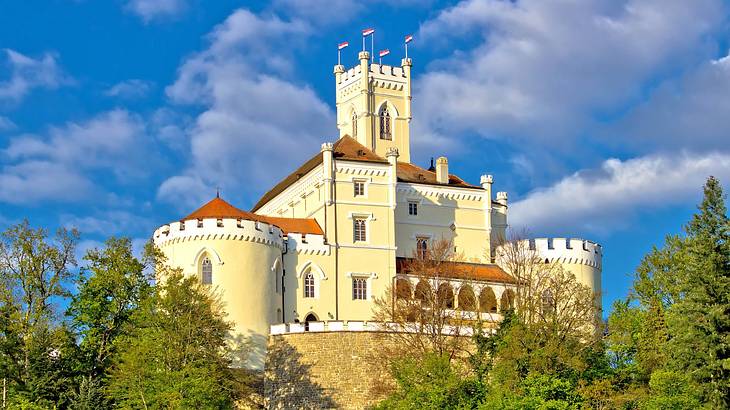 Trakošćan Castle
Another of the 13th-century historic landmarks in Croatia to see is Trakošćan Castle in Bednja. The fortress has been owned by various noble families but fell into disrepair by the 1700s.
During the 1800s, the castle was renovated into a manor residence, and a museum was added in 1953. Visitors today can tour the castle and museum before exploring the surrounding park with forests and a lake.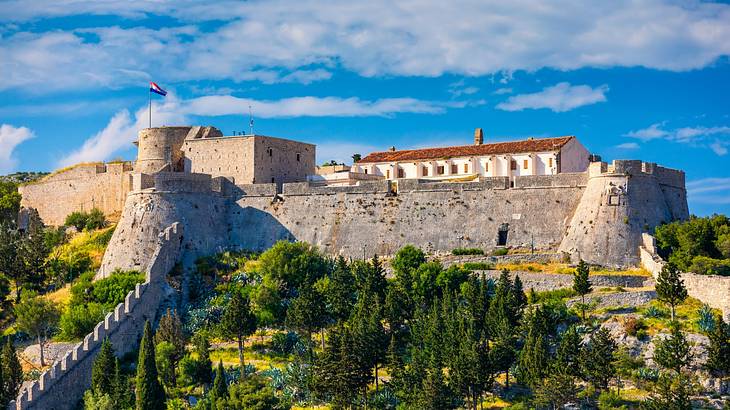 Fortica Fortress
Located in Hvar, Fortica Fortress is a unique Spanish fortress that was constructed in the 16th century. Called Španjola by locals, the fort now houses exhibits with pieces from the Middle Ages. You can also wander around the fort when visiting and take in the breathtaking coastal vistas from multiple viewing points.
Natural Landmarks in Croatia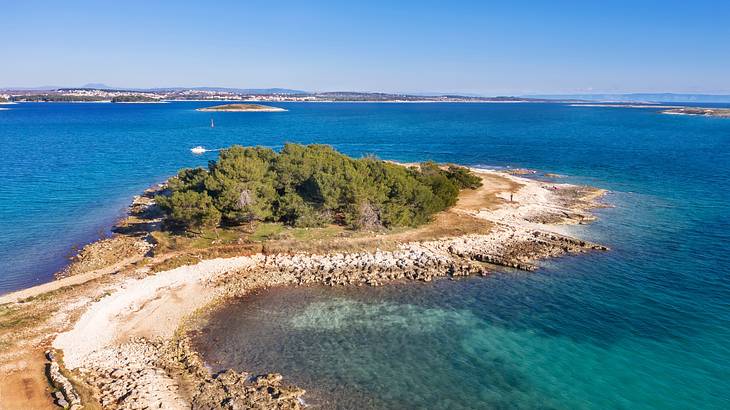 Kamenjak National Park
Kamenjak National Park, or Cape Kamenjak Nature Park, sits on the southern tip of Istria, a peninsula within the Adriatic Sea. This famous natural landmark is a beautiful coastal area with beaches, caves, trails, and more.
As you explore, you may also spot wildlife, including marine creatures like dolphins and monk seals. Activities to enjoy include swimming, snorkelling, hiking, and relaxing on the beach.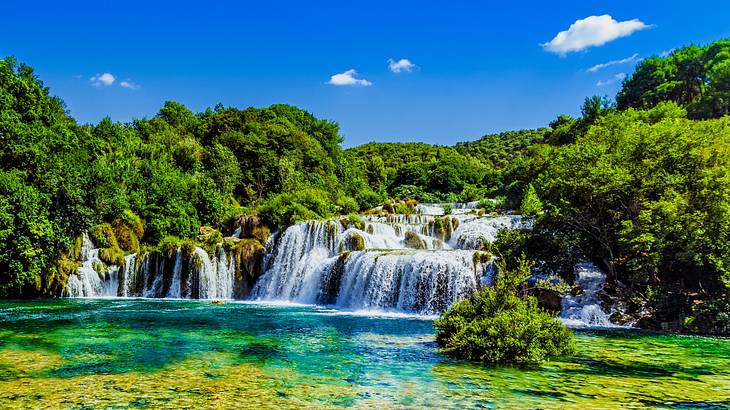 Krka National Park
Another beautiful national park to visit is Krka National Park. Located in Lozovac, the park is most well-known for its seven waterfalls. As you wander around, you will also get to see the Krka River and lots of flora and fauna.
Plant and animal life includes chimney bellflowers, Adriatic violets, 18 species of bat, and 222 species of birds. In addition, the park features a 15th-century Franciscan monastery and a 14th-century Eastern Orthodox monastery.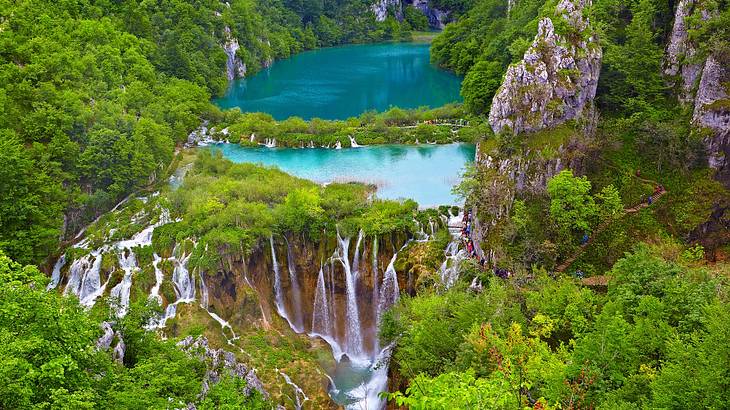 Plitvice Lakes National Park
Plitvice Lakes National Park is one of the top attractions in Croatia for outdoor enthusiasts. The forest reserve, on the border with Bosnia and Herzegovina, features 16 terraced lakes connected by waterfalls.
This natural feature is truly stunning to see. These lakes vary in colour, from blue to grey and green hues. The park has flourishing flora as well, with many beech, fir, and spruce trees. Wildlife to spot includes lynx, bears, lizards, and many species of birds.
Odysseus Cave
Odysseus Cave is a limestone cave located on the island of Mljet. This cave is a beautiful natural landmark but is also linked to the ancient Greek poet Homer and his Greek hero Odysseus, after whom the cave is named. Those that visit can access the cave on a small boat or by swimming. You can then explore the rest of the coastal area.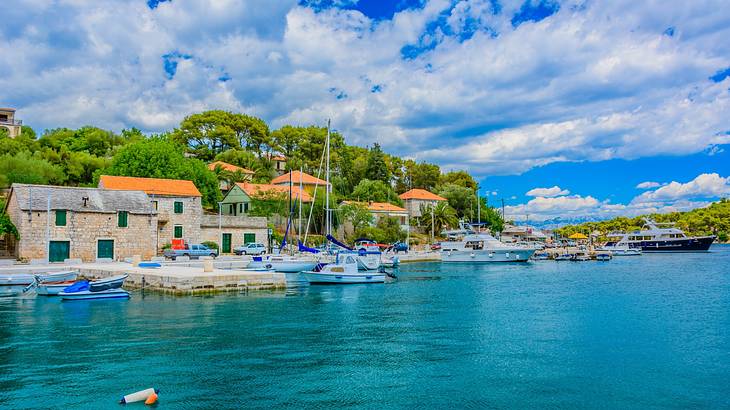 Solta Island
Šolta Island is a pretty island that is one of the most popular Croatian destinations, especially for a day trip from Split. The area has tranquil beaches, sparkling turquoise water, and some coastal trails.
You can also visit charming local businesses, from cafes to independent shops. Šolta is known for its honey, olive oil, and wine, so trying or buying some of these products during your trip is a must!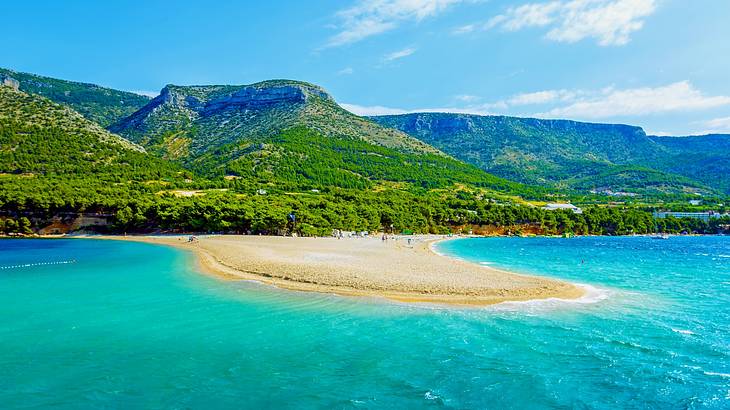 Zlatni Rat Beach
If you're visiting Croatia for some European winter sun, a trip to Zlatni Rat Beach has to be on your itinerary! Also known as Golden Horn Beach, Zlatni Rat Beach is located near Bol on the island of Brač.
This stunning beach is the ideal place to swim and sunbathe. It is also a popular place to go boating and windsurfing. Do note that this beach is a pebble, not a sand beach. However, the pebbles are very small and comfortable to sit and walk on.
Famous Buildings in Croatia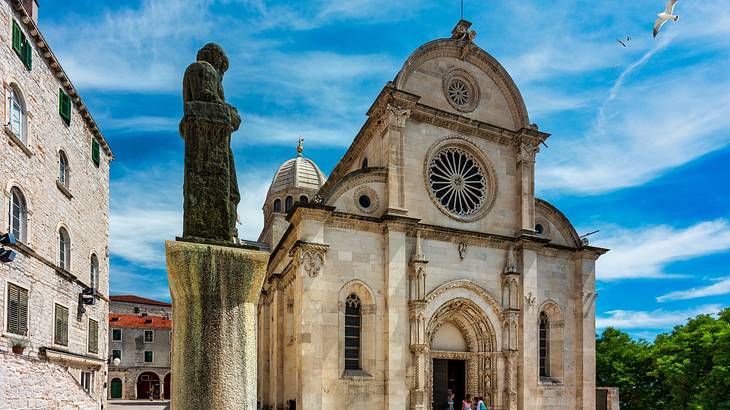 The Cathedral of St James in Šibenik
The Cathedral of St James in Šibenik was constructed between the 15th and 16th centuries and became a UNESCO World Heritage Site in 2000. This Catholic basilica has three apses and a large dome, as well as stained glass and internal columns.
Another notable feature at St James Cathedral is the Lion Gate, which has statues of two lions and Adam and Eve. The cathedral still hosts religious services and ceremonies but is open for the general public to look around between these services.
Dalmatia Tower
One of the most modern landmarks in Split is the Dalmatia Tower which opened in 2022. It took around seven years to complete and has 27 floors housing a hotel, observation deck, sky bar, and the offices of various companies. The building is also the tallest building in the country, standing at 115 metres tall or 135 metres tall if factoring in the roof's radio mast.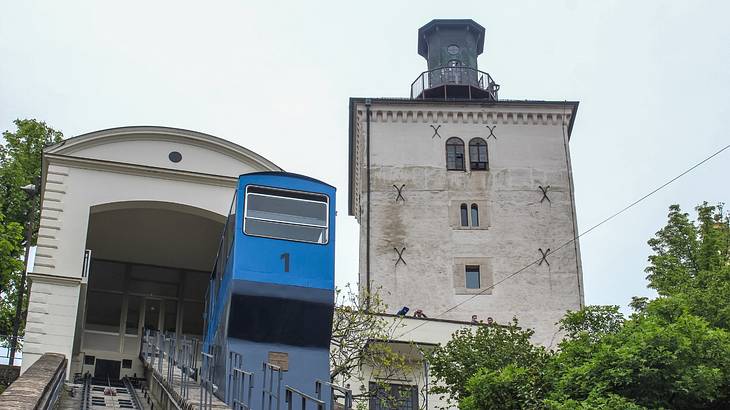 Lotrščak Tower
Lotrščak Tower is situated in the Gornji grad area of Zagreb. Constructed in the 13th century to protect the Gradec town wall's south gate, the tower is now a top tourist attraction in the city. There's additionally a cannon within the tower, the Grič cannon, which has been fired at noon since 1877.
Zagreb TV Tower
The Zagreb TV Tower is the tallest structure in Croatia, standing at 563 feet tall. The tower is located on the peak of Medvednica mountain, called Sljeme. This landmark can be seen from many places in Zagreb and is still used as a TV and radio tower, having initially opened in 1973.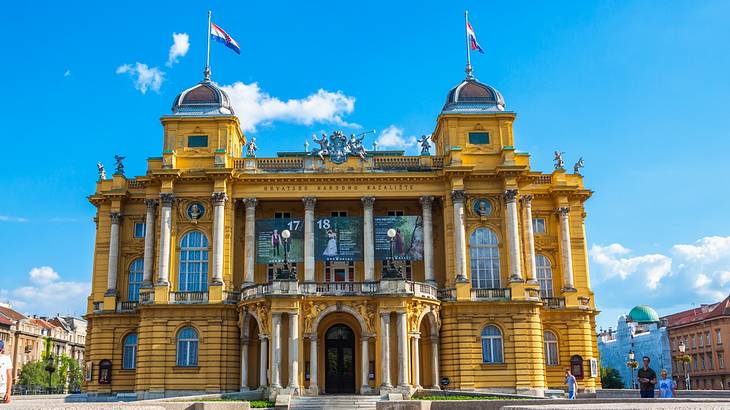 Croatian National Theatre
The Croatian National Theatre is located in the capital city of Zagreb and has been open since 1895. This landmark is one of the most famous sites in Croatia for those interested in theatre, ballet, and opera.
The Baroque Revival building is stunning inside and out and hosts many world-renowned arts performances. If you have the chance to see a show at the Croatian National Theatre, be sure to do so!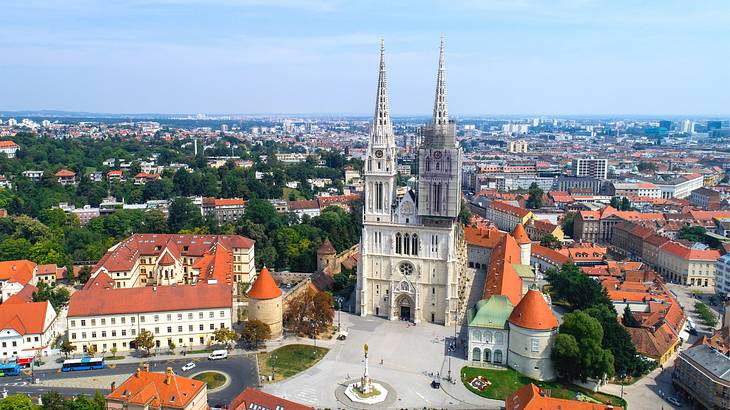 Zagreb Cathedral
The Cathedral of Zagreb is the country's second tallest building after the Dalmatia Tower and the third tallest structure after Dalmatia Tower and the Zagreb TV Tower. Standing at 108 metres tall, the cathedral features two towers and eight bells, five in the north tower and three in the south.
This landmark was constructed in the mid-13th century, with renovations during the end of the 19th and start of the 20th centuries. Today, the cathedral holds services and is open to those that want to view the interior design. There is also a treasury housing artefacts.
Monuments in Croatia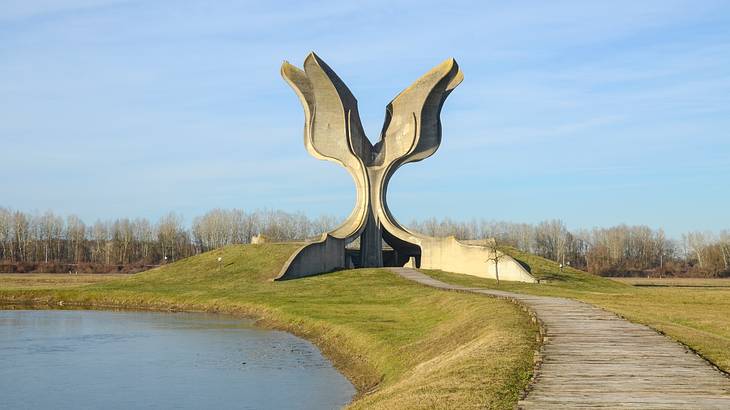 Stone Flower
The Stone Flower is a more modern landmark in Croatia. This structure was built in 1966 to commemorate the victims of the Ustasha genocide of the Serbs during the Second World War.
It was designed by architect Bogdan Bogdanović and is located on the Jasenovac Memorial Site. On the monument, you will also find a poem by Ivan Goran Kovačić.
Mačkamama
Mačkamama is a unique statue located in Osijek, Croatia's fourth largest city. The sculpture is dedicated to Paulina Hermann, an eccentric noblewoman who lived between 1859 and 1938.
She is notably known for being an animal lover, especially of cats. Due to this, she got the nickname 'the cat lady.' The wooden statue that was installed in 2006 depicts Hermann with cats around her.
Glagolitic Alley
Glagolitic Alley features eleven monuments that were constructed between 1977 and 1985. This monument was built to honor the historical Croatian scribal tradition.
Each structure represents different ideas, including one that symbolizes the Istrian Mount Olympus, Učka, and the 'Monument to Resistance and Freedom,' which represents Antiquity, Middle Ages, and the Modern Period. If in Brnobići, seeing this unique monument is a must.
In Conclusion
Croatia has an array of amazing landmarks to see. Whether you want to see centuries-old historical sites, explore world-renowned natural attractions, or check out some more modern landmarks, you'll find no shortage of places to visit in Croatia!
Give us feedback about this article
Read more articles about Croatia:
More articles about landmarks:
---
---
Want to keep exploring?
Subscribe for discounts on tickets and hotels and our latest guides.
Thank you for subscribing
We will be in touch soon with discounts on tickets and hotels and our latest guides.
Want to keep exploring?
Subscribe for discounts on tickets and hotels and our latest guides.
Thank you for subscribing
We will be in touch soon with discounts on tickets and hotels and our latest guides.
Related Articles