Where to Stay in Cairo, Egypt - 5 Best Areas & Hotels
Destguides may receive commissions from purchases made through affiliate links in this article.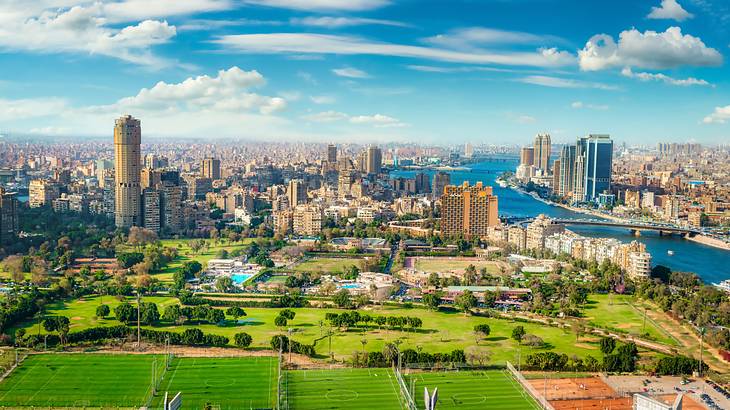 Cairo is one of the biggest cultural and historical hubs in the world. For that reason, it draws millions of visitors from around the globe each year. However, figuring out where you should stay can be difficult if you've never been to this part of Egypt.
If you love sightseeing, the downtown area is the place to go since you'll be able to easily see everything the city has to offer. On the other hand, if you're more of a food-lover, Zamalek has restaurants open at all hours of the night, each with its own cuisine specialties.
Whether you're planning a solo trip, honeymoon, or a family getaway, keep reading to learn more about where to stay in Cairo!
5 Best Places to Stay in Cairo, Egypt
Cairo Places to Stay Video
Check out our highlights video of Cairo places to stay.
Cairo Places to Stay Map
A map of Cairo. Use the map to explore all the places to stay.
Best Areas to Stay in Cairo, Egypt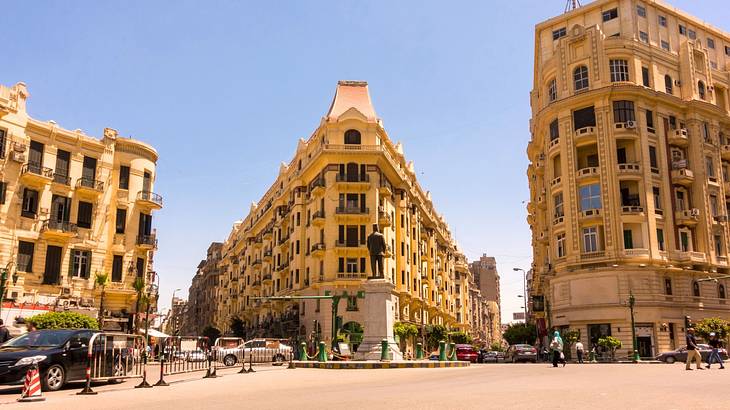 Downtown Cairo
Cairo's downtown area is one of the best places for first-time visitors to stay. The neighborhood offers a mix of local culture and international amenities that can make your stay more comfortable.
This part of the city also happens to be near some of the most popular sites in Egypt as a whole. The Egyptian Museum, the Nile River, and even the historic Tahrir Square are all within walking distance, no matter where your accommodation is.
In addition to these top landmarks, Downtown Cairo offers accommodations to suit virtually any budget. You can find low-cost hostels and luxury hotels within a few blocks of each other. That cost flexibility can make planning a trip for a large travel group more convenient as well.
Downtown is also well-serviced by the city's transportation options. The metro can take you to most other places in the area. If traveling by train isn't your cup of tea, you will have no issues finding a taxi stand.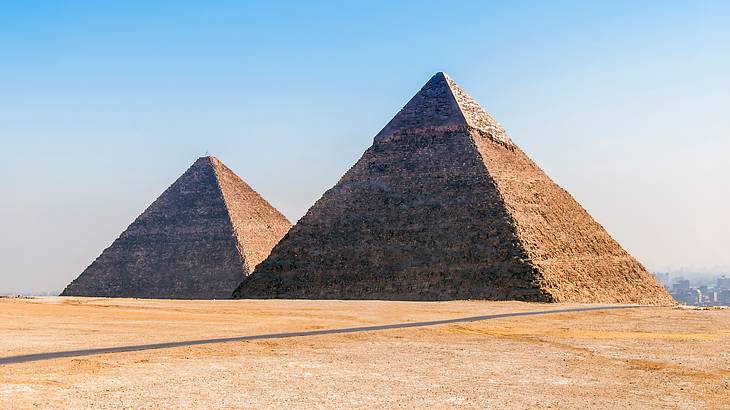 Al-Haram (Giza Complex, Giza Necropolis, or Pyramids of Giza)
If you're a history buff, Al-Haram, located just southwest of Downtown, is by far the best place to stay in Cairo. After all, you'll be within view of the Pyramids of Giza, the world-famous landmark that Egypt is best known for.
In fact, depending on your hotel's room availability, you might even be able to see these famed structures from your room. The Giza Necropolis area is also home to other landmarks like the Great Sphinx and the Grand Egyptian Museum.
However, Al-Haram is, understandably, a very popular place for tourists. So, you can expect a lot of crowds. You also want to keep an eye on prices. Cairo's high season for tourism is between December and February. That means prices for hotels in this particular area will be at their peak during those months.
This mix of tourists from around the world also means you can find a variety of cultures represented in the restaurants and stores in the area. However, if you want a more local authentic experience, you can catch a cab or train to other less touristy neighborhoods.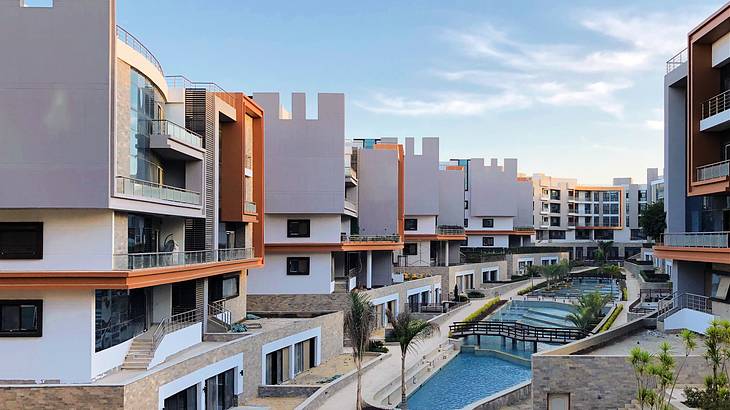 New Cairo
If you're narrowing down locations to stay in Cairo, consider venturing outside the historic districts to New Cairo. Aptly named for its relatively recent development just east of the main district, this area has a much more local and residential ambiance.
What this district does have is a lot of shopping options, like the Concord Plaza Mall and Mirage Outlet Mall. You can also discover outdoor areas, such as Lake District Mivida, where you can go for a relaxing walk.
Since New Cairo was built in 2000, it hasn't garnered the same long-standing reputation as the rest of Cairo. So, there are fewer tourists and, thus, lower crowd levels. That being said, you won't find many of the area's most important sites right next door like you might if you chose to stay in a place like Downtown.
The distance between Cairo and New Cairo is just over 13.5 miles. That means you'll want to ensure you have access to a car or have taxi fares in your budget if you want to do some sightseeing in the "Old Town."
On the bright side, since you're a bit further removed from the most famous landmarks, you can likely find affordable lodging options all year.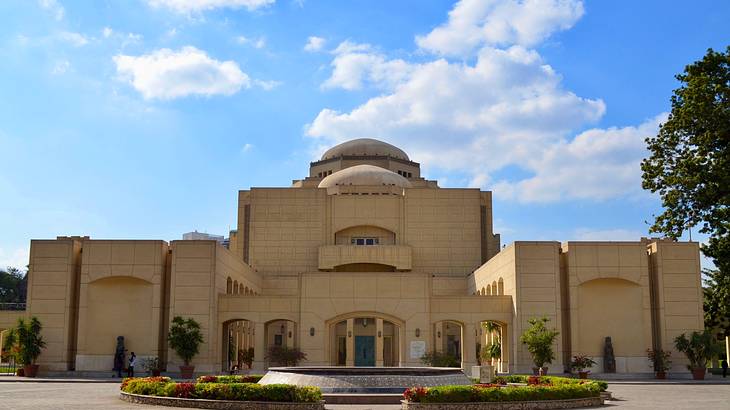 Zamalek
Zamalek is Cairo's cultural hub in more ways than one. This district is home to important performance art venues, like the Cairo Opera House, a massive theater that can fit over 2,300 audience members. You can also view the contemporary pieces at the Museum of Modern Egyptian Art.
As the Nile River surrounds the neighborhood, you can find many areas to admire this famous waterway. Additionally, golfers will be interested to learn that Zamalek and the adjacent Gezira feature multiple world-class golf courses.
Zamalek also offers visitors a chance to participate in Cairo's nightlife culture. Many of the city's most highly-recommended bars, restaurants, and clubs can be found on this island neighborhood. That makes it a great place to stay if you're traveling with your significant other or friends. On the other hand, families may prefer to overnight in different areas.
Many of Cairo's affluent residents call this part of the city home, so there's no shortage of luxury hotels and shops either. However, there aren't as many budget-friendly options. Therefore, while Zamalek is definitely worth visiting, it might not be an affordable district to lodge in.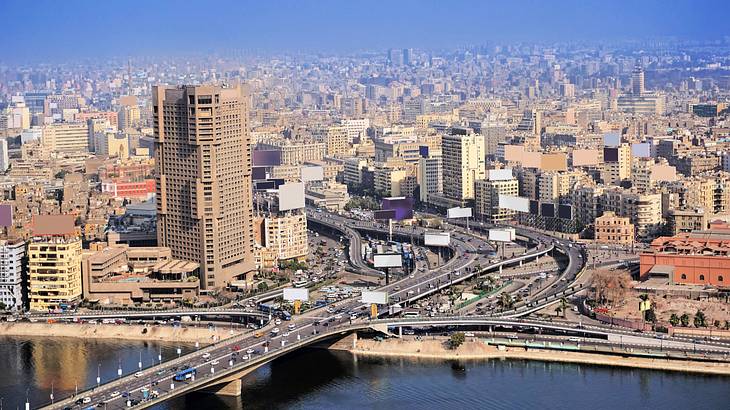 6th of October
Built in 1979 just southwest of Cairo's center, 6th of October has become a popular area to stay in Cairo. This neighborhood was initially designed to help accommodate the city's growing population and has since become a functioning city of its own.
Today, with typical traffic, it takes nearly an hour to make the journey here from Downtown Cairo. That distance can have benefits or drawbacks depending on the kind of traveler you are.
The main reason why someone might not want to stay in this particular part of Egypt for their Cairo trip is the distance. After all, you'll need to set aside quite a bit of commuting time to get to the main sites. The area is relatively well-connected, though. Multiple buses run daily between the two cities, and there are also taxis and car rental services you can use.
On the bright side, 6th of October has some very calm neighborhoods. Students, families, and business professionals make up a large part of the population, so you can find quiet and affordable lodging options.
In addition, this area is approximately a 30-minute drive from the Giza Pyramid Complex. Therefore, if you want to visit the pyramids but stay in a quieter area, 6th of October makes a good choice.
Where to Stay in Cairo, Egypt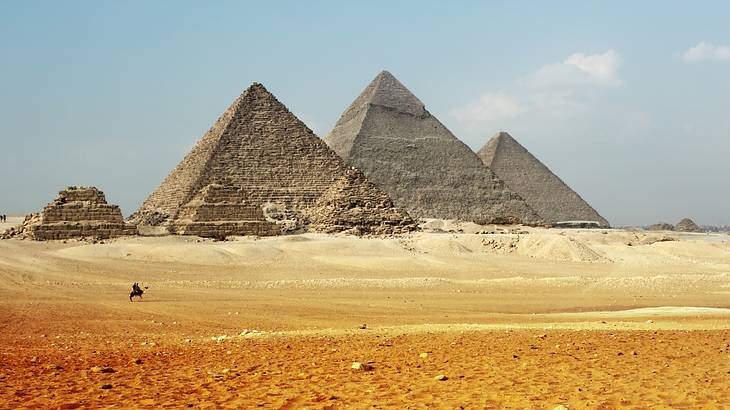 Where to stay in Cairo for sightseeing?
Al-Haram is the best hotel location to choose when planning a sightseeing trip to Cairo. At just a few minutes from the Pyramids of Giza, you'll get a view of one of the Seven Wonders of the Ancient World multiple times throughout your stay. However, don't think that's your only option when it comes to picking a good overnight spot.
Cairo's city center is also a great choice. The Downtown neighborhood is home to some of the city's most important, albeit sometimes underrated, landmarks. For example, one of the best things to do in Cairo is admiring the ever-growing collection of ancient artifacts held at the Egyptian Museum, located in the city center. Alternatively, spend time wandering around Tahrir Square.
You also can't go wrong with any district that will put you within view of the Nile River. You can easily walk to the banks from the downtown area, but you can also stay on the Nile. Gezira is a small artificial island with two districts, Gezira and Zamalek, both of which have numerous lodging options.
Where to stay in Cairo for a romantic getaway?
Zamalek should be at the top of your list when searching for a romantic neighborhood to stay in Cairo. This district is considered the cultural and nightlife hub of the city, so there's something for any couple. You can see what shows are playing at the famed Cairo Opera House, visit art galleries, or try out some late-night, upscale food offerings.
If you'd prefer a slightly quieter atmosphere, you can stay in New Cairo instead. Since it isn't as much of a tourist hotspot, you can find more affordable luxury accommodations and fewer crowds.
Remember, Egypt's laws forbid unmarried couples from sharing a hotel room. So, if you plan to visit with a significant other, be prepared to either bring a copy of your marriage certificate or book two rooms for your stay. Policies can vary from one hotel to another, so be sure to check with yours before visiting so you know the current rules.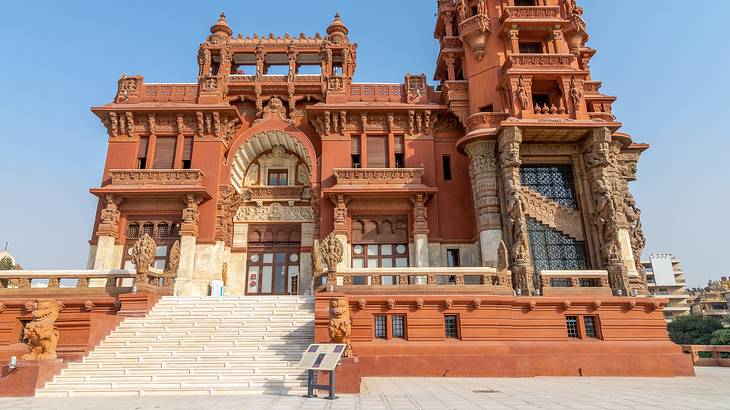 Where to stay in Cairo for a business trip?
If you're in the area on business, staying close to Cairo International Airport for at least part of your trip is probably necessary. If that's the case, look for hotels in and around the Heliopolis area. Many of Cairo's business districts are within 10 miles of this neighborhood.
Alternatively, look at the districts where you'll be working while in the city. New Cairo is an up-and-coming business area, so many companies are opening offices here. There are numerous hotel options, and you can stay away from most of the tourist crowds.
6th of October is another popular business destination. It's about an hour away from the main part of Cairo. So, to ensure you don't miss your flight or meetings, calculate travel times to and from the airport at the beginning and end of your trip. Like New Cairo, this area tends to be less of a tourism hub.
Where to stay in Cairo for a weekend trip?
If your main reason for booking a weekend trip to Cairo is to see as many sites as possible, you'll want to stay in the downtown area. This part of the city is the most well-connected. Meaning you're just a walk or metro ride away from most landmarks, museums, or other attractions.
Downtown is also the home of some of the most popular monuments in the city. Museums, squares, and more are all within this district.
If you're planning a weekend getaway with friends, perhaps to celebrate a birthday or other big occasion, Gezira might be a better option. This area is pretty versatile, so you can curate whatever trip suits your group.
You can have a getaway full of peace, quiet, and culture in the Gezira districts. Alternatively, you can dance the night away at nightclubs or check out new restaurants until late in the evening if you choose to stay in the Zamalek area.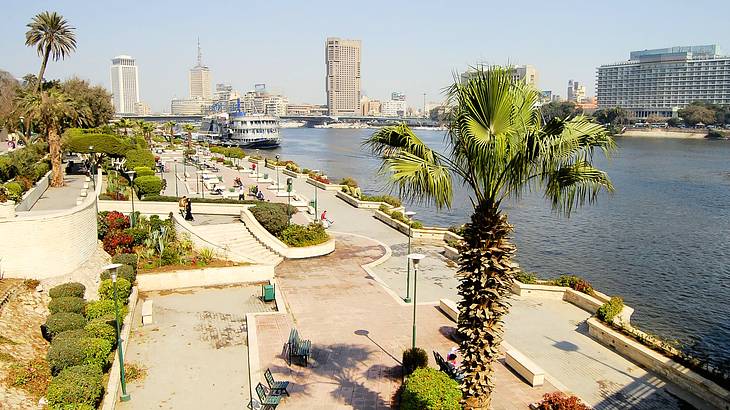 Where to stay in Cairo with family?
If you're looking for a family-friendly location to stay in Cairo, there are a few options worth considering. Locals tend to recommend Gezira. Though this district shares an island with the more lively Zamalek neighborhood, it tends to be a lot quieter and calmer. You also get to tell people you actually stayed on the Nile River!
Gezira is also considered one of the safest districts in the area, which is extra important when traveling with kids. You'll also be able to find more budget-friendly lodging on this part of the island while still getting a room that's large enough for your whole family.
If your main reason for taking a family trip to Egypt is to see the sites, you can't go wrong with the downtown part of Cairo and, of course, Al-Haram. You'll be a short walk or metro ride away from most of the main landmarks in the city. On top of that, you can access plenty of food options to suit any diet, even if your kids are picky eaters.
Where to stay in Cairo for nightlife?
If you ask locals for recommendations of places to stay to take advantage of Cairo's nightlight, you'll hear Zamalek come up a lot. Though it's known as one of the most affluent areas in the city, it's also the center of the city's social life.
In this one district alone, there are many choices between restaurants, bars, clubs, and even shisha lounges. Even if you prefer seeing an opera or a concert in the evening, this is the place to go. This island neighborhood is home to the city's biggest theater venue, which hosts performances ranging from plays to orchestral concerts.
You might also want to consider 6th of October. A large portion of this area's demographic is made up of university students. So, you shouldn't have much trouble finding a lively place to spend a few hours in the evening after a day of sightseeing. Just keep in mind this area is about an hour's drive from Cairo's main center.
In Summary
Clearly, Cairo has plenty of options when it comes to choosing a place to stay. From the cultural center of the downtown area to the business-oriented 6th of October, there's a neighborhood suited for virtually any type of trip.
Hopefully, this article has helped you figure out which neighborhood in Cairo is for you, allowing you to have the best possible trip. All you have to do now is plan it!
Give us feedback about this article
Learn more about Cairo:
Read more articles about Egypt:
More articles about places to stay:
---
---
Want to keep exploring?
Subscribe for discounts on tickets and hotels and our latest guides.
Thank you for subscribing
We will be in touch soon with discounts on tickets and hotels and our latest guides.
Want to keep exploring?
Subscribe for discounts on tickets and hotels and our latest guides.
Thank you for subscribing
We will be in touch soon with discounts on tickets and hotels and our latest guides.
Related Articles