Where to Stay in the Loire Valley? 9 Best Places to Stay
Destguides may receive commissions from purchases made through affiliate links in this article.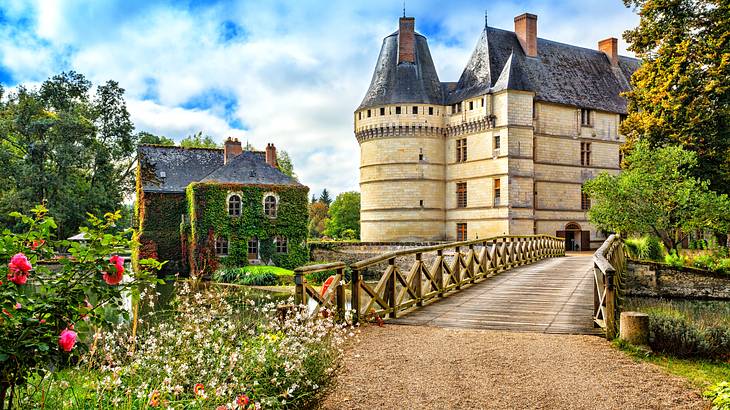 The Loire Valley is a top vacation destination for travelers around the world. From family trips to romantic getaways, there's something for virtually everyone in this region of France.
Wine enthusiasts tend to stick to the towns surrounding Sancerre. However, groups visiting with small children might prefer the ambiance of Amboise. If you're trying to decide where to stay in the Loire Valley, keep reading. This list has everything you need to know about the region's top nine spots.
9 Best Places to Stay in Loire Valley
Best Areas to Stay in Loire Valley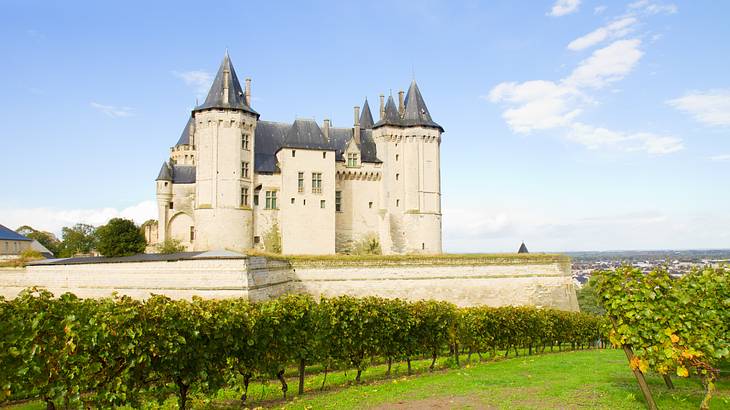 Saumur
If you love horses and equestrianism, Saumur is the perfect spot on the Loire River for you. The town is the site of the famous National Riding School, which has trained the riding cadets of the French military since 1828.
It's not surprising that you can also find a museum dedicated to cavalry within the town's limits. On the other hand, if you're interested in modern military history, make sure to check out the tank museum (Musée des Blindés), one of the largest in the world.
Saumur's public transportation system is efficient and affordable, so you can feel free to choose a hotel in any part of the city. Many of the budget lodging options in town are boutique hotels. However, you can also stay at a villa or mansion inn for a high-end experience.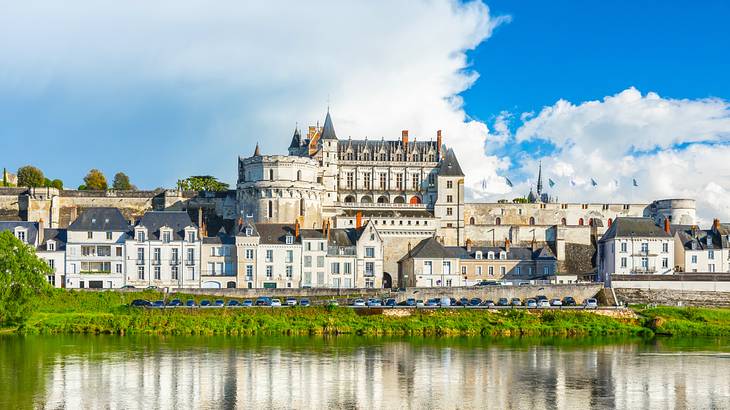 Amboise
If you're a fan of history, Amboise is the best city to stay in Loire Valley. There are many historic castles located around this relatively small town. The most famous castle in the town is Château d'Amboise (or Château Royal d'Amboise), which was the home of King Charles VIII and is the burial site of Leonardo da Vinci.
If you're visiting with kids who might get bored taking tours of multiple castle sites, you can also visit Mini Castle Park. This amusement park houses 45 to-scale models of the different castles you can find in the Loire region.
Amboise is also a relatively affordable town to spend a vacation in. There are numerous small bed & breakfasts, boutique hotels, and villas available to rent that are all considered budget-friendly.
No matter where you stay in the city, you're likely to be near a bus stop. There's also a train station to connect you with other towns. However, you may want to consider renting a car for extra freedom during your excursions.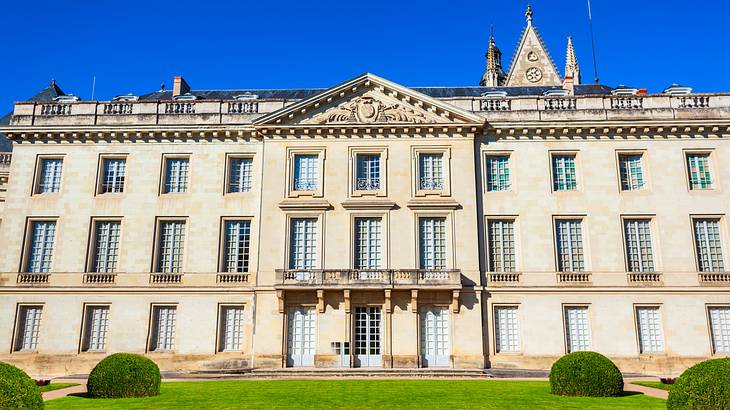 Tours
Tours is an ideal vacation spot for people who want to dive into the culture of central France. As a university city, it draws visitors from around the world, creating a vibrant atmosphere that's full of traditional and modern elements.
When you have time, make sure to wander around. The half-timbered buildings that line the streets house high-end restaurants, cafes, and quaint boutiques. If you'd prefer to do some sightseeing, the Museum of Fine Arts and Saint Martin Basilica are easily reachable from virtually anywhere in town.
Since Tours is a larger city, it has a number of hotel options fit for virtually any budget. You can also find high-end luxury hotels and more affordable accommodations like inns and apartment rentals.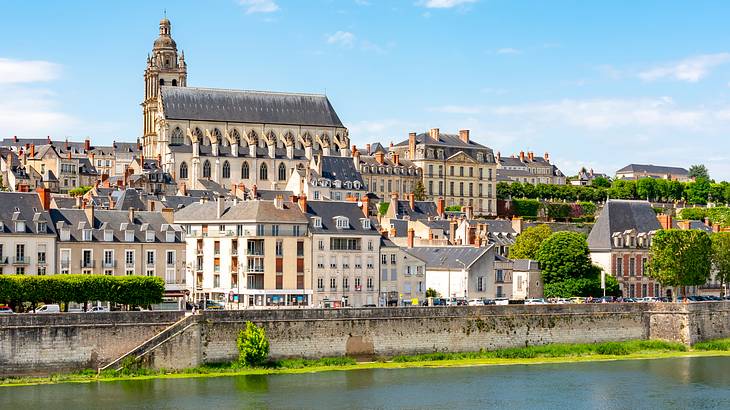 Blois
If you intend on touring the region's castles, Blois is the best area to stay in Loire Valley. The most famous attraction here is the Royal Château of Blois, located in the town center.
You might be surprised to learn that Blois is also a popular destination for magic lovers. At the Robert-Houdin House of Magic, you can learn about the history of magic as a performance art. It's also the only magic museum in Europe that also hosts live performances.
Getting around Blois via the town's public transportation system is relatively easy. However, you can also take a taxi or rent a car to get around. The latter option is particularly convenient if you plan to venture outside of the city.
Blois' hotels serve a wide variety of visitors. There are a few luxury hotel options with on-site spas. However, if you have a tighter budget, you can still find chain and boutique accommodations that offer Wi-Fi, air conditioning, and on-site meals.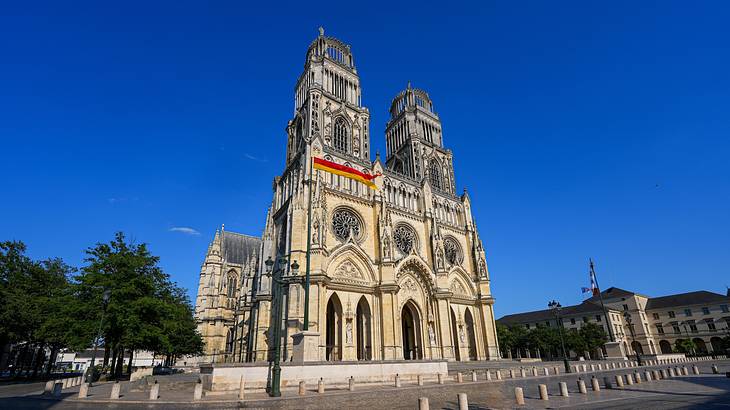 Orléans
Orléans is one of France's oldest cities, making it the perfect place for history buffs. Famous for being saved by Joan of Arc, the city celebrates this part of its past each May with a town-wide festival.
Of course, there are things to see no matter when you visit Orléans. Parc Floral de la Source explodes with colorful flowers each spring, while the Orléans Cathedral is a prominent example of Gothic architecture.
Orléans is also a good spot for budget travelers to visit. While you can certainly find more expensive lodging options, the majority of the hotels and inns in the area are affordable. However, boutique hotels tend to be smaller, so they may not be appropriate for large travel groups.
No matter where you choose to stay, Orléans is well-equipped with transportation options. You can rent a car or take a taxi if you'd prefer, but there are also self-service bike rentals you can pick up to explore the city. Of course, there's the public transportation system as well, which is another cheap option.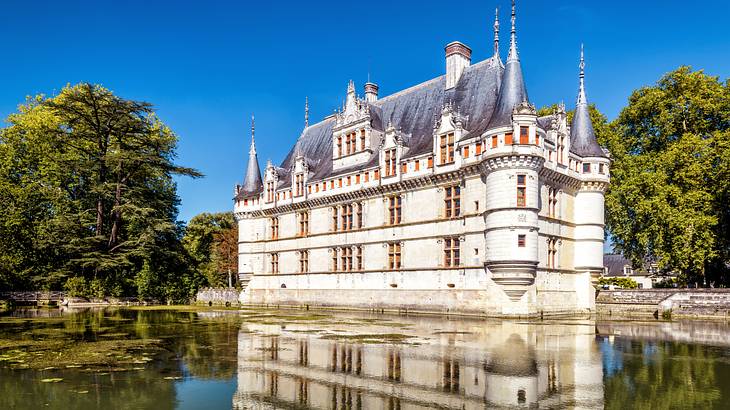 Azay-le-Rideau
Azay-le-Rideau is considered to be the best town to stay in Loire Valley for couples going on a romantic getaway. Home to some of France's earliest Renaissance architecture, the area is known for its quiet and fairytale-like atmosphere.
The most famous landmark here is Château d'Azay-le-Rideau. Though it's not the largest castle in the valley, it's one of the first to be designed in the French Renaissance architectural style. If you're more interested in ancient history, make sure to also take a tour of the Cave of Goupillières in the Troglodytic Valley of Goupillières.
Conveniently, you don't need a large budget to visit this part of France. Many hotels and inns are extremely affordable, even when booked relatively last minute. You can stay in city lodging or even book a room in a castle without having to spend a fortune.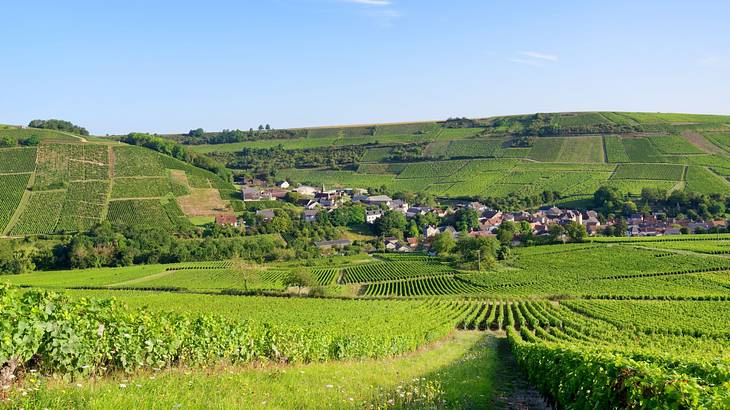 Sancerre
Sancerre is where to go to taste the wine that the Loire Valley is famous for. With over 350 vineyards in its territory, it's one of the top wine-producing zones in this part of France. However, don't assume that there's nothing to do in Sancerre if you're not a fan of wine or are traveling with people who are underage.
For example, though you can no longer go inside Fiefs Tower, you can still make the trek to see this historical landmark up close. You can also learn about France's role in the Spanish Civil War by visiting the House of Sancerre.
Sancerre's territory additionally encompasses small towns that you can visit, like Thauvenay, Vinon, and Bué. However, you may want to rent a car rather than take a bus to these locations so you have more freedom to explore.
Each of Sancerre's villages has its own lodging options, though they all tend to share a few of the same characteristics. For one, many of the hotels here are relatively affordable. You can even find cheap last-minute reservations. Lots of these hotels are also pretty small, so keep that in mind if you're traveling with a group.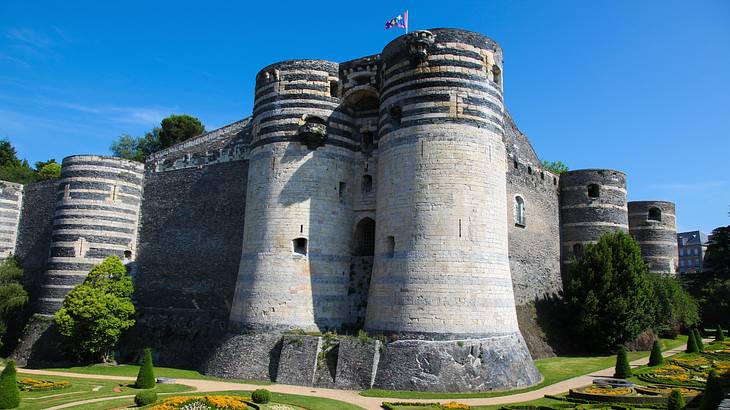 Angers
Are you a medieval history lover wondering where is the best place to stay in Loire Valley? If so, you should consider Anger. Located on the western edge of the region, it's a great spot to get a taste of the area's history and culture.
Château d'Angers is the most famous structure in the city, mainly because it houses the medieval Apocalypse Tapestry, the largest surviving tapestry from that era. On the other hand, Jardin des plantes d'Angers offers some peace and quiet. Additionally, David d'Angers Gallery showcases several 18th-century sculptures in the Romanticism style.
Accommodations in Angers come at a range of price points. The most affordable options are simple vacation apartments which are usually found in the newer parts of town. More luxurious lodging can be found in the refurbished mansions and palaces located just outside the main city.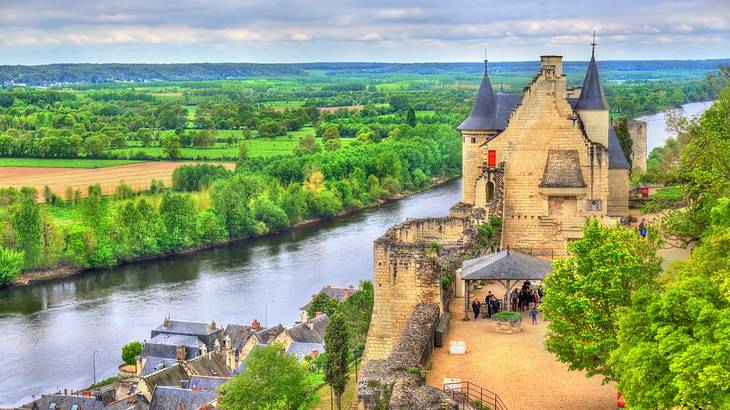 Chinon
Chinon was once a popular destination among French nobility, and to this day, it continues to be a premier destination in Central France. In particular, tourists tend to visit to experience the area's history and taste its famous red wines.
Considering the town's historical roots, it's not surprising that the 11th-century Royal Chinon Fortress is one of the area's most-visited landmarks. However, no trip to this part of the Loire Valley would be complete without taking a vineyard tour.
If you rent a car, Chinon is also near other must-see spaces, such as the Saint Benoit Aventure Park. The large and ornate Château de Villandry is also very popular and is only about a 30-minute drive from central Chinon.
Staying in Chinon is relatively cost-effective as well. There are both independent and chain hotels within the territory. Notably, it's a great place to use as your home base if you plan on venturing around more of the Loire Valley area.
Where to Stay in Loire Valley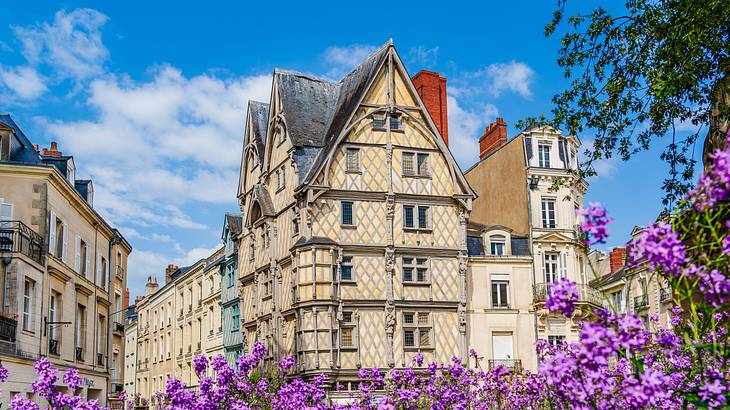 Where to stay in Loire Valley with family?
When traveling with family, the best towns to stay in Loire Valley are Angers and Amboise. Both of these towns offer a variety of sightseeing options which can suit visitors of any age.
For example, Angers is home to one of France's most famous landmarks, the Apocalypse Tapestry. However, it also has the plant-themed Terra Botanica theme park.
Amboise, on the other hand, offers easy access to multiple palaces. If your kids are too young to take on tours, they can get a taste of these famous places at Mini Castle Park.
Both of these cities also allow you to save money on accommodations. There are multiple budget-friendly accommodations and even apartment rentals that offer more space.
Where to stay in Loire Valley for a romantic getaway?
The Loire Valley region has no shortage of romantic getaway destinations. So, choosing the right one will depend on the type of couple you and your partner are.
Sancerre is an ideal spot for those who want to try local wines and tour vineyards. That's especially true for visits during the spring. Places like Candes-Saint-Martin, on the other hand, allow visitors to admire medieval architecture and go for relaxing strolls through the commune's gardens.
Azay-le-Rideau is likewise considered a romantic spot. It's quiet and picturesque, which is perfect for getting away and enjoying each other's company. All of these areas are suitable for couples traveling on a variety of budgets. You can find both budget-friendly and more expensive options available, all of which have amenities to make your stay comfortable.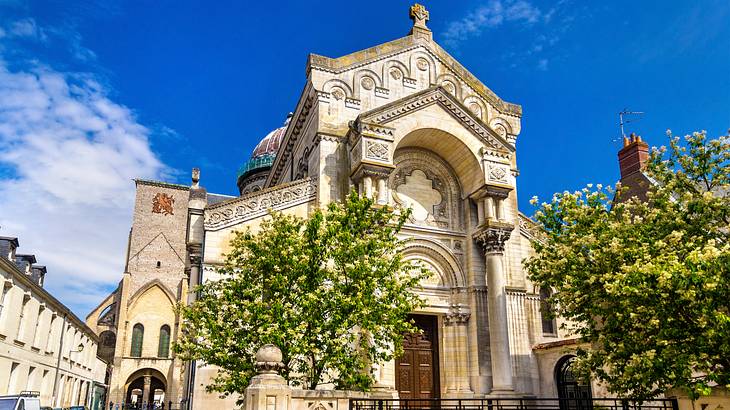 Where to stay in Loire Valley without a car?
When deciding the best places to stay in the Loire Valley without a car, you'll see two names come up often, Tours and Orléans. Both of these cities are very convenient for those who don't want to deal with driving while on vacation.
Tours is one of the largest cities in the area. It's a university town, so it has the most shops, restaurants, and entertainment options due to its larger population. Most businesses and services are within walking distance or just a short bus ride away.
On the other hand, Orléans offers a wide variety of convenient ways to get around. In addition to the bus lines and taxis, there's an easy-to-use bike rental system that works around the city.
Where to stay in Loire Valley for camping?
The area around Angers is one of the best for those who want to camp near the Loire River. There are multiple sites throughout the commune, many of which are within a short drive of the main city. However, many of these campgrounds are located near Lac de Maine, not the Loire River directly.
Chisseaux also offers a few unique camping opportunities. In fact, the territory near Le Moulin Fort is particularly popular. These sites allow you to stay within walking distance of the Loire River's banks.
Sainte-Catherine-de-Fierbois is another option for those who want a slightly more luxurious camping experience. You can often find cabins available to rent, which combine some of the rustic charm of being in nature with a few more comforts than a tent can provide.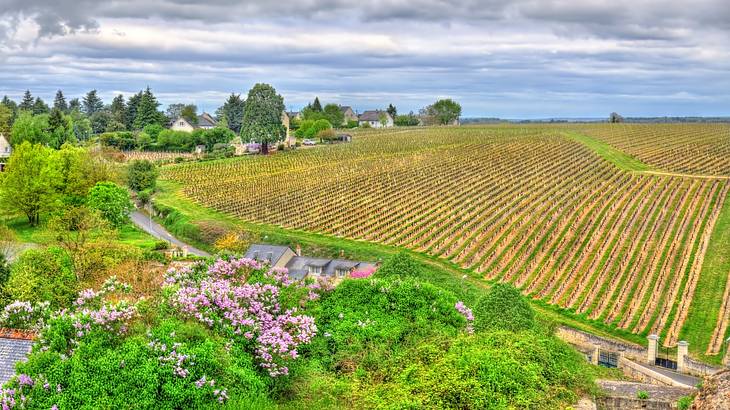 Where to stay in Loire Valley with a car?
If you plan on driving while exploring the Loire Valley, consider staying in Chinon. Though there are places in town worth seeing, the area is surrounded by other landmarks like the Rabelais Museum.
Having a car in Chinon also makes traveling to the local vineyards easier, as most of them are located outside of the city's limits. Of course, make sure you assign a designated driver if you plan on doing any wine tasting.
Sancerre is another excellent option for people who want to have a car while in the area. Like many communes, Sancerre is made up of multiple villages, which you can see more easily with your own vehicle.
Where to stay in Loire Valley near the beach?
When choosing where to stay when visiting Loire Valley during the summer, the ability to swim might be a deciding factor. While swimming in the Loire's main river path is discouraged due to its dangers, a few towns are nestled on the banks of swimmable tributary streams.
The town of Montrichard is one such place. The River Cher here is generally safe for swimming, according to locals, and the town has plenty of hotels and other amenities to help you enjoy your stay. Another good option is the Bourgueil commune. This territory has a few different access points to its lake, so you can cool off on a hot day.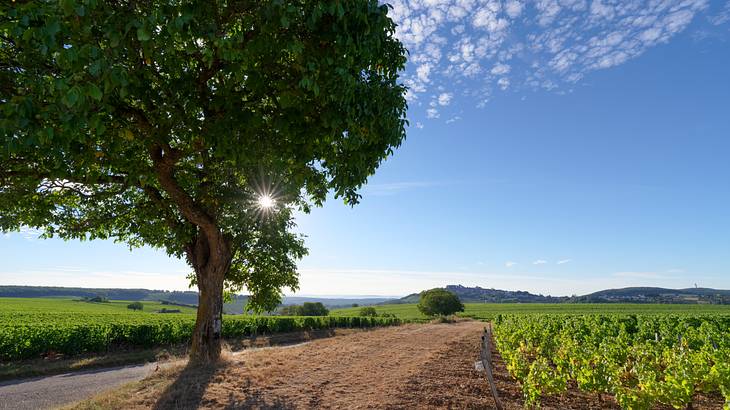 Where to stay in Loire Valley for wine lovers?
The Loire Valley is famous for its wine, but some areas are better than others if you plan on touring vineyards or sampling the local offerings while on vacation.
If you ask locals, they'll direct you toward Sancerre. The more than 300 vineyards in this territory take up over 6,000 acres of land and produce red, white, and rosé varieties. So, there's an option to suit everyone!
Chinon is another popular area for wine lovers. While red wine is the most common variety that's produced in this area, you can also find white wine options. Of course, remember to drink responsibly if you plan to drive to any wine tastings or vineyard tours. It's also worth remembering that the legal drinking age in France is 18.
In Summary
Clearly, the Loire Valley is a region rich in history and culture. So, it's not surprising that there's no shortage of things to see and experience. From the history of Angers' tapestry to the vibrance of Tours, there's something for virtually everyone in this part of France.
Hopefully, this list has helped you figure out what you want from your vacation. Now, you're one step closer to heading out on the Loire Valley trip of your dreams!
Give us feedback about this article
Read more articles about France:
More articles about places to stay:
---
---
Want to keep exploring?
Subscribe for discounts on tickets and hotels and our latest guides.
Thank you for subscribing
We will be in touch soon with discounts on tickets and hotels and our latest guides.
Want to keep exploring?
Subscribe for discounts on tickets and hotels and our latest guides.
Thank you for subscribing
We will be in touch soon with discounts on tickets and hotels and our latest guides.
Related Articles