Where to Stay in Milos, Greece - 7 Best Areas & Hotels
Destguides may receive commissions from purchases made through affiliate links in this article.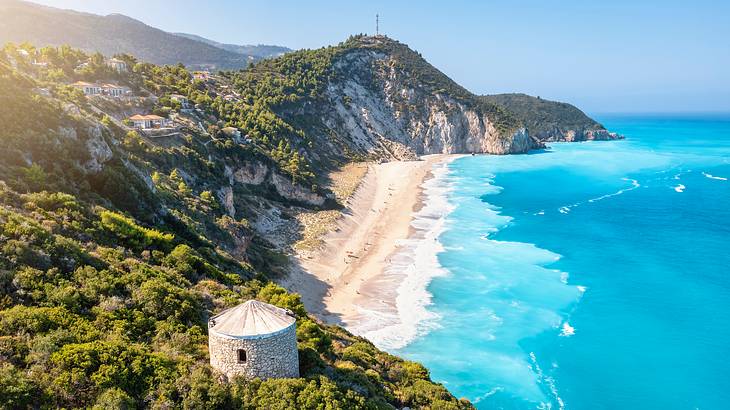 As part of the Cyclades, Milos is a small island with much to offer. From beautiful and mild weather virtually all year to dramatic scenery, it's not surprising it's a dream destination for people around the world.
However, determining where you should stay during your trip can be tricky. While Plaka is generally a good choice since it offers access to the most shops, restaurants, and hotels, it's inland. On the other hand, many of the island's coastal towns are quiet and don't offer much in the way of entertainment.
Whether you're planning a family vacation or a honeymoon, there's a spot on this Greek island for you. Keep reading to learn a little more about where to stay in Milos, Greece.
9 Best Places to Stay in Milos, Greece
Best Areas to Stay in Milos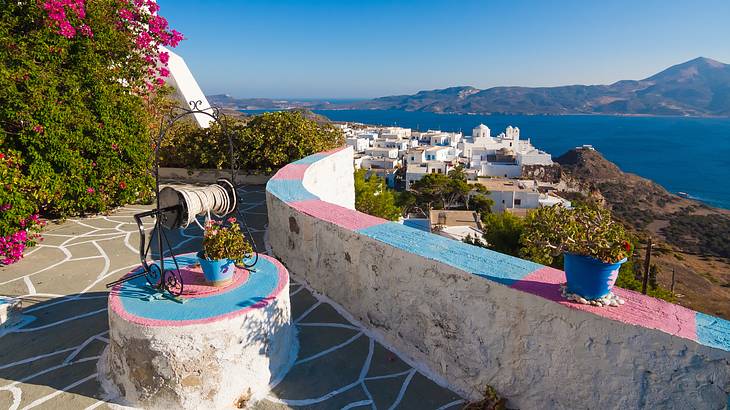 Plaka
Located on a hill overlooking the sea, Plaka is the largest city in Milos. The town is a few miles inland, so you'll need to take a car from your arrival port to get here. The trip from Adamantas is only around 10 minutes, but you can also make the journey on foot in around an hour.
The town's hilly location means you won't be able to get direct access to the beach, but there are plenty of inland things to see here. Plaka Castle and the Ancient Theater of Milos are both nearby. You can even visit the Archaeological Museum of Melos to learn more about the area's ancient history.
As the biggest town, Plaka also has the most restaurant and accommodation options for guests. So, you should be able to plan a trip to suit any budget.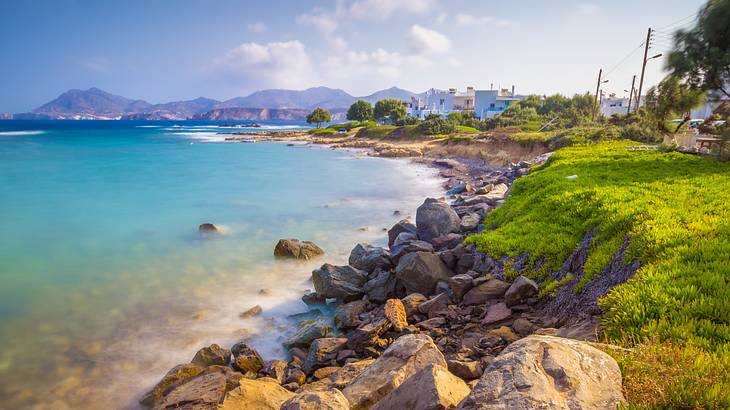 Pollonia
With sandy beaches and ancient history, Pollonia might just be the best area to stay in Milos. It's the island's second most important port, making it an easy stop for visitors who don't want to deal with a lot of public transport during their trips. That also allows for both budget-friendly and higher-end options.
Pollonia gets its name from the temple dedicated to the god Apollo that once stood on this part of the island. Though it's been lost to time, there are still plenty of things to see. The Chapel of Agios Nikolaos is a small, charming church you can take a walk to for a view of the sea and the mountains. Instead, if you'd prefer to lay out on the sand, you can visit Pollonia Beach.
Since Pollonia, like the rest of the island, is defined by warm summers, it's a popular destination for tourists between April and September. So, be prepared for crowds during that period. Though if you do want to venture out of the village, you can always take one of the boats that regularly travels to and from the nearby town of Kimolos.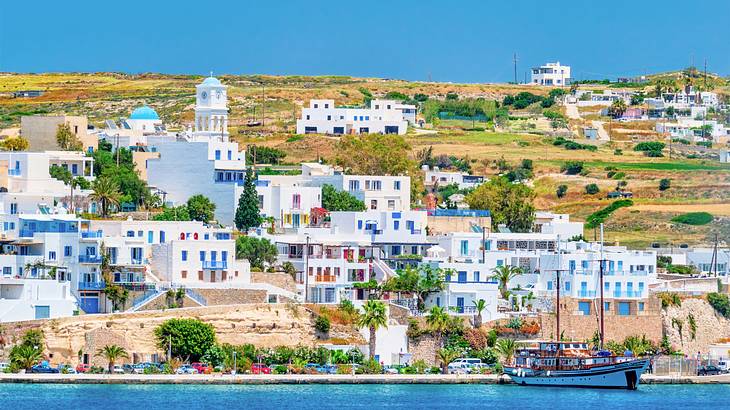 Adamantas
Adamantas is Milos' main harbor city, making it one of the most important cultural centers of the island despite its relatively small population. Since this is where many of the area's guests disembark for their stay, it's also a popular vacation spot, leading to numerous accommodation options opening. That includes budget options as well as more luxury hotels.
Adamantas has something for a variety of travelers to enjoy. The city has its own coastline that's popular among people who want to swim or spend time on the sand. It's also just a few miles from Sarakiniko Beach, the "white beach of Milos." However, it's recommended you drive or take a bus between these two locations, especially during the summer when temperatures can get up to 85 degrees Fahrenheit.
The city also has other landmarks you can visit if you'd prefer to sightsee while visiting. The Church of the Holy Trinity, which was built nearly 1,000 years ago, is a recommended spot to visit. The French Military Cemetery of Adamantas is also an interesting place that honors Soldiers from the Crimean and First World Wars.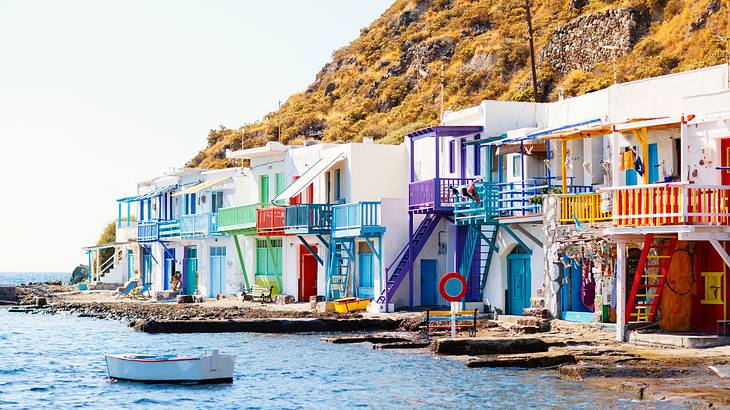 Klima
If you're looking for a way to get away from the crowds, Klima might be the best location to stay in Milos. Locals and visitors belove this small fishing village, but it still manages to fly under the radar of most tourists. You can usually find hotel deals due to the lack of demand.
Klima is located just 10 minutes away from Pollonia and 15 minutes away from Adamantas, so it's easy to get to once you arrive on the island. However, keep in mind that this town doesn't have a wide variety of activities, with just shops and small winding streets to explore.
If you want to see the area's sites, you'll need to venture outside the village. The Ancient Theater of Milos is just a few miles away, as are the Roman Catacombs and the spot where the original Venus de Milo statue was found.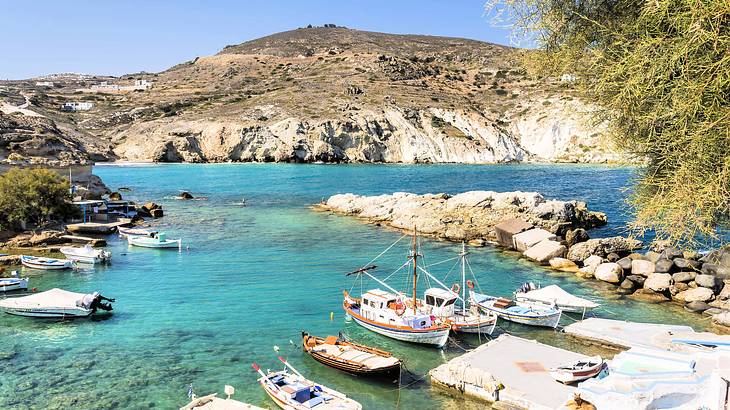 Mandrakia
Since it's known as just a small fishing village, Mandrakia is often overlooked by tourists. That ironically makes it one of the best places to stay on the island, especially if you're planning a honeymoon or relaxing getaway on a bit of a budget.
The location itself is a peaceful place to be your home away from home while on vacation, with a small beach and a few streets and shops, you can wander through. However, if you want to explore all that Milos has to offer, you'll need to have a car to roam at your leisure.
The town is located in a relatively central location that's near some of the most popular beaches, like Sarakiniko and Tourkothalassa. It's also just a few minutes away from Plaka, where you can see Plaka Castle and Trypti near the Catacombs of Milos.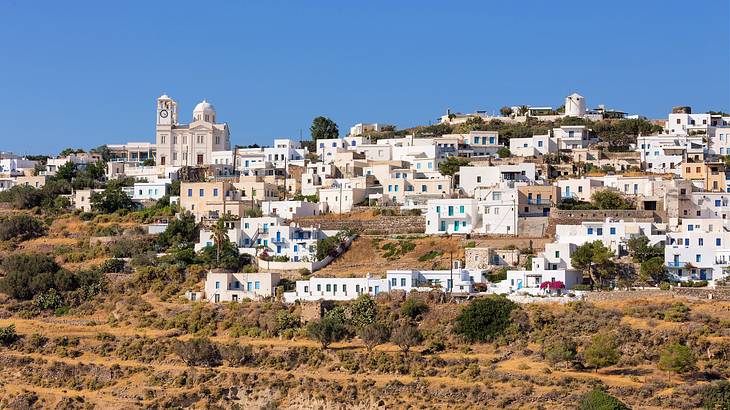 Trypiti (Tripití)
If you're trying to figure out what part of Milos to stay in, you should consider Trypiti, especially if you're a history lover. This small village is one of the most historic on the island.
Trypiti is home to two of Milos' most famous landmarks, the Ancient Theater of Milos and the Roman Catacombs. Even the area's more underrated landmarks, like the nearby Church of Saint Nikolaos, are worth visiting while you wander around the village.
Though the town gets quite a few visitors during the day, especially during the busy summer season, not many choose to overnight here. So, evenings should be relatively calm and peaceful, which can make it a good option for families with small children. This also means you can find cheaper hotel options, though prices go up during the summer.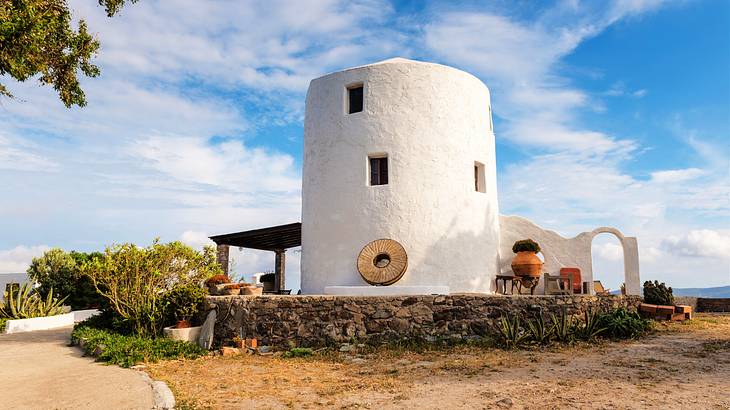 Triovasalos
Triovasalos is often associated with its neighboring town of Pera Triovasalos due to its mirrored locations on parallel cliffs. Since Triovasalos is one of the island's more elevated villages, it doesn't provide direct beach access, but it offers other sites for you to explore at an affordable price.
This affordability also translates to its hotels. So staying here is a good option if you want to pack your trip full of adventures on a budget. The town's two main landmarks are both 19th-century churches, Saint Spiridon Church and Saint George Church. However, you can also go on leisurely nature walks to take in the view of the sea.
Triovasalos is additionally located in a central spot, making it easy to explore other nearby towns if you decide to rent a car. Plaka, another inland community, is less than 10 minutes away and allows you access to the area's Venetian-era castle.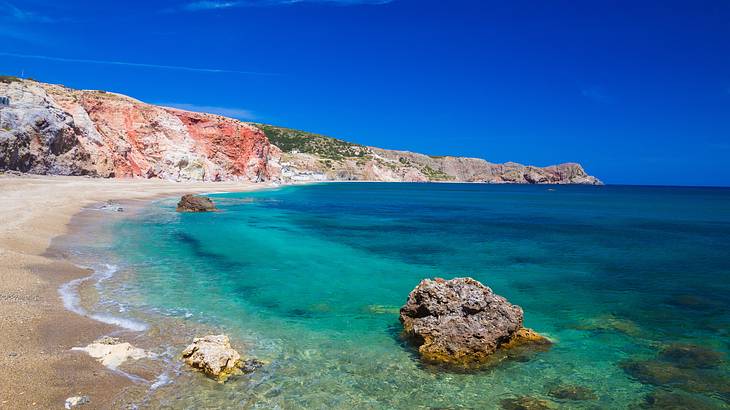 Paliochori
If you love the beach, Paliochori is the best place to stay in Milos, Greece. This village might be small, but it's home to one of the best coastlines on the island. Paleochori Beach is located in the southern part of Milos. This location, coupled with the area's landscape, helps protect it from northern winds that can make other beaches in the area uncomfortable.
However, if you choose to stay around Paliochori, remember that there isn't too much else to do. So, if you're the kind of traveler who loves staying busy and exploring, you'll likely want to get a car to venture to other parts of the island.
Luckily, you can get to most places in Milos in under an hour. For example, Plaka, in the island's northern part, is just a 25-minute drive away. The same can be said for Pollonia to the east. If you feel comfortable driving, this is also an excellent option for budget travelers since its accommodations are often overlooked by tourists.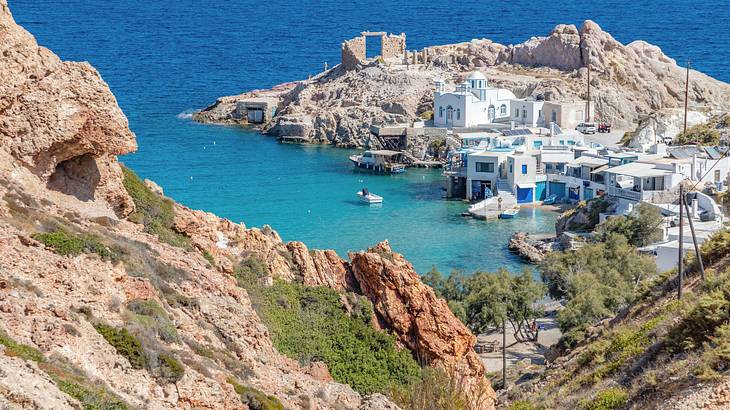 Firopótamos
Located less than three miles from Plaka, Firopótamos is a coastal fishing village in the northern part of Milos. Though this is a quiet town, it's slowly becoming famous for its clear blue water, which makes it an excellent spot for beach lovers.
Firopótamos is a more rustic area on the island, having only just recently become a tourist destination. Therefore, there aren't many eateries or other forms of entertainment. So, if you're coming to Greece with children who need a lot of stimulation, this may not be the best spot unless you pack plenty of toys.
While the quaint, calm nature of the village undoubtedly appeals to some people, even those who would typically prefer a more lively atmosphere might want to stay here. Though lodging options are a bit limited, it's a very affordable place to stay.
Even if you plan to venture to other parts of the island, there are a few local landmarks worth exploring near Firopótamos. The Syrmata settlement, made of rooms that have been built into the seaside rocks, is one of the most unique snapshots of the island's traditional architecture.
Where to Stay in Milos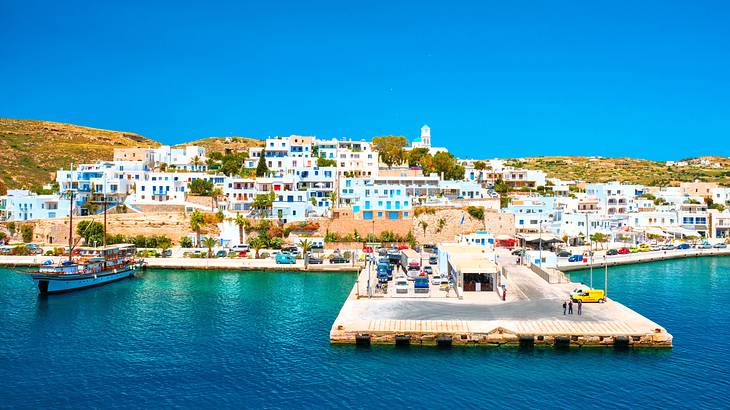 Where to stay in Milos with family?
If you're traveling with family, you'll likely want to stay in Plaka, Pollonia, or Adamantas. You'll find the best hotels to stay in Milos, Greece, in these three neighborhoods because they're the most popular among tourists.
Adamantas is the island's largest harbor city, so it's the one most people disembark from when arriving. Staying here means you don't have to worry about juggling your family's luggage for too long at the beginning and end of your trip.
Pollonia is the island's other port, though it's smaller and a bit less crowded. Both of these cities offer easy access to the beaches, making them excellent choices during the summer when school is out and temperatures are warm.
Plaka, on the other hand, is the largest city. It's located further inland, so you'll need a car to get to and from the coast, but you'll be very close to the most important sites, like Plaka Castle.
Where to stay in Milos for sightseeing?
If you want to see some of Greece's landmarks while you're visiting Milos, opt to stay in Plaka or Trypiti. Both of these towns allow you to explore the island's ancient history.
Plaka is the largest city, so it offers the most accommodation and restaurant options which can make it a more convenient choice. You can see the Plaka Castle without leaving the town, and it's home to the Archaeological Museum of Melos.
Trypiti, instead, lets you explore the ruins of the Ancient Theater of Milos and the Roman catacombs. Though these are two popular sites for tourists, most people don't stay in town, so you can head out early before the crowds come in.
Klima is another good spot for sightseeing. Located less than a mile from Trypiti, this is another underrated village with ancient sites. Near the town is where the famous Venus de Milo statue was found. Though the original is at the Louvre, a replica can be seen where the statue was discovered.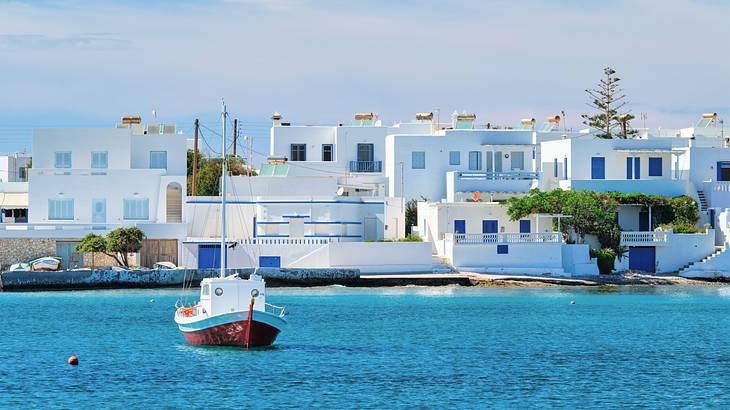 Where to stay in Milos for first-timers?
If you're visiting Milos for the first time, you'll want to get a good taste of everything the island has to offer. So, staying by one of the ports is a good choice. Adamantas is the larger of the two main harbor cities, so you'll have more options for places to eat and stay. However, if your arrival is in Pollonia, that's also a viable option.
Both of these towns have beaches and sites you can enjoy. Adamantas is home to a mining museum, and the Church of the Holy Trinity has a museum of its own with various religious artifacts.
Pollonia is home to the quaint Chapel of Agios Nikolaos. Both towns are within a ten to 20-minute drive from the island's other cities, allowing you to do some more sightseeing.
Where to stay in Milos on a budget?
If you're on a budget, the best town to stay in Milos is Adamantas. The town doesn't just have affordable hotel options, but it's also well-connected to other parts of the island, allowing you to save money on travel to the island's different landmarks. Adamantas also has multiple restaurants and grocery stores that offer affordable food options, further adding to your ability to stretch your budget.
If your main concern is saving money on your accommodations, for example, while planning a trip for a group of people, stick to the smaller villages. Paliochori is a relaxing fishing village that offers budget-friendly hotels, though you'll need to venture outside the town to see most of Milos' sites.
For an affordable honeymoon getaway, Mandrakia is a good choice. It's located near the water, allowing for plenty of beachside relaxation, but it's close to the island's other cities, so you can do some sightseeing.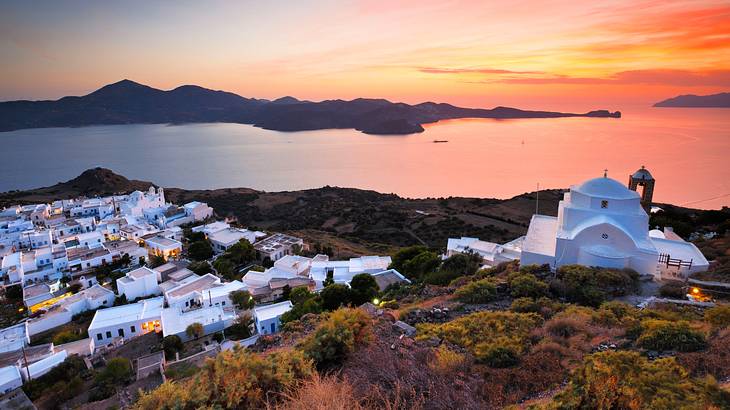 Where to stay in Milos for nightlife?
Milos is a relatively quiet island for most of the year. However, during the summer months, when the tourist season is at its busiest, the area's nightlife also picks up.
If you call yourself a night owl, choose a hotel in Plaka, Adamantas, or Pollonia, the island's three largest towns. These areas have the most businesses, including restaurants, bars, and cafes, many of which stay open until late in the evening during the summer months.
Plaka is the largest city. Even if you visit in the winter when there aren't many tourists, you'll still be able to find a tavern or two open.
However, don't expect loud music or a plethora of parties. Milos offers a more tranquil ambiance. So you're more likely to see people going on a late-night stroll than dancing until the sun comes up.
Where to stay in Milos without a car?
When determining what area to stay in Milos, you'll want to look at the distances between different neighborhoods and the landmarks you'd like to see. In general, Plaka is a good option for most travelers. It's the largest city on the island, but it's also very walkable. That's largely because most of its streets are too narrow for cars to pass.
Plaka is also relatively close to other parts of Milos, so you can take a bus to the beach or a neighboring town without getting behind the wheel yourself. However, if you anticipate spending most of your days by the sea, consider staying at a harbor city like Pollonia or Adamantas.
In Summary
Though Milos might be a small island, it offers plenty of places you can call home while you visit. From Plaka's more lively atmosphere and proximity to the island's main sites to the tranquil fishing villages by the coast, there's something for everyone in this Greek paradise.
Whether you're planning an upcoming getaway or one further in the future, hopefully, this article has brought you one step closer to taking the Milos vacation of your dreams!
Give us feedback about this article
More articles about the South Aegean:
Read more articles about Greece:
More articles about places to stay:
---
---
Want to keep exploring?
Subscribe for discounts on tickets and hotels and our latest guides.
Thank you for subscribing
We will be in touch soon with discounts on tickets and hotels and our latest guides.
Want to keep exploring?
Subscribe for discounts on tickets and hotels and our latest guides.
Thank you for subscribing
We will be in touch soon with discounts on tickets and hotels and our latest guides.
Related Articles