Where to Stay in Naxos, Greece - 10 Best Areas & Hotels
Destguides may receive commissions from purchases made through affiliate links in this article.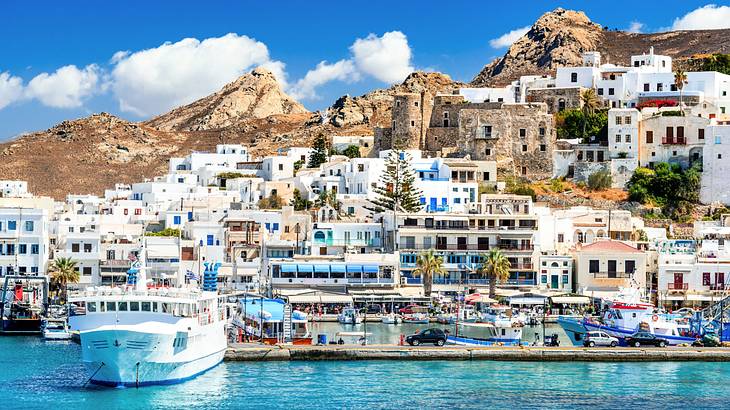 For many people, a trip to Greece's Cyclades islands is the definition of a dream vacation. However, because it's the biggest and most well-known of these islands, deciding where to stay in Naxos can be a tough decision.
The best overall option for many people is to stay in Naxos Town due to its proximity to the port and ample sites and amenities. However, if you want some peace and quiet, Stelida or Filoti might be better options.
No matter what sort of traveler you are, keep reading to find out which village on Naxos you should call home during your stay!
10 Best Places to Stay in Naxos, Greece
Best Areas to Stay in Naxos, Greece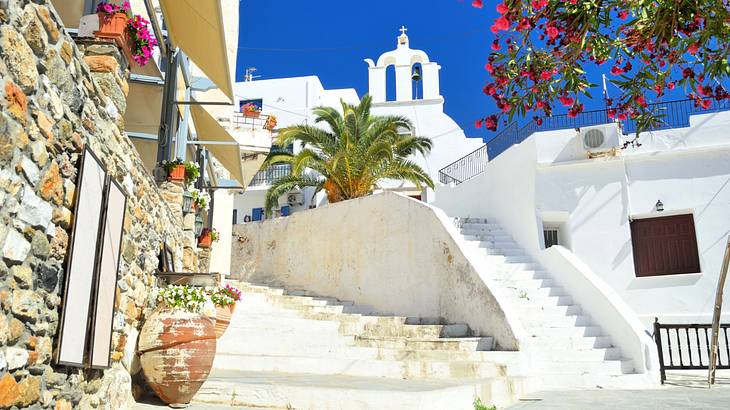 Naxos Town
As the largest community on the island, Naxos Town (also referred to as Chora, Naxos Chora, or Naxos Village) is a popular destination among tourists. It's the location of the ferry port, so it sees the most foot traffic.
For that reason, it has the most shops, restaurants, and accommodation options, making it a reliable place to stay. It's also great for people who don't want to worry about having a car because you can get around on foot easily.
Naxos Town is particularly loved by visitors who want to spend plenty of time by the water since it's within walking distance of Saint George Beach. Even history buffs will love this town for its medieval history. In the village's historic district, you'll find the Castle of Naxos, complete with multiple museums and eateries to enjoy.
You don't need a large budget to travel to Naxo, either. You can find cheap options without sacrificing comfort. Many of the hotels here are boutique inns, or you can rent a villa for more privacy.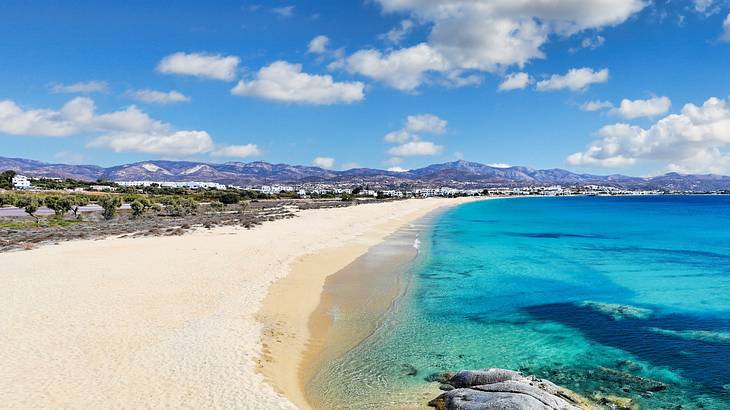 Agios Prokopios
Many locals will say that Agios Prokopios is the best area to stay in Naxos. This beachside village is known for its long coastline and tranquil ambiance. Many of the village's main attractions are related to its seaside setting, like Agios Prokopios Beach and Maragas Beach. So, it's a good spot for a relaxing beach trip.
Agios Prokopios is generally relatively warm, particularly in the summer when temperatures reach around 85 degrees Fahrenheit. However, because of the area's open landscape, it tends to get very windy, especially during the winter. The breeze can make the climate feel cooler and the water less gentle. On the bright side, the extra waves from the wind are great for surfing.
Due to the beach location, many of the hotels around Agios Prokopios are resorts. Lodging options tend to be larger, so they can welcome a larger number of guests during the summer. While prices can be a little higher than on other parts of the island, rooms tend to be relatively affordable.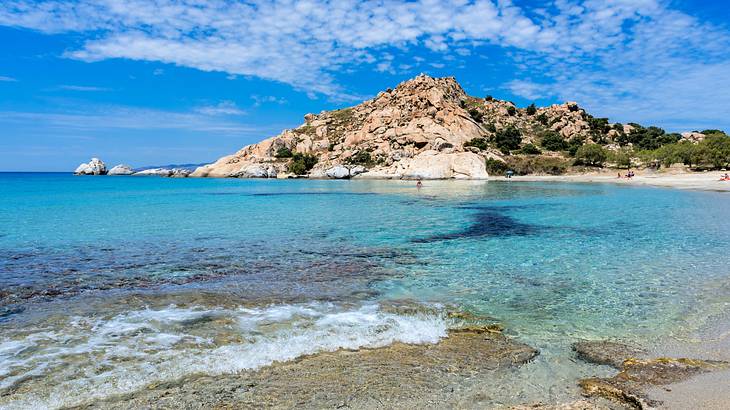 Mikri Vigla
Though Mikri Vigla is a small village, it's slowly gained notoriety as a sandy beach paradise. Parthena and Limanki are the two largest beaches comprising the village's coast. Since Mikri Vigla isn't near the island's main port, the beach doesn't get quite as much foot traffic, so it offers a generally relaxing environment for guests.
It's located about 11 miles away from Naxos Town, so you can easily travel back and forth between the two areas if you want to see the Temple of Aoloos or the island's archaeological museum. Taking the bus is the cheapest method, but you'll need to keep track of the schedules to know when the last trip is each day.
There's a variety of lodging available in Mikri Vigla, so you can find something to suit most budgets. Vacation apartment rentals are the most popular, but there are also a few small resorts if you want to just sit back and relax.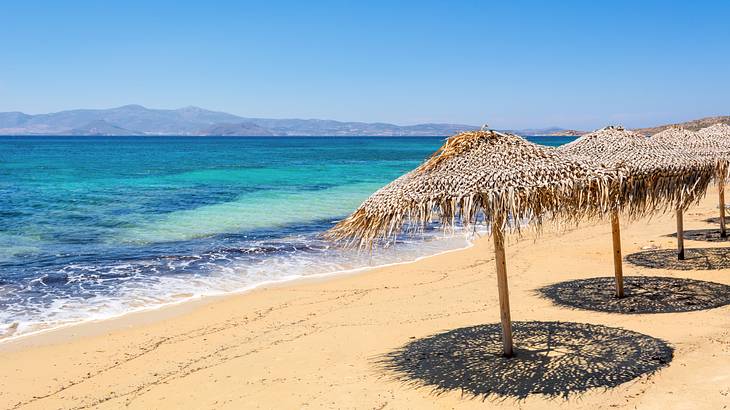 Agia Anna
Agia Anna is less well-known than its neighboring town, Agios Prokopios, but it has one of the most picturesque seasides on Naxos. Its long, relatively secluded beach is its main draw, but it also offers plenty of relaxation, perfect for honeymoon travelers.
Agia Anna is mostly a fishing village, so you won't find many out-of-towners, especially if you visit after October when the tourist season winds down. However, even if you come in January when the area is windy and it's too cold to swim, you can still admire the coastal scenery. For the best views, head to the port. This part of the town will give you an unobstructed view of the horizon.
Agia Anna is home to some very picturesque boutique hotels that are all very close to the sand. There are also apartment rentals available, these tend to be cheaper than traditional inns, but most lodging options are affordable in general.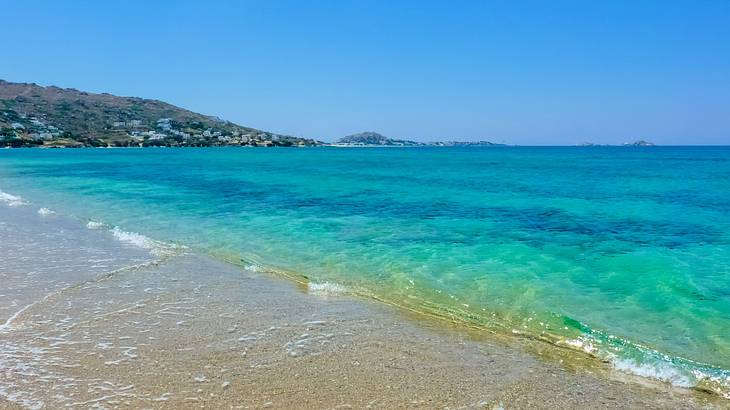 Plaka
If you're a beach lover trying to decide where to stay on Naxos, consider Plaka. With multiple beaches like Paralia and Orkos all within walking distance, there's bound to be a place for any kind of beach-goer.
Just remember that even though the temperatures in Plaka rarely dip below 60 degrees Fahrenheit during the day, the water temperature starts to cool around September. So, swimming or surfing in the fall and winter months won't be comfortable without a wetsuit.
Plaka is also a relatively calm town without too many attractions that aren't nature-related. So, if you aren't much of an outdoorsy person, you might be better off staying elsewhere.
Despite Plaka's small size, it's still home to a few hotels, so you have some options available. Most of these inns are relatively small and independently owned. They're also pretty affordable. However, many of these structures are fairly small, so they may not be the best for larger groups.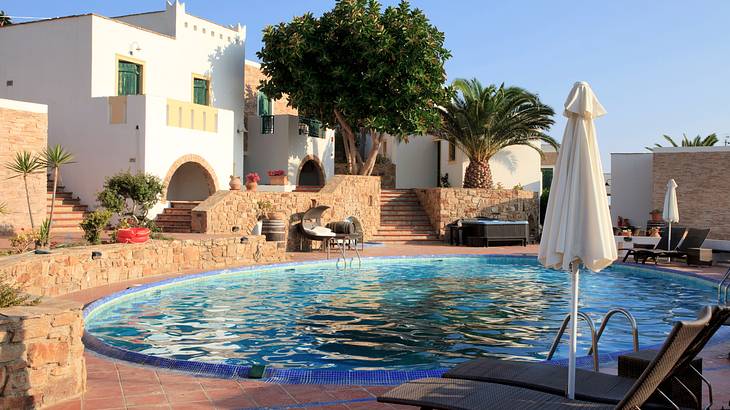 Stelida
If you're looking for a quiet place to relax on the beach while on your Greek vacation, Stelida is an option worth considering. This small village is relatively quiet but still has multiple bars and restaurants near the coast for visitors to enjoy.
Since Stelida gets a little more traffic than some of the island's other villages, it also has more lodging options. You can even walk to some nearby towns, like Agios Prokopios, and Naxos Town is just a few miles away.
To match Stelida's quiet and relaxing ambiance, many of its hotels are "mini resorts," with pools and canopies to lounge under. Most of these inns are independently owned and secluded as well. Generally, these lodging options are affordable, but they're not the cheapest places on the island.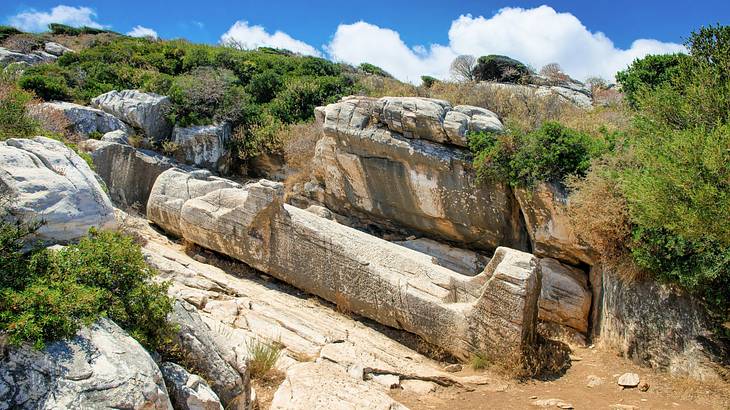 Apollonas
If your primary objective when deciding where to stay in Naxos Island is seclusion, Apollonas might be the perfect place for you. Located in the northern part of Naxos, this little village is quiet and remote.
You don't have to be concerned that its location means you'll have fewer amenities, though. Multiple hotels, restaurants, and shops have recently opened to entice travelers to the village.
Apollonas is also an excellent place for nature and history lovers. Hiking trails surround the town, some leading to historic ruins like the ancient Kouros of Apollonas. Instead, if you have a car, you can drive six miles to reach the Tower of Agia.
Though Apollonas might be a pretty secluded village, it has an array of hotels to choose. Primarily these accommodations can be divided into two categories, apartment rentals, and small resorts with on-site pools and other amenities.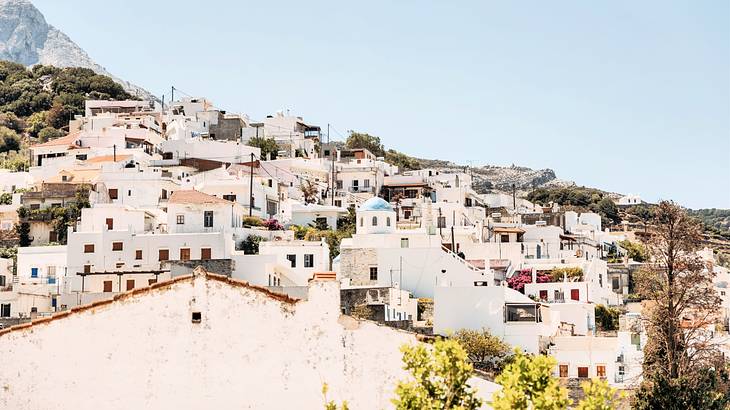 Filoti
Hidden in the mountainous center of Naxos, in the valley surrounding Mt. Zas, is Filoti. This little town isn't widely known, but it's beloved for its sweeping views and calming setting.
In fact, the beautiful scenery and low crowd levels have made this an up-and-coming honeymoon favorite. You shouldn't have trouble finding a boutique hotel or secluded resort to fit your budget, no matter what kind of traveler you are. However, there are also some apartment rentals available.
Most people who come to Filoti come for its nature, and hiking is popular among visitors. However, you can also spend days exploring the village's three distinct neighborhoods. Rachidi is located in the village's hills, while Klefaros and Lioiri are where you can find the ruins of the island's Venetian settlement, like the Barozzi Tower.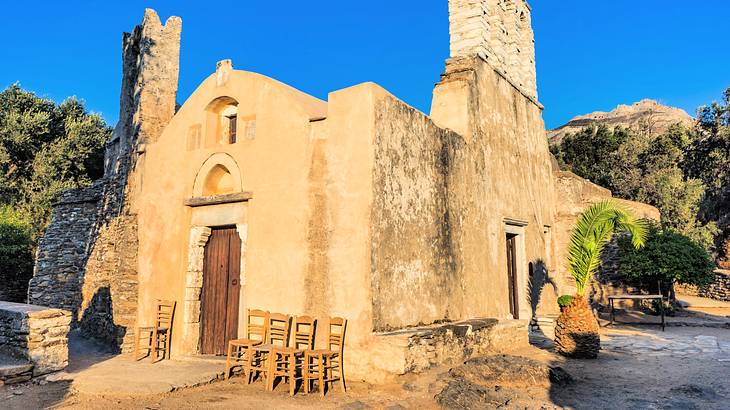 Moni
If you love learning about new cultures, Moni might be the best town to stay in Naxos, Greece. The cobblestone streets and stone houses make it a picturesque village in the center of the island.
The village is even home to the Our Lady of Drosiani Church, which has been standing since the 500s, making it one of the oldest structures in Naxos. There's plenty of greenery to explore as well. Moni is surrounded by olive groves, and you can easily access walking trails that lead to Apeiranthos, Kaloxylos, and Chalki.
The town does get a pretty consistent flow of tourists, so there's plenty of lodging to choose from. Vacation apartments are the most popular choice, but there are also small inns and hotels that offer breakfast and pool access. The best part is that you can find a place to stay to fit virutally any budget.
Make sure you're comfortable walking even if you don't plan on hiking because cars are forbidden on the town's streets.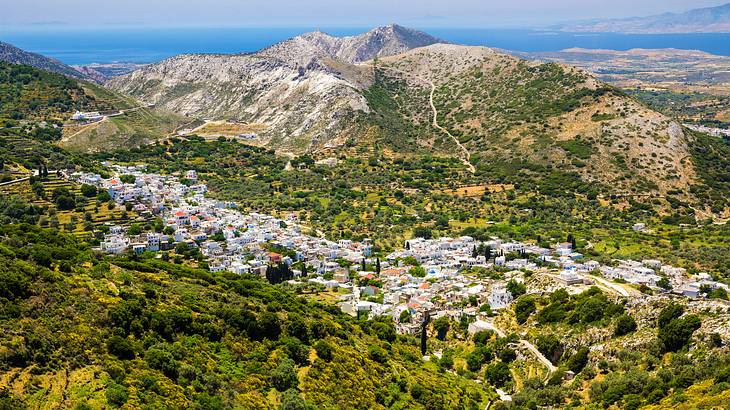 Chalki
Known for being the largest cultivation area on the Cyclades islands, Chalki is a small town in the center of Naxos. Though it's a relatively calm area, there's still plenty to see while you're here, especially if you're a history and culture lover.
The Church of Panagia Protothrone, one of the island's oldest churches, can be found within the city's limits. You'll also be able to find the Gratsia Tower in the area. This monument was once used to protect the island from pirates. If you're willing to venture outside Chalki, you'll also be able to find the Church of Saint George Diasoritis, which was built over 1,000 years ago.
Chalki usually manages to fly under the radar of tourists who tend to prefer the coastal villages. So, you'll rarely encounter many crowds. However, many of the buildings are older. So if you visit in the middle of the summer, when temperatures hit around 85 degrees Fahrenheit, and the humidity levels rise, don't expect air conditioning.
Chalki has a number of small picturesque hotels and guest homes. Most of these businesses offer affordable places to stay, but there are a few more luxurious options if you want more guest services available during your trip.
Where to Stay in Naxos, Greece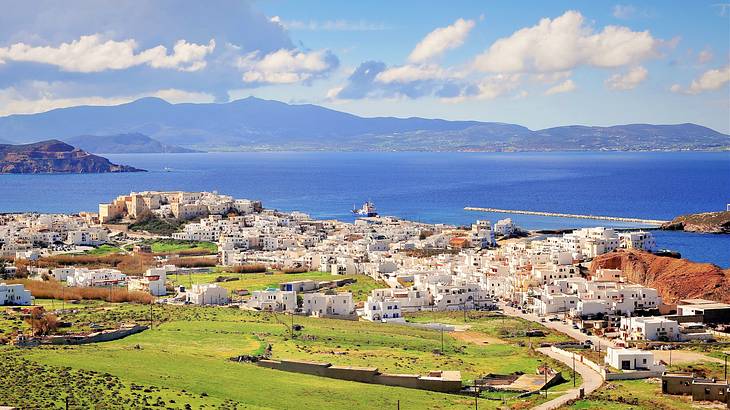 Where to Stay in Naxos with Family?
If you're planning a family trip to the Greek Islands, you should consider Stelida or Naxos Town for your itinerary. Both of these areas have plenty to offer families and large groups.
Stelida is a bit quieter and more remote. However, you can walk to neighboring towns if you want to explore, but you can also enjoy spending your days on the beach. Since the town doesn't get too crowded, you can typically find affordable lodging as well.
Naxos Town is much more centrally located since it's where the island's ferry port is. So, if you don't want to have to worry about dealing with public transport, it's a great place to stay. You can walk around and admire the Venetian mansions and browse the shops and restaurants.
Where to Stay in Naxos for Couples?
Naxos is an excellent destination for romantic getaways, but Agia Anna and Filoti are two places that are particularly loved by couples. Agia Anna's secluded beaches and beautiful horizon create a wonderful backdrop for honeymoon and anniversary trips. While Filoti offers more mountainous views and hiking opportunities for outdoorsy couples.
Both of these towns are just a few miles away from Naxos Town as well. So you can easily spend a day exploring the island's largest town and taking in the sites like the Venetian Castle of Naxos.
If you and your partner are social travelers, you can also stay directly in Naxos Town. There are numerous hotel options to fit most budgets, and you won't have to worry about relying on public transportation or renting a car.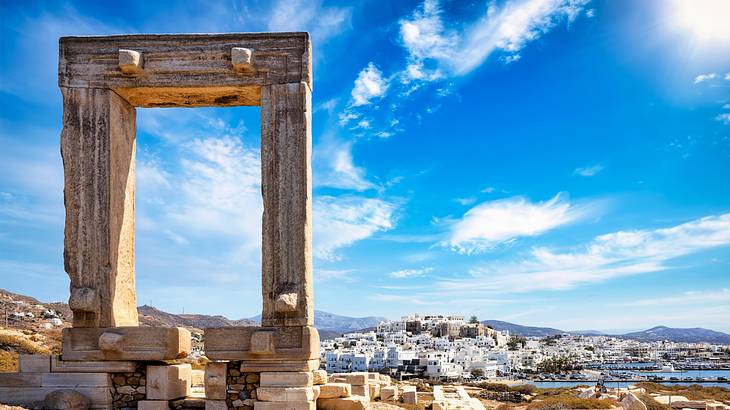 Where to Stay in Naxos for Sightseeing?
Naxos Town is the best place to stay if you're interested in seeing some of Greece's most important landmarks. The town is just a short car ride away from the ancient Temple of Apollo, as well as the Chapel of Agios Ioannis Theologos. Both of which offer beautiful views of the island from their hilltop sites.
Even if you don't want to worry about venturing too far outside of town, there's still plenty to see in the city or Naxos. The Petalouda Art Gallery is just a five-minute walk from the city center, and the area's shorelines offer a picturesque place to relax and take in the island's natural beauty.
Where to Stay in Naxos for Nightlife?
If you're a night owl, Naxos Town is the best place to stay in Naxos, Greece. As the island's biggest town, it has the largest population of residents and the most tourists. That also leads to it having the most late-night businesses.
There are a few nightclub boats, as well as restaurants and bars in town. You can also check out Naxos Town's restaurants if you're looking for a more family-friendly location.
However, keep in mind that some of these businesses might be seasonal. That means that once the high season for travel is over, usually around October, they might close up shop or open more sporadically. The places that remain open are usually those most visited by locals, though, so they offer a more authentic ambiance.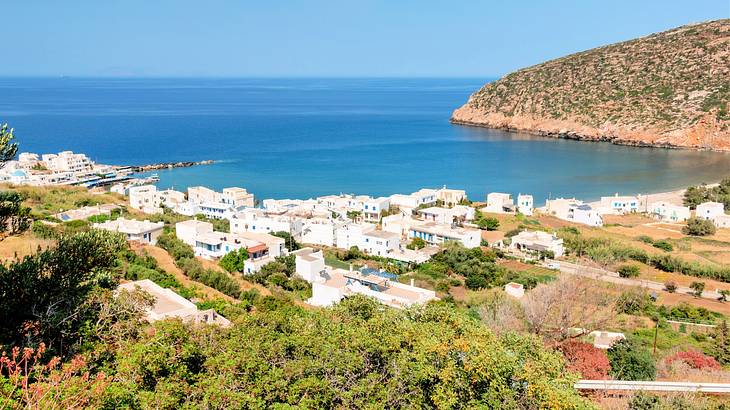 Where to Stay in Naxos on a Budget?
If you're traveling on a budget, Naxos has multiple locations that usually offer affordable lodging options. The obvious choice is to stay in one of the island's smaller towns. Apollonas is one of the most remote since it's located in the island's northern part, away from the beaches.
Plaka and Filoti are, instead, quiet coastal villages. While they're relatively close to the main ferry port, they tend to get fewer visitors, so finding budget-friendly accommodations is pretty simple.
Remember that the time of year you visit will affect prices too. Late spring and summer tend to be the busiest tourist seasons, so prices all over the island go up. In the winter, though, you'll be able to find cheap options even in more popular areas like Naxos Town.
Where to Stay in Naxos Without a Car?
If you don't want to worry about driving, Naxos Town is the best location to stay in Naxos. The town is the largest community on the island, so it has the most amenities, like stores, restaurants, and hotels. So you don't have to worry about venturing too far to get necessities.
Naxos Town is also relatively small and very walkable. From the city center, you can reach the beach, the Temple of Apollo, and the city's castle, all in a matter of minutes. Even if you want to venture to a nearby town like Stelida, you can take one of the buses that regularly pass through the island's neighborhoods.
In Summary
Clearly, Naxos has no shortage of places to call your home away from home while you're visiting the island. From the bustling tourist hub of Naxos Town to the rich culture and history of Moni, there's a place for everyone on this Greek island.
Hopefully, this list has helped you figure out which spot best suits your travel needs. Now all you have to do is book your trip and see what Naxos has in store for you!
Give us feedback about this article
More articles about the South Aegean:
Read more articles about Greece:
More articles about places to stay:
---
---
Want to keep exploring?
Subscribe for discounts on tickets and hotels and our latest guides.
Thank you for subscribing
We will be in touch soon with discounts on tickets and hotels and our latest guides.
Want to keep exploring?
Subscribe for discounts on tickets and hotels and our latest guides.
Thank you for subscribing
We will be in touch soon with discounts on tickets and hotels and our latest guides.
Related Articles