A Long Weekend in Budapest - 3 Day Itinerary
Destguides may receive commissions from purchases made through affiliate links in this article.
A weekend in Budapest is the perfect place for a relaxing break away from a chaotic city like London or Paris, especially if you can extend your trip to include a Friday or Monday (or both). It is a cultural mosaic that was once made up of Romans, Turks, Russians and Austro-Hungarians.
Interestingly, it also used to be divided into two medieval cities - Buda and Pest, which were at one point quite similar to each other but had cultural influences from different countries. The two became one in 1873, but still to this day, the locals like to divide it into Buda and Pest.
While Buda and Pest might be physically divided by the Danube River, both sides offer beautiful views and tasty food/drinks in hip bars. As there are many things to do in the city, you might be confused as to how to divide your time while here, or even what area to stay in Budapest. As such, this itinerary will only focus on what to do in the city centre.
3 day itinerary
Average of 5 stops per day
Budapest 3 Day Article
Finding Buda in Budapest
The Buda side of Budapest is very hilly and seen as the traditional part of the city. Sometimes it is referred to as the 'higher-class' part of town as it has several famous museums, galleries, and upscale restaurants. Nevertheless, Budapest is still one of the most affordable places in Europe to visit.
The first day of this itinerary involves visiting the most iconic places on the Buda side and is also useful for those who might only have one day in Budapest to explore.
Chain Bridge
The Chain Bridge is one of the most iconic bridges in Europe. It connects Buda and Pest and is the main bridge used for crossing from one side of Budapest to the other. The bridge is widely known for its massive chains and lion statues. It was opened to the public in 1849 and took 9 years to build. Be prepared to be engulfed by many tourists.. but of course, for good reason.
Fisherman's Bastion - Halaszbastya
Fisherman's Bastion, also known as Halaszbastya, is one of the most popular attractions in Budapest. It offers a magnificent view of the city and river from the Buda side. The bastion is famous for its spires and turrets. There is a small charge if you want to visit the upper towers of the Bastion.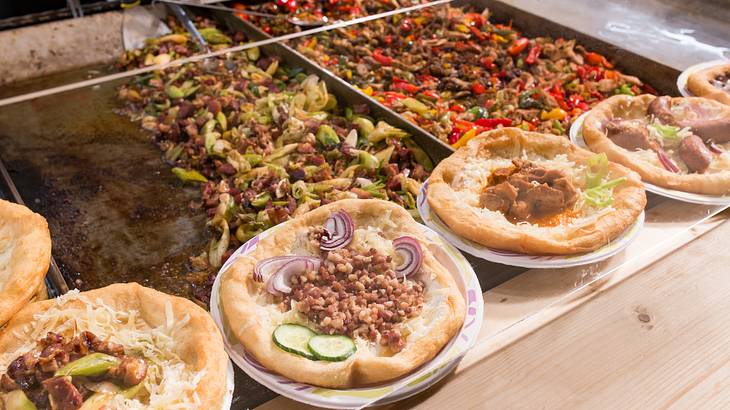 The Great Market Hall
The Market Hall in Budapest is located in a 19th century neo-Gothic building that spans over 3 floors. It is a good activity to do whether it is raining or sunny outside as it is fully covered. Here, you will be able to try some traditional Hungarian food, such as Langos (deep-fried dough), and buy some souvenirs.
Head over to the Market Hall for some lunch and shopping if you fancy it before you carry on with the rest of the sites for the day.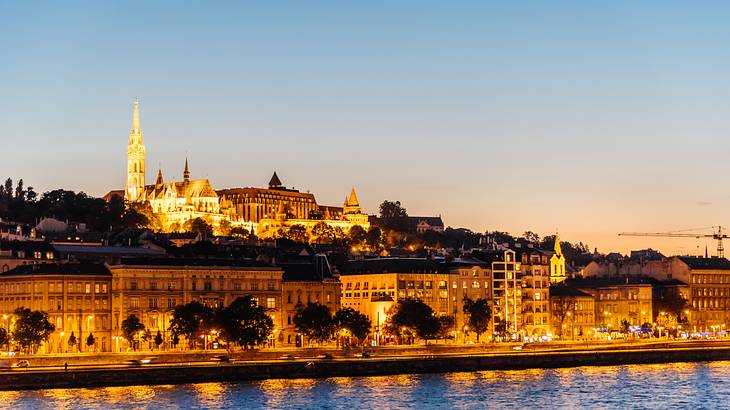 Buda Castle
The Buda Castle is a castle and palace complex that was made for Hungarian kings. It was originally built in 1265, but the building you see today was built between 1749 and 1769. The castle is built on Castle Hill, which is part of the Castle District. The National Gallery and Budapest History Museum are also now part of the Buda Castle.
Citadel (Citadella)
Citadel, or Citadella, is best known for its magnificent nighttime views as you can see Budapest's city lights from above. It is a U-shaped fortification that can be found on top of Gellert Hill, a UNESCO World Heritage Site. Go before the sunset to get a good spot for the view.
Fascinating Past of Pest
The Pest side of Budapest is less traditional and not as luxurious as the Buda side. It is, in fact, more modern and commercialized, so you will find lots of high street shops, boutiques, fast food restaurants and small grocery stores here.
The second day of this itinerary consists of exploring the Pest side and its famous attractions, such as the House of Terror, the Great Market Hall, Budapest's Parliament Building, a thermal baths house and the most beautiful Basilica in Hungary, St. Stephen's Basilica.
There are many thermal bath complexes in Budapest, with some of the more well-known ones being Széchenyi, Gellért Baths and Rudas. This itinerary suggests visiting Széchenyi Spa Baths due to its sheer popularity and impressive pools.
Parliament Building
Parliament Building sits on the bank of the Danube River and is a popular tourist destination. It is built in a neo-gothic architectural style and is well-known around the world for it. The Parliament Building is the largest building in Hungary and the tallest in Budapest. You can purchase entrance tickets online or at the ticket office.
St. Stephen's Basilica
St. Stephen's Basilica is the main and largest Catholic church in Budapest. It was built between 1851 and 1905 and can accommodate up to 8 500 people, which makes it the 3rd largest church in Hungary.
The Basilica was built in a neo-classical architectural style and has a big square where you can sit down and relax, or take photos with the beautiful church in the background. Do also head up to the top of the Basilica for one of the best 360-degree views of the city.
House of Terror
The House of Terror is a museum that is dedicated to the victims of the Communist and Nazi regimes in Hungary. During the Nazi regime, the building was used as the headquarters for the Nazi party, which included a prison in its basement.
When the Communists came, the building was converted into State Security (the Hungarian version of the KGB) where hundreds of people were tortured. Nowadays, the building is a museum that takes its visitors through Hungary's rough past.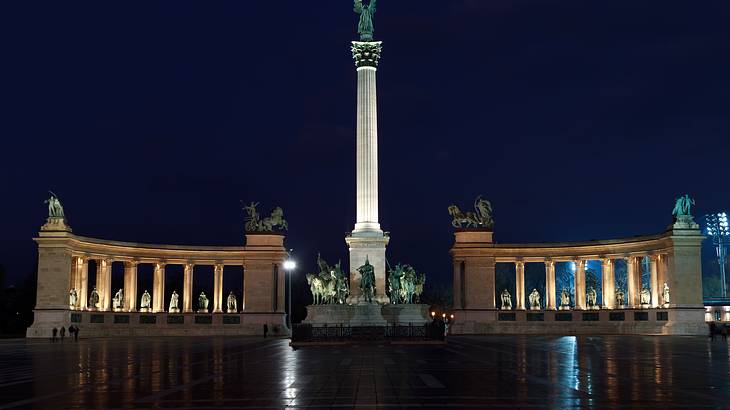 Heroes' Square - Hősök tere
Hősök tere, or Heroes' Square, is one of the main squares in Budapest. It pays tribute to Hungary's most important leaders and contains one of the city's landmarks, the Millenium Memorial.
This site is on the way to the last stop for the day, the Thermal Baths, so it is an easy and convenient place to check out beforehand. It is also located on the edge of a park, so take your time walking through it on your way to the Baths.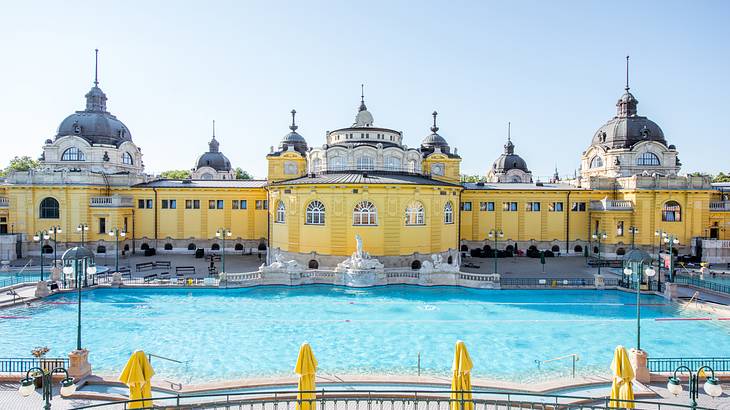 Széchenyi Thermal Baths
I included the Széchenyi Thermal Baths in this itinerary because it is the one I visited when I was in Budapest a couple of years ago. Széchenyi Thermal Baths is one of the most popular thermal baths complexes in the city and one of the largest in Europe.
It has a fantastic selection of 21 medicinal water pools that has calcium, magnesium, bicarbonate or other essential elements mixed in them. I would recommend heading here earlier in the morning to avoid the crowds.
Explore the Old Jewish Quarter
On your last day in Budapest, you are going to visit places that are usually overlooked by tourists. You will learn more about Hungarian Jewish culture and history by visiting the Old Jewish Quarter. The Quarter had and still has the biggest Jewish concentration in Budapest. It is known for its synagogues, murals, various museums, ruin bars and the old Jewish Ghetto.
Everything around the Quarter is worth seeing, and one day isn't enough to see it all, so this itinerary only includes the main European landmarks in the area, such as two popular synagogues (Rumbach and Dohany Street), a museum about Jewish history and the oldest ruin bar in the city (Szimpla Kert).
Rumbach Street Synagogue
This small synagogue is located in between Belvaros (the inner city) and the Old Jewish Quarter districts on the Pest side of Budapest. It was built in 1872 and designed by architect Otto Wagner from Vienna. The Synagogue is out of date and needs restoration, but it is still a very beautiful and relaxing place to visit. There is also a plan to convert the Synagogue into a Jewish museum.
Hungarian Jewish Museum and Archives
The Hungarian Jewish Museum and Archives is just a couple of minutes walk from the Rumbach Street Synagogue. This Museum has very detailed exhibitions about Jewish history and life in Hungary. It is a very modern Museum where you can learn interesting facts about the Jewish community. It is worth spending a couple of hours exploring it.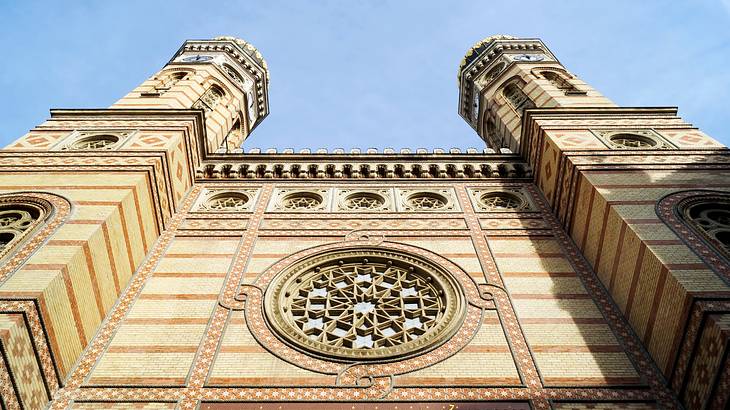 Dohány Street Synagogue
Dohany Street Synagogue is in the same building as the Hungarian Jewish Museum and Archives. This Synagogue is usually called the Central or Great Synagogue. It was built between 1854 and 1859 and is the largest synagogue in Europe as it can hold up to 3 000 people. The Synagogue is famous for its architecture and interior styles, so it's a must-see while in Budapest.
Szimpla Kert - Local Ruin Bar
Szimpla Kert is the perfect place to end your day and trip. This local pub is a ruin bar – a bar that was opened in an abandoned building. Szimpla Kert is extremely popular among the locals as it has a good atmosphere, friendly staff and delicious food.
As for the tourists, they all go to see its unique design, beautiful garden and misplaced items that have become pub decorations. Go in, snap some photos, order a homemade local Hungarian drink and enjoy it.
Give us feedback about this article
Learn more about Budapest:
---
---
Want to keep exploring?
Subscribe for discounts on tickets and hotels and our latest guides.
Thank you for subscribing
We will be in touch soon with discounts on tickets and hotels and our latest guides.
Want to keep exploring?
Subscribe for discounts on tickets and hotels and our latest guides.
Thank you for subscribing
We will be in touch soon with discounts on tickets and hotels and our latest guides.
Related articles