Where to Stay in Budapest, Hungary - 5 Best Areas & Hotels
Destguides may receive commissions from purchases made through affiliate links in this article.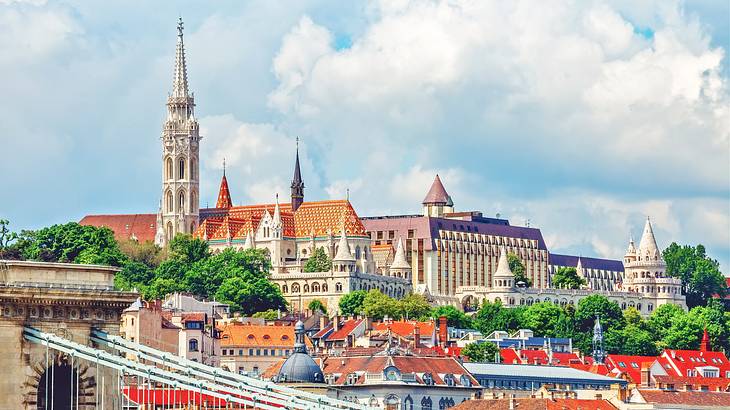 Budapest is a city divided in two, Buda and Pest, split by the Danube River. The city is then further divided into various districts that each offer a unique travel experience. Each neighborhood offers a different experience of cultural immersion.
Best of all, the city's many attractions, landmarks, and activities mean you will never be bored. The area's rich history also comes alive in world-class museums, and the grandiose medieval architecture will take your breath away.
Whether you want to dive into history, immerse yourself in the culture, or simply take in a unique atmosphere, Budapest's neighborhoods provide a plethora of options. Continue reading if you want to learn about where to stay in Budapest for your upcoming trip!
5 Best Places to Stay in Budapest, Hungary
Budapest Places to Stay Video
Check out our highlights video of Budapest places to stay.
Budapest Places to Stay Map
A map of Budapest. Use the map to explore all the places to stay.
Best Areas to Stay in Budapest, Hungary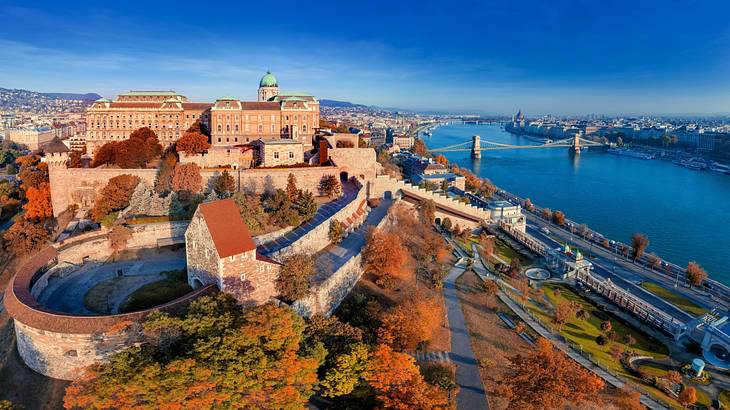 Budavár (Castle District)
The Castle District is the crown jewel of Budapest and is known as District I. It is well connected to other districts in the city via the affordable public transportation system.
The quaint streets, vibrant buildings, and stunning viewpoints are a few of the area's charms. Not only is the ambiance welcoming, but this part of Budapest also offers some top attractions.
Buda Castle is a must-see location. It has a history that dates back many centuries. It has been destroyed and rebuilt multiple times but remains a popular attraction.
Take in the gorgeous scenery from the front garden at night as the lights glow onto the castle. The atmosphere is truly enchanting. The castle also houses the Budapest Historical Museum and Hungarian National Gallery.
Along with the castles, churches, and museums, the Castle District offers tourists a variety of hotel accommodations and restaurants. There are also many tour options available for those who appreciate a guided walk-through of the history of the area.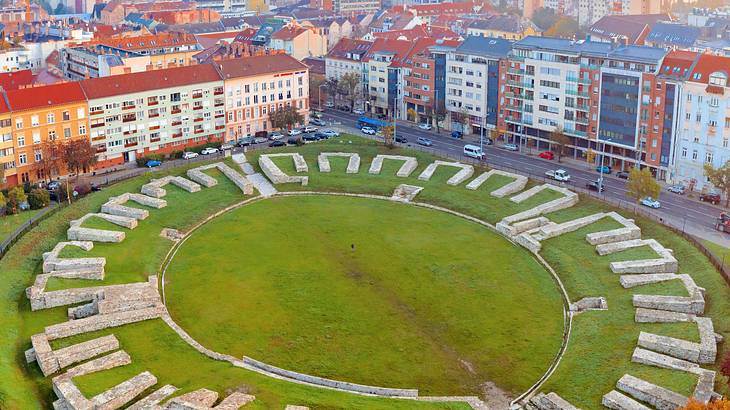 Óbuda (Old Buda)
Classified as District III of Budapest, Óbuda is the oldest part of Buda and retains an old-time village vibe. The world-class museums, narrow streets, and fabulous eateries will allow you to experience the whole charm of the region.
Óbuda is the location to stay in Budapest if you love a historical atmosphere, as it is part of Old Buda. Aquincum, Hungary's most complete Roman civilian town, is worth exploring. The courtyards, houses, and fountains will make you feel as though you are back in Roman times.
There also is not a shortage of restaurant and bar options in the district that cater to all budgets. There are numerous bars that not only offer an array of drink options but boast gorgeous architecture. Restaurants like Vapiano offer a wide variety of pizza, pasta, and risotto. Your appetite will be more than satisfied during a stay in Óbuda.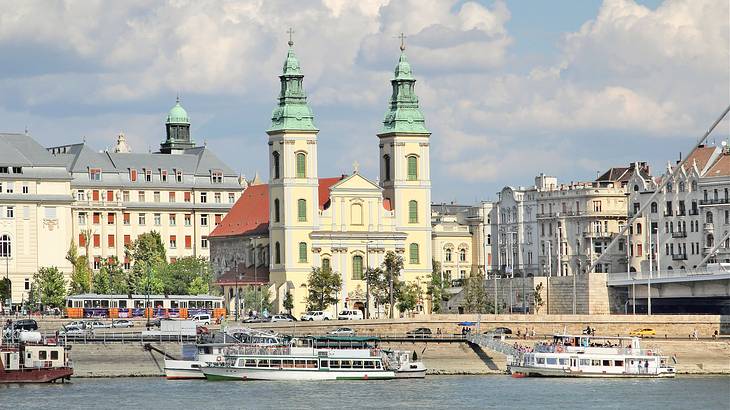 Belváros (Inner City)
At the heart of the inner city of Budapest within District V is the neighborhood of Belváros. This area is home to splendid architecture and is known as the town's tourism center.
Belváros is near many well-known cultural landmarks like the Hungarian National Museum and the Budapest Great Market Hall. It is also well connected to the rest of the city via the public transportation system.
Belváros also has many delicious eateries, plentiful activities, and vibrant nightlife options, meaning you will never be bored. This is an excellent part of Budapest to stay in if you love to be in the center of the action.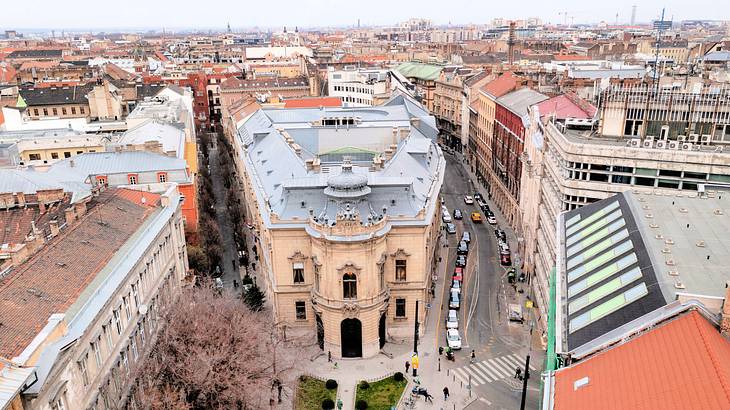 Józsefváros (Palace Quarter)
If you love stylish cafes, delicious restaurants, and a less-touristy vibe, then Józsefváros is the neighborhood to stay in Budapest. Also known as District VIII, this area is an underrated gem with a "hipster" flare.
The hip vibe and extensive history combine to make Józsefváros an engaging destination. The restaurants and accommodations are more expensive because of this trendy atmosphere.
This area, also known as the Palace Quarter, is a favorite among tourists and locals. The Metropolitan Ervin Szabó Library is one of the most popular destinations. A tour through this library in the Neo-Baroque Wenckheim Palace is impressive and memorable.
After exploring museums, libraries, and parks, it is time to dive into the culinary scene. Józsefváros has an excellent array of dining options. Rosenstein is renowned as one of the best traditional Hungarian restaurants, allowing you to experience the culture fully.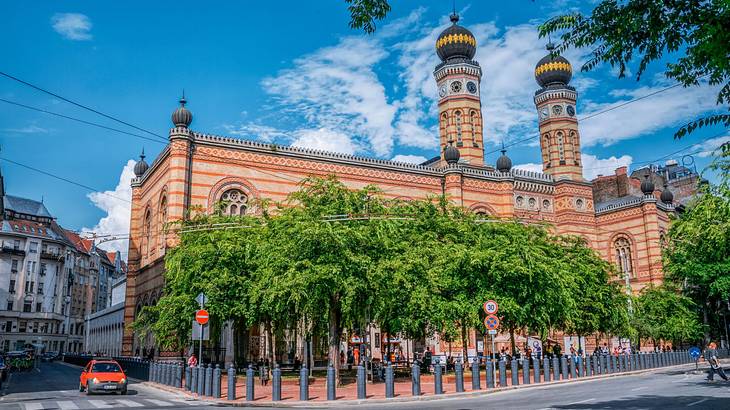 Erzsébetváros (Jewish Quarter)
District VII in Budapest is known as Erzsébetváros (the Jewish Quarter). This is one of the best parts of Budapest for a lively nightlife scene and is adjacent to the city center. The area has many famous ruin bars, eclectic boutiques, and art galleries as well.
Undoubtedly, the charm of the Jewish Quarter will steal a piece of your heart. The area has an extensive history which is best heard on a guided tour.
Modern Erzébetváros is home to an artsy, progressive crowd with welcoming locals. It is also known as a foodie's paradise with a diverse range of restaurants, street food vendors, and trendy cafes.
As you wander through the district's streets, you'll come across beautiful facades, hidden courtyards, and picturesque squares. Explore the art galleries by day, grab wonderful meals along the way, and by evening hit the town and get drinks at one of the many famous bars.
Where to Stay in Budapest, Hungary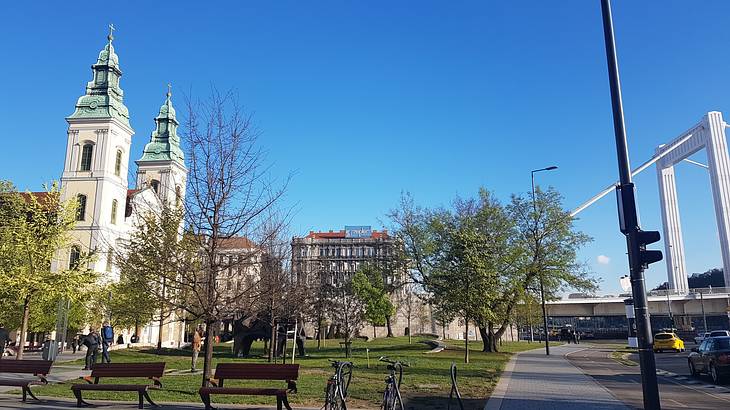 Where to stay in Budapest with family?
Belváros is the best place to stay in Budapest when traveling with family. This inner city location offers families a plethora of activities that are easily accessible. The central district is close to many attractions and offers a range of family-friendly hotel accommodations.
This area is ideal for exploring the city on foot or by using the close-by transportation services. The Danube River is right outside your door and there are services that offer boat tours on the river. If boat tours are not your cup of tea, children and adults alike will enjoy a leisurely walk along the Danube River. The sights of the city are truly magnificent.
Belváros is a wonderful spot to view all of the main attractions such as the Hungarian Parliament Building, St. Stephen's Basilica, and the Great Market Hall. Children will never be bored and adults will also be captured in the lively environment.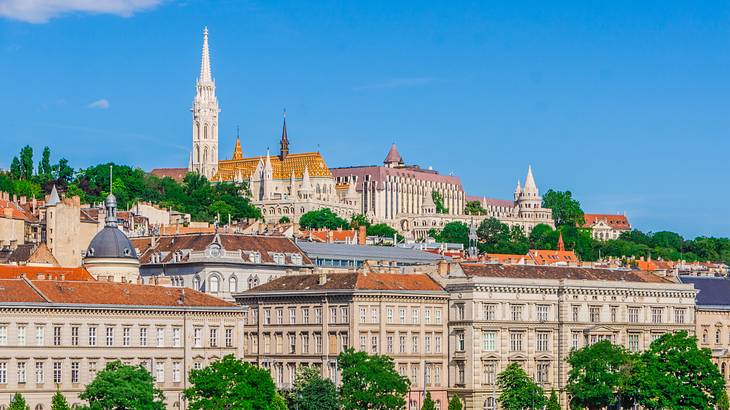 Where to stay in Budapest for a romantic getaway?
There are a multitude of areas in Budapest that provide the setting for a romantic getaway. The cobblestone streets and stunning architecture set the perfect backdrop for the occasion. However, the best is the Castle District due to its magnificent ambiance.
The Castle District is a UNESCO World Heritage Site and offers an enchanting environment with cobblestone streets, medieval architecture, and picturesque views. This district is situated on top of a hill, which means you will be able to take in panoramic views of Budapest and the Danube River.
There are boutique hotels in the Castle District that provide a romantic retreat from the busy city center. You can also find some of Budapest's best thermal baths in this area.
You can enjoy the city's ambiance as you sip on local wines and taste traditional Hungarian dishes. A romantic stay in the Castle District will be unforgettable and leave you with lifelong memories.
Where to stay in Budapest for sightseeing?
Budapest does not have a shortage of sights to see. There are two locations that cater to sightseeing, depending on your preferences.
Belváros is ideal for travelers who want to visit all the main attractions and be in the city center. This neighborhood to stay in Budapest offers convenient access to popular attractions such as the Hungarian National Museum, Puskin Cinema, and Budapest Great Market Hall. A stay in Belváros ensures you will be at the center of it all.
The second option is Erzsébetváros, the Jewish Quarter. This district is perfect for those looking for an eclectic, energetic vibe. It has a mix of historical wonders and trendy accommodations.
The Great Synagogue is located here, along with the Hungarian State Opera House. This region is also within walking distance of District V, which makes for easy exploration.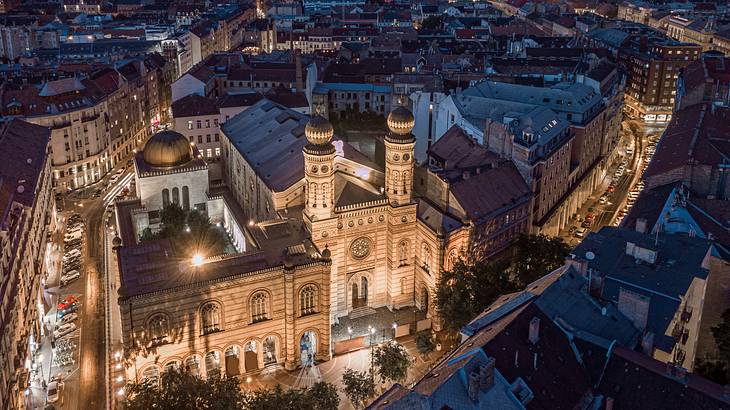 Where to stay in Budapest for nightlife?
Erzsébetváros, the Jewish Quarter, District VII, is the epicenter of Budapest's nightlife scene. The live music venues, trendy clubs, and ruin bars make the district come to life. Each venue offers an eclectic setting that is unique to that location, which means there are lots of spaces to explore.
Budapest is known for its ruin bars, which are converted abandoned buildings, courtyards, or warehouses transformed into eclectic and artsy bars. Famous ruin bars, such as Szimpla Kert and Instant-Fogas Complex, are located around this area to stay in Budapest.
The Jewish Quarter is also home to nightclubs that offer a variety of music styles. From underground electric music venues to mainstream clubs, there is something for everyone.
After a night out dancing the night away, you will work up an appetite. There are many street food vendors and food trucks in this district that offer a diverse range of culinary delights.
Where to stay in Budapest for a business trip?
Belváros, the city center, is a prime location for business travelers. It is nestled along the Danube River and offers easy access to major business areas like Váci Street and the Bank Center. Numerous corporate events, conferences, and seminars occur in the city center, allowing you to connect with peers.
The transportation system in Belváros is straightforward and efficient, making your business trip much less stressful. The Deák Ferenc Square transport hub, located on the edge of Belváros, is one of the city's major transportation hubs, providing convenient connections to other parts of Budapest.
Additionally, you will find a wide range of hotel accommodations available in this district that are close to restaurants, bars, and sights to see during your free time. From casual eateries to upscale restaurants, there are ample choices for business meals or networking dinners.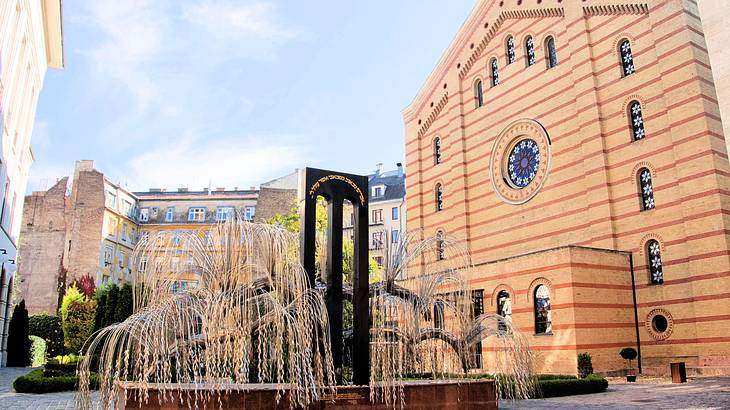 Where to stay in Budapest for a weekend trip?
Spending a weekend in Budapest is a wonderful idea! Even if you have limited time to visit, there are still many options at your fingertips.
If you are craving an exciting adventure-packed weekend full of action, Erzsébetváros may be the place for you. There are trendy ruin bars, street art, and unique dining options. This area allows you to explore cultural attractions and experience the electric nightlife scene.
For a more relaxed weekend trip, Józsefváros provides a quieter atmosphere. There are several cultural attractions, including the Hungarian National Museum and the Museum of Applied Arts. The Corvin Promenade, a modern urban development with shops and cafes, is also located in this district.
In Summary
Budapest is the intersection of natural wonder, strongly rooted history, and vibrant culture. From iconic landmarks such as Buda Castle to medieval architecture, you will be in awe of the city's sheer beauty.
If you've been unsure where to stay during your visit, this list of the top locations to stay in Budapest should have helped you decide. The districts also serve as a cultural hub for a lively entertainment and arts scene.
Budapest is renowned for its ruin pubs that offer you a nightlife experience like no other. Beyond the attractions and landmarks, you will find traditional Hungarian dining at every corner. The bohemian atmosphere enchants individuals from near and far, leaving you counting the days until your next visit.
Give us feedback about this article
Learn more about Budapest:
More articles about places to stay:
---
---
Want to keep exploring?
Subscribe for discounts on tickets and hotels and our latest guides.
Thank you for subscribing
We will be in touch soon with discounts on tickets and hotels and our latest guides.
Want to keep exploring?
Subscribe for discounts on tickets and hotels and our latest guides.
Thank you for subscribing
We will be in touch soon with discounts on tickets and hotels and our latest guides.
Related Articles