A Local's Epic Bali Bucket List - 50 Things to Do
Destguides may receive commissions from purchases made through affiliate links in this article.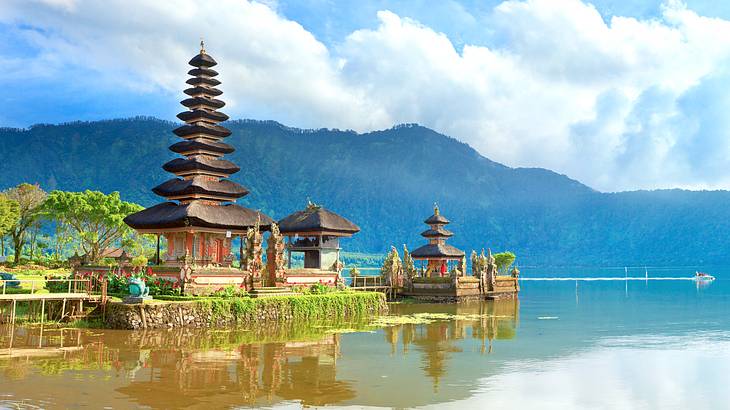 Bali, the island of the gods, houses the right balance of modern entertainment, natural wonders, and cultural locations. It's also the perfect getaway trip for many locals, like yours truly, who seek a quick break from the hustle and bustle of the big cities.
From its beautiful beaches and sites rich in history to Instagrammable clubs and delicious local delicacies, you can never run out of things to do in Bali. This in-depth Bali bucket list covers 50 activities you can do in a place that many people consider paradise.
50 Best Things to Do in Bali, Indonesia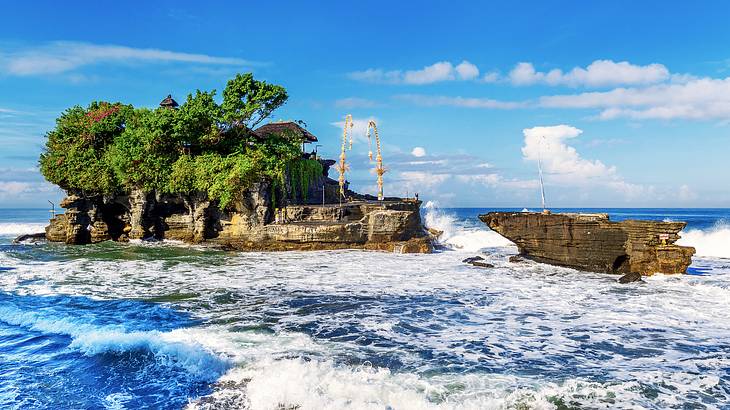 See the beautiful sights at Tanah Lot Temple, Beraban
Located an hour away from Ngurah Rai Airport, Tanah Lot is undoubtedly one of the most popular tourist attractions in Bali. Translated to "the land in the sea", Tanah Lot is famous for its natural, offshore rock formation.
The Tanah Lot Temple holds various religious ceremonies throughout the year. However, the best time to visit is during Odalan, where rows of Balinese women head to the temple while carrying offerings on their heads.
Party at the hottest beach club in Potato Head, Seminyak
Many locals and frequent visitors of Bali might say you have not officially been on the island if you haven't gone to Potato Head Beach Club.
Situated right in the center of Pantai Petitenget in Seminyak, Potato Head is famous for its delicious food, exceptional bar service, friendly crowd, and its party scene.
While there is no entry fee, you must pay for the poolside daybeds, which you can enjoy all day.
Hunt for arts and crafts at Toko Pasar-Pasaran in Uma Seminyak
On the lookout for novelty souvenirs to bring back home? Make sure to visit Toko Pasar-Pasaran in Uma Seminyak. This hipster arts and crafts store showcases local artists' products that would definitely appeal to the younger generation.
In this quaint shop, expect to find sculpture, fine art, clothes, and handmade, eco-friendly goodies that scream Bali. Twice a year, Pasar-Pasaran hosts a flea market featuring local art, music, food, and more.
Have brunch while furniture shopping at Kim Soo, Seminyak
The minimalist decor in this Seminyak restaurant is what makes it one of the hottest brunch spots in the area. The big breakfast with bacon, eggs, beans, and sourdough is a crowd's favorite.
To top it off, the lamington with shredded coconuts on top is as close to the Australian version as it can get. Aside from the aesthetically pleasing backdrop, Kim Soo also serves as a boutique showroom featuring contemporary Balinese furniture.
If you want to try a traditional Balinese breakfast dish, consider scouting out some Bubar Ayam when in Bali - one of the most popular food dishes worldwide!
Swim in a saltwater pool at Mrs. Sippy, Seminyak
It's safe to say that Seminyak is abundant with beach clubs, but this particular one is unlike any other. Mrs. Sippy Bali has the largest saltwater pool on the island, designed to resemble a lagoon. The pool has a diving platform if you want a little bit of a thrill.
On the restaurant side, it serves your usual assortment of cuisines. Thanks to its uniqueness, Mrs. Sippy has been the home of many exciting events, and it is easily one of the best beach clubs in Bali.
Get your groove on at Motel Mexicola, Seminyak
Just like its namesake, Motel Mexicola stays true to its Mexican influences. This hip bar plays Latin music, serves Latin food and cocktails, and is adorned with authentic Latin decorations. When it comes to the food, crowd favorites include the tacos, tostadas, and quesadilla.
This joint also holds various themed parties, including Cinco de Mayo and Mexican Independence Day. Frequented by young tourists and locals alike, there's never a dull moment at Motel Mexicola.
Have a family fun-day at Shooters, Seminyak
When you think of an amusement park, you may think of roller coasters and other thrilling rides. Shooters is not your average amusement park as it focuses on classic games and arcades you may find in an American fair or carnival.
You can play mini-golf, axe throwing, corn toss, giant Jenga, darts, and classic Nintendo games. Refill your energy after playing these games with Shooters' finger foods like corn dogs, cotton candy, popcorn, and pizza.
Feast at Warung Babi Guling Pak Malen, Seminyak
Aside from the cafes and restaurants perfect for a photo op, Bali's local culinary scene is also unparalleled. Warung Babi Guling Pak Malen, located on Sunset Road in Seminyak, offers decadent suckling pig, the island's traditional dish, served with rice, pork skin, and spicy sambal.
The dish costs Rp40,000, or around $3, and with the friendly price tag, the portion is more than enough to fuel you for a long day of exploring ahead.
Try vegan smoothie bowls at Kynd Community, Seminyak
It's always good to indulge in the local cuisine when visiting a place, but it doesn't hurt to try to eat clean once in a while. Kynd Community is a stylish restaurant that focuses on vegan and plant-based dishes.
Most known for its decorative smoothie bowls, Kynd Community lives up to its name by starting the School of Kyndness. It's an online cooking class where you can learn how to make vegan dishes without sacrificing deliciousness.
Experience an ayurvedic spa at Prana Spa, Seminyak
After a hard day of exploring and partying, pamper yourself at Prana Spa, a Moroccan-themed massage parlor. It offers various relaxing treatments like an ayurvedic massage, a foot rub, and a traditional Balinese massage that can range from 60 minutes up to 120 minutes.
You can also experience the traditional lulur, a scrub massage using natural body masks. Some of the most popular treatments include the Simple Bliss Ayurvedic, the Spirit of Bali, Divine Unity, and the Mystic of Bali.
Release your inner yogi at Samadi Yoga, Canggu
Out of all the activities to do in Bali that you can do, yoga is one of the most popular. Since the island is made up of mostly Hindus, it makes the perfect place to perfect your yoga practice.
Samadi Bali is just one of the many studios on the island, but it offers an array of yoga and wellness classes. If you'd like to become an instructor yourself, you can sign up for their training classes.
Join the local skating community at Pretty Poison, Canggu
For those looking for a more laid-back vibe, check out Pretty Poison in Canggu. Pretty Poison is not your average bar; its swimming pool was converted into a skate bowl where all guests can show off their tricks.
It's decorated with eclectic art and novelty furniture a la California in the 70s. Pretty Poison's menu is relatively cheaper than most bars in this area, as it targets a younger crowd and those on a budget.
Become one with the surfing community at Old Man's, Canggu
Situated right at Batu Bolong Beach, Old Man's club is considered a surf haven by many. With a vibe similar to Pretty Poison, Old Man's is a cozy bar with picnic tables and bean bags scattered across the lawn.
Old Man's bar has also been the go-to venue for small-scale gigs by artists like Ocean Alley, Sticky Fingers, and Boo Seeka. Other activities at this friendly bar include beach clean-ups and salsa nights.
Relax in seclusion at Sundays Beach Club, Uluwatu
If you want to experience a Bali beach club without the rowdy crowd, the Sundays Beach Club is the perfect destination. What sets this beach club apart from the others is its private and quiet location.
To reach the actual lounge, you need to take a lift down to the secluded beach. Sundays Beach Club offers ocean-view dining and a bar, activities like bonfires and water sports, and a beachfront spa.
Chill in a cliffside lounge at Savaya Bali, Uluwatu
For something with a little more energy, the Savaya is considered the hottest beach bar in town.
Previously known as Omnia Day Club, this swanky joint is well-known for its cliffside pools overlooking the ocean, modern architecture, and parties featuring world-renowned DJs.
The cliffside patio also makes an excellent backdrop for your next Instagram post, as it has a cube-shaped roof that makes it stand out from other beach clubs around.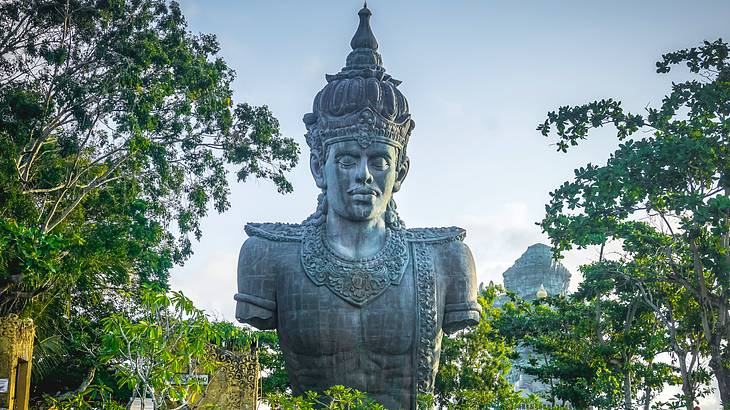 Revel in the grandness of Garuda Wisnu Kencana, Uluwatu
Other than Tanah Lot Temple, Garuda Wisnu Kencana is also a must-see as it is one of the UNESCO sites in Bali.
The Garuda Wisnu Kencana Cultural Park's main attraction is the 400ft statue of Garuda, completed in 2018 after 28 years of construction. It's taller than the Statue of Liberty, and it's the tallest statue in Indonesia.
Surrounding the GWK statue are other smaller figures that tell the story of Garuda mythology.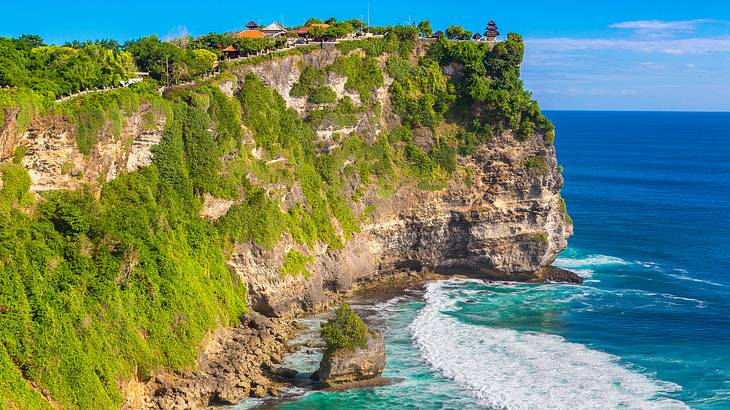 Watch the sunset Kecak fire dance at Uluwatu Temple
This Bali bucket list activity is a must-see because where else can you see this traditional dance if not on the island of the gods?
The Kecak fire dance tells the story of the Sanskrit legend, Ramayana, accompanied by an ensemble of men chanting and moving their hands in harmony.
Uluwatu Temple makes the perfect backdrop for the performance, as it takes place during sunset overlooking the beautiful cliffs of this southern Bali region.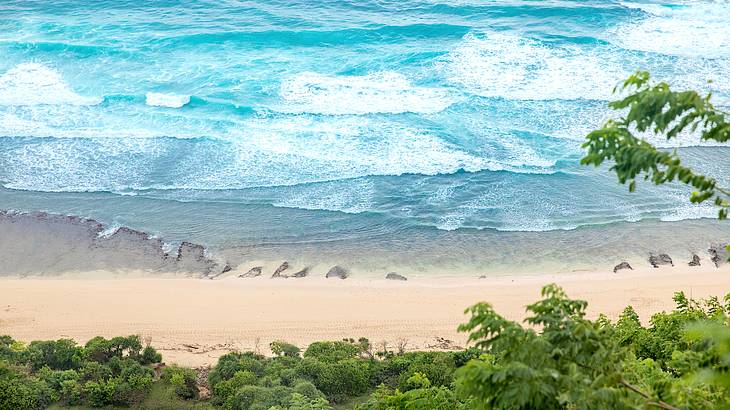 Surf sickening waves at Nyang Nyang Beach, Uluwatu
While you can surf on any beach in Bali, Uluwatu is home to some of the best waves on the island. Therefore, it is a must on any Bali itinerary! Some of the most popular surf spots are Green Bowl, Dreamland, and Thomas Beach.
Check out Nyang Nyang if you're an experienced surfer who likes a quiet and secluded spot. Other than surfing, visitors can also paraglide off the beach's surrounding limestone cliffs. For beginner surfers, Dreamland is more suitable.
Learn surf tricks at Padang Padang Surf Camp, Uluwatu
If you want to rip it on the waves but you're not confident enough in your surfing skills, you can enroll in surfing classes at Padang Padang Surf Camp.
Whether you're a complete beginner or you want to learn new surf tricks, find it all at Padang Padang Surf Camp.
Choose from various level-based classes guided by their top instructors. They will also help you determine which wave breaks are most suitable for your level.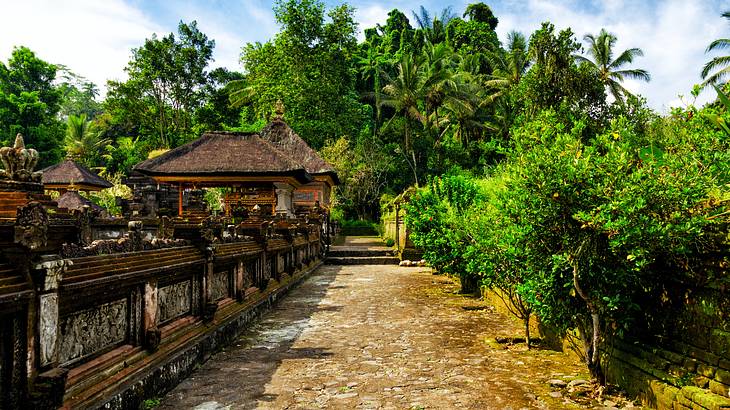 Take part in sacred rituals at Tirta Empul Temple, Ubud
Ubud is one of the best places to visit in Indonesia, which means it has many great attractions to visit. Pura Tirta Empul is not only known for its ancient architecture and the intriguing legend behind the construction. This Hindu temple is also known for its holy water, where locals perform purification rituals.
Visitors can participate in the ritual too, but pay close attention to the instructions to respect the religious traditions. Besides the ritual, you can also take a guided tour around the complex and watch prayer ceremonies during designated times. You should consider adding this temple to your 3 day Ubud itinerary!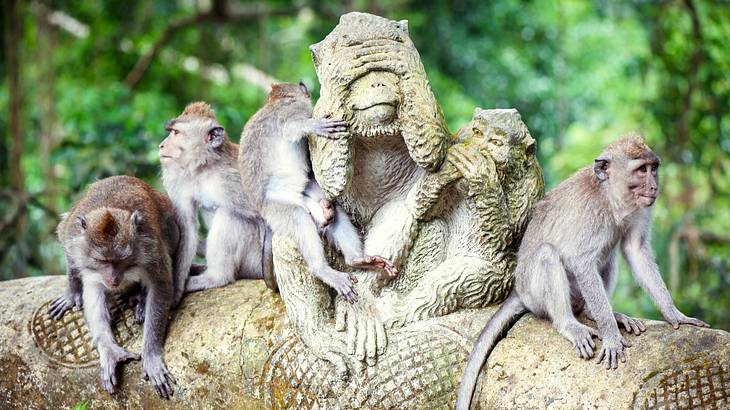 Observe monkeys at the Sacred Monkey Forest Sanctuary, Ubud
Catch the Balinese long-tailed macaque in their natural habitat in this Ubud monkey forest. Covering 27 acres of ground, this sanctuary aims to preserve the long-tail macaque as well as other rare flora and fauna.
Inside the sanctuary, you can also find three Hindu temples that were built to worship three different gods. When you visit the monkey forest, secure all your belongings as these cute monkeys have a quick hand.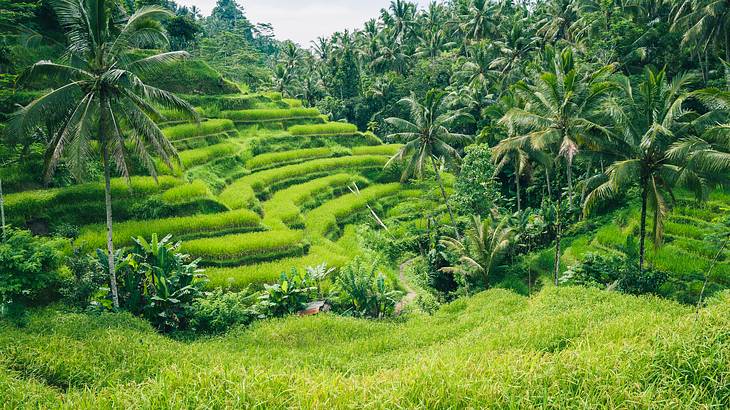 Hike down the Tegalalang Rice Terrace, Ubud
You may have seen this tourist hotspot all over your Instagram. The Tegalalang rice fields are not just your typical paddy fields as they are another UNESCO site in Bali.
Located in Ubud, the Tegalalang Rice Terrace is made of stunning green valleys of paddy fields that you can hike. When here, you can take pictures with the scenery (or the local farmers!) and enjoy a beverage in the surrounding cafes overlooking the valley.
Get crafty at Pasar Seni Ubud
While many might visit Ubud mainly for the temples and the rice terraces, the North Bali region is also known for its art. Include the Ubud art market on your Bali must-do list because this is where you can get souvenirs you won't find anywhere else.
Here, you can buy rattan bags, paintings, and an assortment of interesting knick-knacks. Remember to master the art of haggling to get the best bang out of your buck!
Learn how to make batik in Ubud
Batik is the traditional fabric of Indonesia, and it is made by hand-drawing patterns on cloth using wax and dye. While it originated from the island of Java, Bali also has its own regional version.
Pak Deking offers batik-making classes in Ubud, and his classes are suitable for beginners and art enthusiasts who want to hone their skills.
Eat bebek betutu at Bebek Tepi Sawah, Ubud
Aside from their suckling pig, Bali is also known for the bebek betutu. It's a dish of roasted duck cooked with betutu seasoning, the Balinese word for spice typically made with ginger, turmeric, chili, and shrimp paste.
Bebek Tepi Sawah is a restaurant chain known for this dish. To get the best dining experience, head on over to their Ubud branch where you can, literally, eat bebek di tepi sawah (duck by the rice fields).
Discover raw vegan dishes at Alchemy, Ubud
Bali is no stranger to veganism, as seen with the Kynd Community. Alchemy is a little different; it only offers food that is raw and uncooked. The dishes contain organic local vegetables sourced from the surrounding plantations.
As the first raw vegan restaurant in Bali, Alchemy promises high-quality flavor without neglecting the importance of nutrients. Aside from dining in their rustic restaurant, you can read their blog posts to be more informed about raw veganism.
Go white water rafting on the Ayung River, Ubud
Ayung River in Ubud is the go-to destination for avid white-water rafters. Located in Ubud, this river is known for its friendly current, suitable for rafters of all levels. The river is also surrounded by beautiful sceneries of paddy fields and lush forest.
There are many adventure companies offering the white water rafting service, and all of them will give you the best (and safest) experience.
Take cooking classes in a village at Paon Bali, Ubud
Paon Bali cooking classes set themselves apart thanks to their immersive nature. When you take their morning classes, you will be brought to the local market to buy the ingredients.
Then, you make your way to their house, located in a quaint Ubud village, by walking through rice terraces. During the class, the hosts will teach you how to make gado-gado (salad with peanut sauce), satay, urap (raw salad), and pepes (steamed fish).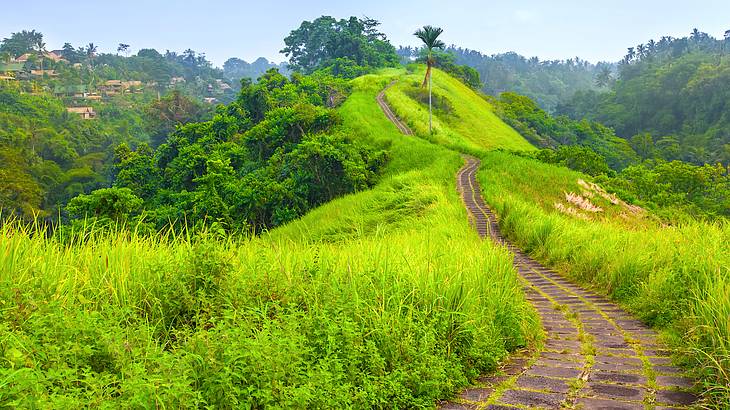 Trek along the Campuhan Ridge Walk, Ubud
If you're looking for ways to get away from the fast-paced scene of Kuta, Canggu, and Seminyak to reunite with mother earth, then head on over to the Campuhan Ridge Walk in Ubud.
This hiking trail snakes around villages, rice terraces, rivers, and temples. The entrance to the Campuhan Ridge Walk is located near Warwick Ibah, and with only 2km in distance, it's perfect for a casual jog or morning walk.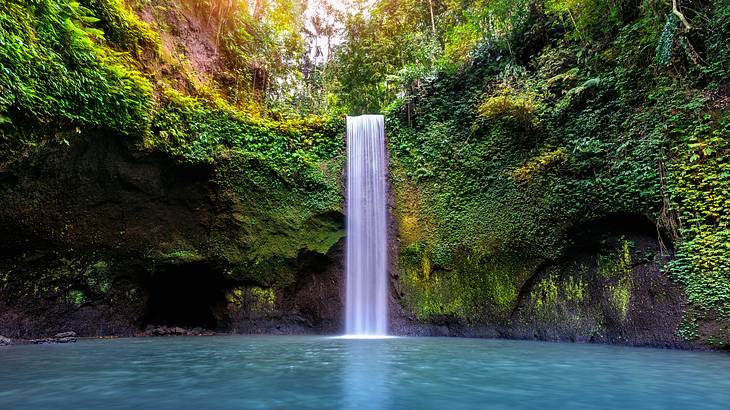 See the picture-perfect Tibumana Waterfall, Ubud
Aside from beaches and temples, the island is also rich in beautiful waterfalls. Tibumana is one of the many stunning waterfalls in Bali, but it's somewhat secluded and more serene compared to the others.
Situated 40 minutes away from Ubud, the waterfall is surrounded by lush greenery and mossy foliage. You would only need to hike for a short 10 minutes to get to this breathtaking waterfall. Visit the park early in the morning to avoid the tourist rush.
Bask in the beauty of the highlands at Lempuyang Temple
If you ever find yourself in the northeastern part of the island, visiting this temple is one of the best things to do in Bali. Lempuyang Luhur Temple is located at the foot of Mount Lempuyang and is one of the oldest and most respected temples in Bali.
While you need to do a bit of a hike to get to the famous candi bentar split gate, the view from up here is worth every incline.
Taste the most expensive coffee in Gianyar
Luwak coffee, also known as civet coffee, is often deemed the most expensive coffee due to the extraction process.
Bali has plenty of Luwak coffee plantations, but my personal favorite is the Jambe Asri Agrotourism in Gianyar, about 45 minutes from the Ngurah Rai Airport.
The guides will explain the extraction process, and you can directly taste test an assortment of Luwak coffee while enjoying the view of the surrounding lush greenery.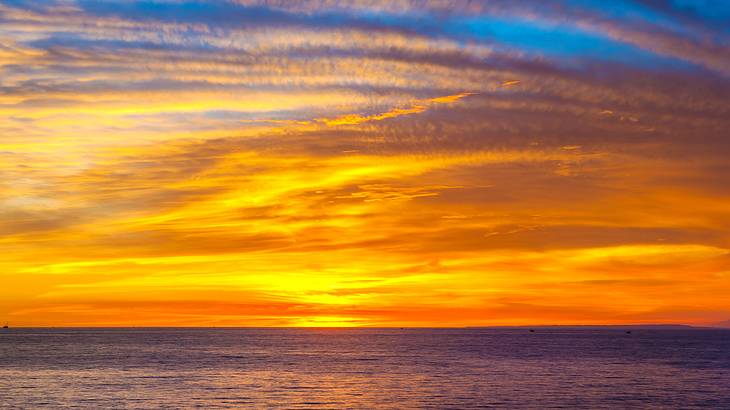 Watch the sunset at Rock Bar, Kuta
There are many bars on the island, but one thing you should do when in Bali is to watch the sunset at the Rock Bar in Kuta.
Confident enough to claim itself as the world's best cocktail bar and tapas, Rock Bar hangs seamlessly on the edge of a cliff, overlooking the ocean.
With its romantic ambiance paired with an eclectic collection of background music, the Rock Bar is definitely a must-visit.
Eat decadent satays at Sate Babi Bawah Pohon, Kuta
Keen to discover more of Bali's street food? Then, head on over to Sate Babi Bawah Pohon in Kuta. Aptly translated to "Pork Satay Under the Tree", this humble roadside eatery is famous for its soft and juicy grilled pork satay.
If you like a bit of a kick, the satays are also served with sambal and raw green bird's eye chili, which most Indonesians prefer to eat their finger foods with.
Enjoy a Sunset Cocktail at UNIQUE Rooftop Bar, Kuta
Even if the nightlife is not your cup of tea, check out this rooftop bar at least once when you're in Bali. UNIQUE Rooftop Bar stays true to its namesake; it has a unique 360-degree view of Jimbaran and Uluwatu, and its infinity pool is just the cherry on top. Head on straight to the roof of the Rimba by Ayana Resort to enjoy a sunset cocktail and some Mexican food.
Dine with a rustic view at Lawar Kuwir Men Koko, Kuta
Aside from bebek betutu, another popular traditional Balinese duck-based dish is lawar kuwir. It refers to a mixture of vegetables, usually made with cucumbers and bean sprouts. It's typically served with the meat of your choice.
Lawar Kuir Men Koko is located right next to a paddy field, and diners can enjoy their meals with a stunning view. Their lawar kuir dish is also complemented with satay, sambal, and kuah ares (banana stem broth).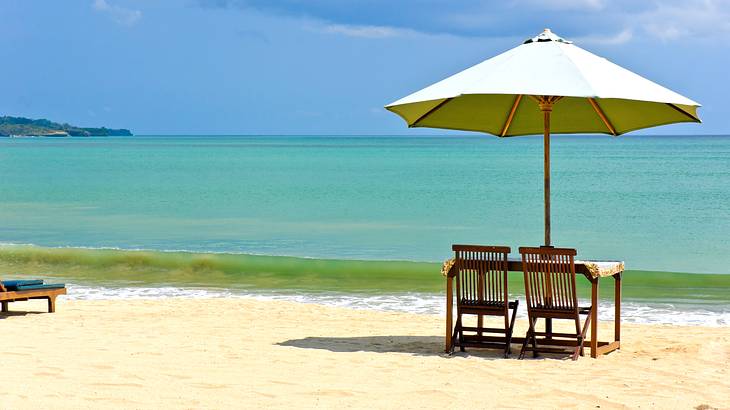 Indulge in seafood at Pantai Jimbaran, Kuta
Your trip to Bali is not complete without tasting their exceptional seafood dishes. Visit Jimbaran Beach in Kuta to have a laidback sunset seafood dinner right by the beach.
You can choose fresh seafood from the market on the beach and have it prepared by the local warung (food street stall). There are also more upscale seafood restaurants here, like Nelayan Restaurant and Bawang Merah Restaurant.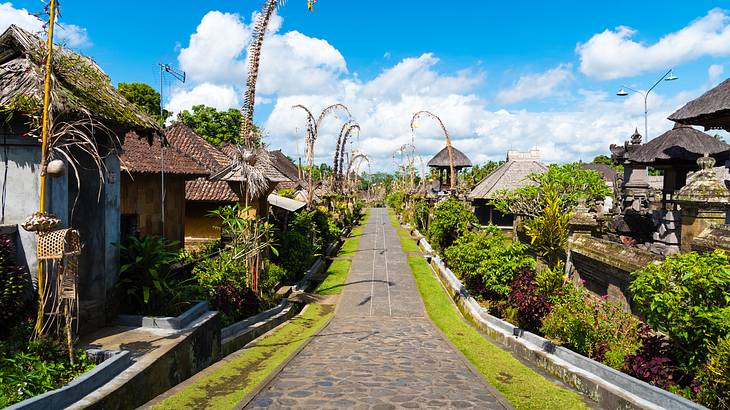 Immerse yourself in the local community at Penglipuran Cultural Village
Bali city center is well modernized, but many places still uphold traditions, just like in the olden days.
Penglipuran Cultural Village, or Desa Penglipuran, has houses and temples that still follow the ancient Hindu architecture, and villagers follow old customs when it comes to worship and marriage.
Tourists are briefed upon visiting to respect the locals and maintain harmony.
Go scavenger hunt for abandoned planes across Bali
Bali might have a myriad of temples, beaches, and pubs, but a unique fact is that it has many abandoned planes scattered across the island.
Nobody really knows how a Boeing 737 came to be abandoned in a field off the highway in Nusa Dua, but it sure does attract lots of adventure-seekers. Aside from the Boeing 737 in Nusa Dua, there's another in Kuta and Jembrana.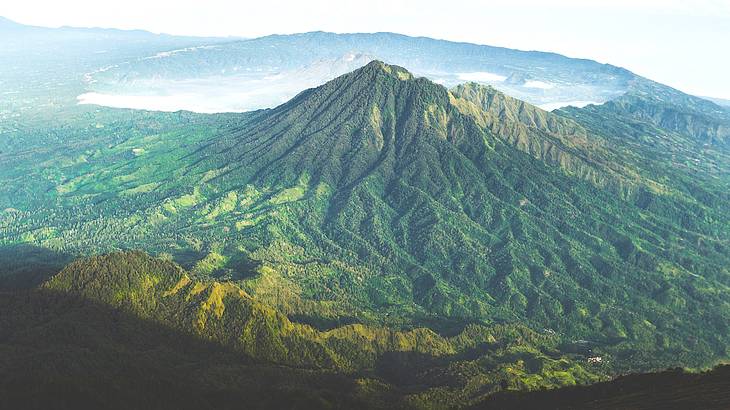 Trek along the Mount Batur Volcano in Kintamani
This activity to do in Bali is perfect for adrenaline junkies. Mount Batur is an active volcano situated in the northern portion of the island. Register with the Bali Volcano Trekking company and choose between the Sunrise Trek, Sunset Trek, or Camping Trek.
The guides will recommend the most suitable trek depending on your fitness level. Don't worry about the active status of the volcano! The guides are highly experienced, and they'll always ensure your safety.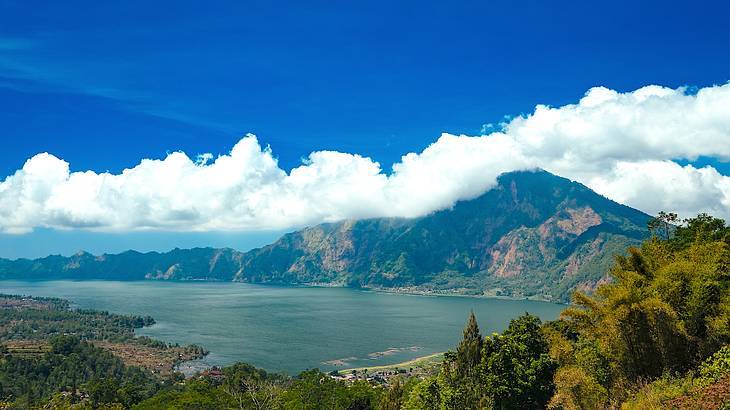 Explore the Danau Batur crater lake, Kintamani
Right at the foot of Mount Batur sits the volcanic crater lake of Danau Batur.
There are many activities you can do here, such as bathing in a hot spring, mountain trekking, dining in one of the lakefront resorts, taking boat rides around the lake, and more!
Some people also visit the adjacent Trunyan Village, where they have a unique custom of not burying their dead.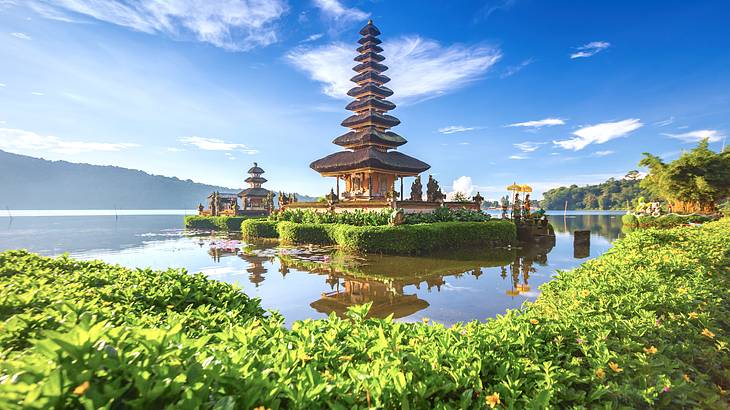 Enjoy the lake side view at Pura Ulun Danu Bratan, Bedugul
I've recommended visiting a temple on a mountain, a temple on a cliff, and a temple by the seaside, so the next one on the list is this temple on a lake. Pura Ulun Danu Bratan is located in Bedugul, 50km away from Denpasar.
This temple was built in the 1600s to worship the lake goddess Dewi Danu. As the go-to subject of many landscape photographers, Pura Ulun Danu Bratan is best enjoyed during sunsets.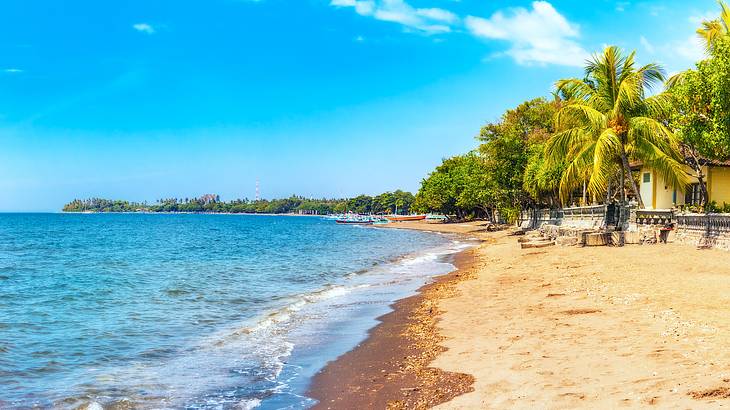 Have a romantic getaway in Lovina Beach, Lovina
Lovina Beach is nestled in the northwest part of the island. Those who seek a quiet and romantic getaway should include this place on their Bali bucket list.
There are plenty of beachfront villas and hotels you can choose from, including The Lovina Beach Resort and Frangipani Resort.
You can plan a romantic candlelit dinner right on the beach, and if you're lucky, you might be able to spot a group of dolphins during sunset.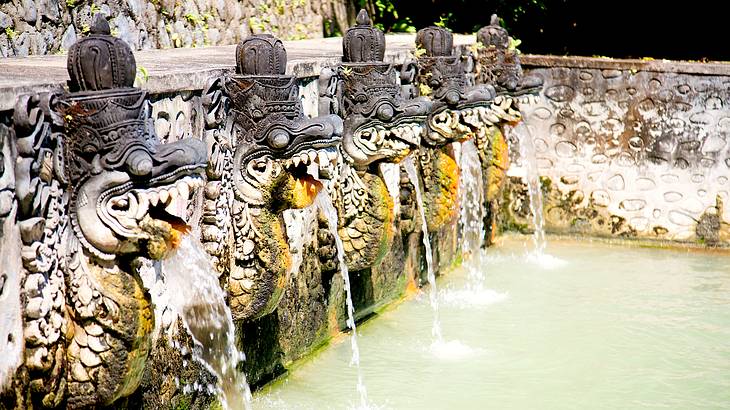 Bathe in the mineral waters of Banjar Hot Springs
Banjar Hot Springs is located 5km to the south of Lovina Beach. The water in this ancient bathing complex contains 26% sulfur, and it has a consistent temperature of 38 degrees. Sulfur is known to have healing properties, like increasing metabolism and improving skin health.
The hot springs complex is divided into three parts: a swimming pool, a children's pool, and a hot spring shower. Banjar Hot Springs complex also has a spa and a multi-cuisine restaurant.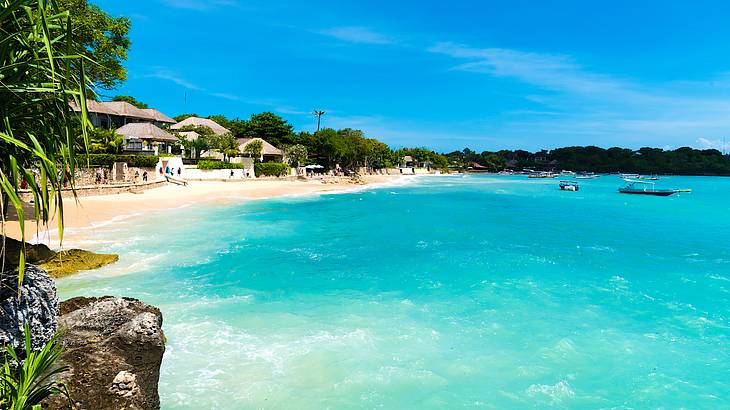 Go scuba diving in Nusa Lembongan
Running out of ideas on what to do in Bali? Why not hop over to its neighboring islands instead? Nusa Lembongan, known for its crystal clear, turquoise blue water, is only a 30-minute boat ride away from Sanur.
This island's vibe is more laid-back, as tourists mainly flock here to snorkel or scuba dive. You can take a short day trip to Nusa Lembongan or stay overnight at one of their affordable hotels.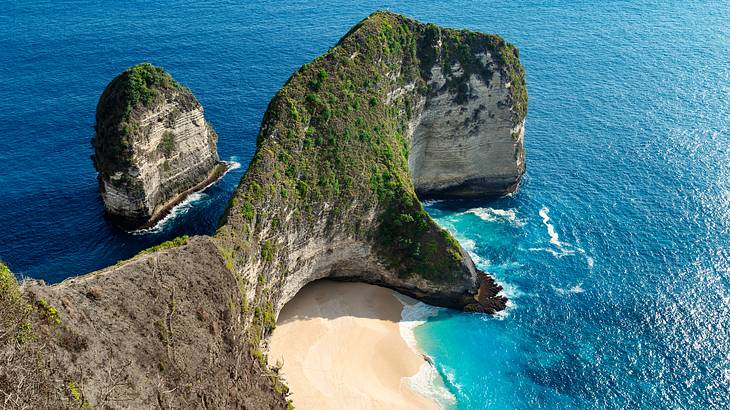 See the T-rex-shaped cliff in Nusa Penida
This hotspot is an absolute must-see if you're ever in Nusa Penida. Kelingking Beach is known for its natural rock formation that resembles a Tyrannosaurus Rex.
Most visitors would stay on top of the hill to enjoy an aerial view. However, if you're feeling extra adventurous, you can hike down the steep steps that lead to the sandy beach.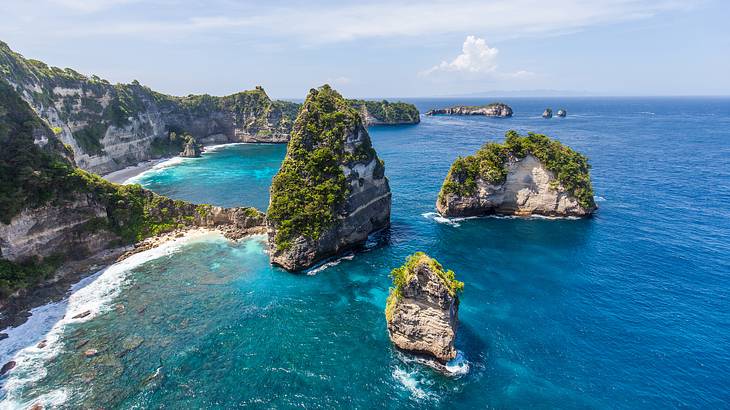 Snorkel and swim with manta rays in Nusa Penida
Swimming with manta rays in open water is not an easy feat, but luckily for you, the seas around Nusa Penida have plenty of them. There are designated points for divers to see the manta rays, such as Manta Bay and Mata Points.
Here, you can see schools of reef manta rays, but your luck of seeing them will be higher if you visit from August to October.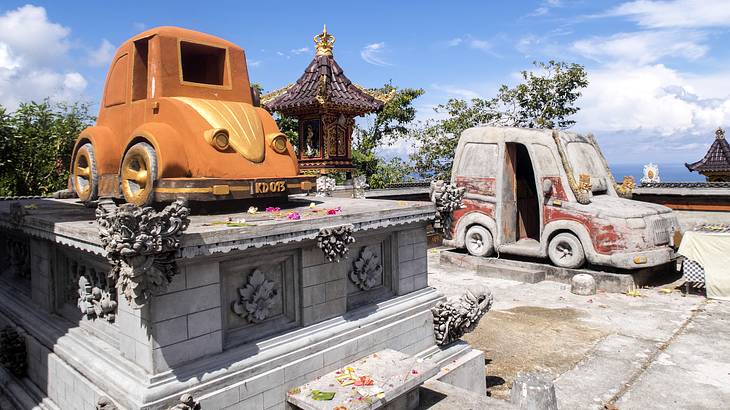 Visit the car temple in Nusa Penida
Another site you must visit while you're in Nusa Penida is the Pura Paluang Temple. This temple has an interesting background due to its two main shrines.
Despite being built way before there were automobiles around, this temple's main shrines resemble a Jeep and a Volkswagen. It certainly adds to the mystery when locals claim they can hear ignition sounds coming from the temple!
Take a boat to Gili Trawangan, Lombok
While it may be easier to reach the Gili Islands from Lombok, you can also get there by boat from Padang Bai. Gili Trawangan is a popular hotspot for divers.
If you're not into snorkeling or diving, must-do activities include taking pictures on the Gili swing, trying the local dishes, and visiting the turtle sanctuary. As there are no cars or motorcycles around, you can rent a bike and explore the entire island in one day.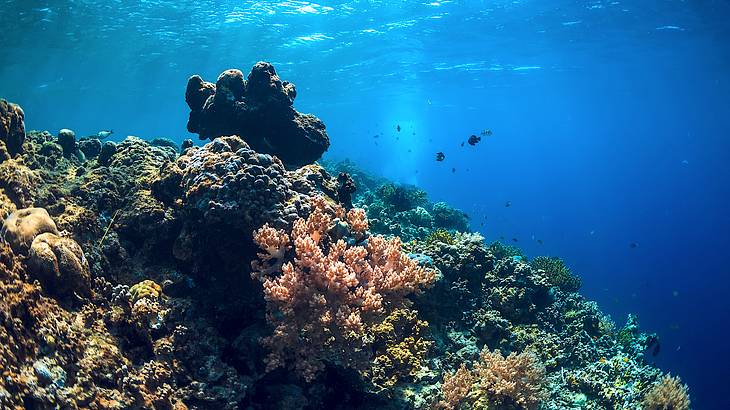 Scuba dive in Menjangan Island
Nusa Penida or Nusa Lembongan might be the popular choices for divers due to its proximity to the south of Bali. However, this northwest island is considered one of the best places to dive due to its coral reefs and 50m wall.
Suitable for beginner to experienced divers, Menjangan Island is known for its high visibility and light current. Choose from their many dive sites, but the top sites are Eel Garden and Bat Cave.
Conclusion
Considering how much Bali has to offer its visitors, it's no wonder why many call it the island of the gods. It is surely a magnificent place filled with adventures you can hardly find anywhere else in the world.
The island attracts all kinds of tourists, like your partygoers or those on a journey to find peace and enlightenment. The sheer amount of things to do in Bali might become overwhelming, especially if you're only here for a short time. It's recommended to group your activities by region so you can explore what each area offers to the fullest.
Hopefully, with this epic Bali bucket list, you'll never run out of fun and exciting things to do in Bali. While this Bali travel guide lists down a whopping 50 activities to do on the island, it doesn't come close to all the wonders you can discover, which makes it the perfect excuse to visit Bali several times!
And with that, just like the locals say to travelers coming and going, hati-hati di jalan (be careful on your journey)!
Give us feedback about this article
More visual stories related to this article:
---
---
Want to keep exploring?
Subscribe for discounts on tickets and hotels and our latest guides.
Thank you for subscribing
We will be in touch soon with discounts on tickets and hotels and our latest guides.
Want to keep exploring?
Subscribe for discounts on tickets and hotels and our latest guides.
Thank you for subscribing
We will be in touch soon with discounts on tickets and hotels and our latest guides.
Related Articles