35 Best Things to Do in Ubud, Bali
Destguides may receive commissions from purchases made through affiliate links in this article.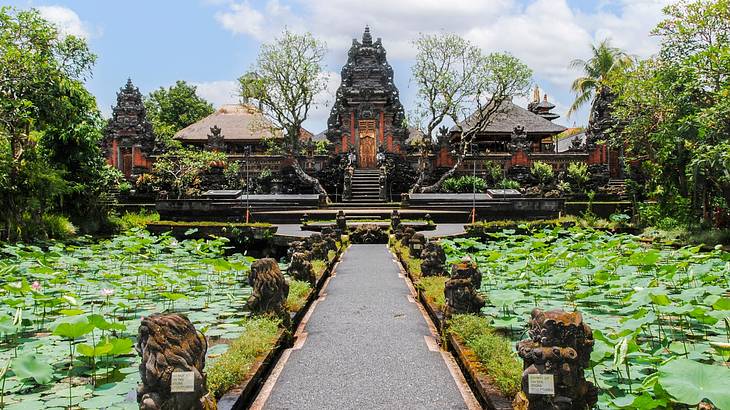 Ubud is a town in Bali, Indonesia, and is considered Bali's cultural heart. It can be reached in around 90 minutes from Ngurah Rai International Airport and offers excellent accessibility to other towns and villages in the area.
The town of Ubud is also known as a hub for traditional crafts, dance, and religion. In Ubud, you will find the Royal Palace and a wide variety of craft shops where you can buy handmade gifts. Some of the other best things to do in Ubud, Bali, include visiting art museums, discovering waterfalls, and seeing monkeys at the famous Sacred Monkey Forest Sanctuary.
Indonesia is also one of the cheapest countries in Asia, meaning a trip to Ubud should be doable for all budgets. If you want to learn more about this fantastic destination, keep reading for the best Ubud activities.
35 Top Things to Do in Ubud, Bali
Fun Things to Do in Ubud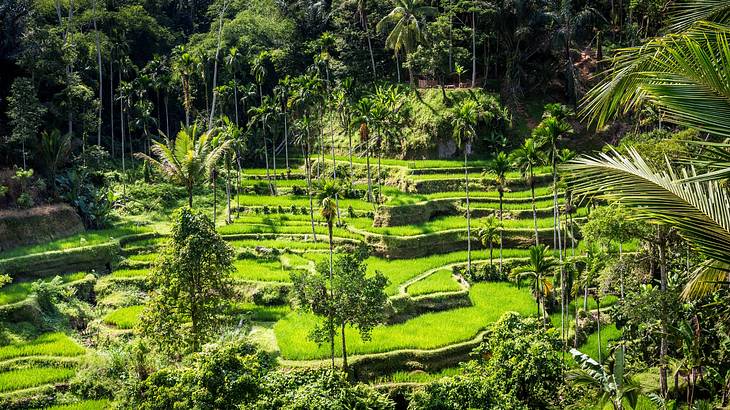 Snap photos at the Tegalalang Rice Terraces
Visiting the Tegalalang Rice Terraces is one of the top Ubud experiences! This well-known attraction in Bali is located in Tegalalang Village, which is about a 20-minute drive from central Ubud. It is a must on any Bali itinerary!
The stunning rice terraces are built upwards on a hill, creating a beautiful, scenic background ideal for photographs. Interestingly, the attraction has become a famous Instagram spot. Due to this, some photo props have been added, like swings. So if you want some fantastic vacation photos, this is the place to be.
Another unique thing about Tagalalang is that a traditional Balinese rice farming technique is still used. This technique has been used since the 9th century. During a visit, you can learn more about rice farming and taste some rice.
While you can plan a trip yourself, opting for a Tegalalang Rice Terraces private tour is highly recommended. You will be transported to and from the rice fields, and your guide will offer more information on the area and its history and culture. This tour also takes you to the Ubud Monkey Forest, Batuan Temple, and other attractions.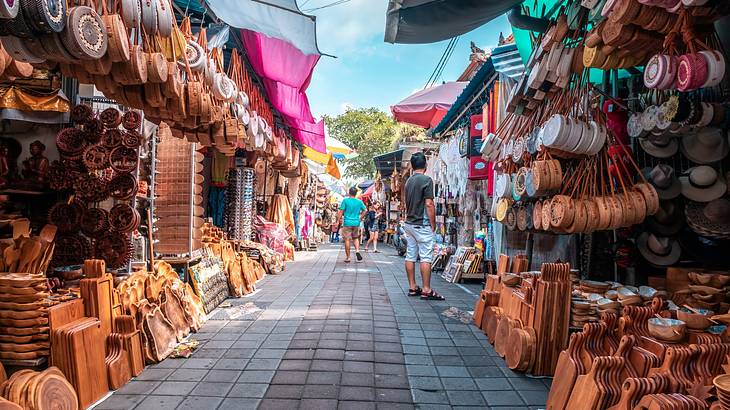 Shop at Ubud Traditional Art Market
For some of the best shopping in Bali, head to Ubud Art Market. The bustling market is close to the Saraswati Temple and opposite Ubud Royal Palace.
The market is open daily and is the perfect place to buy gifts for your loved ones. People at the market sell everything from traditional crafts and artworks to Balinese clothing.
Attend a cooking class
One of the most fun and memorable Ubud activities is taking a cooking class with a local. You'll start the class by going to a local market to shop for ingredients.
Next, you'll go to a rice farm before learning to cook a variety of local dishes. The menu includes four main courses and a delicious dessert. You can then re-create the meal at home for friends or family.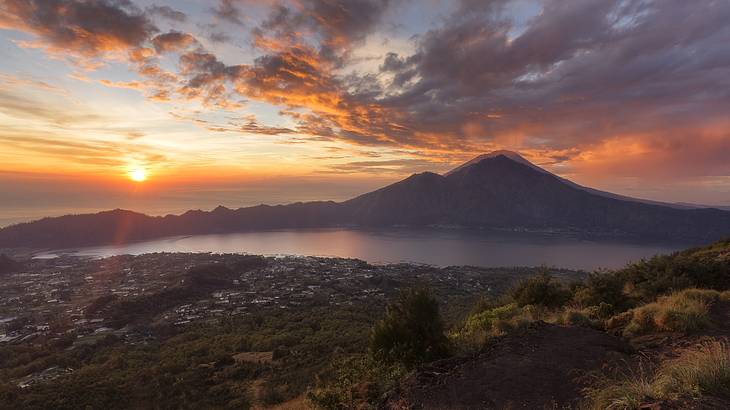 Go on a Mount Batur sunrise trekking tour
Mount Batur (Gunung Batur) is an active volcano that is a must-visit, especially for those that enjoy hiking scenic trails. The mountain is located around an hour from central Ubud when driving.
Due to the area's high daytime temperatures, the mountain must be climbed early in the morning. Starting early also allows you to enjoy the sunrise over the surrounding forest.
You must start hiking around 4 AM or earlier to reach the top by sunrise. However, all your hard work will pay off, as the views from the top are amazing!
You can complete the climb on your own or take a Mount Batur sunrise trekking tour with a professional guide. This tour also includes breakfast, and you will get to visit a local coffee farm and try some fresh Balinese coffee.
Discover Tibumana Waterfall
Tibumana Waterfall is situated about 30 minutes from central Ubud. It is a very small waterfall; not many tourists know about it as it isn't generally included in tours and guidebooks. Despite this, visiting the breathtaking waterfall is a must; it is somewhat of a hidden gem in Bali!
As this natural landmark is less touristy, you can enjoy the tranquillity and have a relaxing swim in its natural pool. You can also hike some jungle trails around the waterfall.
If you are interested in discovering some more waterfalls, going on a Bali waterfalls tour is a must. Other waterfalls to see include Tukad Cepung Waterfall and Tegenungan Waterfall. Alternatively, you could join a Tibumana Waterfall and Mount Batur sunrise hike tour.
Bike through the countryside
Cycling around the area is a great way to see the beautiful countryside and jungle surrounding Ubud. There are many bike tours to choose from, including a full-day cycling tour.
Once you have been collected from your Ubud accommodation, you will be taken to some stunning locations, including villages, temples, and rice fields.
As you cycle between each site, you can admire the breathtaking scenery and will likely spot wildlife like monkeys and many bird species. This excursion also includes lunch, and bikes and helmets are provided.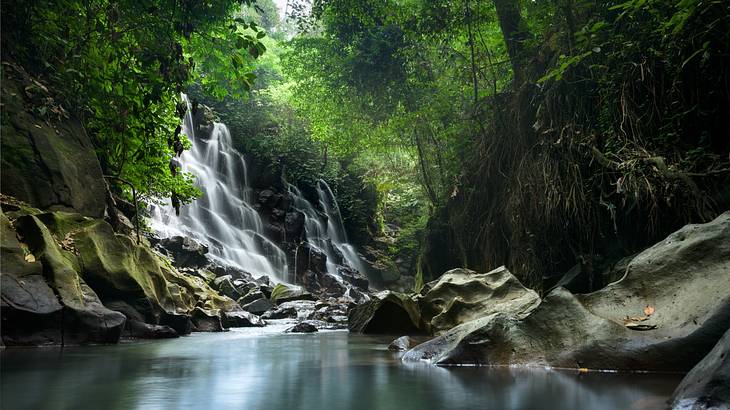 Check out Kanto Lampo Waterfall
Another excellent waterfall to check out is Kanto Lampo Waterfall. This small but charming waterfall is still relatively unknown among tourists but worth visiting. It is about a 30-minute drive from central Ubud.
The best time to come here is in the morning, and once you arrive, you can take some unique pictures next to the falling water. However, note that there is a small entrance fee, and remember to be careful around the waterfall as the rocks can get slippery.
A memorable way to visit the waterfall is by going on a Blue Lagoon and Kanto Lampo Waterfall tour. You will get transport to and from the waterfall and will also get the chance to snorkel in Bali's Blue Lagoon.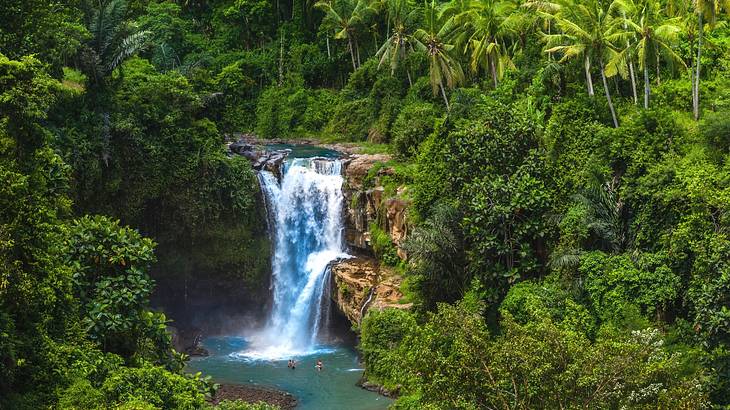 See Tegenungan Waterfall
Tegenungan Waterfall is a large waterfall located about 20 minutes from Ubud. The fall is easily reachable along a short trail. When you reach the waterfall, you can enjoy the wonderful cascading water surrounded by lush forests.
Be aware that the waterfall might be crowded as it is one of the most popular waterfalls in Bali. You will also find several restaurants and souvenir shops by the waterfall hiking trail entrance.
If you want to visit a more hidden waterfall in Bali and have time to kill, then consider heading to Nungnung waterfall (Air Tejun Nungnung), which is about an hour drive from Ubud.
Another off-the-beaten-path attraction that you must visit is Beji Guwang Hidden Canyon. This slightly difficult-to-find spot features a canyon system with caves and tranquil pools. You can even find some waterfalls.
Due to being a little challenging to locate, booking a Beji Guwang Hidden Canyon guided tour is recommended. Your guide will take you to the amazing canyon, where you can explore, and you will also get to visit Tegenungan Waterfall and some temples.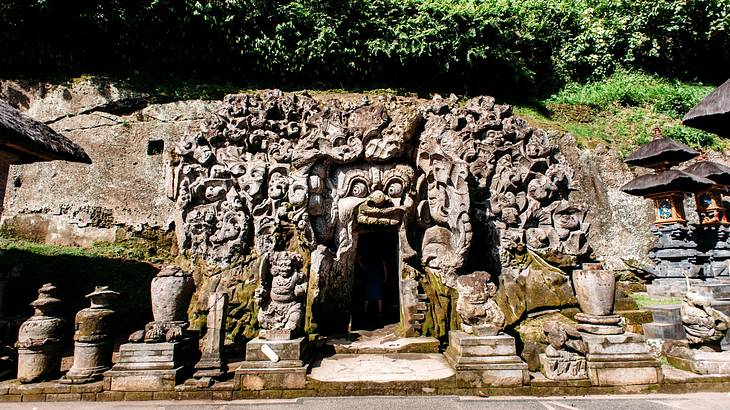 Check out Goa Gajah
Goa Gajah, commonly known as Elephant Cave, is one of the most-visited Ubud tourist attractions. You can reach the landmark in around 20 minutes if visiting from central Ubud.
The attraction was constructed in the 9th century and has been linked to both Hindu and Buddhist religions. Visitors can wander around the tranquil site, seeing temples, statues, and pools.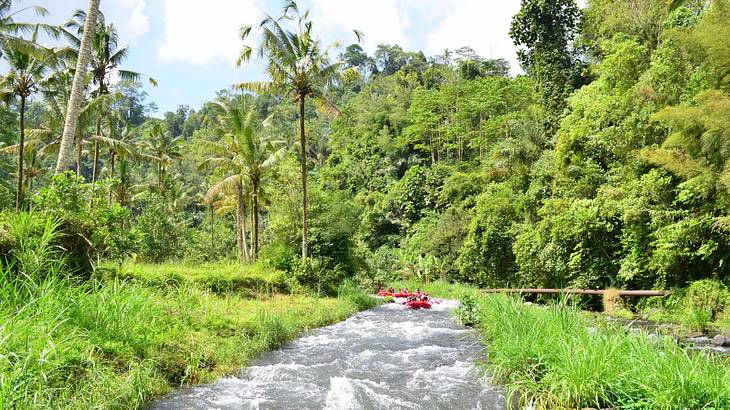 Raft on the Ayung River
One of the most popular things to do around Ubud for adventure activity enthusiasts is white water rafting on the Ayung River. This memorable experience allows you to raft along rapids with a professional guide.
During the rafting session, you can also admire the surrounding views of the jungle and waterfalls. After rafting, you will get to relax a little with a delicious Balinese lunch at a waterside restaurant.
Appreciate artworks at the Agung Rai Museum of Art
Another art museum in Ubud to check out is the Agung Rai Museum of Art. Opened in 1996, the attraction is dedicated to preserving and developing Balinese art and culture.
You can see a variety of works as you look around, including those by prominent artists like Ida Bagus Made and Anak Agung Gede Sobrat. You can also see temporary exhibits and some performances, like dance shows. To make admission easy, purchase an Agung Rai Museum of Art ticket in advance.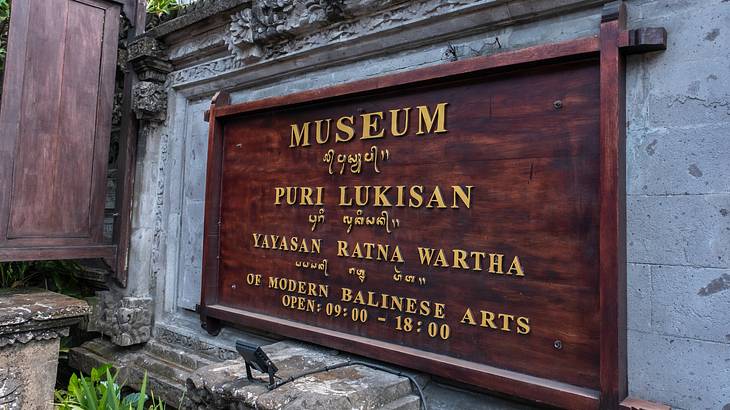 View the exhibits at Museum Puri Lukisan
Museum Puri Lukisan is one of the most interesting Ubud attractions. The museum was established in 1956 and is the oldest art museum in the country to specialize in traditional Balinese art. Works to see here include paintings and wood carvings. The museum is split into four areas, including one dedicated to temporary exhibits.
Join a silver jewellery making class
There are many unique things to do in Ubud, like learning to make silver jewelry. In this half-day class, you will learn traditional techniques from a professional before trying your hand at crafting a piece of jewelry. Things to make include rings and earrings.
As you make your piece, you can enjoy Balinese snacks like fried pineapple and fried banana. Tea and coffee are also available.
Take the best pictures on an Instagram tour
Bali has many stunning places to visit and has become known as a top Instagram destination. If you want to take amazing photos at the best spots, book a Bali Instagram tour from Ubud. You will get to take pictures in front of fantastic backdrops, discover jungle swings and the Gate of Heaven, and much more!
Ride ATVs through the jungle
Going on an ATV tour is another of the top things to do for those that like adventure activities. Your route will take you through quaint villages, rice paddies, and jungles.
You will additionally get to follow some riverside paths and spot beautiful Ubud temples. Lunch is also included in this all-day activity.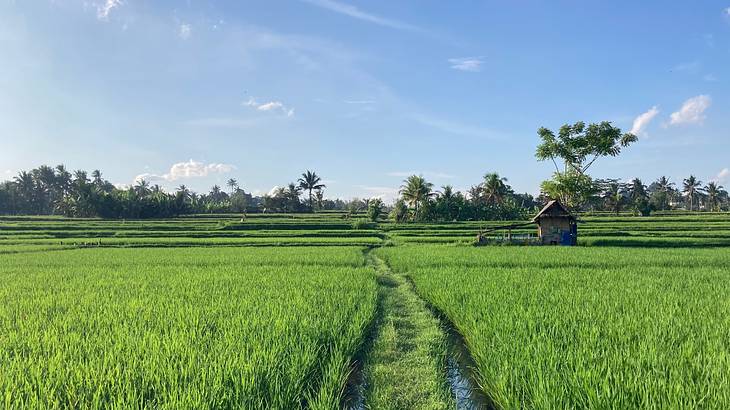 Follow the Ubud Kajeng Rice Fields Walk
Following the Ubud Kajeng Rice Fields Walk (or Kajeng Rice Field Walkuq) is one of the best free things to do in Ubud and will allow you to admire some beautiful scenery.
Along the way, you will walk through a local village and lush green rice fields. The walk takes about 90 minutes round trip and offers a respite from the bustle of central Ubud.
Things to Do in Ubud at Night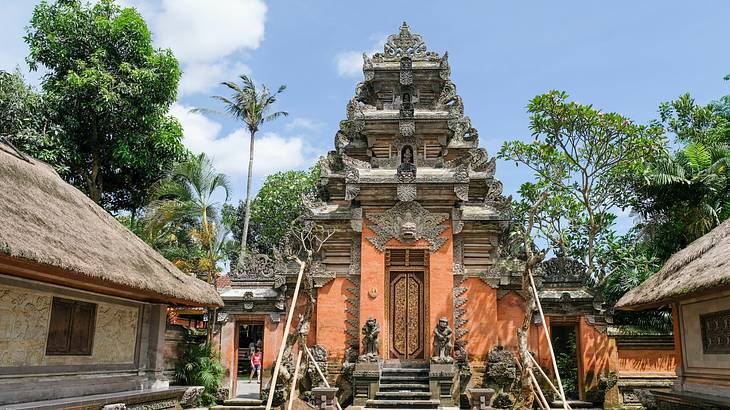 Watch a Balinese dance at Ubud's Royal Palace
Every evening, the Royal Palace (Puri Saren Agung) in Ubud holds a traditional Balinese dance performance. The traditional dance tells the story of the Balinese people and their history, so it is a highly-recommended activity for visitors that want to learn more about the local people and their culture.
The performance is full of color and has beautiful scenography; you definitely won't get bored! You can also purchase some snacks and drinks to enjoy during the performance. This show generally begins at 7.30 PM, but double-check the times when purchasing an Ubud Royal Palace dance show ticket.
See pretty fireflies light up the night sky
A fun and memorable thing to do at night is taking a nighttime firefly tour. The tour departs from Ubud and takes you to the peaceful Taro Village. First, you will explore the village, and your guide will offer more information on life in the area.
As the night sets in, you will then be able to see hundreds of fireflies light up the village and surrounding fields and forests. There are so many fireflies that it will appear as though fairy lights are illuminating your surroundings!
As you watch the fireflies, you can enjoy hot drinks and may see other nocturnal wildlife. A delicious al fresco dinner is also provided.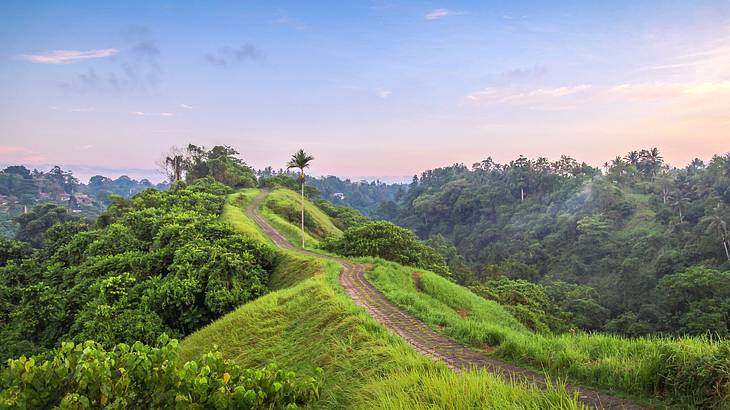 Admire the sunset at Campuhan Ridge Walk
Campuhan Ridge Walk is located in the heart of Ubud. You can enter the park for free, and there is no need to bring your hiking gear as the trail here is gentle.
As you explore, you can take in lovely views of Ubud. Notably, it is a great spot to watch the sunset. Ideally, arrive at the park in the afternoon, wander along the ten-kilometer trail, and then head to a cliff-top to watch the sun go down.
Get drinks at CP Lounge
Ubud has no shortage of excellent bars. However, checking out CP Lounge is a must if you cannot decide where to go. This beach club-style bar serves fun drinks, like slushies, cocktails, and unique shots. You can also get food, including sharing plates and Indonesian dishes.
The spot opens around lunchtime and stays open until the early morning. There is also a pool during the day and dancing and DJs at night.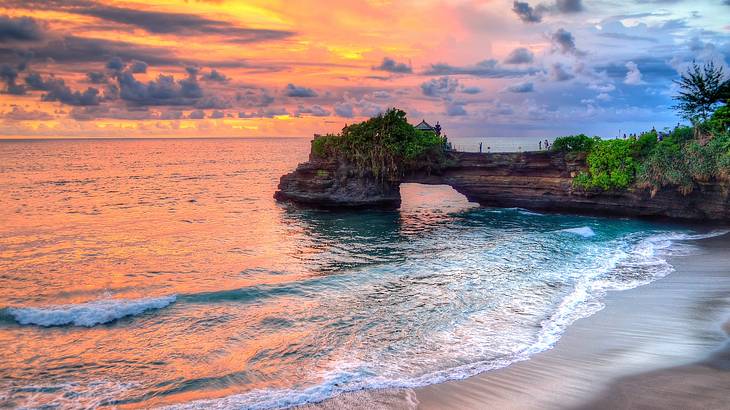 Go on a Tanah Lot sunset tour
Tanah Lot is a rock formation on the coast about an hour from Ubud. Despite the distance, it is worth visiting due to the area's stunning beauty. You will also find an ancient temple here, Pura Tanah Lot.
This attraction is a popular place to go to take amazing photographs, and being in the area for sunset is recommended. A good idea is to join a Tanah Lot sunset tour. Your guide will take you to the temple and some markets before heading to the Tanah Lot rocks to watch the sunset over the ocean.
Enjoy delicious plant-based dishes at Moska Ubud
One of the best Ubud places to visit for dinner is Moska. The laid-back eatery serves a variety of plant-based dishes that will please all diners.
A few menu options include Asam Laksa noodles, sea vegetable salad, and tempeh ribs. You can also stop by Moska for breakfast, with things like smoothie bowls and vegan pancakes available.
Spiritual Things to Do in Ubud, Bali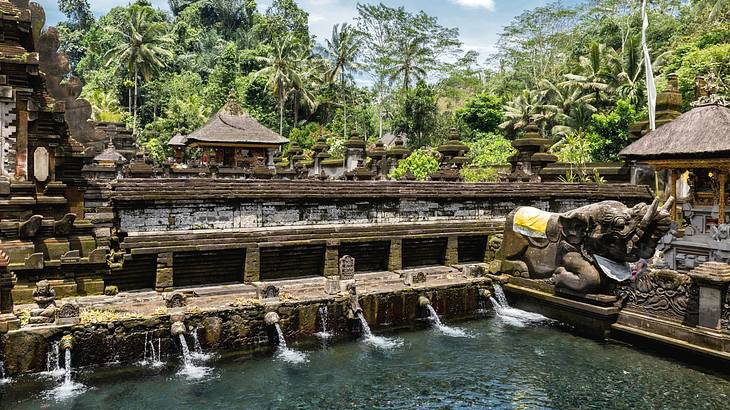 Experience the holy water ceremony at the Tirta Empul Temple
Tirta Empul Temple, or Empul Water Temple, is a Balinese Hindu temple whose name means the 'Holy Water Temple.' The temple is located outside of Ubud, around a 30-minute drive away, and is a famous destination for tourists.
It is thought that the temple was initially founded around 962 A.D. It was chosen as a sacred area because it was around a large spring. Today, visitors can wander around the temple, which is surrounded by scenic tropical jungles.
If you come early in the morning, you can participate in the Tirta Empul water ceremony. During this ceremony, everyone gets into the temple's outdoor baths, where the sacred water runs from the temple. It is a very spiritual ceremony and is highly recommended for visitors to try.
Those interested in visiting multiple temples could also join a spiritual day tour. This tour will take you to Tirta Empul Temple for the water ceremony as well as Goa Gajah Temple. Additional activities, like a massage, are also included.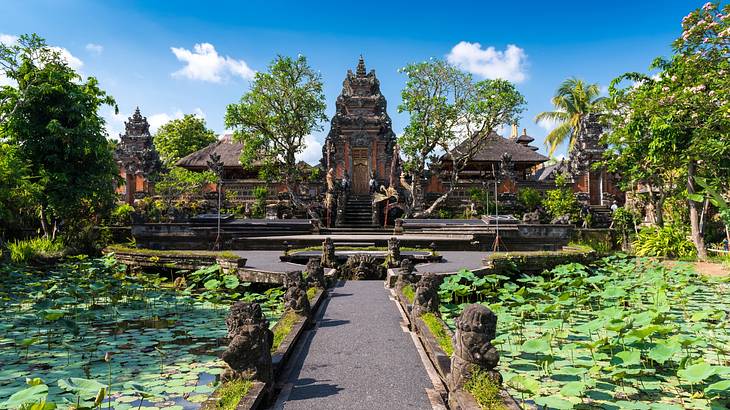 Explore Saraswati Temple
The Saraswati Temple, or Pura Taman Saraswati, is a Hindu temple built to worship the Saraswati Goddess. It has a beautiful water garden that is filled with lotus flowers and lots of Hindu statues.
It also has several artworks of the Saraswati Goddess. This attraction is another of many in and around Ubud that is an ideal place to take some fantastic photographs.
Unwind at a late afternoon yoga class
Exploring Ubud takes a lot of energy! Book a relaxing late afternoon yoga class to unwind a little after sightseeing. The Yoga Barn is one of Ubud's most popular yoga studios and is a great place to go for a yoga session.
The studio opened in 2007, and since then, it has become a top place for spiritual healing for locals and tourists. The building has a rustic Balinese feel that instantly makes you feel relaxed upon arrival.
There are numerous classes to choose from, specializing in different types of yoga. You can book private sessions or join group classes, and sessions are hosted throughout the day, including in the late afternoon and evening.
Ecstatic Dance classes are also offered, and there is even a spa offering an array of treatments. If you enjoy your time at The Yoga Barn, you can attend a three-day yoga and wellness retreat.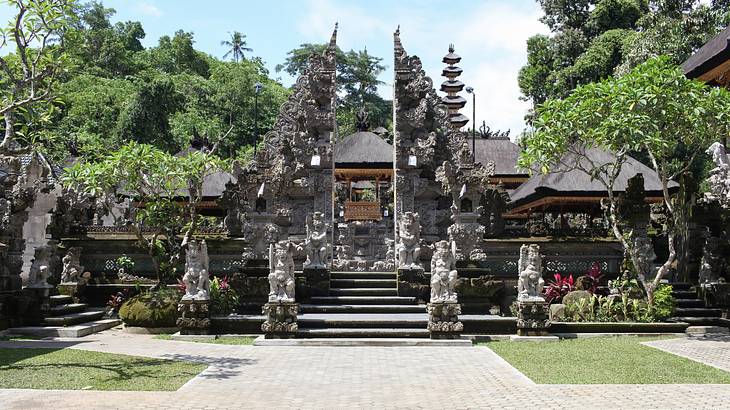 Stroll around Gunung Lebah Temple
Gunung Lebah Temple, or Pura Gunung Lebah, is an ancient temple surrounded by lush jungle. It is located just a five-minute drive or ten-minute walk from central Ubud.
The Gunung Lebah site features carvings, statues, and lots of greenery, making it a scenic and tranquil place to explore. As it is located next to the Campuhan Ridge Walk, adding a stop at the temple when visiting that attraction is a great idea.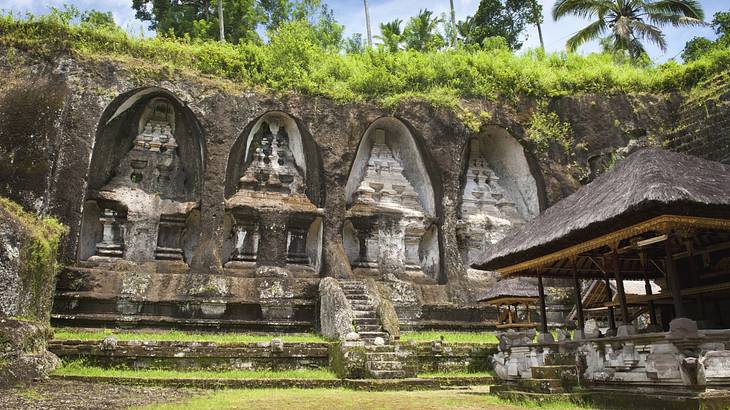 Visit Pura Gunung Kawi
Gunung Kawi Temple is another stunning temple complex. It is located around Mount Kawi. This temple has several royal tombs carved into the cliffside and dates back to the 11th century. Beautiful rice fields also surround it.
Do note there are over 300 stairs to climb to reach this attraction, and there is an entrance fee. You could also book a Pura Gunung Kawi tour. Visiting the temple with a guide will allow you to learn more about its history. This tour will take you to some other temples as well, and the day ends watching the sunset over Tanah Lot.
Romantic Things to Do in Ubud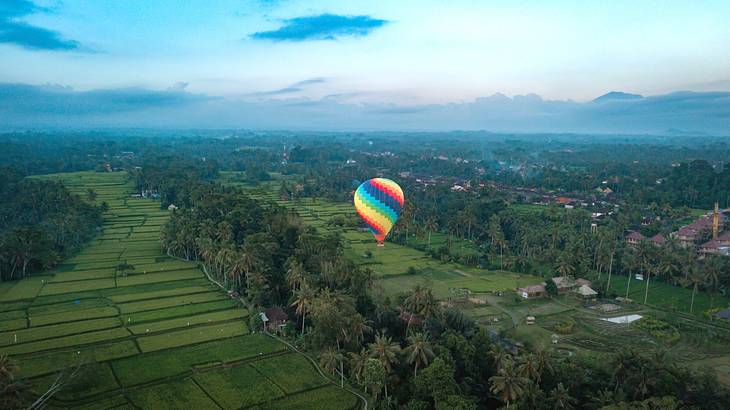 Fly above Ubud on a hot air balloon tour
One of the most unique things to do in Ubud is taking a hot air balloon ride over the city. If you are visiting with your other half for a special occasion, like an anniversary, booking this memorable experience is a perfect idea.
During the ride, you will fly above central Ubud and the surrounding forests. You will also get to see Mount Agung and some other natural landmarks.
Additionally, you get to share a delicious breakfast, including fresh fruit and juice, while overlooking rice fields and the tropical jungle. If you are looking for the best things to do as a couple, this hot air balloon experience cannot be missed!
Treat your other half to a romantic dinner
Those visiting Ubud with their partner will definitely want to book a romantic Ubud dinner experience. This unforgettable activity is set within the forest, and you and your partner will dine on a forest tree deck surrounded by the sights and sounds of the jungle.
Your dining table also features candles, adding to the romantic atmosphere. As you take in the scenery, you can enjoy a six-course meal and a bottle of wine or mocktails. Coffee or tea is also offered at the end of your dinner.
Relax with some spa treatments
Another excellent way to relax while in Ubud is by indulging in a two-hour riverside spa session. At the luxury spa, you can enjoy a foot massage and full body massage and scrub along with a milk bath soak.
The spa is located within the jungle, so you can also admire the beautiful scenery and unwind with the sounds of tropical birds and flowing waterfalls. This activity is ideal for couples, and you can book a couples spa package to enjoy together.
If you're looking for romantic places to stay in Ubud, you can also find some jungle spa hotels to book, like The Kayon Jungle Resort.
Enjoy a floating breakfast and spa trip
You've most likely seen Instagram photos of floating breakfasts, and sharing one of these tranquil morning meals with your partner is a great idea. With a romantic floating breakfast and spa package, you'll hop into a pool surrounded by jungle where your meal will be served on a floating tray.
Then, you can enjoy spa treatments and go on a hike to discover another Instagram-famous attraction, Bali jungle swings.
Things to Do With Kids in Ubud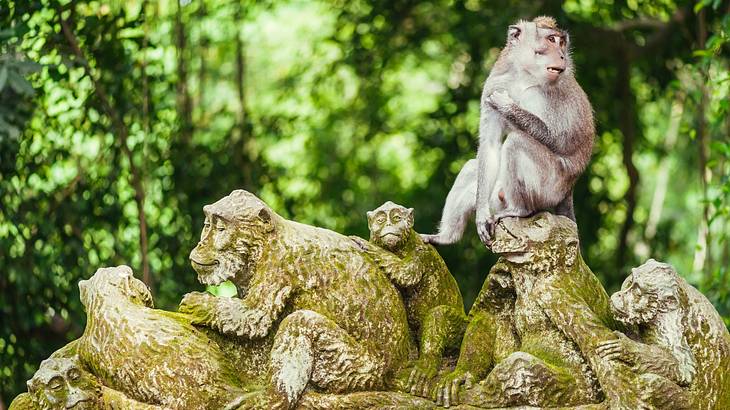 Say hi to monkeys at The Sacred Monkey Forest Sanctuary
The Sacred Monkey Forest Sanctuary, or Ubud Monkey Forest, is one of the best places to visit in Ubud, Bali! It is located in the village of Padangtegal and is home to over 1,000 Balinese long-tailed macaques.
If visiting Ubud with kids, going to the Sacred Monkey Forest is a must. Even if you aren't in the area with kids, a trip to this attraction has to be on your Bali bucket list.
The sanctuary looks to protect this monkey species, and the locals even worship the monkeys as they believe they are spiritual animals that bring good fortune. Due to this, you will find some shrines dotted around the sanctuary.
Of course, you will also see many adorable monkeys as you explore. Just be careful as the monkeys can be very cheeky and steal from you, especially your food. To make reaching the attraction easy, booking an Ubud Monkey Forest private tour is an excellent idea.
Spot beautiful butterflies at Kemenuh Butterfly Park
Visiting Kemenuh Butterfly Park is one of the best things to do in Ubud with family, especially if you have young children. The park is located about a 20-minute drive from central Ubud.
Situated within rice fields, the park is home to numerous species of butterflies, which you can spot as you explore. You will also see many beautiful plants, including orchids. Notably, you can see the endangered kupu-kupu barong moth in the Cocoon House.
Create Balinese baskets at a basket weaving class
If your kids are a little bit older and like crafts, going to a traditional basket weaving class is a fun activity. Your teacher will show you the technique before you and your kids can try weaving baskets of your own. Not only will you learn a new skill, but you'll also have unique souvenirs to take home!
In Conclusion
If you have been wondering what to do in Ubud, this list should have given you many ideas. From visiting temples and waterfalls to spotting monkeys and relaxing at a spa, there's no shortage of memorable things to do in this Indonesian town. Have the best time!
---
---
Want to keep exploring?
Subscribe for discounts on tickets and hotels and our latest guides.
Thank you for subscribing
We will be in touch soon with discounts on tickets and hotels and our latest guides.
Want to keep exploring?
Subscribe for discounts on tickets and hotels and our latest guides.
Thank you for subscribing
We will be in touch soon with discounts on tickets and hotels and our latest guides.
Related Articles