The 15 Cheapest Countries in Asia to Visit
Destguides may receive commissions from purchases made through affiliate links in this article.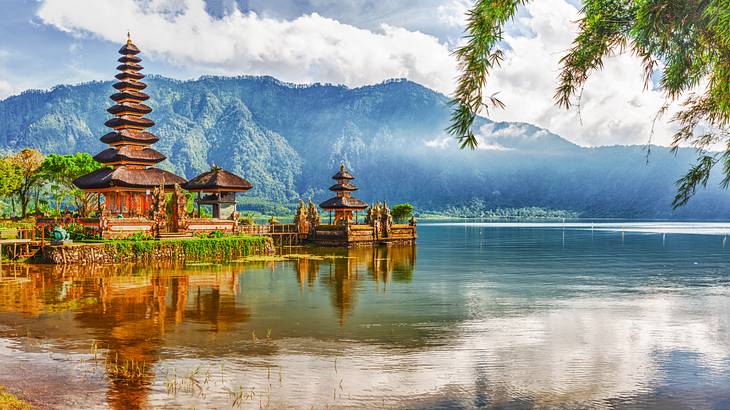 Asia is the largest continent in the world, with 48 countries in total. It has an impressive mix of some of the most expensive places to travel to, like the United Arab Emirates and Singapore, and lots of the cheapest, such as Laos and Thailand.
With tourist sites like the Taj Mahal in India, Angkor Wat in Cambodia, and the Petronas Twin Towers in Malaysia, you have a lot of exploring to do, especially if you're visiting Asia for the first time! Luckily, there are many countries and cities to check out that are ideal for those traveling on a budget.
If you want to plan an affordable vacation, this list of the cheapest countries in Asia to see should give you an idea of all the places you can add to your bucket list! Keep reading for 15 of the most budget-friendly Asian destinations.
15 Cheapest Asian Countries to Visit
India
India is one of the best cheap places to visit in Asia for those looking for a destination full of diversity, unique attractions, and world-famous landmarks.
There are numerous cities to consider visiting in India, including Goa, Delhi, and Mumbai. Of course, planning a trip to Agra to see the Taj Mahal, the most-visited landmark in the country, is also a must!
Some other landmarks in India to add to your itinerary include:
India Gate
Red Fort
Sri Harmandir Sahib (Golden Temple)
Lotus Temple
Mysore Palace
India Tours and Excursions
When in India, booking an informative Taj Mahal tour has to be on your to-do list. However, there are also many other great excursions and tours to consider like:
Daily Budget for India
Accommodation, transport, and meals are very affordable in India, and you can get by with only 15 to 20 USD. Lodging is generally around 4 to 5 USD per night, while food can be less than a dollar up to 5 USD. Remember to put some extra money aside to enjoy a once-in-a-lifetime tour!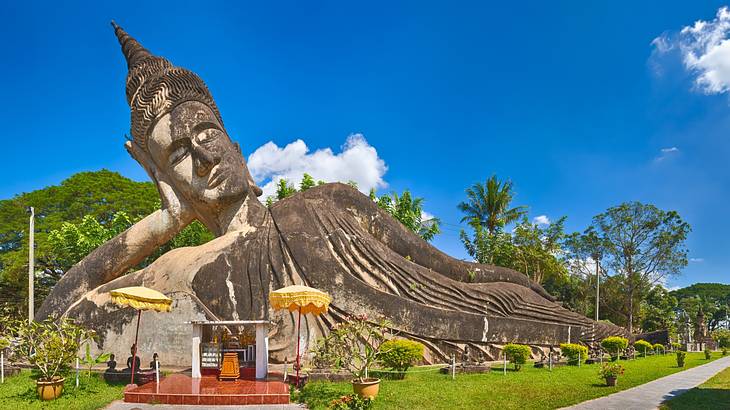 Laos
Laos is another of the affordable countries in Asia to visit that is still developing its tourism sector. However, the country has lots to offer visitors and is a must-visit location!
So whether you're looking for one Asian country to visit or are planning a multiple-month Southeast Asia itinerary, Laos has to be on your list of destinations to consider! Some popular cities and towns in Laos include Vientiane, Luang Prabang, and Vang Vieng.
In terms of things to see, you have to plan a trip to at least one or two of the country's waterfalls. Even though Laos is landlocked, it's surrounded by striking waterfalls, like Khone Phapheng Falls on the Cambodian border and Kuang Si Falls in Luang Prabang. When visiting the falls, you can also hike through jungles and swim in the pools beneath the waterfalls.
Other landmarks to add to your Laos itinerary include:
Patuxay Monument (Patuxai Monument)
Pha That Luang Vientiane
Buddha Park (Wat Xieng Khouane Luang)
Wat Xiengthong
Laos Tours and Excursions
Laos is another country that's relatively easy to explore alone and has good transport links. However, there are also many great tours to book, including:
Daily Budget for Laos
Traveling around Laos is relatively cheap, and you can budget just 15 to 25 USD per day if you manage your money well. You can also spend a little more on tours and accommodation, with higher-end lodging and unique excursions available to book. Standard accommodation costs around 10 USD, or 5 USD for a dorm, and a meal is approximately 5 USD.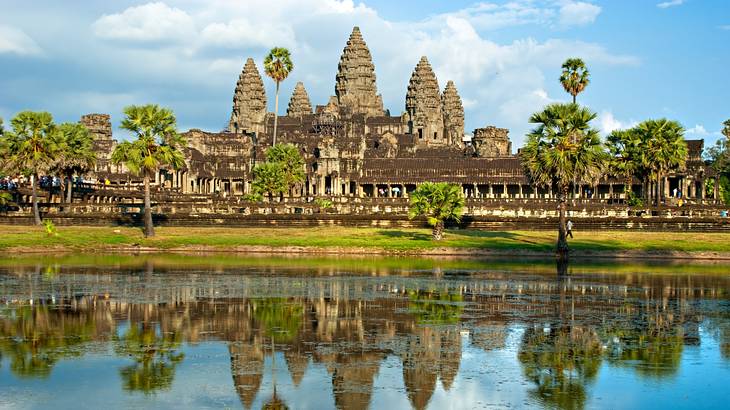 Cambodia
Another of the fantastic budget-friendly countries in Asia is Cambodia. Because of Cambodia's central location in Southeast Asia, it also makes a great first stop for those planning a multi-country tour of Asia.
To discover the real Cambodia that everyone loves, you must check out the rural parts of the country. These areas are where you'll notice the warm hospitality of the locals and the beautiful landscapes of the rivers and farmlands.
However, you can't miss the popular big cities in the country either. For example, spending a few days in Phnom Penh is a must. You'll also want to check out Siem Reap, which has gorgeous temples built during the Khmer Era. Conveniently, you can explore Siem Reap in only three days and see most of the famous temples here.
Some of the must-see landmarks in Cambodia include:
Angkor Wat
Bayon Temple
Silver Pagoda
Independence Monument
Cambodia Tours and Excursions
If you're interested in booking tours in Cambodia, there are many to choose from. Just a few of the options include:
Daily Budget for Cambodia
Cambodia is one of the cheapest countries to visit in Asia, and you can maintain a daily budget of 20 USD per day. On average, accommodation costs 5 USD to 10 USD per night, with food averaging 3 USD for a meal. If you want to explore Angkor Wat, you can also get a three-day pass for 60 USD, which is well worth it!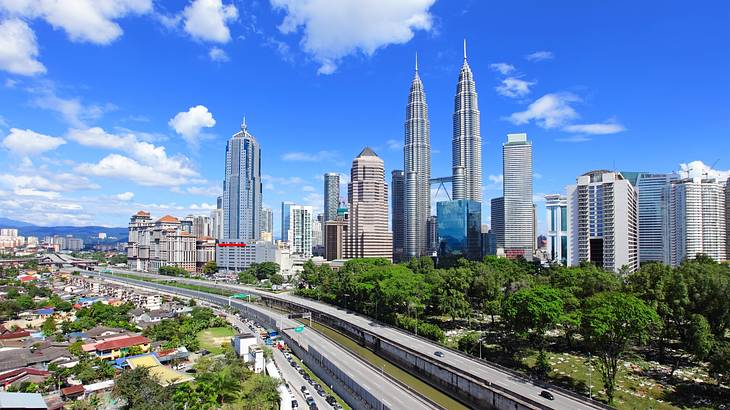 Malaysia
One of the most popular holiday destinations in Southeast Asia is Malaysia. With many beautiful beaches, modern cities, national parks, and ancient architectural masterpieces, you'll never have a dull moment while exploring Malaysia!
In Malaysia, you can discover various activities to enjoy, many of which you may not associate with a trip to this country. For example, many wouldn't think that hiking is popular here. However, Malaysia actually has some fantastic hiking spots, like Mount Kinabalu.
Of course, there are also many bustling cities to visit, with Kuala Lumpur being the most frequented. Despite Malaysia's capital having numerous attractions, and you can easily explore Kaula Lumpur in 48 hours.
Just a few of the must-see landmarks in Malaysia include:
Petronas Twin Towers
Batu Caves
Petaling Street flea market
KL Tower
Langkawi SkyBridge
You can also visit landmarks and attractions like markets and experience the city's nightlife and world-class restaurants. There are also many great weekend getaways from Kuala Lumpur to book.
Malaysia Tours and Excursions
With so much to do in Malaysia and many areas being off-the-beaten-path, booking some fun tours and excursions is also a great idea, and many don't have to break the bank!
Some popular tours to book in Malaysia include:
Daily Budget for Malaysia
A daily budget runs from 20 USD and up for accommodation, food, and transportation. If you're good at budgeting and don't want to splurge on a tour, you can expect to spend 20 USD to 25 USD per day, with accommodation around 3 USD to 6 USD per night. Food is generally around 3 USD or less per meal, and alcoholic drinks run up to 4 USD per beverage.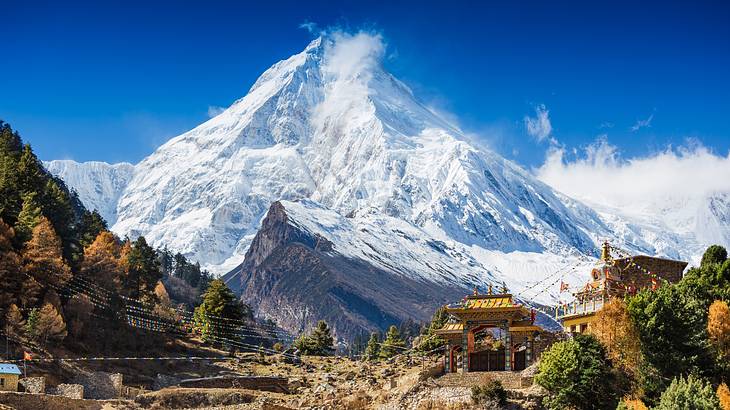 Nepal
Nepal is another country in Asia that escapes the bucket list of most travelers when it should be a must-visit destination! The beautiful country's jungles, snow-capped mountains, and lakes make you appreciate the importance of nature, and exploring these areas is a memorable, once-in-a-lifetime experience.
Notably, Nepal is home to the world's highest mountain above sea level, Mount Everest, located in the Solukhumbu District. Because of the mountains in the country, it's the perfect hiking destination for outdoor activity enthusiasts.
Additionally, you'll see a wide range of wildlife here, including numerous bird species, crocodiles, and even Bengal tigers and protected Indian leopards.
While there's an extensive list of places to see, some of the most renowned Nepal landmarks include:
Shree Pashupatinath Temple
Chitwan National Park
The Himalayan mountain range, including Mount Everest
Swayambhunaath Mahachaitya (Monkey Temple)
Nepal Tours and Excursions
If you want a memorable experience in Nepal, booking a guided tour is a must! Some popular tours and excursions include:
Daily Budget for Nepal
Exploring Nepal is very affordable, with the most expensive activities being around Mount Everest. You can spend as little as 20 USD a day, with 30 USD being the average for those watching their spending.
Meals will run at about 2 USD each, while accommodation costs 10 to 15 USD per night. If you book shared dorms, you'll be looking at closer to 2 to 5 USD for lodging, which is perfect for budget travelers.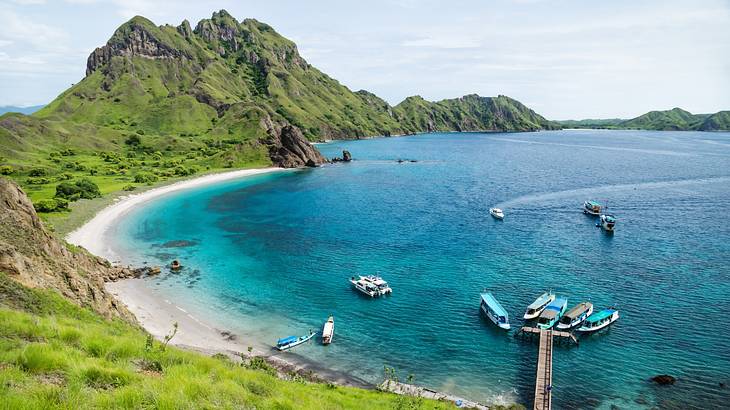 Indonesia
Indonesia is a stunning country featuring many striking tropical islands. With more than 17,000 islands, each has a different experience to offer, with differences in culture, food, and even language.
Komodo National Park is one of the most-visited places in Indonesia that you have to add to your bucket list! The park is a beautiful place to see, with impressive hills and majestic landscapes. As the name suggests, it's also home to many komodo dragons and is one of the only places in the world to see them in the wild.
Another popular destination in Indonesia is the largest and most serene lake in the country, Lake Toba. There is also a volcanic island, Samosir, located in the middle of Lake Toba, which is a must-visit destination.
Probably the most well-known destination in the country that many visitors flock to is Bali. This area is famous for its surfing spots, beautiful beaches, and nightlife. You'll also discover many stunning waterfalls and rainforest hiking trails that are a must on any Bali bucket list!
Additionally, there are an array of landmarks and attractions to visit in Indonesia, with some of the most famous being:
Borobudur
Borobudur Temple
Tegallalang Rice Terrace
Baiturrahman Grand Mosque
Indonesia Tours and Excursions
Unsurprisingly, there are numerous tours to enjoy in Indonesia as well. A couple of the can't-miss tours and excursions to book include:
Daily Budget for Indonesia
Visitors to Indonesia can plan for an average daily budget of 20 to 30 USD per person. This amount includes accommodation, transportation, and meals.
For more comfortable accommodation, you'll be looking at a daily budget of 40 to 50 USD. Meals tend to range from 3 USD to 5 USD, and alcoholic beverages will set you back about 2 USD per drink.
Mongolia
Mongolia isn't usually the first place that comes to mind when thinking of must-visit countries in Asia. However, if you have time to spare and are on a budget, do not pass up visiting this beautiful country!
Mongolia is full of natural beauty, which is mostly preserved today. The country is still growing its tourism sector, and its tourism marketing and tourist infrastructure are in the early stages.
Despite this, the location has much to offer, and it's a fantastic destination for those that like going to unique places where they can mix with locals and learn about different cultures.
If you need help determining where to head, one of the best places to explore in the country is Ulaanbaatar, Mongolia's capital city. The city is also an excellent place to start your journey around Mongolia, as it offers easy access to many smaller towns and cities.
Just a few of the must-see landmarks in Mongolia include:
Bogd Khaan Palace Museum
Gandantegchinlen Monastery
National Museum of Mongolia
Mongolia Tours and Excursions
As the country is less set up for tourists than other more popular destinations, one of the travel tips for Mongolia to keep in mind is taking guided tours around the country. Some of the fantastic tours in Mongolia to enjoy include:
Daily Budget for Mongolia
Regarding budgets, you have nothing to worry about; accommodation and transportation can be cheap, especially if you share the costs with other travelers. Daily spending can range from as low as 20 USD to upwards of 50 USD, depending on how you like to travel and what type of tours you opt for.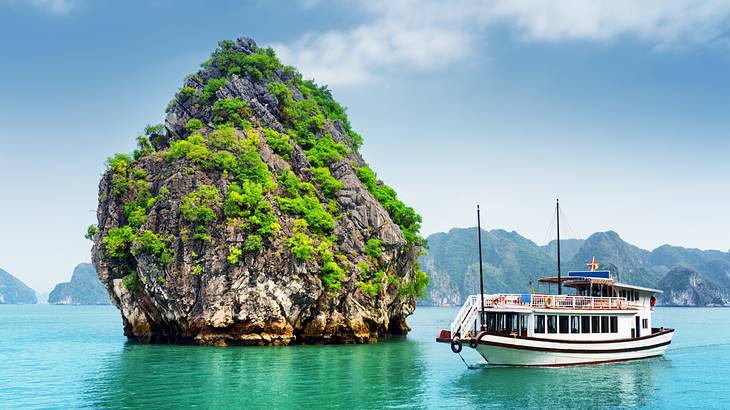 Vietnam
Vietnam is a backpacker's paradise and a popular destination for those looking to explore cities and more rural villages. In addition, the country draws in millions of budget travelers each year as everything in Vietnam is affordable, from transportation to accommodation and dining.
Most visitors to Vietnam will spend a few days in Ho Chi Minh City and about 24 hours in Hanoi. Both cities are a great starting point for a tour of Vietnam, beginning your trip in one city and following the coast to reach the other.
As you explore, make sure to see these top Vietnam landmarks:
Phong Nha Ke Bang National Park
Ha Long Bay
Hoi An Ancient Town
Cu Chi Tunnel
The Marble Mountains
Vietnam Tours and Excursions
There's no shortage of fun tours to book in Vietnam, either. If unsure of what to do, consider reserving some of the following:
Daily Budget for Vietnam
In Vietnam, 25 USD can get you quite far each day. With this amount, you can enjoy delicious meals in excellent restaurants and stay in nicer-than-average accommodations. Private rooms cost around 15 USD, and meals are only a few dollars each.
If you're interested in checking out landmarks like Ha Long Bay, a tour is recommended, so put aside a little extra for any excursions you want to experience.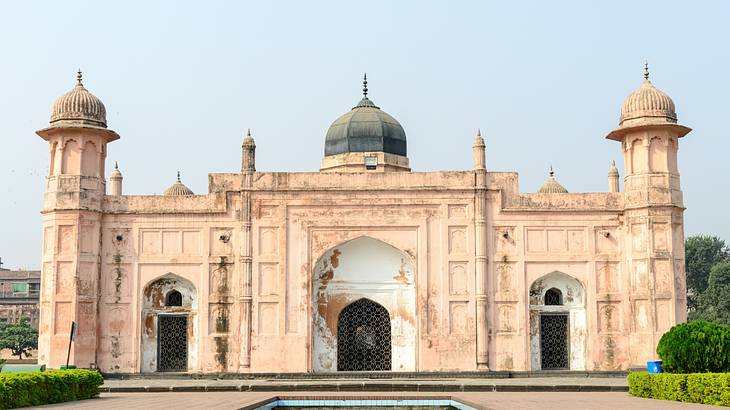 Bangladesh
Bangladesh is home to the world's longest beach, the largest mangrove swamp, and many other stunning natural attractions. When exploring the country, you can also visit numerous landmarks, like forts and temples.
Dhaka, the country's capital, is a popular city to visit. However, there are many other areas to check out, such as Sundarbans National Park, which is home to endangered species like Bengal tigers.
If you want to know which landmarks to visit, the following can't be left off your Bangladesh bucket list:
National Parliament House
Ahsan Manzil Museum
Baitul Mukarram National Masjid
National Martyrs' Monument
Lalbagh Fort
Bangladesh Tours and Excursions
Although you can easily explore many parts of Bangladesh alone, you can book some tours to enhance your trip. Tour options include:
Daily Budget for Bangladesh
With many cheap restaurants, accommodation options, and transportation methods, you can easily get by on a daily amount of 25 to 30 USD. Standard accommodation will cost approximately 5 to 10 USD, and meals are around 1 USD to 5 USD, depending on if you get street food or a sit-down meal.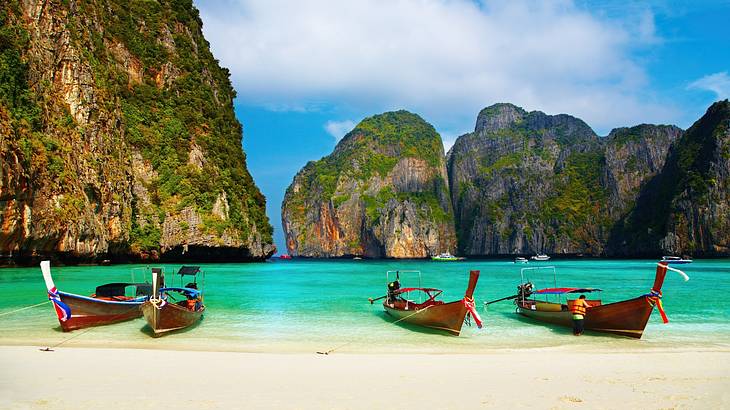 Thailand
Thailand is another country in Asia that is a must-visit. The country attracts millions of travelers from around the world each year, especially those on a budget. Spending at least one week to ten days in Thailand is recommended, as there is so much to see and do!
Thailand is known to have gorgeous islands, jungles, beaches, and famous cultural sites. Conveniently, it's an easy country to travel around, making it one of the best destinations for backpackers in Asia.
Some places for your Thailand bucket list include the cities of Bangkok and Chiang Mai and the beaches of Phuket.
You can also see some of the many famous landmarks in Thailand, like:
The Grand Palace
Temple of the Emerald Buddha - Wat Phra Si Rattana Satsadaram
Sukhothai Historical Park
Khao Yai National Park
Thailand Tours and Excursions
Visitors to Thailand can easily explore on their own; however, joining some tours allows you to experience areas and activities you can't solo. A couple of the must-book tours in Thailand include:
Daily Budget for Thailand
You can find lots of budget-friendly accommodation in Thailand, with food and transport also very affordably priced. Your daily budget can range from as low as 25 USD to as high as 70 USD, depending on accommodation and activity choices. Meals cost an average of 3 USD, drinks are about 2 USD, and accommodation can be found for 7 to 10 USD per night.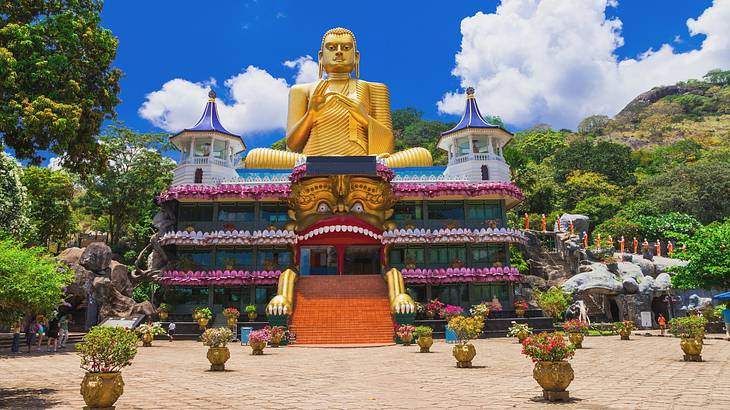 Sri Lanka
Sri Lanka ticks all the boxes if you're looking for a country with excellent surfing, beautiful beaches, and incredible wildlife. Ideally, you'll need at least ten days in Sri Lanka to see all that this incredible country has to offer!
Cities to add to your Sri Lanka travel plan include Colombo, Ella, Nuwara Eliya, and Mirissa. You should also plan a trip to Yala National Park, where you can take a safari and see animals like leopards and elephants.
When you are in Sri Lanka, you can check out many famous landmarks as well, including the eight UNESCO World Heritage Sites located within the country:
Rangiri Dambulla Cave Temple (Golden Temple)
Ancient City of Sigiriya
Old Town of Galle and its Fortifications
Central Highlands of Sri Lanka
Sinharaja Forest Reserve
Sacred City of Anuradhapura
Sri Lanka Tours and Excursions
To make your experience extra special, booking a trip or tour is a must. Some options include:
Daily Budget for Sri Lanka
One of the amazing things about traveling to Sri Lanka is that you can experience the country's many attractions on a budget. Daily costs can be as low as 30 USD, with food costing around 2 to 5 USD per meal and accommodation being approximately 7 to 10 USD.
Of course, you should also put some money aside for tours, like a safari, and train journeys between different towns and cities.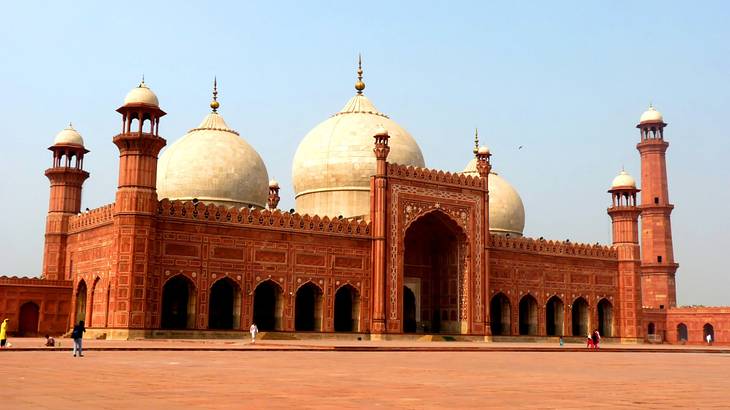 Pakistan
When thinking of cheap Asian countries to travel to, Pakistan may not be the first to come to mind. However, it's well worth planning a trip to, and doing so will be affordable!
Pakistan is located in the southern part of Asia and has the fifth largest population in the world, exceeding over 200 million people. The country is rapidly becoming one of the top countries in Asia to visit for tourists from around the world.
If organizing a trip, note that it's essential to plan ahead when visiting Pakistan. Transport in the country can be especially challenging for first-time visitors to navigate. However, there are many ways to get around cities and across the country, including buses, trains, and private cars.
As long as you look into your options before you arrive and plan accordingly, you shouldn't have any issues. To secure the best prices, wait to book your transport until you're in the country, and be prepared to haggle for the best price.
Major cities in the country include Karachi, Islamabad, and Lahore. Additionally, you can visit areas outside large cities, like Hunza Valley, Shogran Valley, and Fairy Meadows.
When in Pakistan, you'll also discover many famous landmarks to visit, which include:
Shah Faisal Masjid (Faisal Mosque)
Pakistan Monument
Lahore Fort and Sheesh Mahal
Badshahi Mosque
Pakistan Tours and Excursions
Those visiting for the first time may want to book a Pakistan tour, especially when exploring the country's bustling big cities. Some Pakistan tour and excursion options include:
Daily Budget for Pakistan
When traveling around Pakistan, it's vital to always carry cash, as transactions via card are rare. You can plan for a daily budget of about 30 USD. Accommodation costs around 10 to 20 USD, while food, on average, costs 3 USD per meal but can be as low as 1.50 USD.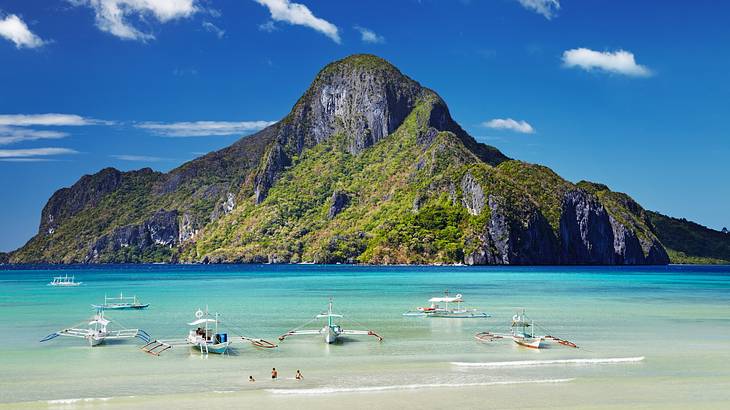 The Philippines
The Philippines is the perfect country to explore if you're looking for beautiful beaches and fantastic diving spots in Asia. With more than 7000 islands, the Philippines has a lot to offer to those who love the ocean and coastal destinations.
When planning a trip to the Philippines, you'll discover three island groups; Visayas, Luzon, and Mindanao. All three feature distinct landscapes and numerous beaches and other attractions. Visitors could check out one or plan a trip around all three!
Some popular beaches and islands include Bohol, Palawan, and Boracay (home to the White Beach). Along with enjoying the beaches, ocean activities like snorkeling, and jungle hikes, you can visit many landmarks in the Philippines like:
National Museum of the Philippines
Krus ni Magellan
Fort Santiago
Rizal Park
Banaue Rice Terraces
Philippines Tours and Excursions
When in the Philippines, booking a tour or two is a great way to have some unique and memorable experiences. A few tour and excursion options include:
Daily Budget for the Philippines
The recommended daily budget for someone traveling to the Philippines is approximately 30 to 35 USD. Many accommodation options are available, with a room going for 10 to 20 USD, depending on location and room type. Food can be as low as 2 USD for street food or up to 10 USD for a sit-down meal.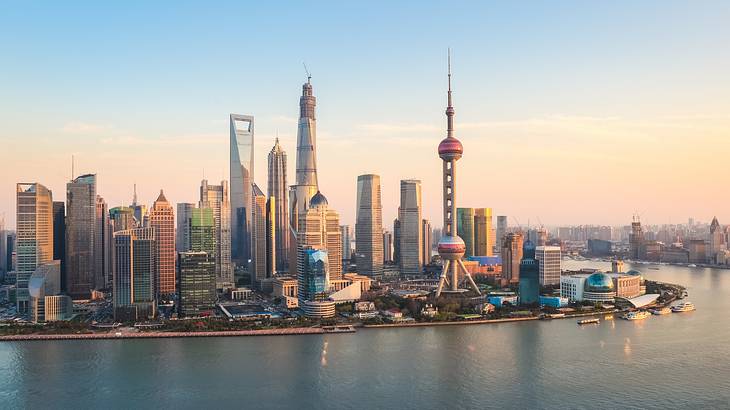 China
China is one of the most well-known countries in Asia, with an array of landmarks, unique attractions, and fantastic cuisine. It's also one of the cheapest places in Asia, making it another great destination for budget travelers.
Some of the country's most popular places to visit include Shanghai, Beijing, and Guangzhou. When planning your journey, you'll also want to ensure you see some of the most famous landmarks in China, like:
The Great Wall of China
The Summer Palace
The Forbidden City (Palace Museum)
Emperor Qinshihuang's Mausoleum Site Museum
China Tours and Excursions
China is relatively easy to explore without a guide; however, some exciting tours and excursions are available if you want to do something a bit different. China tours to experience include:
Daily Budget for China
Many people think touring China can be expensive, but it is quite affordable considering the number of world-renowned landmarks you can see! If you're careful with what you spend, you can get by with a budget of about 30 to 35 USD per day.
Accommodation will be around 10 to 15 USD, while food can be just a few dollars if you get street food, with slightly more expensive options available at sit-down eateries.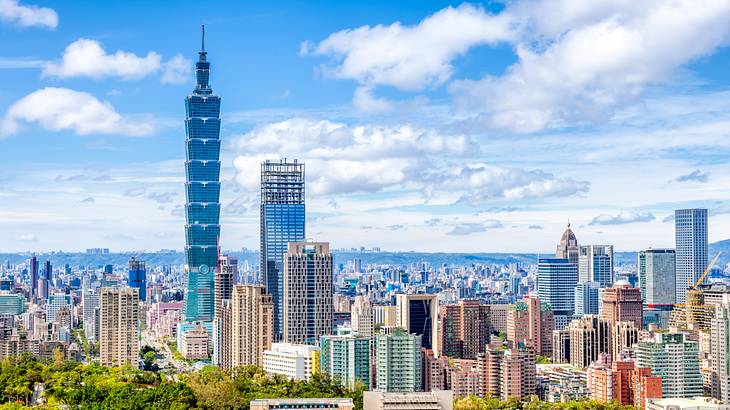 Taiwan
Taiwan is another country that's not generally thought of as one of the cheapest places to travel in Asia. However, while you can splurge in Taiwan, budget travelers can also explore for under 100 USD per day.
Taipei is the most well-known city in the country, and visiting is a must! Conveniently, three days in Taipei is enough to see all the city has to offer. Other cities to check out include Kaohsiung, Pingxi, and Chiayi.
When planning exactly where to visit, you'll want to ensure you add some of Taiwan's best landmarks to your itinerary as well, such as:
Taipei 101
Lungshan Temple
Dragon and Tiger Pagodas
Yangmingshan National Park
Taiwan Tours and Excursions
Daily Budget for Taiwan
Taiwan is a little more expensive than some countries on this list, with a daily spend for those on a budget being around 50 to 95 USD.
While you can find cheap street food, with daily meals averaging 15 to 20 USD, accommodation goes for a bit more in Taiwan. In general, the minimum for a budget-friendly room is 20 USD plus per night.
Transportation can also set you back around ten USD per day. Despite the additional cost, visiting this vibrant country can't be missed!
In Summary
Asia has many amazing countries with stunning natural landmarks, historical sites, and other unique attractions. Even those looking to save money while traveling can enjoy exploring this vast continent, with it costing under 50 USD a day to visit many destinations.
If you're looking to plan an affordable trip, this list of the cheapest places to visit in Asia should have given you an idea of all the great places you can check out.
Whether you're doing a whirlwind backpacking tour of Asia or are looking for a shorter getaway, you'll find no shortage of fantastic locations for all budgets in Asia!
Give us feedback about this article
More visual stories related to this article:
---
---
Want to keep exploring?
Subscribe for discounts on tickets and hotels and our latest guides.
Thank you for subscribing
We will be in touch soon with discounts on tickets and hotels and our latest guides.
Want to keep exploring?
Subscribe for discounts on tickets and hotels and our latest guides.
Thank you for subscribing
We will be in touch soon with discounts on tickets and hotels and our latest guides.
Related Articles