Where to Stay in Japan - 13 Best Cities & Towns
Destguides may receive commissions from purchases made through affiliate links in this article.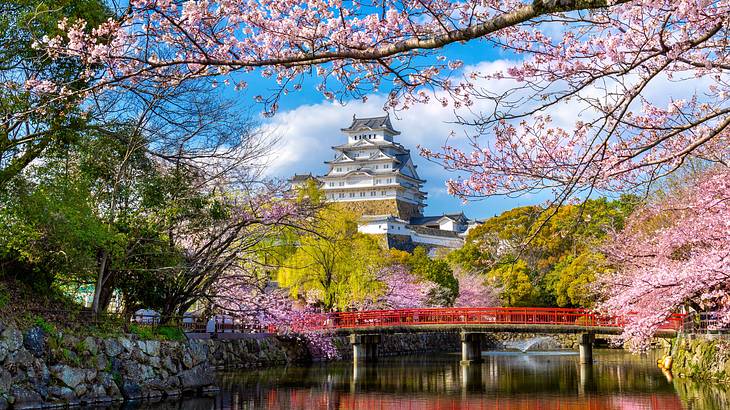 Japan is a favorite tourist destination because of its pristine scenery, incredible food, and unique culture. When in Japan, you can find many interesting places to visit, from the bustling capital of Tokyo to the coastal town of Kamakura.
No matter where you visit, Japan has an interesting mix of history, cultural attractions, and breathtaking beauty. So, if this fantastic destination is on your travel bucket list, keep reading to learn more about where to stay in Japan for a memorable trip!
13 Best Places to Stay in Japan
Best Areas to Stay in Japan
Fukuoka
Situated on Kyushu Island, Fukuoka is a harbor city close to Mainland Japan. It's a mix of modern shopping malls and historical sites. Fukuoka is surrounded by mountains on three sides and has hot, humid summers and mild winters. Spring is warm and sunny, and cherry blossoms appear in late March and early April.
This beautiful destination is an excellent choice for those looking for a unique place to visit in Japan. If you've already visited hotspots like Tokyo and Kyoto, Fukuoka could be the ideal place to visit next. The city is suitable for most budgets, with hostel accommodations as well as mid-range and luxury hotels available.
Those interested in historical sites will also have a lot to see. One of the most popular attractions is the Fukuoka Castle Ruins. Completed in 1607, it was once the largest castle in the Kyushu region.
Another top place to visit is Nanzoin Temple. It sits on the outskirts of Fukuoka and is a Buddhist temple with beautiful shrines and sites. The most notable feature here is the reclining Buddha statue that's 41 meters long and 11 meters high.
Additionally, Fukuoka is an excellent place to visit if you're a food lover. It's full of open-air food stalls called Yatai, which offer regional dishes. They are generally open during the evening, so checking some out makes for a fun nighttime thing to do!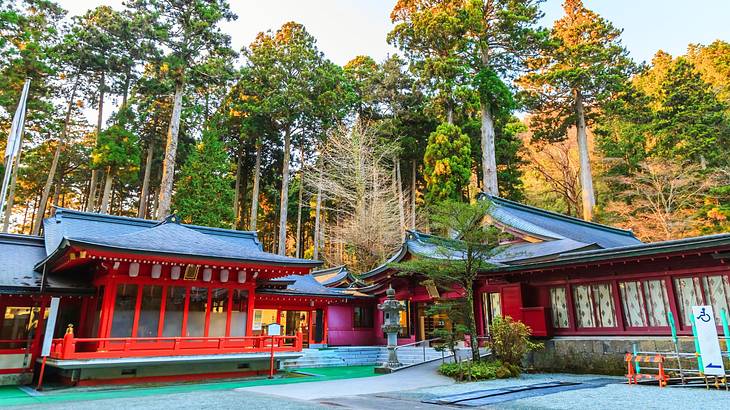 Hakone
Hakone is a mountainous region west of Tokyo in Fuji-Hakone-Izu National Park. It's known for its natural scenery, hot springs, and museums. It generally has a humid subtropical climate; however, Hakone is best visited during the fall, spring, and summer months, as it can get cold during the winter.
It is notably the best area to stay in Japan if you love beautiful scenery and outdoor activities. Hakone also makes a great stop on the way to visit the Fuji Five Lakes. Accommodation options can be a little expensive, and many activities have a fee. You can expect to spend around 200 USD a day during your trip, so Hakone may not be a top choice for budget travelers.
While in Hakone, you can visit Lake Ashi and enjoy views of Mount Fuji when visibility is good. Outdoor enthusiasts can take a sightseeing cruise on the lake or hike some trails in the surrounding area.
Hakone Shrine is also located around the lake, along with other cultural sites. Additionally, you can go to Mt. Hakone and take a cable car ride to the peak, which is another place where you can enjoy views of Mount Fuji.
If you're looking for something relaxing, head to one of Hakone's hot springs. Additionally, you can't miss seeing the Open Air Museum of Hakone, which has indoor and outdoor exhibitions with art and sculptures.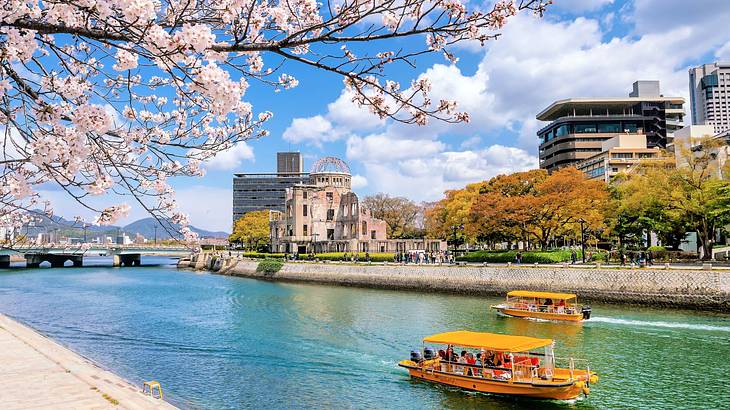 Hiroshima
Hiroshima is most well-known as being the site where Americans dropped the first atomic bomb during World War II. However, this somber event is not the only thing associated with the city. Today, it's a modern and vibrant place with many unique things to offer visitors. History enthusiasts will be interested in visiting, but it really has something for everyone.
Hiroshima is best visited in the fall or spring when the weather is warm. Summer tends to be hot and humid, and the winter can be a little cold. Travelers of most budgets will find something for them in the city, with cheaper hostels through high-end hotels available. It's easy to get around on foot or via the tram network.
Regarding attractions, the Hiroshima Peace Memorial Museum and Hiroshima National Peace Memorial Hall are some of the most famous. The museum can teach you about the bombing and its aftermath, while the Memorial Hall honors the victims. Both are located in Peace Memorial Park, another world-famous landmark.
Hiroshima Castle is another top attraction. It was initially built during the 1590s but was rebuilt after World War Two and is now a museum. Lastly, you could take a trip about an hour out of the city to Mount Misen. You can take a cable car to the peak, which offers breathtaking views.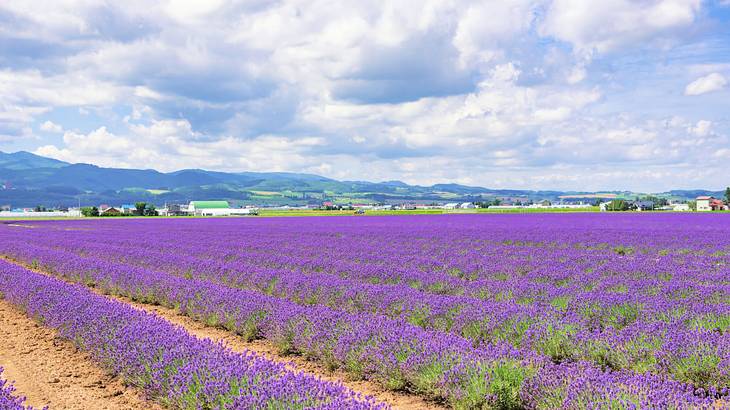 Furano
Furano is in Hokkaido, which is the second largest island in Japan. This scenic destination is most famously known for its purple lavender fields. The lavender fields bloom in July, and this is typically the best time to visit. It's also when the weather is at its best.
However, if you like snow sports, consider a winter trip to enjoy activities like cross-country skiing. Do note that winter is the busiest and most expensive time to visit Furano. While it's cheaper outside of winter, Furano is a more expensive destination all year. Those on a budget may want to skip Furano or opt for a quick overnight trip.
If you're visiting Sapporo (the capital of Hokkaido), Furano is a great weekend getaway option, too. Along with exploring the lavender fields or enjoying snow sports, you can visit the pretty countryside town of Biei or go wine tasting at Furano Winery.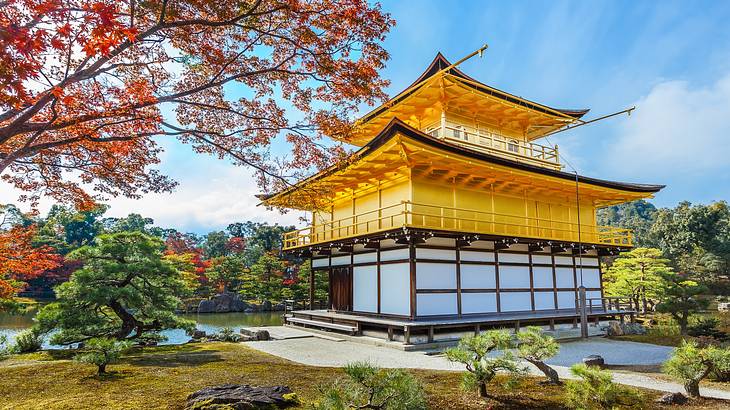 Kyoto
Kyoto is located on Honshu Island and is one of the most famous destinations in the country. The city combines modern attractions and buildings with historical and cultural sites and has something that will appeal to most travelers.
The weather here is humid, with mild winters and hot summers. Fall is stunning in Kyoto because this is when the foliage turns a vibrant orange. While summer is quite warm, you can experience the Gion Matsuri, a festival held at the Yasaka Shrine.
The best way to explore is via bus and train; however, you can also walk between attractions. Being a large city, you can find accommodations, eateries, and things to do to fit most budgets, from backpackers to those looking for a high-end city break. You could also plan a trip to Kyoto alone or combine it with a visit to nearby Osaka or Nagoya.
While exploring, you'll notice that Kyoto can be divided into several areas. These include Northern Kyoto, a quiet residential area with shrines, and Central Kyoto, a bustling area with shops and restaurants.
Just a handful of the attractions and landmarks to visit include Nijo Castle, the Fushimi Inari Shrine, and the scenic district of Arashiyama, with beautiful bamboo groves. There is also Nishiki Market if you're a fan of street food.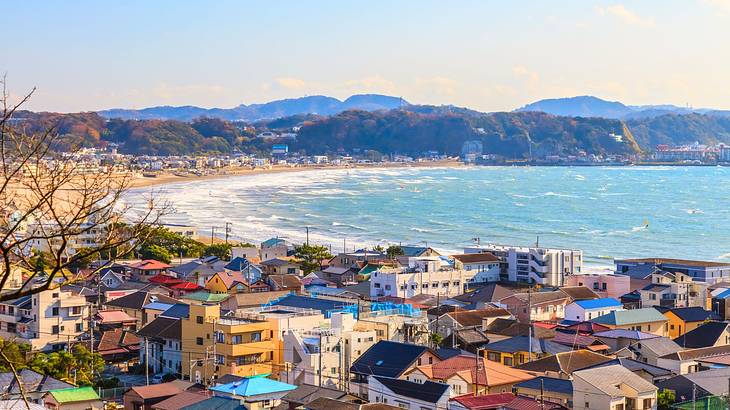 Kamakura
A coastal town south of Tokyo, Kamakura has beautiful seaside scenery and numerous cultural and spiritual sites. Kamakura is definitely one of the best cities to visit in Japan if you love culture. It has many festivals which are celebrated throughout the year, along with numerous Buddhist temples and Shinto shrines to visit.
Additionally, if you want a beach getaway from Tokyo, Kamakura is the perfect choice. Do note that the area has short summers, cold winters and can be wet throughout the year. July through September is the best time to visit, especially if you want to go to the beach.
Kamakura has some budget-friendly options, but most accommodation is in the mid to high price range. Costs and occupancy are highest during the summer.
As mentioned, the primary attractions here are temples and beaches. Popular temples to check out include Hasedera and Engakuji. Enoshima is the most renowned beach in the area, but there are lots of others to choose from if it gets busy. Don't forget to also see the Great Buddha of Kamakura, and you can enjoy hiking trails if you want to do something more active.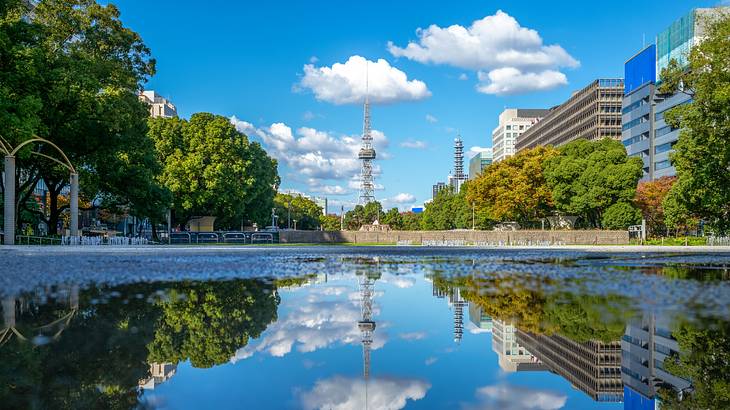 Nagoya
Located in Honshu, Nagoya is the capital of Aichi Prefecture and the country's fourth-largest city. Nagoya is another top location for visitors who have already gone to Tokyo and Kyoto and want to see a less touristy city destination.
Nagoya has a subtropical climate with hot summers and mild winters, meaning you'll have pleasant weather no matter when you plan your trip. In terms of budget, Nagoya is quite affordable, especially compared to Tokyo and Kyoto. You can find some hostels here along with luxurious accommodations if you have more to spend.
Notable attractions include the Atsuta Shrine and Nagoya Castle. The shrine holds over 70 festivals a year, while Nagoya Castle dates to 1612 but was restored in 1959 after being bombed during World War Two. Families can even go to Legoland and Ghibli Park here. You can easily get around on foot or via the subway.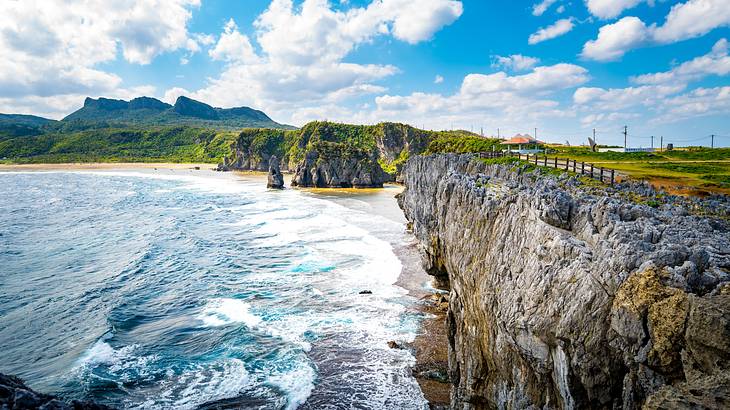 Okinawa
Okinawa is a prefecture in Southern Japan and comprises multiple islands. It has a humid subtropical climate and is one of the best destinations in Japan for beach lovers.
While Okinawa wouldn't be called a budget travel destination, you can find cheap accommodations, and visiting this paradise is worth it for the cost. Many activities are also free or cheap if you're on a budget. More high-end beachfront accommodations are on offer as well.
When visiting Okinawa, you can relax on the beaches, go on coastal walks, or snorkel around the colorful reefs. There are also some landmarks like Tamaudun, a mausoleum from the 16th century that belonged to the royal family of the Ryukyu Kingdom. Today, it's a UNESCO World Heritage Site.
Other top places of interest include Okinawa Prefectural Peace Memorial Museum and Peace Memorial Park, related to the WWII Battle of Okinawa, and Naminoue Shrine, which overlooks Naminoue Beach.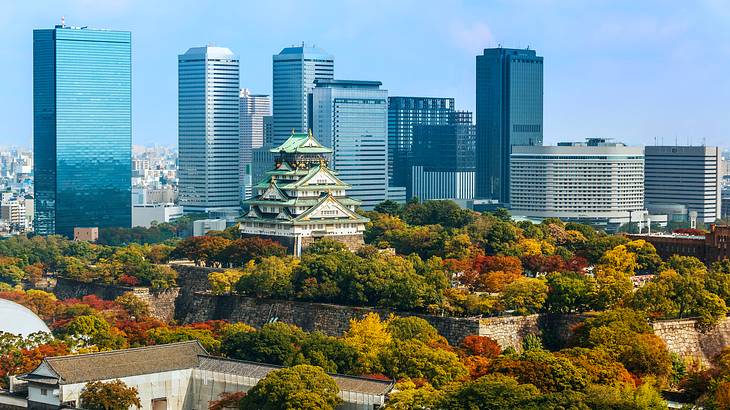 Osaka
Known as the "Kitchen of Japan," Osaka is a modern Japanese destination that's a can't-miss for lovers of Japanese cuisine. Osaka is also one of the best locations in Japan for young people looking to enjoy the nightlife.
It has a subtropical climate with a hot summer, warm spring and fall, and a more mild but still pleasant winter. There's really no wrong time to go to Osaka! While cheaper than Tokyo, being a large city, some things in Osaka can be expensive. However, there are hostels and other affordable accommodation options, plus unique places to stay and luxury hotels.
There's no shortage of things to do in the city either (along with trying all the yummy food!) Riding the Tempozan Ferris Wheel is a must and gives a great view of the Bay Area.
You can also go to Osaka Castle, one of Japan's most famous landmarks. Namba Yasaka Shrine is another of the cultural sites to see, and there are also modern attractions, like the National Museum of Art and Universal Studios Japan.
In the evening, head to Dotonbori in the heart of the city. This lively area has bars with affordable drinks, restaurants serving classic Japanese dishes, and many street food carts.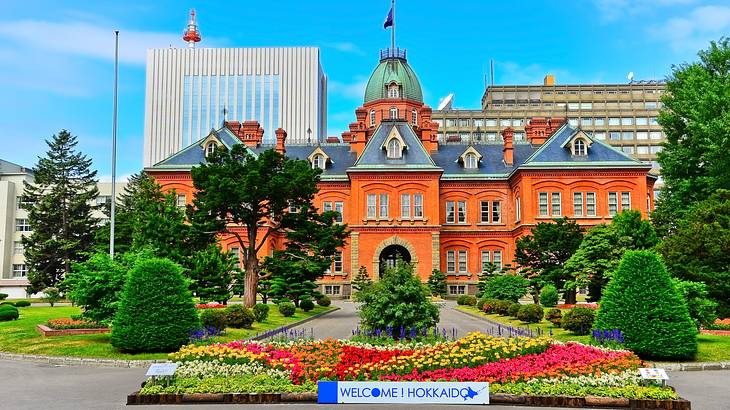 Sapporo
Sapporo is Japan's fifth most populated city and the capital of Hokkaido. It is located in the far north of Japan but is only a 90-minute non-stop plane ride from Tokyo.
The area has accommodation options for most budgets. However, it is a somewhat expensive destination; therefore, it may not be one of the top Japan vacation spots for budget travelers and backpackers.
This city has warm but not overly hot summers and nice fall and spring seasons. However, winter can get very cold, often below 0 degrees Celsius. Despite the cold, winter is a popular time to visit due to winter festivals, like the annual Sapporo Snow Festival, which takes place in February. You can also enjoy snow sports as ski resorts remain from the 1972 Winter Olympics.
In addition, if you're a food lover, you will enjoy the miso ramen unique to the area and can check out markets like Nijo Market. Sapporo is also famous for its Sapporo beer, and you can visit the Sapporo Beer Museum to learn more about the brand and enjoy a tasting.
Another unique attraction is the Historic Village of Hokkaido, which covers what life was like during the Meiji and Taisho Periods between 1868 and 1926. To unwind a little, head to Moerenuma Park, designed by Isamu Noguchi.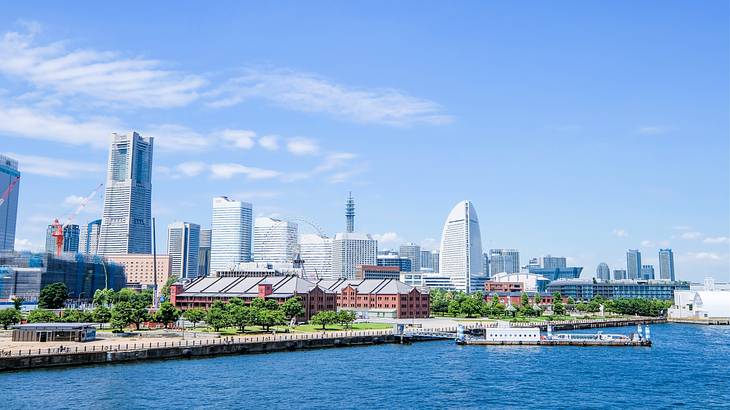 Yokohama
Yokohama was one of the first Japanese port cities and opened to foreign trade in 1859. It is located south of Tokyo and is now a cosmopolitan area that will appeal to young travelers. It also makes an excellent getaway destination from Tokyo, being only an hour's drive away.
Summers are generally hot, while spring and fall are warm. It can be a bit cold in winter, with January and February being the coldest months. Yokohama is cheaper than Toyko yet has expensive accommodation options, including those with stunning harbor views if that's what you're looking for.
Yokohama is well known for its Chinatown. With over 250 Chinese-owned or themed shops, it's the largest Chinatown in Japan! Kanteibyo, an ornately designed and colorful temple, can also be found in the district.
Yamashita Park is another top attraction. It's located on the waterfront and offers views over the harbor. Interestingly, ramen noodle lovers can find some appealing attractions here, like the Ramen Museum and Cup Noodles Museum!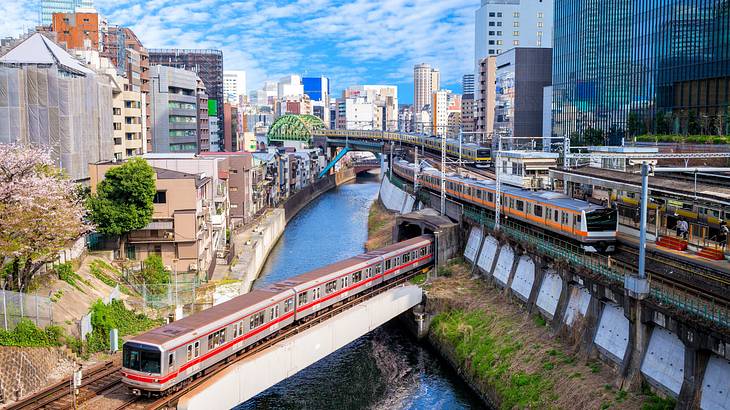 Tokyo
Tokyo is Japan's capital, largest city, and most well-known destination. It's also one of the top places to travel in Japan if it's your first time in the country. Regarding who Tokyo will appeal to, it has something for all travelers, from backpackers to families and couples on a romantic city break.
There's an accommodation option for everyone as well. You can find budget hostels and famous capsule hotels, as well as unique apartment rentals and world-renowned luxury hotels.
The climate in Tokyo features warm summers, pleasant springs and falls, and mild winters with the occasional cold snap. It can also rain anytime, but showers tend to be over quickly.
Tokyo is huge and challenging to explore only on foot, so expect to use the metro, bus, and train. Taxis are available but are more expensive than the other options.
Unsurprisingly, there's no shortage of things to do in Tokyo! The city is a food lovers paradise. Dishes to try include ramen, sushi, and Japanese sweet treats. You can also find all types of eateries, from street food stalls to cute cafes and high-end restaurants.
In addition, anime fans will love the Akihabara area, home to the Tokyo Anime Center. On the other hand, Harajuku is perfect for shoppers as it is a trendy fashion area, and Shinjuku is the place to be for nightlife.
Just a few of the can't-miss places include Tokyo Tower, the Shibuya Scramble Crossing, and Shinjuku Gyoen National Garden.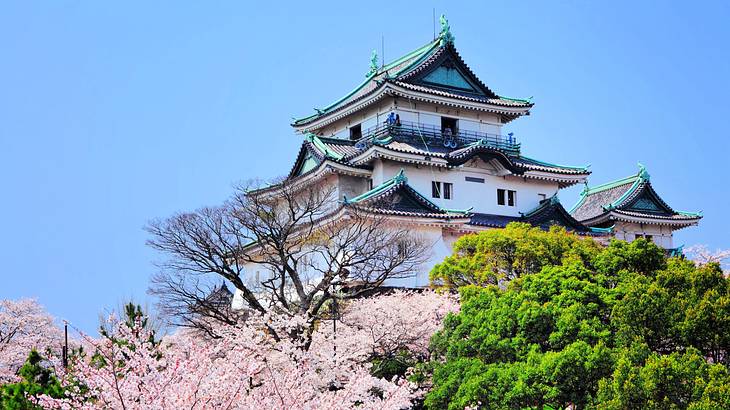 Wakayama
Wakayama City is located in the Wakayama Prefecture, a more rural area of the country. This destination is next to Osaka and around two and a half hours from Kyoto, meaning it's an excellent place to check out if visiting either of those cities.
The weather is warm from May through October. The rest of the year is colder but still pleasant, although rain is likely throughout the year, with June being the rainiest month.
This part of Japan is a great getaway spot for couples due to the stunning natural scenery. It's also a relaxed place for families to enjoy. Best of all, Wakayama City is quite affordable, and a multi-day trip won't break the bank.
Attractions include historical and cultural sites as well as modern sites. Wakayama Castle, which was declared a National Historic Site in 1931, is one of the top landmarks here.
Kamikura Shrine, Itakiso Shrine, and Kimii-dera, a Buddhist temple, must also be on your to-do list. However, there are numerous other shrines and temples to see if you can't make it to these specific ones. Families will love checking out two local theme parks, Adventure World and Porto Europe.
Where to Stay in Japan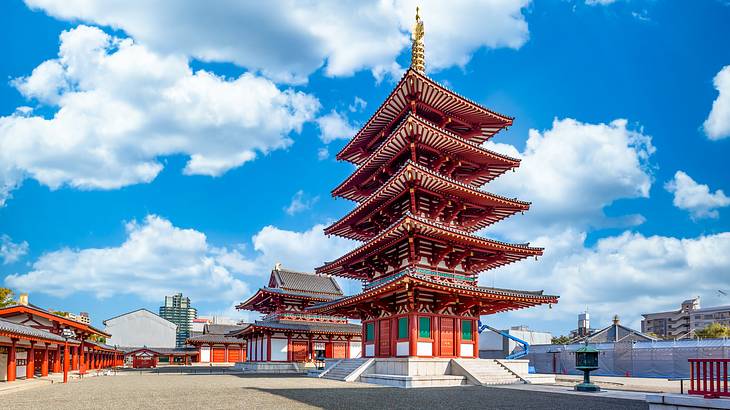 Where to stay in Japan for couples?
If you're planning a romantic getaway, Osaka is one of the best places in Japan to visit. It has many attractions but has a more relaxed vibe than busy hubs like Tokyo.
You and your partner can enjoy top nightlife spots, share delicious food at street food stalls, and take a ride on the Tempozan Ferris Wheel. Be sure to also walk through Nakanoshima Park, which has romantic rose gardens.
Another great option is going to Furano to view the pretty lavender fields and go wine tasting together. Alternatively, have a laid-back couples beach vacation in Kamakura or Okinawa.
Where to stay in Japan on a budget?
If you are on a budget, Kyoto is one of the best places to stay in Japan. This city gives you access to numerous attractions and allows you to experience Japan's culture without breaking the bank.
Many of the area's tourist spots are free, and you can get a Japan rail pass ticket to cut down on travel expenses. There are also free festivals hosted regularly.
Additionally, Kyoto has a range of different options for accommodation, including hostels. While small, they will give you an affordable base to explore from.
If Kyoto is still a little over your budget, Nagoya is an excellent alternative. It has an array of attractions and a similar urban Japanese vibe to Kyoto.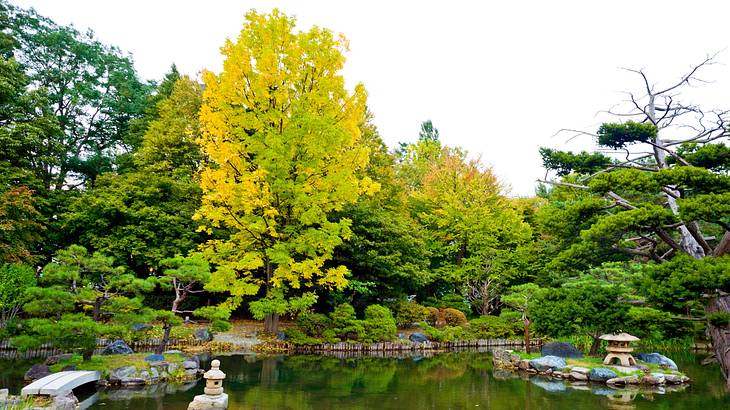 Where to stay in Japan with family?
If you're traveling with family, there are many excellent places to choose. For families planning a winter trip, Sapporo is the best location to stay in Japan. You can attend the fun Sapporo Snow Festival and ski or snowboard at the winter resorts.
During other parts of the year, Nagoya, home to the kid-friendly Legoland and Ghibli Park, or Osaka with Universal Studios Japan, are good options. If you want to go off the beaten path, opt for a family trip to Wakayama, which has two family-friendly theme parks.
If you have teenagers (and a healthy budget), Tokyo is the top choice for families. There's an attraction for everyone, from kids that love anime to shopaholics, plus endless dining and accommodation options.
In Conclusion
Japan is a unique country with many beautiful cities and endless attractions and landmarks. The best place to stay in Japan will ultimately depend on your travel preferences. However, the country has something for everyone, so you're guaranteed to discover your dream destination.
Hopefully, this list has taught you everything you need to know about Japan's most popular vacation spots. Now all you need to do is choose a city or two and plan your perfect Japanese trip!
Give us feedback about this article
Read more articles about Japan:
More articles about places to stay:
---
---
Want to keep exploring?
Subscribe for discounts on tickets and hotels and our latest guides.
Thank you for subscribing
We will be in touch soon with discounts on tickets and hotels and our latest guides.
Want to keep exploring?
Subscribe for discounts on tickets and hotels and our latest guides.
Thank you for subscribing
We will be in touch soon with discounts on tickets and hotels and our latest guides.
Related Articles