Japan Landmarks - Most Famous Landmarks in Japan
Destguides may receive commissions from purchases made through affiliate links in this article.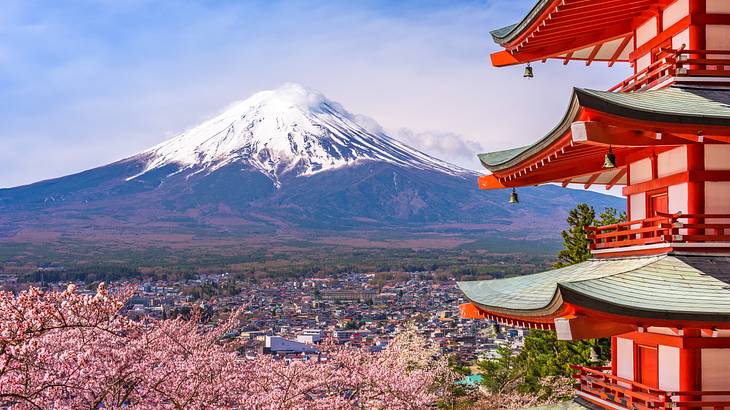 With a perfect mix of modern and ancient elements, Japan is a country that allows you to enjoy both contemporary and historical attractions. From hundred-year-old temples to enormous skyscrapers and fun theme parks, there are many famous landmarks in Japan to explore!
While Japan's capital city, Tokyo, is one of the most popular areas to visit, there are must-see Japanese landmarks across the country. Japan will truly satisfy your travelling appetite with its amazing and unique culture, stunning natural and urban environments, and World Heritage Sites galore.
Whether you are returning to Japan or are venturing here for the first time, you are sure to find many attractions and activities to enjoy. So, grab your suitcase and get ready for a fun-filled Japanese adventure!
36 Famous Japanese Landmarks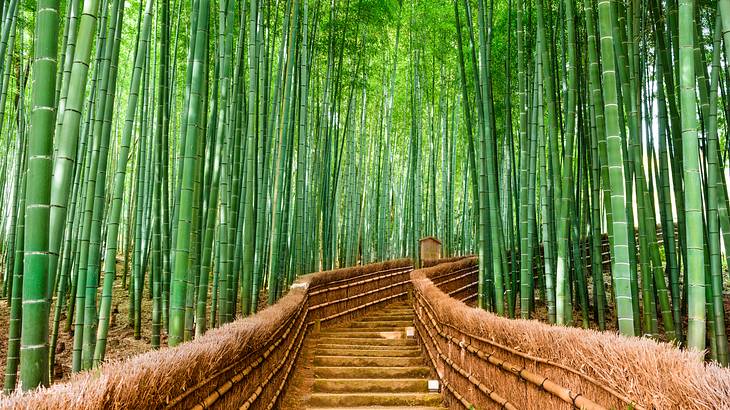 Arashiyama
Located on the western outskirts of Kyoto, Arashiyama is the second-most important sightseeing district in the city. It is approximately 30 minutes away from the heart of Kyoto, and it is a must on your Kyoto itinerary!
A popular attraction is the peaceful Arashiyama Bamboo Grove, one of the most famous Japanese landmarks. Near Tenryu-Ji Temple, Japanese myths and legends state that the forest was planted to protect surrounding temples from evil.
Additionally, the green grass is considered a symbol of strength. If in the area, you need to catch a glimpse of this massive bamboo forest. The previously mentioned Tenryu-Ji Temple is also worth a visit while in Arashiyama. It can easily be accessed through the grove either from the bamboo forest's path or the main road.
Next, check out the Sagano Romantic Train, which departs from a nearby station. This trip offers a stunning view of the Hozu River and ends in Kameoka.
The scenic views on the journey are amazing, too, especially during the cherry blossom season. This 25-minute journey on a vintage train will surely make your day!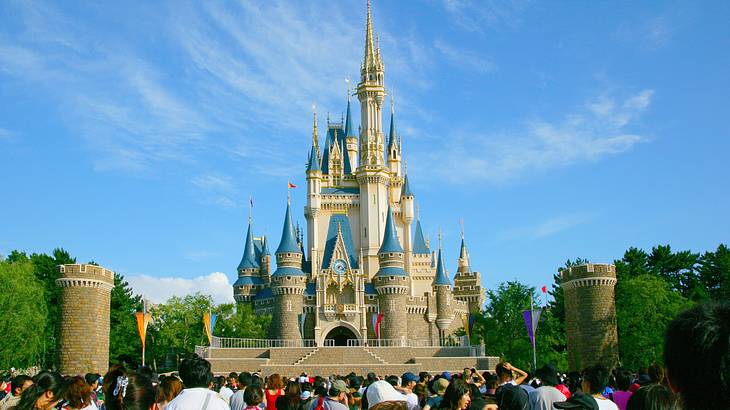 Tokyo Disneyland
Tokyo is one of the best places to stay in Japan due to the array of attractions and landmarks found in the city. One of the most popular Tokyo attractions among families is Tokyo Disneyland.
Even if you're not visiting with kids, this is a unique and fun place to travel to when you are in Japan! The world-renowned theme park is found in Urayasu, east of Tokyo. While slightly less well-known than the American and French Disneyland locations, the Tokyo edition of Disneyland is just as magical.
The theme park's atmosphere is terrific, with many rides, attractions, and of course, your favourite Disney characters. The theme park comprises six lands: Fantasyland, Westernland, Critter Country, Toontown, Tomorrowland, and Adventureland. Each land has something unique to offer visitors.
Along with rides, various shops and restaurants sell Disney merchandise and Disney-inspired food. You will also be able to see a range of fun parades.
You can head to Tokyo Disney Sea as well. This park has rides and attractions featuring Disney's most famous water characters, such as The Little Mermaid and Finding Nemo.
Tokyo Disneyland is a destination full of fun, and it is one of the top Japan famous places for you to visit whether travelling with children or with a group of adults!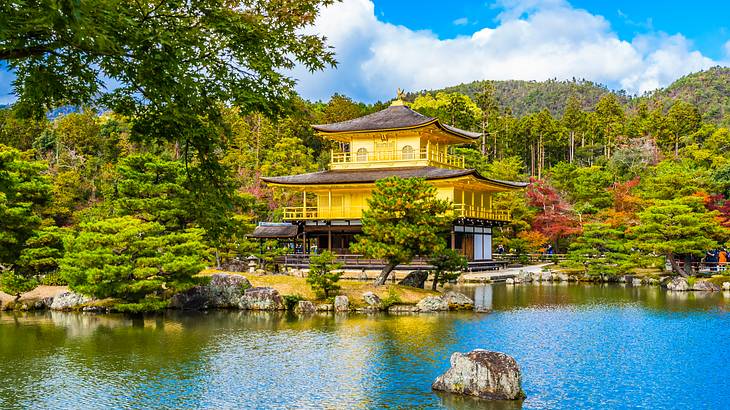 Kinkaku-ji
Zen Temples are important to Buddhists who visit them for peace and to meditate. Kinkaku-Ji, located in Kyoto, is a Zen Temple completely covered in gold.
Traditionally known as Rokuonji, the temple was previously shogun Ashikaga Yoshimitsu's villa until it was turned into a Zen Temple after his passing in 1408. The temple had also burned down a few times and was reconstructed to its current state in 1955.
Kinkaku-Ji was built to display the elegance of Kitayama culture, and each floor represents the aristocracy of Kyoto. The first floor includes wood pillars, white plaster walls, and Shaka Buddha sculptures built in Shinden style. Next, there is another golden floor built in the Bukke style. A Chinese Zen Hall inspires the third floor.
Visitors will be able to follow a path past the previous head priest's living quarters as well. This path then passes through the temple's gardens. Here, you will see popular features such as the Anmintaku Pond and many statues considered to bring luck.
Make sure you check out Sekkatei Teahouse too. This quaint teahouse is located just by the temple's exit, and they serve delicious matcha tea and sweets.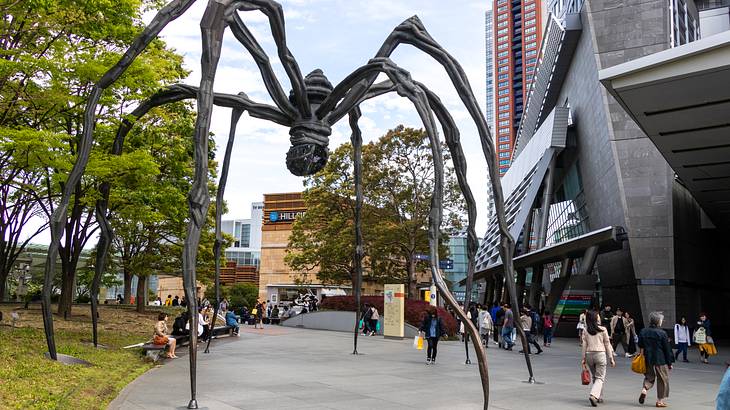 Roppongi Hills
Roppongi Hills is a commercial complex that many refer to as a city within another city. It is located in the centre of Roppongi in Japan's capital, Tokyo. The complex attracts several tourists and locals. While visiting, you will discover a vast range of shops, including clothing and jewellery stores, gift shops, and decor shops.
Having explored the shops, you can stop for lunch at one of the multiple restaurants. These include cafes, snack shops, and sit-down restaurants serving a selection of global cuisine. Another popular attraction at Roppongi Hills is the Mori Art Museum. The art museum features a range of contemporary art exhibits.
A famous installation found here is one of Louise Bourgeois' Maman sculptures, which is a large bronze statue of a spider. Lastly, you can visit the Toho Cinema. This movie theatre shows both Japanese and international films. You are sure to find a unique and exciting film to view at this movie theatre.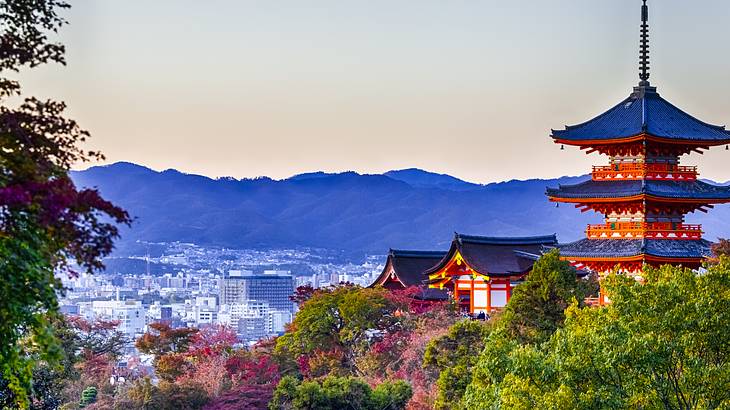 Kiyomizu-dera
Kiyomizu-Dera, one of the most famous places in Japan, is a wooden terraced temple that stands 13-meters above the ground. This terrace offers a beautiful view of the city. You will be able to see the surrounding hills as well, covered with maple and cherry trees.
The temple and the views from the temple are indeed an incredible sight. Kiyomizu-Dera is a must-visit when in Kyoto, Japan! Behind the main hall, you will find the Jishu Shrine. This shrine is devoted to the deity of matchmaking and love.
A quirky feature is the two stones placed 18-metres apart in front of the main hall. Visitors believe that if you can walk from one stone to the other with your eyes closed, you will succeed in finding love.
Next up is the Otowa Waterfall, located at the bottom of the main hall. The waters of Otowa are separated into three streams. Many believe that each stream can improve their love life, grades at school and even increase lifespan.
There are also cups attached to poles at each stream for you to drink from. Be wary that drinking from all of them is looked down upon since it will make you appear greedy. The Koyasu Pagoda is another place you can see while at Kiyomizu-Dera. Many people in Kyoto believe that pregnant women will have an easy and safe childbirth if they visit.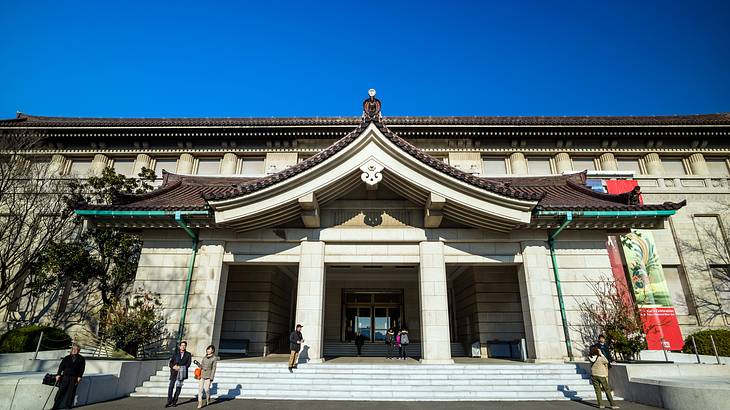 Tokyo National Museum
If you want to visit a national museum in Japan, the Tokyo National Museum should be top of your list. It is the largest and oldest museum in the county, with more than 100,00 artworks on display.
The museum additionally has the world's most extensive collection of Japanese art. This collection includes samurai artefacts, Buddhist sculptures, and ancient pottery. Tokyo National Museum has six galleries for you to explore. Each gallery exhibits artworks relating to the culture and history of Japan.
These include the Gallery of Hōryū-Ji Treasures, Heiseikan gallery, and Tōyōkan gallery, with each showcasing something unique and special related to Japanese culture. This museum is a perfect place to go if you are a lover of Japanese art, culture, and history. Or if you just appreciate stunning artworks in general.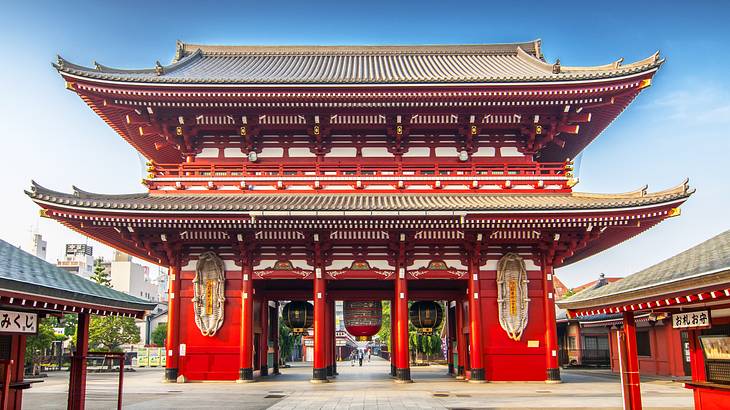 Senso-ji
Sitting in the Asakusa District, Senso-Ji Temple is one of the most famous places in Japan and is Tokyo's oldest temple. With its bright colours and stunning architecture, visitors from all around the world come to appreciate Sensō-Ji.
The construction of this temple dates back to the year 628. This is when two brothers put a statue of the goddess Kannon, also known as Guanyin, into the river.
They noticed that the statue always floated back to them no matter how many times they would do that. This was seen as a sign of luck and respect. As a result, Senso-Ji was built for Kannon and was completed in 645.
When visiting, people enter the temple through the Kaminarimon Gate, also called the "Thunder Gate." This gate is a well-known symbol of both Tokyo and Asakusa.
You can go to Nakamise as well, a shopping street that stretches over 200 metres. From traditional Japanese souvenirs to delicious snacks, Nakamise is a must-visit when you are up for some shopping. Here, some famous foods that you should try are Kaminari Okoshi, Ningyo Yaki, Kibi Dango, and rice crackers.
Along with checking out the shops here, this street takes you to the temple's second gate, the Hozomon. After you go through the Hozomon, you will find the main hall of the temple and a nearby shrine. Both were destroyed in the war and recently rebuilt.
Several events and celebrations take place in and close to Senso-Ji. One of the largest is Sanja Matsuri, which is held in May.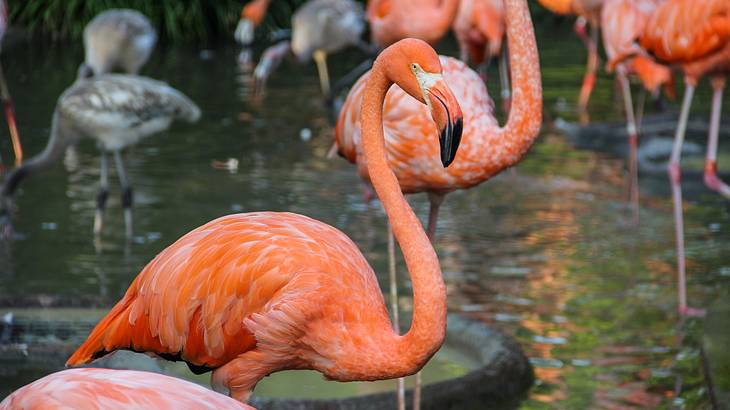 Ueno Zoo
Ueno Zoo is a large zoo located in Ueno Park, Tokyo. It was established in 1882 and is the oldest zoo in Japan. Ueno is a world-class zoo with animal and bird species from around the globe. There are many attractions in the zoo, which covers more than 14 hectares. The zoo is divided into 63 sections, with each section housing a different variety of animals.
One of the major attractions is the large mammal area. Here you will find enclosures that house gorillas, elephants, tigers, and polar bears. A few of the other animals to see include giraffes, penguins, flamingos, and lemurs.
If you are with children, there is a petting zoo too. Visitors can additionally go for a 45-minute tour of the zoo. A guide will show you around and provide more information on the animals you are seeing.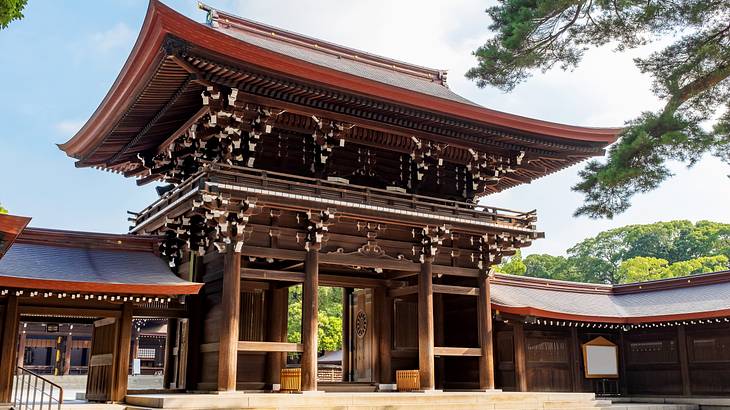 Meiji Jingu
Situated in Yoyogi in the Shibuya district, Meiji Jingu is a Shinto shrine. It was built in 1920 to honour Emperor Meiji and his beloved wife Empress Shoken.
The shrine is one of the most visited tourist attractions in the city, drawing hundreds of visitors a day. The original Meiji Jingu structure was destroyed during the second world war, but it was rebuilt shortly after.
Meiji Jingu is a trendy place to visit during the first days of the Japanese New Year. This is because visitors come here for the year's first prayers called the hatsumode. The shrine is also used to host traditional Shinto weddings.
Along with hosting festivities, one of the main attractions is the temple's forest. This forest is filled with beautiful floral decorations and over 100,000 trees.
Miraikan
Miraikan, also known as The National Museum of Emerging Science and Innovation, is one of the most visited attractions, especially for futurists and science enthusiasts. The museum was opened in 2001 and is located in Koto city.
Miraikan, when translated from Japanese, means "hall of the future". Following this theme, the science museum showcases fantastic futuristic works alongside scientific inventions.
One of the main reasons people visit the science museum is to view the A.I. powered robots. Visitors get the chance to interact with different robots that perform unique activities. The museum also has a 121 seat dome theatre which shows science-related programs daily.
The museum occasionally hosts speakers from around the world who speak about global scientific events and discoveries.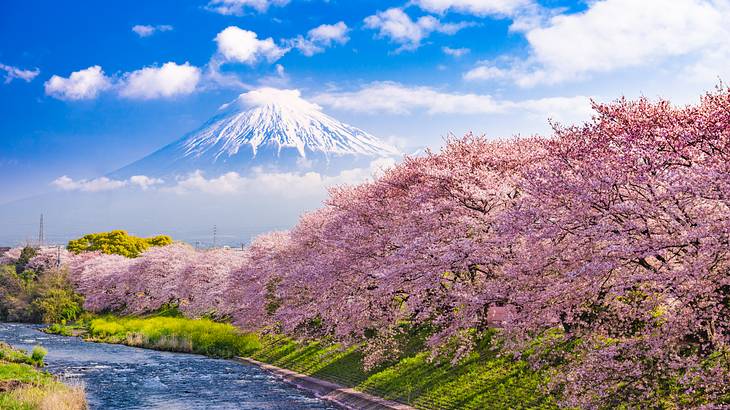 Mount Fuji
Mount Fuji, or Fujisan, is one place in Japan that absolutely must be included on your Japan itinerary. This is because it is one of the most iconic attractions in the country.
The mountain is an active volcano that last erupted during the 18th century. It is also the highest mountain in Japan and is recognised as a UNESCO World Heritage Site.
Mount Fuji is considered to be one of the three holy mountains of Japan alongside Mount Tate and Mount Haku. According to tradition, the mountains house spirits and gods. Visiting the three mountains is a great way to connect with Japanese culture and nature.
Along with admiring the beauty of Mount Fuji, you can attempt to climb the mountain if you like. The best time to do so is in July and August due to conditions being considered dangerous during the rest of the year.
If you want to reach the top, it can take five to ten hours. However, anyone who has completed the climb will tell you it is worth it!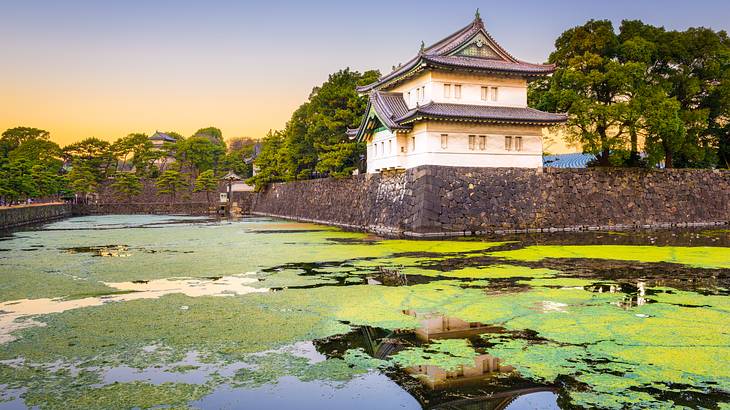 Imperial Palace
The Tokyo Imperial Palace was built in 1888 and is found on the former grounds of Edo Castle in Tokyo's Chiyoda district. The palace was destroyed during World War II but was rebuilt shortly after. The Imperial Palace is a must-visit tourist attraction and is one of the most popular Japanese landmarks in Tokyo.
Visitors to the palace are allowed to explore the parks and gardens surrounding the palace for free. Access inside the Imperial Palace, however, is mainly prohibited.
There are two occasions when you can get the opportunity to see the Imperial family, who presents themselves on a balcony. The first is on the 2nd of January for New Year Greetings, and the second is on the 23rd of December during the Emperor's birthday.
Although access is limited, you get to appreciate the stunning design of the palace and explore its beautifully manicured gardens.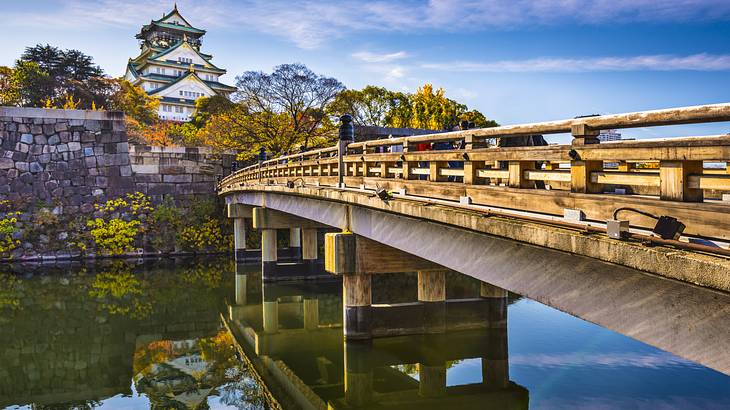 Osaka Castle
Osaka Castle is a five-story castle located in the Chuo ward of Osaka. The castle dates back to the 16th century, built in 1583 by Toyotomi Hideyoshi.
It was constructed as a way to show the strength of Japan. It was said to be the most robust building in the country at the time. Osaka Castle was destroyed during the 17th century but was rebuilt shortly after. The current structure that tourists can visit today was built between 1995 and 1997.
The building is located in the middle of a sizeable 106-hectare park. The park is a beautiful sight to see, with the historic castle standing within it. The castle was previously used as a defensive system, but today its interior has been converted into a museum.
The purpose of the museum is to help educate visitors on the history of the castle. The museum houses several artefacts that tell stories relating to the castle's history. Of course, when visiting Osaka Castle, you cannot ignore its unique architectural beauty. Many tourists come just to simply admire its incredible design.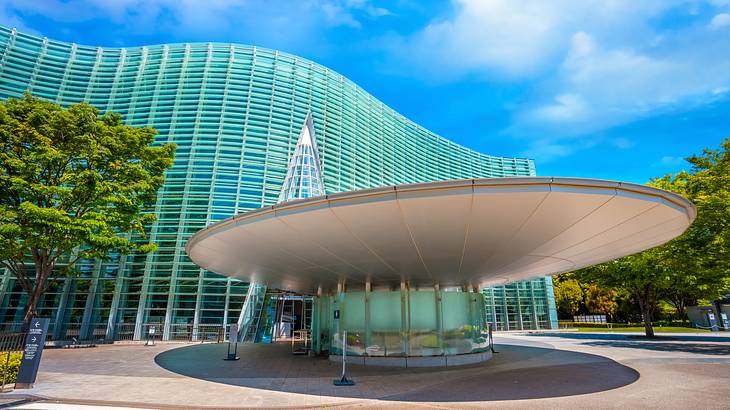 The National Art Center, Tokyo
The National Art Center, Tokyo is a modern art centre built in 2007 by Kisho Kurokawa. It is one of five art institutions commissioned in 2001 by the Japanese government.
This project was undertaken to raise awareness about the importance of arts in the country. This art centre has 15 galleries that showcase a range of different artworks.
Unlike many museums and galleries, The National Art Center does not house permanent exhibits. Instead, the galleries are used as exhibition rooms for a range of temporary displays.
Therefore, you can visit each time you are in Tokyo and will likely see different works every time. Since The National Art Center is located in Roppongi Hills, you can also stop at the Mori Art Museum while in the area.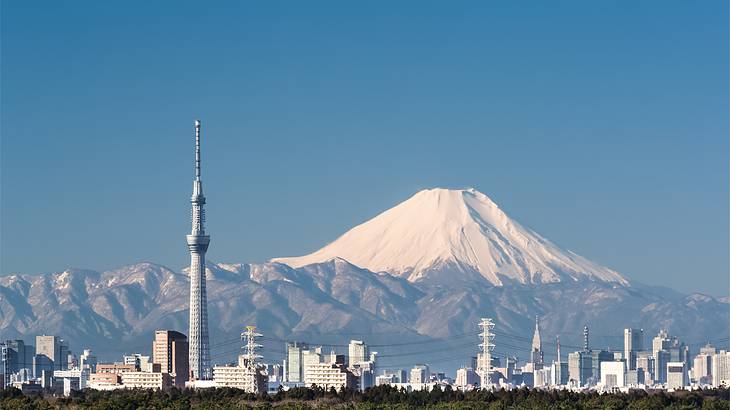 Tokyo Skytree
Tokyo Skytree is an observation tower in Tokyo. The building was built in 2012, making it one of the more modern structures in Japan.
The tower stands at 634 meters, making it the tallest building in Japan and worldwide. It is also the second-tallest structure in the world after the Burj Khalifa in Dubai.
The tower is used as a broadcasting and observation tower. Visitors can go to the viewing deck to enjoy incredible 360-degree views of Tokyo. The tower has some gift shops, cafes, and a rotating restaurant, Sky Restaurant 634, on offer. If you decide to not go inside the building, you can still enjoy its magnificence from street level!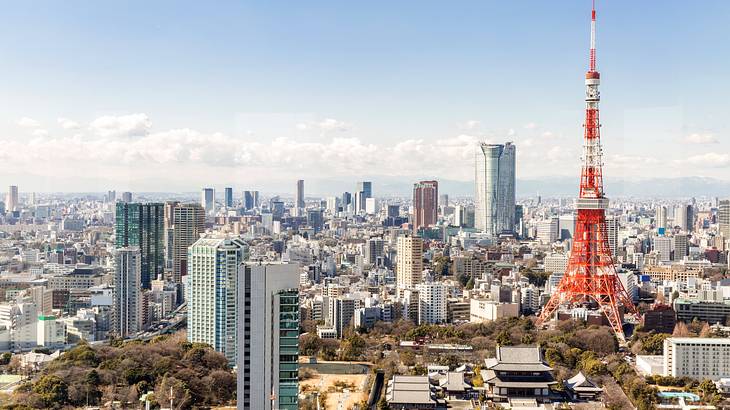 Tokyo Tower
Like the Tokyo Skytree, the Tokyo Tower is used as a broadcasting tower and a tourist site. The Tokyo Tower, which stands at 333 meters high, was built in 1958. Today, it is one of the most famous landmarks in Asia and Tokyo.
The tower is a highly cherished attraction in Japan, and you need to include a visit to it on your Japan itinerary. If you want to get some of the best views of Tokyo, heading to one of the tower's two observation decks is a must.
The main deck of the tower sits 146 meters above ground level. The top deck is located 250 meters above the ground. On these decks, you will be able to enjoy 360-degree panoramic views of Tokyo.
You can additionally purchase audio guides that offer information on the buildings you will see from the tower.
Sanrio Puroland
Sanrio Puroland is a theme park based on the Sanrio characters, the most well-known being Hello Kitty. This theme park brings the cuteness of Japanese Kawaii culture to life.
In Japan, Hello Kitty is one of the country's most famous fictional characters. This cute cat has gained fans across the globe too. If you are travelling to Japan with your children, Sanrio Puroland is the perfect place for you to spend a day. Even if you are not travelling with kids, adults are welcome!
At the park, you will be able to enjoy a range of adorable attractions and parades. There are also many shops to pick up some Sanrio merchandise and cafes serving Hello Kitty-inspired snacks. One thing to note is that the theme park is not open every day. Therefore, it is advisable to check their online calendar to determine which days the park is open.
National Museum of Nature and Science
Kokuritsu Kagaku Hakubutsukan, or the National Museum of Nature and Science, is one of Japan's most cherished museums. The museum is also one of the country's biggest museums and is located in Ueno Park.
This museum has more than 20,000 exhibits for tourists to explore. It is so large that exhibits are split between two buildings over five floors. A popular feature here is the Japan Gallery, which focuses on showcasing scientific and natural history exhibits relating to the country.
The National Museum of Nature and Science functions as a research institute as well. Along with conducting various studies, the museum preserves millions of specimens for future research.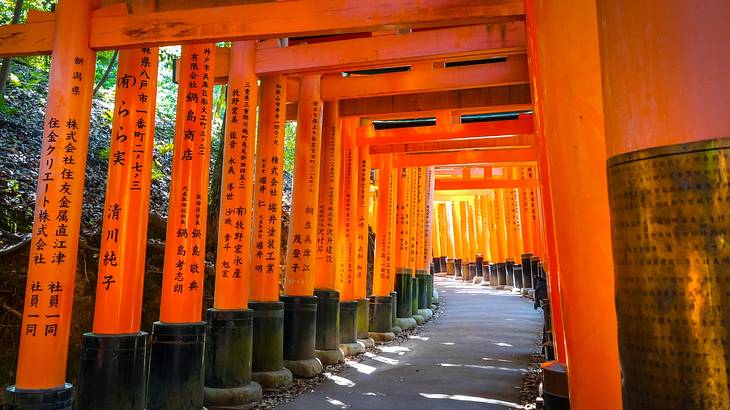 Fushimi Inari Taisha
Fushimi Inari Taisha, or the Fushimi Inari Shrine, is an important Japanese shrine located in western Kyoto. The shrine is more than 1,000 years old and is a significant spiritual location.
The shrine is dedicated to Inari Ōkami, the god of agriculture, specifically rice cultivation. Visitors will also notice several fox statues on the premises. This is because it is believed that foxes are the messengers of Inari.
A popular feature of Fushimi Inari Taisha is the vermilion torii gates. Torii gates are representations of the division between the physical world and the spiritual world. There are thousands of these gates at the shrine, making it very unique.
Besides exploring the beauty of the shrine, you can hike around Inari Mountain. The shrine sits at the base of this mountain, which features many trails offering great views. The shrine is one of the must-visit places in Japan, especially if you are a photographer or an admirer of beautiful surroundings and religious architecture.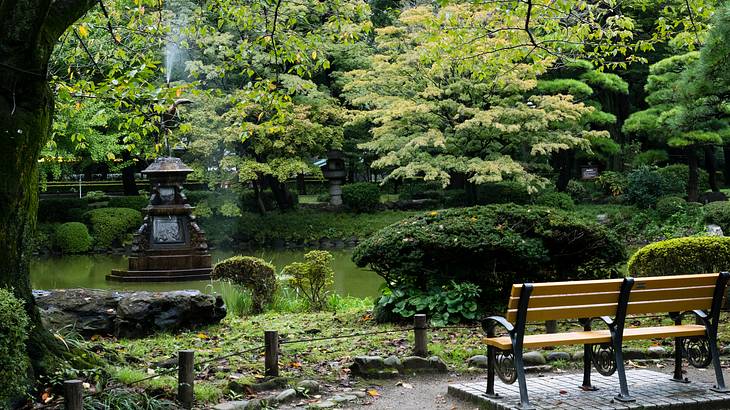 Hibiya Park
Hibiya Park is a 16-hectare public park located on the southern side of the famed Imperial Palace. It is one of the most famous natural landmarks in Japan.
The park, which opened in 1903, is the first and oldest Western-style park in Japan. Hibiya features well maintained green lawns, beautiful trees and plants, and a tranquil environment for visitors to relax in.
A notable feature is a large fountain in the centre of the park. This fountain lights up during the evening, creating a memorable experience for those that visit the park at night.
Another major attraction is the park's first western-style flower garden. This flower garden was initially installed in 1903 when the park opened. There are other attractions too, like the "Risky Ginkgo Tree," the Crane Fountain, and the Shinji Pond.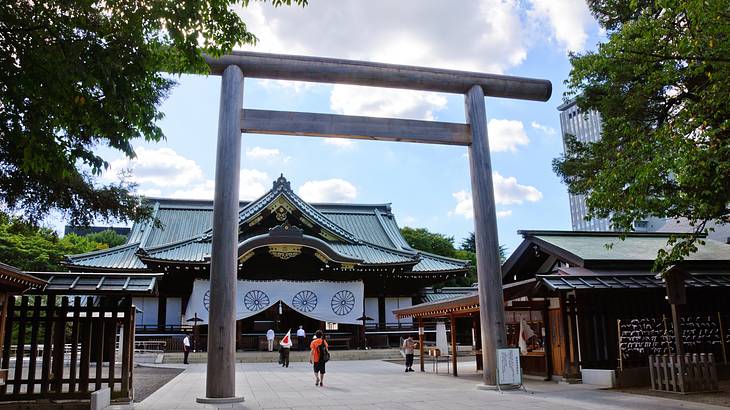 Yasukuni Shrine
Yasukuni Shrine is a shrine that Emperor Meiji built in 1869. Yasukuni, which means "country of peace", was dedicated to the more than two and a half million Japanese citizens that perished during World War II.
The shrine features the names of many of those who died, including men, women, children, and even some pets. Japan's war dead are not only remembered but they are also worshipped.
This is because, according to Japan's Shinto religion, when humans die, they are transformed into a deity. They can, therefore, be worshipped by their descendants.
As you can see, the shrine has a lot of spiritual and historical importance to Japan's citizens. Even as a tourist, a visit to Yasukuni Shrine is a great way to pay respect to those that died during the war and to learn more about Japan's history.
Sunshine Aquarium
Sunshine Aquarium is a beautiful aquarium located in the Sunshine City complex found in the heart of Tokyo. The aquarium is home to more than 30,000 aquatic creatures, including sea otters, penguins, sea lions, and many fish species.
Sunshine Aquarium offers an interactive environment where you can learn about the life of animals under the sea. The whole aquarium covers two floors, both with indoor tanks and outdoor pools.
A fun feature is the Outdoor Marine Garden, Sky Journey. This features a glass tank on top of the aquarium where you can view sea creatures swimming around with the cityscape behind them.
This is an excellent spot for both families and adult travellers to appreciate and enjoy the sea life while taking a break from the busy city.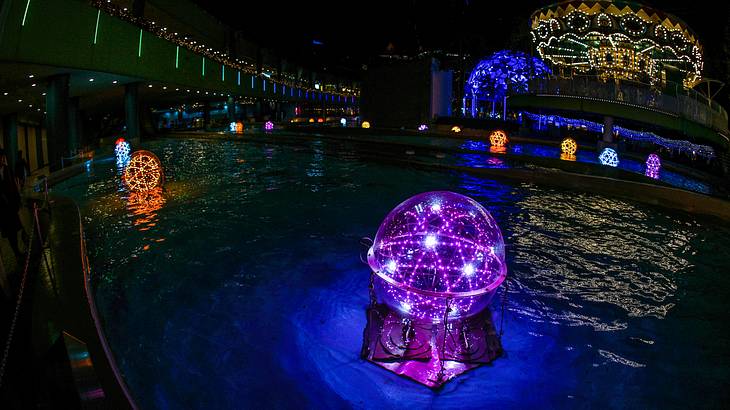 Tokyo Dome City
Tokyo Dome City is an entertainment complex located in the centre of Tokyo. The complex consists of a range of different attractions. There is a four-star hotel within the complex as well, the Tokyo Dome Hotel.
The Tokyo Dome baseball stadium is a top-rated attraction here. This 55,000 seat stadium is the home of the Yomiuri Giants baseball team. If they are playing during your visit, you should try to catch a game. Festivals and other events are held here occasionally too.
Dome City additionally has an amusement park. The park has many rides and other attractions for kids and adults to enjoy. There is also a bowling alley, Ferris wheel, and table tennis space.
If you feel like relaxing, the City Dome has something for you too! Spa LaQua, located inside the complex, has natural spring water pools and offers a range of treatments.
The complex has a range of shops and restaurants as well. Tokyo Dome City is the place to be if you want to enjoy a super fun and relaxed day in Tokyo.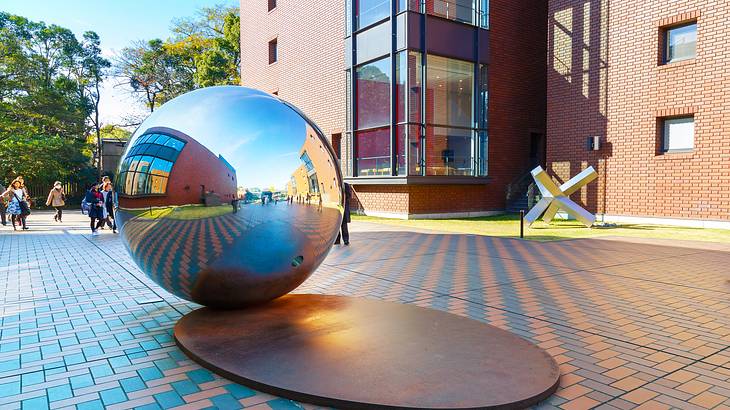 Tokyo Metropolitan Art Museum
Tokyo Metropolitan Art Museum was opened in 1926 and is Japan's first public art museum. The Museum showcases a variety of works both by Japanese and international artists. These artworks include paintings, sculptures, and ceramics, among other art forms.
The Tokyo Metropolitan Art Museum also hosts special exhibitions occasionally. With six galleries, there are many works of art waiting for you to explore! This Museum can be found in Ueno Park alongside other fantastic museums like the National Museum of Nature and Science and the Tokyo National Museum.
If you enjoy museum hopping, you can spend your whole day checking out these amazing cultural attractions.
Ryōgoku Kokugikan
Sumo Wrestling is Japan's national sport. The ancient sport, which still exists today, is loved by many. Due to the sport's popularity in Japan, it is only natural to have a sporting arena for it. The Ryōgoku Kokugikan arena is located in central Tokyo.
Ryōgoku Kokugikan was built in 1985 and can accommodate more than 10,000 people. The stadium hosts several sumo tournaments annually and puts on some musical events too. If you are in town during a sumo tournament, you should visit the stadium to witness this fascinating sport.
Ryōgoku Kokugikan also has an on-sight museum that educates visitors on sumo wrestling history. Visiting the museum offers a unique opportunity to learn more about sumo wrestling in Japan.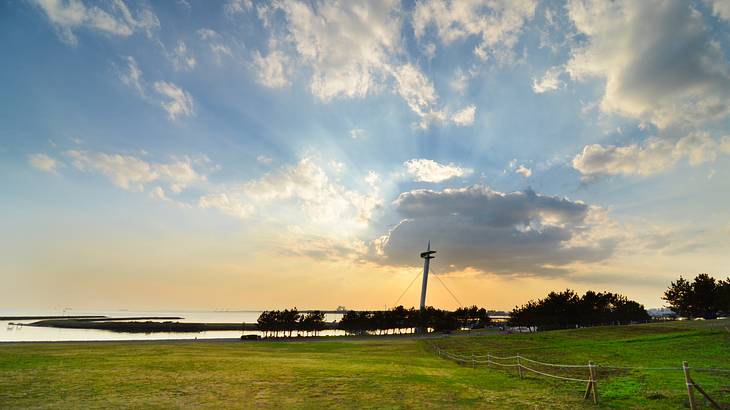 Kasairinkai Park
Kasairinkai Park is one of the largest parks in Tokyo. It covers an area of about 800,000 square meters. The park was built as a way to preserve the bay environment of the city.
Along with enjoying the relaxing green gardens and forests, the park boasts many family-friendly attractions. These include a bird garden, a Ferris wheel, a train, and an aquarium.
The Ferris wheel offers impressive views of nearby attractions like Mount Fuji, Rainbow Bridge, and Tokyo Disneyland. Along with being family-friendly, Kasairinkai Park is a perfect destination for a date when travelling as a couple. The park is a great place to spend the day when in Tokyo!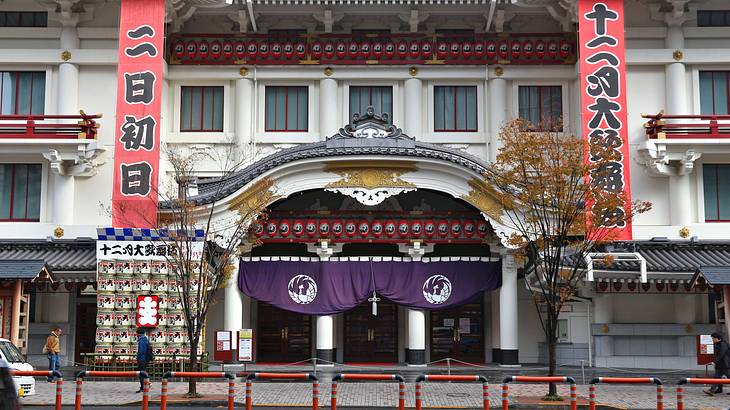 Kabuki-za Theatre
The Kabuki-za Theatre is an excellent example of what a traditional Japanese theatre is supposed to look like. The theatre is the primary venue for Kabuki shows in Tokyo and is located in the Ginza district.
A Kabuki show is a traditional performance that involves masks, kimonos, and drums. Visiting the theatre gives tourists the chance to learn and enjoy the Kabuki culture. There is also an opportunity to buy beautiful souvenirs.
Although the Kabuki-za Theatre cannot be compared to western-style theatres, watching a show there provides an experience like no other! Do note that before you travel to the Kabuki-za Theatre, it is advisable to check their calendar to see what shows are on.
Tokyo Sea Life Park
Japan has over a hundred world-class aquariums, including Tokyo Sea Life Park. This aquarium is home to more than 1,000 species of sea animals. It notably features one of Japan's largest penguin habitats, which houses three different types of penguins.
The aquarium is a dome-shaped building with many attractions for you to check out. The aquarium's primary goal is to create exhibits that closely replicate the natural environment of its inhabitants.
An excellent example of this is the Sea Life Park's 2,000-ton cylindrical tuna tank that allows the tuna to live as they would in their natural habitat.
As mentioned, the aquarium also has a large penguin exhibit with little penguins, Humboldt penguins, and rockhopper penguins. Other sea birds, such as puffins, can be found here too.
Other aquatic creatures to view include other fish like the Japanese pygmy angelfish, scalloped hammerhead sharks, and striped shore crabs. The aquarium additionally has a hands-on area where visitors get the chance to interact with certain sea creatures.
Sumida Aquarium
Sumida Aquarium is another world-class aquarium in Tokyo for you to visit. The aquarium was opened in 2012 and is located on the fifth and sixth floors of the Tokyo Skytree. It is home to more than 6,000 sea creatures.
The aquarium has exhibits featuring a variety of sea creatures, all housed in artificial seawater tanks. Just like at the Tokyo Sea Life Park, one of the major attractions of Sumida Aquarium is its penguin exhibit.
The jellyfish tank is another popular attraction in the aquarium. Other creatures to see include sea lions and an interesting tank of garden eels.
Sumida Aquarium is a great place in Tokyo to learn about and interact with various aquatic life. Due to its location in the Tokyo Skytree, you will also get an incredible view of the city while exploring the aquarium.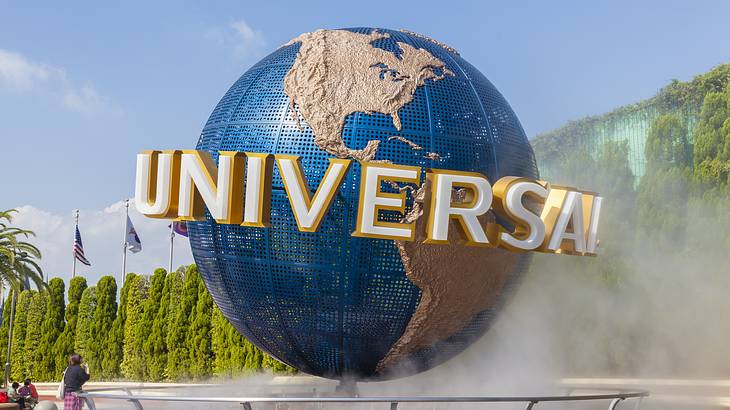 Universal Studios Japan
Universal Studios Japan is one of the most-visited attractions in the world. This well-known theme park is located in Osaka, close to Tokyo Disneyland.
One of the major attractions is the wizarding world of Harry Porter which includes a replica of Hogwarts Castle to explore. Another popular attraction is Minion Park, where you will find the 4D Despicable Me Minion Mayhem ride.
There are also various Sesame Street rides and a range of carnival games, among other attractions. Additionally, Universal Studios recently expanded its theme park to include a Nintendo World theme park.
The theme park is always crowded, so it is best to plan appropriately and make reservations before travelling. Despite it being busy, it is the place to be if you enjoy amusement parks and Universal Studios franchises and characters.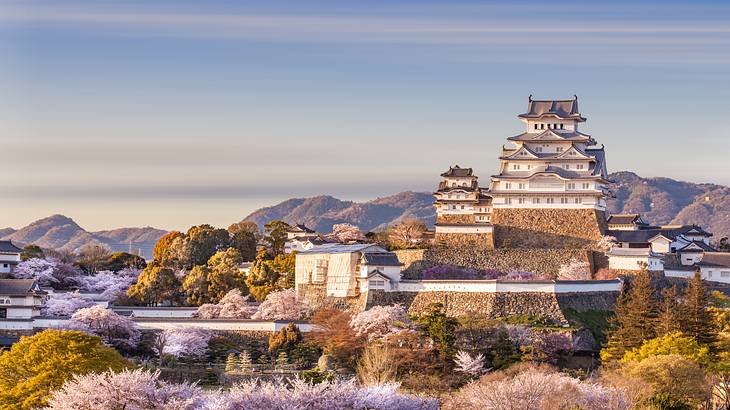 Himeji Castle
This hilltop castle in Himeji is a must-visit historical landmark in Japan. The castle was completed in the 17th century and is a prime example of ancient Japanese castle architecture.
The castle has a stunning all-white exterior complete with intricate details and many Japanese-style slanting roofs. It really is a beautiful building to see!
Once you have taken in the view, you can head inside to explore the castle. While it is not decorated, you can appreciate the interior details and several different rooms. It will take you about an hour and a half to view the whole interior.
The castle is open all year to visitors. However, a great time to visit is between March and April, when the cherry blossoms are in bloom. The fantastic castle surrounded by pink cherry blossoms makes for an incredible view!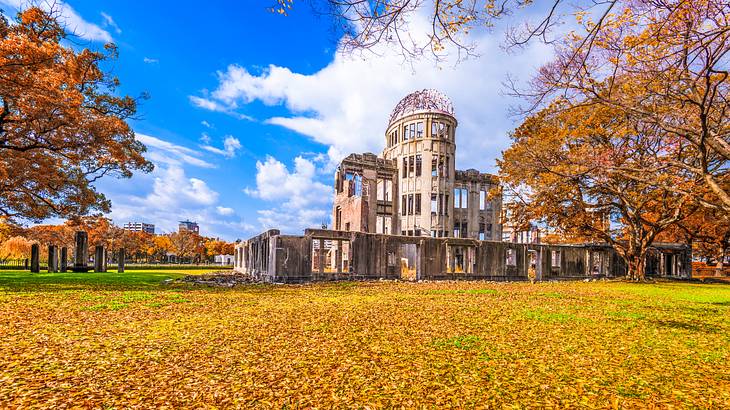 Hiroshima Peace Memorial Museum and Park
The Hiroshima Peace Memorial Museum and Hiroshima Peace Memorial Park commemorate those affected by the dropping of an atomic bomb on Hiroshima in 1945. These Japan monuments and landmarks should additionally educate visitors on the tragedy of the bombing and the lessons to be learned.
The museum features a range of exhibits, including those displaying clothing and other belongings found after the bombing. There are also exhibits on the lead-up to the bombing. These include letters between President Truman and others involved in planning the bombing.
Having explored the museum in full, you can wander around the park. This memorial park features beautifully manicured gardens and monuments, and displays remembering the dead.
A prominent feature in the park is the Genbaku A-bomb dome. This building was known before the bombing as the Prefectural Industrial Promotional Hall. It predominantly survived the bombing despite being in central Hiroshima. The A-bomb dome was named a UNESCO World Heritage Site in 1996.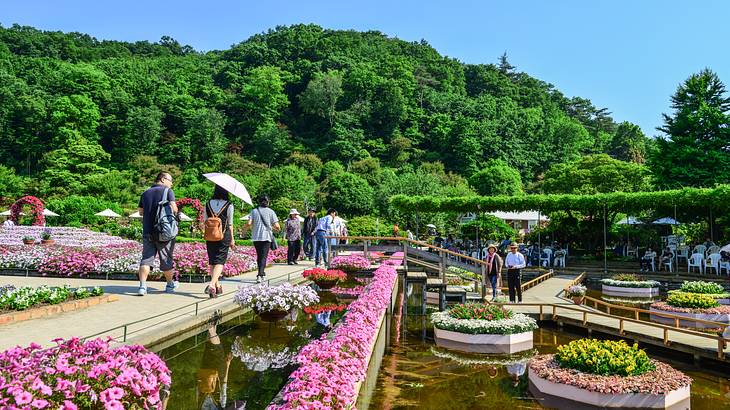 Ashikaga Flower Park
The Ashikaga Flower Park features beautiful gardens and a range of seasonal displays. Interestingly, the park is also the largest wisteria garden in all of Japan, with over 350 wisteria trees in the gardens.
Along with the pretty pink blossom wisteria trees, you can see an array of other stunning plants and flowers. Gardens to explore include a purple garden, rainbow garden, and water lilies garden. There's also an exciting "Flower Garden of Lights" illuminations display to view.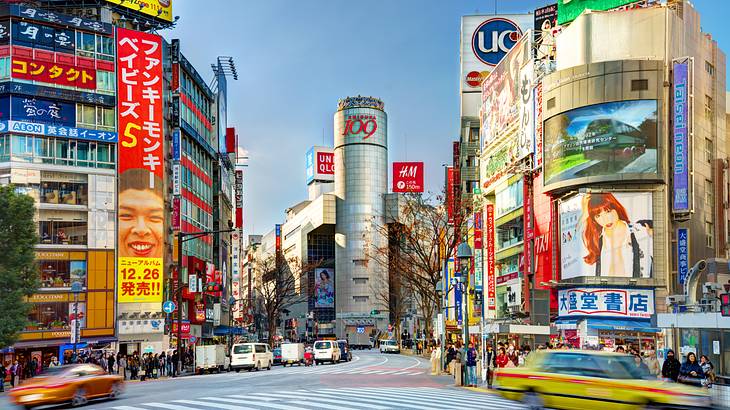 Shibuya Crossing
Shibuya Crossing, or Shibuya Scramble Crossing, is one of the many famous landmarks in Tokyo. This vast intersection is one of the busiest in the world that sees up to 400,000 pedestrians pass through each day. Like Times Square, the Shibuya Crossing has many billboards and illuminated signs that tourists flock to see.
As well as being a tourist hotspot, the intersection has featured in numerous movies. These films include Lost in Translation and The Fast and the Furious.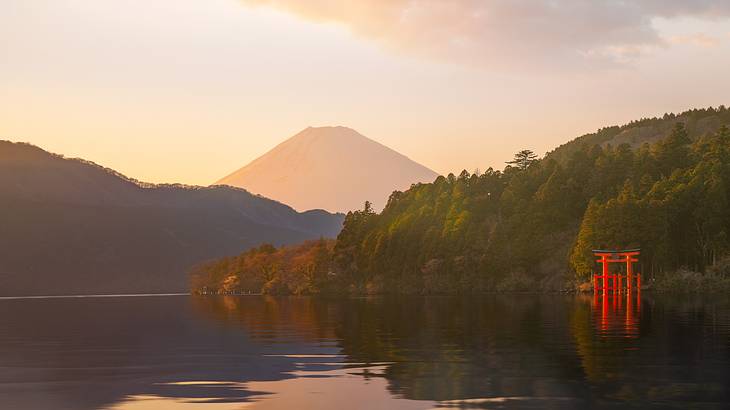 Fuji Hakone Izu National Park
One of Japan's most famous parks is Fuji Hakone Izu National Park. The 1,227 square kilometer park is home to Mount Fuji and the Fuji Five Lakes. Hakone, the Izu Peninsula, and Izu Islands are also found within the park.
Going to Fuji Hakone Izu National Park is a must when in Japan. When visiting, you can hike a range of trails, take a cable car, and see the many natural landmarks within the park boundaries.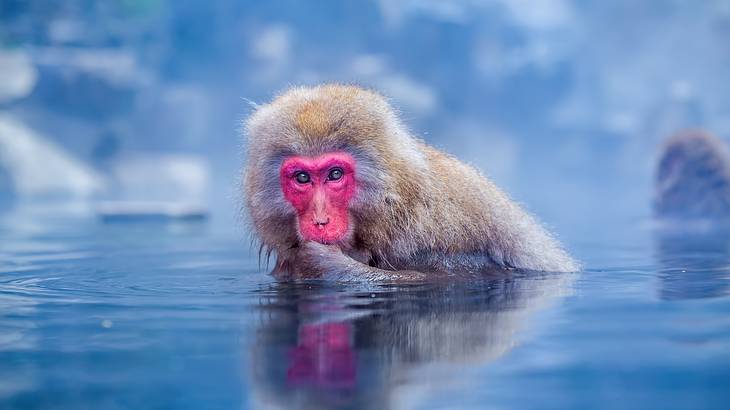 Jigokudani Monkey Park
Located in Nagano Prefecture, the Jigokudani Monkey Park is home to an array of snow monkeys, also called Japanese macaque. The monkeys wander the park freely, and you can spot them on trails, in trees, and relaxing in hot springs!
The park also acts as an ecological reserve that protects the monkeys and their habitat and allows visitors to view these sweet creatures in a safe and sustainable setting. You can easily reach the monkey park from Tokyo, and visiting is an absolute must for animal lovers.
In Conclusion
Japan is an amazing country to visit with many great attractions and famous landmarks to see. No matter which area of the country you travel to, you will find a vast range of historical and cultural landmarks. This includes temples, palaces and castles, museums, and more.
If you enjoy more modern attractions, there are lots of contemporary and entertainment-based Japanese landmarks as well. There is truly something for everyone, from aquariums and zoos to world-renowned amusement parks and observation towers!
Hopefully, these Japan travel tips outlining the country's best landmarks will help you plan an incredibly memorable trip.
---
---
Want to keep exploring?
Subscribe for discounts on tickets and hotels and our latest guides.
Thank you for subscribing
We will be in touch soon with discounts on tickets and hotels and our latest guides.
Want to keep exploring?
Subscribe for discounts on tickets and hotels and our latest guides.
Thank you for subscribing
We will be in touch soon with discounts on tickets and hotels and our latest guides.
Related Articles