2 Days in Queenstown Itinerary - A Weekend Guide
Destguides may receive commissions from purchases made through affiliate links in this article.
When visiting New Zealand, you can't leave without paying a visit to Queenstown, also known as the adventure capital of the world. That's right, Queenstown is a lot more than just a pretty little town by the lake as you can do basically any extreme sport that you can think of here (jet boating, water rafting, bungy jumping, the list goes on!).
Queenstown's breathtaking scenery alone already makes visiting it worthwhile. Still, when you add in its buzzing nightlife and all the awesome activities you can do here, it should be put at the top of your New Zealand bucket list.
In this post, we'll tell you some more about Queenstown and give you some suggestions on how to spend a fun-filled 2 days in Queenstown - an immensely popular city alongside Auckland. To follow this Queenstown itinerary, you will need a car to get around.
Queenstown 2 Day Itinerary
Queenstown 2-Day Itinerary Video
Check out our highlights video of the stops covered in this Queenstown itinerary.
Queenstown 2-Day Itinerary Map
A map of Queenstown. Use the map to explore all the days and stops.
Adrenaline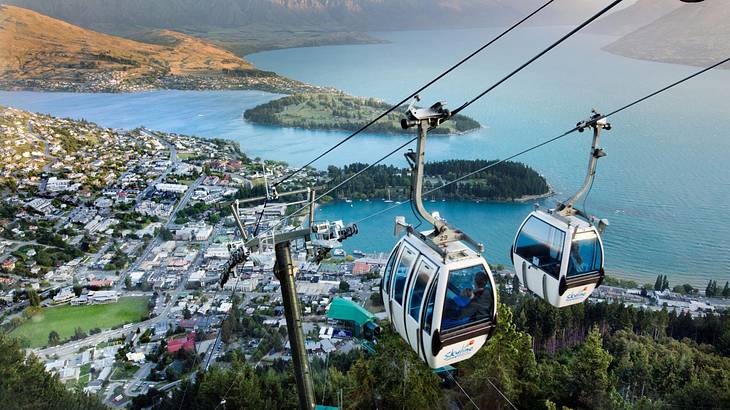 Your first day in Queenstown will include what Queenstown is most famous for; adrenaline activities, Ferg Burger, and its nightlife. Make sure you start your day early because this day will be packed with the best that Queenstown has to offer.
Shotover Canyon Swing
Queenstown is the birthplace of bungee jumping, and you can do the same jump that started it all with AJ Hackett Bungy, but for an even bigger thrill, we recommend going for the Shotover Canyon Swing instead.
Situated on top of a 109-metre-high cliff, the Shotover Canyon Swing is the world's highest cliff jump. Once you've mustered up the courage to jump, you first go down in a 60-metre free fall to then swing for 200 meters through the Shotover River Canyon.
To make things even more exciting, your instructors (or Jump Masters as they call them) will encourage you to jump off in the funniest or most exhilarating way you can think of. Like tumbling backwards off the edge of a plastic garden chair, or cycling off the cliff on a kid-sized tricycle. Now if that isn't kickstarting your weekend in Queenstown, not sure what is?!
Fergburger
After all that excitement, you've probably worked up an appetite, and Fergburger is the perfect place to grab some grub. Fergburger was a 3x3 metre hole in the wall when it first opened in 2001. Its delicious burgers quickly became popular among the locals, but it wasn't until Lonely Planet proclaimed it to be the best burger joint in the world that business really took off.
Nowadays, they're located in the town's centre, and during peak hours, the queue just to get in and order a burger can take an hour, but everyone that has tasted their burgers says that it is worth the long wait.
To skip the queues, you can order online, and then pick up your order when it is ready. Alternatively, we recommend the Fergbaker next door, which serves equally delicious pastries and pies.
Drive to Glenorchy
Queenstown is located on the banks of the stunning and massive Lake Wakatipu, but it isn't the only town by the lake. On the northern end of Lake Wakatipu lies the small town of Glenorchy.
While Glenorchy itself is a very picturesque place, it is the drive from Queenstown to Glenorchy that's the main attraction here. The ride, which takes about 45 minutes without stopping, winds its way next to the blue lake, up and down along cliff edges and through the forest. You will get incredible views over the lake and of the surrounding snow-capped mountains.
The drive will probably take you quite a bit longer than 45 minutes because you'll want to stop often to admire the view. It is honestly one of the most scenic drives in New Zealand!
Dart River Adventures
Glenorchy lies next to the mouth of the Dart River. This shallow river gets fed by melting water from snow and glaciers on the mountains and runs a little bit different every year. Because this river is so shallow, most boats will ground on the rocks in the river, but jetboats won't.
Jet boats are also extremely fast and agile, and going for a thrilling jet boat ride up the Dart River while admiring the beautiful alpine landscapes around you is the perfect addition to your already adrenaline-fuelled day.
Steak and Craft Beers at Atlas
After driving back to Queenstown, it will most likely be close to dinner time. If you like steak and craft beers, you're in for a treat because this is exactly what Atlas Beer Café does extremely well.
This cafe is a great place to relax for a bit after all that excitement while enjoying some good food and one (or more) of their many delicious craft beers.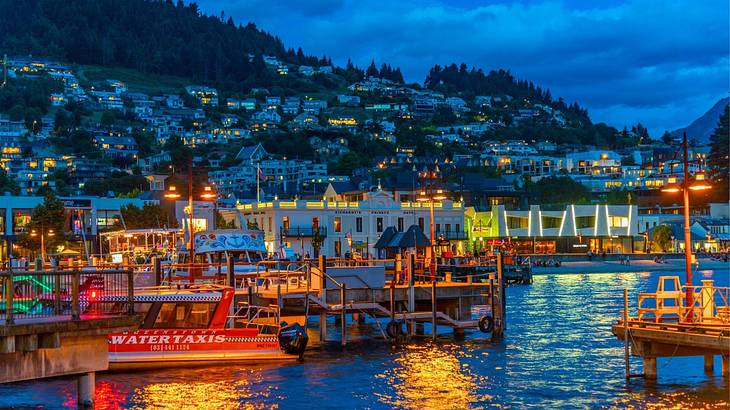 Nightlife in Queenstown
Besides being the adventure capital of the world, Queenstown is also well known for its buzzing nightlife. There are several organised pub crawls that take you to some of the most popular bars and clubs in the city, but if you don't feel like partying amidst the backpackers, you can easily have a fun night out by yourself too.
Check out Harry's Pool Bar for an easygoing place to have a drink at and play some pool, World Bar for live music and good beers, Perky's Floating Bar for a bar literally on the deck of a docked ship, the Bunker for excellent cocktails, and finally, Loco Cantina for the best clubbing.
Sightseeing and Relaxing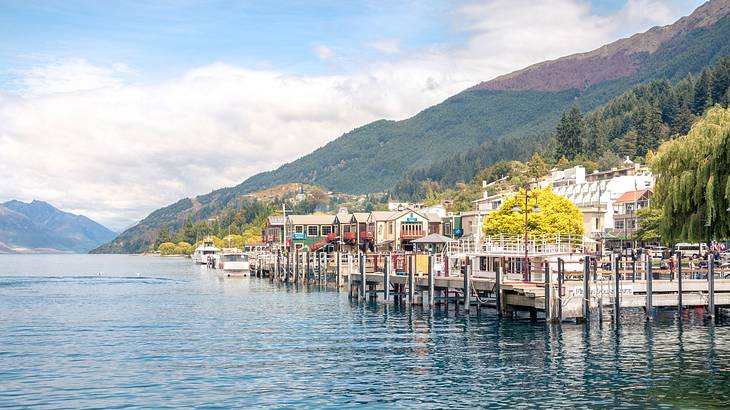 Your second day in Queenstown is about relaxation and seeing more of Queenstown. After the first day full of excitement, you surely won't mind sleeping in a bit, which is fine because this day is all about leisure. You'll eat at some great eateries and see more of the town's breathtaking scenery.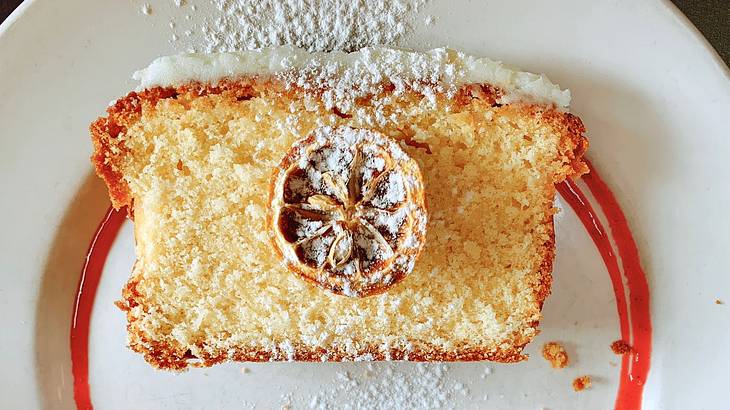 Brunch at Vudu
After a good sleep-in, you will need some food. Brunch culture is big in New Zealand, and Vudu Cafe & Larder is the place to go for brunch in town. This award-winning café uses fresh, local, and organic ingredients for all their delicious meals, and their coffee is excellent too. No matter what you pick from their menu, you're guaranteed to be in for a treat!
Skyline Gondola
It is time to admire some more of Queenstown's incredible scenery, and the easiest and fastest way to do that is to take the Skyline Gondola 450 meters up to the top of Bob's Peak. From the viewing platform, you get a stunning panoramic view of Lake Wakatipu, Coronet Peak, The Remarkables and Queenstown.
The top of the gondola is also the beginning of a world-class downhill mountain biking park, the start of the rewarding Ben Lomond day hike, (a very popular South Island hike), and the launching point for a luge track, which is a must-do since you're up here already.
Luging is going down a track on a small gravity-powered sled, and we can tell you from personal experience that it's a lot of fun!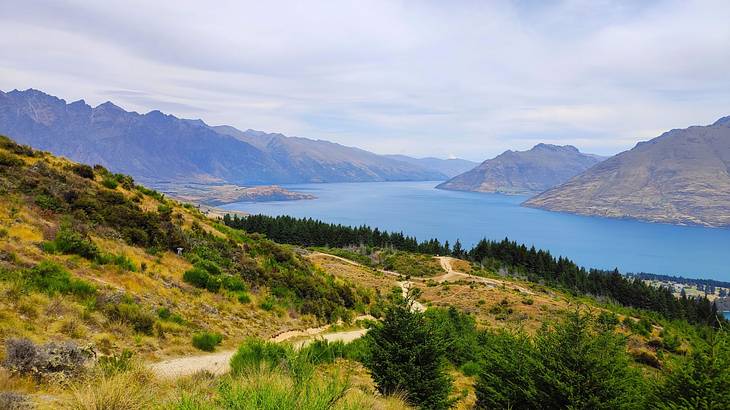 Walk up Queenstown Hill
If you like walking in nature, we recommend walking up Queenstown Hill. The hill lies on the northwestern side of town, and the top stands 907 meters above sea level. A two-hour return walk takes you up 500 meters of elevation through the forest to the summit.
At the top, you are rewarded with sweeping views of Queenstown's main landmarks. The walk requires moderate fitness, but the views are definitely worth it.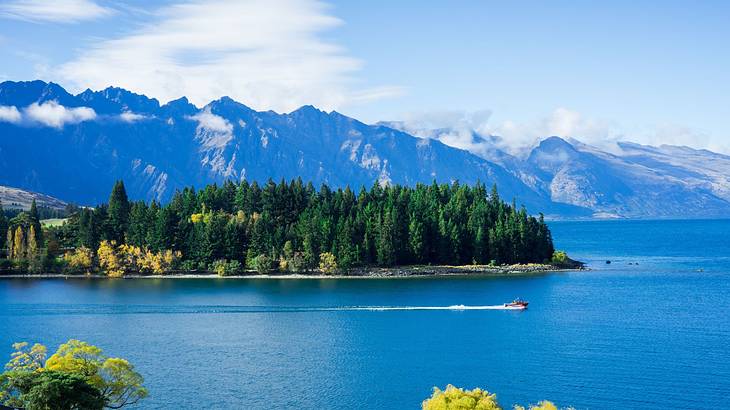 Dinner at Bazaar
Bazaar is a semi-chic restaurant on the top floor of the majestic Rydges Lakeland Resort overlooking Lake Wakatipu. At Bazaar, they have completely redefined buffet-style dining. Forget mediocre food that has been sitting in their trays for far too long.
Instead, imagine everything being fresh and nothing sitting in a tray for more than five minutes. Or, delicious slices of meat grilled right in front of your eyes and pasta made just for you.
Dinner starts with your hostess guiding you to meet all the cooks at their designated food stations, to then seating you at a table of your choosing. We highly recommend going for a meal by the window so you can enjoy both their delicious food and the gorgeous views at the same time.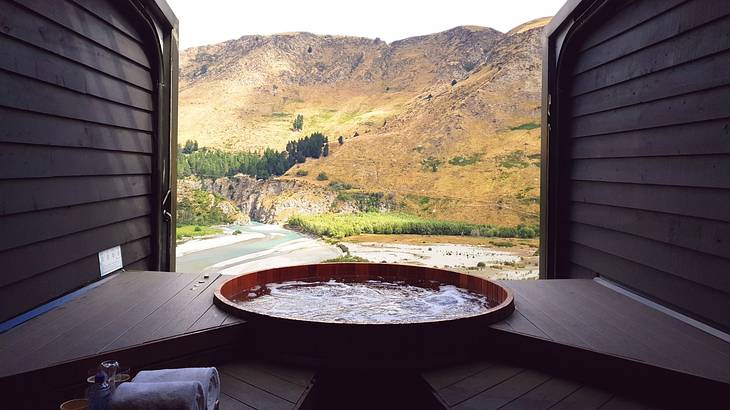 Onsen Hot Pools
After the walk and all the adrenaline of the previous day, you can surely use a bit of relaxation. This is where Onsen Hot Pools come in. Onsen Hot Pools is a boutique luxury spa, and they know relaxation like no other.
Their cedarwood hot tubs overlook the Shotover River (yes, the same river that you dangled over on the Shotover Canyon Swing!), and make for an insanely picturesque setting. If you want a new Instagram photo that will make all your friends jealous, then this is the place.
We can't think of a better way to end your Queenstown weekend than by watching the sunset, and afterwards, the clear night sky from a hot pool.
Conclusion
Two days in Queenstown is just enough time to get a good taste of the city, but it will undoubtedly leave you thirsty for more. Many of the activities we mentioned above are popular tourist attractions in Queenstown, which is also always busy no matter the season, so booking your activities in advance is recommended.
By following this Queenstown itinerary, you'll discover that Queenstown truly is a place like no other, with plenty of exciting things to do and beautiful nature spots that will make you want to stay and explore for months.
So what are you waiting for? Start planning your Queenstown trip today to tick it off your travel bucket list (and then to put it back on there straight afterwards)!
Looking for more suggestions on places to visit in New Zealand? Have a look at these other New Zealand tourist traps that you shouldn't avoid.
Give us feedback about this article
More articles about Otago:
Read more articles about New Zealand:
---
---
Want to keep exploring?
Subscribe for discounts on tickets and hotels and our latest guides.
Thank you for subscribing
We will be in touch soon with discounts on tickets and hotels and our latest guides.
Want to keep exploring?
Subscribe for discounts on tickets and hotels and our latest guides.
Thank you for subscribing
We will be in touch soon with discounts on tickets and hotels and our latest guides.
Related Articles