Where to Stay in Oslo? 8 Best Places to Stay in Oslo
Destguides may receive commissions from purchases made through affiliate links in this article.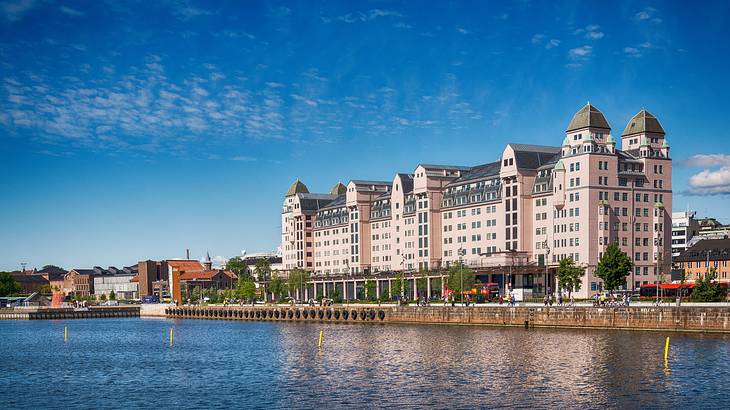 As Norway's capital, Oslo is a city full of history and culture that's well worth experiencing. However, planning your trip to this Scandinavian gem starts with figuring out where you'll be staying.
Staying in the downtown area is an excellent option if you're planning on doing a lot of sightseeing. On the other hand, Oslo's older districts have a more authentic ambiance that lets you fully immerse yourself in Norway's culture.
No matter what sort of traveler you are and what your budget might be, there's a place to suit your vacation needs. Keep reading to get one step closer to deciding where to stay in Oslo!
8 Best Places to Stay in Oslo
Oslo Places to Stay Video
Check out our highlights video of Oslo places to stay.
Oslo Places to Stay Map
A map of Oslo. Use the map to explore all the places to stay.
Best Areas to Stay in Oslo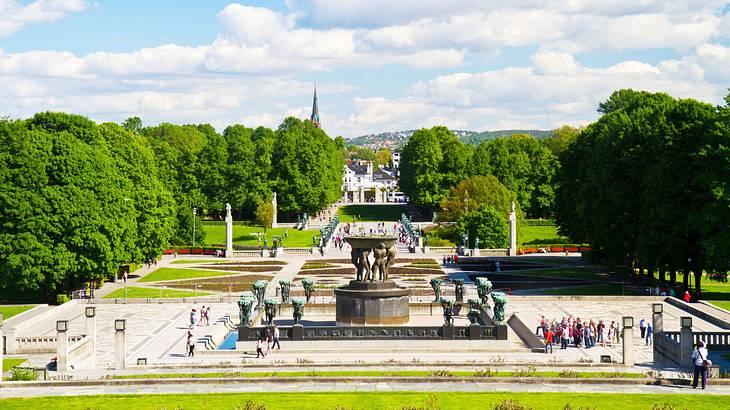 Majorstuen
If you want to overnight somewhere peaceful while you travel, Majorstuen is the best area to stay in Oslo. Known for being one of the city's most affluent districts, you won't have any trouble finding places to shop, eat, or stay while you're here.
This neighborhood is particularly known for its parks. One of the most popular is Vigeland Sculpture Park, an open-air museum with art installations that change periodically. Frogner Park is another must-visit spot and is one of the largest green spaces in the Oslo. History fans can also visit the nearby Oslo City Museum to learn about the local culture.
During the day, Majorstuen can get busy with foot traffic, especially in the shopping area. However, excessive crowds are rare, so you don't have to worry about long wait times or loud noise from big groups of people. It's also a secure neighborhood, so if you end up getting back to the area late, you can walk around safely.
That comfort does come with a cost, though. Hotels in this area tend to be on the pricey side. Therefore, tourists on a strict budget might not find too many options.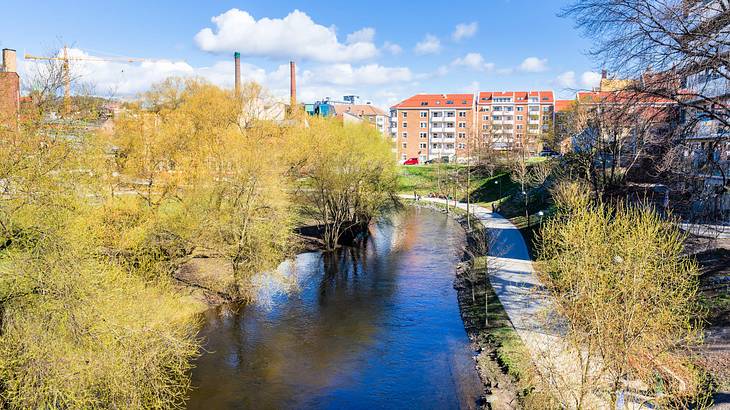 Grünerløkka
If you're a fan of laid-back, artsy neighborhoods, Grünerløkka is the best area of Oslo to stay. Known locally for its eclectic ambiance, you can spend days trying out different cafes, looking for street art, and visiting dance clubs. There are even walking trails that take you through green park spaces along the Akerselva River.
Grünerløkka's eclectic nature makes it a great district for young and solo travelers. However, families also appreciate its security and general affordability. Though the neighborhood doesn't have many landmarks, it's well-serviced by public transportation, so you can easily reach areas with better sightseeing. It's also within walking distance of quite a few sites.
For example, the Botanical Garden is the oldest in Norway and is located about 15 minutes away on foot from the center of Grünerløkka. Art fans can take the bus or a taxi or walk the three-mile distance to Vigeland Park to admire the art installations and sculptures. The Oslo National Museum is also just a few miles away if you want to learn more about Norway and its capital.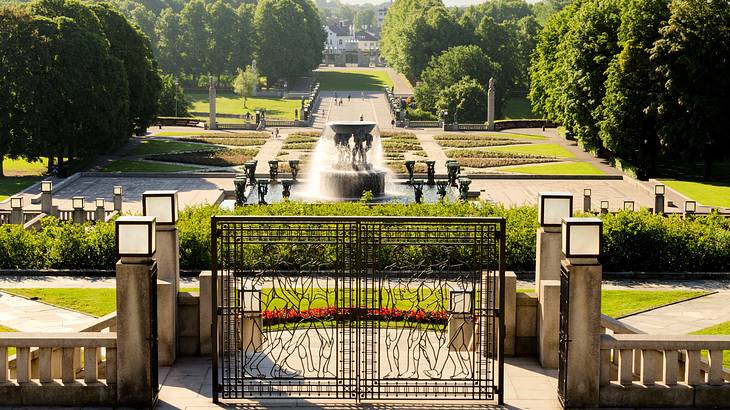 Frogner
Frogner is one of the most expensive neighborhoods in Oslo, but it also offers a lot of comforts that make it a popular place for tourists. The borough has multiple retail districts with shops and restaurants, so it's convenient for people staying in the area. It's also a very safe place for families with small children or solo travelers who are nervous about being in a new country.
Frogner additionally has its fair share of sites worth seeing. The most famous is made up of two sites, Frogner Park and Frogner Manor, which give the area its name. The park is an excellent spot for picnics or a relaxing stroll, while the manor is home to the Oslo City Museum.
In fact, this area is perfect for museum lovers since the ferry to the Bygdøy peninsula is located here. On the peninsula, you can explore the Viking Ship Museum, the Norwegian Folk Museum, and the Kon-Tiki Museum, which houses artifacts from its namesake ship's journeys.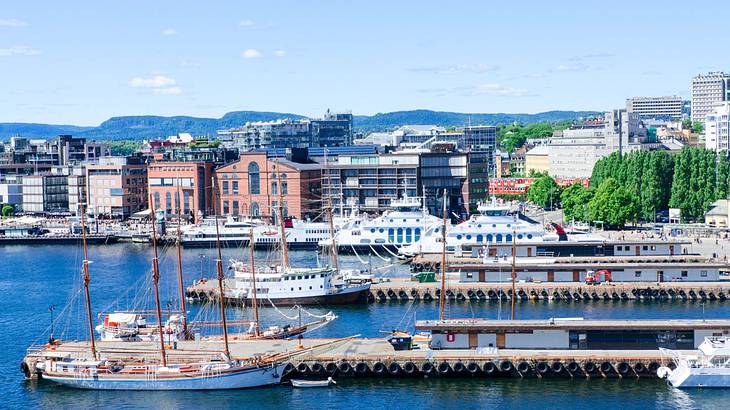 Aker Brygge
Located in Central Oslo, Aker Brygge is known for its high-end restaurants and shops. While this area can get busy during the day, most of the tourist crowds tend to leave in the evening. That's because Aker Brygge is known for being one of the most expensive neighborhoods in Oslo, so visitors tend to avoid booking accommodations there.
However, if you have room in your budget, Aker Brygge is a great spot for foodies and group trips with friends. You can spend your days exploring local sites like the Astrup Fearnley Museum of Modern Art and the Nobel Peace Center or take a ferry to the Oslo Fjord.
In the evening, you can check out the bars and culinary offerings. In particular, you'll notice a lot of Norwegian and French restaurants, though there are also burger places and steakhouses if you're traveling with pickier eaters.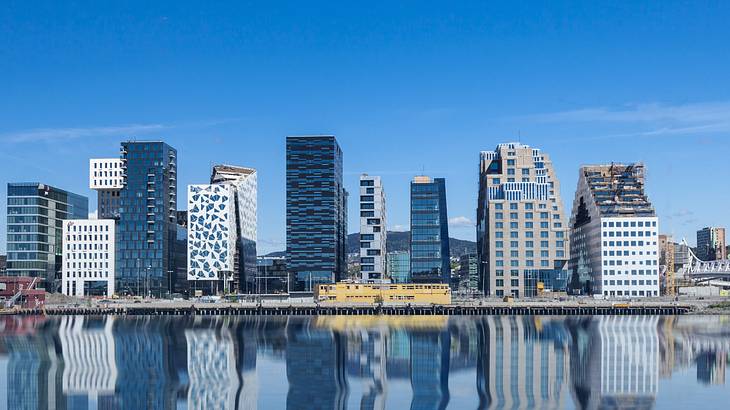 Sentrum (City Centre)
For many locals, Sentrum is the best area in Oslo to stay. As the downtown district, it's the busiest and most lively part of the city. While many of the buildings in this part of Oslo are new and modern high-rises, it's also near some of the most important monuments. The Akershus Fortress is less than a mile away, as is the Royal Palace.
If you love performance arts, the Oslo Opera House can also be found next to Sentrum in Bjørvika's harbor. The Munch, an art museum, is by the water as well, turning this part of the neighborhood into Oslo's cultural center.
Sentrum is additionally one of the most well-connected areas in the city. It's well-serviced by public transport, and you'll have numerous shopping, restaurant, and hotel options. However, lodging can be a little more expensive in this part of Oslo, so it may not be the best choice for those on a very tight budget.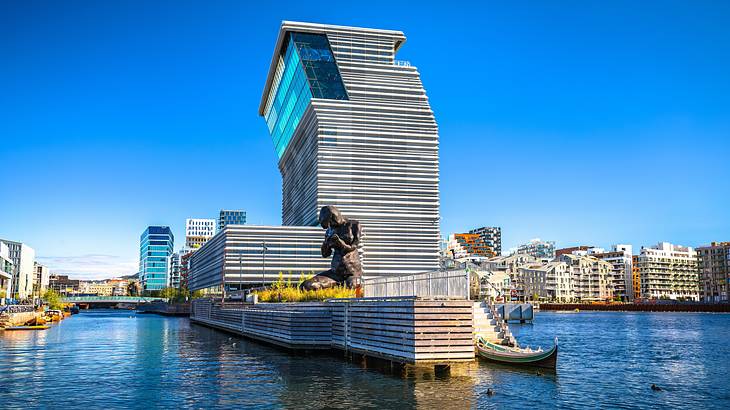 Gamle Oslo (Old Oslo)
Gamle Oslo is located in the heart of the Old City. This area is known for its multiculturalism and authentic ambiance. Since this neighborhood isn't quite as curated toward tourism as other areas, prices for accommodations tend to be a little lower here.
Within this "Old Oslo" district are 11 distinct neighborhoods and 10 small islands, so you're bound to find a place to suit your budget and travel needs.
Not only is this an excellent place for budget travelers to stay, but it's also a good option for those planning a short trip to the area. That's particularly true if you plan on taking the train in and out of the area since the Oslo Central Station is nearby.
Additionally, many of Oslo's sites are within walking distance of the Gamle Oslo area. These attractions include the Munch art museum, the Oslo Botanical Garden, and Medieval Park.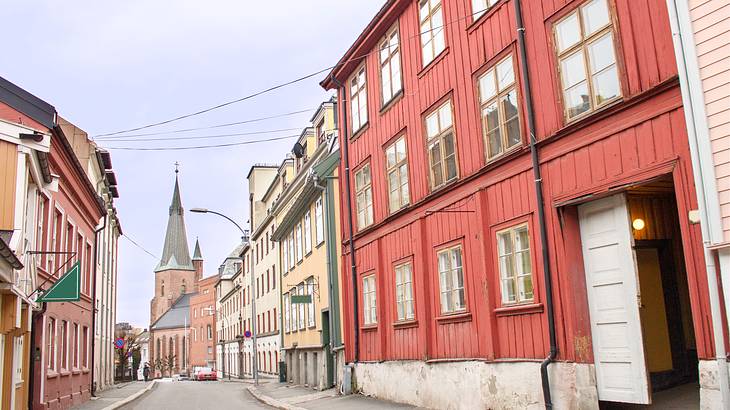 St. Hanshaugen
St. Hanshaugen is the best location to stay in Oslo if you want to have a leisurely vacation full of walks in the park and immersion in Norwegian culture. The area is most well-known for its namesake park, which is the oldest in the city. Thanks to its hilly landscape, you can also get some great views of the Oslo skyline from here.
St. Hanshaugen is becoming a food lover's haven as well. Numerous independent restaurants and cafes have opened in recent years that mix flavor trends with typical local cuisine. You'll even find an array of vegan-friendly food options in this area.
Though the park and eateries can get busy, it's usually a safe, affordable, and family-friendly district. So you can feel comfortable staying here even if you're traveling with kids. Just make sure you feel up to navigating the public transportation system because parking in the area is very expensive.
St. Hanshaugen is also home to the Oslo Reptile Park, a favorite among kids, and other sites are within walking distance. For example, just a two-mile walk will get you to Oslo City Hall, and the less-crowded Stensparken is less than a mile away.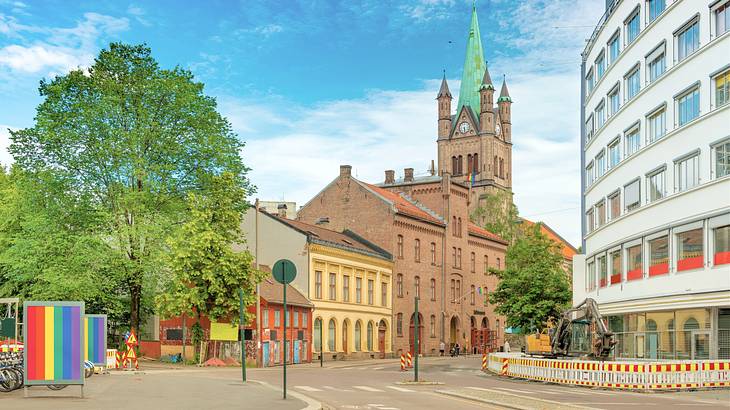 Grønland
Located in the heart of Oslo, Grønland is a bustling multicultural neighborhood that has something for nearly any kind of traveler. Foodies love the street food, pubs, and bakeries that line the streets.
Additionally, fashion lovers can spend hours walking around the nearby Grønland Basar shopping mall. Night owls can even dance for hours at one of the area's clubs or at a concert at Spektrum Arena.
Grønland is also a budget-friendly option for people who want to explore other areas. You can find cheap hotel options all year, even during the summer tourist season.
The neighborhood is well-serviced by public transportation, and you can walk to multiple nearby sites. For example, one of Norway's most famous landmarks, the Oslo Opera House, is less than a mile away. Grønland Church, one of the largest in the city, is also located in the neighborhood.
Where to Stay in Oslo, Norway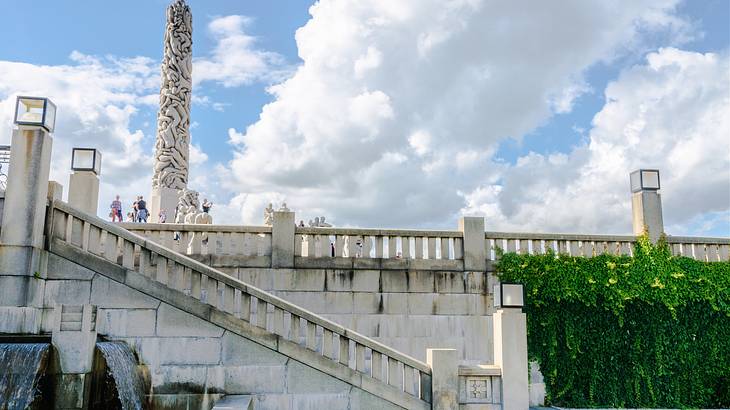 Where to stay in Oslo with family?
When planning a family trip, Frogner is the best neighborhood to stay in Oslo. This area is safe, well-connected to the rest of the city, and doesn't tend to get very crowded despite being a popular district.
You can easily find restaurants to suit any dietary needs you or your kids might have, and you can usually find a shop nearby if you need to pick up some essential items. The neighborhood is also home to Frogner Park, a large green space where you can let children run around safely.
If you're looking for a slightly more affordable option, St. Hanshaugen is also a good choice. Like Frogner, this area is home to a large park but also has the Oslo Reptile Park, which is a favorite among both local and out-of-town kids.
Where to stay in Oslo for first-timers?
Tourists planning their first trip to Oslo will find a few neighborhoods to consider staying in. If you have a flexible budget, Aker Brygge is highly recommended. This area is located in the center of Oslo, so you're near most of the main sites and have plenty of restaurant and hotel options to choose from.
You can walk, but Aker Brygge is also serviced by cheap and efficient public transport. Since this is a popular tourist area, you're also likely to encounter people who can speak English, which can make traveling a little more comfortable.
If your travel budget is a little tighter, broaden your search to the greater Sentrum area. This district encompasses more of Oslo's city center. So you'll be able to find affordable options that are still near famous landmarks and attractions.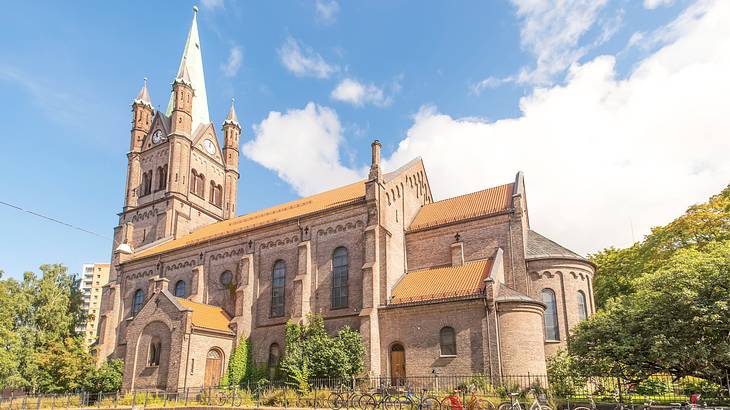 Where to stay in Oslo on a budget?
Grønland is one of the best neighborhoods in Oslo as far as budget-friendliness is concerned. This laid-back area is mostly frequented by locals, so you don't have to worry as much about paying a premium at restaurants and shops as you do in tourist hubs. For that reason, hotels also tend to be cheaper here.
Gamle Oslo is another good option if you want to plan an affordable trip. Since the area is quite large, with multiple smaller neighborhoods within it, you have more opportunities to find a lodging option to suit your budget.
Both of these neighborhoods are serviced by public transportation, but they're also very walkable. Gamle Oslo might be a better choice if you plan on traveling elsewhere in Europe since you can find the central train station here.
Where to stay in Oslo for nightlife?
If you're interested in taking part in the local nightlife, Grunerløkka is an excellent place to stay. This neighborhood has slowly become one of the trendiest areas in Oslo, with numerous bars, restaurants, and clubs for you to enjoy until late in the evening. This area is generally affordable and safe for newcomers, so solo travelers and groups can both dance the night away.
Alternatively, Grønland is another good option. This area also has a wide variety of restaurants, as well as dance clubs and bars that play all sorts of music genres.
However, this neighborhood is also home to the Spektrum Arena, which often hosts evening concerts performed by big-name artists. Just make sure you purchase your tickets in advance if you want to see a show while in the area.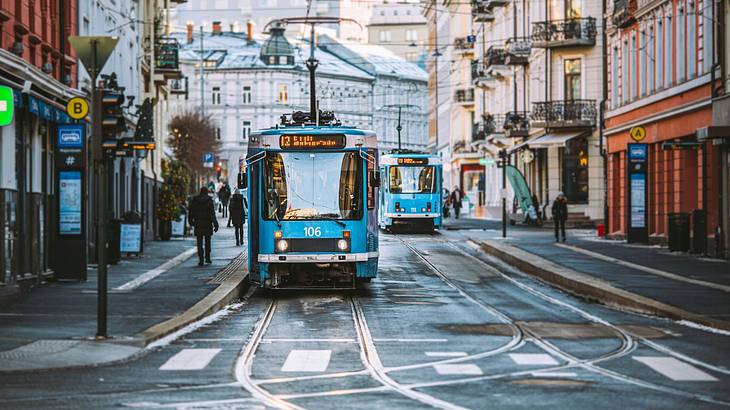 Where to stay in Oslo for shopping?
If you love shopping and browsing stores when you travel, Majorstuen or Grønland is the best place to stay in Oslo. Both these areas have beloved shopping districts with shops carrying everything from clothing to souvenirs.
Majorstuen tends to have more high-end boutiques as it's one of the city's most affluent areas. However, you'll be able to find some affordable shops to pick up souvenirs, and there are chain stores in the area as well.
Grønland, on the other hand, not only has individual shops on the street, but it's also home to the Grønland Basar. The neighborhood's multiculturalism is reflected in the stores in this mall, with both local and international goods for sale at affordable prices.
Both of these areas can get busy, especially on weekends when many locals are off work and are able to spend the day shopping. So, try to visit the shops during the week or earlier in the morning.
In Summary
Clearly, Oslo is a vibrant city with a lot to offer its visitors. From art to cuisine, there's something for everyone here. So, no matter what neighborhood you choose to call your home away from home, you're sure to fall in love with this Scandinavian destination.
Hopefully, this article on the best neighborhoods to stay in Oslo has helped you figure out where you should get your accommodation in. All you have to do now is book your ticket!
Give us feedback about this article
Read more articles about Norway:
More articles about places to stay:
---
---
Want to keep exploring?
Subscribe for discounts on tickets and hotels and our latest guides.
Thank you for subscribing
We will be in touch soon with discounts on tickets and hotels and our latest guides.
Want to keep exploring?
Subscribe for discounts on tickets and hotels and our latest guides.
Thank you for subscribing
We will be in touch soon with discounts on tickets and hotels and our latest guides.
Related Articles