Where to Stay in Porto, Portugal - 8 Best Areas & Hotels
Destguides may receive commissions from purchases made through affiliate links in this article.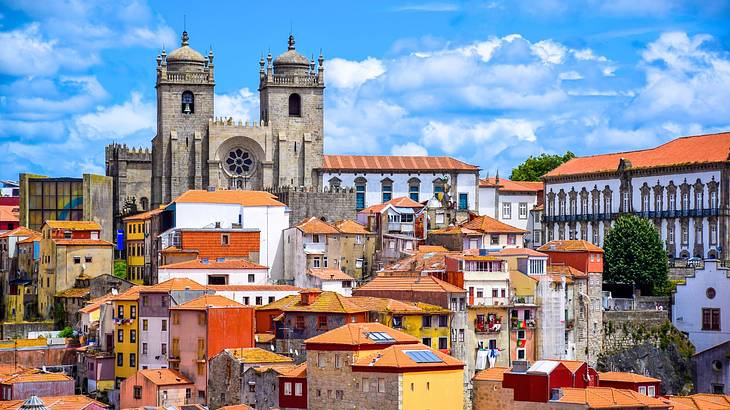 When trying to decide where to stay in Porto, Portugal, it can be overwhelming to weigh the pros and cons of each neighborhood.
For example, Ribeira is centrally located and close to all the main sites, but it's also full of tourists and very crowded. On the other hand, Miragaia is quieter, it is also a little more out of the way, so you might need to get comfortable taking public buses or taxis to get around.
No matter what sort of traveler you are, there's a place in Porto suited to your needs. Keep reading to find out where you should book your dream trip to this corner of Portugal.
8 Best Places to Stay in Porto, Portugal
Porto Places to Stay Video
Check out our highlights video of Porto places to stay.
Porto Places to Stay Map
A map of Porto. Use the map to explore all the places to stay.
Best Areas to Stay in Porto, Portugal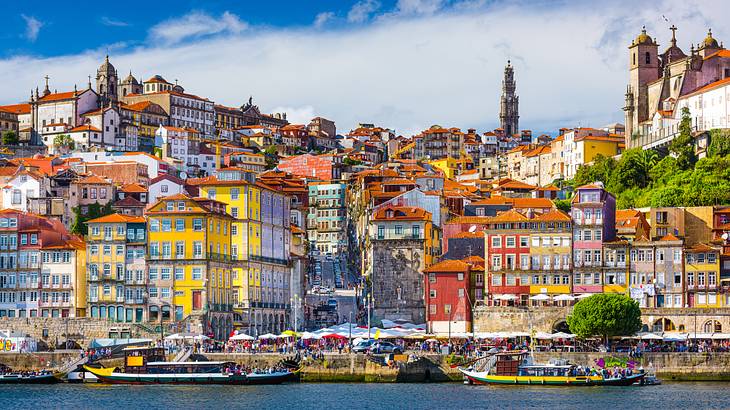 Ribeira
You can find Riberia in the heart of Porto's Old Town. Initially constructed in the 14th century, this popular area is full of local history and culture. Some of the city's best sites are here, including the Dom Luis I Bridge, a world-famous landmark, Porto Cathedral, and the Church of Saint Ildefonso.
This area happens to be one of the most walkable as well. Many of the streets are narrow, so other forms of transportation won't be able to fully immerse you in Ribeira the way exploring on foot can.
Due to everything this neighborhood offers, from its sites to its various accommodations to suit most budgets, it's a popular spot for tourists. That's especially true for those visiting Porto for the first time.
So, you might notice high crowd levels and limited lodging availability. That's even more true if you plan to visit between July and August when the tourist season is at its peak.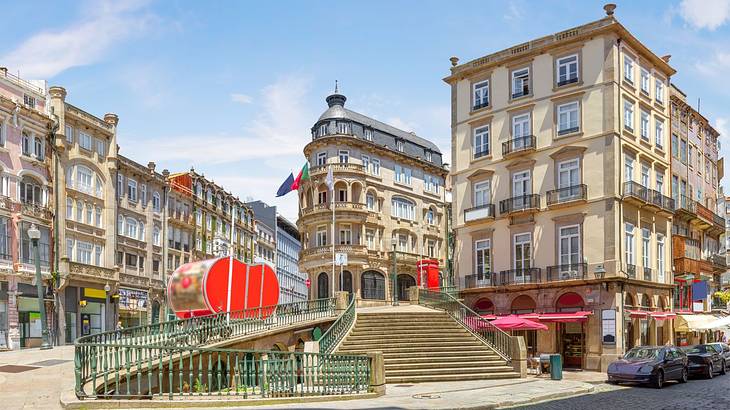 Porto Baixa
Porto Baixa is the city's main downtown area, located around Avenida dos Aliados. Known for its restaurants and grocery markets, it's the best area to stay in Porto for foodies!
What's even better than Baixa's culinary offerings is its ambiance. The streets in this part of Porto are lined with stunning and eclectic architecture. You'll be able to spot buildings in styles ranging from Baroque to Modernist. You are also close to São Bento Station, known for its amazing interior architecture and many other landmarks.
Since this is a popular district not just among tourists but locals too, you'll be able to find a wide variety of places to shop or eat at. While many restaurants and cafes here are known for being upscale, you can also find affordable places to grab a treat or a meal. This range between high-end and affordable options also translates to the area's lodging as well.
Baixa is relatively well-connected to the rest of Porto as well. You're less than half a mile from areas like Ribeira, where many landmarks are located, so it's a nice option if you're looking for a place that isn't right in the middle of tourist hot spots.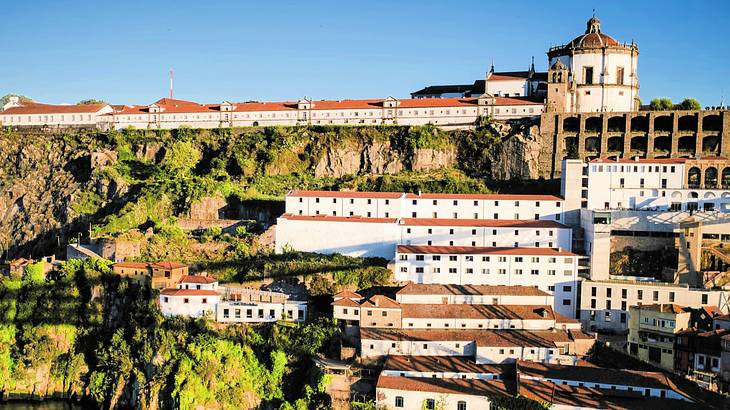 Vila Nova de Gaia
Vila Nova de Gaia is a city just outside of Porto. Vila Nova de Gaia is a popular destination for wine lovers visiting this part of Portugal. That's because this is one of the main places where Port wine cellars can be found.
Since the 1800s, every authentic bottle of this famed red wine has come from this very spot, a tradition that doesn't seem to be changing any time soon. On top of its importance to the country's wine industry, Vila Nova de Gaia also has beautiful views that can be enjoyed while walking around.
You'll find many sandy beaches here as well, like Praia da Madalena. The area's coastline makes it a good place for those wanting to combine a city break with a relaxing beach vacation. Though keep in mind that this seclusion and peace can come at a price. You can find affordable lodging options, but there are also many luxury spots.
However, the center of Vila Nova de Gaia is about an hour away from downtown Porto on foot. So, if you decide to use this area as your home base while on vacation, you'll want to make sure you consider that distance in your daily plans. Otherwise, opt for renting a car or taking a taxi. You can reach Porto in 20 to 30 minutes when driving, depending on traffic.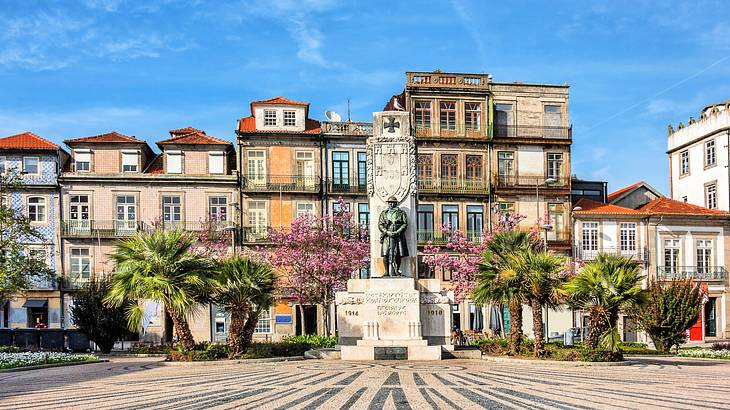 Cedofeita
Cedofeita is one of Porto's most unique districts. Sometimes referred to as "The Old Street of the Douro River," this neighborhood balances traditions and history with modern vibrance. As a result, you can literally enjoy the best of both worlds.
As a matter of fact, Cedofeita is considered to be one of the best neighborhoods to stay in Porto for younger tourists. That's in large part due to the plethora of cafes and restaurants where you can try local and international cuisine and meet new people.
However, even if you're traveling with kids or you're enjoying your retirement by heading to Porto, you can still enjoy staying in this district. Though there's definitely a lively social atmosphere, it's also a safe area that usually doesn't get very rowdy. You can even find some peace and quiet while you wander around and admire the ancient architecture.
Since Cedofeita isn't in the heart of Porto and doesn't get quite as much traffic, it can be an affordable neighborhood to stay in as well. That makes it even more of a family-friendly option.
However, that does mean you might need to walk or take the bus to get to some of the city's main sites. The Porto Cathedral is about a mile away, and the Crystal Palace Gardens are about two miles away.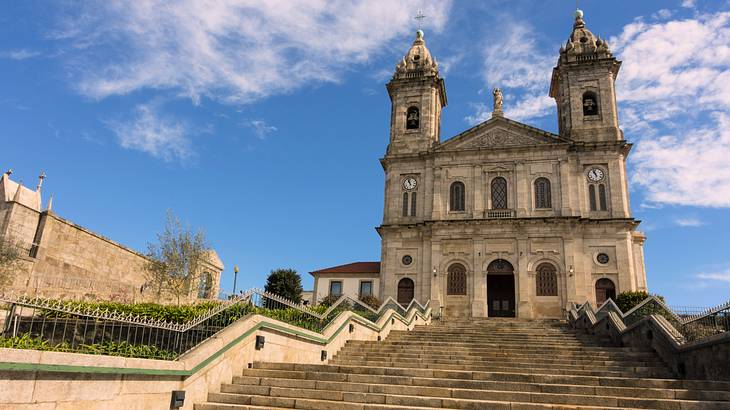 Bonfim
Bonfim is the perfect Porto neighborhood for anyone who wants some peace and tranquility when they turn in for the night. Since this district isn't right in the heart of the city and it isn't full of landmarks, it doesn't get too much tourism foot traffic.
In fact, most of the people you'll encounter while you're here live in the area, so it's one of the most authentic places that makes you feel like a local.
For that reason, you shouldn't have much trouble finding a boutique hotel or apartment rental for your stay, either, even if you're on a tighter budget. Demand for accommodations in Bonfim tends to be pretty low, even around the high season, which spans from June to September.
That sort of seclusion and budget flexibility does come with a catch, though. Prepare for a 20-30-minute walk to get to the heart of Porto. If you plan on doing any shopping while exploring, you might even want to consider grabbing a cab or relying on public transportation.
The Bonfim Church is the closest and most recognizable landmark in the neighborhood itself, known for its Neoclassical design. However, other sites, like Virtudes Park, are about three miles away.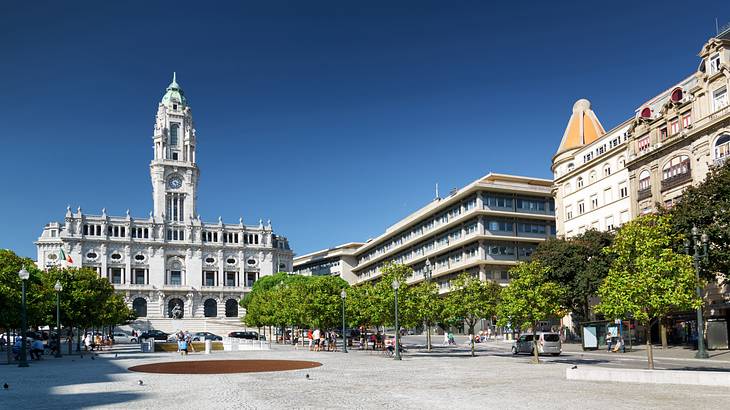 Avenida dos Aliados
Avenida dos Aliados is at the center of Porto's social life. This avenue is one of the largest roads in the area and can be found in the center of the city. As such, it's often the setting of markets, festivals, or other town events. So, make sure to see if something is planned during your stay.
Even on a "quiet" day, however, this part of Porto can get very crowded. The road connects Liberdade Square, near the famous Sao Bento Station, and General Humberto Delgado Square, where you can find the City Hall. So, a lot of traffic passes through this road.
Don't expect it to be terribly quiet if you decide to stay in this neighborhood, but it's generally very safe, and you can find some budget-friendly options. If you're not traveling with any particularly light sleepers, this can also be one of the best neighborhoods in Porto to stay in for families.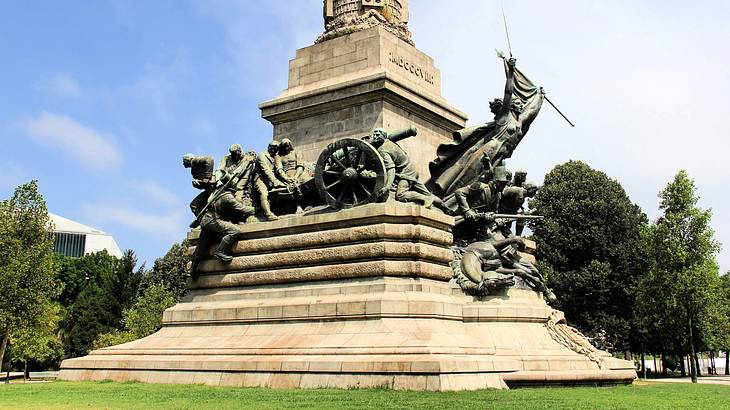 Boavista
Boavista is an up-and-coming part of Porto that's well on its way to being a new defacto downtown area in the city. The mix of residential and commercial properties means there's steady traffic, and vibrant social life in the neighborhood means there's always something going. That can be a huge plus for solo travelers who want to meet new people on vacation.
This neighborhood is also very well connected to the rest of Porto. For example, Rua Miguel Bombarda, one of the most upscale streets in the city, is only a three-minute car ride away. The area is also right off the Avenida promenade, which can take you down to Porto's shoreline.
While many of the area's main attractions are in other neighborhoods, Boavista has its affordability and culinary offerings going for it. Despite its upscale ambiance, there are dozens of restaurants, cafes, and rooftop bars you can choose from that suit any budget. So there's no shortage of delicious food to try while you're here.
Boavista is also a great place for art lovers of all kinds. The Casa da Música music hall is located in the area, and the Mercado Bom Sucesso is a favorite place to pick up local food and souvenirs while checking out local art.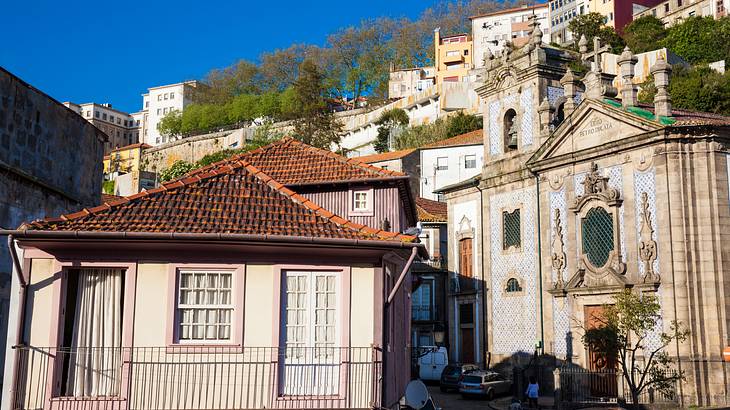 Miragaia
Located in the Douro Valley with great views of the river, Miragaia is a quiet, picturesque district suitable for many types of vacationers. It's off the beaten path, so it could be considered the best location to stay in Porto for budget travelers looking for affordable lodging.
Covering just 121 acres, this part of Porto is home to a few underrated museums. The Museum of Transport and Communication and the Tram Museum are two that are particularly beloved by families. It's also a popular district for academics and students to stay in thanks to its vicinity to the Alfândega convention center, where conferences are often held.
The landscape of this neighborhood is another reason why it's starting to gain popularity among travelers. The mix of cobblestone streets and terraced houses that look as if they're built on top of each other create a whimsical environment unlike any you'll see elsewhere in the world.
You don't have to worry about getting around if you decide to stay in Miragia, either. You can certainly walk to many places in the city, but you can also take the bus. Even taxi rides to other neighborhoods shouldn't be too expensive as long as you avoid the evening rush hour.
Where to Stay in Porto, Portugal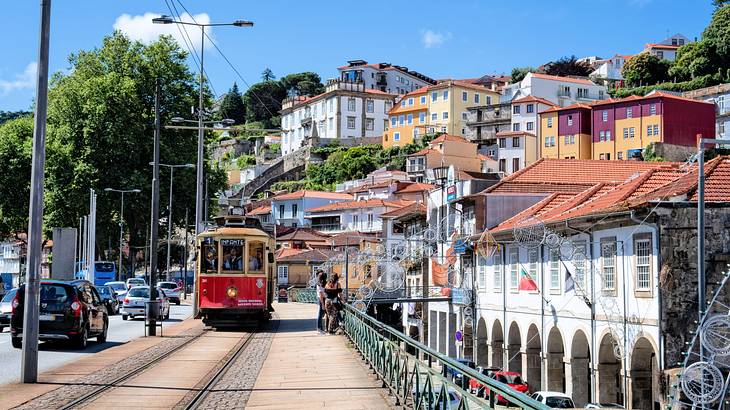 Where to stay in Porto with family?
Porto is one of the best places to stay in Portugal with family. It has a few great accommodation locations for families, depending on the types of travelers that are in the group.
If you're visiting with small children who can be overstimulated by a lot of noise, Miragaia is an excellent option. This neighborhood tends to be pretty quiet and primarily residential. However, it also has a few popular sites, like the National Museum Soares dos Reis, which houses 19th and 20th-century art.
Ribeira is another option that can make a family visit a little more seamless. This neighborhood is one of the most central in the city. So you don't have to worry about navigating the public transport system with small children much.
If you're traveling with older children or teens, Aliados is a great option too. This area tends to be slightly crowded but safe, secure, and vibrant. Staying here is a great way to get kids interested in new cultures.
Where are the best areas to stay in Porto for tourists?
Staying near the city center will give you the best and most central access to the Portuguese landmarks Porto has to offer. The Crystal Palace Gardens, Ribeira Square, and more are all located in this area.
In particular, look at accommodations near Baixa and Boavista. These are both considered downtown neighborhoods, so you'll have plenty of hotel options to choose from to suit nearly any budget. You'll have access to grocery stores and restaurants, many of which are open until late in the evening, which can be convenient after a long day of exploring.
The one drawback to consider before booking a stay in one of the main tourist districts is the crowd level you'll likely encounter. If you have a particularly low tolerance for large groups of people, perhaps a more secluded area, like Bonfim, might be better.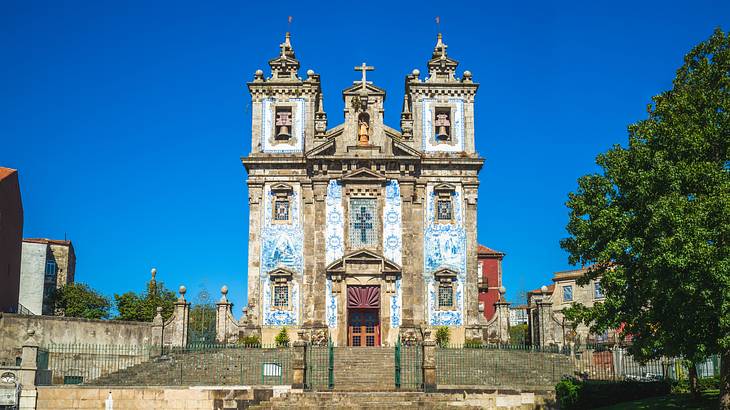 Where are the best areas in Porto for sightseeing?
If sightseeing is your main objective when you travel, the best neighborhood to stay in Porto is the city center. This historic area is a UNESCO World Heritage Site due to its historic architecture, so just walking around will give you plenty of things to admire.
Porto's center is also extremely walkable. You can get to most places in under 30 minutes, so you don't have to spend precious time in taxis or on the bus.
Locals also recommend Ribeira due to its proximity to many of the city's most important sites. However, you can also choose Baixa or Ceofeita if you want a more authentic experience while you're in Porto.
These two neighborhoods get their fair share of tourists, but they're also popular among residents. So, you'll get a better idea of what life in this part of Portugal is really like.
Where to stay in Porto for cheap?
Porto has multiple neighborhoods you can book a stay at if you're traveling on a budget. However, there are a few things to consider before you make your decision. For example, picking a place that's close to what you want to see might mean you spend more on a hotel room, but you save money on public transportation.
Avenida dos Aliados can be a good compromise between an excellent location and affordable pricing, depending on where you stay. Typically, hotels closer to the Sao Bento Train Station will be more affordable than those closer to the city hall and the coast.
Bonfim is another typically budget-friendly neighborhood. It's not directly in the heart of Porto, so it's spared a lot of the tourist foot-traffic other areas get. However, it's still relatively close to the main sites, so even if you opt to take a bus or a cab, a ride shouldn't cost much.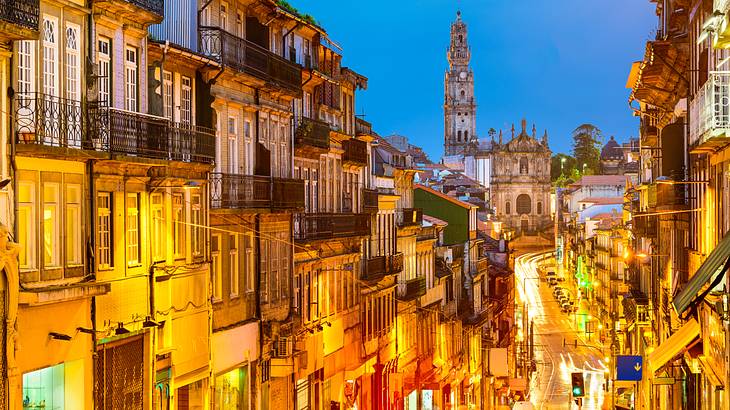 Where to stay in Porto for nightlife?
Porto is a lively city, so you'll be able to take part in the nightlife in a few different neighborhoods. Aliados is one of the most highly recommended places by local residents, but it's far from the only option.
Boavista may not be as widely-known among tourists, but it's fast becoming a favorite evening spot for Porto's younger generations. Since a lot of the people who hang out around here are typically in their 20s or 30s, you shouldn't have trouble finding a budget or mid-range hotel for your stay, either.
If your idea of a perfect night on the town involves wine tasting and a coastal view of the sunset, venture outside of Porto's main metro area and head to Vila Nova de Gaia. As the home of the famous Port wine, you'll be able to sample different varieties away from the tourist crowds.
In Summary
Porto is a diverse place with culture and history waiting around every corner. While there are many great places to stay in this charming city, you might find some neighborhoods to be better suited to your needs than others.
Families who want a little peace and quiet tend to head to Miragaia or Bonfim for their quiet and calm atmospheres. Young solo travelers or people visiting with friends might prefer Cedofeita for its unique ambiance and numerous interesting eateries.
Hopefully, this article has helped you determine the best place to stay in Porto for your needs to bring you one step closer to booking your dream trip!
Give us feedback about this article
Read more articles about Portugal:
More articles about places to stay:
---
---
Want to keep exploring?
Subscribe for discounts on tickets and hotels and our latest guides.
Thank you for subscribing
We will be in touch soon with discounts on tickets and hotels and our latest guides.
Want to keep exploring?
Subscribe for discounts on tickets and hotels and our latest guides.
Thank you for subscribing
We will be in touch soon with discounts on tickets and hotels and our latest guides.
Related Articles