Where to Stay in Portugal - 16 Best Areas & Places
Destguides may receive commissions from purchases made through affiliate links in this article.
Portugal is the epitome of a captivating European country that will steal your heart. With beautiful landscapes, rich cultural history, and excellent food, what is there not to love?
The county offers an alluring mix of old-world charm and modern ambiance. From the sun-kissed beaches of the Algarve to the whimsical hills of Sintra, you will be amazed by the destination's sheer beauty.
In addition to the natural wonders, Portugal boasts world-class museums, dining options, and wineries. Each region has its own charm and something unique to offer.
So, read on to learn more about where to stay in Portugal! No matter where you end up going, you are in store for an unforgettable experience that will leave you longing to return.
16 Best Places to Stay in Portugal
Best Areas to Stay in Portugal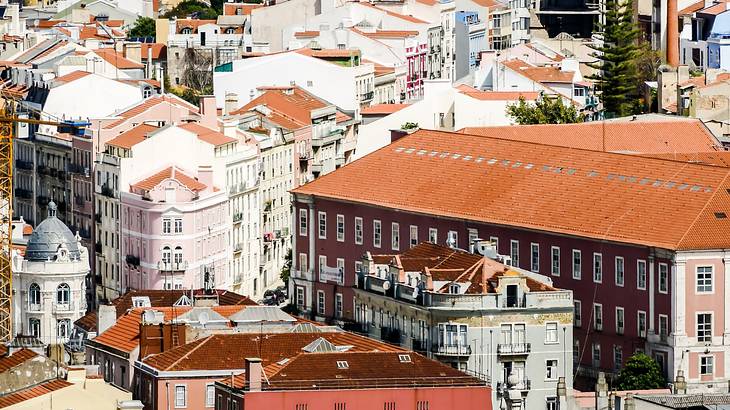 Lisbon
Lisbon is the beautiful capital of Portugal, that's an intersection of rich historical tradition and modernism. You can see almost everything on a two-day trip in Lisbon or opt for an extended stay to explore in a more relaxed way.
The capital is known for its stunning viewpoints and ambiance. It is nestled on the banks of the Tagus River and close to the coastline. Many of the region's finest beaches are a short bus ride from the city center. During a visit, you can enjoy panoramic vistas of the town, the Tagus River, and the vibrant red rooftops.
Not only is the city beautiful but so are the people. Locals are welcoming, and the energetic atmosphere is contagious. Because of this, Lisbon appeals to individuals of all ages and backgrounds. Lisbon is also a foodie's dream! There is a broad offering of culinary delights, from traditional Portuguese dishes to international tastes.
The streets are very accessible and easy to navigate on foot as it is compact. The public transportation system is also efficient and navigatable.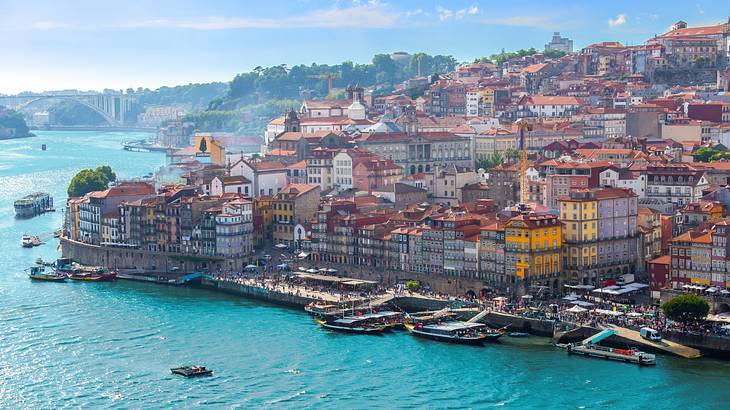 Porto
Portugal's second-biggest city, Porto, has a fascinating history and intriguing allure. It's also a UNESCO world heritage site due to its long and rich history.
Porto's charm is unparalleled. From cobblestone streets to colorful buildings and intricate architecture, you'll see why this is one of the best places to go in Portugal. If you want a stunning view of the Douro River, The Crystal Palace Gardens in central Porto is a wonderful destination to enjoy panoramic views.
During your stay in Porto, you have to visit the Dom Luis Bridge, which is a world-famous landmark. This structure was once one of the longest metal bridges in the world. Today, the Dom Luis Bridge is a famous sight in Porto, connecting the city to Vila Nova de Gaia.
The culinary scene in Porto is also raved about by locals and tourists alike. While there are many food options, you must start your day off with a Portuguese custard tart, Pastéis de Nata. They are sold in many places, like Manteigaria, a local market. For traditional Portuguese dishes, also visit Mercado de Bolhao.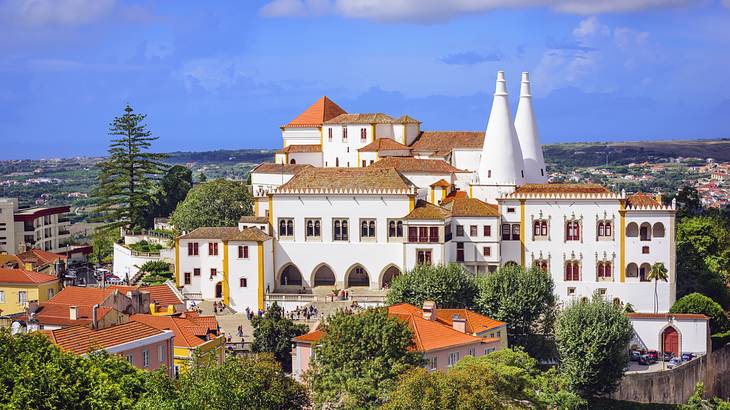 Sintra
Situated just outside of Lisbon on the hills of Serra de Sintra is the charming town of Sintra. It is one of the top places to stay in Portugal and can only be described as enchanting. From the Sintra-Cascais Natural Park to quaint villas and whimsical palaces, the charm and beauty of Sintra are like no other.
One of Europe's finest palaces, Palácio Nacional de Pena, is located in this Portuguese town. The vibrantly painted exterior has Gothic, Renaissance, and Moorish influences that date back to the Middle Ages. The palace itself sits atop a hill surrounded by well-maintained gardens.
If you are a fan of ornate gardens, underground tunnels, and symbolic structures, then you'll also want to pay a visit to the Quinta da Regaleira. This estate enchants all who visit with an immersive experience.
Whether you take a day trip to Sintra or stay as your main travel destination, your time in this Portuguese town will be full of beauty and wonder.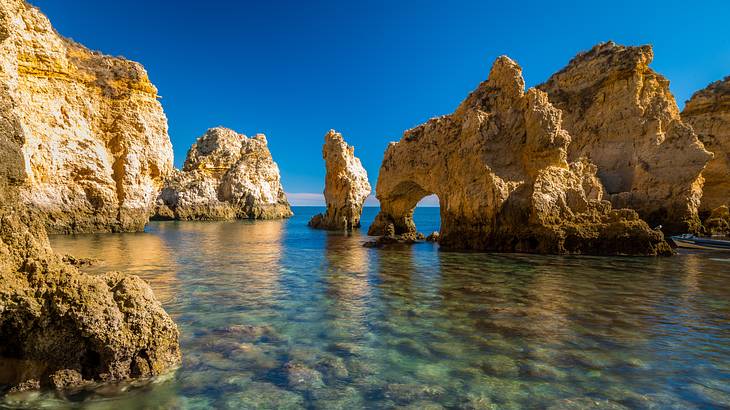 Algarve
Along the picturesque coastline of Southern Portugal, you will find the Algarve. This region is diverse and vibrant, with charming fishing towns, exquisite beaches, and a buzzing social scene.
This is the best location to stay in Portugal if you want to soak in the stunning coastline. With golden sandy beaches, dramatic cliffs, and clear waters, the Algarve makes for the ideal beach vacation destination. You can enjoy the Mediterranean climate while you explore the beaches and rugged beauty of the Costa Vicentina, a protected natural park with scenic hiking trails.
History buffs are also mesmerized by the region because of its eclectic past. Historic towns such as Faro, Lagos, and Tavira are ideal for visiting ancient castles and churches. Here you will find traditional Portuguese architecture that will leave you in awe.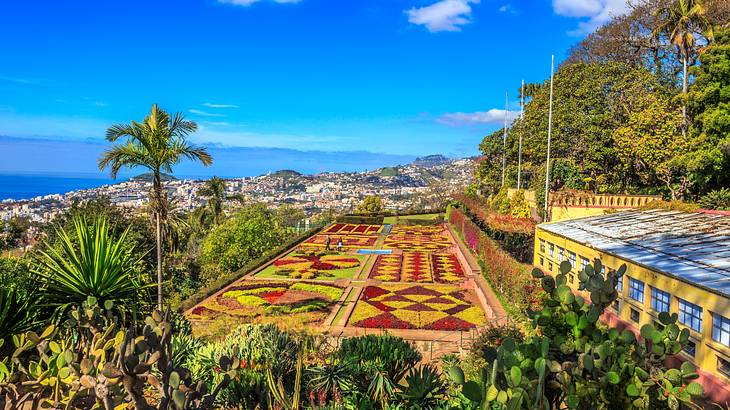 Madeira
Just off the coast of Africa is the stunning island of Madeira. The natural beauty of this land is unparalleled; exotic flowers, emerald green forests, and a turquoise blue sea are the few key descriptors of this setting.
Madeira is famous for its levada walks, which are narrow irrigation channels that crisscross the island. This provides tourists with the ability to hike along the majestic waterways.
Additionally, adventure seekers adore Madeira because of the vast array of activities available. You can go hiking, canyoning, paragliding, or even take an off-road jeep tour to explore the land's rugged terrain.
Visitors also rave about whale and dolphin watching opportunities. If you want to spot these marine creatures, boat tours are available, and the experience is truly magical.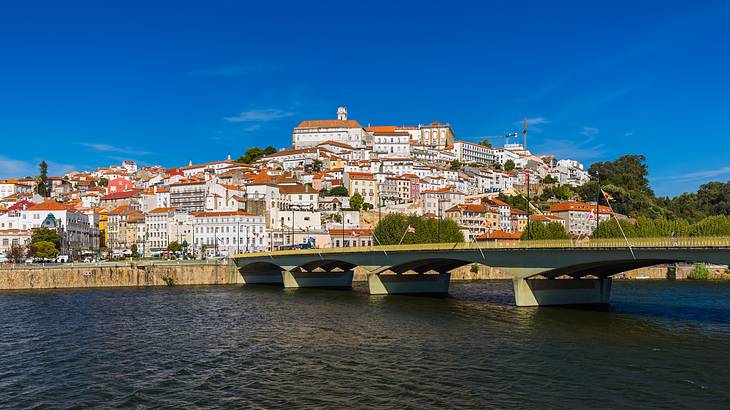 Coimbra
Steeped in culture and academic prestige, Coimbra is the place to stay in Portugal if you want to dive into historical adventures. This region is located in Central Portugal and has a history dating back over two thousand years.
Interestingly, Coimbra was the country's medieval capital and is home to the country's oldest university. The University of Coimbra was founded in 1290 and is a must-see spot during your stay. Visitors can also explore other notable attractions when at this school, such as the Joanine Library and the Botanical Garden of the University of Coimbra.
The atmosphere of Coimbra is shaped by the student population. As a result, it has a notably fun, energetic, and welcoming feeling.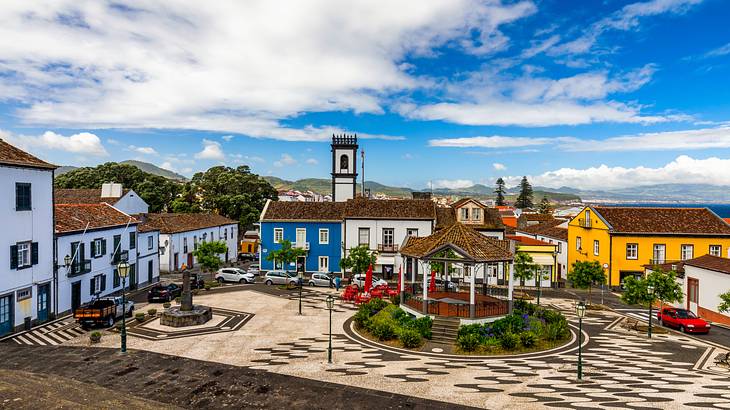 São Miguel
São Miguel is the largest and most populated island in the Azores archipelago of Portugal. This island is in the Atlantic Ocean and is known for its enchanting natural beauty. The volcanic landscapes, scenic coastlines, and lush greenery are unforgettable.
Notably, outdoor enthusiasts adore São Miguel! This is the best area to stay in Portugal if you like to hike stunning trails that lead to waterfalls and scenic vistas. Surfers and divers also enjoy spending time on the coastline exploring the waters.
Besides the natural wonders, São Miguel offers a rich and welcoming atmosphere. The charming towns will give you a glimpse into the Azorean culture. Don't forget to sample traditional dishes, fresh seafood, or local teas for a memorable culinary experience on the island.
Lagos
Lagos is located in the western region of the Algarve. This area is the epitome of sun and sea, with stunning coastlines and mesmerizing rock formations.
One of the most relaxing activities here is sitting by the beach as turquoise water crashes onto the warm sand. You can also explore dramatic cliffs and caves and adventure through nature reserves, such as the Ria de Alvor. Taking a boat tour to discover the famous Ponta de Piedade, a very scenic cliff off the coastline, is recommended as well.
Lagos is the spot to be if you love natural beauty and rich history. This region has over two thousand years of history and was once the epicenter of the Portuguese Age of Discovery. It is also important to mention the nightlife of Lagos is vibrant and thriving. With an array of nightclubs, bars, and live music venues, you will never feel bored.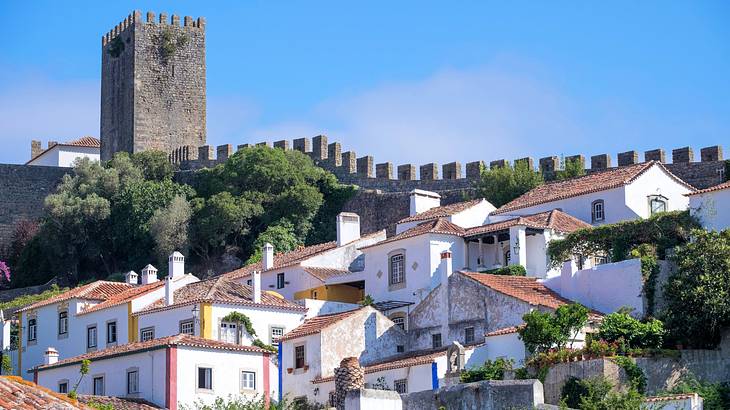 Óbidos
The romantic medieval town of Óbidos is approximately an hour away from the capital of Lisbon and is worth the drive. Unlike most major cities, you will feel that Óbidos has a smaller, community-based atmosphere.
The town was a gift from King Denis to his queen in 1282, which is just a glimmer of the rich historical significance of the area. During your stay, you can visit the traditional stone-walled medieval castle called Obidos Castle. The castle has since been repurposed into a luxury hotel, but the original charm has been preserved.
Also, Óbidos is a UNESCO Creative City of Literature, a special honor that acknowledges the literary accomplishments of a city. The museums, libraries, and galleries are an excellent reflection of this prestigious title.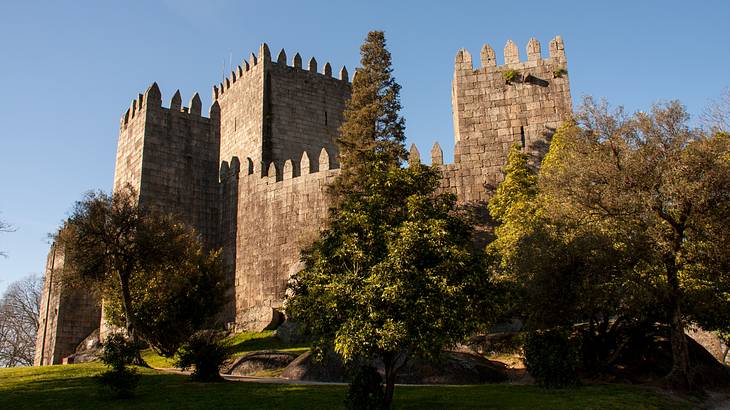 Guimarães
Many Portuguese see Guimarães as the birthplace of their country. This area is a wonderful day trip location from Porto as a direct train connects the two cities.
With many historical highlights, this is a must-see location for history enthusiasts. It should be noted that the architectural designs of buildings and castles are worth the trip on their own.
Castelo de Guimarães is one of the major highlights. This castle was constructed in the tenth century and offers excellent panoramic views of architectural wonders from the hilltop it is nestled on.
After exploring the beautiful castles and churches, take some time to venture through the local workshops. Guimarães is known for its excellent craftsmanship of all sorts of items. Visiting these workshops is a perfect way to find quality souvenirs.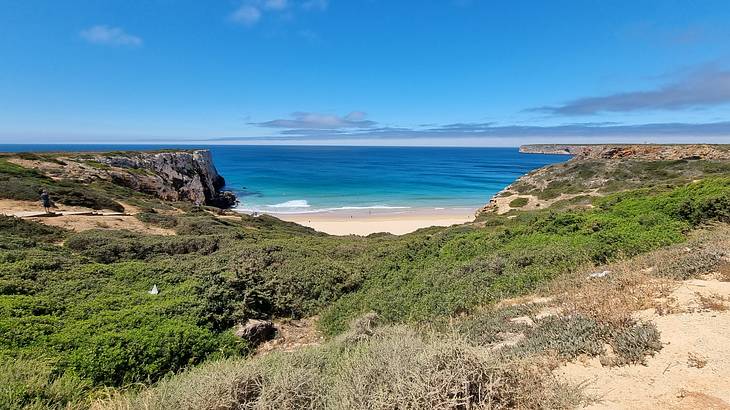 Faro
Often overlooked in the Algarve region, Faro is a city that may surprise you with its charm. This quaint Portuguese destination has all the makings for an enriching day trip or more extended vacation.
Faro serves as the gateway to The Parque Natural da Ria Famoda. This park boasts a network of lagoons and waterways that are best seen by kayaking or boat tour. The protected lagoon system is full of biodiversity, perfect for bird watching or simply enjoying the natural landscapes.
You can also delve into Faro's history and culture at the Faro Municipal Museum. Housed in a former convent, the museum showcases archaeological artifacts, historical documents, and traditional art.
After your day of exploring the natural world and learning about Faro's history, sit down to enjoy the local cuisine. The region is known for its fresh seafood, such as grilled sardines or cataplana, a traditional seafood stew.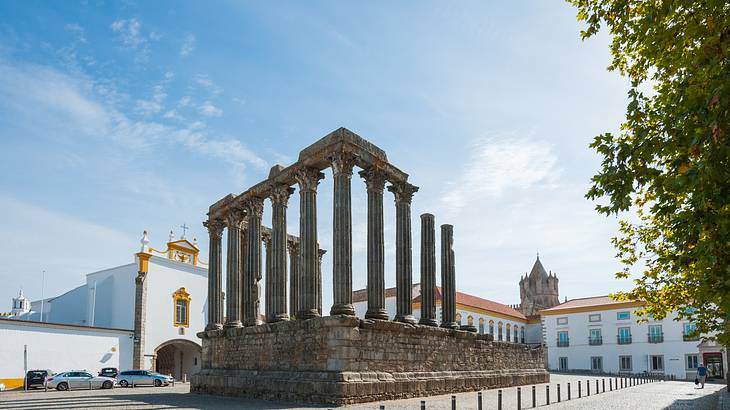 Évora
Évora is a historical city and a UNESCO World Heritage Site in the heart of the Alentejo region of Portugal. History enthusiasts flock from all over the world to see the sights in Évora. The town is filled with museums and has a historical heritage dating back to the Roman times.
Beyond the plentiful historical buildings and landmarks, the gastronomy within Évora is top-notch. The Alentejo region is known for its world-class wines and delectable cuisine. You can sample traditional dishes such as migas and açorda to get a taste of Évora.
A must-see Portuguese landmark located in Évora is the fascinating Chapel of Bones. This location is very similar to the catacombs in Paris, France. The human skulls that line the walls belong to roughly 5,000 individuals who resided in the region.
From exquisite dining options to stunning architecture, and fascinating landmarks, you will enjoy diving into the eclectic atmosphere of Évora!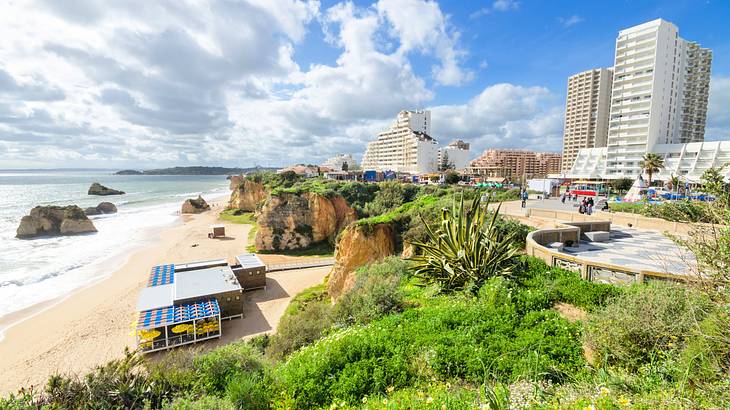 Portimão
Located on the western side of the Algarve, Portimão is a rather large coastal city. Portimão is renowned for its gorgeous beaches with golden sands and clear waters. Portimão is home to Praia da Rocha, one of the most popular beaches in the Algarve. In addition, the rock formations and picturesque scenery is breathtaking.
The marina is the epicenter of energy in Portimão. This bustling hub offers dining options right alongside the water. The marina is also the starting point for boat tours and fishing charters.
Beyond the marina, golf enthusiasts travel to Portimão from all over the world. Locations like Penina Golf Resort offer well-maintained courses that are a golfer's paradise.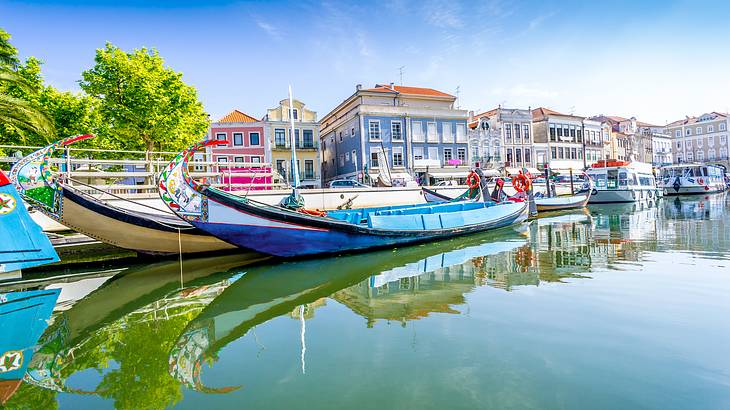 Aveiro
Aveiro is a popular tourist destination in the center of Portugal. It is full of character and exemplifies what a traditional Portuguese city is like. Aveiro is famous for its canals, colorfully painted Molicerios boats, and Nouveau architecture.
The town and Aveiro Lagoon are best explored by taking a traditional Molicerios boat tour. A day trip from Porto will allow you to see all the main sights, but some choose to stay longer and explore beyond the historic center of town.
No trip to Aveiro is complete without sampling Ovos Moles de Aveiro, the local delicacy. These sweet treats are made from egg yolks and sugar and are shaped into various forms.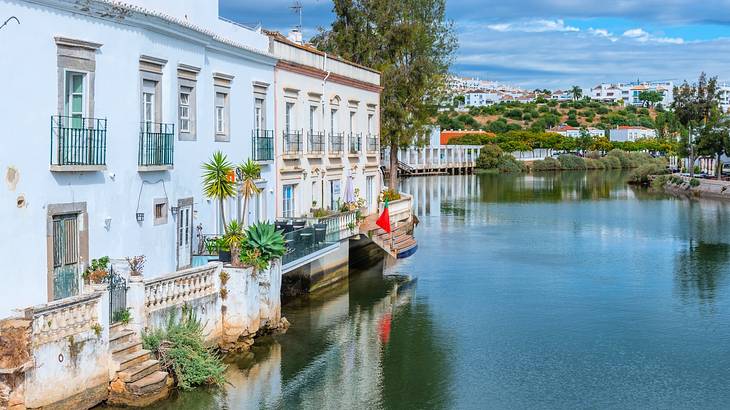 Tavira
The hidden gem of Tavira is located in the Eastern Algarve region. This area is ideal for travelers who like to explore off the beaten path. Tavira has a scenic old town, beautiful beaches, and is easily accessible from other parts of the country.
There are many ways for tourists to get a feel for the city. The Roman Bridge of Tavira is an iconic landmark that spans the Gilão River and offers panoramic views of the town. Another popular, more interactive option is the small tourist train that runs an approximately forty-five-minute loop.
After your train tour, wander through the winding cobblestone streets and explore the churches of Tavira. The most impressive is said to be Igreja da Misericórdia.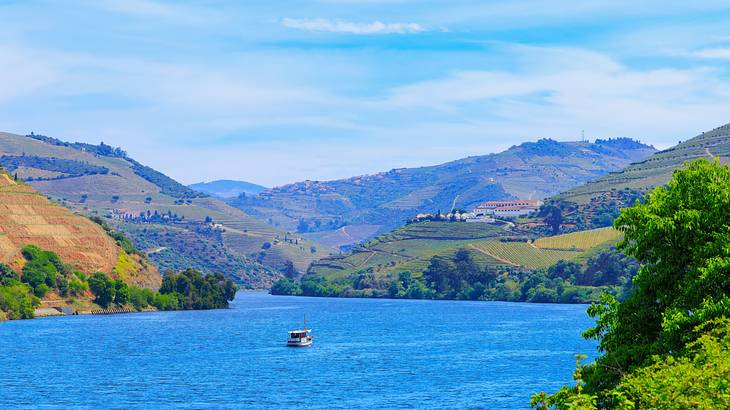 Douro Valley
The Douro Valley is a breathtaking Northern Portugal region famous for its vineyards, scenic landscapes, and cultural heritage. The dramatic and terraced landscapes and rolling hills covered in vineyards create an enchanting setting.
A top activity here is taking a picturesque cruise along the Duoro River. The cruise will allow you to relax, take in the views, and learn about the region's plentiful history.
In addition to a relaxing atmosphere, the Douro Valley is truly a wine-lovers dream. This area is known for its wine production, specialty port wine, and many estates offer tasting tours. The Douro Museum will also provide you with a new perspective on the world of winemaking.
Where to Stay in Portugal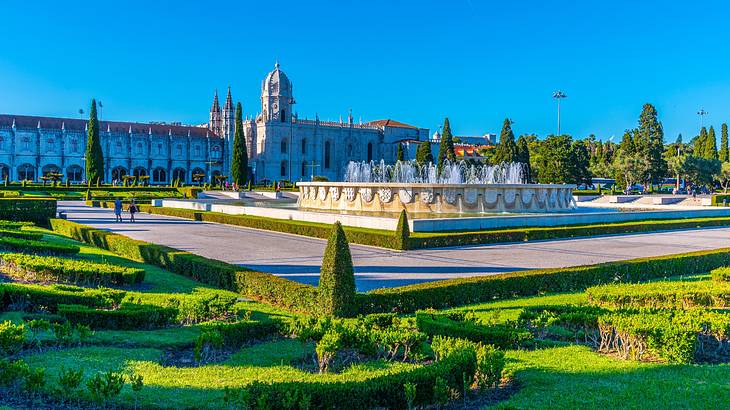 Where to stay in Portugal for families?
Portugal offers travelers numerous family-friendly destinations that offer unforgettable experiences. The most popular destination for traveling families is Lisbon, the country's capital.
This is a top destination because the city has lots of family-friendly accommodations and attractions. It is also the prime location to immerse yourself in Portuguese culture!
The Lisbon Oceanarium is one of the largest aquariums in Europe and is fun for individuals of all ages. Beyond the world-renowned aquarium, families can enjoy the vast green spaces, riverfront activities, and interactive museums.
Another feature of Lisbon that makes it attractive for families is the easy navigability. Lisbon has an efficient public transportation system, making it easy for families to explore the various sites and attractions.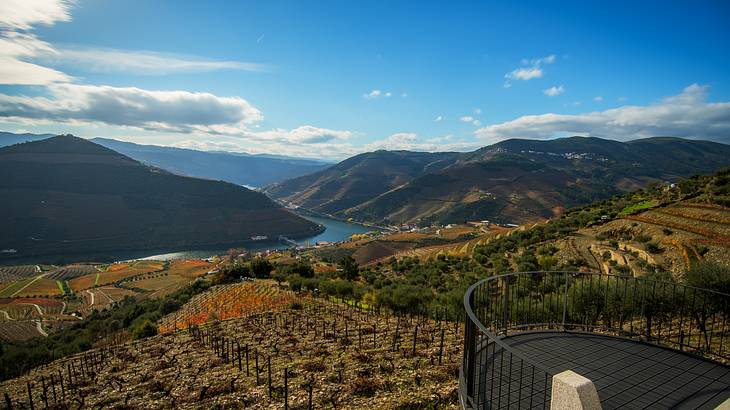 Where to stay in Portugal for couples?
There are two excellent destination choices for couples looking for a romantic getaway in Portugal, The Douro Valley and Sintra.
The Douro Valley is a picturesque region known for its delicious wine and elegant vineyards. During your trip, you can take romantic walks through the vineyards, enjoy wine tastings, and savor world-class cuisine. There are multiple luxurious hotels in the region that will offer top-of-the-line accommodation for your stay.
Sintra is another enchanting travel destination for couples. Nestled just outside Lisbon, Sintra is a fairytale-like region with grand castles, lush gardens, and scenic landscapes. Additionally, boutique hotels in the area make the perfect private location for your romantic holiday.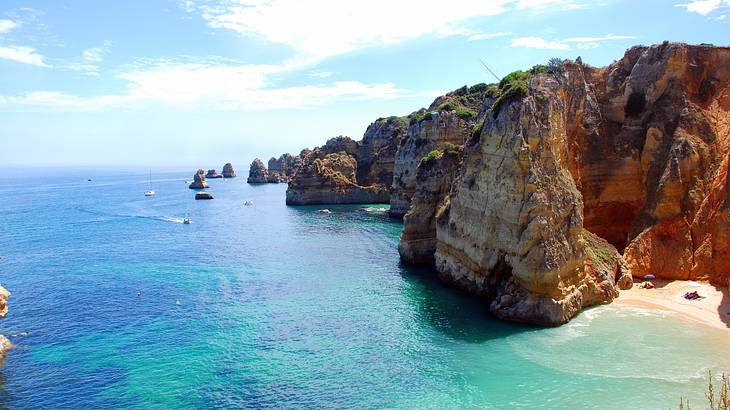 Where to stay in Portugal for young adults?
Young adults love Portugal for its culture, welcoming locals, and vibrant nightlife. Lagos is the best place to visit in Portugal for young adults who want to experience Portuguese culture and experience the city environment.
Lagos is a popular Portugal vacation spot for young adults because of its vibrant nightlife and beautiful beaches. You can enjoy a day on the beach with a cold beverage and then spend the night in the town.
Lagos has a wide range of bars, clubs, and live music venues, ideal for those seeking a lively atmosphere. When you visit Lagos, staying in the city center is a good idea, close to the main square and nightlife locations.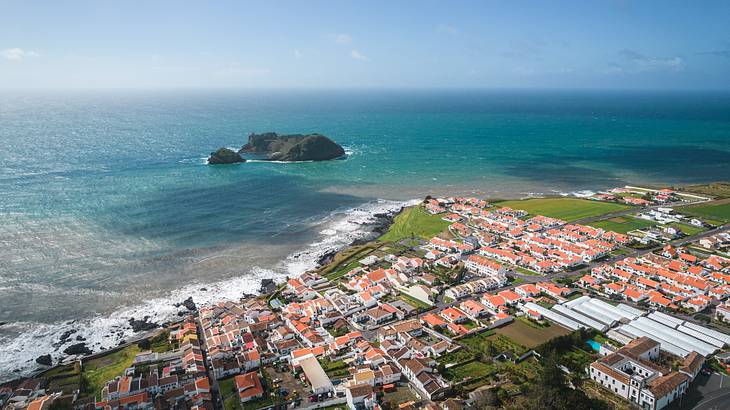 Where to stay in Portugal for beaches?
Portugal has so many fantastic beach options that it is challenging to pick just one. São Miguel, an island that is part of The Azores, is renowned for its natural beauty and biodiversity.
The beaches in São Miguel are nothing short of enchanting. Volcanic rock formations and natural swimming pools aren't far from picturesque golden sands.
The island of Madeira is known as one of the best vacation spots in Portugal because it offers a unique beach experience. Madeira is for you if you enjoy hiking with a sandy coastline view.
It's additionally a top location for those that want to partake in water sports such as snorkeling. Of course, you can also spend time soaking in the sun on the sand.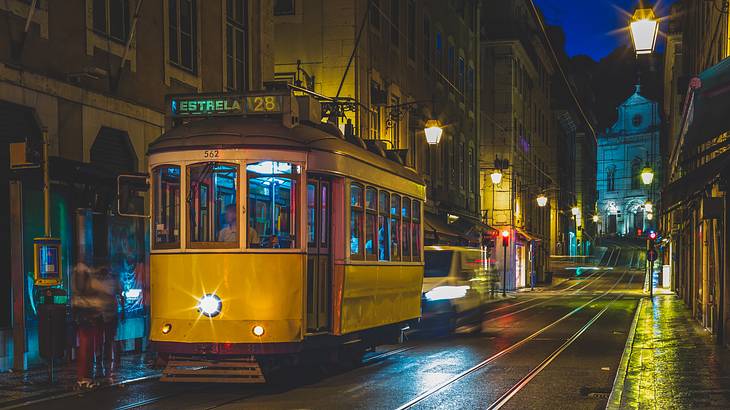 Where to stay in Portugal for nightlife?
The two major cities in Portugal, Porto and Lisbon, are both wonderful options for travelers looking to dive into the nightlife scene.
As the capital, Lisbon offers a diverse and energetic nightlife environment. The Bairro Alto neighborhood is famous for its narrow streets with bars and clubs. There is a wide variety of music genres at these venues, so there is something for everyone.
Porto also has a bustling nightlife atmosphere and is renowned for its contagious energy. Ribeira is a trendy neighborhood with plenty of bars, clubs, and live music venues that allow you to dance the night away. The Galerias de Paris is another popular neighborhood with a wide selection of bars and nightclubs.
In Summary
Portugal has it all! The country has an alluring integration of old-world architecture and ambiance paired with a modern twist of innovation.
Each place to stay offers something slightly different, which gives you multiple perspectives of the region. The eclectic character of each city, town, and coastal region combines to form a world of beauty. No matter where you stay, you'll have a memorable vacation!
Give us feedback about this article
Read more articles about Portugal:
More articles about places to stay:
---
---
Want to keep exploring?
Subscribe for discounts on tickets and hotels and our latest guides.
Thank you for subscribing
We will be in touch soon with discounts on tickets and hotels and our latest guides.
Want to keep exploring?
Subscribe for discounts on tickets and hotels and our latest guides.
Thank you for subscribing
We will be in touch soon with discounts on tickets and hotels and our latest guides.
Related Articles