The Ultimate 4 Day Singapore Itinerary
Destguides may receive commissions from purchases made through affiliate links in this article.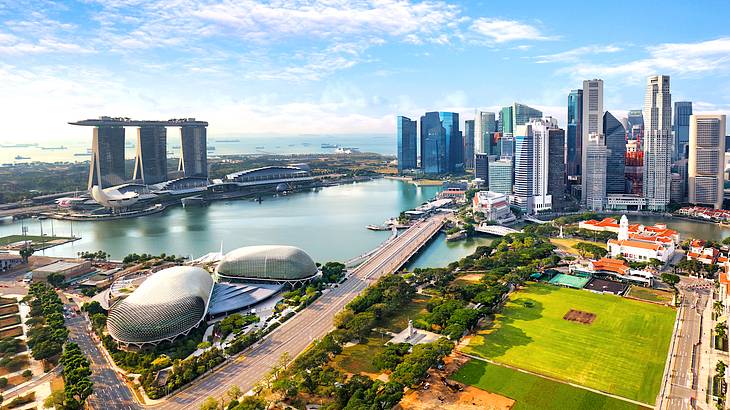 Singapore is a fantastic place to visit! It's a melting pot of cuisine, culture, and people, all set on a backdrop of pristine scenery. Despite being a modern and high-tech city, Singapore has a rich cultural history. It's also a place of natural beauty with a range of wildlife and many beaches.
My 4 day Singapore itinerary will let you enjoy all of that. From cosmopolitan shopping and dining to visiting cultural Asian landmarks and beautiful beaches, you definitely won't miss out on any of a traveler's usual favorites (including beaches, tasty food, and perfect photo-ops). You will get a lot of unique experiences too. You can get around the city easily on foot, or use public transport. MRT Stations connect all popular areas.
Singapore is also a great quick getaway from other cities in Southeast Asia, such as Kuala Lumpur or Bali. It's a popular place for a long layover on the way to or from Australia as well. If you're sold on the idea of going to Singapore, then keep reading to find out what to do in Singapore in 4 days.
4 Days in Singapore Itinerary
Discover Singaporean Culture and Cuisine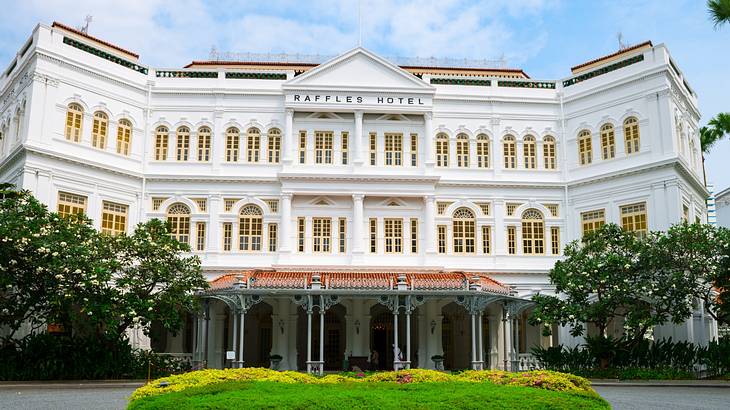 On the first day of your Singapore travel itinerary, you'll see cultural sites and enjoy great food and drinks and fantastic shopping. Your day will begin in Kampong Gelam, an Islamic area of Singapore. Here, you'll visit beautiful mosques and explore shops, markets, and restaurants.
Continue your cultural morning in Little India. This lively and colorful area has several stalls and shops selling Indian fashion, food, and more. Make sure you have an appetite for your next stop, Purvis Street. This street is known for its restaurants with cuisine from around the world.
You'll then spend a luxurious hour or so with a Singapore Sling in hand at the famous Raffles Hotel. Finally, end the day on Orchard Road. Visit the range of shops and finish with more delicious food and drinks at one of the many bars and restaurants along the busy road.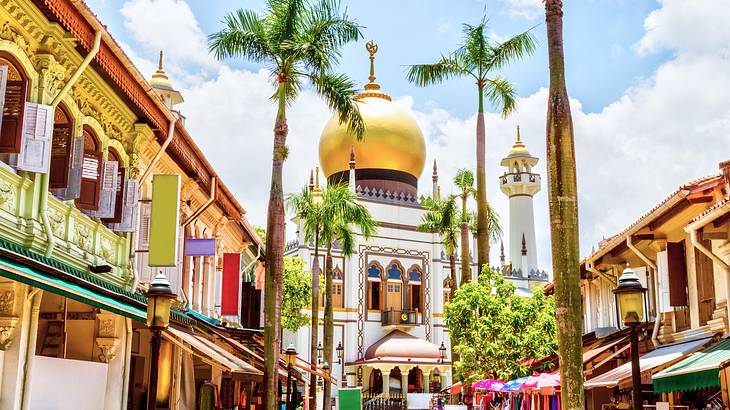 Kampong Gelam
Kampong Gelam (or Kampong Glam) is influenced by Islamic history and culture. This vibrant area features many mosques and other cultural attractions, plus shops and restaurants.
Sultan Mosque is an exciting place to visit. It was built in 1824 by Sultan Shah of Johor. You'll recognize it instantly, thanks to its signature gold dome and beautiful exterior. The mosque is used for prayer but is open to visitors too.
Arab Street is another must-visit area. This colorful street has a selection of independent shops selling everything from textiles to perfumes. There are also several restaurants serving cuisine from a host of Arab countries.
Haji Lane is also worth a visit. The bright, graffiti-tagged buildings are great for pictures, and you'll find quirky boutique shops too. Lastly, head to the busy but atmospheric Bugis Street Market. Clothes, jewelry, souvenirs, and more are on offer here.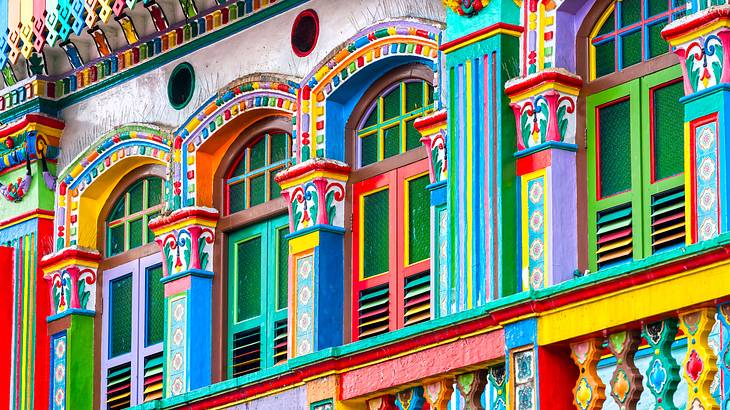 Little India
You'll be transported from Singapore to India in a second as soon as you reach this area. From temples and markets to restaurants and food, everything has an Indian influence. In addition, this visually-stunning area has an artistic vibe, meaning it's the perfect backdrop for photos!
Start at Mustafa Mall, a 24-hour shopping center. Although it can be slightly overwhelming, it's worth the visit. They sell everything from electronics to Indian clothing, jewelry, and even groceries.
You'll also come across market stalls selling fabrics, fashion, and unique homewares. You can even get henna applied at some places. There are many food options here, too, including eat-in restaurants and stalls selling Indian favorites. Finish your visit to Little India by going to Veeramakaliamman Temple.
If you visit between the end of September to the end of October, you'll also be able to see the Deepavali celebrations.
Purvis Street
This quaint street is best known for its many food outlets. Along with a selection of great restaurants, you'll find independent shops and design galleries.
A popular spot is Chin Chin Eating House. While the interior is simple, the food is some of the best in Singapore. They're well known for their Hainanese chicken fried rice. This national dish is a must-try during your four days in Singapore. Their menu also includes meat, fish, and vegetarian options. Whatever you get, you won't be disappointed!
YY Kafei Dian is a good place for sweet treats. They make pastries in-house, including their signature cream puffs. Their kaya toast, a famous Singaporean dish, is excellent too. Despite being a breakfast dish, this buttery coconut toast is served and enjoyed all day.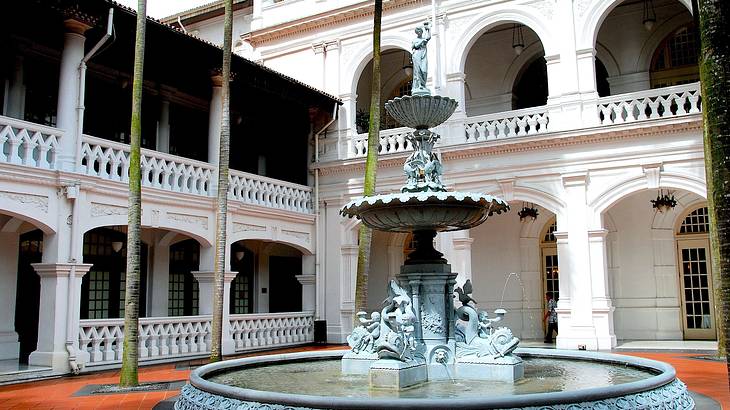 Raffles Hotel
Raffles has been one of Singapore's most-famous hotels since 1887. It's also home to the equally well-known Singapore Sling Cocktail. A trip to the hotel to snap some pics, see the notable (and well-dressed!) doormen, and grab a drink is a must.
Having walked around the areas of the hotel open to the public, stop by one of nine bars and restaurants. These include a lovely courtyard restaurant and the Grand Lobby where you can take afternoon tea.
The most recommended bar to visit is the Long Bar. This bar is where the Singapore Sling was created in 1915. Many consider this delicious cocktail the national drink of Singapore. They also have a non-alcoholic version if you don't drink.
If you're planning to splurge a little on your trip, you can stay at Raffles too. The beautiful suites give off an art-deco, sophisticated and luxurious vibe. You'll even be collected from the airport in a limousine.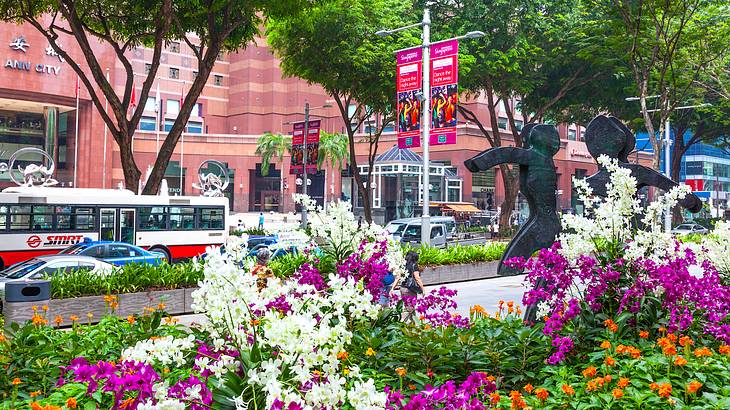 Orchard Road
Orchard Road is Singapore's shopping haven. The road spans 2.2 kilometers and is thriving with shopping malls and restaurants. For those wanting to explore the shops, you'll find high-street and luxury brands, plus independent and souvenir shops.
Tangs Department Store is an excellent place to start. It's one of the city's oldest department stores selling well-known brands and souvenirs. Also, check out the mega-bookstore Kinokuniya. This is the biggest bookstore in Singapore and one of the largest bookstores in Southeast Asia.
Orchard Road also has a great selection of bars and restaurants. il Cielo is recommended. Try Italian-Japanese fusion cuisine at this rooftop restaurant while enjoying the Singapore city skyline.
I also recommend Bar Canary, a fun rooftop bar with a tropical garden feel. Try their yummy boozy pops - colorful cocktails complete with a fruity popsicle. You can also get snacks, including plant-based options. Be sure to check out their daily happy hour offers too.
Nature, History, and Late-Night Fun!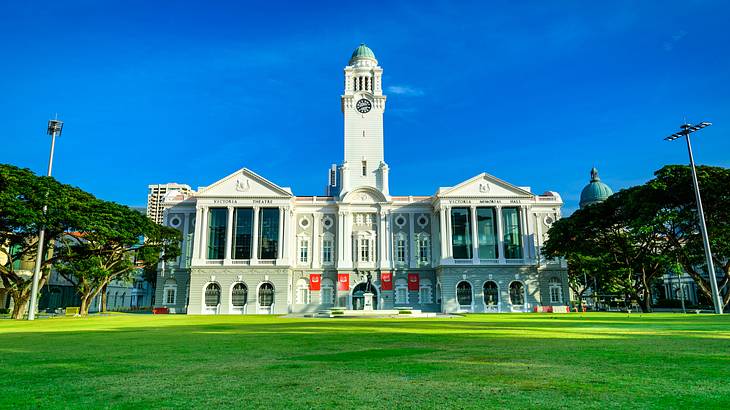 You'll start your day at the National Museum of Singapore, the oldest museum in the city. Next, take in the beautiful flora and fauna at the Botanic Gardens. You then have the opportunity to try traditional Singaporean chili or black pepper crab, among a range of other dishes, at some of Singapore's best seafood restaurants.
Your next stop will be Clarke Quay and Boat Quay. As you walk along the river, you can also visit Fort Canning Park. Then, stop for a waterside dinner, or go straight to your next stop, a Night Safari at the Singapore Zoo!
End the second day of your Singapore 4 day itinerary by returning to Clarke Quay. Have dinner if you didn't before, and finish your night at one of the many bars or nightclubs in the area.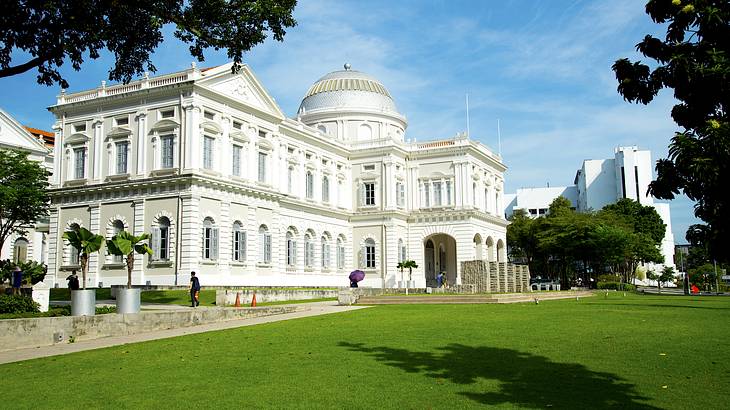 National Museum of Singapore
The National Museum is the oldest museum in Singapore. Built in the 1800s, it's a cultural and architectural landmark in Singapore.
The museum houses a range of permanent and temporary exhibits. The majority of these focus on Singaporean history and life from its founding to the present. These include unique displays about growing up in Singapore in the 1950s and 1960s. There is also a selection of multimedia exhibits.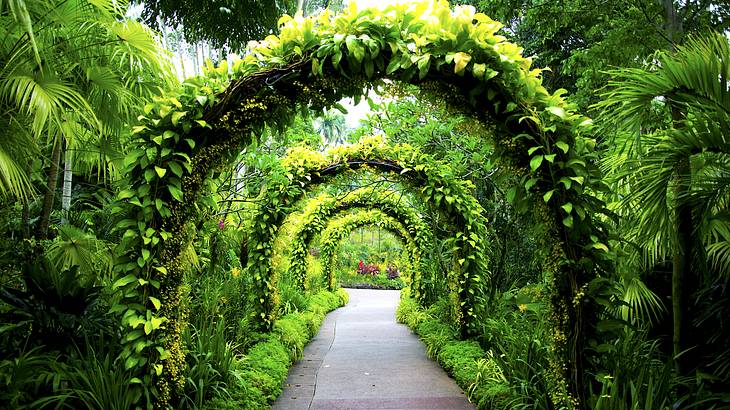 Singapore Botanic Gardens
Visiting the Singapore Botanic Gardens is an excellent escape from the hustle of the rest of the city. It's also a relaxing activity for both those new to the area and already living in Singapore.
The Botanic Gardens are over 150 years old and are Singapore's oldest gardens. They're even a UNESCO World Heritage Site. The gardens include a range of lakes and beautiful plants in a rainforest climate with an array of wildlife.
One of the most popular features is the National Orchid Garden. This vast and beautiful collection of flowers is the largest orchid display in the world. Another point of interest is the unique Ginger Garden, which displays hundreds of species of ginger.
Long Beach Seafood
There are a lot of delicious and famous dishes to try in Singapore! Chilli crab and black pepper crab are some of the most popular dishes, and both are a must-try.
Long Beach Seafood is highly recommended, and dining here is one of the best things to do in Singapore in 4 days! They have multiple locations across Singapore, including one in Dempsey near the Botanic Gardens. Many say their black pepper crab is the best in the city. They also serve chili crab and a range of other meat, fish, and vegetable dishes.
Alternatively, try Jumbo Seafood. The chili crab is award-winning, and there are many other seafood and Singaporean dishes to order.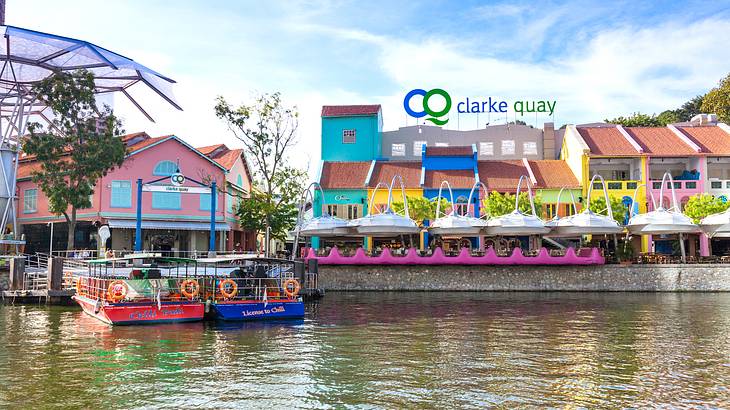 Clarke Quay & Boat Quay
Clarke Quay and Boat Quay, located right beside each other, are great areas to visit during your four days in Singapore. These bustling areas are full of shopping, cultural sites, and lots of restaurants, bars, and nightclubs.
When in the area, make sure you go for a walk by the river or join a river cruise. Additionally, visit the nearby Fort Canning Park.
The pretty park has several trails to follow and nine gardens to explore. A visit to the Statue of Singapore's founder, Sir Stamford Raffles, is another popular attraction.
Clarke Quay and Boat Quay are also known for some of the best dining and nightlife in the city. It's the place to be if you're looking to bar-hop and party!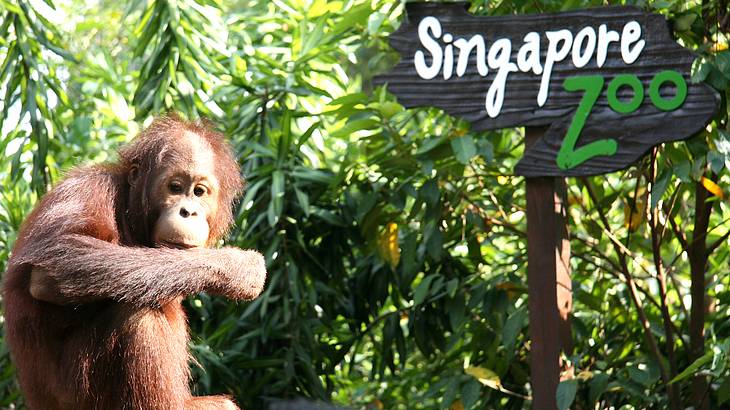 Night Safari at the Singapore Zoo
One of the many things to do at night in Singapore includes going on a night safari at the Singapore Zoo. The safari is the world's first nocturnal zoo and is home to over 900 nocturnal animals.
Animals you'll spot include clouded leopards, pangolins, and Asian tigers. A good deal of the animals at the zoo are endangered and are part of a species preservation program. Money from ticket sales also goes towards biodiversity and conservation research and projects.
At the zoo, you can explore on foot or take the safari tram. The tram is a fun and quick way to see a lot of the zoo's inhabitants. However, you can see more animals on foot by exploring the trails that will take you around the enclosures. The night safari opens at 7.30 PM each day and closes at midnight.
An Exciting Day on Sentosa Island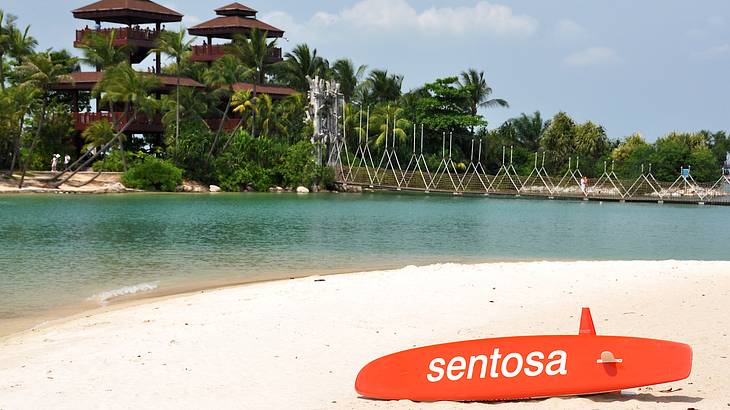 The third day of your 4-day Singapore itinerary will be spent on Sentosa Island. Here, you'll enjoy the beach, beach clubs, and some other fun attractions.
You'll start your day at Universal Studios. Adrenaline junkies can go on a range of rides, while those who love Universal characters can participate in meet-and-greets. Next, get up close with sea creatures at S.E.A. Aquarium, such as by swimming with sharks or taking part in other experiences.
You'll then be going to the beach. Or, spend your whole day here if the earlier attractions don't appeal to you. At Siloso Beach, you can enjoy water activities or relax with drinks on the beach or at a fun beach club. Finally, head to Tanjong Beach for drinks, food, and parties that can continue late into the night.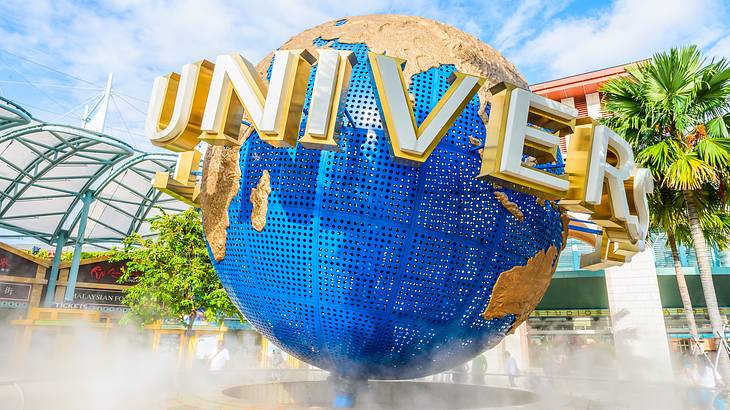 Universal Studios
From incredible rides to movie screenings and a slew of events, you can't go wrong with a trip to Universal Studios. This location is Asia's first and only Universal Studios. It's an ideal attraction for both families and adults traveling without kids.
There are 28 rides based on a range of movies, including Transformers and Jurassic Park. There's even a set of roller coasters that speed right past each other, which is great for thrill-seekers!
You'll additionally run into many well-known characters, such as Elmo, the Minions, and the animals from Madagascar. Don't forget to visit the onsite stores to get merchandise featuring all your favorite movie characters.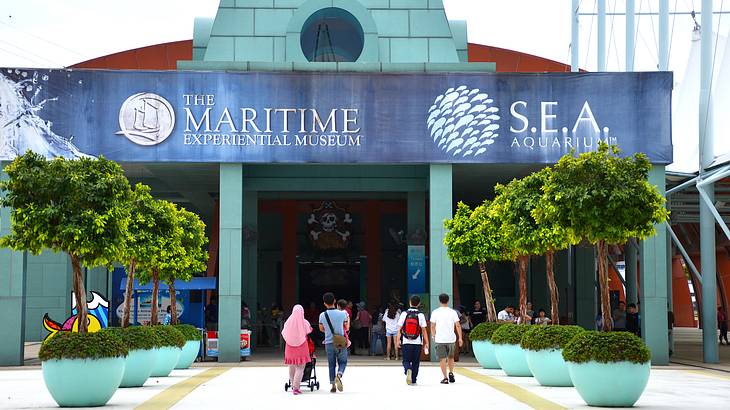 S.E.A. Aquarium
S.E.A. Aquarium is another popular attraction on Sentosa Island. The vast aquarium is home to over 100,000 marine animals from a range of habitats. Some of these creatures include various species of sharks, manta rays, and dolphins, plus many fish and even poison arrow frogs.
As you explore the aquarium, you'll be able to get up close with all these creatures and see daily shows. There are also sea life experiences available for an additional fee.
One of the most popular experiences is the Shark Encounter. Adrenaline junkies can swim with the aquarium's sharks, including hammerhead and sandbar sharks. They even offer a sleepover experience where you can spend the night sleeping surrounded by marine life!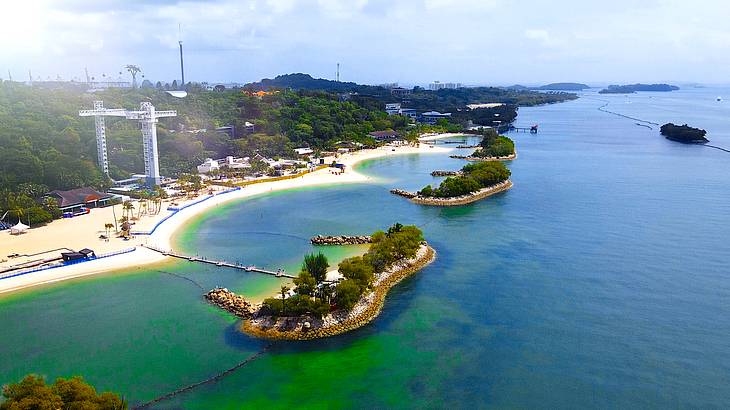 Siloso Beach
Along with attractions like Universal Studios, Sentosa Island has three beaches. So if you're looking for things to do in Singapore in four days and love the beach, Siloso is the place to go.
Those wanting to undertake activities will have a range of choices. For example, cycling, kayaking, and skimboarding are all offered at various locations.
Additionally, visit Fort Siloso, the island's coastal fort with an onsite military museum. You can also go across the Fort Siloso Skywalk, a 181-meter-long trail perched at 11 stories high.
For a more relaxed time at Siloso Beach, you can hang out on the beach by renting a beach chair. There are also many beach bars and a selection of beach clubs.
Ola Beach Club is a popular location. This Hawaiian-themed club features beach-facing cabanas, a pool, and a myriad of water activities. They also serve delicious Hawaiian-inspired food and drinks. Coastes Beach Club is also recommended. You may even see their resident peacocks wandering around the club!
Tanjong Beach
Another great place to go to relax or party while on Sentosa Island is Tanjong Beach. This beach is less busy than Siloso Beach, with the main attraction being Tanjong Beach Club.
The Beach Club offers high-quality poolside dining for brunch, lunch, and dinner with cozy seating and candlelit tables. You can also rent a beach chair and hang out by the pool with a drink.
Tanjong Beach Club also frequently has DJs and events during the weekends, holidays, and at night. So if you feel like spending time by the pool, eating, drinking, and partying, this is the place to do it!
Explore Singapore's Iconic Landmarks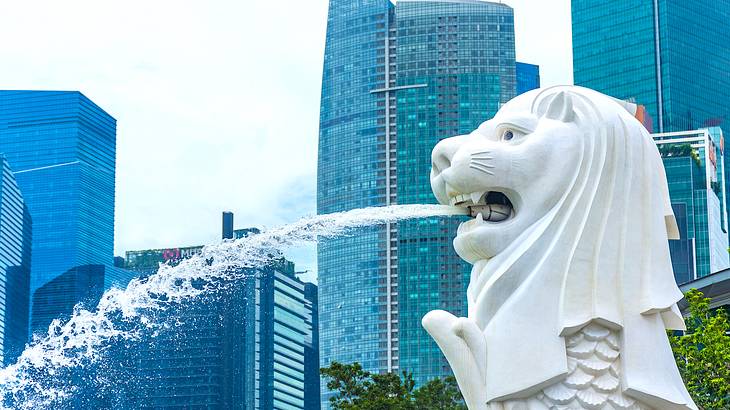 The last day of your Singapore trip will be spent visiting iconic landmarks and trying tasty Singaporean food. You'll begin your day in Chinatown. Visit the cultural landmarks and check out the many shops here, including Chinatown Street Market.
Next, visit some classic Hawker Centres. These food "malls" are filled with stalls selling cheap and delicious cuisine. Heading to Maxwell Food Centre to try Michelin Star Chicken Rice, among plenty of other dishes, is a must!
You can then head to Marina Bay to enjoy fantastic views. You'll also see the famous Merlion Statue and get to go high above the city on the Singapore Flyer. Then, enjoy the magical Gardens by the Bay. Finish your day with light shows at the Gardens and Marina Bay, and wander back to Chinatown or Clarke Quay for late-night drinks.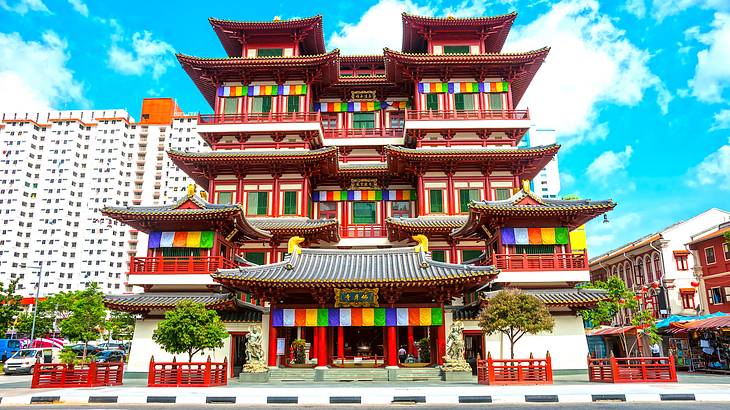 Chinatown
Singapore's Chinatown is a magnificent location for travelers. It's full of great shopping and dining spots as well as cultural and historic sites. Singapore's Chinatown is also the only Chinatown in the world with a Buddhist temple, a mosque, and a Hindu temple all on one street.
Some good cultural spots to visit are the Buddha Tooth Relic Temple and Museum and the Sri Mariamman Temple. The latter, built in 1827, is the oldest Hindu temple in Singapore.
A visit to Chinatown Street Market is also recommended. There are hundreds of stalls selling a wide variety of items. It's equally as interesting and atmospheric during the day or at night.
Additionally, you'll find Hawker Centres in Chinatown, including Chinatown Point Hawker Centre. There's also a fun selection of bars if you want to return later in the day. I recommend Native Bar for some fantastic drinks. This trendy bar has been ranked as one of the 50 best bars in the world.
Maxwell Food Centre
This Hawker Centre is one of the most popular food outlets in the city. There are over 100 different food stalls to discover. As everything is relatively cheap (most dishes are between $3 and $6), you can try a range of Singaporean dishes. Despite the prices, the food is high quality, with some of the best "restaurants" in the city being found here.
A very popular stall is Tian Tian. Their best-known dish is the Hainanese chicken rice. It's highly rated by many top chefs, and they even have a Michelin Star! They're the first food stall ever to gain this coveted accolade.
Ah Tai. They make amazing Hokkien Mee Noodles with pork, prawns, and squid as well as Char Kway Teow. Lastly, try savory rice porridge at Zhen Zhen Porridge.
Maxwell is open 8 AM to 10 PM and stays open until 3 AM Fridays and Saturdays (great for post-partying snacks!). I recommend you avoid going between 12 PM and 2 PM as it will be busy with employees taking lunch. It's also cash only.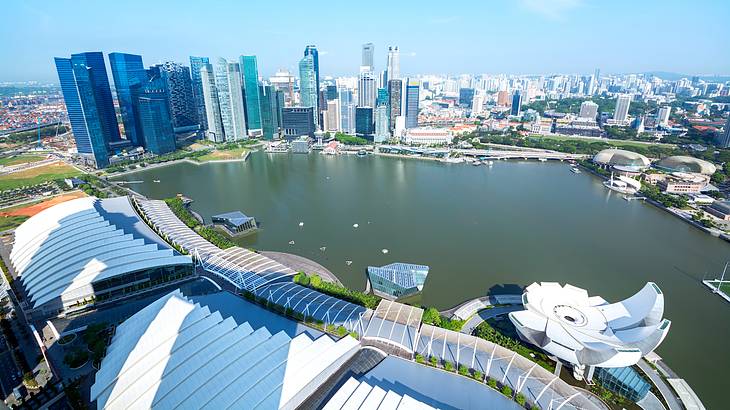 Marina Bay
Marina Bay has a vast selection of attractions. The bay also offers beautiful views. Start by visiting Merlion Park to see the iconic Merlion Statue. Then, snap some pictures and admire the marina and city views. From Marina Bay, you'll be able to see the Singapore Flyer and Marina Bay Sands, a well-known Singapore skyline feature.
Next, cross the architecturally interesting Helix Bridge to get to the Singapore Flyer. This observation wheel is a great place to get fantastic city views. You can even see some islands in Indonesia and some parts of Malaysia from the top. The Flyer also offers a selection of dining options, including afternoon tea.
Return to the Marina at 8 PM, 9.30 PM, or 10 PM on Fridays or Saturdays to watch the Marina Bay Light and Water Show.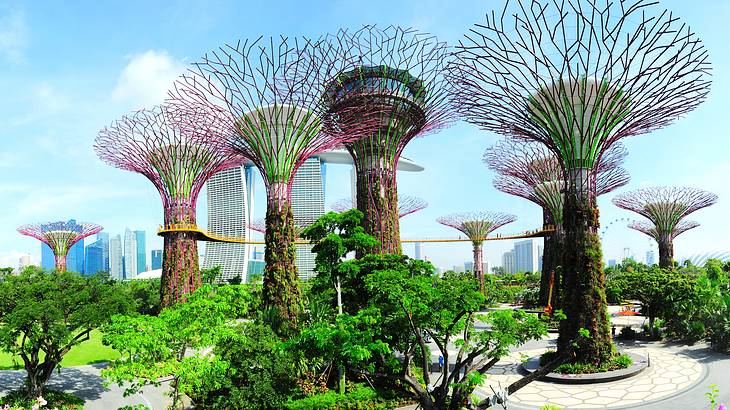 Gardens By The Bay
Gardens by the Bay is a 101-hectare garden park next to the marina reservoir. It features a range of beautiful and colorful cultivated flower gardens and exhibits.
The Flower Dome, the world's largest glass greenhouse, is an excellent place to start. Found in the South Gardens, it houses plants and flowers from across the globe. This includes a vast collection of orchids and magnolias as well as 1000-year-old olive trees.
Floral Fantasy is another pretty spot to visit. This indoor section of the gardens is covered wall-to-wall in flowers. This area is very fairytale-esque, with pretty colored flowers falling from the walls and ceilings.
The Cloud Forest is another magical area of the gardens. There is greenery all around and even waterfalls cascading down the living plant walls. Follow the sky bridge through this enchanting forest.
Finish at the Supertree Grove. This area of the gardens is well-known for its iconic trees. The up to 50-meter-high sculpted trees are covered in lights that illuminate the grove at night. Return at 7.45 PM or 8.45 PM for the Garden Rhapsody light show.
In Summary
Singapore is a great place to add to your travel list. There's so much to see and do here, and what's best is that it can all be seen in just a few days. If you're planning a first-time trip to Singapore, use my four day Singapore itinerary to check all the impressive sites and fun attractions off your list easily!
You could also consider a Singapore sightseeing walking tour with a guide that will offer background on all the landmarks you see.
---
---
Want to keep exploring?
Subscribe for discounts on tickets and hotels and our latest guides.
Thank you for subscribing
We will be in touch soon with discounts on tickets and hotels and our latest guides.
Want to keep exploring?
Subscribe for discounts on tickets and hotels and our latest guides.
Thank you for subscribing
We will be in touch soon with discounts on tickets and hotels and our latest guides.
Related Articles