Where to Stay in Granada, Spain - 10 Best Areas & Hotels
Destguides may receive commissions from purchases made through affiliate links in this article.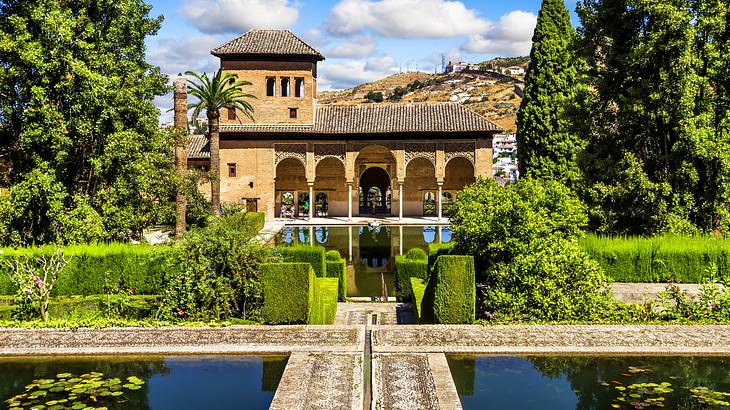 Granada is set at the foot of the Sierra Nevada and is one of the must-see cities in Spain. The city proudly reflects its Moorish heritage and, as a result, boasts a variety of different architectural masterpieces as well as some spectacular cultural experiences.
The Alhambra Palace is one of the primary attractions in Granada. Additionally, places like the Albaicín and Realejo neighborhoods show the Arabic and Jewish history of the city. Whether you are looking to enjoy the nightlife, visit famous landmarks and majestic cathedrals, or enjoy local cuisine, this is a destination not to be missed.
If you're unsure of which neighborhood will be best for your trip, read on for more about where to stay in Granada. Whether you are spending a few days in Granada or staying longer, you will be spoiled for choice.
10 Best Places to Stay in Granada, Spain
Best Areas to Stay in Granada, Spain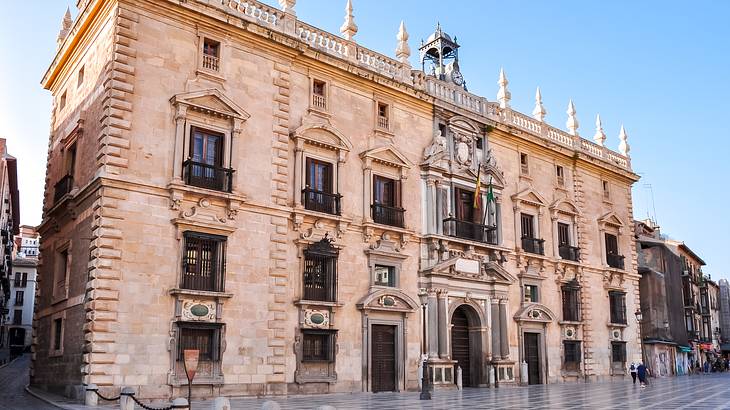 Centro
Centro is the old town center and is famous for the historic Plaza Nueva. Despite the name meaning 'New Square', It's the oldest square in Granada and was once a space for tournaments and games.
Granada Cathedral is another beautiful place to visit, with Gothic architecture, a marbled interior, and ornate high ceilings. The cathedral was built in the 16th Century and is a masterpiece. If you have only a few days in Granada, make Granada Cathedral a highlight of your trip.
You should additionally visit Romanilla Square, which is close to the cathedral and has cafes where you can stop for a drink or something to eat. The square is also near some tapas bars.
Centro is an excellent choice for young travelers or couples, as it is close to many restaurants and bars. Its range of boutique hotels will also enchant you if you're looking for a luxurious stay.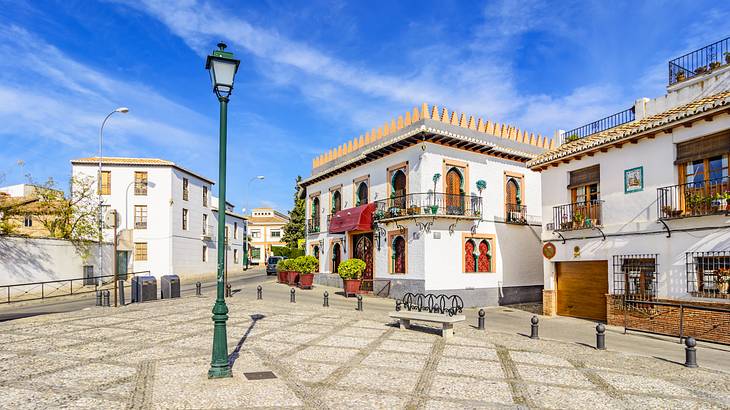 Albaicín
Albaicín is the Moorish Quarter and is a UNESCO World Heritage Site. It is placed on a hillside opposite the Alhambra. You can reach Alhambra Palace from this neighborhood by bus.
You can also stay in the neighborhood and take a walking tour. Its narrow cobbled streets will take you back to days gone by. However, as it is placed on a hillside, it is a steep walk and might not be suitable for families with small children.
This unique district offers the taste and scent of Middle Eastern food and is the best part of Granada to stay in if you love Moorish architecture. Interesting squares and rooftop restaurants offer the opportunity to have a drink as the sun goes down.
This quarter also provides a great view of the city. Other things to do here include exploring old buildings and museums, visiting the Turkish Baths, and wandering through the many squares, like Santa Ana Square. You can easily reach the Los Tristes Promenade, where you can see the Aljibillo Bridge, from Albaicín as well.
Chana
Chana was once an agricultural area, although it's now a suburban area. You can take a bus or taxi from Centro to the district. When in this area, you can visit Azucarera San Isidro, the ruins of an old sugar beet factory. Although it closed down, it's a reminder of Chana's agricultural past.
You can also go to Almunia de Aynadamar Park. Here you can sit under leafy trees and listen to the sound of the fountain. Chana additionally has an excellent selection of tapas restaurants where you can sample a range of different Spanish foods along with beer or wine. You can choose from meat, seafood, and vegetarian dishes.
With its slow pace and beautiful parks, it's the best area in Granada to stay for peaceful walks and slow-paced days. It's ideal if you are looking for a relaxed visit and is suitable for all budgets.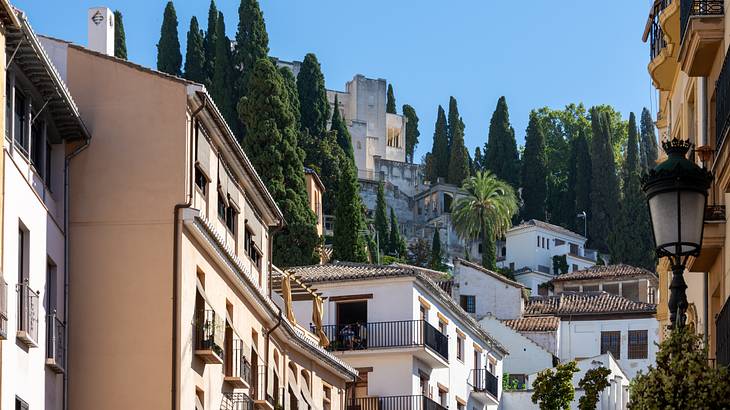 Realejo
Realejo, officially called Realejo-San Matias, is the Old Jewish Quarter. Shepardi Jewish people lived here until they were expelled under Catholic Rule.
Today, this is a busy and vibrant area and a top place to stay if you love charming Spanish buildings, street art, and tapas. Walking around Realejo allows you to see street art by El Niño de las Pinturas, who has turned a collection of buildings into an outdoor art gallery with his graffiti.
Additionally, you can view the statue of Yehuda Ibn Tibón, a 12th-century Jewish translator and poet who was once a resident. If you would like to learn more about the area, plan a visit to Casa de los Tiros Museum, which has exhibits on local history.
Realejo is perfect for couples and families. It's accessible by bus or metro. As it is located next to Centro, you can easily walk there to explore the sites. You can also take a bus to visit Alhambra Palace.
Sacromonte
Sacromonte borders Albaicín and is home to the Roma community. They first settled in Granada in the 15th century after traveling to Spain from India. It is a small and very steep part of the city, with many houses burrowed into cliffs.
This quaint district has one main road and is filled with meadows and beautiful views. The Cave Museum of Sacromonte is a can't-miss attraction. It's found on a hilltop in a series of caves. It shows the cave-dwelling tradition of the Roma people and also has some Roma arts and crafts on display.
Sacromonte also holds guitar concerts as well as flamenco dancing in the cliffside caves. This is an excellent destination if you enjoy culture, traditional music, or natural scenery. It's great for single people, families, and couples.
Bola de Oro
Bola de Oro means 'Ball of Gold,' and this neighborhood was established during the 1940s. It was originally a rural area but has grown into a suburb. The name comes from the money that traders could make at the local marketplace.
It is the best area to stay in Grenada, Spain, if you would like to stay in a quiet place close to the Alhambra and other exciting sights. The Alhambra is accessible by public transportation from this area and can be reached in around 40 minutes to an hour, depending on where you stay exactly.
If you are a sports lover, this is the place for you. The district has a sports complex with tennis courts and a swimming pool. It also has a skate park for kids to enjoy themselves while burning energy. Younger children can ride bikes in the area's parks.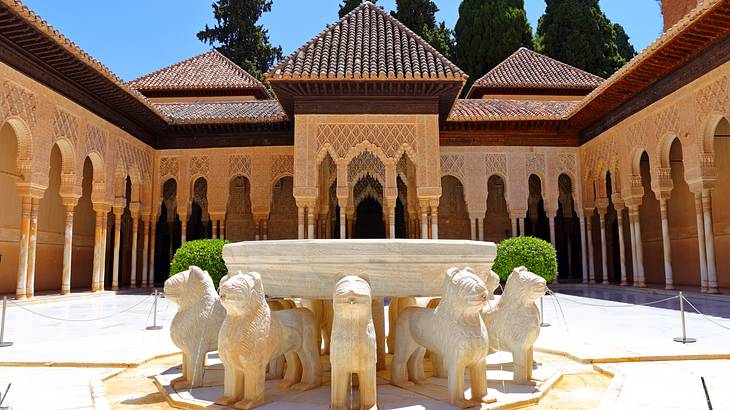 Alhambra
The Alhambra Palace is one of the most famous landmarks in Spain. It is an excellent choice if you love Medieval or Renaissance architecture or history. You can reach Alhambra by bus from Centro or take a guided tour to find out more about this fascinating area.
Construction of Alhambra Palace began in 1238, and it was built on a plateau overlooking Albaicín. The gardens outside the palace are also beautiful and contain an elm forest and roses, orange trees, and myrtles.
Above the palace are the Gardens of Generalife, which means garden of paradise, and was once the summer home of Moorish kings. Staying around Alhambra is perfect if you love sightseeing and want to be close to this world-famous attraction.
While there are not a lot of accommodation options by the site, there are some. However, they're pricey and get booked quickly.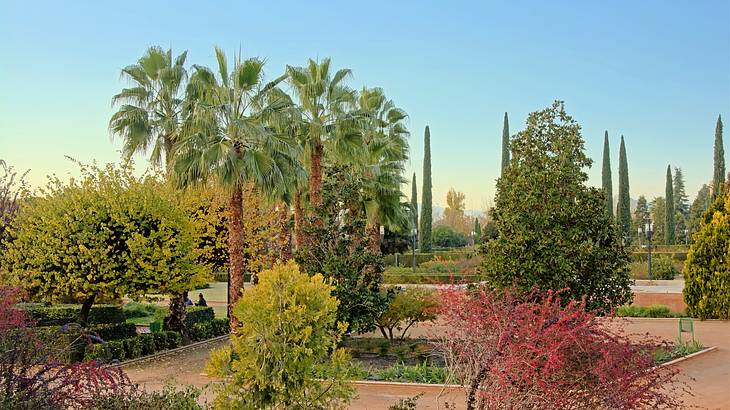 Ronda
Ronda is a modern residential area of town close to Centro. It is one of the most populated districts in Granada with many housing complexes, and began life as a garden suburb.
In this area, you can go for a stroll or a picnic in Federico García Lorca Park. The park used to surround the summer home of the poet and scriptwriter, and you can now visit that property as it is a house museum.
The popular Science Park is another top attraction in this area. The interactive museum has a planetarium, library, biodome, and cultural center. Exhibits explore physics, chemistry, and the environment, amongst other topics.
Ronda is the place to stay if you want to enjoy a residential area at a peaceful distance from the hustle and bustle of Centro's nightlife.
Beiro
Beiro is a university district that features modern and traditional buildings and is a charming place to stay. You can choose between holiday apartments, hostels, and hotels, and there are also some excellent eateries in the area.
If you want to learn more about the local community, Beiro has a community center where you can join talks or workshops and practice your Spanish. It is also the best location to stay in Granada, Spain, if you are a younger traveler or would like to visit the University of Granada.
In addition, it's close to sightseeing opportunities and other neighborhoods, including Albaicín and Centro, which you can reach by walking or public transport.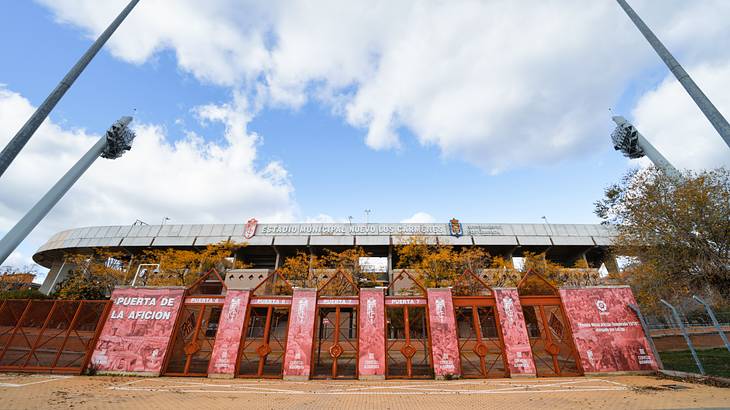 Zaidín
Zaidín means "land between rivers" and is a modern suburban area of Granada. Notably, if you love sports, this is the best neighborhood to stay in Granada, Spain. This is because Estadio Nuevo Los Cármenes, home to the soccer team Granada CF, is located here.
If you have extra energy after cheering on the team, visit the Periodista Tico Medina Park. This large park has places for walks, sports fields, and a bicycle area. You can also enjoy drinks and snacks at some of the cafes around the park.
Where to Stay in Granada, Spain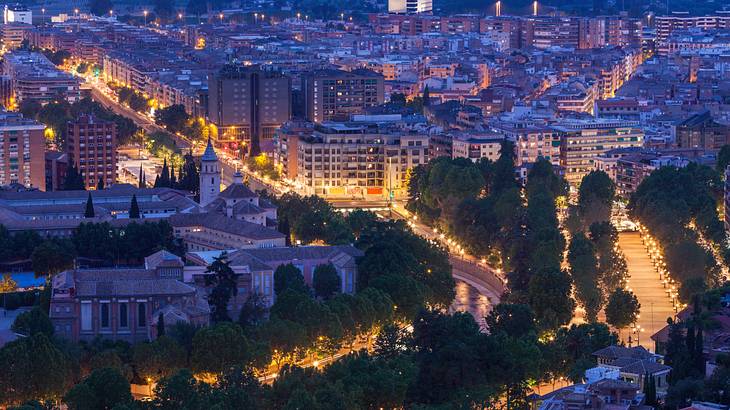 Where to Stay in Granada for Nightlife?
Centro has the most bustling nightlife in the city. Start the night off with some drinks and food at a tapas bar. The city is renowned for giving a free tapa or snack with each drink you order, so you can sample a range of delicious foods for every drink you order!
If you prefer traditional bars, Centro also has many to offer. You can choose one or explore different bars until the early hours of the morning. Centro clubs begin to party later and allow you to dance until dawn. With a range of music choices, from rock and pop to dance, you'll definitely be able to find a club for you.
Where to Stay in Granada with Family?
If you're traveling with family, Ronda is the best location to stay in Grenada, Spain. Ronda is a quiet residential area but is close to Centro, allowing you easy access to the attractions there.
In Ronda, kids can burn off energy in Federico García Lorca Park. In addition, the family-friendly Science Park is a not to be missed treat. Here, you can occupy your kids with exhibits, a theater, and a planetarium.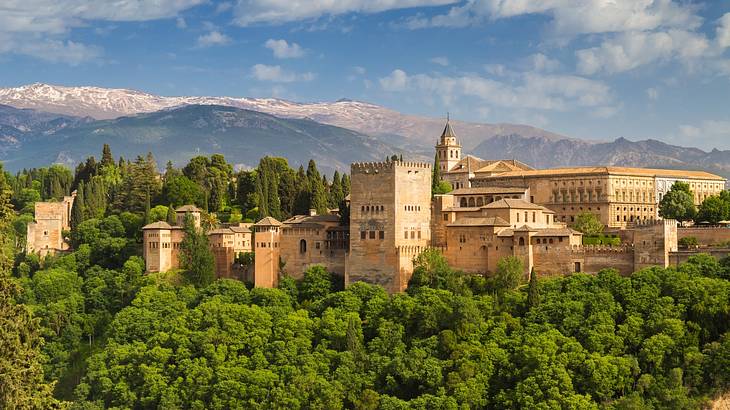 Where to Stay in Granada for Sightseeing?
If you want to see some of the most beautiful sites, Alhambra is the best place to stay in Granada, Spain, for sightseeing. From here, you can explore the palace, which sits above the city. Don't forget to visit the terrace area for incredible views across the city.
The gardens are known as 'Paradise on Earth' and were seen to be both natural and spiritual places. The Alhambra has many beautiful garden spaces to explore and enjoy. Additionally, the Gereralife has some of the oldest Moorish gardens in the world. It also has a four-story water-feature staircase.
At the Alhambra Museum, you can view Nasrid art dating back to the 13th Century. This art was discovered during archaeological excavations of the palace complex. It has been displayed alongside other works of Muslim art.
Where to Stay in Granada for Cheap?
If you are exploring on a budget, Albaicín is the best area to stay in Granada, Spain. The neighborhood has a number of hostels where you can stay on a budget. You can also choose from affordable hotels.
Albaicín is unique because it offers you the opportunity to learn more about the culture and history of this Moorish section of Granada. You can explore alone or book inexpensive tours. The rich range of choices would make this a stay that is both memorable and budget-friendly.
In Summary
If you're wondering which neighborhood to stay in during your trip to Granada, this article will have given you an idea of all the options available. From historic neighborhoods and quiet suburbs to the bustling Centro, there's a place for every type of traveler.
Whether you want to explore old architecture, visit top attractions, or enjoy a flamenco show, your time spent in Granada will be memorable, no matter where you stay!
Give us feedback about this article
Learn more about Granada:
More articles about Andalusia:
Read more articles about Spain:
More articles about places to stay:
---
---
Want to keep exploring?
Subscribe for discounts on tickets and hotels and our latest guides.
Thank you for subscribing
We will be in touch soon with discounts on tickets and hotels and our latest guides.
Want to keep exploring?
Subscribe for discounts on tickets and hotels and our latest guides.
Thank you for subscribing
We will be in touch soon with discounts on tickets and hotels and our latest guides.
Related Articles