Where to Stay in Spain? 17 Best Places to Stay in Spain
Destguides may receive commissions from purchases made through affiliate links in this article.
From fiestas and flamenco shows to architectural masterpieces and sun-kissed beaches, Spain is a destination for everyone. However, if you're planning to visit this European country, deciding which areas to stay can be challenging.
Do you want to marvel at landmarks like the Sagrada Familia in Barcelona? Or perhaps spending your vacation relaxing on beautiful beaches like those in San Sebastián is more for you?
If you're unsure where to begin, this article covers the 17 best places to stay in Spain, allowing every kind of traveler to make the most of their trip. So keep reading to find the Spanish destination which is calling to you!
17 Best Places to Stay in Spain
Best Areas to Stay in Spain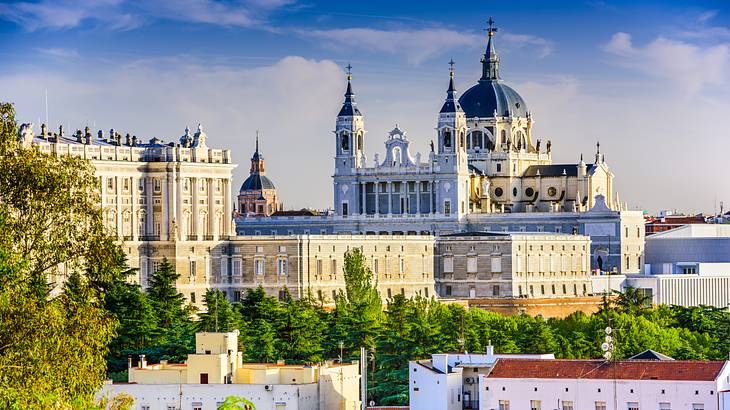 Madrid
The energy of this capital city is unlike most others in Europe! Madrid features many attractions, making it a hit with every type of tourist regardless of budget. Visitors can explore the Prado Museum, Reina Sofia, and the Thyssen-Bornemisza Museum, among many other places of interest.
Additionally, you can search for valuable finds at the massive flea market of El Rastro and then reward your efforts with some Spanish wine at the Plaza de Santa Ana. Finally, don't forget to stop by La Chocolatería San Ginés to try the shop's famous churros dipped in chocolate.
Then, you can enjoy eating tapas in the evening, followed by a flamenco performance. When you're finally finished with the capital, you're in an excellent location to visit the rest of Spain.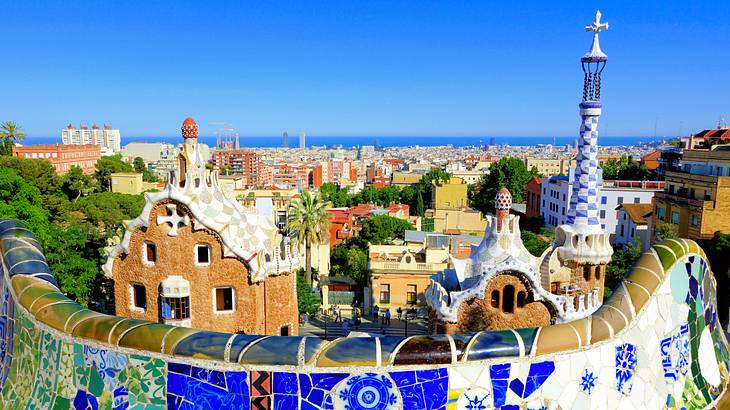 Barcelona
Barcelona has a history dating back centuries and features distinctive architecture and beaches that offer a relaxed vibe. So it's hardly surprising that this is one of the best cities to visit in Spain. Due to its excellent rail connection services, reaching the area from other parts of Spain or Europe is easy.
If you're planning a quick trip to the city, visiting the world-famous landmark, La Sagrada Familia, should be at the top of your to-do list. This cathedral is the masterpiece of Antoni Gaudi and is still in the making after one hundred years.
You can then delve deeper into the art scene by wandering through Gaudi's Park Güell before heading to Picasso Museum. If you're a soccer fan, going to FC Barca's Camp Nou must also be on your Barcelona bucket list.
When you want something to eat, there's no better place to try Catalan cuisine than La Barceloneta. Before or after eating, you can also stroll along the waterfront boardwalk here.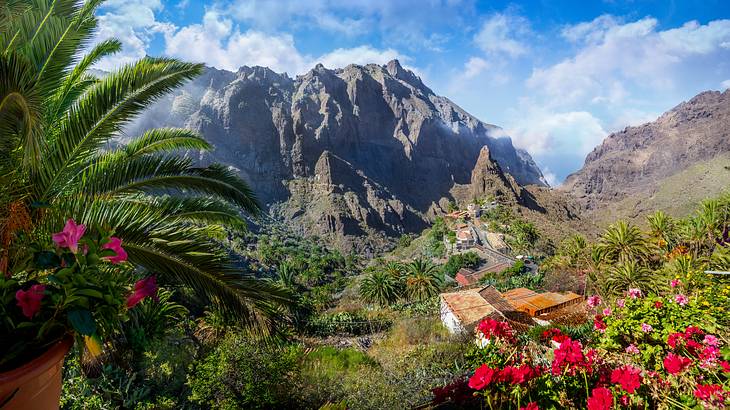 Tenerife
Tenerife is a hotspot in the Canary Islands for tourists looking to spend hours immersing themselves in nature. It's also ideal for those that love the beach. You can find numerous beaches to relax on here, like Playa de las Américas, and there are coastal towns to visit, such as Los Cristianos.
If you enjoy outdoor activities like hiking, take a trip inland to Mount Teide National Park. You'll see Spain's tallest peak and many volcanic formations while following nature trails.
Visitors that want to explore beautiful Tenerife towns should add San Cristóbal de La Laguna and Santa Cruz de Tenerife to their must-visit list. Both have great atmospheres and vibrant downtown areas full of unique local businesses.
Given the diversity, it's understandable why this is considered one of the top vacation spots among tourists. Best of all, you can find an accommodation option for every type of budget.
If you plan to go to Tenerife, you can bring your car and take the ferry from mainland Spain. Flights are also available from popular Spanish cities like Barcelona and international destinations.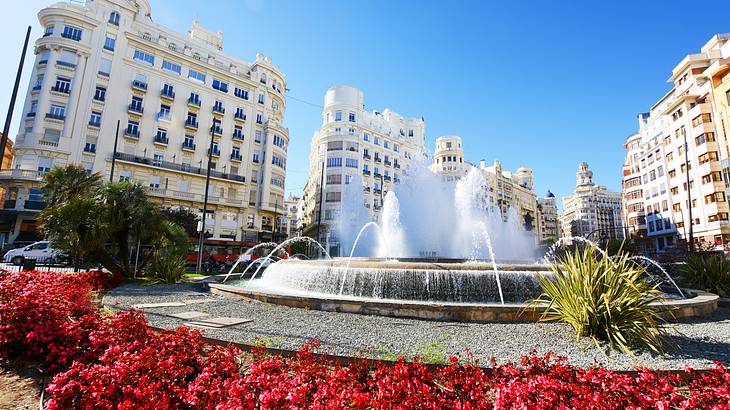 Valencia
Those looking for a vacation filled with activities will be interested in going to Valencia. Wandering through the quaint Old Town area is just one of the many things to do in Valencia.
Another excellent activity is exploring the bustling Central Market, which is filled with aromatic smells, colorful stalls, and friendly vendors. Along with fresh produce, you can grab some ready-to-eat dishes here, like the national dish of paella or fideuà, a Valencian paella-style dish made with pasta instead of rice.
You'll also want to admire the likes of the magnificent Valencia Cathedral and Quart Towers. The Turia Gardens, stretching nine kilometers and curving around the eastern part of the city, are not to be missed either if you need a change of pace. With good public transport connections, you can easily explore most parts of the city within a few days.
If you have a little longer in the area, you could visit a nearby beach town. Don't let the reputation of Benidorm deter you from going to a coastal town!
Both Dénia and Xàbia have kept their charm and are far from overpopulated. You can reach these areas in around an hour to two from Valencia, and there are budget-friendly accommodation options if you want to stay overnight. They are seasonal destinations, so plan a spring or summer trip to ensure all attractions are open.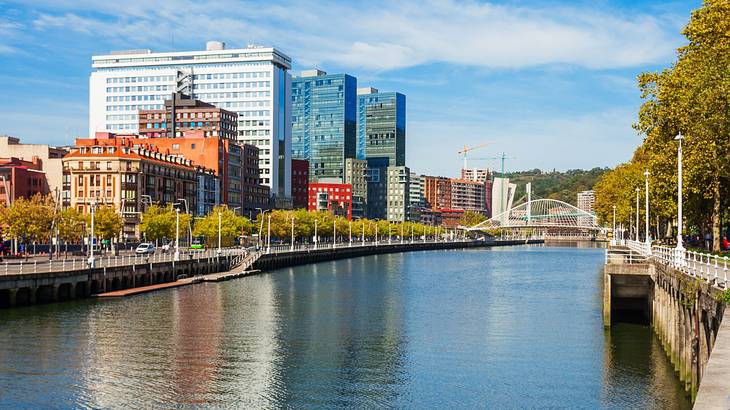 Bilbao
A hub for the Basque country, the historic town of Bilbao is easily overlooked. However, it makes for a lovely day trip from Barcelona and can be explored on foot. It's also very affordable, making it one of the best locations in Spain for budget travelers.
The primary attraction here is the Guggenheim Museum Bilbao. This famous landmark in Spain puts Bilbao on the map! Along with the fantastic art collection, you can admire the unique architecture of the museum building, designed by Frank Gehry.
For the foodies, try one of the pintxos bars, which serve Spanish wine and snacks. You could even make an afternoon of it and do some pintxos bar hopping. Ribera Market, the Old Town, and the Ensanche area are the best places in Bilbao for this kind of activity.
If the wine hasn't gotten to your head, you can roam the streets in the Old Town and go to the Bilbao Cathedral. You could also stop at one of Bilbao's parks for some respite.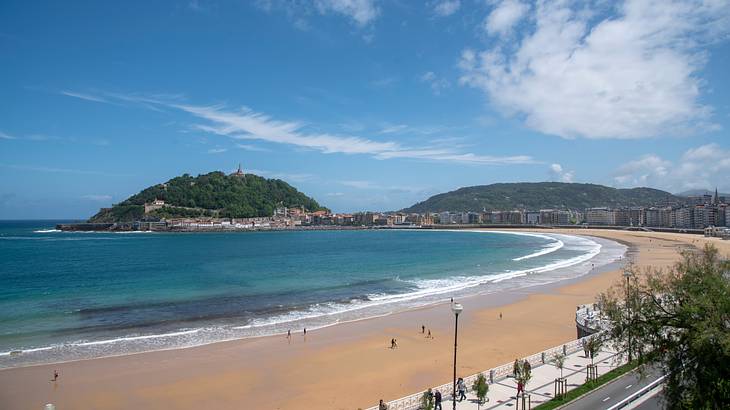 San Sebastián
San Sebastián is a stunning resort town in Spain that's easily accessed by plane. A wealth of history, culinary delights, sandy beaches, and a charming old town are waiting for you if you opt to go to this destination.
Landmarks such as the Basilica of Saint Mary of Coro are available to explore, or head for the sandy shore of La Concha Beach. You could also lose yourself in the maze-like area of Parte Vieja, with its numerous bars and historical buildings.
If you want to see another place, plan a trip to the nearby fishing town of Getaria. It's known for its delicious fresh seafood and association with the fashion icon Cristóbal Balenciaga.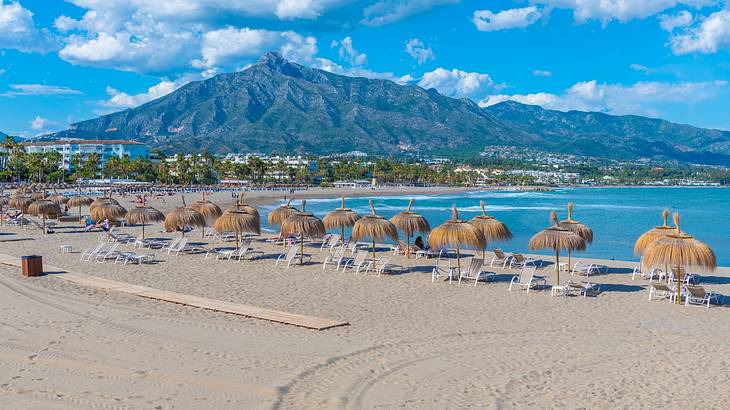 Marbella
Marbella is a destination for the affluent traveler! Luxury encapsulates this metropolis, from the hotels lining Puerto Banús to beaches like Playa de la Fontanilla, where the most expensive cars are seen side by side with privately owned yachts.
However, there are more affordable attractions to be visited. Plaza de los Naranjos is the heart of the Old Town and a wonderful place to explore. If you're willing to pay the exorbitant price for a drink, the bars here are a perfect place to unwind and take in the culture.
A cheaper alternative for cultural immersion is a visit to the Spanish Contemporary Engraving Museum, an art museum with works by Picasso, Miro, and Dali adorning the walls. If you have time, take the train to Fuengirola for a day trip.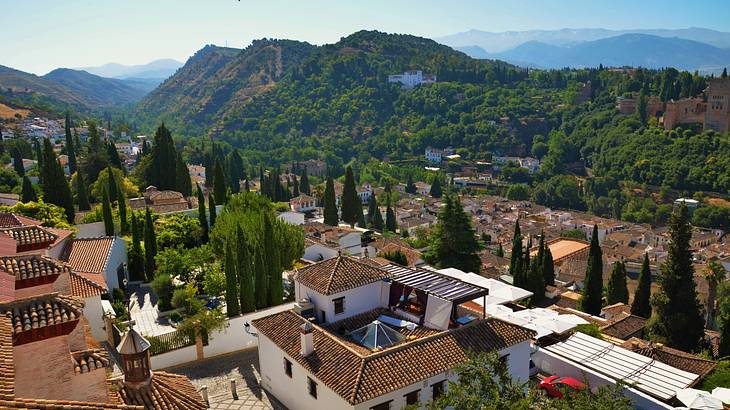 Granada
Granada is nestled in the foothills of the Sierra Nevada of Southern Spain. Comparatively cheaper than other destinations, it's an area brimming with architectural wonders, blending Moorish and Spanish cultures.
Exploring the magnificent Alhambra has to be on your Granada itinerary. The opulence of this UNESCO World Heritage Site has an otherworldly quality to it, and you'll find yourself stunned during your visit to the Nasrid Palaces.
Additionally, ensure you swing by the bustling Alcaicería. You can shop for souvenirs at this market at one of the many handicraft stalls. If you're not much of a shopper, exploring the hidden and winding streets of the Albayzín neighborhood is a pastime that anyone can enjoy.
But bear in mind that though a wonderful addition to its character, the hilly terrain may be difficult for some. Still, if you're looking for the best place to stay in Spain, Granada could be the destination for you!
Pamplona
Pamplona has a lot to offer those looking to immerse themselves in Spanish culture. Traditional dance festivals and lively parades occur frequently, and you can explore medieval lanes that ooze long-forgotten histories.
The Citadel of Pamplona is considered one of the finest examples of Spanish architecture during the Renaissance and is a landmark you can't miss visiting. Expect higher prices if you go in July, which coincides with the San Fermín (Running of the Bulls) festival.
Afterward, go to the Pamplona Cathedral, which stands inside the ramparts. For outdoor activity lovers, Pamplona makes for an excellent base to access the Pyrenees Mountains, where activities such as paragliding, climbing, hiking, and canoeing await you.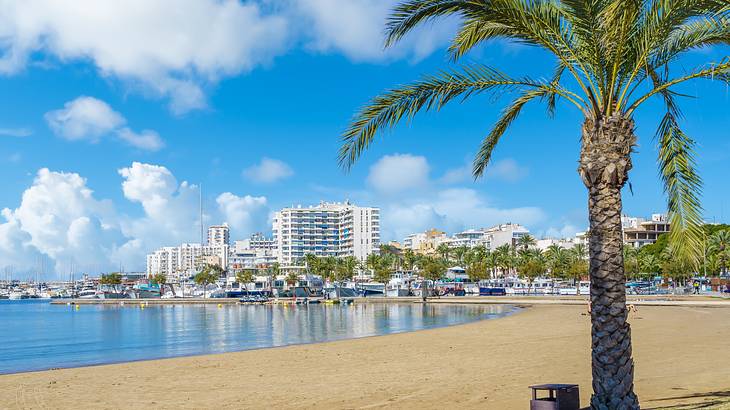 Ibiza
Ibiza has a party atmosphere to rival the Greek Islands! You can also find many things to do besides partying during the day (if you're not too hungover).
The electric nightlife of the Balearic Islands is what many tourists come here for, and DJs from around the world perform frequently. Famous clubs like Amnesia and Pacha, as well as cheap alcohol, make for a fun evening if you're a party-goer.
During the day, unwind on the beach of Playa d'en Bossa and take a refreshing swim in the sea, or venture down to the historic neighborhood of Dalt Vila. If you want wine and cocktails rather than a night out, head to one of the trendy bars and enjoy the breathtaking sunset while sipping your mojito.
This island is easily reached by plane from major cities in Spain and the rest of Europe, but expect high prices if you're visiting in the peak seasons. You can also choose from many unique places to stay in Ibiza for a range of budgets and travel needs; there's really something for everyone!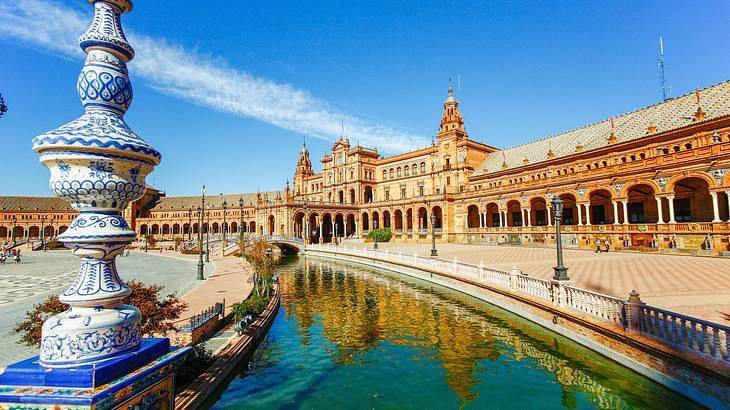 Seville
Seville is another top place for travelers that want to immerse themselves in Spanish culture. Notably, the Andalusian capital is the place to appreciate flamenco dancing. If you want to learn more about the tradition, then take a trip to the Flamenco Museum.
Visiting the palace Alcazar of Seville is another of the best things to do in Seville. It showcases Moorish and Mudejar influences and is a UNESCO World Heritage Site. For a view of the city, head to Torre del Oro, which was constructed in the 13th century and is now a notable landmark.
It's easy to understand why this is one of the best Spain destinations as this metropolis encapsulates Spanish culture. With excellent connections to and from other cities in Spain, there's no excuse not to visit Seville! However, for the budgeteers, save beforehand as all of this doesn't come cheap.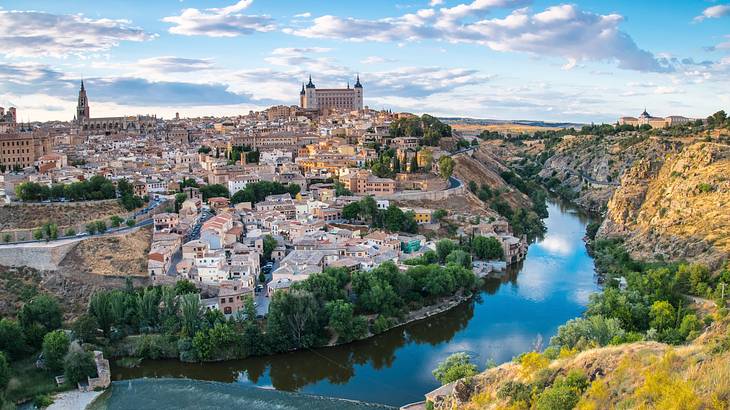 Toledo
The relics of the famed 'City of Three Cultures' make for a truly unique area to visit. Toledo has a wonderful sense of culture that history enthusiasts and novices alike can appreciate.
With that in mind, make sure to visit the Primatial Cathedral of Saint Mary of Toledo. Don't let the gothic architecture of Toledo Cathedral fool you. The site dates back to the Visigothic occupation. The interior and exterior design are a testament to the melting pot of religions from the age which you'd be hard-pressed to find elsewhere.
And the rich religious history doesn't end there. The Synagogue of El Transito dates back to the 14th century and provides a glimpse into Jewish culture in Spain. If you still haven't had your fill of culture in this medieval town, other places of interest include the Alcázar of Toledo and Puerta de Bisagra.
If you're opting for a day trip to Toledo, catch a late evening train so you can view the sunset from Mirador del Valle. If you have a longer stay in mind, you can find many budget-friendly accommodation options and more luxurious places if you have a little more to spend.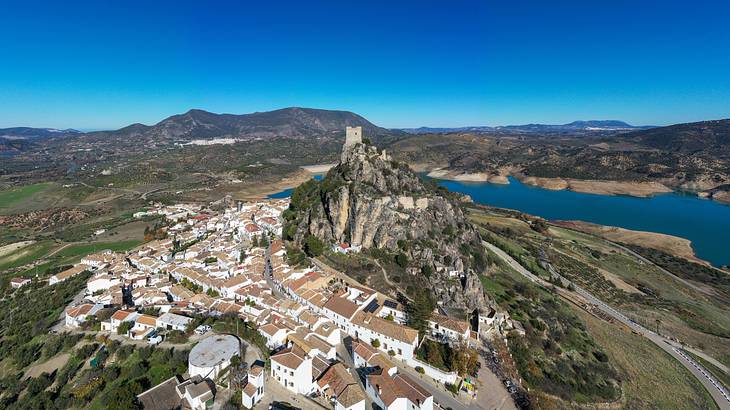 Cádiz
Cádiz is the perfect destination for relaxing and admiring the country's rich history. You'll find this coastal gem in the heart of Andalusia. It's easily reached by train and car from other parts of the Andalusia region and is wallet-friendly too!
One of the best activities here is taking in the stunning panoramic views from atop Cádiz Cathedral. The castle ruins of Paseo Fernando Quiñones are another top landmark to visit. This attraction offers beautiful views of the city and has an interesting history.
For those needing some relaxation, a trip to La Caleta Beach or Playa de la Victoria is for you. Don't forget to also try lots of Andalusian cuisine during your stay. Notably, you can enjoy freshly caught seafood in a range of mouthwatering tapas dishes.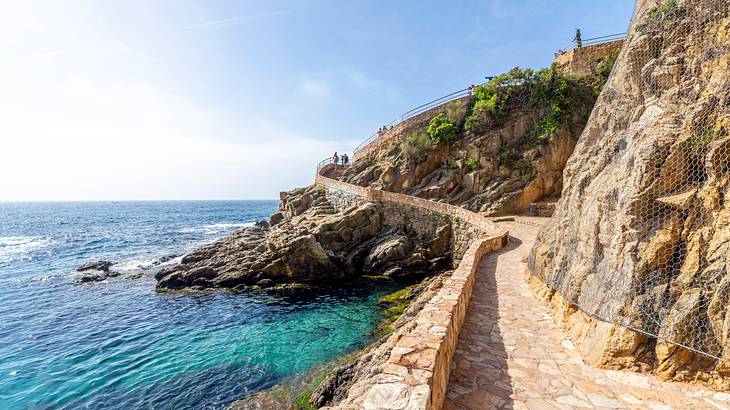 Costa Brava
Rugged cliffs, hidden coves, and picturesque azure waters make the Costa Brava an idyllic escape for anyone looking to relax by the sea. The coastal city of Tossa de Mar is a favorite destination with many visitors.
With a medieval fortress overlooking the Mediterranean, it looks like a work of fiction, making it one of the best towns in Spain to visit. During your stay, you can explore the cobbled streets and make sure to order some fresh seafood paella.
For the adventurers, there are lots of outdoor activities to choose from. You can hike along the Camí de Ronda or explore underwater worlds with a snorkeling excursion. Hiring a car and visiting the different towns and beaches of the Costa Brava is also recommended.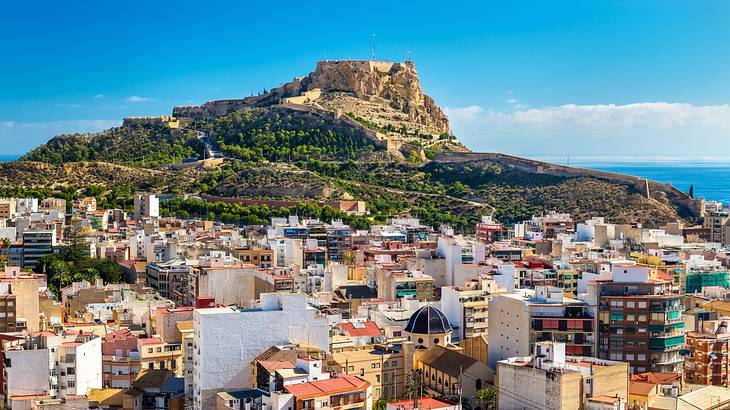 Alicante
Mosaic-tiled promenades and a labyrinth of pretty cobbled streets make Alicante a destination that can't be missed during your travels in Spain. Take a few hours to immerse yourself in the culture with a visit to the iconic Santa Bárbara Castle which dates way back to the 9th century.
It is quite a steep hike to the landmark, but you'll be rewarded with a breathtaking view at the end. From there, try the local cuisine and recover from your hike at Alicante Central Market.
You can then explore the streets and admire the charming clashing colors of each building. With so many fun things to do in Alicante, it's a top choice for all kinds of travelers.
Do note that you should expect busy crowds and steeper prices during the summer months for top landmarks like Santa Maria Basilica, the Co-cathedral of Saint Nicholas of Bari, and Alicante City Hall.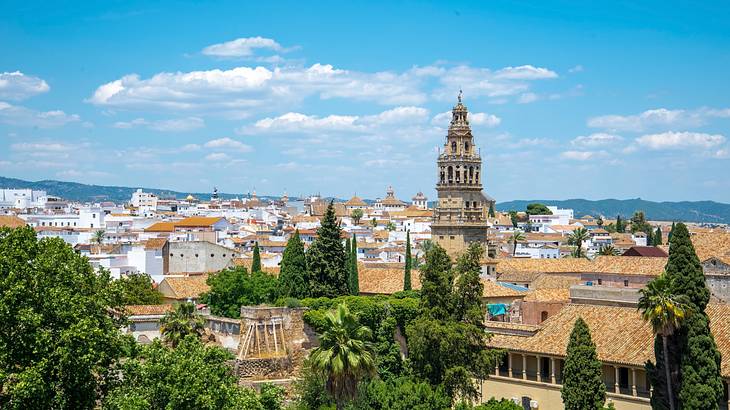 Córdoba
This area of Spain is the very picture of cultural diversity and a momentous remnant of a forgotten era. The Moorish grandeur of Córdoba is prevalent in the Mezquita-Catedral. It's a site worthy of its UNESCO World Heritage title and has to be part of your Cordoba itinerary.
Also, set a few hours aside to stroll through the Jewish Quarter, and be sure to photograph the colorful flowers against the ivory-white buildings. If visiting in May, you may even be fortunate enough to be welcomed into private courtyards by locals for the annual Patio de los Naranjos festival.
For food, Córdoba's culinary scene is known across all of Spain, with traditional dishes like flamenquines (stuffed and breaded pork rolls) being a hit with locals and tourists alike.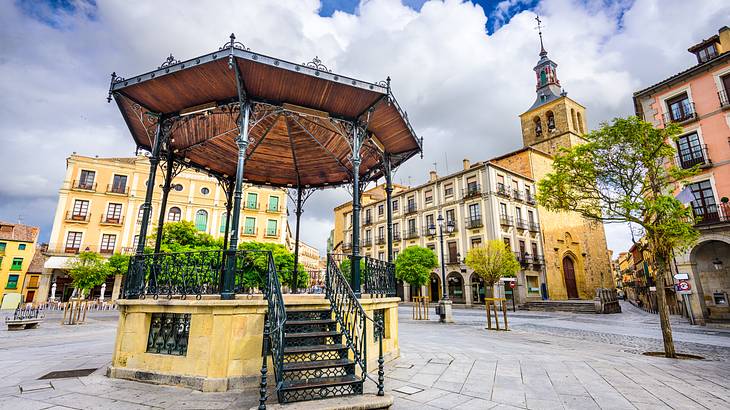 Segovia
The UNESCO World Heritage City is one of the best places to visit in the country due to its blend of fascinating history and architectural wonder. Notably, remnants of Roman engineering can be seen in the city's aqueduct.
Keeping with the theme of long-lost eras, take a walk through the narrow streets of the medieval Old Town until you find yourself at the magnificent Segovia Cathedral. Also, be sure to stop off and appreciate Segovia's cultural diversity in the Jewish Quarter.
Going to the fairy-tale Alcázar of Segovia is recommended as well. After all this walking, replenish your energy with Segovia's specialty cochinillo asado.
If you're staying in Madrid, the hour-long bus journey to Segovia makes for the perfect day trip. Or, you can plan a more extended visit to the city if you want extra time to explore. This isn't one of the cheapest places in Spain, though, so keep that in mind if you're on a budget.
Where to Stay in Spain
Where are the best places to stay in Spain for families?
Spain's coast is a holiday hit and for a good reason. The beaches here all have child-friendly water, dozens of attractions that are fun for parents and children, and restaurants to cater to even the fussiest eaters. You can also enjoy adventure activities like rafting, kayaking, and canyoning.
For this kind of getaway, the likes of Tenerife, Benidorm, and Costa del Sol are the best vacation spots in Spain for families. However, if a trip to the city is on the agenda, then the Spanish capital will not disappoint. The Warner theme park, Madrid Zoo Aquarium, and the Museum of Natural Sciences are some of the top picks.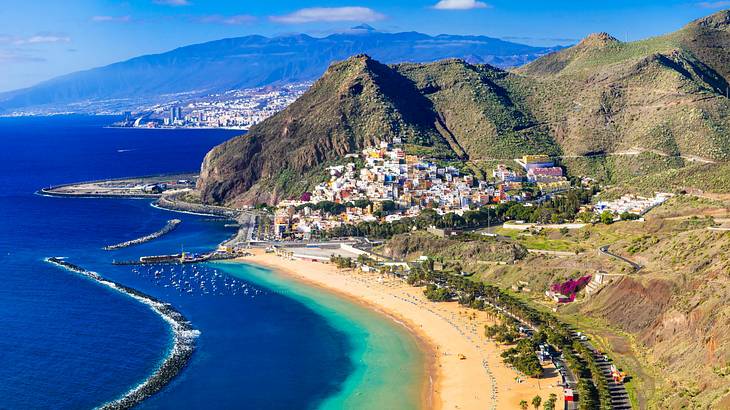 Where are the best places to stay in Spain near the beach?
Beach-goers are in for a treat. Bustling promenades and golden sands can be found in Torremolinos, while Fuengirola's watersport activities and energetic ambiance will be a hit with families.
The Canary Islands also cater to all travelers, from the adventure-seeker to the relax-by-the-sea type. You'll find exhilarating activities like windsurfing and diving in Fuerteventura and an urban escape in Gran Canaria, with your days filled with good food and relaxation.
The beach destinations of Tossa de Mar and Lloret de Mar in the Costa Brava region offer a mix of sun and a medieval allure that will fascinate history enthusiasts and culture appreciators alike. For anyone with a bigger budget, the luxurious beachfront of Marbella awaits you; its high-end restaurants and docks filled with privately owned yachts set it apart from all other beaches in Spain.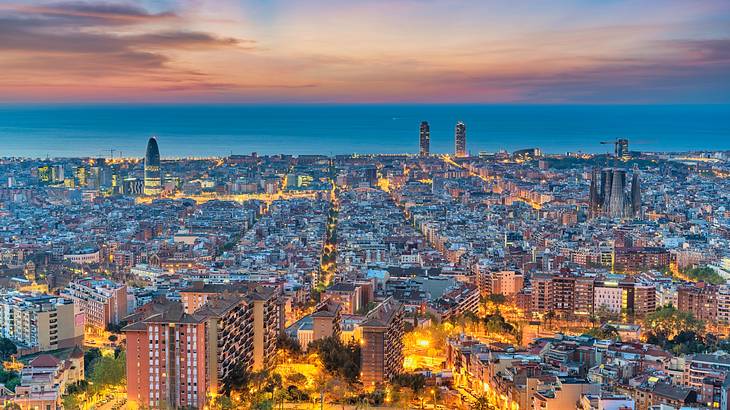 Where are the best places in Spain for nightlife?
Spanish cities pulse with infectious energy at night time! Even the coastal areas offer something fun for everyone after the sun goes down.
Citywise, there's no place like the capital and Barcelona for nightlife. Trendy bars and clubs are yours to enjoy in the neighborhoods of Malasana and Gran Via. Barcelona is also home to some of the country's hottest beach clubs that can be found in Port Olimpic.
For the beach-exclusive nightlife, none can compare to Ibiza. Known worldwide as an ultimate party paradise, it's no surprise that it draws a crowd from all over the globe. Open-air clubs, boat parties, and world-famous DJs make it every party-goers dream.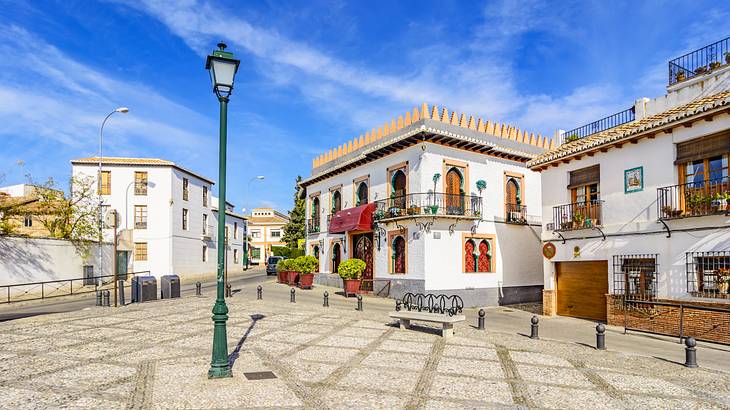 Where are the cheapest places to stay in Spain?
There are dozens of destinations that cater to the budget traveler. There are many wallet-friendly guesthouses and hostels in Granada. You'll also find comparatively cheaper dining out experiences should you fancy some tapas, alongside free activities, like exploring some parts of the Alhambra.
Seville, the perfect place to immerse yourself in the country's culture, is a top attraction and has cheap options available if you know where to look. Take some time browsing hotel sites, and you'll soon find dozens of budget hotels and hostels to choose from. However, the restaurants and attractions here can be expensive, especially if you want to visit lots of landmarks.
For the budgeter beachgoer, Málaga one of the must-see places in Spain. It offers affordable entrance tickets to museums like the Picasso Museum and beautiful beaches to relax on, which won't cost a cent.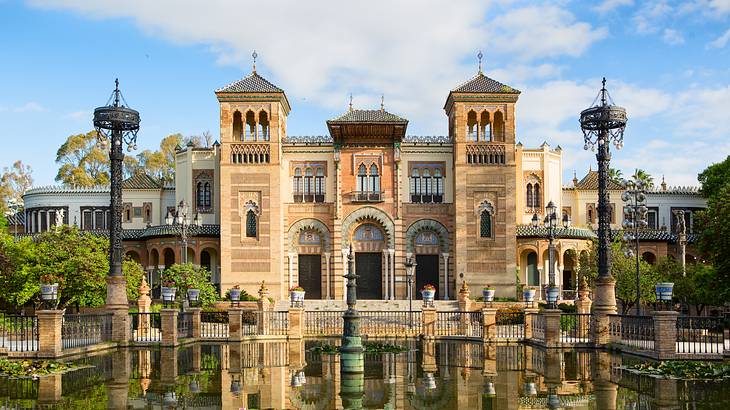 Where are the best places to stay in Spain for couples?
Couples are spoilt for choice when looking for a city getaway. Seville is often considered one of the best places in Spain for couples. After a day of sightseeing, you can spend the evening tapas bar hopping and wine tasting before rounding off the night with a flamenco performance.
If a relaxing trip is needed, then lounging on the beaches of Mallorca is a must. However, a short two-day trip to Barcelona seems to be the winner for couples. With its vibrant atmosphere, iconic landmarks, and artisanal restaurants, there's something for every couple in this romantic city!
In Summary
Wherever you choose to stay, you're destined for a truly memorable trip to Spain. The country is the epitome of diversity, and every traveler is sure to find something that suits them perfectly. So what are you waiting for? Start making those plans happen and book your dream Spanish trip!
Give us feedback about this article
Read more articles about Spain:
More articles about places to stay:
---
---
Want to keep exploring?
Subscribe for discounts on tickets and hotels and our latest guides.
Thank you for subscribing
We will be in touch soon with discounts on tickets and hotels and our latest guides.
Want to keep exploring?
Subscribe for discounts on tickets and hotels and our latest guides.
Thank you for subscribing
We will be in touch soon with discounts on tickets and hotels and our latest guides.
Related Articles