The Best 2 Days in Granada Itinerary
Destguides may receive commissions from purchases made through affiliate links in this article.
Set at the base of the Sierra Nevada mountains, Granada draws millions of tourists each year. Visitors are attracted to its stunning landscape and many attractions, like the spectacular Alhambra, one of the most famous landmarks in Spain.
While you can spend a week or so in Granada, going for a quick getaway is a great idea too. By following this 2 days in Granada itinerary, you will be able to see everything the city has to offer.
You can visit ancient landmarks, wander through scenic parks, watch a flamenco show, and try delicious Spanish tapas and Andalusian cuisine. While walking around this gorgeous city, you can also admire beautiful views and discover trendy coffee shops and craft beer venues.
Want to know what you can see and do when spending a few days in Granada? Keep reading for a fun and memorable Granada trip plan!
Granada 2 Day Itinerary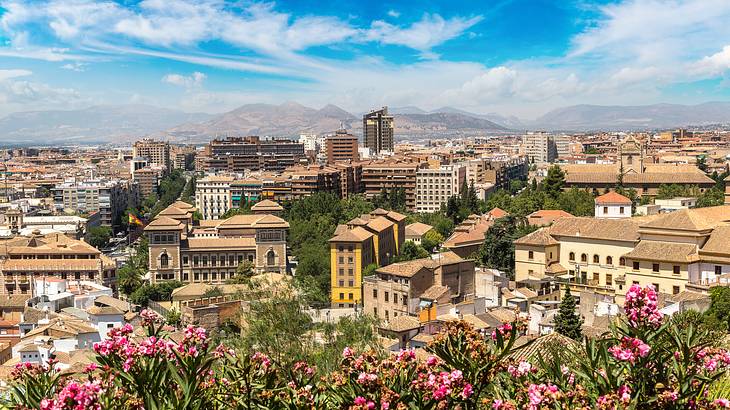 The first of your 2 days in Granada, Spain, will be spent discovering some of the lesser-known attractions in the city. Your day will begin with a filling breakfast at Cafe 4 Gatos.
Your first landmark of the day is the beautiful Catedral de Granada. Afterward, you will visit the Convent of Santa Isabel la Real, where you can admire the architecture and buy sweets from the convent's nuns. Next, you can relax a little over a delicious Spanish lunch at Apo Restaurante.
Two more historical buildings are on the agenda in the afternoon: the Basilica of San Juan De Dios and the 16th-century Granada Charterhouse. After seeing this historical piece of architecture, you will head to a charming tapas bar for some drinks and light snacks.
Having enjoyed some refreshments, you will be ready to take a short hike to Calle Mirador de San Nicolas, where you can watch the stunning sunset.
Your first day in Granada will finish with a Moroccan-inspired meal at Restaurante Arrayanes. If you want to do something after dinner, spending some time in the Albaicin district is recommended.
Cafe 4 Gatos
Cafe 4 Gatos is centrally located just across the valley from the Alhambra. Housed in a beautiful whitewashed building surrounded by a cobblestone street, Cafe 4 Gato serves the classic Spanish breakfast of "huevos, Jamon, y Tostado" for a reasonable price.
You can also order a range of other breakfast dishes, including granola dishes, pastries, and sandwiches. You also enjoy great views of the Alhambra as you eat your meal.
It is essential to mention that because Cafe 4 Gatos is very popular, getting there when the cafe opens is a good idea to ensure you get a table. However, don't avoid this spot due to its popularity; the best way to start your day in Andalucia is to eat like an Andalusian at Cafe 4 Gatos!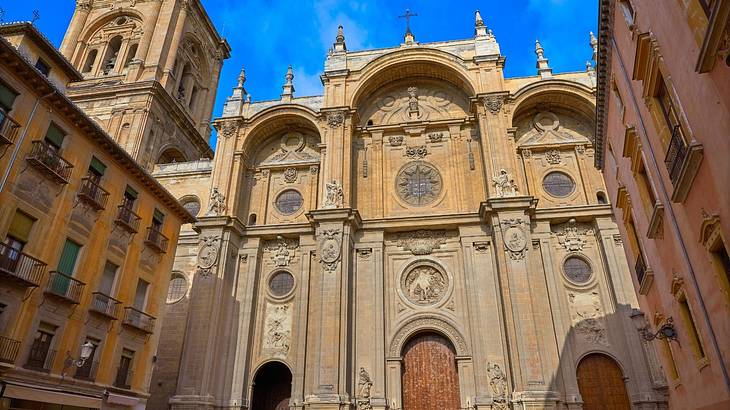 Catedral de Granada
One of the best places to visit during your 48 hours in Granada is the Granada Cathedral. The building's design is an amalgamation of Gothic and Spanish Renaissance architecture.
This stunning cathedral, which opened in 1561, features black and white tiled floors, sweeping white arches, ornate pillars, and intricate carvings. Integrated into the building is the Royal Chapel of Granada, which is also well-worth seeing.
The ideal way to explore this famous European landmark is by taking a Catedral de Granada guided tour. This three-hour tour will allow you to learn more about the cathedral's history and the chapel's significance. Taking a tour also ensures you do not miss any important features or parts of the building.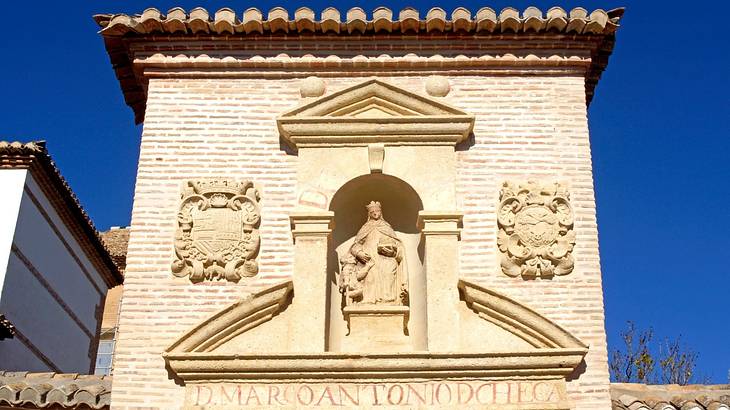 Convent of Santa Isabel la Real
This convent is tucked away near the centre of the Albaicin district. The building dates back over 500 years to the time of Queen Isabella of Castile. It is located on the site of a Moorish Palace named Dar al-Horra. The building represents an amalgamation of two empires: the Moorish Muslim empire and the Christian crusades.
While the convent is stunning, the real highlight here is the nuns. Not that you will ever see them, though! The women are cloistered away to avoid direct contact with the public. However, you can buy delicious sweets from them.
To do so, ring the buzzer next to the carved wooden door, place your money on the built-in lazy Susan on the wall, and it will rotate with your purchase. This small interaction provides a glimpse into the religion that gives part of the spiritual undercurrent of this great city.
Apo Restaurante
Apo Restaurante is a trendy and laid-back eatery that serves a variety of cuisines, although it focuses on modern Spanish dishes.
You can also order from a vast wine list. Just a few of the dishes to try include salads and quinoa poke bowls, steak dishes, and seafood dishes like seafood ceviche.
You can also treat yourself to desserts like an indulgent chocolate brownie or refreshing passion fruit mousse. Eating at Apo Restaurante is a great way to spend your first lunch during your weekend in Granada, Spain!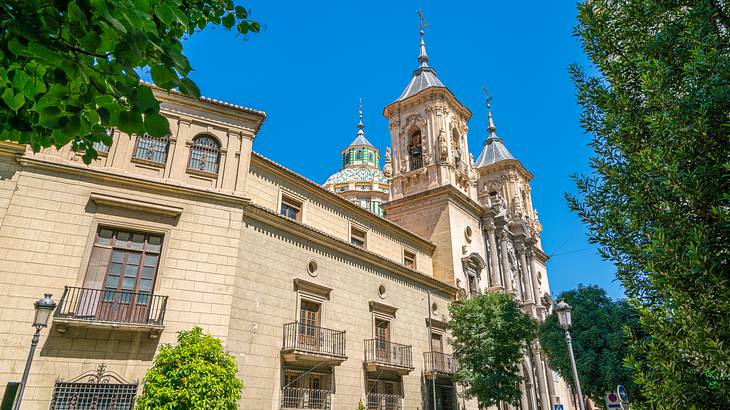 Basilica of San Juan De Dios
The Basilica of San Juan De Dios is an 18th-century church located close to the city centre. This stunning building features Baroque architecture and many ornate details. After admiring the basilica's exterior, you can go inside to look around.
The interior features frescoes and other artworks, gold gilding, and mirrored elements. You can also visit the tomb of San Juan De Dios. A fascinating audio guide is available if you want to learn more about the basilica's history and significance.
Monasterio Cartuja de Granada
The Granada Charterhouse is one of the most notable examples of Spanish Baroque architecture still standing in Granada. Also known as Monasterio Cartuja de Granada, this 16th-century building doesn't look like much from the outside.
However, its stunning interior makes this building a true testament to the artistic period during which it was created. Once inside the charterhouse, you can admire the incredible frescoes that cover the building's ceilings. In addition, you will get to see ornate carvings, paintings, and religious artefacts.
El Nido Del Búho
After a busy first day seeing the sites on this 2 day Granada itinerary, stopping for some tapas and an afternoon drink is the perfect way to relax. El Nido Del Búho is a popular option with locals and is conveniently located near the Granada Charterhouse.
This cosy tapas bar has an extensive drinks menu, including Spanish beers and red and white wines. In addition, you can choose from a selection of traditional tapas dishes to accompany your drinks, including calamari, langoustines, and Andalusian olives.
Depending on when you visit, you may be able to get a dish included free with a drink. El Nido Del Búho does some larger dishes too, like paella.
The food and drinks here are affordable, meaning you can have a few of everything. El Nido Del Búho offers indoor and outdoor seating, but the bar can get busy, so be prepared to wait for a table.
Calle Mirador de San Nicolas
Watching the sunset over the Alhambra has to be on your Spain bucket list, and one of the best places to do so is from Calle Mirador de San Nicolas. As the sun goes down, the mountains behind the Moorish fortress glow pink, creating a magical vista.
To get to the Mirador de San Nicolas, you must walk up a hill and some stone staircases. This journey will take about 20 minutes but isn't too strenuous. At the top, you can look over the city, snap some photos, and wait for the sunset.
While heading up the hill, grab yourself a tea from one of the many tea merchants in the district. Then, you can sit down on the stone walls, sipping your tea and admiring the spectacular views.
Restaurante Arrayanes
One of the best eateries in Granada is Restaurante Arrayanes. The eatery serves Moroccan dishes like couscous and tagines. So although you may want to favour Spanish food in Spain, Moroccan cuisine is also significant to Granada.
The city was once a stronghold of Moorish tradition before being ruled by the Ottoman Empire and Spanish Catholics. The Moorish culture heavily influenced all that is Granada and Southern Spain today. Dining at Restaurante Arrayanes will give you a real sense of the area's culture while enjoying some delicious dishes.
If you are spending a weekend in Granada, be aware that the restaurant can get busy on Fridays and Saturdays. So be prepared to wait for a table or make a reservation if possible.
From Exploring the Alhambra to Watching a Flamenco Show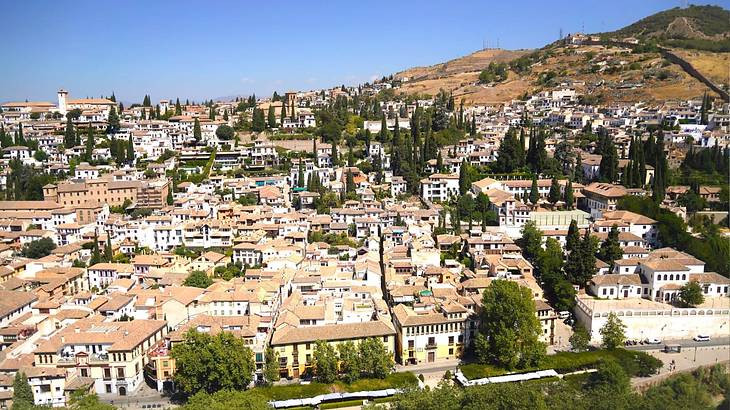 The second day of your Granada, Spain itinerary will allow you to see one of the most famous landmarks in the country, the Alhambra. During your day trip to Alhambra, you will get to explore the central part of the citadel. You can also see other iconic areas of the complex, including the Alcazaba, the Nasrid Palaces, and the Generalife.
You have a few options for seeing the Alhambra and associated sites. If you want to take your time exploring, purchase an entry ticket in advance and look around alone. Alternatively, you can purchase a self-guided audio tour or a guided tour with a knowledgeable guide. These two options will allow you to learn more about this historical landmark.
After thoroughly looking around the Alhambra, you can take a scenic walk back into town via the Carrera del Darro. Spending some time to appreciate the views of the river along this route is a must! Next, you can relax after a long day with some tapas and a glass of wine or a beer at Avila Tapas.
Your day is not over yet, however! You still have the chance to see a fantastic traditional flamenco show. Many venues host these iconic performances, so choose the one that is best for you in terms of price and location. Lastly, you can dine on incredible Spanish and Andalusian dishes at the lively Restaurante Chikito.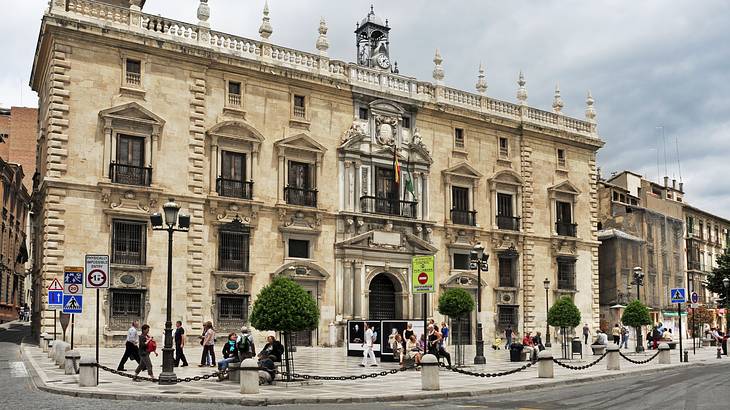 Plaza Nueva
Plaza Nueva, or the New Plaza, is a great place to start your second morning in Granada. As you explore, you can wander into the little souk markets running alongside this square.
You can also grab breakfast at one of the many plaza cafes. Your second day involves a lot of walking, so be sure to fuel up and pick up some snacks to take with you.
Once you are ready to move on to your next stop, you can catch the red minus C3 from Plaza Nueva to the Alhambra. They leave approximately every ten minutes. Listen out for the Generalife stop to know when to get off. Alternatively, it's a steep (but very pretty!) walk up the hill to the palace gates. This walk should take you around 15 minutes.
The Alhambra
The crowning jewel of Granada and one of the most famous landmarks in the world is the Alhambra. When discussing what to see in Granada, you cannot miss the Alhambra! This Unesco World Heritage Site is a sprawling complex that was previously a royal city.
The Alhambra is notably one of the world's most stunning examples of Islamic architecture. It is also one of the best-preserved Islamic palaces that you can visit. In addition, the building features many Spanish Renaissance design elements, making it a truly unique piece of architecture.
Because this landmark is so famous, it is a good idea to book tickets for an Alhambra guided tour in advance. Your guide will take you around all parts of the citadel, including the Generalife Palace and Gardens, Medina, and Alcazaba. Exploring with a guide will allow you to understand this historic structure's history and importance fully.
The Alcazaba
The Alcazaba is the military area of the grounds of the Alhambra and also features beautiful gardens. Constructed in 1238, it served as the barracks for the elite guards who protected the citadel during the Nasrid Dynasty residency.
The Nasrid Dynasty was the last generation of Muslim rulers to govern Spain and held the area until around 1492. After that, however, the citadel outlasted the Nasrid Dynasty as a place of prominence.
When the Catholic Monarchs conquered Granada during the Reconquista period during the 15th century, the Alhambra and Alcazaba became a Christian court. Interestingly, the Alcazaba is believed to be the oldest part of the citadel, with these towers, in particular, dating back to the 9th century.
As you look around Alcazaba, you will notice the amalgamation of Muslim and Catholic religious motifs. One of the notable features of Alcazaba to look out for is the Vermilion Towers (Torres Bermejas).
Exploring this site is included in the guided tour mentioned previously. However, if you would instead look around on your own, you can book a fast-track ticket for the Alhambra, Alcazaba, and Nasrid Palaces to ensure you get in and avoid waiting in line.
The Nasrid Palaces
The Nasrid Palaces are an ornate, stunning, and historic part of the Alhambra. Areas to explore during a visit include the Court of the Myrtles, the Banos, and the Palace of the Lions.
Each of the three palaces that make up Nasrid Palaces (Mexuar, Camares Palace, and Palace of the Lions) feature different artistic and architectural styles, so be sure to visit them all. You can wander around gardens and ponds along with exploring the inside of the palaces. The interiors feature ornate details and vast rooms.
While the two previously mentioned tours cover entrance to Nasrid Palaces, you can also purchase a Nasrid Palaces and Generalife audio tour ticket.
The Generalife
From the Nasrid Palaces, follow the signs to reach the Generalife. This part of the Alhambra occupies the Hill of the Sun (Cerro del Sol) and is a sprawling garden devoted to luxury and relaxation.
The Generalife has been rebuilt and reinterpreted many times. Today, it features a mix of Catholic opulence, Muslim motifs, and modern-day horticultural techniques. The buildings in the Generalife can't compare to the palaces, but the grounds are truly magnificent and worth visiting.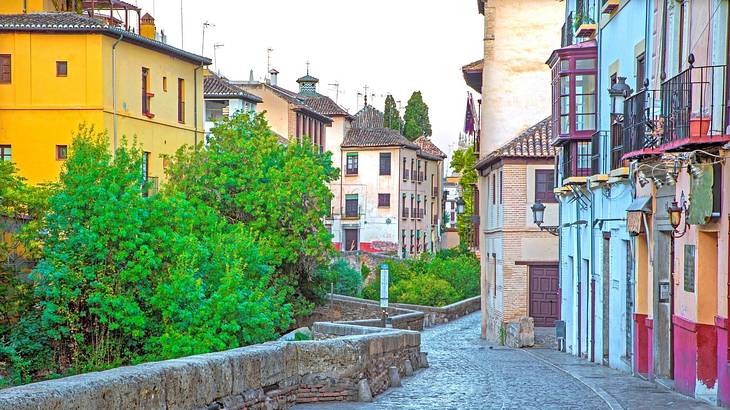 Carrera del Darro
Visiting the Alhambra should take most of the day, and exploring the landmark to the fullest is a must. Once your time at the Alhambra is complete, you can unwind with a scenic walk along the Carrera del Darro back to town.
You will pass along a beautiful river, with this part of the Carrera del Darro often called the prettiest half-mile in Europe. As you wander the cobbled streets, it's easy to see why! Don't forget to stop and take in the scenery along the way and make sure you snap a few photos of this idyllic area.
Avila Tapas
There are numerous tapas bars in Granada; another great one to visit is Avila Tapas. This typically Spanish eatery is a traditional tapas bar run by the same family since 1967. It has a warm and friendly charm, plus incredible dishes and drinks.
Andalucian classics to order include croquettes stuffed with manchego, roasted ham Asado, patatas bravas, and marinated olives served with crusty bread. Of course, the wine is also great, and pairing your tapas with a glass or two is a must. Avila Tapas offer delicious and simplistic Spanish food at a great price!
Flamenco Shows
Granada is not just famous for its Alhambra and history. It also features a thriving "gypsy" community and historic residential caves in the Sacromonte district.
This district is stunning, with houses installed into whitewashed caves and areas that still speak traditional Calo (a language originating from India, where the Romani came from centuries past.) These communities are also known for putting on incredible flamenco shows.
Seeing an authentic flamenco show while in Granada is a must for all types of travellers. You can find an array of Granada flamenco shows to choose from, all of which will offer a memorable experience.
Once the show begins, you can order drinks, and some venues serve tapas too. You can then sit back and enjoy this fantastic traditional show that can only be seen in some parts of Spain. If you like the sound of this neighborhood, consider booking accommodation in Sacromonte; it's one of the best places to stay in Granada for good reason!
Restaurante Chikito
If you have been snacking on tapas and would like a larger meal to end your day, going to Restaurante Chikito is recommended. The eatery features Andalusian cuisine influenced heavily by Arab-Andalusian roots and culture.
Even the site of this restaurant has a rich history as it used to be home to many famed authors, including the author Federico Garcia Lorca, and the place of literary gatherings. A life-sized statue of Federico Garcia Lorca still resides in the restaurant corner!
Dishes to order include a selection of salads and small plates like anchovies, Spanish hams, and snails with almonds. You can also get larger seafood plates and meat dishes, like ox tail stew or pork cheeks in white wine.
To accompany your meal, you can choose from a vast wine list, complete with whites, reds, and champagnes. Be sure to save room for dessert, as Restaurante Chikito offers many homemade sweet treats.
In Conclusion
For those wanting to know what to do in Granada in 2 days, this itinerary should have given a good idea of everything you can see and experience, even in a short amount of time.
During 48 hours, you can visit the most famous landmarks in the city, like the Alhambra and the Cathedral of Granada. Additionally, there are many opportunities to take in the stunning city views, from watching the sunset at Calle Mirador de San Nicolas to strolling along Carrera del Darro.
Of course, you can also enjoy delicious Spanish dishes, including tapas, classic main courses, and delightful desserts. Your Granada experience ends with an evening at a traditional flamenco show. Who would have thought you could do all that in two days?
Whether you are looking for stops to add to a Spanish road trip or are after a European winter sun destination, Granada has something to offer all types of travellers!
---
---
Want to keep exploring?
Subscribe for discounts on tickets and hotels and our latest guides.
Thank you for subscribing
We will be in touch soon with discounts on tickets and hotels and our latest guides.
Want to keep exploring?
Subscribe for discounts on tickets and hotels and our latest guides.
Thank you for subscribing
We will be in touch soon with discounts on tickets and hotels and our latest guides.
Related Articles